The Best Pull-Ups for Older Bedwetters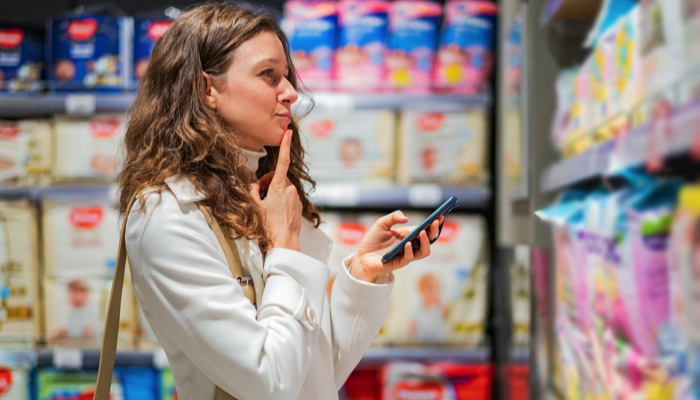 This post may contain affiliate links; please see our terms of use for details.
Pull-ups usually come in sizes that fit toddlers weighing from 15 to 50 pounds, but it is possible to find pull-ups in larger sizes.
It's very common for kids to be fully potty trained during the day but continue to wet the bed at night.
Generally, children can stay dry overnight by age five or six, but some may take longer, particularly children with special needs.
Moving from diapers to pull-ups or training pants is a big step in your child's potty training journey and it often feels like the final hurdle before you're finally using regular underwear. So why is it that sometimes even older kids still need to rely on pull-ups?
There can be many reasons why your older toddler and even preteen may still need pull-ups. While most kids will be fully potty trained by three to four years old, many kids will continue having trouble staying dry at night until they are six or even up to ten or eleven years old.
Best Overall
Most Environmentally Friendly
Best for Girls
Dyper Bamboo Toddler Training Pants
Prevail Proven Protective Underwear
Best Overall
Most Environmentally Friendly
Dyper Bamboo Toddler Training Pants
Best for Girls
Prevail Proven Protective Underwear
Potty training children with special needs brings its own complications, with some older children with disabilities staying in pull-ups up through adulthood.
With so many older children requiring at least some time in pull-ups after the age of six, why is it so hard to find good large-sized pull-ups? The answer is that it isn't really that difficult; you just need to know where to look!
The Best Pull-Ups For Big Kids (35-65 lbs)
Natural Blossom Easy Pull-up Diaper Pants (fits 37+ lbs)
Natural Blossom Easy Pull-up Diaper Pants
Perfect for new moms and dads whose toddler is very active, starting to crawl and flip. Underwear-like designed with a back tape for easy disposal.
2mm ultra-slim diaper pants, comfortable fit for baby. Made by SSS grade soft fabric results a gentle touch for your baby's sensitive skin. No more irritation.
500ml absorbency using premium SAP for maximum effectively used day and night. Consists a breathable film layer to quickly release the heat outcome within urine, keep your baby's dry all day.
Made of Zero/Anti-Clumping mesh sheet material! Leak protection, less skin rashes and baby's discomfort due to seized SAP inside mesh sheet.
These underwear-like diapers are designed to be easy to dispose of, have a comfortable fit, and use premium absorbent material. They are made of anti-clumping mesh sheet material for leak protection and are perfect for kids with sensitive skin who are prone to rashes.
The big plus for Natural Blossom pull-ups is that they are really very soft and thinner than most pull-ups, while still maintaining absorbency. They are also certified vegan with no animal materials or testing.
Dyper Bamboo Toddler Training Pants (fits 38+ lbs)
Dyper Bamboo Toddler Training Pants
BETTER FOR YOUR BABY: Experience natural plant-based disposable training pants designed for sensitive toddler skin. Outer and inner layers made with 100% Bamboo Viscose for improved comfort, superior wicking, and maximum fluid retention.
STRETCHY, SOFT, COMFORTABLE: Ultra soft to the touch, absorbent, and thoughtfully made with honest, clean & pure ingredients. They feel more like yoga-pants than conventional diapers with an almost underwear like fit.
ABSORBENT, SAFE, VERSATILE: Certified to the highest OEKO-TEX consumer safety standards. Great as a cloth diaper alternative, for potty training boys & girls, nighttime protection, and swaddler time. Defend against leaks with a secure fit that's easy to pull up and slide off.
PLANT-BASED & ECO-FRIENDLY: Our infant training pants are parent's choice because they are non-toxic and are free of chlorine, latex, alcohol, perfumes, PVC, lotions, TBT, parabens, sulphates, & phthalates. They are unprinted, unscented, hypoallergenic, and cruelty-free to protect the next generation.
Dyper Bamboo training pants are an environmentally friendly certified biobased product and also known for being luxuriously soft. They do run a little large, which is perfect for parents looking for overnight pull-ups for bigger kids.
The rip apart sides can be a bit tough to pull, but that also means they don't tear accidentally when your child is wearing them. The 360˚ elastic waistband is a huge plus too!
Seventh Generation Toddler Training Pants (fits 38+ lbs)
Seventh Generation Toddler Training Pants
Weight Recommendation: 38+ Pounds.Training pants made for toddler's sensitive skin, great for boys or girls
Absorbent core ready for life's surprises. Stretchy, tear-away side panels let you adjust the fit for a perfect
Contains 0 percent chlorine bleaching, lotions, or fragrances
Fits like big kid underpants: Easy to tell front from back and tear away side panels allow for a quick, easy change
The stretchy absorbent core of the Seventh Generation training pants will keep your child dry and comfortable. These pull-ups also have 0% chlorine bleaching, lotions, or fragrances to irritate sensitive skin. They fit like regular underwear with rip apart side panels for easy changing.
Of course, all of Seventh Generation's products are also known for being environmentally friendly and the company focuses on using renewable energy and sustainable manufacturing.
Pampers Easy Ups Training Pants (fits 41+ lbs)
Pampers Easy Ups Training Pants
Potty-train like a hero with PJ Masks Pampers Easy Ups Training Pants
Soft and comfy, underwear-like fit
Easy changing with Easy-Tear Sides
360 stretchy waistband for easy pull up and down
Pampers Easy Ups are soft and comfortable and just as absorbent as Pampers diapers. They do have a waistband made with gentle elastics and are considered almost leakproof with their dual leak guard barriers. As with other Pampers products, they are great at keeping moisture away from skin, which helps to avoid rashes and irritation.
Pull-Ups New Leaf Training Underwear (fits 38-50 lbs)
Pull-Ups New Leaf Training Underwear
Pull-Ups New Leaf Boys' Potty Training Pants: 60 toddler training pants, size 4T-5T (60 potty training underwear total); product and packaging may vary
Our softest training pants crafted with plant-based ingredients* (*28% by weight)
Our most breathable training underwear, made with breathable materials for healthy skin; made without harsh ingredients and is clinically proven to be hypoallergenic
Only Pull-Ups New Leaf has Disney Frozen graphics that fade when wet, teaching Big Kids to stay dry
Huggies Overnight Pull-Ups have some of the best-designed tearable sides that are easy to pull apart and also refastanable. The New Leaf style of Huggies pull-ups is made with 28% plant-based materials, but is just as soft and absorbent as regular Huggies Overnight Pull-Ups. The material is also breathable, which is good for kids with sensitive skin.
GOO.N Plus+ Pants (fits up to 55 lbs)
GOO.N Plus+ Pants
GOO.N Plus+ is a diaper designed for sensitive skin that prevents irritation and does not dry the baby's skin.
Soft fit – Gently fits the shape of the baby's stomach. It will not leave diaper marks and does not leak.
Smooth texture – The surface is gentle on the baby's skin and hardly rubs.
Fluffy and comfortable fit – The diaper is designed for comfort. It prevents the skin from becoming sore and red and does not leak.
GOO.N training pants are imported from Japan and families who use them absolutely love them. They provide dual leak guards and are specially designed to protect your child's skin from irritation by offering a fluffier material than other pull-ups. GOO.N pants have an ultra-absorbent core and fit snuggly around the legs to prevent leaks.
The Best Pull-Ups For Bigger Kids and Adults (65-190 lbs)
Curity Youth Pants (fits 60-125 lbs)
Curity Youth Pants
Unisex design for easy use–sized comparable to Goodnites with better absorbency
Ideal for youths that have outgrown toddler training pants or need heavier protection
Feature a tear-away side seam on the waistband for quick and easy garment changes.
Fits Weights 65 to 85 pounds, Absorbency: 15 oz.
Curity Youth Pants are made to be worn all day by older children who need leak protection during the day as well as overnight. They are designed with tear-away sides and are very absorbent. Curity does not come in boy and girl styles, but even their unisex design fits very well.
We have been using Curity pull-ups for years now and find them to be a great choice for an older child who still needs day and night time protection, but is also in the process of toilet training.
Pampers Ninjamas Disposable Underwear, XL (fits 64-125 lbs)
Pampers Ninjamas Disposable Underwear, XL
Take on bedwetting accidents and wake up confident with Ninjamas Nighttime Underwear from Pampers, the #1 Pediatrician recommended brand
Exclusive Pampers LockAway Channels absorb wetness quickly & evenly for powerful All-Night Leak Protection and dryness
OdorMask Technology conquers bed-wetting odors continuously for stress-free mornings
FormFit Waistband flexes and stretches to fit older kids best with sleek 360° design
Ninjamas are designed to be worn as overnight pull-ups for big kid bedwetters, but their bigger sizes make them good choices for older kids who need to wear pull-ups during the day as well. They have a very similar feel to cotton underwear and also offer fresh odor control, making them more discreet than some other overnight diapers.
SleepOvers by Cuties (fits 85-140 lbs)
SleepOvers are one of the best pull-ups for older bedwetters and are often worn by kids with medical needs who require leak protection even as they grow older. SleepOvers can fit older children up to 140 lbs. They are made with skin smart fabric and really do fit very well.
Goodnites Nighttime Bedwetting Underwear, XL (fits 95-140 lb)
Goodnites Nighttime Bedwetting Underwear, XL
Goodnites Boys' Nighttime Bedwetting Underwear: 63 overnight underwear for boys, size extra large; fits children 95-140+ lbs; Goodnites nighttime products are FSA/HSA-eligible in the US
Goodnites Boys' Overnight Bedwetting Underwear has 35% less leaks** (**Boys Large vs. other national brand); features 5 Layer Protection and reinforced Double Leg Barriers
Goodnites Bedwetting Pants for Boys' holds up to the equivalent of three water bottles*** (***three 8 fl oz water bottles, 24 fl oz in total. Applicable for Boy L and Boy XL only)
The #1 Nighttime Underwear* (*Youth Pant category share data); Goodnites night pants are free of harsh ingredients and clinically proven hypoallergenic
Goodnites are intended to be worn as overnight pull-ups and boast night lock technology, but as with all overnight pull-ups can also be worn during the day until your child has mastered potty training. Goodnites bedwetting underwear have exceptional odor locking absorption, five layers of protection, and double leg barriers. You'll often see them listed on the best pull-ups for older bedwetters.
Prevail Proven Protective Underwear (fits 115-190 lbs)
Prevail Proven Protective Underwear
Please confirm the size before purchasing. Inapproriate size may lead to leakage issue or can cause rashes"
Soft lavender
Extra absorbency
Fits Waist 28-Inch-40-Inch
Prevail Protective Underwear offers multiple sizes and can actually fit up to 300 lbs. They provide more absorbency and leakage protection than other pull-ups and can be found in both women's and unisex styles. Many adult women who require leak guards refer to Prevail as their own personal preference.
McKesson Disposable Underwear (fits waist 40″ – 54″)
McKesson Disposable Underwear
Inner leg cuffs help to avoiding leaks and allow flexible freedom of movement while a soft, cloth-like flex stretch waist helps to provide a comfortable, discreet fit that stays securely in place
A premium acquisition layer rapidly absorbs fluids into the core for further leak avoiding and confidence throughout daily activities
Advanced dual-core performance keeps wetness locked away so skin stays dry, comfortable and healthy
This protective underwear offers premium odor control for reliable discretion, avoiding odors at the source before they have an chance to form
McKesson Disposable Underwear are sold by waist sizes and can actually go up to 68 inches in their largest size. Like most pull-ups, McKesson offers tear-away sides and are easy to pull up and down. They absorb fluid quickly to avoid a wet feeling against the skin and are great for a heavy wetter who still wears pull-ups.
LivDry Adult Incontinence Underwear (fits waist 40″ – 54″)
LivDry Adult Incontinence Underwear
✔ ADULT PROTECTIVE UNDERWEAR- LivDry offers protective underwear women and men need when experiencing bladder leaks or loss of control. These super absorbent incontinence products are designed for maximum comfort with ultimate protection in mind.
✔ DISPOSABLE ABSORBENT UNDERWEAR – Stay active with LivDry premium adult protective underwear (also called adult pull-ons or adult pull-ups) that keeps you comfortable. Always ships discreetly.
✔ LEAKAGE BARRIER CUFF- We designed these protective underwear for women and men with extra absorbency power, as well as a special leakage barrier cuff with gathered bands to guard against leaks and embarrassing accidents.
✔ SUPER ABSORBENT ADULT DIAPERS- LivDry protective underwear for men and women are so absorbent you may not need to use bed pads. The super absorbent gel core quickly locks fluid away, helps eliminate odors, and keeps you feeling dry.
LivDry are designed for older kids and adults with a waist size of 40 to 54 inches, but their largest size can go up as high as 92 inches. They are soft and extra absorbent, pulling away wetness quickly from the skin. Many LivDry users no longer need to use waterproof bed pads to prevent a wet night.
Attends Overnight Underwear (fits waist 34″ – 44″)
Attends premium overnight underwear can fit waists up to 44 inches and work really well for older kids who may still wet the bed. They offer excellent night time protection, a breathable waistband, and odor control. Although made for adults, depending on the size you are looking for, these are a great alternative for older bedwetters who just want a dry night.
How to Make Sure Pull-Ups Fit Properly
You would think that you could simply check the weight limit on a package of pull-ups to find the right size, but there is more to fit than weight. Unfortunately, since every child's body is unique, the best way to find the right fit is really to just try on different brands. If you know someone who has a supply of a pull-up brand, ask if you can try a pair. You might be able to find samples at your doctor's office or at school too. When freebies aren't available, try purchasing the smallest bag available so you won't be throwing out too many if they don't fit.
Pull-ups that are too big can sag and cause leaks, while pull-ups that are too small can be uncomfortable and restrict movement. Look at waist and leg fit. You want a snug fit (brands with all-around elastic work best), but you also don't want to see any marks or lines on your child's skin.
Pro tip: If you do buy multiple brands that don't fit, don't throw them all away! I keep a box in the basement with pull-ups we've tried that didn't fit perfectly. I make sure to keep the original packaging so I know the brand and size. I've found that as my son grows and his size needs change, it's very convenient to already have larger pull-ups ready to try on. I can also hand out free pairs to friends when they are looking for a new pull-up brand.
Yes, You Can Get Pull-Ups Covered Through Insurance
If your older child is incontinent due to underlying health issues or disability, insurance will cover the cost of your pull-ups. Generally, insurance companies are more apt to cover disposable diapers over pull-ups, but you can make the argument that pull-ups are medically necessary.
Some families do prefer diapers over pull-ups for their older children with special needs. Diapers can be easier to change without having to remove shoes and pants. However, if you are working on potty training and want to encourage as much independence as possible, then pull-ups are a better choice.
You will need your doctor to write a letter of medical necessity and send a prescription request for medical supplies to your insurance company. Our doctor wrote a very simple letter that states our son's diagnosis and that he has "urinary incontinence" and that it is "medically necessary" for him "to be provided with Pull-up style diapers."
In order to make sure our request for pull-ups (and not diapers) was approved, she also wrote:
Additional Comments: This patient is able to walk with assistance and has been enrolled in a toileting program where he is able to pull the pull-up up and down himself. Tape-tab diapers would not allow the patient to continue to have this level of independence and be involved in his own care in this way.
Talk to your doctor about the letter they are writing and make sure they mention these five key points:
Diagnosis
Urinary incontinence
Medically necessary
Toilet training program
Continuing a level of independence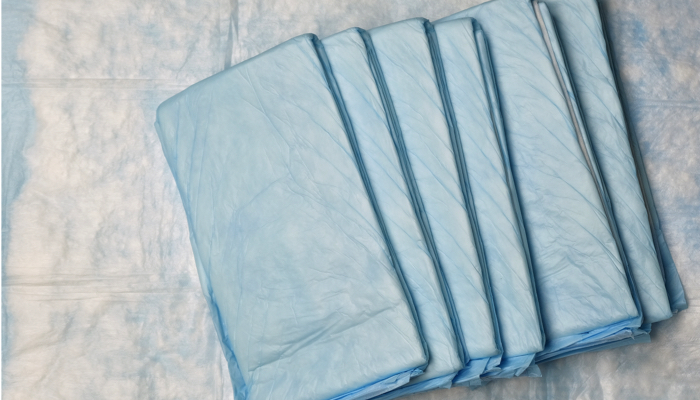 Other Options To Help Minimize Mess
No matter how well your pull-ups fit, there will be accidents and messes. However, there are some items that can help minimize the mess.
Liners and booster pads: Disposable liners or booster pads come with adhesive backing and can be applied to the inside of a pull-up, making them thicker and more absorbent with extra padding.
Underpads: Underpads are absorbent sheets that can be placed on a stroller or in bed to pick up any leaks. You can find disposable underpads or washable and reusable incontinence pads. We like the reusable ones because they are softer and very waterproof.
Odor eliminator: If you've had a few accidents in the same spot, you may have a lingering stain or odor. There are products that can remove both the stain and urine smell on carpets, fabric, and upholstery.
FAQs
Does it matter if I get pull-ups made for boys or girls?
While we have had some luck personally with unisex pull-ups (for example, we do consider the Curity unisex youth pants to be the best overnight pull-ups), most families we've talked to prefer girls training pants for girls and boys training pants for boys. They are often designed slightly differently and will focus the most absorbency in the areas most needed by the different sexes.
At what age should I be worried about bedwetting?
Full overnight bladder control takes longer for most children than daytime potty training. Even if your child is able to hold their urine and use the toilet successfully during the day, it is not at all unusual for them to still have accidents at night while sleeping. If you are looking to start nighttime potty training, the best time to start is 6 months after your child is fully potty trained during the day.
That said, most kids can hold their urine at night by age seven, although some kids may not be fully nighttime trained until they are ten or even eleven years old.
Sometimes bedwetting in older children can be a concern. You may want to talk to your child's pediatrician if your child:
has been dry at night for a few months and seems to be regressing
complains of pain while urinating
seems unusually thirsty
has discolored urine or hard stools
has suddenly started snoring as well (this may be a sign of sleep apnea)
Do pull-ups prolong bedwetting?
Some parents worry that wearing pull-ups at night might cause their child to wet the bed for a longer period. There have been many studies done on treatments for nocturnal enuresis (ie bedwetting at night), but few focus specifically on whether children should wear training pants at night.
One study does conclude that "timely cessation use of disposable diaper … may shorten the time to nocturnal continence," but they also add that "prospective cohort studies are needed to verify the discoveries."
On the other hand, another study shows that sleep quality is significantly improved in children who are heavy wetters at night and are allowed to wear pull-ups. It's also well known that fewer linen and clothing changes reduce stress in both parents and kids, as well as lowering shame and embarrassment.
Are pull-ups harmful to the environment?
Many disposable diapers and pull-ups contain environmentally harmful chemicals, such as tributyl-tin (TBT), which is considered a pollutant. Disposable pull-ups are also manufactured with fossil-fuel-based plastics, contribute to landfills, and can introduce feces into the groundwater.
Reusable underwear or cloth diapers may be more environmentally friendly, but also raise their own concerns. Washing diapers takes a lot of water as does growing cotton, the most common material for cloth training pants.
If you are concerned about your climate footprint, but still want to use disposable pull-ups, there are some steps you can take. Look for brands that are free from unnecessary chemicals, like perfumes and dyes. Many brands are trying to make a difference while also providing excellent products. Dyper Bamboo Training Pants, for example, are made from biobased materials and Seventh Generation focuses on renewable manufacturing processes.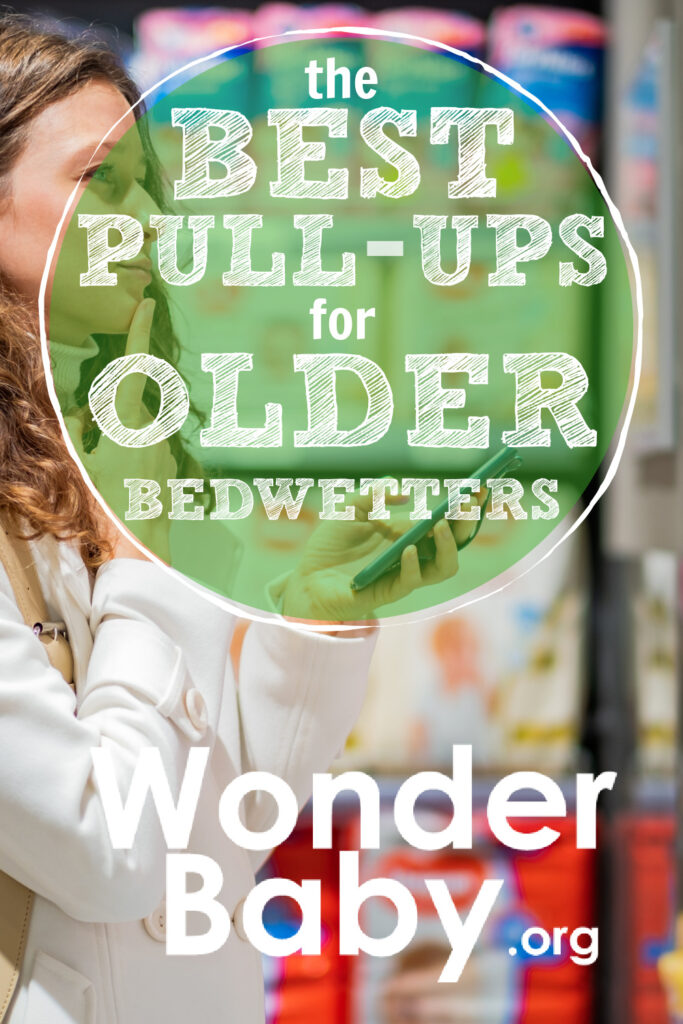 Related Posts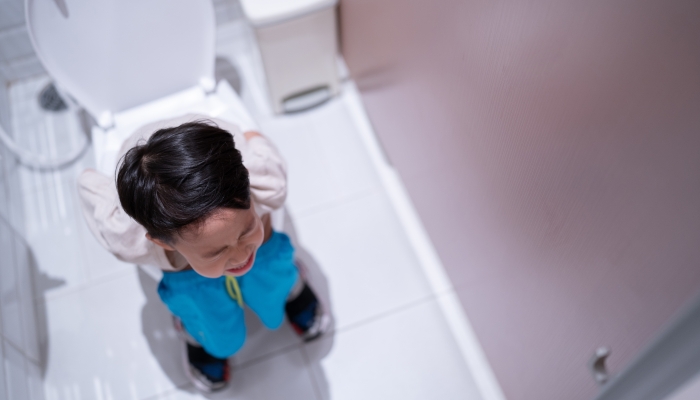 Potty Training
Constipation is common amongst children of potty training age. Many children suffer from potty training constipation, but there are things you can do to help.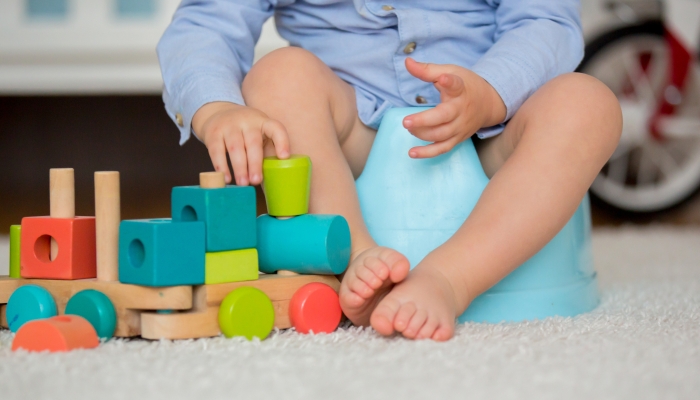 Potty Training
Learning to use the toilet doesn't have to feel like hard work. There are lots of potty training games you can play with your toddler to make learning fun.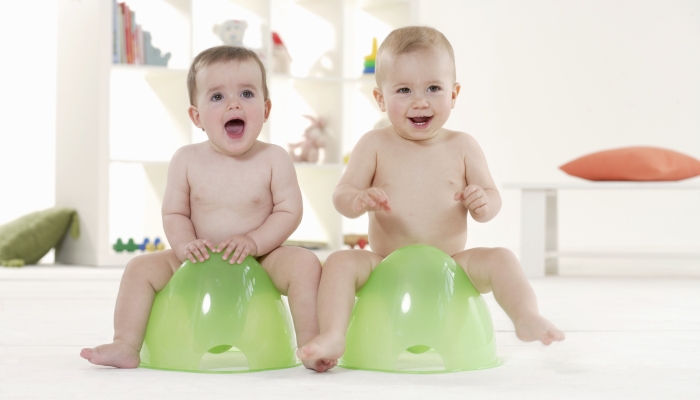 Potty Training
You can potty train twins one at a time or together, but it's important to follow their lead and go at a reasonable pace. Learn more tips here!