Best Toddler Step Stool of 2022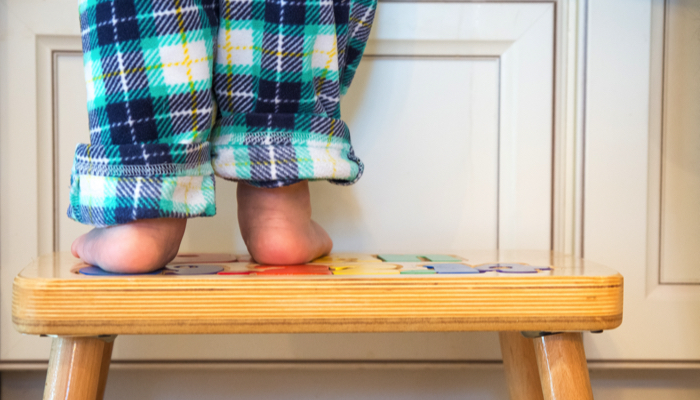 This post may contain affiliate links; please see our terms of use for details.
Potty training your toddler often comes with a long shopping list. You'll need pull-ups, underwear, a training potty, and—of course—a toddler step stool. If you haven't started shopping for a step stool yet, now is the time.
A toddler step stool will help save you from having to lift your child for everything, and will help your little one feel more independent. With an extra boost, your soon-to-be big kid will be able to wash their hands, brush their teeth, and sit on the toilet all on their own.
Our Favorite Step Stools
Best Budget
Most Convenient
Most Sturdy
Brand
Wood City Toddler Step Stool
Best Budget
Most Convenient
Most Sturdy
Brand
Wood City Toddler Step Stool
There's a surprising amount of things to consider when shopping for a kids' step stool. You can find options with one or two steps, different materials and sizes, and varying weight limits.
While the right option for you will ultimately depend on your child and your family's specific needs, we've rounded up the best step stools for kids right here.
Top 8 Picks
B. Spaces by Battat Wooden Step Stool (Most Stylish)
Sale
Kids Wooden Two Step Stool
A 2-Step Stool With Textured Patterns On The Stairs
Wide & Sturdy: Keeps You Steady As You Go. This Kid'S Step Tool Won'T Tip Over
Handy Handles: This Portable Stool'S Easy To Grab And Go
Easy Assembly: Hex Wrench Is Included. This Stool Assembles In Minutes
If you don't want to sacrifice style for practicality, B. spaces by Battat Wooden Step Stool is one of the most stylish kids' step stools you can find. The natural wood and mint green combination and mid-century aesthetic is super cute, so you don't have to feel like your house is being taken over by kid stuff.
Along with its stylish design, this step stool is durable and convenient. It has two steps and, with a weight limit of 154 pounds, it will grow with your child. If you have a high sink or counters, this is a tall two-step stool at over 11 inches in height. For a wooden two-step stool, it's also relatively easy to set up and comes with everything you need for assembly.
Something to keep in mind is that this option is a little on the heavier side since it's made from wood. However, that also means it's nice and sturdy, so your child should get years out of it. It does require some assembly but should only take minutes to set up. Overall, it's a great step stool for kids.
WOOD CITY Wooden Toddler Step Stool (Sturdy)
Sale
Wooden Toddler Step Stool for Kids
NATURAL BIRCH WOOD: Unlike other stools that use cheap veneer particle MDF board, WOOD CITY toddler step stool is made of real wood 0.6″ thick, painted with natural and water-based paint.
STURDY AND SAFE: Our potty training stool for toilet use slip resistant rubber feet (non-slip pads *6 -Choose whether to install them )for floor grip. Bonus pads provide an extra level of safety and secure footing for your child.
PERFECT FOR GROWING KIDS: Wooden two step stool brings kids two steps closer to independence. Our dual height design with wide steps help toddlers step their way up to independence as they transition from toilet potty training to washing hands and brushing teeth at the sink, to finally reaching countertops and cabinets in your bathroom and kitchen.
EASY TO ASSEMBLE AND MOVE: Comes with a detailed picture installation instructions. It will take you about 5-10 minutes to put together with a screwdriver. The pieces fit into grooved slots so you can't get it wrong. Handy handles help the child to grab and go!
Another wooden step stool for kids that will last you through potty training and beyond is the WOOD CITY Wooden Toddler Step Stool. While some options are made from particle board or veneer, this one is actually solid wood, so you know it's built to last. This is another two step option that will grow with your child and is sturdy enough to hold up to daily use over the years.
Not only will this one last, but it also has a simple, yet stylish design. You can get it in white or black, so it should go well in any bathroom. At about 13 inches in height, it's also tall enough for higher sinks and has anti-skid pads on the bottom, so you don't have to worry about this step stool sliding around on your tile floor.
This option does require some assembly, although it's relatively easy and shouldn't take more than ten minutes. Like other wooden step stools, it's a bit bulky so it's not as easy to carry around or store out of the way. But if you're set on a wooden step stool built from quality material, this is it.
OXO Tot Step Stool (Convenient)
OXO Tot Step Stool
Gives little ones a 7″ boost
Surface features non-slip pattern to keep little feet from slipping
Non-slip base keeps the Step Stool firmly in place
Easy-to-grip handles for carrying from room to room
When you're potty training your toddler, you'll want to make things as easy as you can on yourself. The OXO Tot Step Stool is lightweight and easy to carry, while also being sturdy enough to support your kids as they grow. You might even use it yourself since it has a weight limit of 200 pounds.
While a plastic step stool might not be your first choice, this one is easy to clean, slip resistant, and space saving since you can easily move it out of the way. Your toddler can feel more independent moving their step stool from the toilet to the sink and maybe even the kitchen all on their own.
For a plastic step stool, this one is still pretty stylish with its simple design. You can choose from white and gray or hot pink. It also only has one height, but it's made from a durable plastic material that should hold up to years of use. All in all, it's a convenient, lightweight toddler step stool to have around.
Dreambaby Step Stool (Best Budget)
Sale
Dreambaby Step Stool
𝐒𝐔𝐈𝐓𝐀𝐁𝐋𝐄 𝐅𝐎𝐑 𝐆𝐑𝐎𝐖𝐈𝐍𝐆 𝐓𝐎𝐃𝐃𝐋𝐄𝐑𝐒: Dreambaby Step Stool with sure-grip top helps toddlers take those first steps towards independence by enabling them to reach areas that are still just a bit too high.
𝐀𝐋𝐋-𝐀𝐑𝐎𝐔𝐍𝐃 𝐒𝐓𝐎𝐎𝐋: Perfect for nearly any location and floor surface; Dreambaby Step Stool is contoured to fit around toilet bases but is also perfect to help reach the sink and many other places.
𝐃𝐔𝐑𝐀𝐁𝐋𝐄 & 𝐒𝐓𝐔𝐑𝐃𝐘: Designed with durable and lightweight plastic which holds up to 175 lbs and measures 12″ wide, 7″ deep, and 5″ tall.
𝐒𝐋𝐈𝐏 𝐑𝐄𝐒𝐈𝐒𝐓𝐀𝐍𝐓: With the 117 rubber dots covering the top and the non-slip base around the bottom; it's perfect for nearly any location and floor surface.
The Dreambaby Step Stool is not only affordable, it's also lightweight and easy to carry, making it a practical option as well. This toddler step stool is easy to clean and has rubber dots on the surface to keep your little one from slipping. While some budget options might feel flimsy, this one is still durable enough to withstand daily use by your child.
A unique feature about this one is that it's contoured to fit around the base of your toilet. This may help your toddler feel more comfortable when they need an extra boost once they've reached potty training age.
While this isn't a folding step stool, it's still relatively small, which makes it great for smaller spaces. However, it's a little shorter at just under 6 inches in height, which might not be high enough for some toddlers. But for many kids, it should give them just the right boost to reach the sink or counter.
Skip Hop Double-Up Step Stool (Space Saving)
Skip Hop Toddler Step Stool
A big-kid boost to toddler independence, our 2-in-1 step stool makes everything easier for kids to reach. Perfect at the bathroom sink and toilet for potty training, it's also great as a kitchen helper and more
Use the space-saving nesting stools together as a stepped design for an easier climb, or separately
Interlocking design keeps stools securely attached when used together
Featuring: Wide standing platforms, Non-slip bases & treads, Space-saving nesting design
If you love the idea of a two step toddler stool but don't have the space, the Skip Hop Double-Up Step Stool could be just what you need. This step stool has nesting steps which can be used together or separately. As your toddler grows into a big kid, they may only need the top step, and you'll be able to move the bottom step out of the way.
Along with its space saving design, this toddler step stool is lightweight so your child can carry it on their own. It's also sturdy and has a weight limit of 250 pounds on the top step and 150 pounds on the bottom. If you're concerned about aesthetics, this step stool has a basic gray design, so it will go well in any bathroom or kitchen.
Keep in mind that for a double step stool this one is a bit on the shorter side at 8.5 inches. However, that's still taller than most single step stools for kids. And while you may not love the idea of plastic, it's really easy to clean which is helpful during potty training.
Joovy StepTool (Highest Weight Limit)
Joovy StepTool
Non-slip rubber top and bottom ensures both safety and stability
Supports up to 300 pounds
Sits 6.25″ off the ground
Sleek and sturdy design for the whole family in any room in the house
With a high weight limit of 300 pounds, your entire family—including older children and adults—can use the Joovy StepTool. It's also wider than some other step stools and made from durable materials, so most family members will be able to safely use it. It has a non-skid base and surface, so you don't have to worry about your kids slipping.
Some additional features you may appreciate include the simple black and white design and the fact that it's easy to clean. Plus, it's lightweight, so you can store it out of the way, and your toddler can move it back and forth between the toilet and sink.
Like many other single step stools, this one is a little on the shorter side for some toddlers at 6.25 inches. And while it can hold most adults, the surface area is better suited for kids. Otherwise, the entire family should get plenty of use out of this step stool.
Graco Double Step Stool (Best Overall)
The Graco Double Step Stool packs in a lot of features that you might want in a toddler step stool. It has two steps, so it will grow with your child, but it's also lightweight enough to store out of the way. Plus, it's sturdy and has anti-slip grips so your toddler and big kids can safely reach the sink or counter without slipping.
With a weight limit of 220 pounds, adults can use this step stool, too. It comes in a simple whie design that will go well in any bathroom or kitchen, and it's easy to clean. You'll find this step stool helpful during potty training and as your child grows.
Unless you're really against having a plastic step stool, there really isn't anything negative to say about this step stool aside from the fact that it doesn't fold.
Utopia Home Foldable Step Stool for Kids (Most Compact)
Utopia Home Foldable Step Stool
HIGHLY DURABLE – This highly durable foldable stool is made for kids and can hold up to 300 pounds.
SPACE EFFICIENT – The stool is designed in a way to conserve space after it is folded up. All you have to do is to pull the handle and push from the sides in order to fold it up
EASY TO CARRY – The stool is really easy to carry around using the handle which is also highly durable
RIGHT ELEVATION – This stool gives your child the extra height whenever required
Folding step stools are perfect if you're short on space, and the Utopia Home Foldable Step Stool for Kids is a nice option. When it's not in use, you can fold it flat for easy storage. It's lightweight and has a handle when folded, so your kids can easily carry it from room to room (and might even have fun doing so).
If you're concerned about safety, this folding step stool is sturdy and has rubber anti-slip dots on the surface to prevent slipping. It can even be safely used by most adults. Aside from those features, it's easy to clean, affordable, and even has a stylish design for a folding step stool.
Folding step stools generally don't feel quite as durable as some others, but that shouldn't be a safety concern if just your kids are using this one. If you want something that folds flat for storage and can be easily carried from bathroom to kitchen, this kids step stool will get the job done.
Final Verdict
If you're looking for the best toddler step stool (and of course you are), the Graco Double Step Stool won't disappoint. Once you've decided on your potty training method, go ahead and add this kids step stool to your shopping list to purchase. It will easily hold up to daily use by your toddler, big kids, and even you.
With this double step stool, kids will easily be able to reach the sink for hand washing and brushing their teeth. Since it's lightweight, you (and your toddler) will have no problem moving it from room to room. And with it's simple design, it will go well in any kitchen or bathroom. This is easily one of the best options you can find.
FAQ
What safety features should I look for in a toddler step stool?
A toddler step stool may have additional safety features that a regular step stool for kids or adults might not. These could include rubber anti-slip grips on the surface or feet of the stool. The platform should also be an appropriate height for your toddler, so it's just tall enough to give them a little boost.
At what age can my child use a step stool?
The recommended age can vary depending on the manufacturer. This could vary between 18 months and 3 years of age. Generally, once children are able to stand on their own, they can use a step stool with the help of a grown-up. As a precaution, you should always stay within arm's reach of young children when they are standing on a raised platform.
What's the best material for a step stool?
Which material you go with is entirely up to you. Some parents may prefer wood because it's natural, durable, and aesthetically pleasing. However, plastic can be just as sturdy and is generally easier to clean and more lightweight.
Related Posts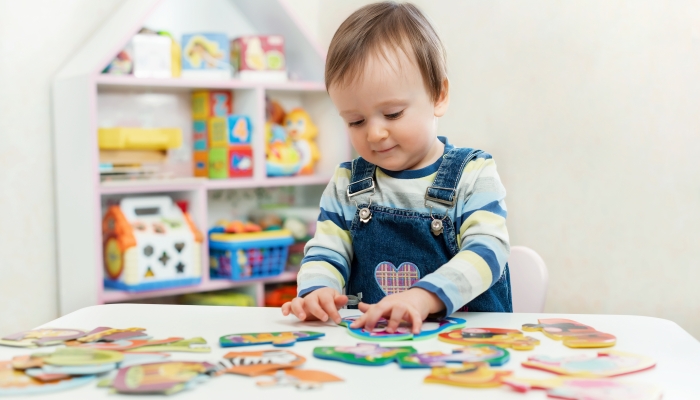 Product Reviews
Puzzles are one of the best ways to help them with language, color and shape recognition, basic numbers, and fine and gross motor skills.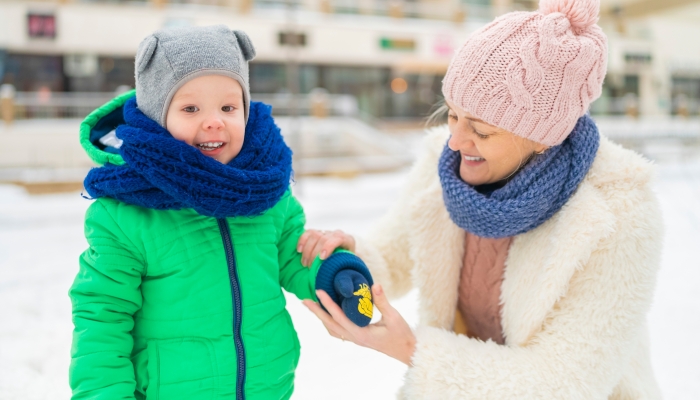 Product Reviews
As winter approaches it's time to shop for mittens and gloves for your toddlers and you'll probably need more than one pair!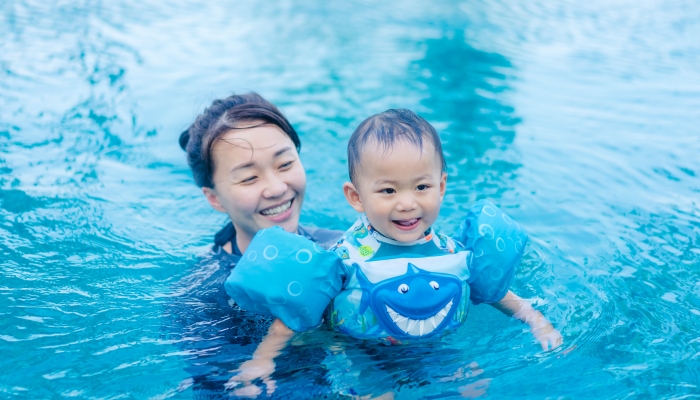 Product Reviews
Shopping for an infant life jacket? Our list of the best infant life jackets will steer you in the right direction.