4 Best Diapers for Sensitive Skin in 2023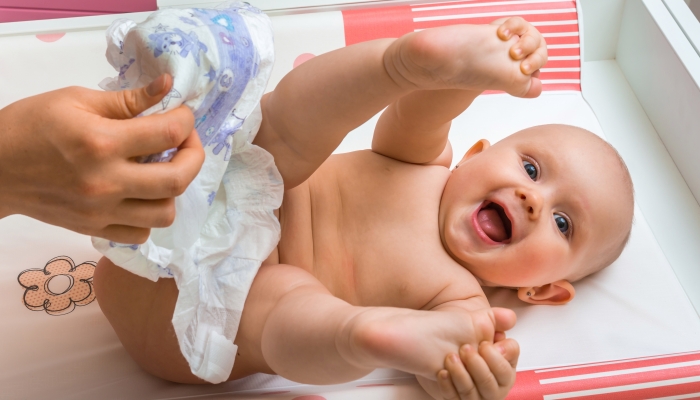 This post may contain affiliate links; please see our terms of use for details.
All babies have delicate skin. It's sensitive if irritations or allergic reactions occur after contact with fragrances, dyes, or detergents.
Due to current regulations prohibiting most allergens in diapers, diaper allergies are rare but possible.
The only way to avoid all chemicals in baby diapers is to switch to reusable cloth ones.
If your little one has sensitive skin, it's essential to choose both ultra-absorbent and chemical-free diapers. Good absorbency keeps them dry and protects the skin barrier, and the lack of chemicals prevents allergens and irritants from coming into contact with their skin. It's a tricky job to find the perfect diapers as not all brands of hypoallergenic diapers succeed at both.
We're great at tricky jobs, though, and have managed to find the 4 best diapers for sensitive skin in 2023. 
Best Budget
Best Features
Best for Environment
Nora's Nursery Cloth Diapers
Huggies Hypoallergenic Baby Diapers
Best Budget
Nora's Nursery Cloth Diapers
Best Features
Huggies Hypoallergenic Baby Diapers
Best for Environment
Top Choice:

Nora's Nursery Cloth Baby Diapers
All of the options given are excellent choices. They're great for sensitive skin, your baby's health, and provide effective leak protection. Something that hypoallergenic diapers often fall short on.
DYPER makes the best disposable diapers for sensitive skin as they contain the fewest additives and are very unlikely to cause skin irritations. However, they're also incredibly expensive, as with many eco-friendly and natural diapers. For this reason, we can't fully recommend them.
Nora's Nursery Cloth Diapers
NO LEAKS – Snug leg openings and waterproof cover, breathable suede cloth is soft on baby's skin
100% MONEY BACK GUARANTEE – Our customer service in unparalleled and we are committed our customers. If you are not 100% satisfied, return your order with no questions asked!
GROWS WITH YOUR CHILD – Adjustable snap layout fits babies and toddlers from 10 to 33 pounds so you save time and money looking for different sizes
SAVE MONEY AND THE ENVIRONMENT – Reusable diapers are budget friendly and environmentally conscious
The best diapers for sensitive skin have to be Nora's Nursery Cloth Baby Diapers!
Once you've got over the initial shock of the extra laundry, your wallet and your baby will both thank you.
Why is Nora's Nursery the Best Sensitive Diaper Brand?
They are the most cost-effective diapers for sensitive skin.
They contain no allergens or skin irritants.
The ultra absorbency of the inserts means they'll soak up much more pee than disposable brands. Plus, if they fall short, you can just add in an extra one to keep your baby dry.
The soft liner will be comfortable against your baby's skin.
The parents who've used them claim they effectively prevent diaper rash.
Having full control over the chemicals that are next to your baby's skin gives you the flexibility to change detergent in case of a reaction.
They are effective as overnight diapers.
They are made to be as eco-friendly as possible and will prevent thousands of baby diapers from ending up in landfills.
Best Dye Free Diapers – DYPER Bamboo Baby Diapers
DYPER Bamboo Baby Diapers
BETTER FOR YOUR BABY: Experience natural plant-based disposable diapers designed for sensitive newborn, preemie, and toddler skin. Outer and inner layers made with 100% Bamboo Viscose for improved comfort, superior wicking, and maximum fluid retention.
STRETCHY, SOFT, COMFORTABLE: Ultra soft to the touch, absorbent, and thoughtfully made with honest, clean & pure ingredients. They feel more like yoga-pants than conventional diapers with an almost underwear like fit.
ABSORBENT, SAFE, VERSATILE: Certified to the highest OEKO-TEX consumer safety standards. Clinically tested and 5-star rated by dermatologists. Great as a cloth diaper alternative, for potty training boys & girls, nighttime protection, and swaddler time.
PLANT-BASED & ECO-FRIENDLY: Our infant diapers are parent's choice because they are non-toxic and are free of chlorine, latex, alcohol, perfumes, PVC, lotions, TBT, parabens, sulphates, & phthalates. They are unprinted, unscented, hypoallergenic, and cruelty-free to protect the next generation.
Focusing on your baby's skin instead of style DYPER Bamboo baby diapers are completely unprinted. There will be no cute hippos or giraffes on your baby's little tush. Fantastic! Why waste the ink and expose your little one to a potential allergen by decorating something they poop in?
It's not just the ink they've avoided either. These hypoallergenic diapers are also free of chlorine, latex, alcohol, perfumes, PVC, lotions, TBT, parabens, sulfates, phthalates, and fragrances. They also carry the STANDARD 100 by OEKO-TEX® label, meaning they've been independently and thoroughly tested for harmful substances and will therefore be completely safe for your baby.
DYPER bamboo diapers are also an excellent option if environmental impact is important to you. They're made from sustainably sourced bamboo, are almost completely plant-based and biodegradable, and the company takes part in carbon offsetting. The only part of the diaper not made from plant-based materials is the leg cuffs, which are unavoidably elastane.
Material: Bamboo | Age Range: Baby
View on Amazon | View on Walmart.com | View on Dyper.com
Huggies Hypoallergenic Baby Diapers
120 Huggies Special Delivery Baby Diapers, size 5 (27+ lbs), the same baby diapers you love, now with brand new Disney 101 Dalmatians designs; product and packaging may vary
Our Softest Diaper Guaranteed*: Love it or we'll refund it 100%; Huggies Special Delivery Baby Diapers are made with plant-based materials**
Safe for Sensitive Skin: Clinically proven hypoallergenic and dermatologist tested, made to prevent leaks for up to 12 hours for outstanding absorbent protection; made with responsibly sourced materials*** and are fragrance free, paraben free, lotion free and free of elemental chlorine bleach
Lightweight and Breathable: A 100% breathable outer cover provides airflow to help keep your baby's skin dry and healthy; a wetness indicator of a yellow line changes to blue when wet, easily letting you know when it's time for a diaper change
Most importantly, they're effective at keeping your baby dry. The ultra-absorbent core is even suitable for use overnight! (Something not all diaper brands can boast—we're looking at you Huggies Special Delivery!)
Unfortunately, these bamboo diapers' sustainable materials and ultra absorbency make them more expensive than the other brands on our list. They also lack a wetness indicator and tend to run a little large. You may want to consider ordering the size down if your baby is at the smaller end of their size bracket.
Best Diapers for Odor Control – The Honest Company, Clean Conscious Diapers
Honest Company Clean Conscious Diapers
Quilted Bubble Liner quickly draws wetness away for dryness you can touch
Diaper Duty Wetness Indicator because it's nice to know when your babe has gone
Plant-Based Materials made with sustainably harvested, totally chlorine-free fluff pulp
Quick Absorb Channels keep leaks under wraps for dryness on the fly
Before we get on to how the Honest Company Clean Conscious Diapers are great for sensitive skin, we need to take a moment to talk about their blowout traps. These are exactly what they sound like. The diapers feature little pockets built into the back to catch the poop that's fired out at lightspeed, preventing blowouts and outfit changes. Genius!
Other cool features include a belly button cutout on the newborn size to allow space for your baby's umbilical cord clip and a wetness indicator to help you reduce the amount of time your baby's skin is in contact with urine. They even come in pull-ups for older tots.
As with the other hypoallergenic diapers on our list, the Honest Company diapers use natural materials where possible and are free of latex, fragrances, and parabens, and the wood pulp is processed without chlorine bleaching.
Unlike the other varieties, a lot of effort has gone into their designs. They're beautiful—with cacti, rockets, polar bears, and even avocados. You could base a fabulous nursery theme on any of them and have a fully coordinated tot. However, this means they're not free of dyes, so you may want to avoid them if you know your little one has very sensitive skin.
They're also one of the only eco-friendly diapers for sensitive skin to include odor inhibitors. This is fantastic if you're struggling with the aroma of unscented diapers but something to keep an eye on if your child's skin becomes irritated. However, this is unlikely as they don't use harsh chemicals. Instead, they use a hypoallergenic formula of natural oils like citrus extract and liquid chlorophyll.
Material: Plant-based | Age Range: Infant
View on Amazon | View on Walmart.com | View on buybuyBABY.com
Best Diapers for Eco Certification – Bambo Nature Diapers
Bambo Nature Diapers
Please confirm the size before purchasing. Inapproriate size may lead to leakage issue or can cause rashes"
If eco-friendliness is important to you, Bambo Nature Diapers are a great option. Their list of planet-friendly certificates is enormous, including Nordic Swan Ecolabel, Asthma Allergy Nordic, FSC® – Forest Stewardship Council, ECOCERT Cosmos, Dermatologically tested, and EU Ecolabel. They even won the B/Well Magazine's eco excellence award in 2021 and are produced using 100% wind power.
As with the other hypoallergenic diapers, they're phthalate, paraben, chlorine, fragrance, and latex-free making them suitable for your baby's sensitive skin.
They're also the most affordable disposable diaper on our list, and the absorbent core is effective for multiple wettings, even overnight. However, if your baby's skin is extra sensitive, use the wetness indicator wisely and change their diaper after every pee. This will keep their skin barrier strong.
The diapers do contain ink, used in the wetness indicator and minimal design. But the ink is non-sensitizing, non-toxic, and has been tested for heavy metal and carcinogenic pigments. Plus, the designs are on the front, well away from your baby's sensitive skin.
Another drawback is that they run slightly large and can leak if too big for your little one. So make sure to choose your size carefully.
Material: Bamboo | Age Range: Baby
View on Amazon | View on Walmart.com | View on Sears.com
Best Cloth Diaper – Nora's Nursery Cloth Diapers
Nora's Nursery Cloth Diapers
NO LEAKS – Snug leg openings and waterproof cover, breathable suede cloth is soft on baby's skin
100% MONEY BACK GUARANTEE – Our customer service in unparalleled and we are committed our customers. If you are not 100% satisfied, return your order with no questions asked!
GROWS WITH YOUR CHILD – Adjustable snap layout fits babies and toddlers from 10 to 33 pounds so you save time and money looking for different sizes
SAVE MONEY AND THE ENVIRONMENT – Reusable diapers are budget friendly and environmentally conscious
If you want to know exactly what's in your child's diaper and next to their skin, cloth diapers are an excellent choice. The fact that they're reusable is also great for the environment as fewer diapers will end up in landfills. Nora's Nursery cloth diapers are lead-free, CPSIA Compliant, and SGS tested, meaning you can be sure there's nothing harmful lurking in them.
They're also super absorbent when used with your choice of reusable inserts. They recommend bamboo, 7 of which are included in the pack. These will hold pee effectively and are kept away from delicate skin with a layer of super-soft suede cloth. Parents who've used them report that they're incredibly effective at preventing leaks and can last overnight.
Although the initial cost is higher than disposable diapers, they're fully adjustable and will last from newborn to potty training age, potentially saving you over $1000. The prints are also gorgeous, and they're incredibly easy to use with snaps and no need for separate covers. Everything you need comes with your first order, including a wet bag for storing used diapers when out and about.
Unfortunately, they're not plastic-free. The snaps, leg elastic, and TPU outer layer are all plastic. So if you're, looking for a solution made of plant-based materials, these aren't the perfect diaper for you. However, all the plastics used are inert and completely safe for your baby.
They also don't have a wetness indicator, so if you want to make sure your infant's skin stays as dry as possible, you'll need to conduct frequent squish tests.
Material: Polyester, Suede | Age Range: Baby
View on Amazon | View on NorasNursery.com | View on eBay.com
How Do I Know If My Baby Has Sensitive Skin?
Your baby's skin is sensitive if they experience skin irritation or an allergic reaction after coming into contact with fragrances, dyes, or detergents. The rashes are often red, itchy, and inflamed and can include eczema and contact dermatitis.
Not all rashes are a sign of sensitive skin, however. All babies have delicate skin due to their immature skin barriers, and it's normal for them to develop all sorts of spots and rashes throughout their infancy. Common skin conditions include:
Heat rash
Drool rash
Milia
Baby Acne
While these can be uncomfortable or annoying for newborn photoshoots, they're not a sign your baby has extra sensitive skin. They'll likely be OK with regular diapers. However, there are many other advantages of switching to a sensitive diaper brand even if your baby isn't having specific issues with them.
Why Switch to Diapers For Sensitive Skin?
If your baby's diapers are causing rashes or skin irritation, making the switch to sensitive diapers is a no-brainer. However, this isn't the only reason to make the change.
Regular diapers are safe and undergo extensive testing. However, they can contain dyes and fragrances which will be in contact with your baby's delicate skin 24/7 for years. Some diaper brands are also allowed to treat their perfumes as a trade secret and don't even provide a list of the chemicals and perfumes used.
If this concerns you, you might want to consider switching to diapers for sensitive skin. While they aren't guaranteed to be completely free of harmful chemicals, the manufacturer will have made more of an effort to ensure they won't be directly in contact with your baby's skin.
As a bonus, diapers for sensitive skin are usually eco-friendly, so they're kind to the planet too!
Can Babies Be Allergic To Diapers?
Yes, a baby can be allergic to some of the ingredients that diapers contain. However, it's rare. The most common culprits are fragrances and dyes. These can trigger an exaggerated immune response in some babies leading to rashes, redness, swelling, and a burning sensation.
An allergy to dye might present as a rash that lines up with the colored parts of the diaper. An allergy to fragrances or other chemicals may be more widespread.
Typically, diaper rashes that don't respond to treatment or last longer than a month could be due to allergy or infection. Either way, you should seek professional medical advice.
My Baby Keeps Getting Diaper Rash. Are They Allergic to Diapers?
A diaper allergy is the least likely cause of a diaper rash. Unfortunately, the combination of a baby's underdeveloped skin barrier, the moist environment, and the irritation of pee and poop is the perfect recipe for diaper rash.
You can prevent diaper rash with:
Frequent diaper changes – Ideally as soon as the diaper is soiled.
Proper cleansing during a diaper change – Hypoallergenic wipes are often more effective than water and cotton wool.
Diaper-free time – Allowing your baby's tush to dry thoroughly in the air strengthens the skin barrier.
Ointments and barrier creams – These can support skin barrier function—but make sure you choose a fragrance-free one.
It's also possible that the diapers aren't the culprit. Food allergies and allergies to baby wipes, petroleum-based lotions, and diaper creams can cause the same red rashes and make their little bodies produce hives. Try eliminating each, one at a time, to establish which is causing the problem.
What Should I Look For When Buying Diapers For Sensitive Skin?
Disposable diapers contain more ingredients than you'd think. You can usually find a list of them on the packaging or the manufacturer's website. However, as these lists are often long and filled with materials we've never heard of, they're not always that helpful.
Diaper Ingredients to Avoid
| | |
| --- | --- |
| Ingredient | Why You Should Avoid It |
| Inks and Dyes(Potential Allergens) | In the past, some inks and dyes were carcinogenic or contained heavy metals. Due to rigorous testing and safety measures, you're very unlikely to find this in brands today. Manufacturers have now replaced disperse dyes with large molecules known as pigments, which aren't known to be skin irritants. However, some parents say their babies have reacted to them, so avoid brands that use them on the diaper's skin contact areas. |
| Perfumes and Fragrance (Potential Allergens) | Many disposable diapers contain fragrances and perfumes. It's understandable, considering they're designed to contain pee and poop, but unnecessary if you change your baby's diaper straight away. As companies don't have to list every ingredient used in their fragrances, this is often a place for many allergens and irritants to hide. |
| Latex (Potential Allergen) | Latex is a natural rubber made from the fluid of a latex tree. Unfortunately, the proteins within it can be mistaken by your baby's body as a harmful substance, triggering an immune response. Now that it's known to be a potential allergen, most manufacturers avoid it, and you should avoid it too. |
| Phthalates(Harmful to Health) | These are chemicals used in plastics to increase softness and flexibility. They have caused reproductive issues in some animal trials and should be avoided. |
| Chlorine(Harmful to Health) | The use of chlorine in preparing pulp used to result in trace amounts of dioxin, a toxic and carcinogenic chemical compound. Today, regulations have banned this, and the use of chlorine has been hugely reduced. Diaper manufacturers use two key terms that are helpful to know: Elemental Chlorine Free (ECF) – Chlorine dioxide is used in the manufacturing process, but it's of a different structure and won't produce dioxins. Total Chlorine Free (TCF) – Contains no chlorine at all. Hydrogen peroxide is used instead. |
| Parabens(Harmful to Health) | These are compounds most often used as preservatives. You should avoid them due to evidence that they disrupt normal hormone function. |
Unavoidable Diaper Ingredients
There are also a few ingredients that sound bad but are unavoidable if you want to use disposables. If you come across these in the ingredients list, don't put down the packet and go searching for an alternative—they've all got them.
| | |
| --- | --- |
| Ingredient | Why it's Unavoidable |
| Plastic Based Elastic | Despite decades of attempts, no manufacturer has been able to eliminate plastic in disposable diapers completely. This is because none of the plant-based alternatives are effective enough for use on those vital and blow-out controlling leg cuffs. However, it's possible to avoid plastic coming into contact with your baby's skin by coating it in a plant-based material or using a barrier layer. Look out for products that do this. |
| Super Absorbent Polymers (SAP) | All disposable diapers, even the eco-friendly ones, rely on SAPs to absorb pee. They've been a fantastic invention as the incredible absorbing powers mean pee is drawn quickly and effectively away from your baby's sensitive skin, reducing irritation and preventing diaper rash. If you want to avoid them, cloth diapers are your only option. |
Do Cloth Diapers Contain Fewer Irritants and Allergens Than Disposable Diapers?
OsoCozy Birdseye Flat Unbleached Diapers
A QUALITY CLASSIC – There are many reasons why cloth diapers and classic cotton nappies have been used for centuries and are still used around the world. Soft, economic, environmental – try them and believe!
SOFT UNBLEACHED DIAPERS – OsoCozy Unbleached Birdseye Flat Diapers are made of 100% birdseye cotton, bringing superior absorption, softness and durability. Each measure 27" x 27". One order includes 6 baby diapers
BETTER VALUE – Each OsoCozy flat diaper weighs 2.6 ounces which is 25-30% heavier than popular national brands and thus more absorbent than these other brands
COST-SAVING – Long-lasting and easier to clean OsoCozy Flat Diapers save you time and lots of money. Prewash these unwashed diapers 3 times to activate absorbency in the unbleached cotton fabric
Looking at the list of disposable diaper ingredients might lead you to consider cloth diapers as a great hypoallergenic alternative. You can't get much further away from potentially harmful chemicals than a flat, unbleached cotton cloth diaper.
For some parents, they work great—particularly for those who've mastered their folds and don't mind the extra laundry. However, attempting origami on a wiggling, and sometimes peeing, the baby is a bit much for others.
Thankfully the cloth diaper industry has responded to pleas for an easier option, and there are now a range of fantastic elasticated and snap fastening reusable cloth diaper options available.
Are Cloth Or Disposable Diapers Best For Baby's Sensitive Skin?
Are cloth diapers good for sensitive skin? Yes, but there are some things to keep in mind.
Of course, the fact that they don't contain any chemicals, like SAPs, makes them a great hypoallergenic diaper choice. However, they don't guarantee that your baby's sensitive skin will remain rash free.
Firstly, cloth diapers lack the ultra-absorbent core of the best disposable diaper brands. This means that if you don't notice your little one has peed straight away, the urine might remain next to their skin for longer. The moisture and pH weaken the skin's barrier, allowing bacteria and allergens to breakthrough.
Secondly, no option will ever be completely free of chemicals as you'll need to wash the cloth diaper in some kind of detergent. Finding the right detergent for sensitive skin can be a long process of trial and error and can often be overlooked when determining the cause of a diaper rash.
Finally, cloth diapers are generally worn with a TPU cover to make them waterproof. While this is safe and nontoxic, some parents have reported it irritating their baby's skin.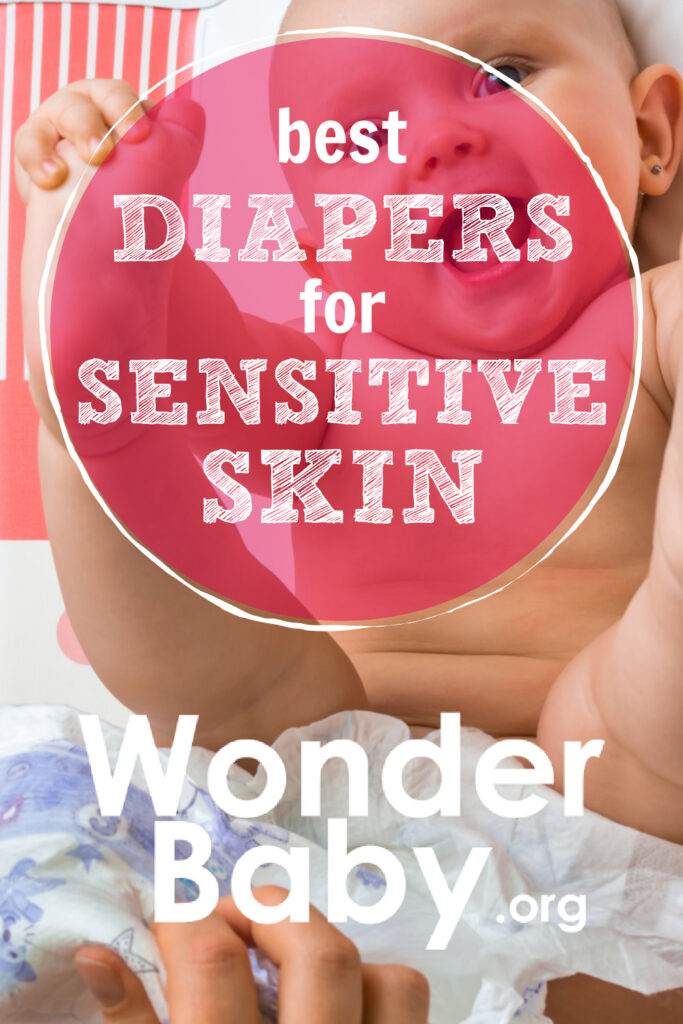 Related Posts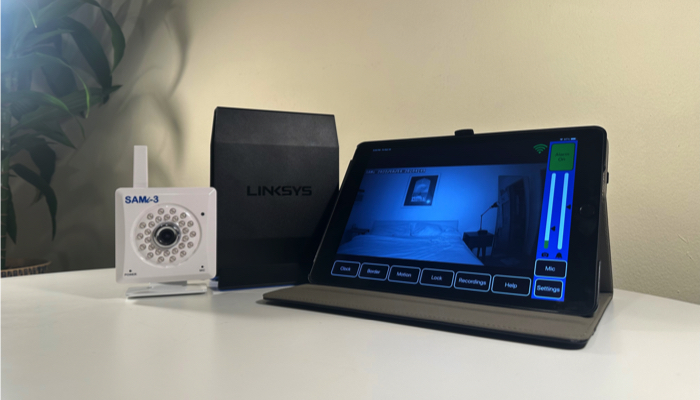 Giveaways, Product Reviews, Special Needs
The fully customizable SAMi-3 seizure monitor can alert you when your child has a seizure while also minimizing the number of false alarms you receive.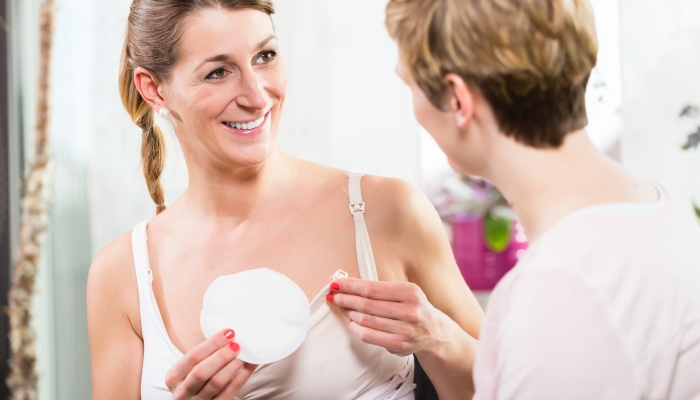 Breastfeeding, Product Reviews
Therapy pads can help breastfeeding mothers with pain, clogged ducts, and even milk supply. Find the best heating pad for breastfeeding moms right here.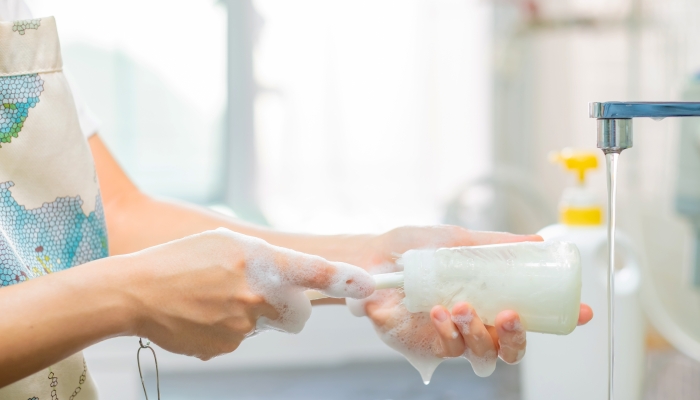 Product Reviews
Bottle brushes abound, but not all of them have the same cleaning power. Skip the search! We've got the best bottle brushes right here.