A Drum That Sounds Like the Sea
An ocean drum is a beautiful thing to see and hear!
It looks like a frame drum you might see from the Middle East, but is filled with small round objects that, when tilted back and forth, sound remarkably like the waves at the seashore. It's sound is hypnotic and calming and ocean drums that are filled with colorful or interesting objects are visually stimulating as well.
A traditional ocean drum can be almost any size and generally with two transparent heads. Between the two heads you'll see seeds, beads, bee-bees, or other small round objects. As they roll back and forth, the sound of the surf is created and changes according to how the drum is handled.
How do you make your own version of an ocean drum? It's easy! Basic supplies to create one appear as a list below the instructions.
Make Your Own Ocean Drum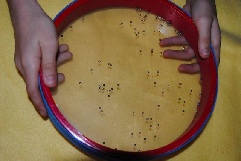 Start with a sturdy box. You may want to pick a large or small pizza box, a small flat mailing box, or some similar sized container.
Next, you'll want to create a window so you can watch the beads or seeds inside move back and forth. To do this, find some sturdy clear plastic (like from a grocery store salad container, a clear tablecloth, or recycle a see-through report cover) and cut it into a large square or rectangle. Draw a slightly smaller square or rectangle on the inside of the top of your ocean drum box and cut it out. Secure the window in place inside the box using a nice, strong tape such as packing tape, electrical tape, or masking tape.
Now choose your fillings. Small, round objects give a sound most like a real ocean drum, but you can get creative with what you'd like to use. You can choose tiny pasta like acini de pepe pasta, pastina pasta, seed beads, bee bees, or mung beans. You can fill your drum with lentils, marbles, pony beads, larger beans, or orzo pasta for a louder drum. You can mix and match to see what sounds best to your ear.
You may also want to make it visually interesting as well as pleasing to hear. If so, you may want to add seed beads, larger beads, or other colorful small items like marbles that will add to the appeal of playing this drum.
Once you've chosen your perfect contents, you are ready to seal the drum. Cover with packing tape so that when played the contents will stay inside. You can paint your box or decorate the outside, if you like. If you started with a plain box from a stationery supply store, you have a clean slate to create an ocean motif or decorate in any way you want. If you have an overly busy box, like a pizza box, you may wish to cover the top with colored paper (leaving space fort he window, of course) and decorate from there.
Playing the Drum
This is an enjoyable and relaxing drum to sit and play by yourself. Many people find the sound and the changing patterns very calming and meditative. You can also play this instrument along with soothing music and the drummer can try to match the beat by tilting the ocean drum along with the rhythms of the song.
If you enjoy this type of drum, you may want to make several as each one will have a distinct sound or might fit better with different music styles that you can play along with.
For Kids Who are Blind
For children who are blind, you may wish to make several drums in different sizes with varying contents, the size giving the cue to the sound of the drum. For instance, the largest drum might make the loudest sound and be filled with marbles. The smallest might make a very quiet sound and be filled with tiny beads.
For Kids on the Autism Spectrum
For children who have noise sensitivity or seem to connect with certain types of sounds in special ways, pay careful attention to "tuning" your drum for contents that sound right to the person who will use it. You can fill it several times and have him or her pick out what sounds the most pleasing before sealing it up.
For people who enjoy a changing array of colors, you may wish to pay careful attention to making the contents colorful and bright by adding or using beads, small buttons, marbles, or glitter that can add to the visual appeal.
Have fun and enjoy your drum and drumming experience!
Other musical and multicultural craft projects like this can be found at www.dariamusic.com, (under "instruments").
Supplies for this Project
A sturdy box: Pizza boxes, small pizza boxes, flat shipping boxes, or boxes from pies at the supermarket make good selections.
Sturdy clear plastic: You can use recycled report covers, recycled salad bar containers, clear tablecloth covers, etc. Don't use plastic wrap as it simply won't hold up to the task.
Strong tape: Packing tape, masking tape, or electrical tape are good choices.
Contents for the drum: Choose any small fillings such as seed beads, pastina pasta, acini de pepe pasta, orzo, pony beads, mung beans, lentils, dried beans, marbles, or small pebbles.
Award-winning children's performer, Daria (Daria Marmaluk-Hajioannou), has five CDs that have won national honors. She has the most awesome job of traveling the world to sing for kids and peace. Her website, located at dariamusic.com, was given a 2009 Parents Choice Award for its musical and cultural content.
Related Posts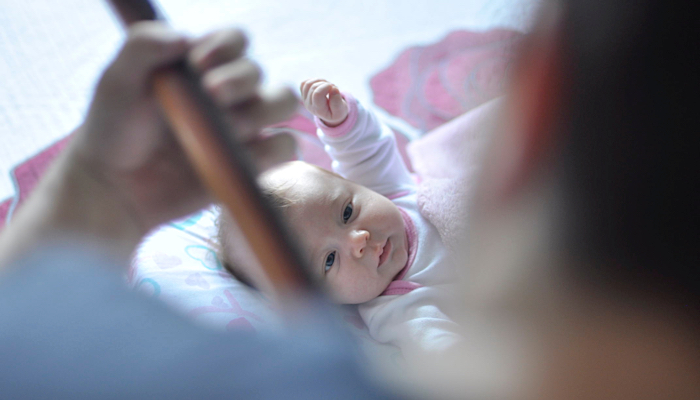 Music Play, Visual Impairment
Jennie writes about how her son, Max, responds to music. Other therapies failed Max and often stressed him out, but Music Therapy has been very successful for him!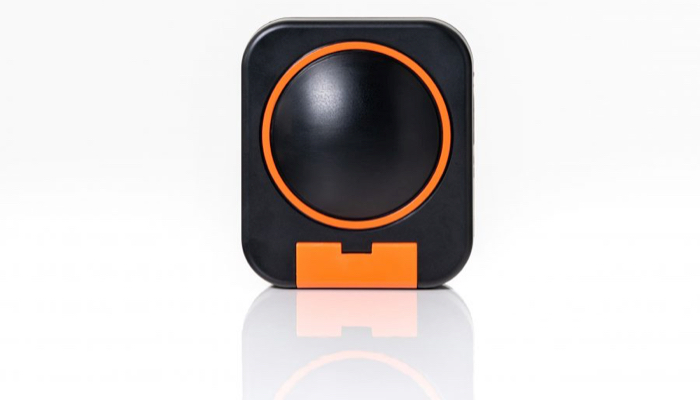 Music Play
The Skwitch is an accessible device that connects to your iPhone, turning your phone into a music making machine with coding and accessibility features too!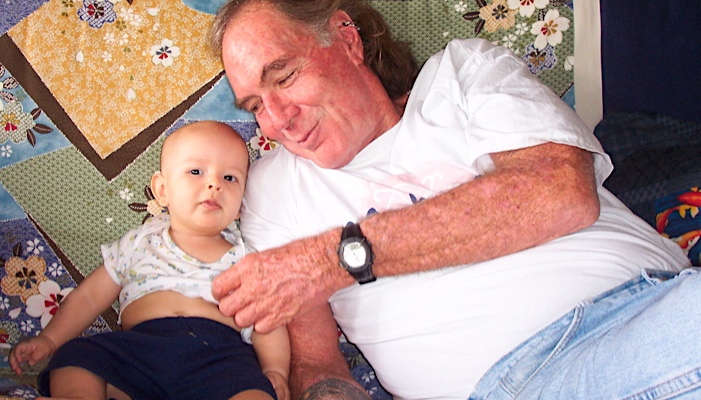 Music Play
Grandparents love to sing to their grandkids. Aside from being a wonderful way to bond with your young child, music is a great tool to connect the generations and help...