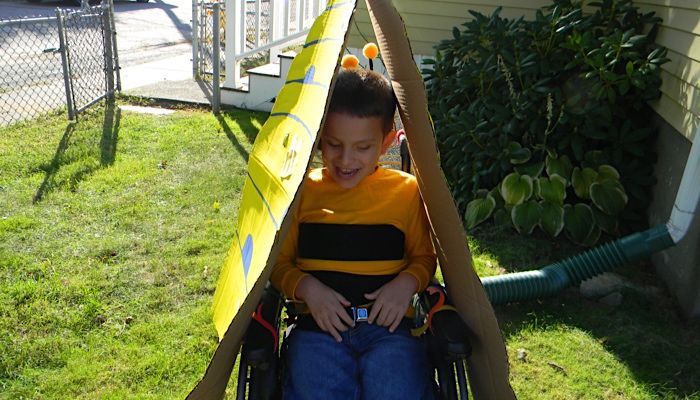 Does your child like to wear hats? Or gloves?
Many kids who are blind do not like the feeling of extra clothes, like hats or gloves. Many even have trouble with jackets or with textured clothing. That extra sensory input can be very upsetting and if you primarily interact with the world through your ears and hands then it makes sense that you wouldn't want them covered.
And now it's Halloween. Time to dress up in funny clothes with funny textures and funny hats! Suddenly we're asking our kids to wear masks and makeup and clothes made out of lace or felt (or worse).
It's no wonder some children just won't wear Halloween costumes!
Ivan is like this. He's happiest in a cotton t-shirt and jeans. So we try to create costumes around him and use his wheelchair as the prop.
Since he absolutely adores his honey bee pillow pet, I thought we could have him dress up as a honey bee this year and turn his wheelchair into a bee hive! Here's how we did it….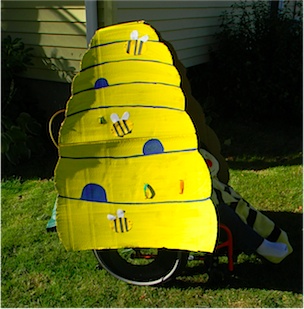 What You'll Need:
a large cardboard box
an Xacto knife
tape or glue
pens or paints for decorating
cardstock or construction paper for decorating
one long-sleeved yellow shirt
back fabric for making stripes
Maybe a honey pot to use as a trick-or-treat bag
Making Your Honey Bee
We decided to keep Ivan's actual costume very simple. Black pants or jeans with a long-sleeved yellow and black striped shirt. If you're lucky enough to find a striped shirt at the store, then you're good to go. I couldn't, so I had to sew stripes on to a yellow t-shirt.
All I did was cut out thick black strips of fabric and pinned them to the yellow t-shirt. It was pretty easy to then just use my sewing machine to attach the stripes to the shirt. Now the shirt still feels like a normal shirt when Ivan wears it, but if he touches his chest and belly he can feel the tactile stripes!
Making Your Bee Hive
To make the bee hive, cut your cardboard box so that you can lay it flat and draw a big bee hive in pencil. Cut out the hive using a sharp knife, but make sure that the top is still attached. This will create an arc over your child in his wheelchair.
Next, paint your bee hive yellow and add lines and maybe even little doors to give it some dimension.
We also cut out some little bees out of cardstock and glued them to the hive. I hung one from the top of the bee hive using string because I knew Ivan would like reaching out and touching the bee hanging above his head!
To attach the bee hive to the wheelchair, we used Velcro ties. All you have to do is cut small holes in the bee hive and feed the velcro ties through to securely fasten the bee hive to the arm rests of the wheelchair. It's so easy to get the bee hive on and off the wheelchair and you don't have to worry about leaving glue or tape residue behind!
To finish off the costume we added some store-bought bee wings and antennae. We attached the wings to the back of the wheelchair and the antennae to the head rest. It'd be great if Ivan would wear them… but that's just not going to happen. This way they are there and he knows they are there, but he doesn't have to wear them.
The end result may be a little snug for some kids, but Ivan absolutely loves to be "in" things, so he finds this pretty exciting.
Check out this video to see what our costume looks like and get a little more detail on how we attached the bee hive to the wheelchair: