Time to Eat! Our favorite meal-time products that make feeding babies & toddlers easier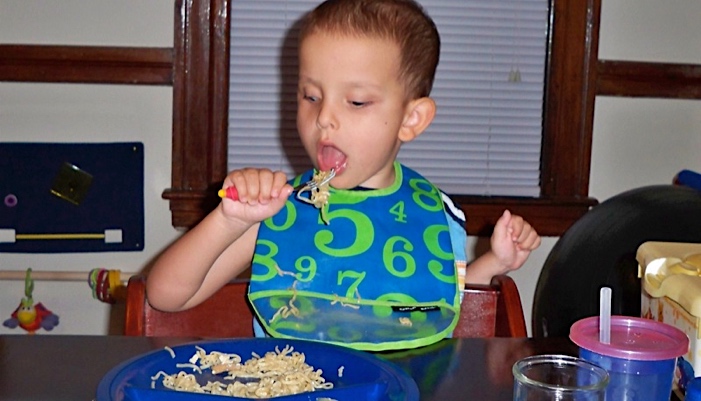 This post may contain affiliate links; please see our terms of use for details.
Meals can be a very stressful time for families. Babies and toddlers make messes, refuse good food, or may just get cranky and fussy.
If your child has special needs, this can be even harder as you may be trying to teach him how to feed himself by helping him grasp his spoon or find his plate.
Frustration levels can be at an all time high for both kids and parents!
Trust me, I've been there. And I've found that there are some products that really help ease the stress of meal times.
Why worry about stained shirts or spilled milk when you could be worrying about picky eating or teaching self-feeding skills instead?
Get your table organized and let yourself relax a little—or at least allow yourself to focus on the important issues!
The Best Plates, Cups, and Utensils

Our favorite plate, the Skip Hop Mate Feeding Plate, stays in one place and has neat little compartments to keep food separated. This is a great feature for any kid, but for visually impaired kids this can really help keep the meal organized.
As for spoons and forks, we've been through them all! It can be very hard to find something that is easy for little hands to hold, scoops food well, and is durable. The best I've found is the Gerber Safety Fork and Spoon Set.

The Gerber set has a nice plastic grip that is easy to hold and the utensils are made of metal so your child can learn to move on from plastic or rubberized forks and spoons. They're dishwasher safe and I haven't had to replace them in a LONG time!
Boon makes a creative Toddler Sippy Cup that is very cool to play with and also very easy to hold. It's spill proof and it's unique design is great for teaching kids how to hold on to their own cup!
The Best Bibs

Let's face it, meal time with a baby or toddler is messy! So don't spend your time at the table trying to keep everything clean, because it isn't going to happen. Sit back, relax, and make sure everyone is good and covered!
The best bibs are big, have huge pockets to catch falling food (or spit up), and stay in place.
We also looked for bibs that are hypoallergenic and bacterial resistant so they won't irritate your child's skin or grow mold or mildew after a few uses.
Our favorite bibs have been the ones by Crocodile Creek; They're colorful, easy to wash, and the velcro stays put.
BabyBjörn also makes a great bib with a very wide pocket to catch all that mess, and if you really need to cover up, BabyBjörn also makes an Eat & Play Smock. The smock doesn't have a pocket (which I always like), but it does cover your toddler almost to their toes!
On-the-Go Snacking and Eating Out

There are all sorts of ways to pack some snacks for your kids when you're on the go, but my personal favorite is with the Boon Snack Ball. Just like their Sippy Cup, Boon has put a creative twist on the snack container and turned it into a toy. Ivan loves that this container is shaped like a ball, but one word of caution: It isn't air tight so Cheerios will go stale if not eaten right away!
If you're looking for a nice way to replace your ziplock bags full of Gold Fish Crackers and baby formula, you'll want to check out the Packin' Smart Snack Case. You can load up to five different containers with small portions of snacks and click them together. They are air tight and durable!

For drinking on the go, we really like the Foogo Thermos. Fully insulated, light weight, and vacuum sealed. If you're looking to avoid plastic bottles, you'll be happy with this bottle's stainless steel design, but my favorite part about it is that it's virtually indestructible. I also like the straw design which can be hard to find in a leak-proof container (that really is leak proof).
Lunchboxes are all pretty much the same, as long as they are durable, insulated, and bacteria resistant. But, you have to admit that the cute factor is also important when choosing a lunchbox. We just love the boxes created by Stephen Joseph. Adorable!

And finally, if you take your little one out to restaurants, you may be looking for a good booster seat. Once Ivan out grew the (yucky) restaurant high chairs, we were very happy to move him up to the First Years On-The-Go Booster Seat. It's super portable and adjusts to fit any seat. Ivan is comfortable, safe, and best of all he gets to sit right at the table with the rest of the family.
Related Posts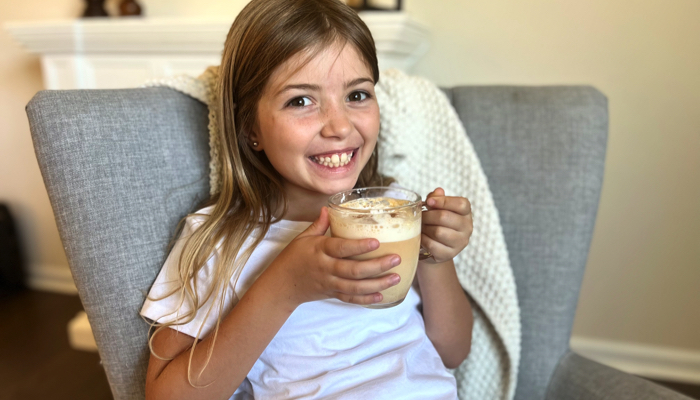 Feeding and Eating
Who says kids can't enjoy the pumpkin spice latte craze? This Kid-Friendly Pumpkin Spice "Not-a-Latte" recipe is delicious and fun to make.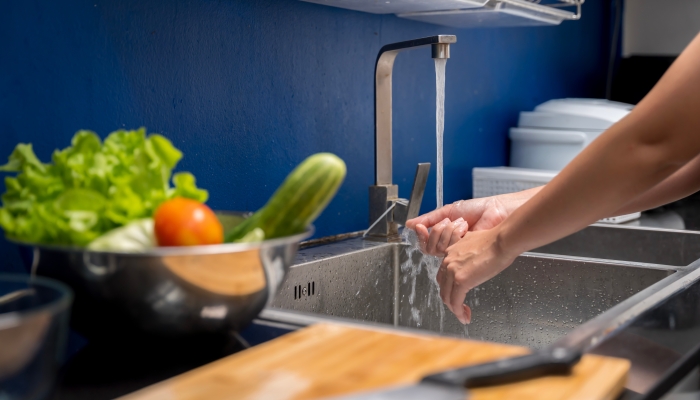 Feeding and Eating
Preventing exposure to food allergens through cross-contact can be done successfully through thoughtful planning and careful food preparation.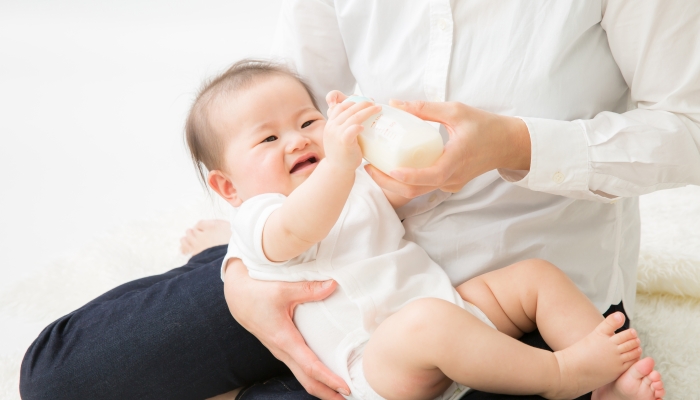 Feeding and Eating
If your baby pushes the bottle away but seems hungry, you're likely desperate for them to finish their milk. Is this normal behavior or a sign something is up?