Audio Description for Blind Viewers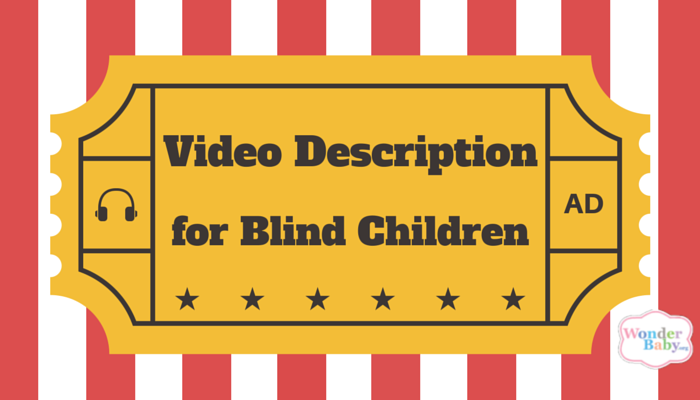 This post may contain affiliate links; please see our terms of use for details.
So You've Heard About Audio Description
Maybe you closed your eyes one night while your family was gathered in the living room watching a movie and thought to yourself, "Whoa! This movie doesn't make much sense when I can't see what's going on!" Then perhaps you felt sad and frustrated for your child with a visual impairment sitting next to you, not getting much enjoyment from family movie night. If you're looking for a solution, audio description services are the answer!
Audio description for blind viewers, also known as Video Description or Descriptive Video when referring to television and movies, has been around since the early 1980s, but it has been only in the last few years that a majority of major motion pictures have made the decision to offer the accessibility feature on their films in the theater and home entertainment. If you watched The 2015 Oscars, you may have even seen Comcast's XFINITY commercial advertising their new accessible Talking Guide for television creatively shown through the imagination of a little girl without sight as she imagines the characters and scenes of the classic, The Wizard of Oz. The hashtag #EmilysOz has been trending on Twitter, a wonderful but rare occasion for accessibility-related tweets.
Have you heard about @comcast's new Talking Guide f/t #blind they are advertising during tonight's #Oscars? #EmilysOz https://t.co/YvQEYCcjCT

— WonderBaby.org (@wonderbaby) February 22, 2015
Learn how a little girl without sight had her favorite movie brought to life, in #EmilysOz: https://t.co/M8Kb0q4fp2 pic.twitter.com/fd6nrYCUbg

— Comcast (@comcast) February 20, 2015
What is Audio Description?
The Media Access Group at WGBH defines Audio Description as an audio track that "conveys the key visual aspects of a film or television program by describing scenery, facial expressions, and costumes during natural pauses in dialogue." A very important fact to note is that audio description is not the regular narration we hear during the movie, but a well-prepared description of the important visual aspects of the media, which ensures the storyline is abled to be followed throughout the duration of the movie or television episode. Audio Description is also used in reference to similar accessibility services at museums, amusement parks and other public facilities where visitors may use audio descriptive headsets during their tours for access to description of the visual pieces such as art, statues, and other elements which may be off limits to touch.
What are the benefits of Audio Description?
There are many benefits of audio description for children with visual impairments, as well as all children, including those diagnosed with autism. Besides giving important visual information to viewers without sight, it also has shown to promote literacy, social skills, and comprehension among children. Since many programs for children are full of visual cues and general phrases such as, "The fish is over there," instead of "The fish is on the right side of the screen," audio description makes learning more fun and social among children of all sight levels. The increased usage of foundational words and meanings in descriptive audio promotes comprehension of skills that are often delayed among children with visual impairments, such as the meanings of directional words, adjectives describing size, shape, and especially colors. If you'd like to see for yourself, WGBH also offers an example video of The Lion King, with and without description, to show the importance of description for blind viewers.

Where can I find Audio Description?
Audio Description can be found on a variety of many television programs and movies for children, both educational and entertainment! The Audio Description Project's website from the American Council of the Blind is a popular resource that is updated often, giving parents information about description, categorized lists of movies offering description, and recent news surrounding the advocacy and advancement of accessibility services. If you're headed to the theater, Fandango.com states when "Accessibility Devices are Available" for movies currently showing at specific times at your local theater. If you're not sure if a theater offers video descriptive devices, talk to the manager and make it clear that you want a "video description device" for blind viewers, and not an "assisted-listening device" for viewers with hearing impairments. The device is a small electronic device with a volume button/roller and headphones. (You can also take your own headphones to plug into the device, as well!)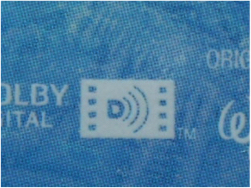 Audio description is also available on many BluRays and DVDs for viewing at home. iTunes lists five Disney Pixar movies including Finding Nemo and Monsters, Inc. labeled "For blind viewers, audio description, DVS®" for streaming or download that play the descriptive track every time you watch, ie. it cannot be turned on and off if a sighted viewer wants to watch it without description. You can also check with your branch of National Library Service for checking out described DVDs through your braille and talking book library account. It is sometimes hard to know for sure if the discs you are buying online will have the audio description track, but ADP's list also contains links to confirmed sources like Amazon. For instance, this listing on Amazon for How to Train Your Dragon 2 [Blu-ray, DVD, Digital HD Combo Set] has been confirmed to include the feature. If you are browsing products at the store, there are a couple of things you can check for on the packaging. First, check for the phrase "English Descriptive Audio" or "DVS" where the audio and language options are listed. Second, some will show the Video Description logo, which is a capital letter "D" with multiple enlarging "closed parentheses" that look like sound waves echoing out of the right side. Below are two examples for easy reference.

Many television networks in the country, and definitely those in the top 25 markets, as legally required by the FCC's 21st Century Communications Act, offer some children's programming with audio description. For a complete list, check out ADP's "Audio Description on TV" page, which also details steps on enabling description on your cable or satellite box and/or television. Many of PBS's programming has description, as well as Disney's Doc McStuffins, Little Einsteins, and Jessie, as well as Nickelodeon's Peppa Pig, PAW Patrol and SpongeBob SquarePants, among others. You can also find many described educational programs on the Described and Captioned Media Program's Website and DCMP app.
The Future of Audio Description
Audio description for the blind has come a long way in the past several years, and there is little doubt that it will continue to advance with technology. There are a number of petitions for streaming services like Netflix and Hulu to offer the accessibility feature as they do closed captioning for viewers with hearing impairments. There is also an app called < a href="https://www.rnib.org.uk/audio-description-app?utm_campaign=audiodescription&utm_medium=social_media&utm_source=twitter">MovieReading, which enables people to download the audio descriptive track for a movie onto their iPhone or other mobile device, and then sync it with the movie to play the accessible audio track at the theater, home or anywhere they may use their smart phone. We have the power to advocate for the accessibility of our children's future by taking the steps necessary now. Introduce your child to audio description, request your local theater install the accessibility devices if they don't already have it, and spread awareness of these needs among your community, friends and family.

Do you have a question about audio description or descriptive video? Submit it to our Facebook page right now!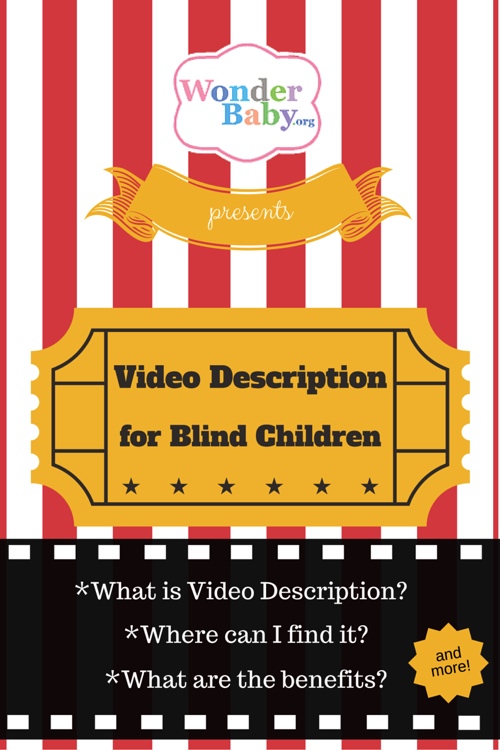 Related Posts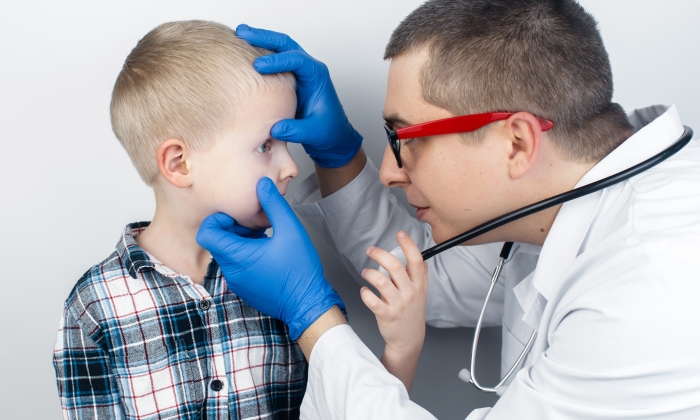 Eye Conditions and Syndromes, Visual Impairment
Congenital glaucoma is a disease where the pressure inside your baby's eye is too high. This can damage the optic nerve and can even make your child go blind.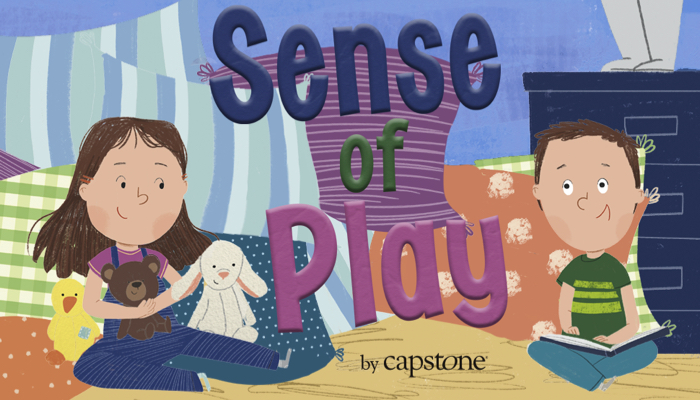 Braille and Literacy, Product Reviews, Visual Impairment
Dana Meachen Rau's book, Sense of Play, follows the adventures of Chip and Joy as they play. Chip is blind, but this doesn't get in the way of their play!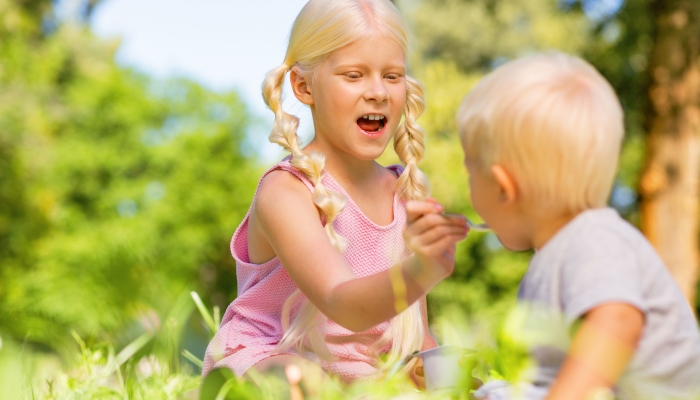 Eye Conditions and Syndromes, Visual Impairment
Albinism is a genetic condition that reduces melanin. There are many myths about albinism and vision, so educating yourself with the facts is important.