7 Best Baby Pajamas of 2023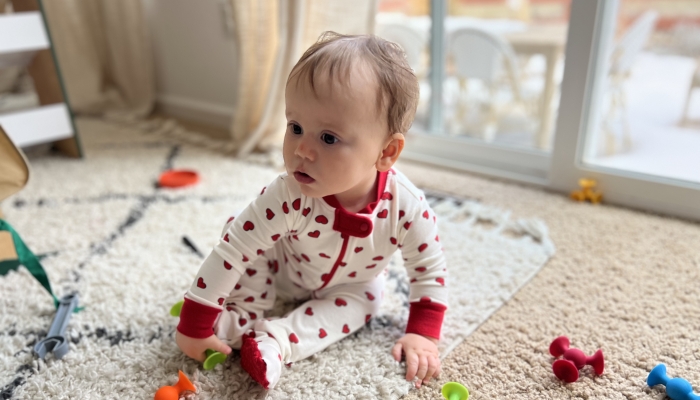 This post may contain affiliate links; please see our terms of use for details.
Babies can start wearing baby pajamas at any age.
Most baby pajamas include feet up until one year of age.
The main differences between different baby pajamas are fit and fabric.
Some babies prefer certain fabrics, fits, and feet options more than others.
We've all seen the meme: "If I could go back and tell myself one thing about parenting, it would be: Get the pajamas with the zipper, not the snaps." Parents everywhere nod silently when we read that because it's the truth! Babies sleep a lot and basically live in PJs in their early months.
Constant night diaper changes, endless spit up, and trying to get your baby to sleep longer consume most of parents' waking thoughts in the first year of a baby's life. Finding jammies that provide easy access, are easy to get on and off, and help (or at least don't hinder) your baby from sleeping all night long are a top priority.
As a mom of three kids, I've tried my fair share of jammies and trust me when I say they are not all created equally. That's why we've done the legwork and found the 7 best jammies of 2023! Save your time and money and skip the 3 a.m. Amazon searches—we've got you covered.
Best Choice
Best Organic Cotton
Best for Newborns
VAENAIT BABY Footed Sleep and Play Premium Modal Pajamas
Moon and Back by Hanna Andersson One-Piece Organic Cotton Long-Sleeve Footed Pajamas
KYTE BABY Soft Bamboo Rayon Footies
Best Choice
VAENAIT BABY Footed Sleep and Play Premium Modal Pajamas
Best Organic Cotton
Moon and Back by Hanna Andersson One-Piece Organic Cotton Long-Sleeve Footed Pajamas
Best for Newborns
KYTE BABY Soft Bamboo Rayon Footies
Best Choice: VAENAIT BABY Footed Sleep and Play Premium Modal Pajamas
VAENAIT BABY Footed Sleep and Play Premium Modal Pajamas
COMFORTABLE : Our footies will keep little one's super cozy and snuggly from top to bottom. The stretchy material gives babies the option of a snug or looser fit, while keeping baby comfortable and stylish.
ZIPPER CLOSURE: Diagonal zip front makes late-night diaper changes quick and easy . Snap tab at neck to protect your baby's delicate skin.
TAG FREE : Tagless label on the neck of our sleep set offers ultra softness and comfortable, make sure sleep well all night.
NON-SLIP : Our footies have snug, non-slip grips for all sizes and Elastic bands on ankles keep feet in place comfortably.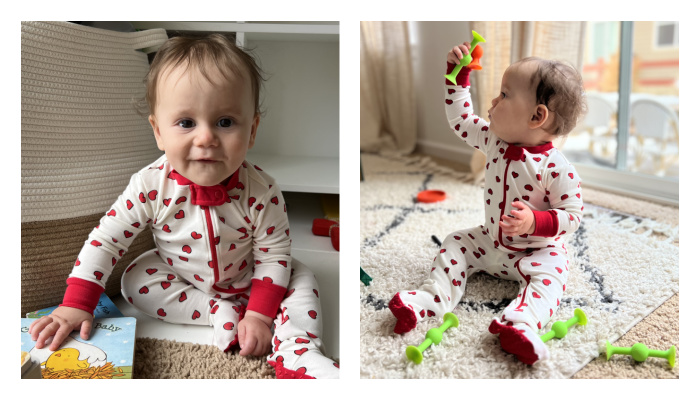 Pros

Cons

Incredibly soft
Zipper closure
Adorable color and print selection
Elastic at ankles
Non-slip grips on feet
Snug fit

Runs large
Not organic cotton
One-way zipper
I love this brand for my big kids so I was excited to try these cozy VAENAIT BABY Footed Sleep and Play Pajamas on my little one. I was really impressed by the quality of the modal fabric and how it's held up through many washes. These PJs fit snuggly but do run quite long—I'll probably size down in the future.
My baby has incredibly sensitive skin and has had no negative reactions to these soft baby pajamas. Despite being a lightweight modal, they have kept him plenty warm in cold weather here in Colorado when paired with baby sleep sacks. I would definitely recommend these for warmer climates as well due to the lightweight nature of the fabric.
There are a lot of thoughtful details in these PJs. The elasticized ankles and grippy bottoms are ideal for soon-to-be and new walkers. The tab covering the zipper at the top is key for keeping the zipper from poking the baby in the face. The only complaint I have is that the zipper only goes one way (top to bottom) which makes middle of the night diaper changes a tad more annoying.
I also love that the prints and colors come in larger sizes so the whole family can match!
Fabric: Modal | Available Sizes: 0-2T
View on Amazon
Best Organic Cotton: Moon and Back by Hanna Andersson One-Piece Organic Cotton Long-Sleeve Footed Pajamas
Sale
Pros

Cons

Organic cotton
Durable (will last forever!)
Snug-fitting
Adorable colors and prints
Flat seams
Warm

One-way zipper
No cuffs for hands
Not as soft as modal
Cult-favorite brand Hanna Andersson's Moon and Back line for Amazon does not disappoint. Hannah quality at a lower price point makes these a wonderful choice for cute and cozy essentials.
These footed baby PJs will last through multiple babies! I still have these pajamas from my first child that look like new on my third baby. The grips at the bottom are a must in my book for baby sleepwear.
Fabric: Cotton | Available Sizes: Newborn – 3T
View on Amazon | View on Walmart.com | View on Poshmark.com
Best for Newborns: KYTE BABY Soft Bamboo Rayon Footies
Pros

Cons

Two-way zipper (yay!)
Adorable colors and prints
Extremely soft material
Fit for a long time
Option to cover hands

Expensive
No family matching
Run on the longer side
KYTE BABY jammies are definitely a bit of a splurge. These styles make a great registry item and I love to give them to new parents. The two-way zipper is a must for newborns and their constant diaper changes.
You will not find a softer, stretchier pair of jammies, which makes them superior to other similarly priced brands. You'll definitely hear about this brand from seasoned parents. The quality is unbeatable. I've passed the same pair down through three kids and they still look like new! The care directions say not to put them in the dryer which is a bit of a pain though.
The cuffs over the hands are the cherry on top—no tiny fingernails scratching sensitive skin and little fingers stay nice and warm!
Fabric: Bamboo Rayon | Available Sizes: Premie – 24 months
View on Amazon | View on Walmart.com | View on KYTEBABY.com
Best Slim-Fit Baby Pajamas: Burt's Bees Baby Zip-Front Non-Slip Footed Sleeper PJs
Sale
Burt's Bees Baby Zip-Front Non-Slip Footed Sleeper PJs
Burt's Bees Baby pajamas – zip up footed sleeper pajamas
Featuring elastic ankles to keep footie in place and non-slip "bee grip" For extra stability
Diagonal zip front for easy diaper changes
Zipper guard snap tab at neck to protect delicate skin
Pros

Cons

Organic cotton
Keep baby warm
Family matching options
Zipper closure

One-way zipper
Not for chunky babies
Run a bit long
I wish these adorable organic cotton Burt's Bees Baby PJs fit my chunky babies but they definitely run long and narrow. The snug-fit on these pajamas is designed for safety and allows these to be flame-retardant free. The elastic on the ankle is ideal for keeping little feet where they belong but may not be comfortable for bigger babies.
These pajamas come in cute prints for holidays and have sizes available for the whole family so you can enjoy a mom and baby matching moment. The fair isle print is a classic!
Fabric: Cotton | Available Sizes: 6-24 months
View on Amazon | View on Walmart.com | View on buybuyBABY.com
Best Loose-Fit Baby Pajamas: Simple Joys by Carter's Loose-Fit Flame Resistant Fleece Footed Pajama
Sale
Pros

Cons

Warm and cozy fleece
Warm enough for babies who don't love sleep sacks
Soft

Too warm for summer wear
Not cotton
Flame retardant (depends on personal preference)
Loose fit can be a safety concern
Some babies just sleep better in loose fitting pajamas. Federal regulations require that PJs are either snug fitting or flame retardant if looser fitting, like the Simple Joys by Carter's Loose-Fit Flame Resistant Fleece Footed Pajama. These cozy, fleece PJs offer tons of room for your baby to move around and are definitely more convenient to put on and take off than snugger fitting styles.
There's controversy around the chemicals used in flame retardants on children's clothing so definitely do your research and determine whether you're comfortable with these chemicals.
Perfect for dressing your baby on a cold night—you can skip sleep sacks if that's not your baby's favorite thing to wear.
Fabric: Cotton | Available Sizes: 12 months – 5T
View on Amazon | View on Walmart.com | View on eBay.com
Best Two-Piece Pajamas: Little Planet by Carter's Baby and Toddler Organic Cotton 2-piece PJs
Pros

Cons

Organic cotton
Pull on can be easier as babies get more mobile
Neutral patterns and colors
Pants with elastic waist grow with your baby
Pants without feet can be easier for babies who stand

Can ride up or be less comfortable
No feet
Only available in limited sizes
Not available for younger babie
Once babies become mobile it can be increasingly challenging to wrangle them into a one-piece pajama. It's nice to have the option of a two-piece and these styles can also double as daytime outfits.
Little Planet is Carter's newer organic cotton line. This line is a great choice for parents who prioritize certified organic cotton. You really can't beat the price point for this level of quality.
Fabric: Cotton | Available Sizes: 6-24 months
View on Amazon | View on Walmart.com | View on Target.com
Best Prints: Little Sleepies Baby Bamboo Viscose Zippy PJs
Little Sleepies Baby Bamboo Viscose Zippy PJs
GENTLE COMFORT: Designed for better sleep and cozy snuggles, the Little Sleepies Zippy is a one-piece zipper pajama made from the softest custom-milled Lunaluxe bamboo viscose that's gentle on sensitive or eczema-prone skin
THOUGHTFUL TOUCHES: Features fold-over mittens up to size 12-18 months to protect your little ones from scratching themselves and fold-over foot cuffs on all sizes to instantly convert from footless romper to footed sleeper
UNIQUE DESIGN: Features a double, two-way zipper that makes those middle-of-the-night diaper changes a breeze! Its unique design fits three times longer than the average sleeper
SEASONLESS FABRIC: The buttery soft, stretchy custom-milled Lunaluxe bamboo viscose is gentle on sensitive skin. Plus, it keeps little ones warm and cozy in the cold months and comfortably cool in the hot months, making it the perfect winter and summer pajama
Pros

Cons

Soft bamboo viscose
Two-way zipper for convenience
Lightweight for summer
Option to cover feet and hands
Foldover mittens

Not organic
Run long
Expensive
I was so excited to discover Little Sleepies because their patterns are the cutest out there. Designed for longevity, the pants on both their sleepers and two-piece jammies have extra length to grow with your kids. The only issue is that these longer legs can be less comfortable for babies. I find that my very average size one year old is still swimming in the 6–12 month size.
The option to cover or uncover feet is amazing though. I prefer to cover my baby's feet with jammies at night and socks never stay on tiny feet in my experience. The ability to peel back the covered feet is ideal for crawlers and walkers alike.
The Lunaluxe bamboo viscose fabric truly is buttery soft making these another ideal choice for babies with sensitive skin.
Fabric: Bamboo Viscose | Available Sizes: Micro preemie – 3T
View on Amazon | View on eBay.com | View on LittleSleepies.com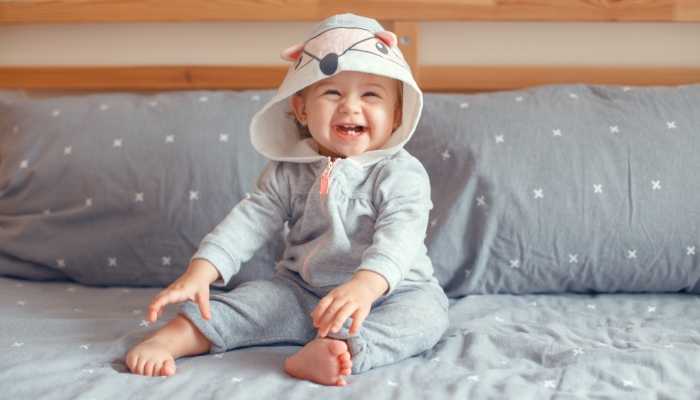 Recommended Accessories
We use several accessories or all the good sleep vibes in our home. If there's one thing worth investing in during a baby's first year—it's sleep! My top picks for sleep accessories include:
How to Choose the Best Baby Pajamas for Your Baby
Choosing the right pajamas for your baby doesn't need to be complicated, but it is important. Up until six months, you'll likely dress your baby in sleepwear more than daytime clothes. With so many choices out there, it's helpful to consider that the right PJs for your baby will depend on a few different factors including: climate, baby's preference, baby's size, and personal style preferences.
Climate
Where you live is a major deciding factor when determining which baby pajamas make sense for your little one. When shopping for baby PJs, make sure the weight of the fabric you choose won't leave your baby too warm or too cold.
Temperatures tend to drop in the wee hours of the morning which can lead to unwanted wakings. Make sure your baby is warmer enough all night long by choosing a warmer fabric option or layering with a warmer sleep sack.
Sleep sacks are often made with different Thermal Overall Grade (TOG) values so you can adapt to different temperatures if you and your baby prefer a lightweight pajama. Sleep sacks enable you to skew toward lighter weight fabrics if that's what your baby prefers.
Baby's Size
Just like adults, babies come in all different shapes and sizes! Narrow, longer babies will be frustrated if they can't fully extend their legs in shorter PJs while chubbier babies won't be comfortable if their pajamas are too tight on their wrists and feet.
Sizing on brands runs differently so it can be a bit of a guessing game to determine which fit will be ideal for your little one. It's a good idea to not go crazy shopping for baby pajamas before you know what body type your individual baby will have.
Baby's Skin
All babies have sensitive skin but some babies are extra sensitive. Reach for organic cotton if your baby has extra-sensitive skin. Some cotton clothing (even if it's organic) can still be a bit rough for those extremely sensitive babies.
Clothing can be a challenge when skin issues are involved. Eczema can cause excessive itching, interrupting your baby's sleep. Modal, viscose, and bamboo are extremely gentle and soft, which makes them an ideal choice for babies with eczema.
FAQs
How many baby pajamas does a child need?
Between four and seven pairs is typically plenty of pajamas for a baby. If your baby has reflux or is prone to diaper blowouts, then you may want to err on the larger number of PJs so you always have clean ones on hand.
Can newborns sleep in pajamas?
Absolutely! Newborns sleep on average 17 hours a day, so comfy jammies are a must.
Are footie pajamas bad for babies?
Not at all. Some babies are more comfortable in footless pajamas and a sleep sack, so you may want to experiment to see what your baby prefers.
How loose or tight should footie pajamas be?
PJs should fit nice and snug for safety purposes.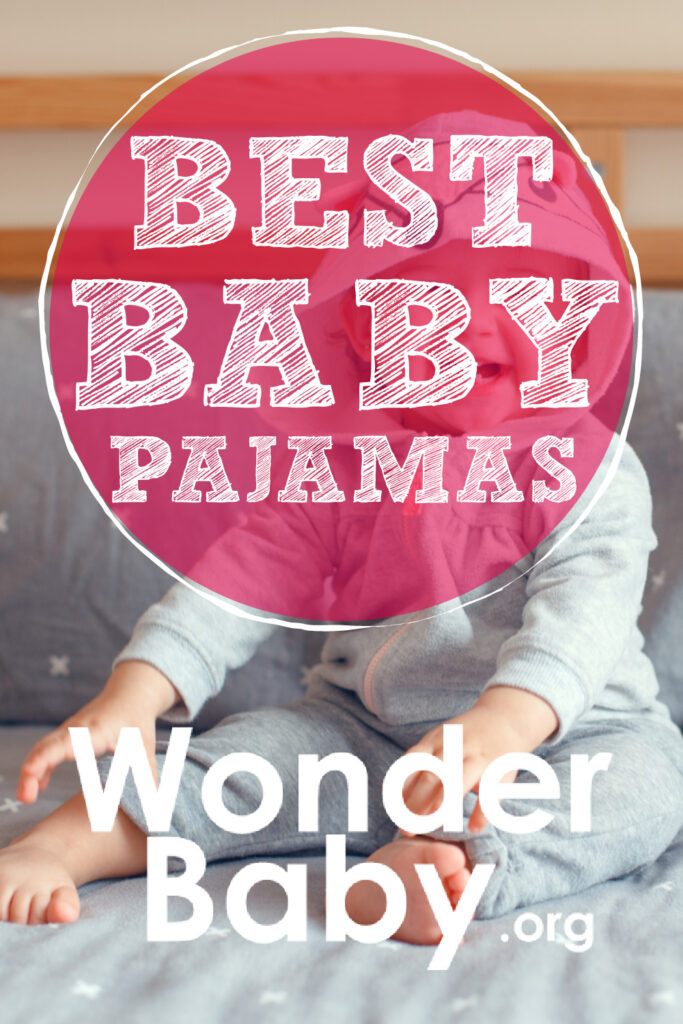 Related Posts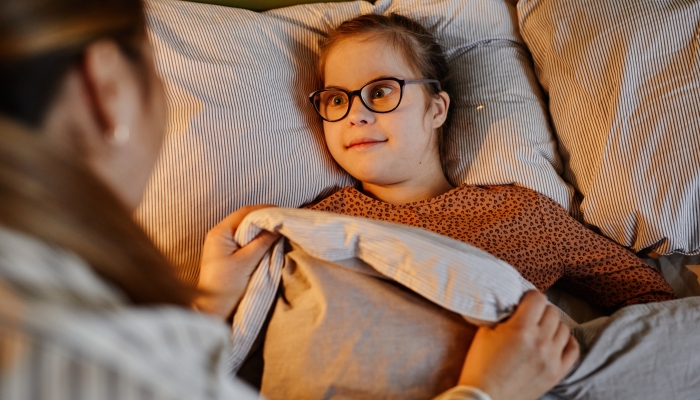 Product Reviews
Heard a lot about weighted blankets and lap pads and wondering how to choose one? Here's our guide to the ins and outs of finding the right weighted blanket.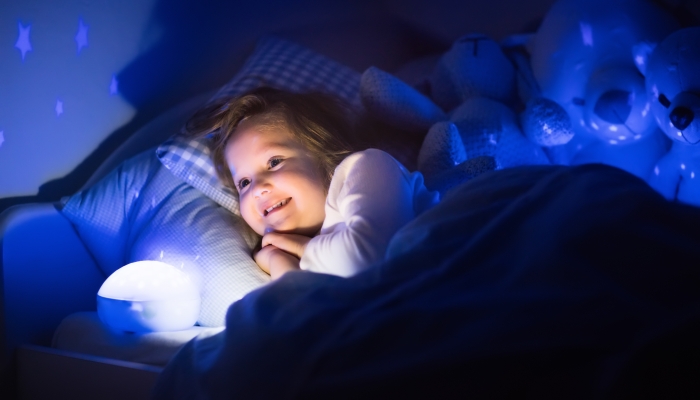 Product Reviews
Looking for the right night light to help your little one ease into bedtime? Check out our guide for everything you need to know about toddler night lights.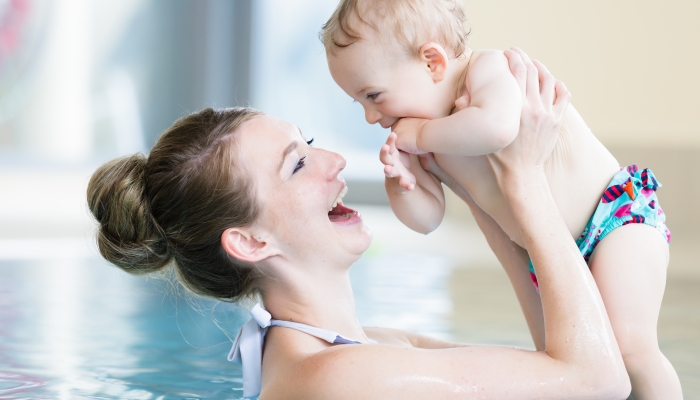 Potty Training, Product Reviews
The best swim diapers are comfortable and help prevent your baby from having an accident in the pool or ocean. Find our favorites in this round-up!