Chad's Story: How a Mom & Her Son are Using their Experience to Help Others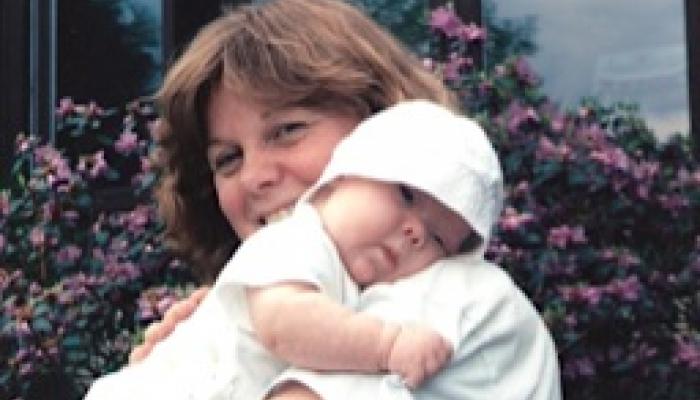 This post may contain affiliate links; please see our terms of use for details.
By Marsha Peterson
While sitting in a coffee shop one day, a mom came in with her daughter who was blind. She saw a book I published and was sharing with a teacher and thought it had something to do with teaching blind children to communicate.
When she saw the book was about signing, she walked away stating her daughter was blind. That peaked an interest in me because the little girl was pulling on her mother's skirt and whining. Her whining may be the only way she had to communicate. I decided to tell you my story.
My son, Chad, was born with Down syndrome, diagnosed with autism, is hard of hearing, and near blind in one eye. He also has low muscle tone that kept him from walking independently until he was six and has been hospitalized two times with pneumonia due to aspirating liquids.
After he turned one, his special ed teacher suggested I teach him sign language. I am a single parent and my life is filled with meeting his medical and educational needs. I have always worked full time because I am the sole support for the two of us. How was I to have time to learn sign language?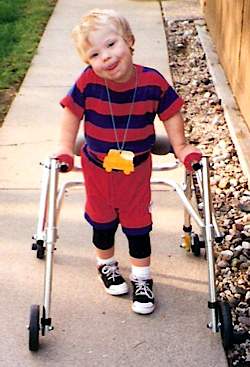 I struggled to help him communicate and learned that many teachers, para's, and caregivers do not know how to sign. As we learned a new sign, I would put the word on a big piece of paper with the hand-drawn sign beside it so that caregivers would be able to know what signs my son knew and be able to communicate with him.
As the need for new signs arose, we started to build our language. The first three signs he learned were more, book, and wrestle! He had learned so many signs by the time he was ready for pre-school, I sent a caregiver with him because I was afraid no one at school would be able to communicate with him.
It was clear that if you did not know his language, there would be horrible behaviors. I've had a broken window and several holes in the walls from his throwing things. What a testament of how important it is to communicate!
I also learned that even when someone knew sign language, there could be many different signs for the same word. How frustrating is that?
One night I was in the community with my son. He was in a high chair and I was trying to have a conversation with some friends. My son signed he wanted to go home. I signed back 'no', he signed 'yes'. We repeated this several times.
As I was focused somewhere else, I heard him laughing. When I turned to look at him, he was signing 'yes' with one hand and 'no' with the other at the same time!
I decided to publish a book that can be used by everyone who cares for babies, typical or special. The first book in this series was published in June 2009.
Studies show that babies who sign will improve IQ's by ten to twelve points. Studies also show that babies who are read to will be more apt to want books to help with learning new things. Studies also show that teaching babies a language is best done one-on-one and with words in context.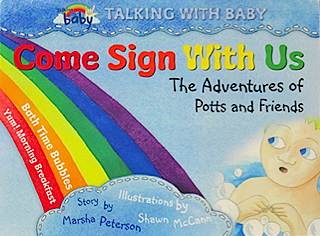 Come Sign With Us: The Adventures of Potts and Friends (Talking With Baby) was designed to help parents learn sign language at the same time they are reading stories to their baby. The stories are in context to everyday activities so parents/caregivers can read about the activity, then do the activity using the signs they have used and modeled for baby.
I use a color-coded system to introduce words along with the sign above it and the words remain in that color without the sign above it throughout the series to remind parents/caregivers they've learned the sign in a previous story.
I want everyone to feel confident and comfortable using signs, so I provide additional support by having my son's deaf and hard of hearing teacher model the signs on the website www.TalkingWithBaby.com. When this series is finished, there will be a total of six stories within three separate books. The book is in a tent style format and can sit on a table to help free hands for signing and keeps baby from batting at the pages.
My son will be eighteen this coming February and we estimate he knows over 1000 signs and learns more every week. His teacher liked this format of learning and uses it to teach him new words today.
I am so proud that my son can communicate and wanted to share it with other parents who may be having the same problems as I was having. The book is designed to go back and forth to daycares and schools and there is even a page that can be used to track milestones of learning. When babies are taught to sign, we take babies hands to model the sign and continue to do this until baby forms the sign without help. The book keeps everyone on the same track of learning.
Even though the book was published in June, I did not introduce it until October at the Closing the Gap conference in Minnesota. This is an assistive-technolgy-focused conference and speech therapists, occupational therapists, and special ed teachers from all over the U.S. attend.
I was delighted with the positive response for the book. In fact, several professionals took the book home for their own personal use.
Someone asked me what my qualifications were for publishing this book. My first answer was easy, "I'm a mom!"
You can learn more about Chad's story and his mom's books at www.TalkingWithBaby.com. Come Sign with Us is also available on Amazon.
Read this article in Arabic: قراءة هذا المقال بالعربية
Related Posts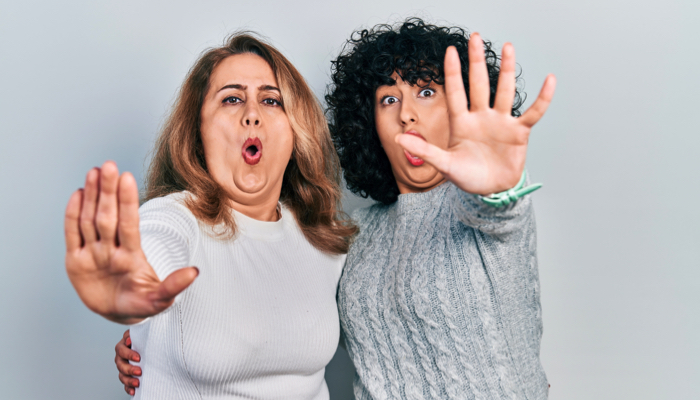 Support
It's natural for special needs parents to go above and beyond for their children, but we need to remember that it's important to take a break as well.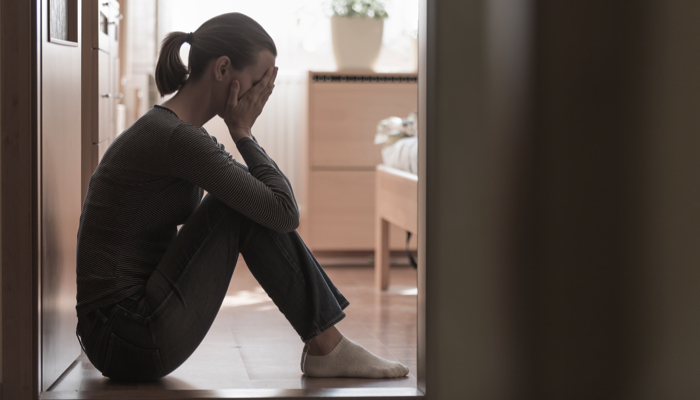 Special Needs, Support
Maybe the world now recovering from the COVID pandemic can learn something from parents of disabled children who have already developed coping skills.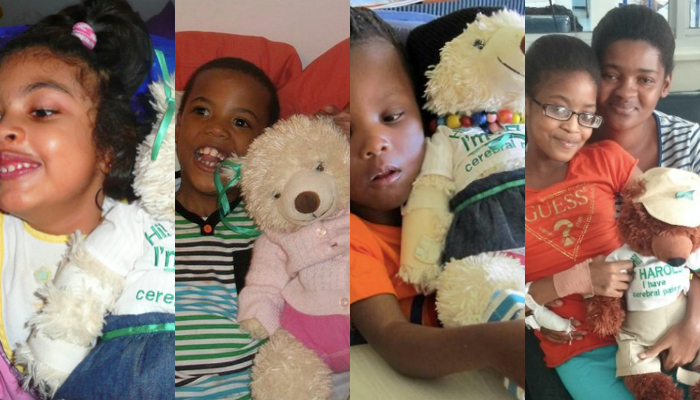 Support
Find out about Aware Bears and Never-Ending Stories. They aim to change the perception of what people with disabilities are capable of.