Our Favorite Music and Light Toys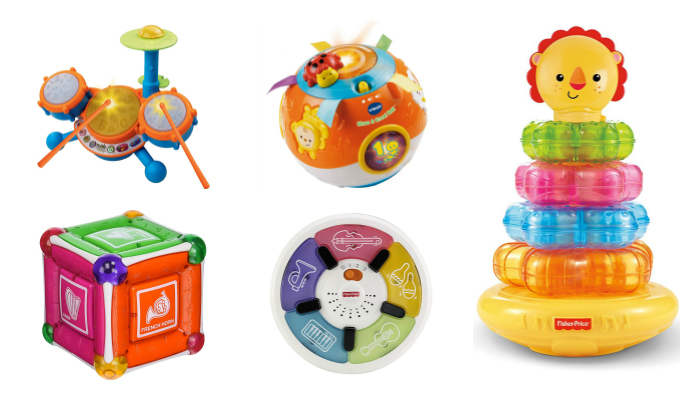 This post may contain affiliate links; please see our terms of use for details.
There are an abundance of toys with sound and many with lights, but finding a perfect toy for a child with a visual impairment and light perception means a toy with both high-quality sound AND lights. Bright lights and fun songs are proven motivators for children of all ages and abilities to encourage learning, motor skills, and understanding fundamentals of the way things work. From early childhood to adult, we've gathered a variety of great toys that incorporate light and sound for you to use daily in helping your child with a visual impairment grow and develop.
Learning Cause and Effect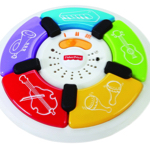 Learn with Lights Piano from Fisher-Price
Using cause and effect toys are great for providing immediate feedback for children who prefer shorter play times. These toys can also be easily included in simple and fun learning games or promoting independent free play. This Learn with Lights Piano has three levels of play and rewards your child's actions with a light show and sounds of five different instruments at the push of a button. Paths to Literacy offers more advice on "Developing Listening Skills" and "Auditory Strategies" if you're searching for ways to incorporate these types of toys in everyday play!
You may also like the Light Up Tambourine or the Munchkin Mozart Magic Cube (WonderBaby Favorite!)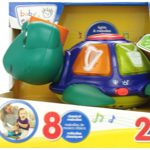 This sweet turtle toy is engaging and interactive through sight, sound and touch. It allows your baby to explore how instrument sounds are combined to create classical masterpieces from Mozart, Beethoven and Vivaldi just for little ears. Colorful lights indicate active instrument and dance along to the music. It is activated with the touch of a button and features 2 play stages that grow with your baby.
You may also like the B. Toys Symphony in B. or the Musical Octopus Toy

Crayola My First Touch Light Pad
Your little artists can create on a contained gel paint surface where the paint stays in the board not on hands for mess-free fun! The board lights up and plays music with 12 different light colors and songs in all to keep kids interested. Kids may use their fingers or the included Easy-Grip Stylus to create an endless number of drawings.
You may also like the Crayola My First Musical Rub-Art Station Crayola or the Crayola Ultimate Light Board

Building Motor Skills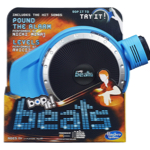 Bop It! Beats Game from Hasbro
The Bop It! Beats game features 5 different modes to play by yourself or with friends. The Classic mode is all about action/reaction. In the DJ game, you're given a sequence of commands to repeat when the unit tells you to go. Earn extra points by repeating the commands on the beat. Unlock different songs and modes as you improve, and see if you can master the challenge when you play with lights only. With Remix mode, there are no spoken commands, so kids can just have fun and be creative by adding the "spin it," "scratch it," and "reverse it" sounds to the music tracks.
You may also like the Hasbro Original Bop It! Game or the Hasbro Simon Swipe Game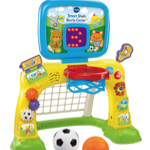 VTech Smart Shots Sport Center
This electronic sports center features a soccer net and basketball hoop for a fun 2-in-1 play experience. Toss the basketball into the hoop and watch as the LED screen counts the number of baskets. Kick the soccer ball into the net, and the sports center will respond with encouraging sounds and phrases. In addition to counting baskets, the LED screen also encourages play with fun animations. Build fine motor skills with a variety of manipulative features. Turn the gears to hear playful sounds and press the shape buttons to learn shapes, numbers and hear fun sounds.
You may also like the Sit-to-Stand Walker or the Dizzy Disk Original

Inclusion in the Classroom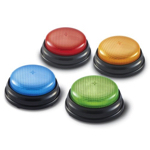 Learning Resources Light & Sound Buzzers
Inclusion in the classroom is one of the most important parts of a child's life in promoting social, educational and emotional growth, as well as confidence and self-esteem. There are many products available from mainstream companies which work to include children learning disabilities and physical impairments like these Light and Sound Buzzers that give four students the opportunity to buzz in for fun Q&A games or other group activities. Paths to Literacy shares this guide to "Effective Classroom Adaptations for Students with Visual Impairments".
You may also like the Educational Insights Eggspert or the VTech Preschool Learning Alphabet Apple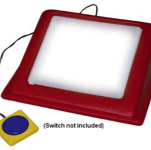 Adapted Musical Light Box from Enabling Devices
This Adapted Musical Light Box has a bright white LED. It is a multi-purpose musical light box that can be used as a bright backlight for tracing or as a light source for people with visual impairments. It can be easily activated by any of the Enabling Devices capability switches. Size measures: 12″ x 11″ x 4″. It requires a Capability Switch and 2 C Batteries.
You may also like the Adapted Bright Switch for the Visually Impaired or the Talking Tiles Set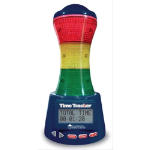 Learning Resources Time Tracker® Visual Timer & Clock
This visual and auditory timer helps keep kids on track, especially great for children struggling with executive function skills. The unique timer's light and sound cues help to keep the whole class on track and promotes an inclusive classroom environment. This timer features 180° viewing and a large, easy to read LCD display. Teachers can program with 3 colored lights (red, yellow and green) and 6 sound effects to alert children of time remaining. It can also be customized to suit specific needs.
You may also like the Learning Resources Time Tracker Mini or the Melissa & Doug School Time Play Set

Combining music and lights can be very motivating for children with visual impairments. Be creative and incorporate these toys into areas where your child may be struggling. If you're looking for more light play ideas, follow WonderBaby on Pinterest!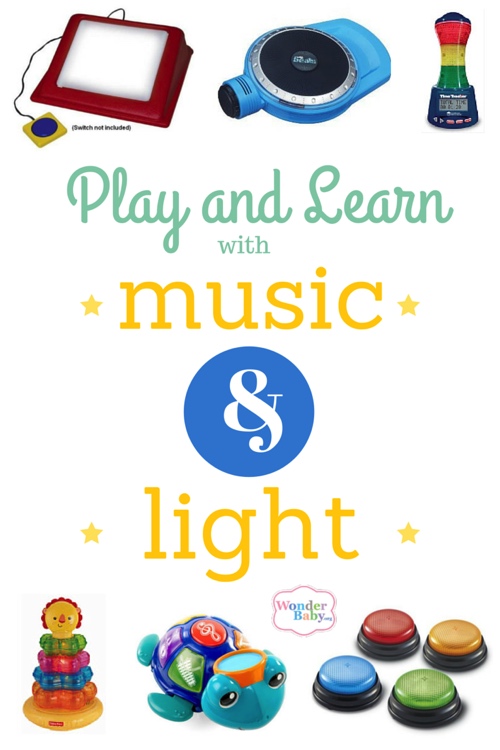 Related Posts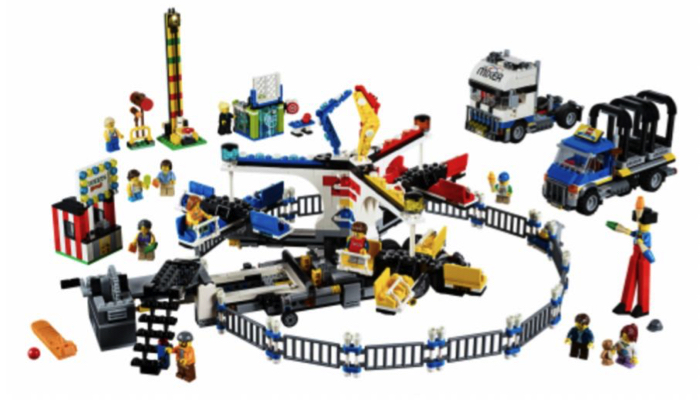 Toys, Visual Impairment
Bricks for the Blind provides text, audio, and braille instructions for LEGO sets that allows blind people to build LEGO sets independently.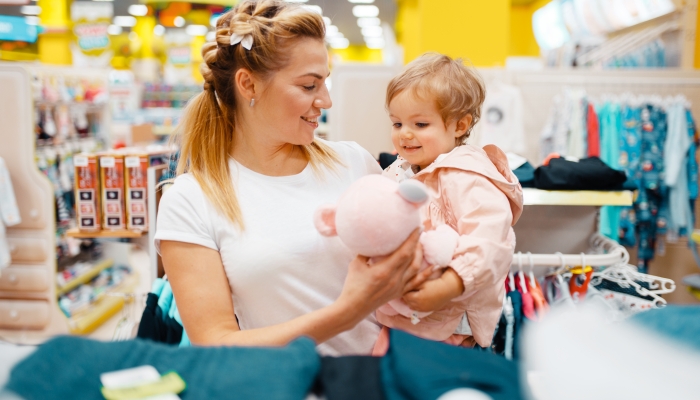 Toys
Ensure your child's well-being with top tips on choosing suitable toys that create a secure, fun play environment with our guide to safe toy selection.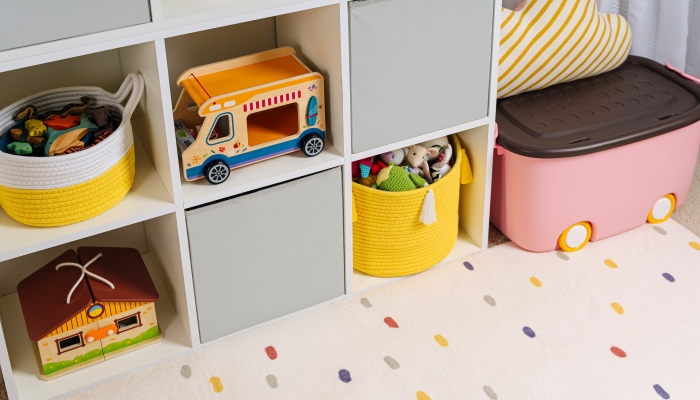 Play, Toys
Your home doesn't have to be overwhelmed by toys, even in the throes of raising tiny humans. Revolutionize your space with these ingenious toy storage ideas today!