How To Plan Events for Kids With Food Allergies
If possible, begin planning events that involve food well in advance.
Be creative in identifying safe dining options.
Know where common allergens occur in specialty foods.
Many beloved recipes can be modified to be allergy-friendly.
Hosting food-allergic guests can be done safely.
My favorite time of the year is fall. I'm a big fan of all things pumpkin and will start consuming pumpkin-based products as soon as the calendar hits September 1st.
One of my favorite fall treats is my grandmother's pumpkin bread. This simple loaf represents both triumph and struggle for our family. Each slice evokes warm memories of the season—we eat this bread throughout the fall and always on Thanksgiving.
For many years, this treat went through several iterations as I learned to accommodate my food allergies and, later, those of my child. Frustrated tears were shed as I struggled to replicate my grandmother's results with ingredients my family could safely enjoy.
The fall holiday season can be a tricky time for kids managing food allergies. Every month holds a major holiday, and each has unique rituals. Every holiday or special event requires different modifications to safely manage food allergies.
Whether this year marks your first time navigating the holidays with dietary restrictions or you're hosting guests with a food allergy, we've got you covered with ways to safely manage food restrictions at your next special event.
Preparing for Events When Your Child Has Food Allergies
As with most events, planning should begin well in advance. If you're gathering with folks outside your usual circle, it makes sense to open conversations about food long before the event arrives. The tips below will help you plan and navigate social gatherings while keeping everyone safe.
Practice Self-Awareness
Have you ever noticed how food and emotions are closely tied? New job? Great, let's go out to dinner! Bad day? Break out the junk food, tissues, and movies.
A major part of the planning process for big events is to first make space for examining your own thoughts and attitudes surrounding food and celebrations.
Consider questions like:
How safe do I feel eating away from home?
How comfortable am I with others preparing parts of the meal without my direct involvement?
Where am I emotionally in terms of managing my child's food allergy?
Where is my child emotionally in terms of feeling safe dining away from home or eating unfamiliar food?
Are there "required" foods for the special meal? For example, do you have to have Great Aunt Martha's green bean casserole or the meal is "ruined"?
Do you need to meet for a whole meal, or could you gather for dessert or an alternate activity without food?
Finding some opportunities for flexible thinking in terms of menu planning will go a long way toward working with other event planners.
Educate Yourself and Others
If food allergens or dietary restrictions are a new concept for hosts or attendees, it's a good idea to discuss your food allergies, including allergic reactions, with other planners as you make preparations.
Most people don't have a working knowledge of what cross-contact means, how to avoid possible cross-contamination in the kitchen, or where allergens can hide in common holiday foods.
An important first step in managing food allergies safely is clear communication with others about your dietary needs. When participating in these conversations, I tend to be more successful when I can remain approachable, answer questions honestly without being overdramatic, and maintain flexibility in creating solutions.
Know Your Options
If negotiations about the food consumed during your next special event have stalled, consider bringing some new ideas to the table.
You might try:
Bringing your own food: Admittedly, this idea can be a hassle, especially with a big holiday meal. However, it can also be helpful if your host is uncomfortable cooking for you (think of the potential of life-threatening allergic reactions) or your child has allergies to multiple foods that often go together (like gluten-free and dairy-free). Whether it's a side dish or a complete meal, you will be certain there is food your child can eat.
Eating prior to the event: If you're heading to an event where you have no idea what's being served (like a wedding), I have often found it helpful to eat prior to attending, or between events (wedding and reception). Simply put, I have found that eating unknown foods isn't worth the risk of an allergic reaction.
Matching: This idea tends to work really well for birthday parties. Contact the family of your child's friend ahead of the gathering and determine what kind of treat will be served. You can then provide your own allergy-friendly version.
Restaurants: Consider the idea of dining out for your next celebration. Not only does it relieve everyone of the burden of hosting, restaurants tend to have strict policies to avoid cross-contamination and can usually manage a variety of dietary requirements.
Catering: Some families may consider the option of meeting in a central location and having their event professionally catered. This idea can work well but requires that the company has appropriate knowledge of food allergens, has experience cooking for those with dietary restrictions, and is able to avoid cross-contact. Labeling buffets and having dedicated utensils for each dish can also help protect food-allergic guests.
Remember: The main focus of the attendees at the event should be celebrating, not tension over dietary restrictions.
Plan Travel Accommodations
Plane, train, or automobile? Each method of transportation has its own risks and benefits when managing food allergies safely while traveling.
If considering air travel, contact your proposed airline prior to booking your tickets to see what accommodations are offered in terms of food allergies. Some airlines11. Hultquist, S.. Flying With Food Allergies. Spokin. 2023. https://www.spokin.com/flying-with-food-allergies may have rules about seating or what emergency medications are allowed, while others permit those with food allergies to bring their own food items aboard.
Adjust Your Allergy Action Plan
Having an allergy action plan22. Allergy and Anaphylaxis Emergency Plan. American Academy of Pediatrics. 2019. https://downloads.aap.org/HC/AAP_Allergy_and_Anaphylaxis_Emergency_Plan.pdf is a necessary part of living with food allergies. When traveling or dining away from home, the plan may need to be modified.
These steps can be as simple as bringing extra medication in the event of anaphylaxis33. Anaphylaxis: Causes, Symptoms & Treatment. ACAAI Public Website. 2022. https://acaai.org/allergies/symptoms/anaphylaxis, or more thorough like locating hospitals near where you'll be staying or dining and researching pharmacy retailers for restocking epinephrine auto-injectors in the event of food allergen exposure.
Remember: As a parent, you have a central role and responsibility in ensuring that your child's health needs are met—allergic reactions can occur even in previously identified safe places and early care is critical when experiencing anaphylaxis.
Celebrating Food-Focused Holidays and Special Events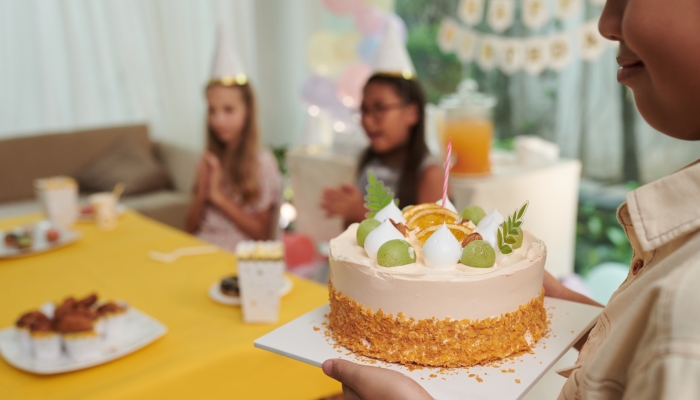 You've done your best to educate yourself and others about your child's food allergies and are ready to tackle what will be served on the actual day.
As a parent of a child with severe food allergies, I feel that approaching food modifications with creativity, fun, and a willingness to experiment safely with recipes is vital to making life with dietary needs liveable.
In addition to other ideas, some of the ways my family has approached major food-focused holidays include:
Recipe Alterations and Substitutions
How do you change a recipe to accommodate a food allergy? Check out the following suggestions.
| | | |
| --- | --- | --- |
| Allergen | May be found in: | Try substituting: |
| Wheat/Gluten | Cream soups, cream sauces, soy sauce, baked goods, bread, pasta, all-purpose flour, etc. | Gluten-free cream soups, gluten-free all-purpose flour or cornstarch for thickeners, gluten-free tamari or coconut aminos instead of soy sauce, gluten-free flour, or baked goods. |
| Dairy/Milk | Cream soups, cream sauces, milk, cheese, yogurt, etc. | Almond milk, rice milk, coconut milk, dairy-free milk/products |
| Eggs | All recipes/products that use eggs | Unsweetened applesauce, ripe banana, vinegar/baking soda, ground flaxseed |
| Soy | Soy oil, soy sauce, miso, edamame, ethnic foods, many store-bought/processed food products, and baked goods. | Try canola oil for baked goods or desserts, while olive oil can be used in savory dishes. Substitute coconut aminos for soy sauce. Garbanzo beans can be used in place of edamame |
| Peanuts | Trail mix, baked goods, ethnic dishes; occasionally peanut oil when used as fryer oil | Consider extra flour when used in baked goods. Roasted navy beans or chickpeas can be used as toppings for dishes; use coconut oil or vegetable oil for frying. |
| Tree Nuts (cashews, walnuts, pecans, pistachios, pine nuts, etc.) | Trail mix, baked goods, protein and energy bars, hummus, ethnic dishes | Consider extra flour when used in baked goods. Try unsalted pumpkin, sunflower, squash, or poppy seeds in other dishes (cross-contamination with tree nuts is common in seed products- check labels carefully) |
| Fish | Fish, fish sauce, fish oil | Tofu, mushrooms,or jackfruit for texture substitute; soy sauce or coconut aminos for fish sauce and coconut oil or vegetable oil for fish oil. |
| Crustacean shellfish (shrimp, crab, lobster, clams, mussels, oysters, scallops, etc.) | Oyster sauce, egg rolls, fish stock, gumbo, sushi, Worcestershire sauce, imitation seafood products (ex. imitation crab), etc. | Beef, pork, ham, turkey, beans, or legumes can be used for texture; soy sauce or vegetable broth in sauces |
| Sesame | Sesame oil, sesame paste, hummus, tahini, vegetarian burgers, protein and energy bars, crackers/chips, baked goods, granola, etc. | Use olive, canola, or coconut oil; chia or ground/whole pumpkin seeds can be used in place of sesame seeds. Poppy seeds are also an ideal substitute. |
There are many effective ways to alter recipes to suit a variety of dietary needs, including a vegan, vegetarian, paleo, or ketogenic diet. A little research, time, and practice can be all that's needed to make old favorites safe again.
Change the Order
Generally speaking, guests and children are served first at a special meal.
Our practice when walking the (clearly labeled) buffet line is that the person with the most severe allergies goes first. That way, spoons haven't had a chance to wander from one dish to another (cross-contaminations in action) and parents can ensure their children are dishing what is safe for them.
Dedicated Dishes
Multi-serving elements, like a butter dish, can be hazardous for those with food allergies. In the flow of conversation, guests tend to be distracted while eating and may butter their bread, then obtain more butter with the same knife they just used on their bread. The whole stick of butter is now contaminated for the person with a wheat allergy.
At big family meals, I will do one of three things: Use my own butter from home, take as much butter as I think I'll need from the unused end of the stick with a clean knife, or have my own dedicated butter dish on the table.
Start a New Tradition
When my family was first learning to navigate my child's food allergies, we started a new tradition for big holiday meals: Every attendee chose one dish they absolutely had to have that year, and only those things were served. Paring it down helped us focus on altering those specific recipes and setting aside the nonessentials, like Great-Aunt Martha's green bean casserole.
Pro tip: Let your child with dietary restrictions pick what they want to have for that meal and volunteer to bring that dish if your event is being hosted at another's home.
With time and practice, allergy accommodations when serving big family meals become second nature— the first few tries can be tricky!
Hosting Food-Allergic Children
One of the most meaningful gifts I've experienced in my family has been dining at the homes of family and friends who don't have food allergies and being served an allergy-friendly meal without complaint.
Unless you're a person who lives with dietary restrictions on a daily basis, it may be difficult to fully appreciate what it's like to know that you can set your worries aside and simply be present and enjoy what you're eating.
In the name of generosity and inclusivity that big events inspire, consider the following suggestions when hosting children with food allergies and their families:
Ask Questions
As soon as you become aware that you will be hosting an individual with food allergies, open the conversation with that person or family and learn about their food allergy(s). Is it a preference, sensitivity, or true allergy?
Said differently, do you need to lock up the peanut butter and deep clean your kitchen or just not put nuts on the products you're planning to serve?
Honesty is always the best policy with food allergies: It's much easier to make a plan when both parties are clear about what's at stake.
Answer Questions
Allow the individual with the allergy or their family to ask you questions about your home, food products, and cooking methods. Learning about your home environment provides appropriate knowledge to those with dietary restrictions and helps them decide how comfortable they are dining at your house.
Let parents ask you what would make you feel comfortable hosting their child. For instance, would it help you feel less nervous if the child brought their own food, or would you like to learn how to use an EpiPen?
Bringing in Food
Creating a safe home environment is an important part of event planning when preparing to host those with food allergies. Work with your guests to make a plan that protects the child while also simplifying your life.
For my family, this step has looked like bringing specialty products with us as we travel, or you could buy online and have specialty products delivered to your host's home. It's also wise to provide new, labeled condiments (preferably in squeeze bottles) to reduce the risk of cross-contamination.
Prepare Your Home
When faced with a severe food allergy, you may need to do some extra work to prepare your home before you serve guests.
Store products containing their allergens far away from common areas (think high cupboards or shelves) and wipe down toys. Unintended allergen exposure can happen when a child with a food allergy plays with the same block that was last touched by a child who handled tree nuts or a dairy product.
Prepare Your Family
Children who are not accustomed to interacting with others with dietary restrictions may not understand why they're not allowed to eat certain foods or need to wash their hands more than usual when around certain people.
Take the time to explain food allergens to your children in simple terms, focusing on inclusiveness and enjoying time spent together.
Attendees to a special event generally remember those that celebrated with them that day over the food they ate. Experiment with letting food take a backseat at your next event and create new memories together.
FAQs
What's the recipe for your grandmother's allergy-friendly pumpkin bread?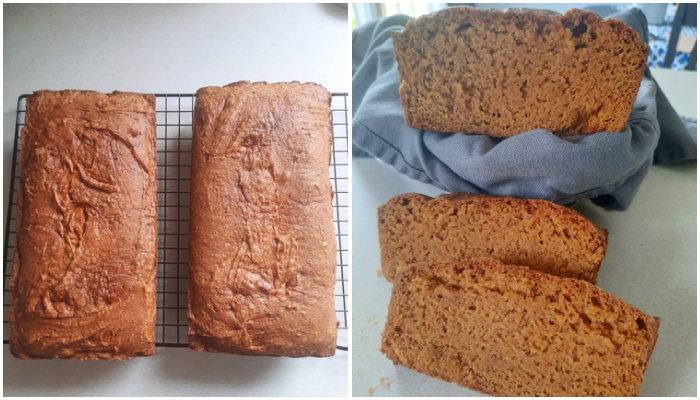 Ingredients:
3 ½ cups gluten-free flour (my favorite is King Arthur Gluten-Free Flour)
2 tsp. baking soda
1 ½ tsp. salt
1 ½ tsp. cinnamon
1 tsp. nutmeg
3 cups sugar
1 cup cooking oil (I use vegetable oil; coconut or extra-virgin olive oil is also good)
4 eggs (unsweetened applesauce works well as an egg replacement here)
2 cups canned pumpkin
Directions:
Preheat oven to 350℉.
Grease and flour two loaf pans (use coconut oil and gluten-free flour, if needed).
Mix ingredients together in the order given.
Fill loaf pans half full.
Bake for one hour.
Let bread set in pans for a few minutes before removing, then cool completely.
Note: This bread freezes really well. To freeze, wrap a cooled loaf in plastic wrap and then aluminum foil. To thaw, simply place it on the counter for about an hour. It tastes and feels just like fresh!
Yield: 2 loaves.
References
Hultquist, S. (2023, July 18). Flying With Food Allergies. Spokin. https://www.spokin.com/flying-with-food-allergies
Allergy and Anaphylaxis Emergency Plan. American Academy of Pediatrics. (2019, March). https://downloads.aap.org/HC/AAP_Allergy_and_Anaphylaxis_Emergency_Plan.pdf
Anaphylaxis: Causes, Symptoms & Treatment. ACAAI Public Website. (2022, April 14). https://acaai.org/allergies/symptoms/anaphylaxis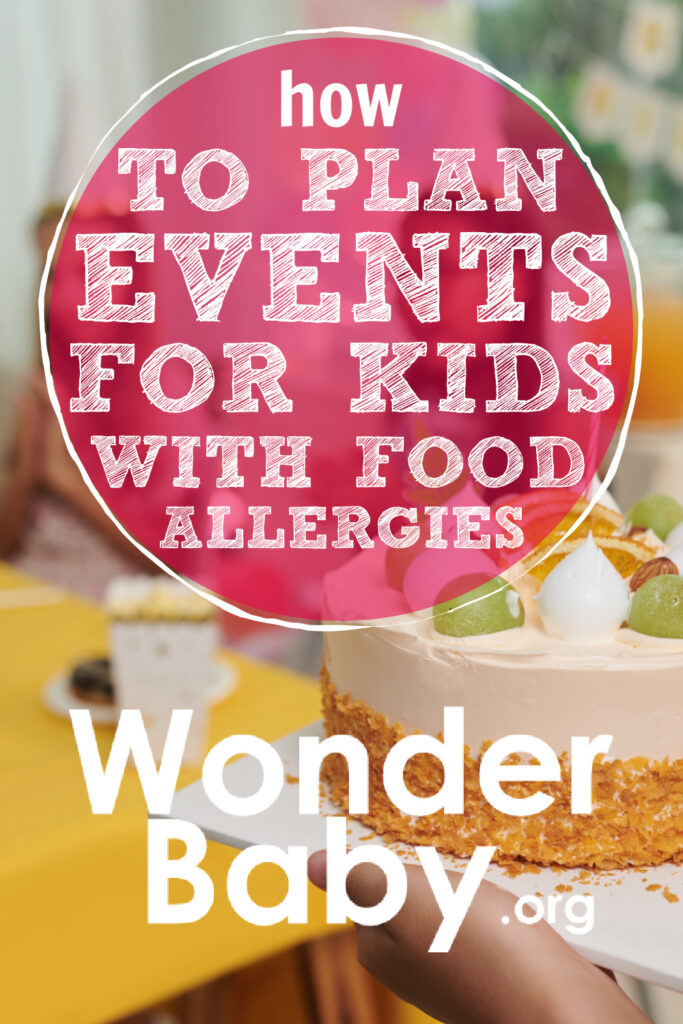 The information WonderBaby provides is not intended to be, and does not constitute, medical or other health advice or diagnosis and should not be used as such. Always consult with a qualified medical professional about your specific circumstances.
Related Posts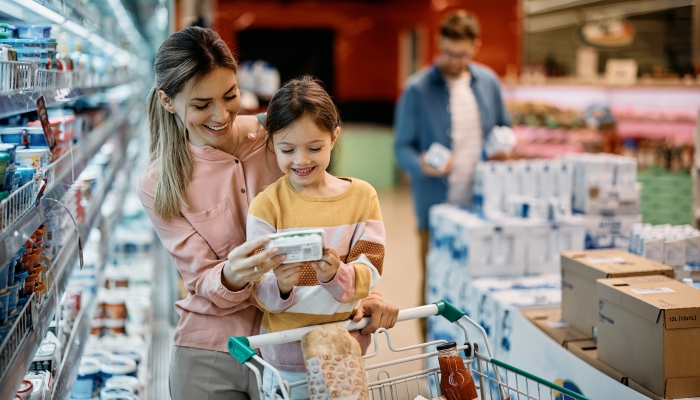 Feeding and Eating
Time and practice are necessary to accurately interpret the presence of major food allergens on a product or food label.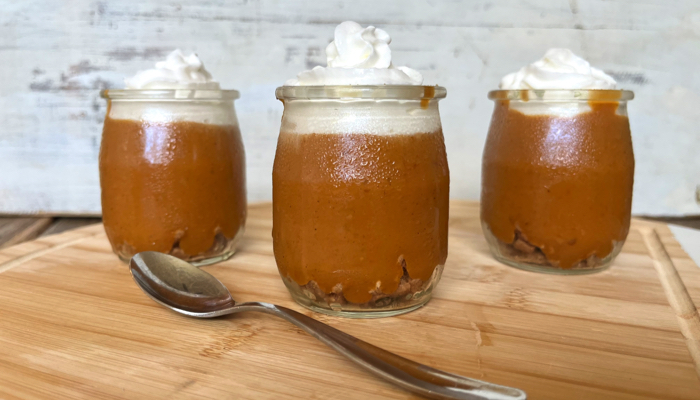 Feeding and Eating
These No-Bake Pumpkin Pie Cups make a great after-school snack or after-dinner treat! They're easy to make ahead of time and have ready to grab in the fridge.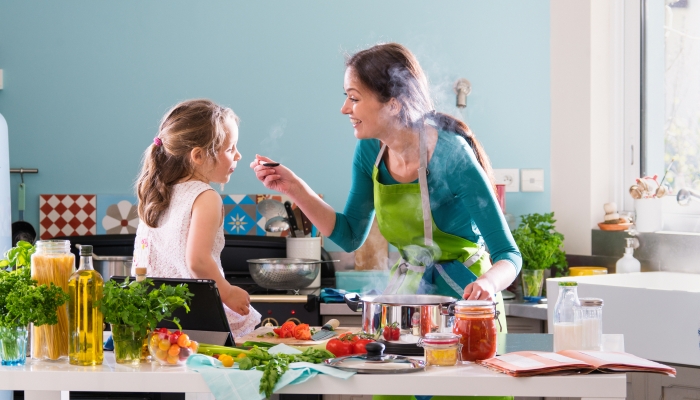 Feeding and Eating
Label reading and thoughtful food preparation are important when cooking for a child with severe food allergies.