Gross Motor Milestones for Typically-Developing Children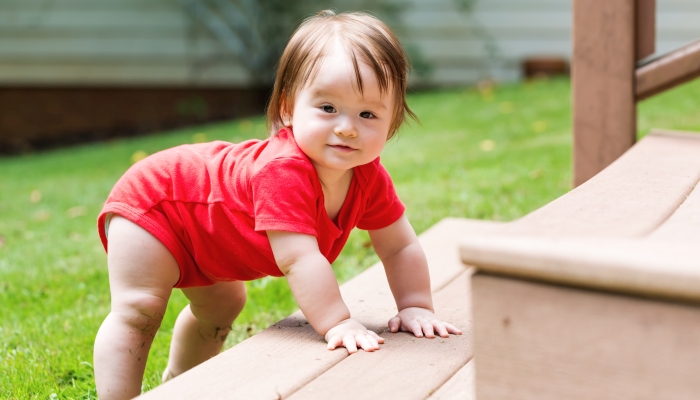 This post may contain affiliate links; please see our terms of use for details.
Gross motor skills are large movements like crawling, walking, and jumping created by the action of large muscle groups.
Gross motor skill development allows children to explore and interact with their environment. It supports the development of other areas like fine motor, visual, and oral motor skills.
Delays in gross motor skills can be caused by congenital disorders, birth complications, injuries, and lack of exposure.
A gross motor skill delay can be improved by working with a pediatric physical therapist and doing fun movement activities at home.
One of my more puzzling physical therapy evaluations was a small boy who was excelling in his speech and fine motor skills, but falling far behind on his gross motor skills. As a physical therapist, I'm trained to look for underlying medical causes first, so despite his complete disinterest in crawling, I tested this child for everything I could think of.
Let's call it a rookie mistake. Five minutes of just observing the child showed me that he was enraptured with a puzzle. I asked his mom what he liked to do and she indicated that sitting and playing with toys was what he loved.
He just didn't want to move around. He was content to sit and solve problems. This is not necessarily the norm.
If you already know that your child has developmental delays due to a medical diagnosis, it's a great idea to seek referrals to child development specialists (like physical, occupational, or speech therapists) quickly to take advantage of the accelerated development that occurs in the early years.
Babies and toddlers are designed to learn and grow quickly! Understanding gross motor milestones for typically-developing children can help to determine if your child's development is on track.
What Are Gross Motor Milestones?
Movements of the body controlled by large muscles are considered gross motor skills. Gross motor milestones are specific skills that children are expected to reach by a certain age range to be considered typically developing. Gross motor development milestones include skills like independent head control, crawling, walking, and jumping.
These developmental milestones allow children to explore and interact with their environment. Beyond basic independence of movement, gross motor skills and large movements are important for recreational activities and participating in play and sports.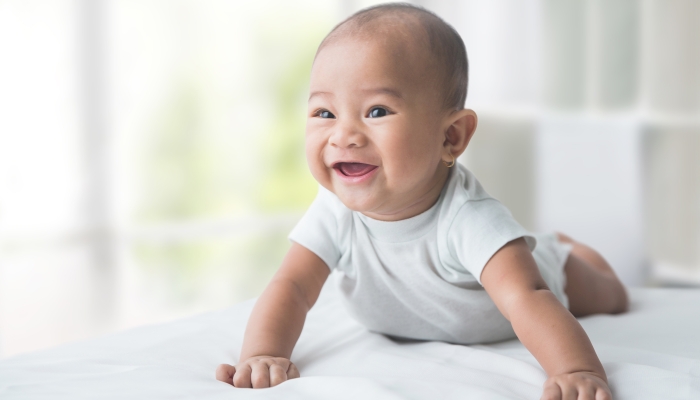 What Is the Purpose of Gross Motor Milestones?
Gross motor skills often build on one another, helping children develop the strength and coordination needed to tackle progressively more difficult skills. The development of gross motor skills also supports the development of fine motor, visual, and oral motor skills.
Gross Motor Milestones by Age: Birth to 3 Years
Even typically-developing children reach developmental milestones at different ages. With that in mind, here are some gross motor skills examples you can look out for.
Gross Motor Milestones in Infants
| | | |
| --- | --- | --- |
| Gross Motor Skill Milestones | Age Range | Description |
| Head Control | 2–3 months | Babies have very little control over their head or neck after birth, but quickly begin to use muscles to hold their heads upright. Head control may slightly decrease when new skills like sitting and standing emerge, but this temporarily wobbliness will subside. |
| Rolling | 4–6 months | Rolling over BOTH sides (left and right) from back to belly and belly to back are expected. This milestone is considered reached when your baby is able to roll consistently—not just when early reflexes lead to accidental rolling. |
| Sitting | 5–8 months | Initially, your baby may hang over their legs in a triangular position until they develop enough stability to sit with upright posture and turn, reach, and pivot from a sitting position without support. |
| Crawling | 6–9 months | Babies often army crawl first and progress to hands and knees, or quadruped, position. Appropriate crawling looks like alternating movements of the arms and legs that move the body forward in a relatively straight line. |
| Standing | 7–12 months | Pulling to a standing position using objects like couches occurs first before standing without support. |
Gross Motor Milestones in Toddlers and Preschoolers
| | | |
| --- | --- | --- |
| Gross Motor Skill Milestones | Age Range | Description |
| Walking | 11–15 months | Most babies cruise from side to side using a support surface to develop leg strength and balance before walking forward with support. Finally, they will be able to take a few steps without hand support. |
| Running | 18–36 months | Running accelerates from fast walking to what is called "float phase," or when a child has both feet off the ground at the same time. |
| Jumping | 18–36 months | Both feet should leave the ground at the same time. Jumping skills include forward, straight up into the air, and down from a stable surface (landing with both feet together). |
| Stair climbing | 15–36 months | Babies will start crawling on stairs then use hand support in standing (after learning to walk). Eventually they will alternate feet on the steps using the railing and then no support at all. |
| Standing on one foot | 2–3 years | Initially, children will hold onto something, progressing to no hand support, and then increasing the time they can stand on one foot without falling (e.g., from 3 to 5 to 10 seconds). |
| Throwing | 18–36 months | Dropping and then flinging a ball appear first, followed by overhand and underhand throws. As this skill advances, a child should step with the opposite foot and rotate their bodies. |
| Catching | 24–48 months | Achieved when children catch a small ball with their hands only. At first they will capture a ball rolled to them and then hold their hands out to try to hug a ball to their chest. |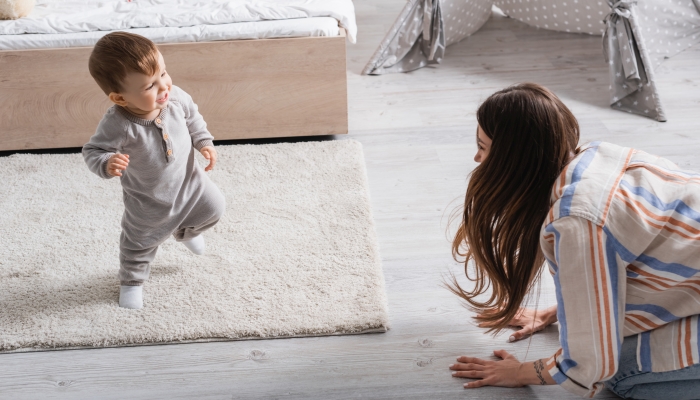 Should You Worry if Your Child Falls Behind Gross Motor Milestones?
Children may have a gross motor delay if they fail to reach gross motor milestones within the expected age range. This age range, however, can be affected by a number of things. For instance, a child with Down's Syndrome will not be expected to walk in the same time frame as a child without a genetic condition.
Many conditions may cause a gross motor delay including trauma to the brain or spine, congenital conditions including genetic disorders or atypical development of bones or muscles, low muscle tone, early abuse or neglect, premature birth, and lack of exposure (e.g., no stairs in the home).
A delay of a single skill may not be a cause for concern. Concerning delays in gross motor skills may look like delays in multiple skills or a child also presenting with other issues, such as weakness, unusual movement patterns, or poor coordination.
A child's gross motor development may also fall behind if the child is not as interested in gross motor skills as they are in verbal skills or fine motor skills. Some children may advance in certain areas of development more quickly than others.
If you are concerned, call your child's primary care provider who may refer your child to a pediatric physical therapist.
7 Activities to Encourage Gross Motor Skills Development
Tummy Time
Tummy time is a foundational activity for babies to prepare for other skills! If your baby does not like laying on their belly, start by placing them on your chest, talking or singing to get their attention.
From there you can advance to resting the baby over a boppy pillow or small baby pillow. Ideally, babies will tolerate at least 10 minutes of tummy time 3 times day on the ground while awake (with a blanket or rug beneath).
teytoy Tummy Time Pillow
【Terrific Baby Tummy Time Toy】Double sides tummy time pillow with high contrast pattern. Babies love staring at all things in high contrast. The mirror teethers black and white images and different textures are attractive and encourage newborn baby to WANT to do tummy time. Newborn 0-6 months will be obsessed with the black-white side and infant 6+ months in love with the colorful portion. Clear and Inviting high contrast pictures help strengthen vision. Newborn 0 3 months brain development.
【3 In 1 Versatile Baby Toys】Our infant toys includes a tummy time pillow toy, baby tummy time mat, two baby teething toys. Discovery pillow toy is very soft. Toddlers baby sensory mat with crinkle paper inside, baby mirror tummy time toy helps strengthen baby's leg arm muscles to prepare to crawl. Baby teething toy can also help brain development and enhance hand-eye coordination. Montessori toys for babies 0-6 months perfect for tummy time and independent laying.
【Detachable Baby Crinkle Toy】No need to purchase infant baby tummy time activity mat and baby teething toy separately. Montessori toys cute patterns on belly time mat make noise, which baby is fond of. Rattle, crinkle paper inside the toy stimulate toddler's curiosity.Newborn infants discover and small play activity mirror toy makes tummy time more interesting. Not only did it help with tummy time, infant enjoys holding it now and playing with the ribbons and teethers while on his back as well.
【Perfect Gift & Portable】High contrast baby toys for 0 3 6 12 month boys girls. Fits in bag, easy to carry, comes in handy for car rides and other outings. You can tie to crib, stroller, high chair use. Attached toy has strings on it to tie to something (car seat, side of crib). Baby sensory toy for shower gifts/newborn infants' birthday/Christmas gift toys for 3 month old baby boy. Infant will getting endless enjoyment out of this developmental baby toy! Surface wiping is recommended.
Reaching Games for Babies
Babies love to explore by reaching for objects. Grab their favorite bright noise-making toys for this activity.
I use this activity broadly, from encouraging head turning to rolling, crawling, pulling to stand, and cruising. Engage your baby's attention and hold the toy just far enough away that they can reach the toy with the desired movement.
Fisher-Price Maracas Newborn Toys
Set of 2 newborn rattle toy maracas for little music-makers
Sized just right for little hands to grasp and shake, helping to strengthen baby's gross motor skills
Colorful beads make fun rattle sounds to engage and delight baby's senses
Soft, colorful pom-poms
Stair Climbing
Children need hand support for safety when learning to climb stairs. Steadily decrease support from two hands to one and then to using the railing. You may start with steps that are short in height and limited in number if your kiddo is anxious.
If they need more encouragement, place pieces of a game on one end and have them carry a piece at a time up/down the steps to play the game.
Obstacle Course
I love obstacle courses because they can be tailored to any child's needs. You can add a balance beam, colorful targets for jumping, a trampoline, or a place to catch a ball. Plus, obstacle courses can be changed up every time!
Colored Spot Marker
Non-slip – There are non-slip points on the back to prevent sliding on the gym floor or sidewalk when stepped on or run over during an event. So it is safe to use during fast-paced games and training
Clearly visible- 9 inch 10 inches of vibrant color designed to be clearly visible during games, sports and other activities. Poly spot markers for various games in gym class or for agility dots training when practicing football, hockey, basketball, soccer, dance etc Useful
High value – spot marker is ideal for sports, classroom or party activities – keep the kids in the Entertaining while improving their creativity and cognitive skills, the floor spots dots are a great alternative to traditional conical pens
12 Pack– and to make it even easier for you, we've included a durable storage bag in the package so you can easily take your kids' spot markers for kids go everywhere and keep them at your fingertips at all times
Hopscotch
For this old-school activity, you just need chalk and a flat space outside. This is primarily an activity to encourage jumping and hopping on 1 foot, but could also be used to work on walking skills—forward, sideways, or back.
Sale
Washable Sidewalk Chalks
SUPER VALUE PACK. Our Washable Chalks Set includes 160 pieces of chalks in 16 colors ( Blue, Green, Pink, Orange, Purple, Yellow and more)
UNIQUE DESIGN & EASY TO USE. Our Outdoor Play Chalks will allow your children to get outside and play, give them the opportunity to bring all kinds of artworks outside. Each chalk will give a vibrant color onto any driveway or sidewalk. The chalk can be washed on any surface, you don't have to worry about permanent messes.
ENDLESS FUN. This Colorful Chalk Set is a wonderful selection for kids who love creating eye-catching arts and drawing. This makes it a perfect choice for schools, summer camps, and recreation centers.
PREMIUM QUALITY. Child Safe: Non-Toxic. Meet the US toy standard. Safety test approved.
Wheelbarrow Walks
An activity common at family reunions, wheelbarrow walks are useful for the development of core and upper body strength, which will support better posture and stability during standing, climbing, and ball activities. Hold your child's legs and encourage them to keep their belly from sagging to the ground while they move forward one arm at a time.
Ball Skills
When your child is able to sit without help, sit across from them and roll a large ball back and forth. As they get comfortable, try lightly tossing the ball in standing and encourage them to hold their arms out.
Eventually, your child will catch a ball with hands only and throw with one hand instead of two. If they are not interested in playing with someone else, have them try throwing or kicking to a target or knocking down pins.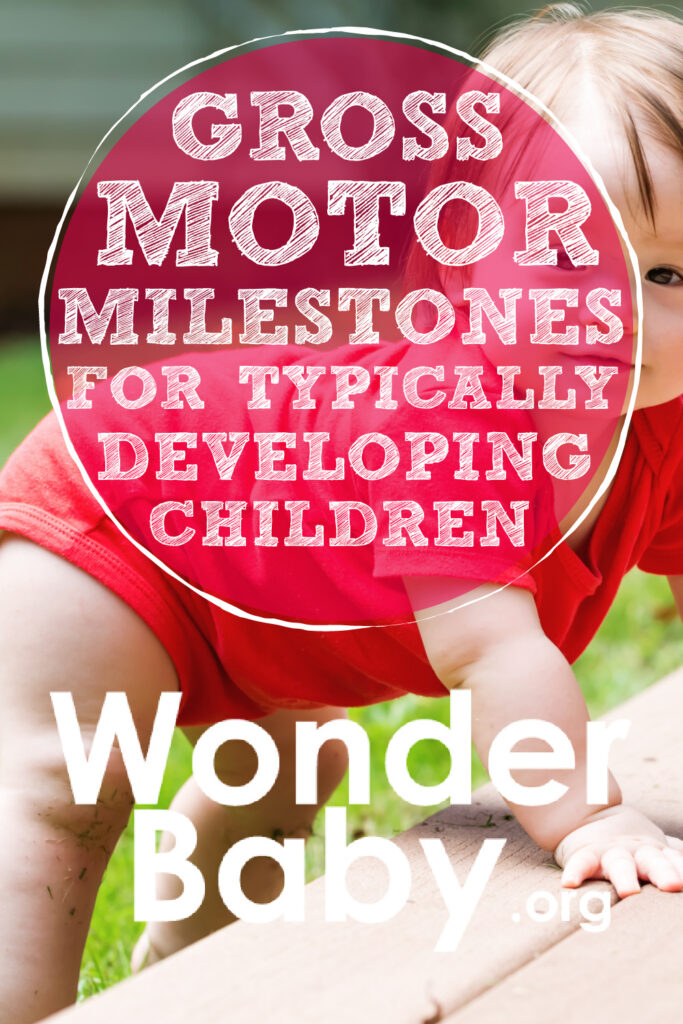 The information WonderBaby provides is not intended to be, and does not constitute, medical or other health advice or diagnosis and should not be used as such. Always consult with a qualified medical professional about your specific circumstances.
Related Posts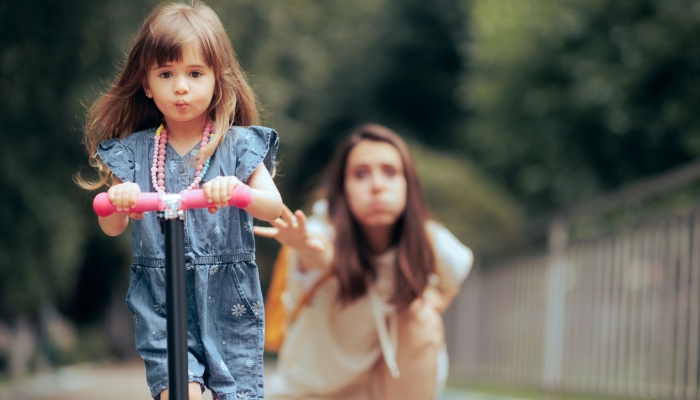 Development, Parenting
Understanding the history, differences, and strengths of proximal and distal parenting will help you decide what parenting approaches work best for your family.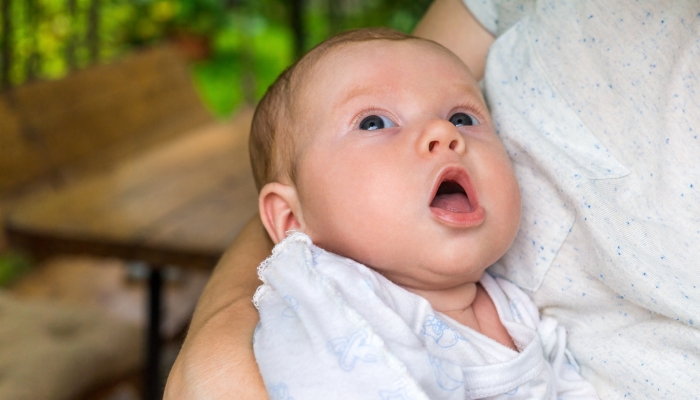 Autism, Development
If your baby's mouth is always open, you might be concerned about a link to autism. However, there are many other reasons for a babies mouth to be open.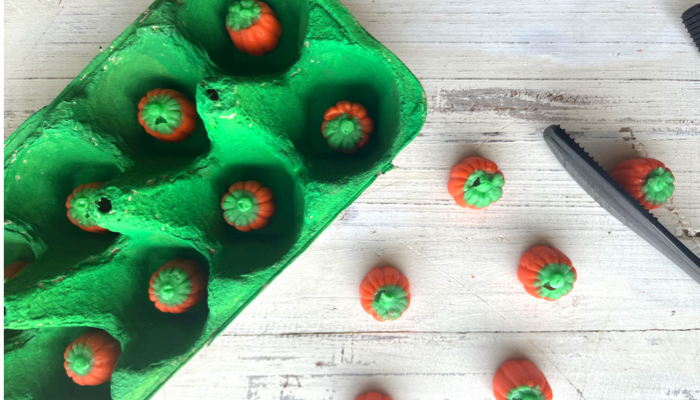 Fine and Gross Motor, Play
This adorable pumpkin picking fine motor activity is a breeze to make! A perfect fall activity for preschoolers and toddlers alike.