Celebrating Halloween With Food Allergies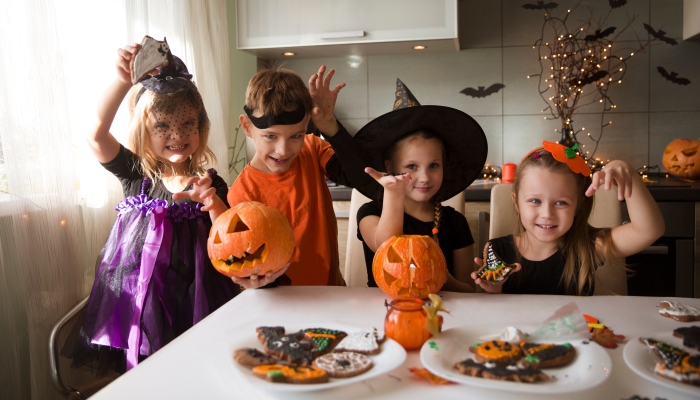 This post may contain affiliate links; please see our terms of use for details.
Always check food labels carefully before eating Halloween candy.
Advance preparation is key to successful trick-or-treating.
Carefully evaluate the gathered candy for the presence of your child's allergens.
There are many fun ways to celebrate Halloween beyond food.
If your children are like mine, discussion about Halloween starts shortly after we finish readying for the first day of school. Costume options and plans for visiting as many houses as possible tend to be recurring central themes.
What has changed over time, however, is the amount of anxiety with which I approach Halloween.
As the mother of a child with severe food allergies, trick-or-treating was its own fright. I didn't want my child to miss this childhood tradition of Halloween fun, and I also couldn't plan for every encounter with food allergens while away from home. How could my child handle Halloween with food allergies safely?
Turns out, you don't have to be a magician to make Halloween special while accommodating food-allergic children. Armed with tricks like knowledge, creativity, and careful planning, this holiday can be a treat for everyone!
Understanding Common Allergens in Halloween Candy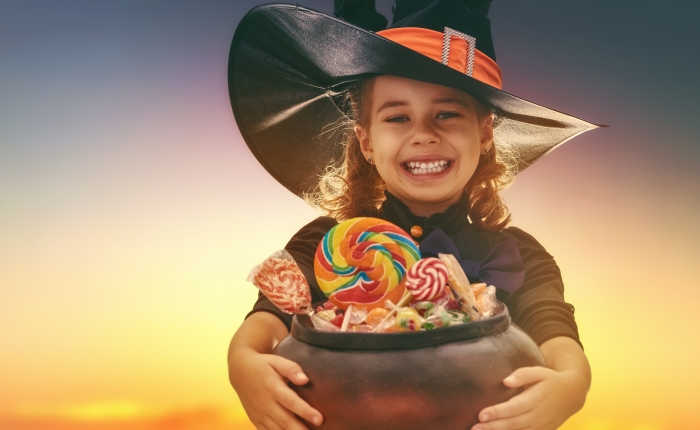 While foods can contain many hidden ingredients, laws from the Food and Drug Administration (FDA)11. FDA. Food allergies. U.S. Food and Drug Administration. 2023. https://www.fda.gov/food/food-labeling-nutrition/food-allergies#:~:text=The%20law%20requires%20that%20food,(for%20example%2C%20buttermilk). require manufacturers to include verbiage on food labels if their product contains one of the top nine food allergens: milk (dairy), gluten, eggs, soy, peanuts, tree nuts, fish, shellfish, and sesame22. Wei, P., Zhao, F., Wang, Z., Wang, Q., Chai, X., Hou, G., & Meng, Q.. Sesame (Sesamum indicum L.): A Comprehensive Review of Nutritional Value, Phytochemical Composition, Health Benefits, Development of Food, and Industrial Applications. Nutrients. 2022;14(19), 4079. https://doi.org/10.3390/nu14194079.
Is your favorite treat safe from common allergens? Check out the chart below to see which popular Halloween candies are considered at-risk for those with a food allergy.
| | |
| --- | --- |
| Food allergen | Among others, found in: |
| Milk (dairy) | Most chocolate or creamy candies, Baby Ruth, Heath Bar, Hershey's Kisses, M&Ms, Milk Duds, Pop Rocks, Rolo, Three Musketeers, Tootsie Rolls, Twix, Whoppers, York Peppermint Patties |
| Gluten | Hershey Cookies and Cream bars, Kit Kat, Mamba, Sour Punch Twists, Twix, Twizzlers, Whoppers |
| Eggs | Baby Ruth, Gobstopppers, Milky Way, Snickers, Three Musketeers, York Peppermint Patties |
| Soy | Airheads, Baby Ruth, Heath Bar, Hershey's Kisses, Jolly Ranchers, Junior Mints, Kit Kat, Laffy Taffy, M&Ms, Rolo, Three Musketeers, Tootsie Rolls, Twix, Twizzlers, Whoppers, York Peppermint Patties |
| Peanuts | Baby Ruth, Butterfinger, Payday, Reese's Cups, Reese's Pieces, Snickers |
| Tree nuts | Almond Joy, Heath Bar, Hershey bars with almonds, nougat candies |
| Fish | Not common in Halloween candy; check food labels carefully for cross-contamination |
| Shellfish | Not common in Halloween candy; check labels carefully for cross-contamination |
| Sesame | Brach's candy corn. Check labels carefully; sesame oil is increasingly found in processed or prepackaged foods. |
Remember to check all food labels carefully: Many popular Halloween candies have different allergens when one is fun-size (like a small Laffy Taffy that contains soy), and its full-size counterparts contain multiple allergens like soy and egg.
Safe Trick-or-Treating Strategies with Food Allergies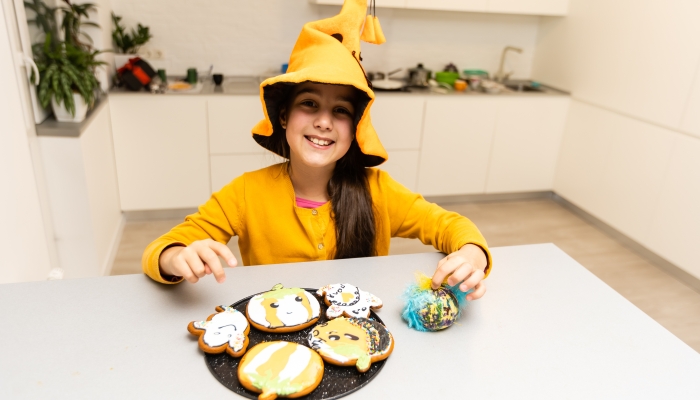 While homemade treats and prepackaged candies may be sorely tempting for trick-or-treaters, even a single bite can lead to a life-threatening reaction for a child with food allergies.
In light of this sobering fact, it makes sense to take your time when planning and organizing how your family will celebrate Halloween—or if going door-to-door is a feasible option for your child.
If you and your child choose to go door-to-door for candy and treats, consider the following suggestions:
Rehearse
Particularly if this year marks your child's first Halloween since receiving a food allergy diagnosis, rehearsing the finer points of trick-or-treating can be very helpful to avoid real-time performance anxiety. There's nothing like being handed a delicious-looking cupcake or homemade treat to make even the most experienced kids with food allergies compromise their safety or lose their composure.
Practice rehearsing stock phrases with your child like "No thanks" or "That's not safe for me" to avoid uncertainty at the door.
Pre-plan with Neighbors
Some families prefer to stay local when trying out Halloween with their kids with food allergies and visit their immediate neighbors only.
If you have a good relationship with your neighbors, contact them and discuss their willingness to help make trick-or-treating safe for your child. You could provide them with safe treats to give your child, let your child rehearse their porch dialogue with them, or ask them to buy safe candy to give your child.
Carry Allergy Essentials
When heading out for the evening, make sure that your child (or their chaperone) is carrying an epinephrine auto-injector and emergency medication.
Depending on the year, my child either kept emergency supplies in their coat pocket or string bag worn over their costume. Many costumes also have enough extra room that epinephrine auto-injectors can be tucked away inside.
If your child is trick-or-treating without an accompanying adult, it's also a good idea to provide a cell phone and allergy ID bracelet in case allergic reactions occur away from home.
Safe Treat Collection
There are a variety of ways to manage collecting treats while going door-to-door. Some families only let their children take candy from houses that hand out safe products, while others let their kids take whatever is in the bowl, regardless of allergen status and swap it out at home.
Our family operates with this simple rule: Never eat any candy gathered door-to-door until you get home and can determine if it's safe. Given the dim light and distractions of other kids, it's too easy to make a mistake and eat something inappropriate.
Participate in the Teal Pumpkin Project
The Teal Pumpkin Project33. Teal Pumpkin Project. FoodAllergy.org. https://www.foodallergy.org/our-initiatives/awareness-campaigns/living-teal/teal-pumpkin-project is an initiative from the experts at Food Allergy Research and Education (FARE) to make door-to-door treat gathering safe for all children, including those who have food allergies or other restricted dietary conditions. By placing a teal-colored pumpkin on your porch, you signal to food-allergic children and their families that your house provides non-food treats that they can safely enjoy.
As you prepare to hand out allergy-friendly treats to your trick-or-treaters, consider giving the following small gifts:
Glow sticks
Small toys (yo-yos, fidget spinners, etc.)
Brightly colored bouncy balls
Finger puppets
Plastic spider rings
Stickers
Teal pumpkin signs and flyers are also available—check out the resources from FARE44. Free Teal Pumpkin Project Resources. FoodAllergy.org. https://www.foodallergy.org/resources/free-teal-pumpkin-project-resources for further information.
Post Trick-or-Treating Tips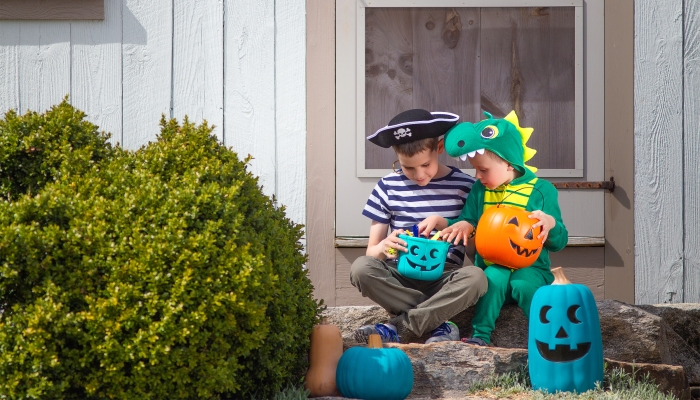 Congratulations! Your child has successfully completed their door-to-door candy haul and is now ready to begin the second half of the evening: the process of analyzing and determining the safety of each treat.
Make Space
Because my children are very competitive, in the past I've marked off separate sections on the floor for them to evaluate their candy. While separating them avoids the possibility of mixing up candy, it also serves to designate a safe space for the child(ren) with a food allergy to determine what candy is safe for them to keep.
Candy Sorting
This process is perhaps one of my favorite parts of Halloween. I use this time as a teaching tool to help my child(ren) know what is safe and what is not, as well as how to read a food label. With time and practice, this process gets easier every year.
Take the time to teach even very young children how to determine what products are safe for them to enjoy—doing so now will equip them well to manage their allergy(s) in the future.
Candy Inspection
Read all labels carefully to determine safety. FARE offers this guide55. Candy Facts. FoodAllergy.org. https://www.foodallergy.org/resources/candy-facts to help determine safe candy, as well as this one from Kids with Food Allergies66. KFA Food Bloggers. [Sponsored] Allergy-Friendly Candy Guide. Kids With Food Allergies Foundation. 2023. https://community.kidswithfoodallergies.org/blog/allergy-friendly-easter-candy-guide. I've used both successfully.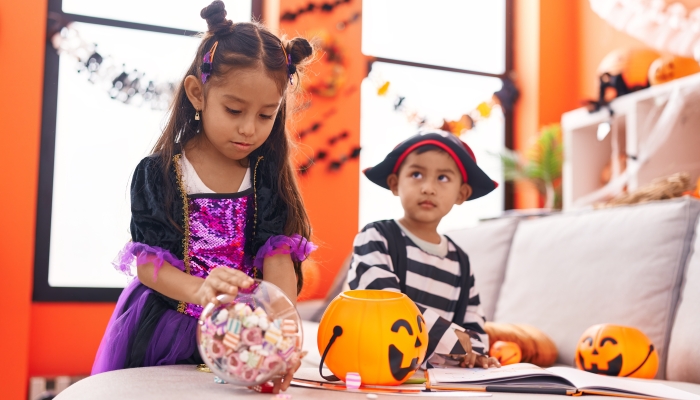 Trading Treats
Some families use the concept of a "switch witch" to reduce the amount of candy their child keeps after trick-or-treating. Ours uses a process called "candy swap"—when a treat containing unsafe common allergens is swapped out for a safe treat that my child enjoys. Using "candy swap" helps lessen some of the feelings of loss and being different that holidays can bring.
"When in Doubt, Throw it Out"
If there is any doubt about the safety of a treat (homemade items, unlabeled sweets, or items I can't find after searching online), our mantra is "When in doubt, throw it out!" No matter how beautifully prepared or packaged, it simply isn't worth it to me to risk allergic reactions.
Contingency Plans
Even with meticulous care and preparation, sometimes accidents happen and anaphylaxis symptoms occur.
Experts at the American Academy of Allergy, Asthma, and Immunology77. Anaphylaxis. American Academy of Allergy Asthma & Immunology. https://www.aaaai.org/conditions-treatments/allergies/anaphylaxis remind us that children experiencing a food allergy emergency can show the following symptoms:
Red rash, with hives or welts, that is usually itchy (it's also possible to have a severe allergic reaction without skin symptoms)
Swollen throat or swollen areas of the body (it's also possible to have a severe allergic reaction without skin symptoms)
Wheezing
Fainting
Chest tightness
Trouble breathing or cough
Hoarse voice
Trouble swallowing
Vomiting
Diarrhea
Stomach cramping
Pale or red color to the face and body
Feeling of impending doom
Having an emergency action plan88. American Academy of Allergy, Asthma & Immunology. Anaphylaxis Emergency Action Plan. AAAAI.org. 2020. https://www.aaaai.org/Aaaai/media/MediaLibrary/PDF%20Documents/Libraries/Anaphylaxis-Emergency-Action-Plan_FILLABLE.pdf and knowing how to access immediate medical care in your area can help you stay calm and respond appropriately to your child who is experiencing a severe allergic reaction.
Alternative Halloween Celebrations for Kids with Food Allergies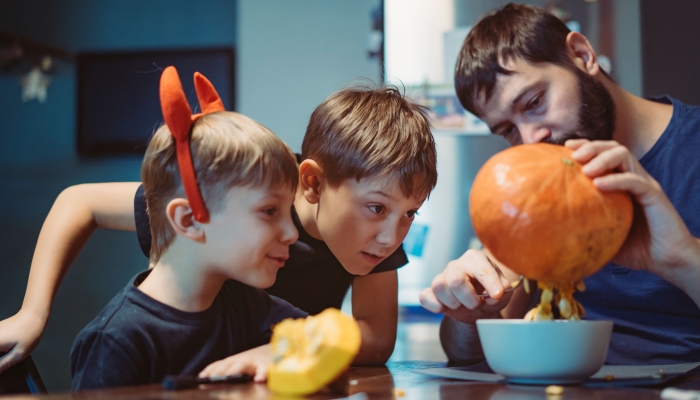 Not every gathering has to have treats or candy in order to be enjoyed.
In fact, with the variety of common food allergens, intolerances, and dietary restrictions in the general population, your Halloween party may be more enjoyed if food doesn't make an appearance.
Consider the following ideas for parties without food when planning your next spooky celebration:
Make-and-Takes
Let your imagination run wild with a variety of Halloween activities or crafts assembled at the party, which children then take home when the party ends. Pinterest abounds with ideas for kids of all ages.
Movie Parties
If the idea of crafting makes you scream, consider inviting guests (and their favorite adult, depending on their age) to watch Halloween films in the comfort of their pajamas or favorite comfy clothes.
Daniel Tiger and More Halloween Fun
Amazon Prime Video (Video on Demand)
Addison Holley, Aidan Vissers, Amariah Faulkner (Actors)
Bob Walsh (Director) – Angela C. Santomero (Writer) – Fred Rogers (Producer)
There are a wide variety of age-appropriate holiday specials. Consider such options as Daniel Tiger and More Halloween Fun, Thomas and Friends: Halloween Adventures, or our favorite, Curious George's Halloween Boo-Fest, reserving the scary movies for an older crowd.
Sale
Curious George's Halloween Boo-Fest
Factory sealed DVD
Frank Welker, Jeff Bennett, Carlos Alazraqui (Actors)
Scott Heming (Director) – Joe Fallon (Writer) – Share Stallings (Producer) – Rino Romano (Narrator)
English (Subtitle)
Costume Parties
A costume party is a Halloween classic. Switch it up by asking kids to use household items to make costumes, or pick a color and set a challenge for guests to wear as much of that color as they can.
Carving Pumpkins
Popular with kids of all ages, pumpkin carving or decorating parties encourage children to be creative and get their spooky on. Consider paint, stencils, foam stickers, or other crafting supplies to spark the imagination carried out on real or artificial pumpkins.
At its core, Halloween is a time-honored childhood tradition that can be happily celebrated in a variety of ways, whether or not you choose to eat candy. With a few adjustments and careful planning, your child can safely enjoy the spirit of the season.
References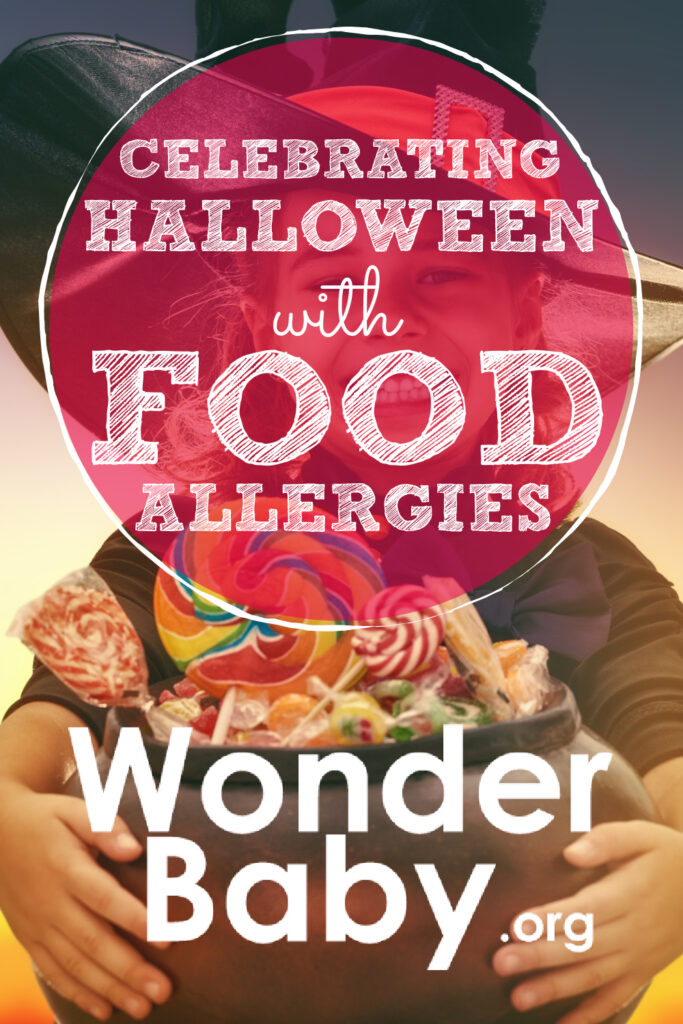 The information WonderBaby provides is not intended to be, and does not constitute, medical or other health advice or diagnosis and should not be used as such. Always consult with a qualified medical professional about your specific circumstances.
Related Posts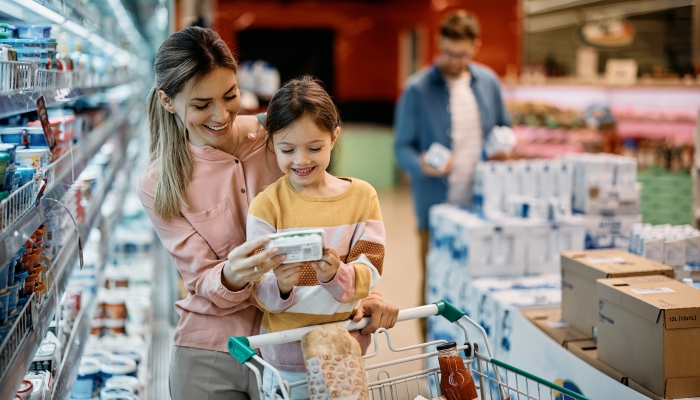 Feeding and Eating
Time and practice are necessary to accurately interpret the presence of major food allergens on a product or food label.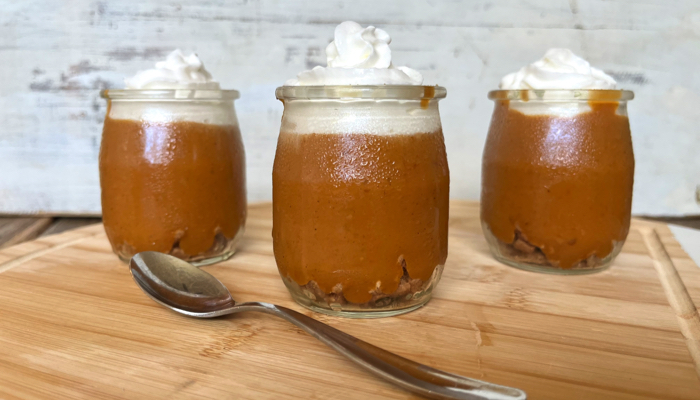 Feeding and Eating
These No-Bake Pumpkin Pie Cups make a great after-school snack or after-dinner treat! They're easy to make ahead of time and have ready to grab in the fridge.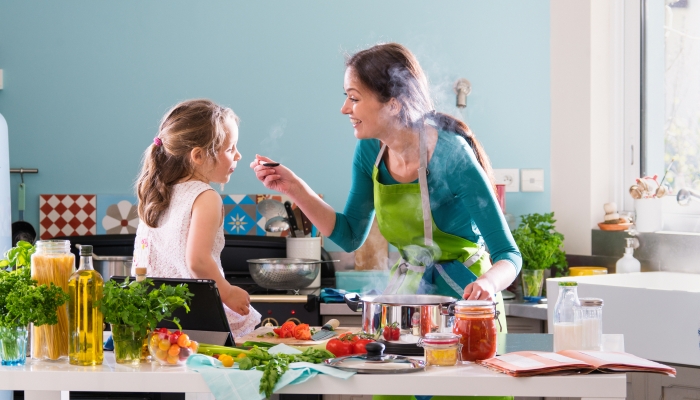 Feeding and Eating
Label reading and thoughtful food preparation are important when cooking for a child with severe food allergies.