How To Make a Chore Chart That Actually Works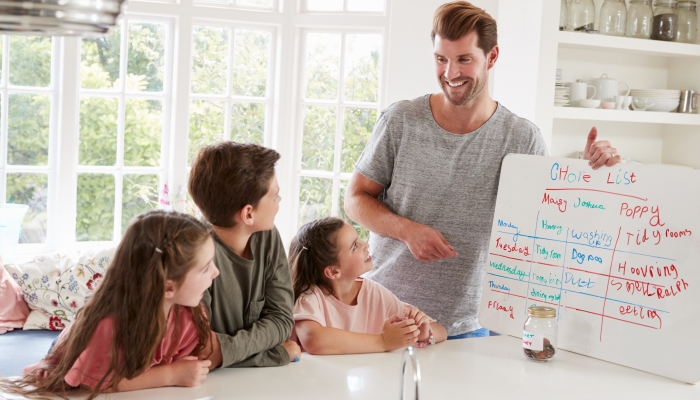 This post may contain affiliate links; please see our terms of use for details.
A chore chart helps teach kids responsibility and can positively impact their upbringing.
There are many different ways to make a chore chart, allowing you to pick the best method for your family.
You can make chores fun by offering different chores weekly to mix things up.
Incentives are optional with chore charts, so it's up to the parent to decide if there will be a reward.
Like most parents, I want to teach my children responsibility so they don't expect me to do everything for them. We all live in the same house, so everyone should chip in, right?
While it takes time to get your kids used to chores and housework, starting with a simple task here and there helps adjust them to helping out around the house.
If you're wondering how to make a chore chart, you've come to the right place. Whether you buy a chore chart online or find a printable chore chart, you're on your way to teaching your kids about responsibility.
What Is a Chore Chart?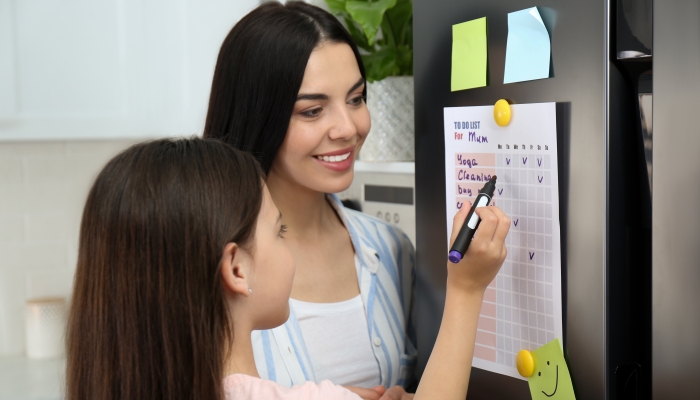 A chore chart lets kids know what chores they must do and when to finish them. Chore charts are especially helpful if your child is a visual learner. When my kids see what they must do each day or week, they are more likely to do it.
Setting expectations is essential with chore charts because you need to understand what your children can do. Here's a snapshot of what you can expect in each age range:
Age
Chore Ideas
Toddler (2–3 years old)

Pick up and put away toys
Sort clothes by color
Wipe cabinets
Make bed
Throw away trash

Preschooler (4–5 years old)

Set the dinner table
Clear the table
Put dirty clothes in the wash
Water indoor plants
Help load the dishwasher
Wipe down door knobs

Early Elementary (6–8 years old)

Vacuum
Feed the pets
Rake leaves
Help with meals
Clean bedroom
Clean mirrors

Elementary Aged (9–11 years old)

Take out garbage and recycling
Clean and put away dishes
Help with laundry

Middle School (12–14 years old)

Help with yard work
Help with dinner
Do their own laundry
Clean bathrooms
Mop floors
Remember to start slowly, and don't expect your kids to do all of the above chores. However, you can expect that older kids can handle extra chores over the younger ones. They can also handle a deep cleaning of the house every so often.
How to Make and Organize a Chore Chart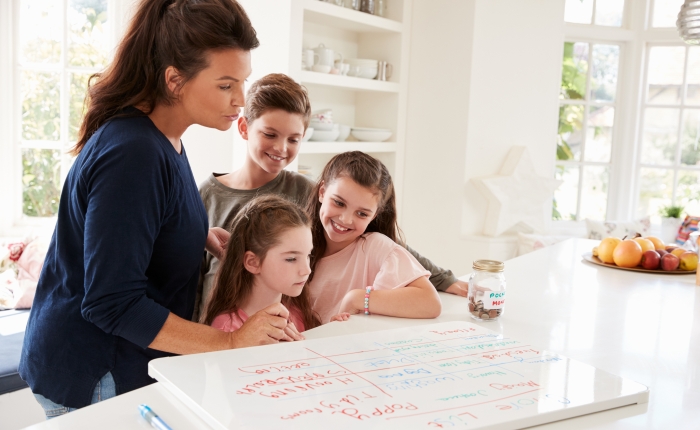 Now that you know what your children can do, it's time to find the right chore chart for you and your family.
You can find plenty of chore charts on Amazon or use free printable chore charts online. I highly recommend the Queekay Chore Chart for younger kids because you can fill in the chores, and they can slide a button when they complete all the chores.
Sale
Queekay Chore Chart
What You Are Provided: package contains 4 pieces of kids daily checklists in different colors, namely white, pink, blue and green, also comes with 8 pieces of blank cardstock, rich colors and sufficient quantity to meet your various use needs, and you can also share with your family and friends
Trustworthy Plastic Material: chart for kids are made of quality plastic material, sturdy, dependable and long lasting, not easy to break or fade, so you can buy and use them with confidence
Easy to Hang: there is a small hole on the back of each behavior chart for kids, making it easy to hang on a variety of places, with the slider design, so you do not need to use a marker to check and cross, just move the slider can easily mark
Detachable Design: blank checklist sliders are detachable and also equipped with blank replacement paper, so you can write your to do menu on the paper and DIY your chore list exclusively
For older kids, I recommend the Officyn Dry Erase Chore Chart, because it allows you to fill in the chores, and kids can check them off as they go along. It's also a great family chore chart because it has four blocks for names and a checklist, ensuring each chore is finished.
Officyn Dry Erase Chore Chart
GET YOUR LIFE ORGANIZED: With Offycin planing chore chart you can track the To-Do's and progress of your family. We are offering you 2 chore charts for daily and weekly planning with a To-Do List planner which gives you plenty of room to write on
6 Markers With Storng Magnets. These markers with stoutly strong magnets are designed to be used on magnetic metal surfaces, having strong magnetic pull that keep them securely attached to the refrigerator. The six vibrant colors make it easy to write on chore board for family, and dry erase ink allows for quick and easy changes or updates to family chore list. Forget about magnets falling off of the caps.
STURDY AND DURABLE: Our product is built to last long, no more peeling surfaces and curling layers of the kids chore chart. Our Nano film surface provides frictionless erasing without any stains or ghosting on weekly chore chart. Super strong magnetic layer provides stickiness to hold the charts firmly in place making it a perfect candidate to be the best magnetic chore chart for refrigerator
VALUE FOR MONEY COMPLETE PACKAGE: Our Product includes daily chore chart, weekly chore chart, daily chore list, and one large magnetic eraser with 6 different and vibrant colored markers with extra erasers on caps.
Here are a few tips for making and organizing chore charts:
Remember to choose age-appropriate chores.
Separate chores by daily, weekly, and monthly.
Organize the chore chart by rooms in the house.
Set incentives (it doesn't have to be money!) for those who complete the weekly checklist of chores.
Benefits of Using a Chore Chart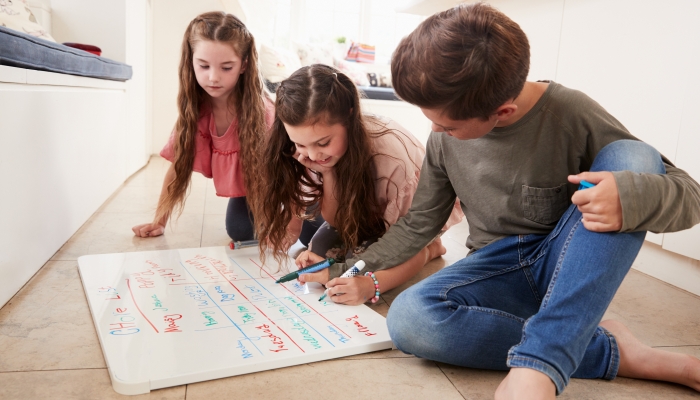 Using a chore chart is a great way to get the whole family involved in keeping the house organized and puts some responsibilities on the kids, not just the parents. Chore charts are also great for developing self help skills, which leads to independence.
Here are some additional benefits of using a chore chart:
Helps kids accept responsibility in the family
Develops time management skills
Instills important life lessons
Gives kids a sense of satisfaction in completing housework
Provides a visual of daily tasks
Gets the family to work together each week
A 2011 study by White et al. published in the Journal of Developmental and Behavioral Pediatrics found performing chores in early elementary school11. White, E. M., DeBoer, M. D., & Scharf, R. J.. Associations Between Household Chores and Childhood Self-Competency. Journal of developmental and behavioral pediatrics : JDBP. 2019;40(3), 176–182. https://doi.org/10.1097/DBP.0000000000000637 was associated with the later development of self-competence, prosocial behavior, and self-efficacy.
At What Age Can I Start Using a Chore Chart With My Child?
Deciding when you start a chore chart with your child is entirely up to you; however, choosing appropriate chores is essential. In addition, when first starting a chore system, remember it will take time for your child to understand they must do their own chores.
The American Academy of Child & Adolescent Psychiatry suggests there are benefits to including chores in a child's routine22. Chores and Children. The American Academy of Child and Adolescent Psychiatry. 2018. https://www.aacap.org/AACAP/Families_and_Youth/Facts_for_Families/FFF-Guide/Chores_and_Children-125.aspx as early as 3 years old.
For example, you can let your toddler help restock diapers, which will help make chores fun for little ones. It doesn't matter when you start using a chore chart as long as the chores are age-appropriate.
What Should Be Included in a Chore Chart?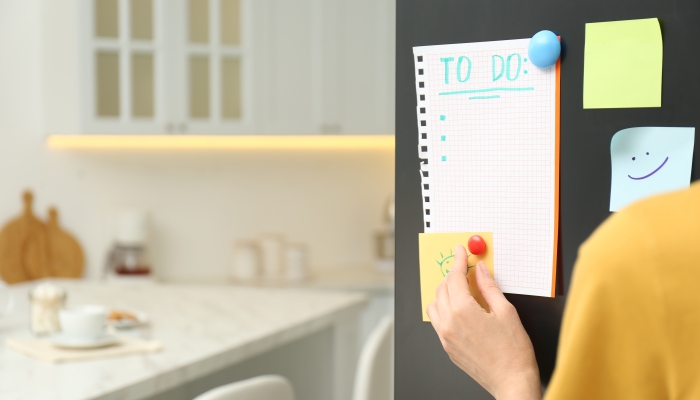 Different parenting styles will likely dictate the way your chore chart looks. However, there are general ideas to remember when creating a family chore chart, so I hope you find these tips helpful.
Here's a look at what most chore charts should include:
Weekly schedule
What chores must be done every day
Specific chores for each child
The reward system, including money amount (if any)
What chores are communal, and which are individual
Checklist kids can check off each day
Remember, you may tweak your chore chart each week as you find what works best for your family.
Homemade Chore Chart Ideas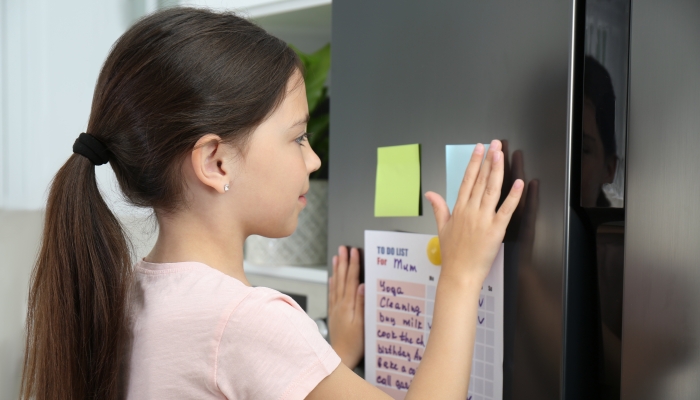 Chore Sticks
If You are a DIYer, you can make chore sticks, which makes it like a fun game for your family. All you have to do is write down various chores on popsicle sticks and have your child choose one randomly. This works great with little ones still getting used to helping with household tasks.
Use a Cookie Sheet For Chores
One of my favorite chore chart ideas is to use a cookie sheet and use magnets to list the chores. It's a fun way to display what your kiddos have to do. You can also have your child paint the cookie sheet and write their name.
Set Up a Dry Erase Board
A simple way to create a chore chart is to use a dry-erase board and put a checkmark next to each chore as they are completed. As a mom of three, I always look for ideas to make my life easier, so I appreciate using a dry-erase board as a chore chart for my kids.
It allows you to complete daily tasks; at the end of the day, you can erase it and start over. You can also keep the chores up for the week and switch them out for the next.
Free Printable Chore Charts
The internet is full of free printable chore charts, making it a breeze to set one up for your children. Free printables also allow you to find the one that works best for your family.
Depending on the age range of your children, you can customize your search to find the appropriate tasks you want your kids to do each day. In addition, you can post the printable chore chart on the fridge, allowing for easy visibility.
FAQs
Should I use a reward system or incentives along with a chore chart?
It's certainly not required, but you can use a reward system to encourage and motivate your child to complete their chores if you want. However, incentives don't have to equal money—although if that's your chosen route, that's your choice.
For example, you can allow extra screen time or a shopping trip to the dollar store if your child completes their weekly chores.
How can I ensure consistency and follow-through with a chore chart without becoming overly strict?
I always try to make household work fun because my kids are more likely to help. For example, I'll tell each of my children to go pick up six toys that are a specific color, and I'll make it different for each one. It's almost like a fun game, but they are getting a task done.
Should I rotate chores or assign them based on individual strengths and interests?
If your child loves doing the dishes, you should let them do the dishes every week. There's nothing better than finding your kids love doing a specific task; just make sure they don't get burnt out from it.
What do I do if my child resists or refuses to do their assigned chores?
As a mom, it's my job to offer tough love sometimes, including chores. If you're using money or other rewards, remind them they won't get their incentive if the work isn't complete. Although, remember to be gentle with your children as they navigate this new stage of life.
References
White, E. M., DeBoer, M. D., & Scharf, R. J. (2019). Associations Between Household Chores and Childhood Self-Competency. Journal of developmental and behavioral pediatrics : JDBP, 40(3), 176–182. https://doi.org/10.1097/DBP.0000000000000637
Chores and Children. The American Academy of Child and Adolescent Psychiatry. (2018, June). https://www.aacap.org/AACAP/Families_and_Youth/Facts_for_Families/FFF-Guide/Chores_and_Children-125.aspx
Related Posts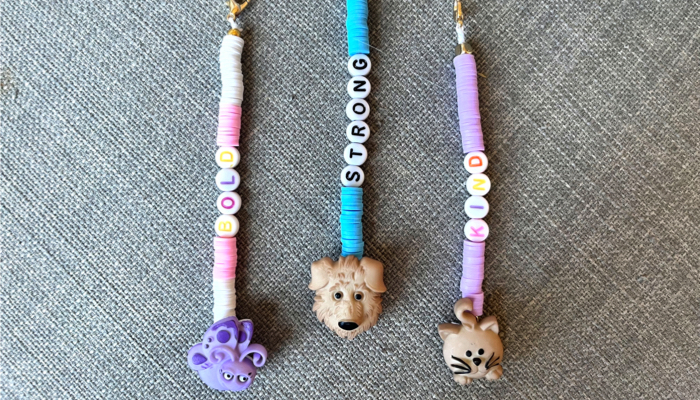 Parenting, Play, Tactile Art
These affirmation backpack buddy keychains are adorable and easy to make. Give your child a little encouragement with this simple craft as they head to school.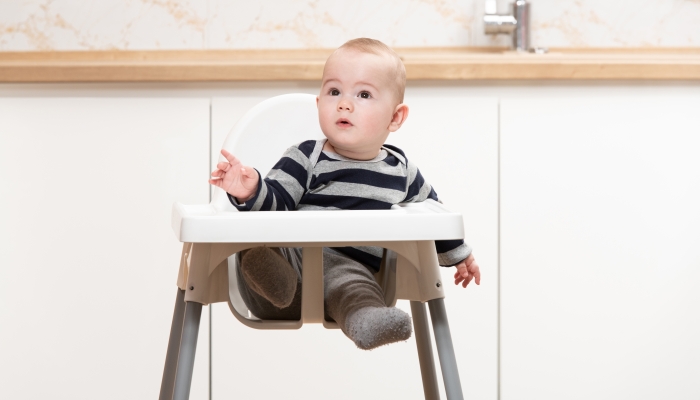 Parenting
Many children are ready to stop using a high chair between 2–3 years old and can begin transitioning to a normal chair or booster seat at that time.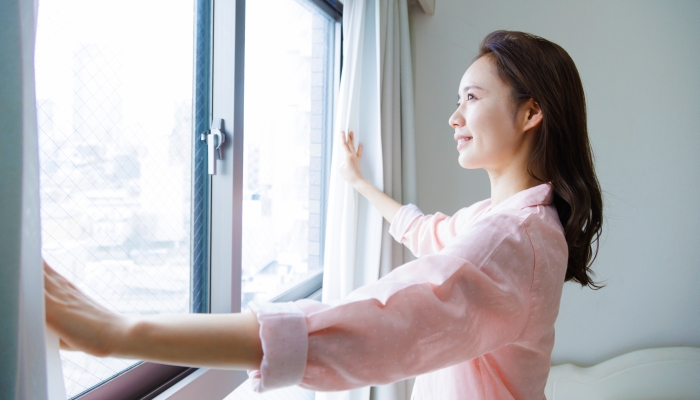 Parenting
Finding purpose as a stay-at-home mom allows you to take time for yourself, set personal goals, build a supportive network, and foster your hobbies and interests.