"Just One!" The Beginnings of One-to-One Correspondence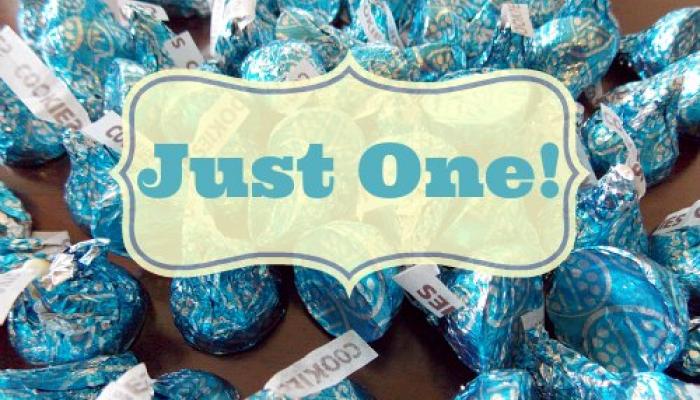 This post may contain affiliate links; please see our terms of use for details.
Many people think of learning to count as the basic, beginning math skill to teach to children. Many songs have a counting component (Five Little Ducks, Three Green Speckled Frogs, etc.) and it seems to be the logical place to start teaching about numbers.
However, even before a child can learn to count, he or she must master the pre-math (numeracy) concept of one-to-one correspondence. That is, the child needs to understand that when we say, "one," we count one object. When we say, "two," we count one more object. When we say, "three," we count or move one more object. We count or move "Just One" object for each number said aloud.
If the child says a number but does not move an object, or moves more than one, he has not mastered the concept of one-to-one correspondence.
Many children count by rote, but have not yet learned what the count means. For this reason, learning to pick "Just One" item is the foundational skill to be mastered even before a child can learn to count.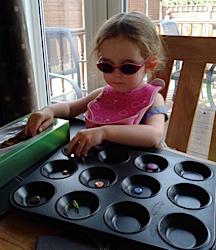 Learning about "Just One" can be lots of fun! The basic idea of these activities is to pick up "Just One" item from a group, and place it into a snug little place for one item. As each item is picked up, say, "Let's pick up just one, and put it in the muffin cup." For each muffin cup, say the same thing, always using the vocabulary "just one." At this stage, please resist the urge to count the items as you choose them! This activity is not for counting. It is simply for learning to pick up just one item, and put it in just one snug little home.
Here are some great activities for learning the concept of "Just One," the foundation of One-to-One correspondence:
Find a muffin tin with 6 cups, and find 6 little balls or toys that fit in the cup. Pick up "Just One" item for each cup, and put it in. Or, you can give your child paper muffin cups and do this when you are making muffins (separate the muffin cups first if necessary). You can use a tin with more compartments if you have one.
Find an old egg carton, and those plastic eggs from Easter (or any other small items such as small balls, lego pieces, anything that will fit) and place one item into each compartment. Remember to say, "Put in just one!" for each compartment. Please remember not to count!
Party bags – this is a great activity for party favor bags. Open the bags, put them on the table, and put in "Just One" candy, "Just One" toy, "Just One" noisemaker, etc. Please resist the temptation to count bags. Focus instead on "Just One" and competent counting will come later!
Serving food – put out your bowls, and put in "Just One" grapefruit half for each person. Or "Just One" apple or orange on each plate.
Sticker fun – if your child uses visual materials, make 5 black dots on a page. If your child uses tactile materials, make 5 Braille dots (spread out) on a page. Have your child find each dot, and put "Just One" sticker on each dot. You can do this with any number of dots.
Cut up egg cartons into varying numbers of compartments. Have your child place "Just One" fluffy pompom into each compartment. Glue each pompom in and arrange the compartments, and make a project of it!
Cooking activities – making cookies: put "Just One" chocolate kiss on each round of cookie dough. Put "Just One" spoonful of jam on each piece of toast, etc.
Once you feel your child has mastered the concept of "Just One," it is time to move on to beginning counting activities that incorporate one-to-one correspondence concepts – but that is for another post!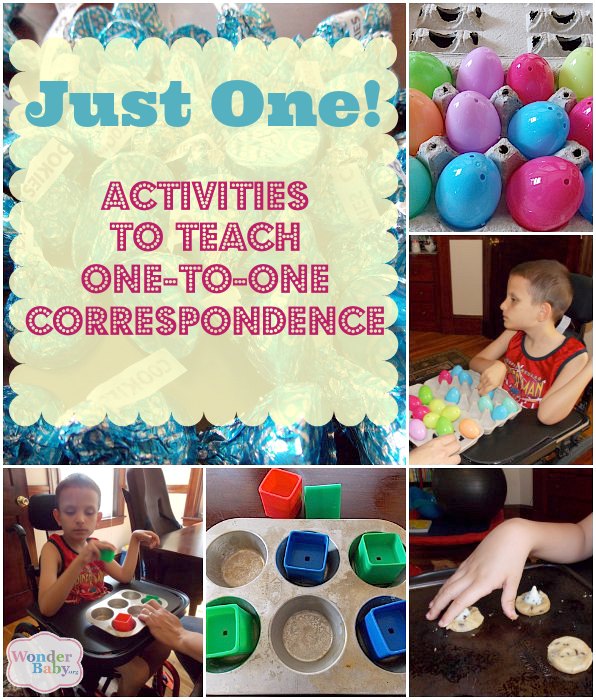 Read this article in Arabic: قراءة هذا المقال بالعربية
Related Posts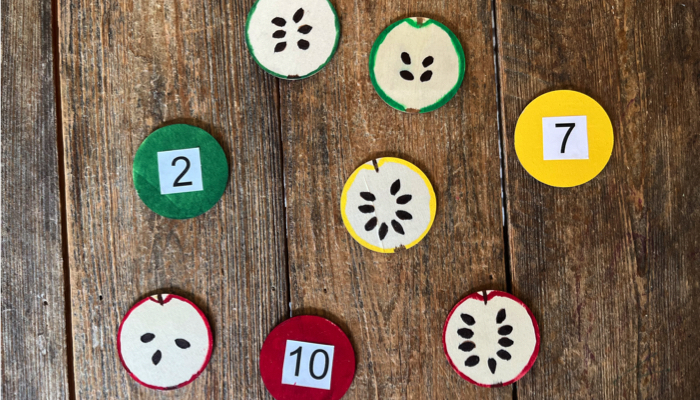 Math and Science, Play
This apple seed counting game is easy to create and fun to play! With just an oatmeal container and a few supplies, you can surprise your child with this delightful...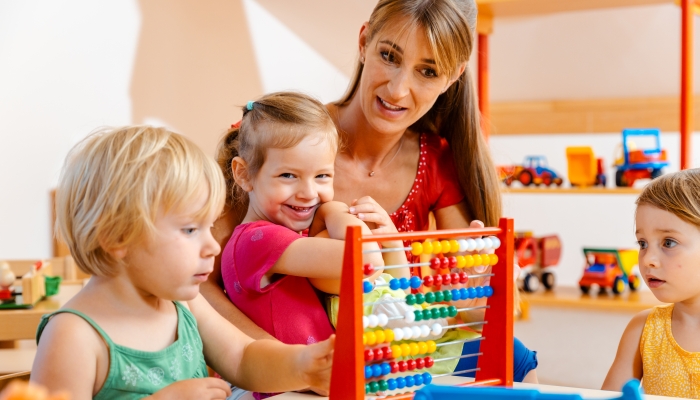 Education, Math and Science
If you want your child to hit the ground running when it comes to their education, there are lots of preschool math activities you can enjoy together.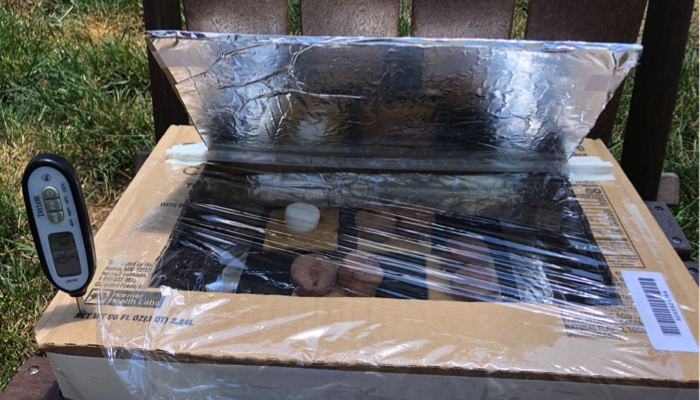 Math and Science
Building a solar oven is a great way to teach your child about heat, insulation, and the scientific method.