Make Your Own Sippy Cup to Help Teach Straw Drinking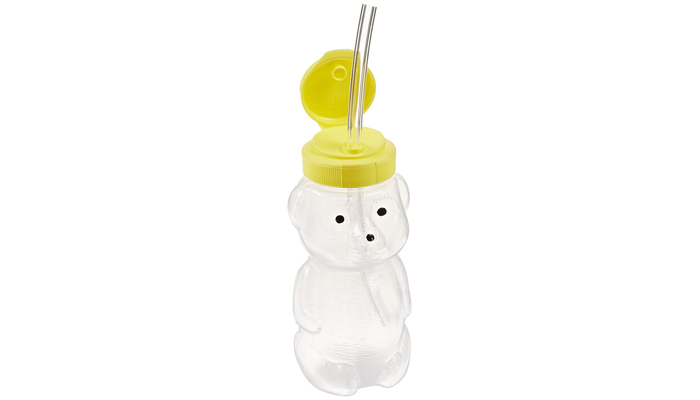 This post may contain affiliate links; please see our terms of use for details.
Learning to drink from a straw or hold your own cup can be really difficult for some kids.
Add to this the tendency of a lot of kids (like mine!) to chew on anything that hits their teeth and you'll be frustratingly going through straws like there's no tomorrow!
So we've come up with a solution that's simple, inexpensive, and easy to replicate. You can make a whole collection of these sippy cups and have a couple at home, at school, at grandma's house, in the car… you get the picture.
This is an easy project that will take you only minutes. Actually, once you have the items you need to make the cup, it should only take you about two seconds. Here's the simple how-to…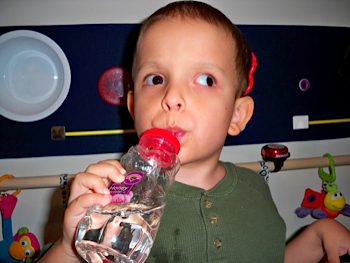 ---
What You'll Need:
12oz honey bear container
scissors
nail file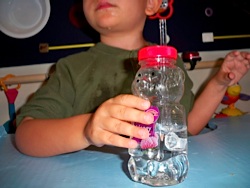 Making Your Sippy Cup
Clean your honey bear and remove cap with scissors.
After cutting off the cap the edges may be a little sharp. Use the nail file to soften these edges.
Cut a piece of tubing to fit into the hole in the lid. Insert tubing and you're done!
The tubing is made of medical-grade plastic and is safe for food consumption, although you may want to avoid microwaving it or sticking it in the dishwasher. It's tough, though, so your child can chew and chew as much as they want without bending or breaking the tube.
The honey bear is small, isn't too heavy, and has a nice shape that contours to little hands. Ivan finds it much easier to hold on to than a traditional children's cup.
Of course the whole cup and straw combo will only last so long. After a few months of use both the straw and honey bear will begin to look worn. But it's so easy to replace! Just make sure you buy all your honey in bear containers from now on!
Don't want to make one yourself? You can also buy a Juice Bear all set with indestructible straw.
Related Posts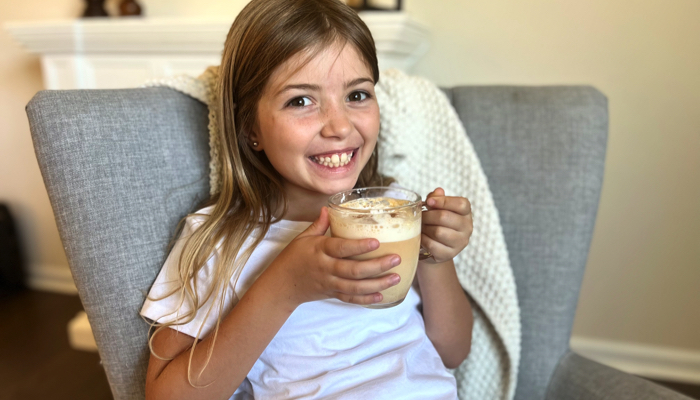 Feeding and Eating
Who says kids can't enjoy the pumpkin spice latte craze? This Kid-Friendly Pumpkin Spice "Not-a-Latte" recipe is delicious and fun to make.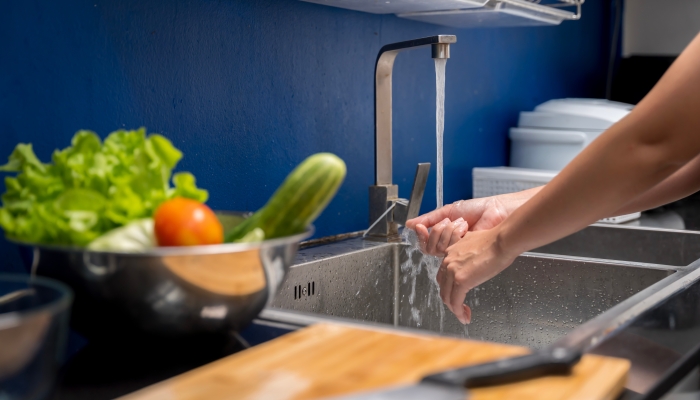 Feeding and Eating
Preventing exposure to food allergens through cross-contact can be done successfully through thoughtful planning and careful food preparation.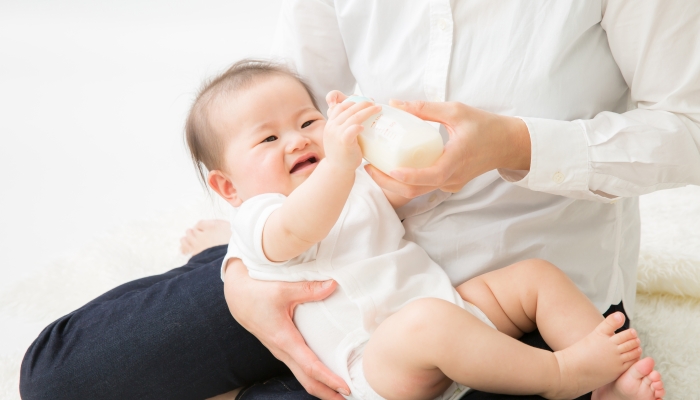 Feeding and Eating
If your baby pushes the bottle away but seems hungry, you're likely desperate for them to finish their milk. Is this normal behavior or a sign something is up?