The 5 Best Maternity Pajamas of 2023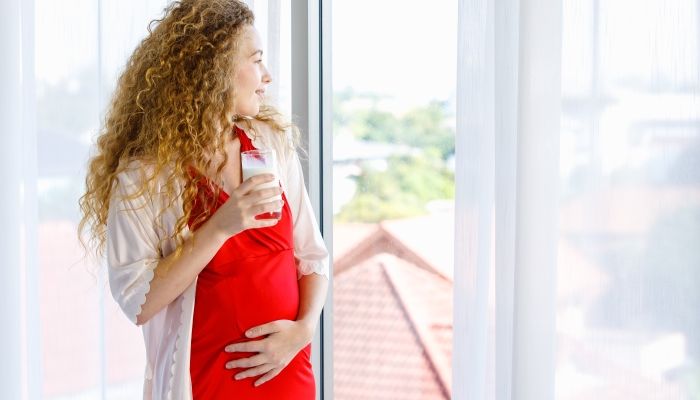 This post may contain affiliate links; please see our terms of use for details.
The best maternity pajamas are soft, comfortable, easy to move in, and easy to wash and wear.
Many maternity pajamas can double as loungewear and also have adjustable features to make nursing easy.
You'll wear maternity pajamas a lot in the early days and beyond, so they're worth investing in.
Whether you like fitted leggings or palazzo pants, tank tops or tent dresses, there are maternity pajamas to suit your style, your body, and your budget. Look for soft, breathable fabrics, functional designs, and adjustable features to keep you comfortable and make your life easier.
We'll let you in on a secret, too: Maternity pajamas don't just have to be worn for sleep! Some pajama sets are so comfy and stylish that they can easily double as day outfits, which is great for the early days after birth and beyond.
We've looked into some of the best maternity pajamas of 2023 to help you find the right ones for pregnancy, labor, delivery, and postpartum. Take a look!
Best Choice
Best Luxury
Best Budget
The Davy Short Sleeve Sleepwear Set by Kindred Bravely
Alina Mae Maternity Nursing Pajama Set
Best Choice
The Davy Short Sleeve Sleepwear Set by Kindred Bravely
Best Luxury
Best Budget
Alina Mae Maternity Nursing Pajama Set
Our Choice: The Davy Short Sleeve Sleepwear Set by Kindred Bravely
The Davy Short Sleeve Sleepwear Set by Kindred Bravely
PERFECT GIFT FOR EXPECTING MOMS – These maternity pajamas are so soft you'll want to live in them, both during and after pregnancy. Makes a great baby shower gift for new moms!
EASY AND DISCREET BREASTFEEDING ACCESS – These nursing pajamas feature a double-layered top, allowing for discreet nursing in front of company.
SLEEP IN COMFORT – The ruched design of the top is elastic-free, so you can sleep and lounge comfortably with no chafing or digging. These maternity pajama pants feature a wide, comfortable elastic waistband that easily transitions from pregnancy to motherhood, plus they have pockets!
VERSATILE & BEAUTIFUL – Made of a light viscose material that will keep you cool, these versatile maternity pajamas are stylish enough to wear outside the house as separates or together.
Pros

Cons

Pull-on and elastic-free top for total comfort and no chafing
Easy nursing access
Machine wash and tumble dry
Super soft viscose

Limited color choice
Sizing can be tricky
This super soft viscose Davy Short Sleeve Sleepwear Set by Kindred Bravely just might be the perfect versatile maternity pajama set.
The top and bottoms are both pull-on. The ruched nursing top is not just flattering but elastic-free, so there's no digging in or chafing.
The viscose is lightweight and breathable, so you won't get too hot. They're also super easy to throw in the washing machine and dryer—essential when your hands are too full to worry about doing a delicate wash.
What's great about this set is that it's also so versatile. If they didn't tell you they were pajamas, you wouldn't know! Sleep in them, wear them out for errands, wear the tops and bottoms separately, or mix and match them with your other maternity clothing. This fantastic set isn't just maternity sleepwear.
If you don't like the limited color choice, check out the other great maternity pajama designs by Kindred Bravely. In addition to limited colors, sizing can also be tricky to figure out, so check the sizing chart carefully.
However, given this set's versatility at this price point, the Davy is an excellent choice.
Fabric Type: 94% Viscose, 6% Spandex | Available Sizes: Small – XXL
View on Amazon | View on KindredBravely.com | View on Poshmark.com
Best Luxury Maternity Pajama Hospital Gift: HATCH to Hospital Box
HATCH to Hospital Box
Fabric: Super-soft jersey
4 piece set includes: pair of socks, underwear, T-shirt dress, and self-tie robe, Packaged together for easy gifting, Contains rayon from bamboo
Full-coverage underwear
Pros

Cons

Super soft jersey
Includes maternity underwear and socks in the gift set
The special mom in your life will love the luxury sleepwear pieces in the gorgeous HATCH to Hospital Box. This is the most expensive maternity and nursing pajama set on this list, but its beautiful materials and thoughtful touches make it a perfect baby shower gift for moms. 
The set includes a soft, loose, easy-to-nurse-in T-shirt dress with a matching robe, perfect for the hospital and sleeping at home. However, the maternity underwear and cozy socks make this a useful, functional, and thoughtful gift, especially for moms recovering in the hospital.
This set is expensive, but the mom who gets this gift will definitely love it. HATCH has some other great sleepwear pieces too.
Fabric Type: Jersey | Available Sizes: Medium, Large
View on Amazon | View on HatchCollection.com | View on Madewell.com
Best Nighttime to Daytime Pants: Motherhood Maternity Women's Side Ruched Waist Knit Pajama Pant
Sale
Motherhood Maternity Women's Side Ruched Waist Knit Pajama Pant
This basic pant can be worn throughout your pregnancy and beyond. Lightweight, soft, and comfortable, these sleep pants can easily be worn lounging around the house all day long
The fold over belly waistband and side shirring design provides the perfect amount of stretch to grow with your bump or wear post pregnancy
Full length fold over knit pajama pant with 30.75 inch inseam and side shirring at waistband
Pair it with your favorite nursing cami, these sleep bottoms are not only great for the pregnant woman, but also for the nursing mom as well
Pros

Cons

Can be worn for sleep or daytime
Comfortable fold-over waist to wear over or under your baby bump
Versatile piece at a reasonable price

Limited color and design choice
In the early days with a newborn, it's totally normal for day and night to blend together. So anything that helps to make your life more convenient, easier, and more comfortable is essential.
Enter the Women's Side Ruched Waist Knit Pajama Pant from Motherhood Maternity. These practical, functional, basic pants are comfortable enough to wear for sleep but can also easily double as your daytime runaround pants without anyone else telling the difference!
Made of stretchy cotton, polyester, and spandex, these full-length pants are machine washable.
The best feature of these comfy pants is the fold-over waistband with ruched sides. It expands with your belly and can be worn under or over, whichever is most comfortable for you.
Fabric Type: 58% Cotton, 38% Polyester, 4% Spandex | Available Sizes: Small – XXXL
View on Amazon | View on Sears.com | View on Motherhood.com
Best Budget Nursing Pajama Set: Alina Mae Maternity Nursing Pajama Set
Alina Mae Maternity Nursing Pajama Set
ULTRA SOFT & COMFORTABLE – These Maternity PJs are made of ultra soft high quality material that provides extra comfort. The material is so soft to the skin that does not only offer maximum comfort for pregnant mothers but also your nursing babies. The pregnancy pants sits below the bump, so the pants won't restrain the mother. As the belly grows during last weeks of pregnancy, when the baby bump get large, the pants won't feel restrained. It also won't irritate the c-section incision!
HIGH QUALITY MATERIAL & WORKMANSHIP – Super soft, comfy, stretchy material, Neat hand-stitching, Exquisite workmanship throughout the details of the maternity capris, short sleeve nursing top, double labor absorbing nursing pockets for your lactation pads, perfect companion for your breastfeeding journey. It's made with expandable material that can grow with your belly through different trimesters & postpartum! A true must have for her hospital bag!
WITH YOU ALL THE WAY THROUGH – This 2 piece maternity breastfeeding pajama set can be used throughout pregnancy, packed in the labor and delivery bag, and lounging at home during postpartum after birth while cuddling the baby, throughout nursing and breastfeeding. It's a perfect baby shower gift for a pregnant wife, maternity woman and expecting mom to wear at home, as pj to provide needed sleep at night. It offers pregnant and nursing mothers maximum comfort.
THE PERFECT CHRISTMAS GIFT – These cute maternity loungewear pajamas are designed with pregnant mamas in mind. It's perfect gift to buy for your sisters, friends, daughters and wife as a "mommy lounge set". Make sure you pack them into your hospital bag, as it can be there for you before and after labor. Because of the stretchy material, you can wear them at your last days of pregnancy, or after birthing, as your welcome home outfit.
Pros

Cons

Easy nursing top
Lots of colors and patterns to choose from
Easy to wash and wear
Reasonable price for a two-piece set
The great price of the Alina Mae Maternity Nursing Pajama Set means you can buy a couple of sets for the cost of just one from other brands. However, that doesn't mean you'll be sacrificing comfort or quality.
Alina Mae has included lots of features that pregnant and breastfeeding moms will appreciate. The tops, in particular, are thoughtfully designed, with double-layered nursing pockets for lactation pads.
The bottoms feature comfortable wide bands that can be worn under your bump.
These sets are versatile too. Depending on which set you buy, they easily double as loungewear or daywear when you're out and about with your baby.
Although the Alina Mae pajamas are a great buy, pregnant folks report that sizing can sometimes be hit or miss, so there may be some trial and error before you find the right ones.
Fabric Type: 95% Polyester, 5% Spandex | Available Sizes: Small – Large
View on Amazon | View on Walmart.com | View on eBay.com
Best Maternity Hospital Gown: Baby Be Mine 3 in 1 Labor, Delivery, Nursing Hospital Gown
Baby Be Mine 3 in 1 Labor, Delivery, Nursing Hospital Gown
With a sewn in adjustable empire waistline you can be sure of a perfect fit along with a discreetly hidden front panel, you can freely move around yet have easy access for medical examinations or fetal monitoring
Snaps in the back ensure total coverage; No more flashing! Easy epidural access;So just say "no thank you' to that tatty old hospital gown and put on something from home, it feels great, clean and stylish – and yes! You can look stylish when giving birth
Please order PRE PREGNANCY Size; Shoulder snaps on both sides allow easy access for medical examination and first skin to skin contact with you new baby; Great for breastfeeding; Discreet front flap – move freely with easy access for examinations and monitoring
Snaps in the back ensure total coverage; No more flashing! Easy epidural access;So just say no thank you to that tatty old hospital gown and put on something from home, it feels great, clean and stylish and yes! You can look stylish when giving birth
Pros

Cons

More comfortable with better coverage than a hospital gown
Easy access for medical exams and nursing without the awkwardness of a hospital gown

Not very versatile beyond the hospital
Hospital gowns can be very uncomfortable and can leave a laboring mom feeling cold and exposed. The Baby Be Mine 3 in 1 Labor, Delivery, Nursing Hospital Gown is a great alternative, with some really convenient features that make it a must for your hospital bag.
The gown gives you longer coverage than a standard hospital gown. In addition, it has snaps down the back for easy access for monitors or an epidural without staying open all the time like a regular hospital gown.
The front flaps make examination and wearing monitors easier from the front and more discreet. Snaps at the shoulders also make them easy to take down for nursing or exams.
You can choose from a wide variety of colors and patterns so that you can still feel like yourself in the hospital.
While this gown has a lot of uses for labor and delivery, features like the snaps on the back are not as helpful or comfortable for wear at home. Nonetheless, this is definitely one for your third-trimester checklist. 
Fabric Type: 100% Cotton | Available Sizes: Small – XL
View on Amazon | View on Walmart.com | View on eBay.com
Recommended Accessories
There are many clever products on the market designed to help you stay comfortable as you go through the stages of your pregnancy.
Belly Bands
Sale
Maddie Moo Belly Band Seamless Maternity and Postpartum Shirt Extenders
For best fit, measure just below bust and use the sizing chart
Seven Fashionable Colors: Choose from our seven stylish colors to match any maternity outfit.
Our belly band comes in eight different sizes to accommodate women of all body types and sizes.
Our belly band is a pregnancy must-have that provides cover for pregnancy and can be worn with maternity jeans, tank tops, and shirts and skirts.
If you can't part with some of your pre-pregnancy tops or just like feeling extra support around your belly as it grows, Maddie Moo Belly Band Seamless Maternity and Postpartum Shirt Extenders might be just what you need.
If you have some pre-pregnancy pajamas that you love but don't cover your belly anymore, or you'd like some extra coverage when working out, these belly bands will do the trick. They're also great for extending your other regular tops.
Made of soft cotton or bamboo, they come in a huge array of colors, and you can bulk-buy them in packs to match your wardrobe. They also come in sizes up to 4XXL, so there's a band to fit every belly.
Pregnancy Pillows
Momcozy U-Shaped Pregnancy Pillow
Ergonomic G-Shaped Design: 57 x 28 x 9 in. This maternity pillow specially designed for pregnant woman. This C+U shaped body pillow is comfort and following your body contour shaped, provide all-around coverage and support like back, belly, hips, knee and head.
Give You A Restful Night – Our pregnancy support pillow can help you into a quality sleep, reducing interruptions all night and helping relieve back pain, hips pain, and lower back pain, as well as to promote proper sleep posture.
100% Cotton Pillowcase & Machine Washable – Pick the best natural cotton materials. And this u pillow is filled with premium polyester stuff. This adjustable Polyethylene 7D Hollow Fiber Filling is without smelling and retains fluffiness for better performance and longer use.
Widely Use Pillow – Momcozy Pillow will support both sides of your body along its full length. It's also versatile and can be bent into the shape you want quite easily, so you can also use this pillow to sit upright in bed to read, watch TV, or work on your laptop.
Maternity pajamas can be really comforting, but unfortunately, they can't help with hip or backaches or the other pains of pregnancy.
Getting your rest is so important at this time, so if sleep is eluding you, take a look at the Momcozy U-Shaped Pregnancy Pillow.
Although this large pillow may take up a lot of space in your bed, the support and comfort it provides will make up for it, especially if it alleviates any pain you have.
Momcozy makes these in various textures, colors, and patterns to suit any decor, and the covers are removable and machine-washable. They're not just for sleep, either. Use the pillow for support when you're sitting too.
Maternity Pajamas: Why Expecting Moms Love Them
You might think you can make it through pregnancy and birth by wearing oversized T-shirts or larger-sized pajamas. Maternity pajamas might sound like another way to get expectant mothers to part with their money.
However, if there's one time in your life that you need to be as comfortable as possible, it's during pregnancy, labor, and postpartum. Ask anyone who's been through it; a comfy set of maternity pajamas will be the only thing you'll want to wear for a good chunk of that time.
Maternity sleepwear often has smart features for your changing body, like an adjustable waistband, a special nursing top, and a lot of stretch and give in the material.
In addition, the best maternity pajamas will be made of breathable fabrics to help with what feels like your ever-changing body temperature.
There are some great products on the market too designed for nighttime nursing and hospital stays, so it's worth doing some research.
How to Choose the Best Maternity Pajamas
Like any other maternity clothing, when you're investing in pajamas, there are a few things to look out for to make your life easier:
Features

Why they're nice to have

Soft, breathable fabric

Skin may be more sensitive during pregnancy, especially if skin conditions develop.
Pregnant people often feel more hot or cold than they used to, so breathable fabrics can help.

Adjustable features

Adjustable waistbands, straps, and tops mean the pajamas will still fit while your body changes.

Accessibility for feeding

If you're breastfeeding, pajamas with breastfeeding tops or soft stretchable fabrics will make it much easier to feed without having to take your whole top off and will help to keep you warm.

Patterns or colors that you like and make you feel good

It's nice to have maternity clothing that makes you feel good when you look at it, especially when you've had sleepless nights or if you're not feeling at your best.

Available matching sets for baby

For some cute pictures and lovely memories, look for matching pajama sets for you and your baby or even the whole family!

Easy to move in

Whether you like things loose or you prefer the support of fitted leggings, make sure the pajamas you choose are easy for you to move in and not restrictive when you lift, feed, pace, and sleep.

Easy to wash

Look for fabrics that are easy to throw in the washer and dryer.
You won't have time for hand washing, delicate washes, or line drying in the early days.

Pockets

For your phone, burp cloth, or when you just need an extra hand, pockets are key.

Darker colors

While there may be some cute light colors and pastel patterns out there, remember that maternity pajamas are exposed to a lot of liquids, so colors that don't show stains as much may be easier to keep clean.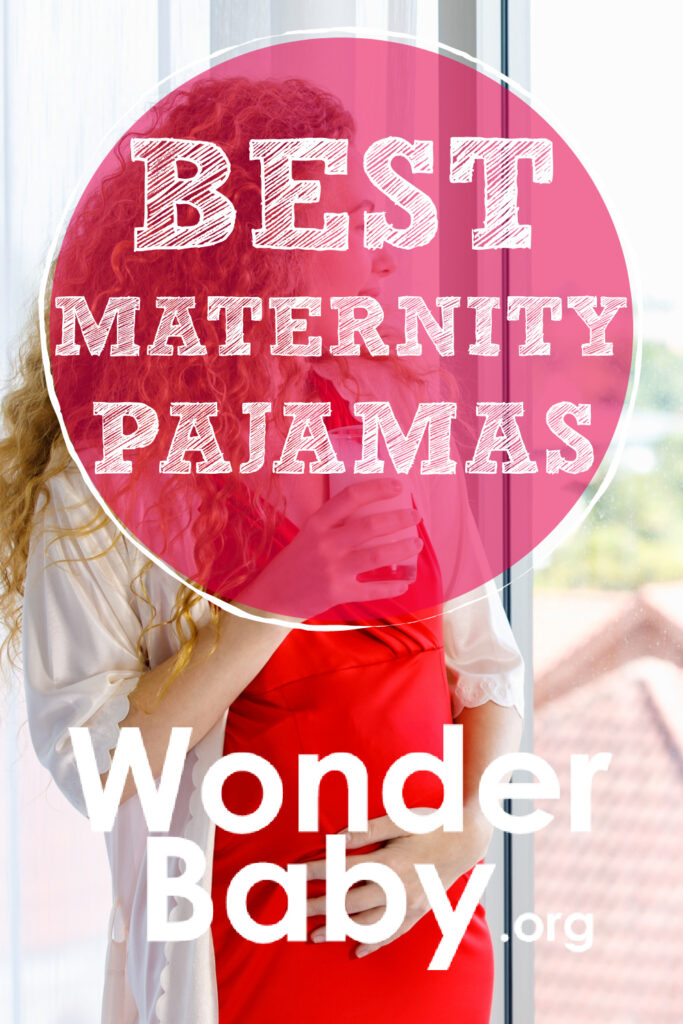 Related Posts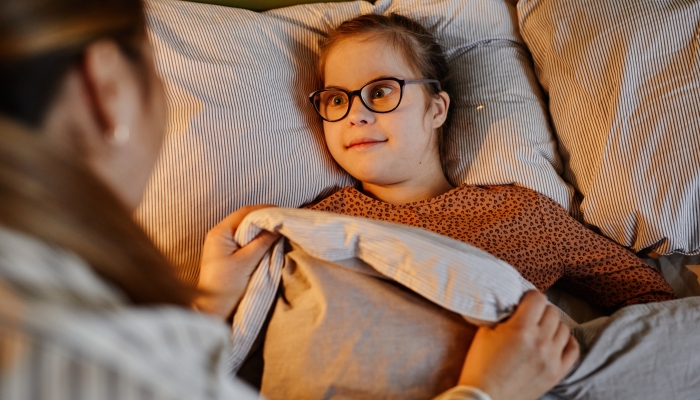 Product Reviews
Heard a lot about weighted blankets and lap pads and wondering how to choose one? Here's our guide to the ins and outs of finding the right weighted blanket.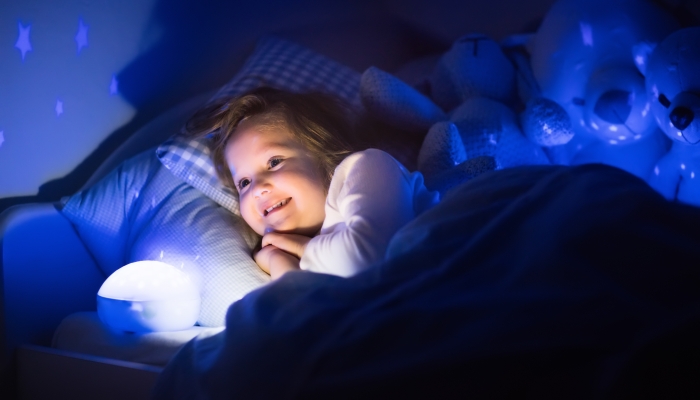 Product Reviews
Looking for the right night light to help your little one ease into bedtime? Check out our guide for everything you need to know about toddler night lights.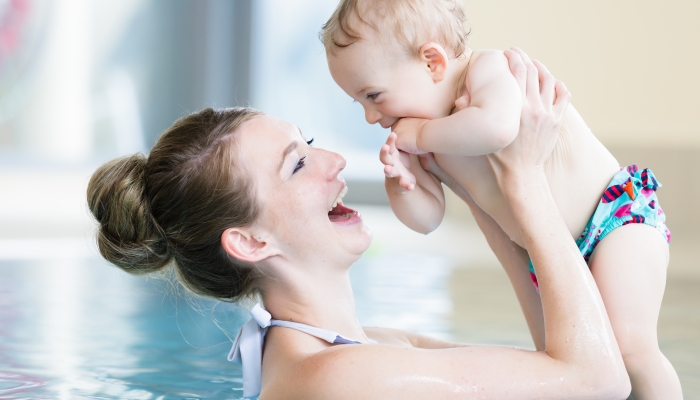 Potty Training, Product Reviews
The best swim diapers are comfortable and help prevent your baby from having an accident in the pool or ocean. Find our favorites in this round-up!