7 Best Potty Training Urinals for Teaching Boys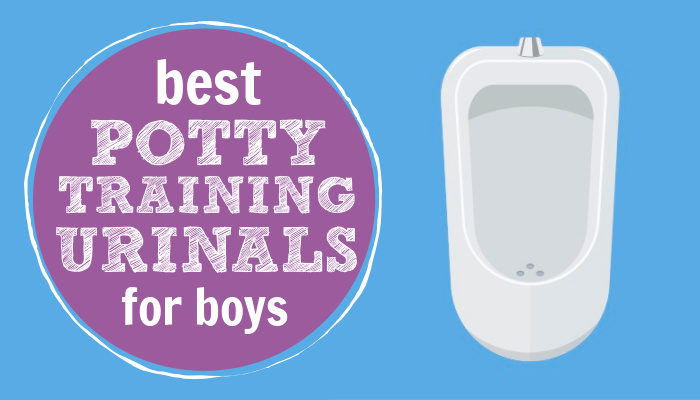 This post may contain affiliate links; please see our terms of use for details.
When you decide to start potty training, you may be overwhelmed with the amount of choices you have to make. First, you have to decide on a potty training method and whether to use training pants or pull-ups while you potty train. Potty training boys adds the additional question of whether you should use a regular training potty, a potty training urinal, or both.
Many boy moms will tell you that potty training urinals can make the training process much easier. If your little boy has older brothers or a dad around, they will probably want to be just like them—and this includes how they use the potty. Plus, a training urinal will help prevent messes when they inevitably learn to go in a standing position.
If you've decided to get a potty training urinal, there are tons of styles to choose from. Many will attach to your walls with a hook or suction cups, while some hook onto the adult toilet or are free standing. Some flush and some will give your little one some extra practice with aiming.
To make things a little easier, we've rounded up the 7 best potty training urinals for teaching boys, so you'll be able to find something that works for your little guy.
Top 7 Picks
Foryee Potty Training Urinal
Cute Frog Potty Training Urinal for Boys
Perfect for Toilet Training for Boys between the Ages 1 and 6 years.
Bright Colored Urinal Froggy Shape is Perfect for Little Boys.
Adjustable Height.RemovableBowl Insert for Easy to Clean and Hygienic.
Super Suction Cup,Sticks to Tiles, Firm and Reliable.
The Foryee Potty Training Urinal is an affordable and fun option for toddler boys. It has a cute frog design with a spinning target that will make learning to use the potty fun. This potty training urinal has three different color options to choose from, including the classic green, blue and red, or brown and tan for a more neutral option.
This inexpensive option is also convenient and easy to use. You have two different options for hanging it on your wall—suction cups or a hook. The suction cups work best on tile, but both options are easy to install. Another added bonus is the removable bowl for easy cleaning.
Keep in mind that this potty training urinal is a bit smaller than some other options, so it's best for toddlers and boys up to age 4. But this also means it won't take up too much space. Overall, it's a great option for a low price.
Sundee Potty Training Urinal
Whale Potty Training Urinal for Boys
HEALTH AND SAFETY – Materials: PP (Fifth level),Super Suction Cup,Sticks to Tiles, Firm and Reliable.
PERFECT DESIGN-Size : 29 x 19.5 x 17cm/11.42 x 7.68 x 6.69in,Portable Hook Hardware buy Using More Solid .Easy to Install.
BOY TRAINING POTTY – Suitable for 8 month to 6 years old children.
EFFECTIVE TRAINING – Comes with a rotating water wheel to keep your toddler focus on his urine stream during potty training.
If you're looking for something with a fun design for your toddler but still stylish, you might like the Sundee Potty Training Urinal. It has a cute whale design in a more neutral and trendy gray and white, unlike some of the more brightly colored options out there. This one also has a fun spinning target that will make learning to aim fun.
Like the Foryee urinal, this one is easy to use, with a removable bowl for cleaning. It can also be attached to the wall with either the included suction cups or hook. This potty training urinal is a little larger than some other options, but still relatively small.
Although this one comes with hanging materials, they aren't super sturdy, so you may want to purchase your own hook. But for a great price, the Sundee Potty Training Urinal gets the job done.
Summer My Size Urinal
Summer Realistic Urinal
REALISTIC DESIGN: The Summer My Size Urinal makes it easier for little boys to learn to go standing up. This toddler toilet features a sleek and modern design based off an adult urinal, ensuring a comfortable and confident transition to the real thing.
REALISTIC FLUSHING SOUND: Designed to mimic an adult urinal, the toilet handle on this training urinal features a realistic flush sound to help encourage and reward your little one.
EASY AND QUICK SET-UP: This toddler urinal attaches to your wall with adhesive strips, making set-up quick and easy.
TARGET FOR AIM PRACTICE: Practice makes perfect! The simple and fun toilet target makes it convenient for little boys to practice aiming.
While some potty training urinals appeal to little boys with bright colors and animal designs, the Summer My Size Urinal has a realistic adult urinal design—it even makes a flushing sound! This option is great if your little guy wants to feel like a grown-up, and if you want something more neutral for your bathroom.
For a relatively inexpensive option, this potty training urinal has some nice added features. Plus, it's simple and easy to use. It includes a spinning target to make potty training fun, and is easy to remove from the wall for cleaning.
Unfortunately, this one doesn't have a detachable bowl for cleaning. But since it's so easy to remove the entire thing from the wall, it's still easy to clean. You may want to purchase some additional hanging supplies to make sure it really stays in place on the wall, too.
Hallo Potty Training Urinal
Hallo Potty Training Urinal
❤️【ADJUSTABLE HEIGHT】There are three heights available: A:18.2 inches, B:19.7 inches, and C: 21.3 inches
❤️【SPLIT DESIGN】The frog shaped urinarium consists of two parts, the upper part of the head of the frog (to hold the liquid) and the lower part of the body of the frog (to adjust the height). The upper part can be used separately when choosing to hang on the wall to save space.The two parts can be combined when placed on the ground.
❤️【QUICK CLEANING】Removable bowl-shaped insert for easy cleaning and hygiene. Simply remove and clean the center container instead of the entire chair to handle the waste. The splash guard prevents urination from escaping and avoids rinsing the floor from the floor.
❤️【SAFE & ECO-FRIENDLY】potty-training urinals are manufactured with the utmost quality and by using environmentally friendly PP material which is nontoxic and does not give out any odor. It is safe for you and your little one.
You may be hesitant to buy a potty training urinal if you don't want to damage your bathroom walls, which is understandable. If so, you may want to check out the Hallo Potty Training Urinal, which has a free standing option—although it can still be attached to the wall if that's what you'd prefer. If you choose the free standing option, it has an adjustable height, so it can grow with your child.
This potty training urinal has several features that set it apart from the others. This includes a spinning target, splash guard, and removable bowl for easy cleaning. If you have a drain pipe in your bathroom, you can actually attach this one to it for draining so you don't have to dump the pee out in the toilet. It also has a stylish design, with a dark blue or light green option.
If you're willing to spend a little bit more so you don't damage your walls, this is a good option. Of course, you can still mount it to the walls if you're concerned about tipping, which is always a possibility.
Peter Potty Toddler Urinal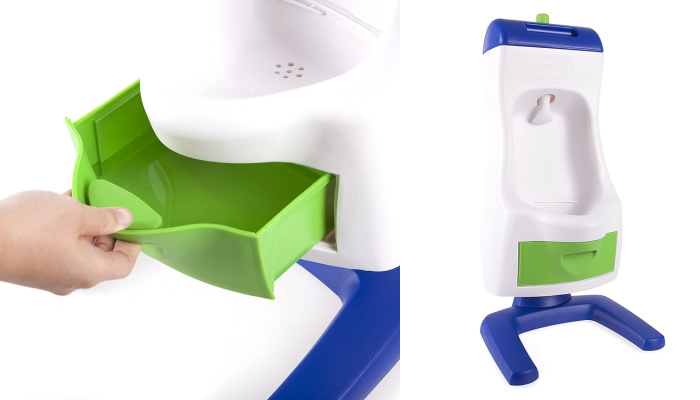 The Peter Potty Toddler Urinal has a unique flushing mechanism that will be a lot of fun for your little one and make cleaning much easier. Yes, this one actually flushes! There is a water tank at the top and a removable tray at the bottom for easy emptying. The removable tray has a large capacity, so you won't need to empty it every time your little one uses the urinal.
This is an overall well-made potty training urinal. It also comes with an adjustable free standing base if you don't want to damage your walls, but it can be wall mounted if you're concerned about stability.
Compared to the other potty training urinals on this list, this one is the most expensive. However, it packs in a lot of features that will make the potty training process fun and easy.
ONEDONE Portable Potty Urinal
Sale
ONEDONE Portable Potty Urinal
QUALITY MATERIAL:The material is safe for the kids.
PORTABLE: Lightweight,mother's essential goods.
PRODUCT SPECIFICATIONS: Max capacity :500ml .Size :7.3 in (high) ,3.3 in (diameter)
REUSABLE: Can be reused after cleaning.
While the other potty training urinals on this list are designed for home use, sometimes you'll run into emergency situations on the go. The ONEDONE Portable Potty Training Urinal comes in handy whether you're on the road, at the park, or at the grocery store. It's super lightweight, compact, and leakproof, so your little guy can go anywhere, anytime.
The cup-shaped design will fit easily into cupholders, diaper bags, and strollers. This inexpensive portable potty training urinal is overall easy to use and clean, too. Plus, it has several cute design options that will make potty training fun for your little boy.
One thing to keep in mind is that because this is made up of a few pieces (for preventing spills), cleaning can get a little messy. Overall, if you're looking for an affordable, portable potty training urinal to keep in your car, this is a must have.
Belmaks Potty Training Urinal
Toddler Standing Potty Urinal
80% ORDERS ARRIVE WITHIN 7-12 BUSINESS DAYS:
This item can be searched by below relevant keywords: Cutetwo hands training boys funny aiming
Kids penguin wall hanging separation boy blue urinal hmane lovely rocket shaped mounted dedicated urinals
Strong sucker rotation yellow diaper newborn protector super absorbent nappy changing pads mattress
The Belmaks Potty Training Urinal has a unique design that could work well at home or on the go. Instead of attaching to the wall with suction cups or a hook, this one hooks right onto an adult toilet, which makes it super easy to use. This makes emptying and cleaning the urinal simple as well.
Since this one is on the smaller side and doesn't need to be installed, it works well for travel. It also comes in a few different color options, although you'll need to specify this to the seller when you make your purchase.
This is a really simple potty training urinal that doesn't really come with any added features. No spinning target, flusher, or cute animal designs for this one. But if you just want something basic, easy to use, and affordable, this one will fit the bill.
Final Verdict
The best potty training urinal for you will of course depend on your and your toddler's needs. But after looking at price, style, size, and ease of use, one of the best potty training urinals overall is the Sundee Potty Training Urinal. Here's why:
Price. This potty training urinal is very affordable. Chances are you don't want to spend big on a high-end urinal, but you don't want the cheapest option either. This one is inexpensive, but still a quality product.
Style. If you don't want something too brightly colored, but still want something that will be fun for your child to use, this is a nice option. The cute whale design with a spinning target will be fun for your little guy, but the design is neutral enough to look nice in most bathrooms.
Size. Not too big or too small, this potty training urinal feels like just the right size. It's big enough for little ones to use comfortably without taking up a ton of space in your bathroom.
Ease of use. This potty training urinal has a simple design, similar to a regular training potty. The bowl is removable for easy cleaning, and it can either be hung on the wall with a hook or suction cups.
FAQ
What features should I look for in a potty training urinal?
Potty training urinals come in a variety of styles, so what you look for will depend on your needs. If you want something that will teach your little one to aim or flush, you can look for a target or flushing option. There are also options that can be emptied into the toilet bowl or hooked up to a drain pipe, as well as wall mounted or free standing urinals. You'll have to decide what will work best for your family and encourage your child's success.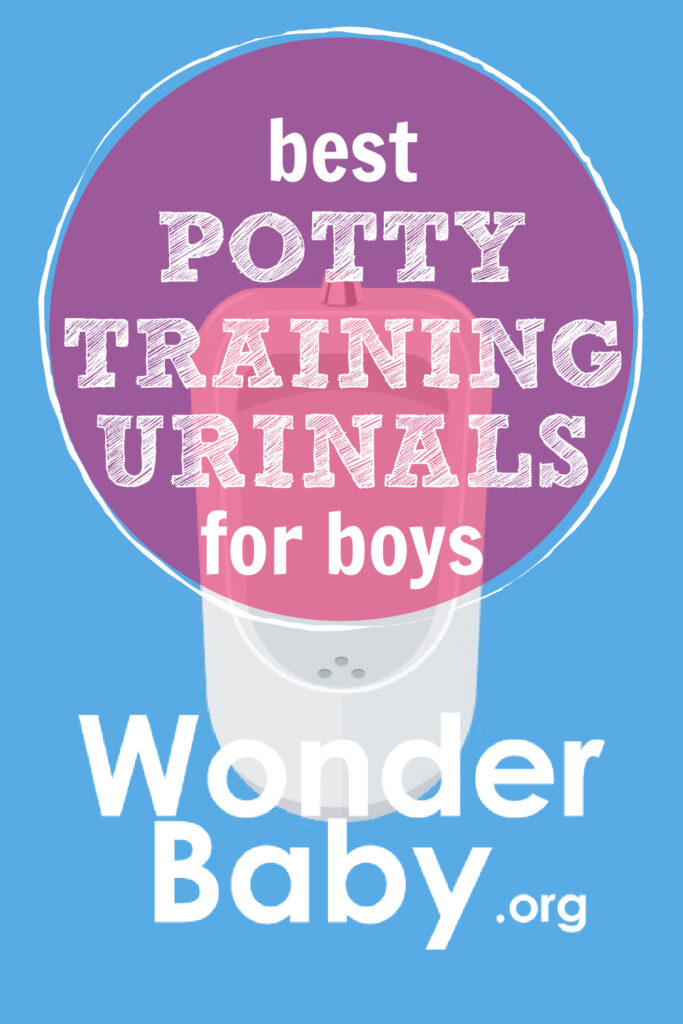 Related Posts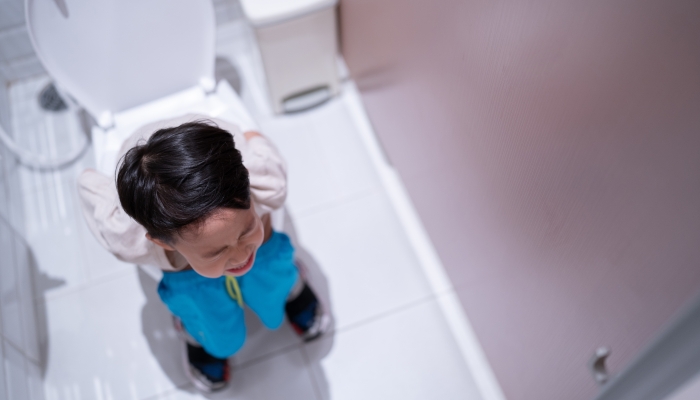 Potty Training
Constipation is common amongst children of potty training age. Many children suffer from potty training constipation, but there are things you can do to help.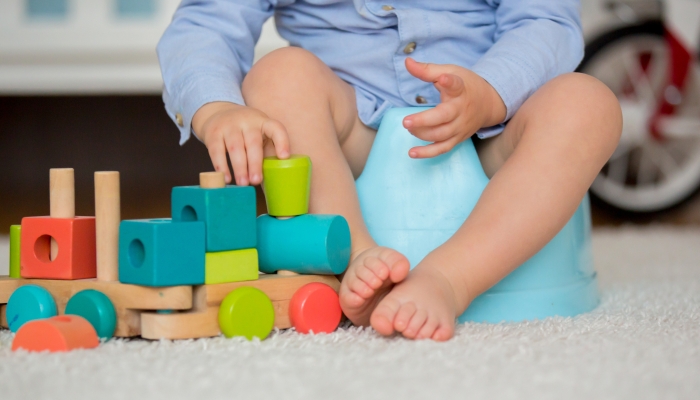 Potty Training
Learning to use the toilet doesn't have to feel like hard work. There are lots of potty training games you can play with your toddler to make learning fun.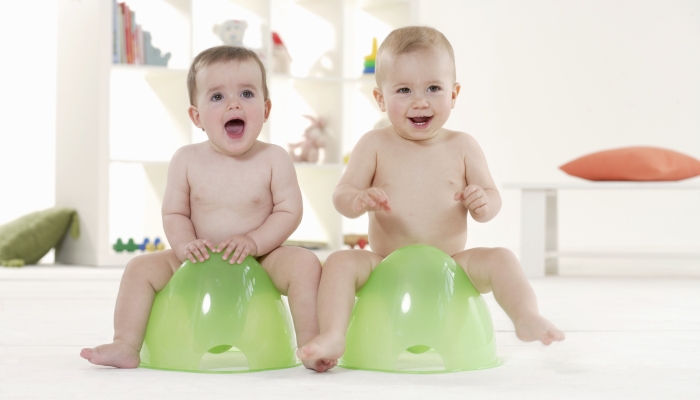 Potty Training
You can potty train twins one at a time or together, but it's important to follow their lead and go at a reasonable pace. Learn more tips here!