Rascal and Friends Diapers Review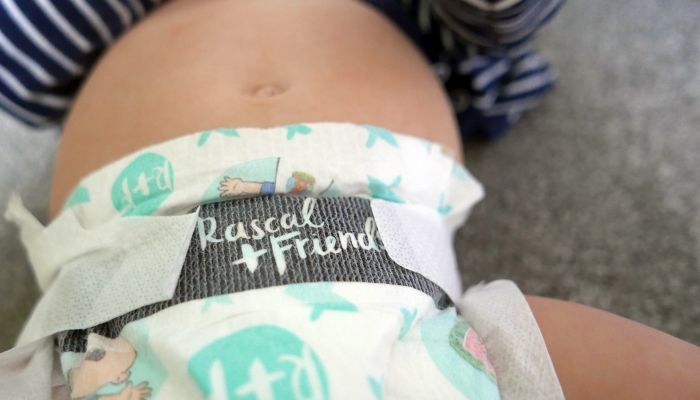 This post may contain affiliate links; please see our terms of use for details.
Rascal and Friends diapers are made without harsh chemicals, fragrances, latex, or lotions. They're suitable for sensitive skin.
We love how effective they are at preventing leaks, how gentle they are on the skin, and that they're vegan and cruelty-free.
They're a great option if your little one suffers from diaper rashes.
Rascal and Friends diapers are made with sustainably sourced materials.
These premium diapers are an affordable option and come with a range of great features.
Finding a diaper that works for your baby can be a challenge.
We had so many leaking incidents and unwanted explosions in the trial and error phase of finding the right diaper for us.
Keeping up with constant outfit changes and piles of laundry is exhausting. Not something you need in your life as a sleep-deprived new parent!
Aside from its effectiveness at 'holding it in', you also likely want your diaper to be rash-free, reasonably priced, and environmentally friendly.
Rascal and Friends diapers promise to tick every box, with 'no nasties', sustainable materials, and an affordable price tag.
So how do these premium diapers with big claims stack up?
What We Love About Rascal and Friends Diapers
There were a lot of things to love about these diapers!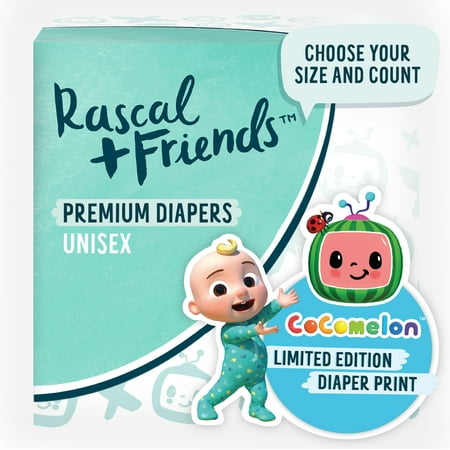 Effective
We think the most important thing to consider when choosing a diaper is whether they prevent the dreaded leaks and diaper blowouts which are so common with a baby!
Luckily, our Rascal and Friends diapers kept everything where it should be (inside the diaper!)
This is thanks to a number of nifty features:
Absorbent 3D core: Rascal and Friends offer a '3D core technology' as the answer to leaks. This unique design can absorb liquid up to 15x its weight!
Double leak guards: Rascal and Friends diapers have a double layer of leak guards to prevent leaks from spilling out of the sides.
High waistband: These diapers have a noticeably higher waistband than many other brands. This helps prevent accidents from spilling out over your baby's back.
Unique deep pocket: The pocket is designed to catch and contain anything thrown its way!
3 layers of protection: Including the 3D core and liquid absorption layer to prevent leaks and keep your baby's skin dry.
Free of Chemicals
Your main priority as a parent is to keep your baby safe, so you want to make sure the products you expose them to every day are safe too.
Some diapers contain chemicals and fragrances that could irritate your baby's fragile skin.
Rascal and Friends diapers don't contain any harsh chemicals, latex, lotions, or fragrances. Because of this, they're dermatologically certified to be safe on sensitive skin.
No Rashes
We went through so many diaper brands that gave our son the dreaded diaper rash.
To avoid diaper rash, the materials used for the diaper are important as well as how the diaper performs in wicking moisture away from your baby's skin.
Rascal and Friends diapers include an 'advanced absorbency liquid dispersion layer' which the company claims absorbs liquid in seconds, keeping your baby's skin dry. They also use soft materials which are kind to the skin.
These diapers definitely performed well in avoiding diaper rash. When the diaper was left on overnight there was a small rash in the morning, but we had no rashes during day changes. Many of the reviews on the product praise their ability to avoid rashes compared to other products.
Strong Grip Tabs
One of the first things I noticed about these diapers compared to others was how strong the grip tabs are.
My very wriggly baby sometimes manages to shift the position of the tabs, causing leaks. These stayed put even after the wildest of wiggles!
They re-stick really well too. If we've opened them for a little peek inside, they stick back just as strong in the perfect position.
Soft and Comfortable
Rascal and Friends diapers are so soft!
Made from high-quality materials including wood fluff pulp and non-woven fabrics, these diapers don't irritate skin and are feather-soft.
Some diapers leave marks on the skin where they have dug in, but these diapers didn't rub at all. The soft leg cuffs curve perfectly to the body to keep your baby comfortable.
Overnight-proof
As babies get older and (hopefully) sleep for longer stretches, diapers are really put to the test.
Many diapers can't handle the extended time between changes, and you find yourself with either wet sheets or an unhappy baby! Rascal and Friends diapers managed to last the whole night without a single leak. They offer 12-hour protection for most babies.
The defenses held well, but our son did get a very small diaper rash from one particularly long night wearing the same diaper.
Vegan and Cruelty-Free
Unfortunately, many popular diapers on the market are still tested on animals.
Rascal and Friends diapers are both vegan and cruelty-free – certified by PETA.
Price
For the quality of these diapers, they're a surprisingly budget-friendly option.
It's estimated that a baby can use over two thousand diapers in their first year. That's a lot of diaper packs to buy! Having an option that is both friendly on the wallet and effective can be very helpful to new parents.
Things Rascal and Friends Diapers Could Do Better
Depending on what you need from a diaper, you may want to consider the following before choosing Rascal and Friends.
Eco-credentials
The materials used in Rascal and Friends diapers are sustainably sourced, which is not the case for many brands. This makes them comparably more earth-friendly than many disposable diapers. The packaging is also recyclable, which is a definite plus.
The next level of sustainability is biodegradable diapers. Rascal and Friends diapers are single-use and not biodegradable. There are more eco-friendly options, such as biodegradable or reusable diapers (including cloth diapers) if this is important to you.
Availability
Rascal and Friends diapers are currently only sold at Walmart, so if you don't live near a Walmart store they may not be the most convenient choice for you.
You can purchase the diapers online if you can't buy them in-store. You'll just need to remember to restock in plenty of time.
No Wetness Indicator on Larger Sizes
Wetness indicators are a line on the diaper that turns a different color when your baby has urinated.
Many diapers don't have wetness indicators on their larger sizes as it's a lot easier to tell when a diaper is full as babies get larger and their volume of liquid increases.
Rascal and Friends include the indicator on their Size 1 and 2 diapers but stop at Size 3. This is definitely a personal preference, but some diaper brands (such as Pampers Swaddlers) do keep the indicators in their larger sizes if you like this feature.
Hard Tabs
While we didn't experience any issues with this, some reviewers of the diapers say that the rigid plastic tabs are too sharp and dig into their baby's skin.
The tabs are definitely harder than other brands we've tried and we can see how this may cause an issue. For us, the hard tabs helped to keep the diaper in place and didn't cause any problems.
How Rascal and Friends Compares to Other Diapers
When it comes to choosing a diaper, you'll want to factor in its price, sustainability, and how other parents rate them.
Price
At the time of writing, a pack of 72 Size 4 Rascal and Friends diapers costs $19.97, which is 27.7¢/ea. This is how that compares to some other popular brands of diapers: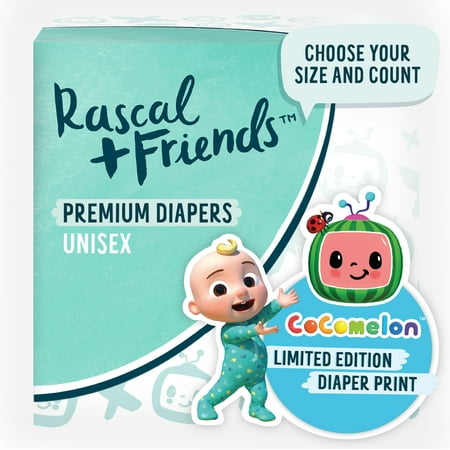 Rascal and Friends offer an affordable price, especially for a product that uses sustainable materials.
Sustainability
As mentioned, Rascal and Friends diapers use sustainably sourced materials and the packaging is recyclable. They are single-use and not biodegradable.
Biodegradable diapers (such as Andy Pandy) cost more, but are a much more sustainable option — keeping plastics out of landfills.
Reusables such as AlvaBaby are the best option for a low environmental impact and may cost less than you think.
Rating
All babies are different and what works for one family won't be right for someone else, but it can be helpful to know how other parents get on with a brand of diapers before buying.
Compared to other best-selling brands on Walmart.com, Rascal and Friends perform well in their ratings. There are comparatively fewer reviews for this brand, possibly as they recently expanded to the US so are a newer product here.
| | |
| --- | --- |
| Diaper Brand | Rating and Number of Reviews |
| Parent's Choice Dry and Gentle | 4.3 with 4773 Reviews |
| Luvs Pro Level Leak Protection | 4.4 with 6539 Reviews |
| Rascal and Friends Premium | 4.5 with 47 Reviews |
| Huggies Little Movers | 4.7 with 12553 Reviews |
| Rascal and Friends Training Pants | 4.7 with 55 Reviews |
| Pampers Swaddlers | 4.8 with 57506 Reviews |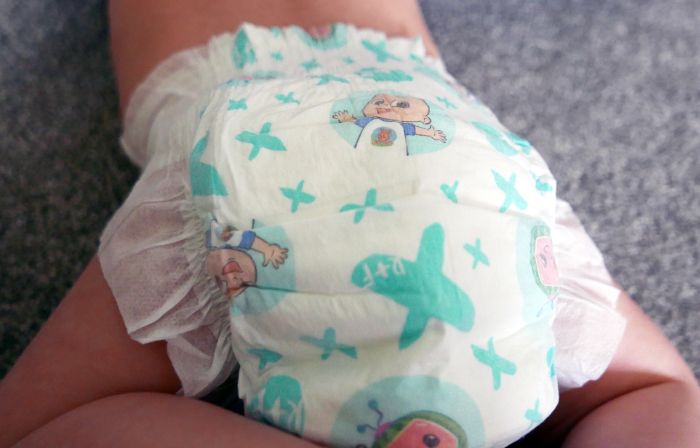 Rascal and Friends Diapers: The Bottom Line
Rascal and Friends diapers are soft, affordable, and effective. They didn't cause any major rashes or leaks, which are top priorities for a diaper!
These diapers are not the most earth-friendly option as they're not biodegradable or reusable. Saying that, they do use sustainably sourced materials and recyclable packaging, which is pretty impressive given their price.
If your little one suffers from diaper rash or leaks with other brands, we think Rascal and Friends diapers are well worth a try.
Attractive features
Absorbent 3d core
3 layers of protection
Made without harsh chemicals, fragrances, or lotions
High waistband to prevent leaks
Double leak guards
Deep pocket
Strong grip tabs
Soft leg cuffs
Liquid absorption layer to keep skin dry
12-hour (overnight) protection from leaks
Wetness indicator for sizes 1 and 2
Recommended Accessories
Sensitive Wipes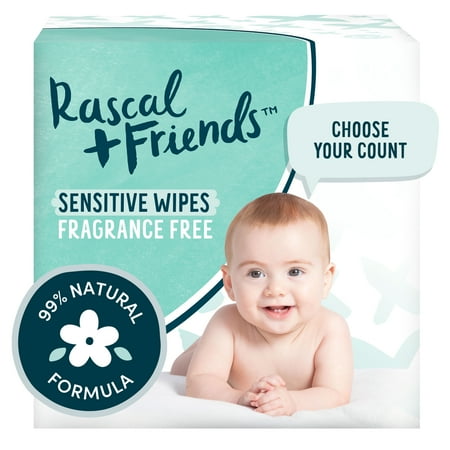 Rascal and Friends also offer 99% natural wipes which are kind to sensitive skin.
Like the diapers, the wipes are fragrance-free and contain no harsh chemicals. They use chamomile, pomegranate, and aloe extracts and are PH balanced to protect your baby's skin.
We really liked the Rascal and Friends sensitive wipes — they were both effective and moisturizing. They also came out of the packet one at a time and not in a clump, which was a feature we didn't realize we wanted until it was experienced!
Pull Up Pants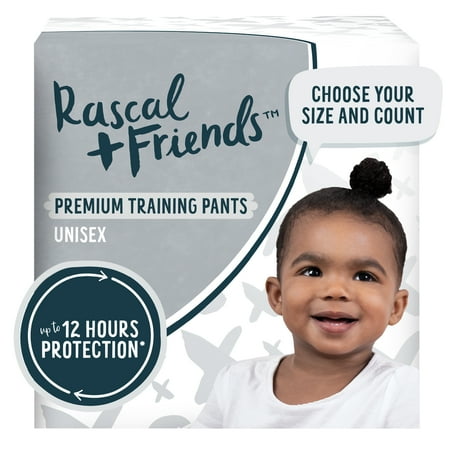 When your baby is ready to switch to pull-ups, Rascal and Friends offer training pants using the same soft materials and levels of protection as their diapers.
The training pant's easy tear sides make them easy to get on and off, making potty training easier for you and your little one.
FAQs
How do I know which size baby diapers I should buy?
Rascal and Friend's website has a handy size guide to find the right fit for your baby. Select your baby's weight and it will give you the recommended size and an estimate of how many diapers your baby might use per day.
What if the diapers don't work for me?
We were impressed to learn that Rascal and Friends offer a 'Try Us Love Us Guarantee'. If you don't love their diapers, contact them within 30 days of your purchase for a replacement size or refund.
Are these diapers dermatologically tested?
Yes! Rascal and Friends are certified by Dermatest as free from skin allergens and reactors. They're both safe and gentle on sensitive skin.
Where can I buy Rascal and Friends diapers?
Rascal and Friends are currently stocked in-store and online at Walmart.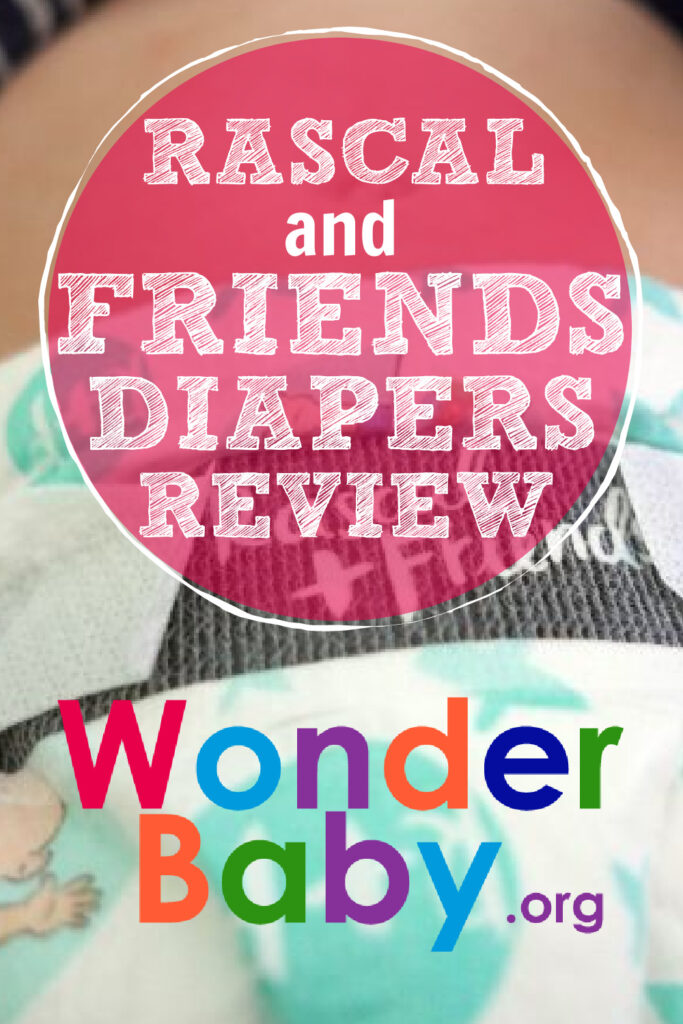 Related Posts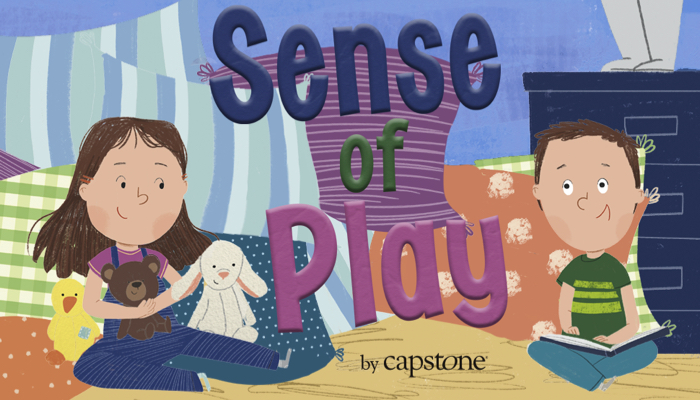 Braille and Literacy, Product Reviews, Visual Impairment
Dana Meachen Rau's book, Sense of Play, follows the adventures of Chip and Joy as they play. Chip is blind, but this doesn't get in the way of their play!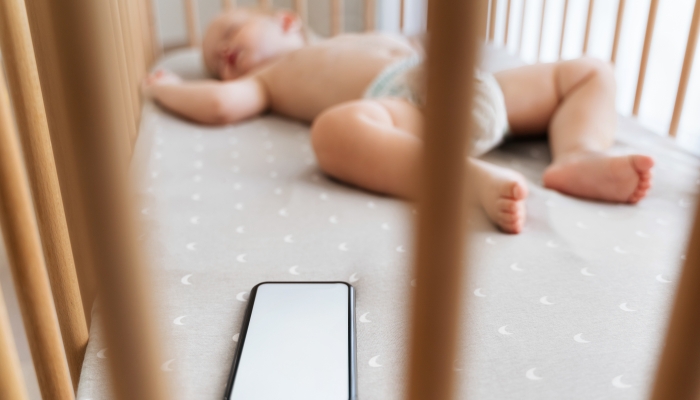 Product Reviews
Wondering whether white noise will help your little one sleep better? Here's our guide to the best baby sound machines to help your baby fall asleep soundly.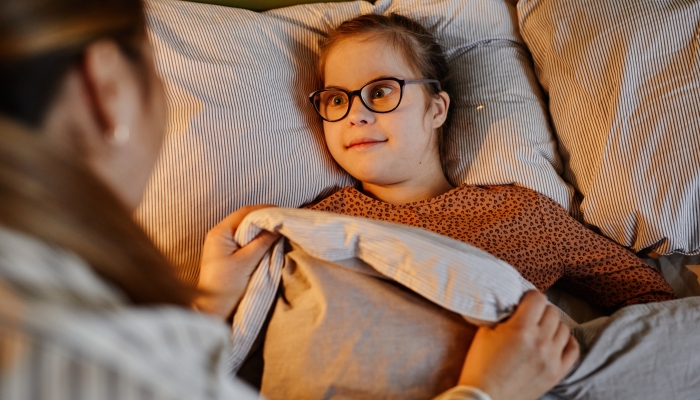 Product Reviews
Heard a lot about weighted blankets and lap pads and wondering how to choose one? Here's our guide to the ins and outs of finding the right weighted blanket.