7 Best Toddler Gloves and Mittens of 2023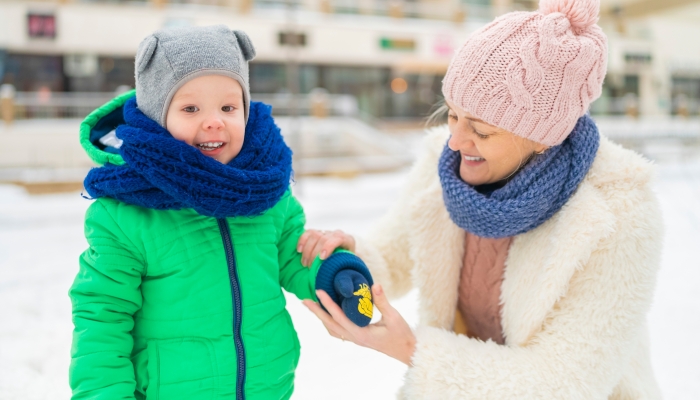 This post may contain affiliate links; please see our terms of use for details.
Your child's age and dexterity will help you decide whether to buy gloves or mittens.
Consider cost, durability, waterproofing materials, and ease of use when purchasing gloves or mittens for toddlers.
Figuring out how not to lose toddler gloves and mittens is almost as important as choosing what to buy.
While you might have a toddler winter coat that has lasted through a couple of seasons or been handed down to a couple of children, I bet you don't have gloves or mittens that have made it that far. Toddler gloves and mittens are notoriously difficult to put on small children and just as difficult not to lose.
Yet, they're necessary for little hands in cold weather. Luckily, there are many reasonably priced, good-quality options for parents to choose from, which is important since you might have to invest in several pairs!
Here are a few of the best toddler gloves and mittens of 2023 that we found to keep tiny hands toasty this winter. 
Best Overall
Best Budget Multiple Buy
Best for Ease of Use with Toddlers
Wildbreakers by Zelda Matilda
Disney Four Pack Gloves and Mittens
Jan and Jul Toasty-Dry Insulated Mittens
Best Overall
Wildbreakers by Zelda Matilda
Best Budget Multiple Buy
Disney Four Pack Gloves and Mittens
Best for Ease of Use with Toddlers
Jan and Jul Toasty-Dry Insulated Mittens
Top Choice: Wildbreakers by Zelda Matilda Winter Waterproof Gloves and Mittens
Wildbreakers by Zelda Matilda Winter Waterproof Gloves and Mittens
COLD WEATHER READY Winter snow is here! And so is the cold weather! Make sure your kids are ready with Wildbreakers by Zelda Matilda's warmest mittens. Made to the highest quality standards these mittens are ready to take on whatever winter play you can think of! Skiing, snowboarding, even snow fights! Most of all they are perfect for everyday wear!
MADE TO KEEP YOU WARM Made of thinsulate and taslon for a warm winter fighting waterproof combo.
HOOK & LOOP CLOSURE Strap Hook & Loop closure for a tight sealed fit. No more worrying about mittens slipping off. PLUS EXTRA LONG CUFF keeps the cold air and snow from getting in these baby snow gloves
FLEECE LINED Warm inner cuff and fleece lined for extra comfort and warmth.
One brand that has captured a lot of the features we've talked about here and does it at a reasonable price is Wildbreakers by Zelda Matilda.
They're water and snowproof and made of Thinsulate to keep little hands warm. They have long and extra-long options for cuffs to keep snow out of coat sleeves. They come in every color you can imagine. In addition, they have an adjustable velcro wrist strap which keeps them from falling off your toddler's hand.
However, what's probably one of their best features is the sizing. Getting the sizing right for children's gloves and mittens is something parents always struggle with. Wildbreakers were designed with this in mind. They fit true to size with a bit of room for growing hands, which is one of the things parents appreciate about them.
This quality product is great for kids doing a lot of winter sports or who live in cold climates. Since they are also affordable, you really can't ask for more.
Age range: 6 months to 10 years | Material: Taslon | Waterproof?: Yes
View on Amazon | View on Walmart.com | View on eBay.com
Best for Outdoor Play: N'Ice Caps Kids Toddler Waterproof Mittens
N'Ice Caps Kids Toddler Waterproof Mittens
EASY TO PUT ON AND STAYS ON: The mittens are specially designed with a large flap that opens extra wide, and there is elastic in the wrist area, which allows plenty of room to fit small hands inside and to find the thumb holes. The hook and loop closure allows for a tight, secure fit to keep the mittens from falling off. These are great for first-time mitten wearers and little kids who love running around outside!
WATERPROOF, WARM AND SNOW-PROOF: The mittens are insulated with 3M Thinsulate for warmth in cold winter temperatures. The mittens are fully waterproof and will keep kids hands dry in wet, snowy and icy conditions. The mittens also have 2.5 inch knitted cuff that can be tucked underneath kid's jacket and coat sleeves to prevent snow from getting inside the gloves.
BRING ON THE SNOW! Your little girls and boys will love playing in the snow wearing these warm and high quality mittens. The mittens have a grippy palm area as well as grippers on the thumbs, which makes them well suited for playing in the snow and building a snowman.
PRODUCT DIMENSIONS: Length (L) is measured from the elastic along the mitten wrist to the end of the fingers; Width (W) is measured across the mitten palm area at the widest point: 1-2 years (4.0″ L, 3.25″ W); 2-3 years (4.5″ L, 3.5″ W); 4-5 years (5.15″ L, 3.5″ W); 5-6 Years (5.65″ L, 3.75″ W); 6-8 Years (6.0″ L, 4.0″ W); 8-10 Years (6.5″ L, 4.25″ W). When measuring kids hands, allow 0.5 inches extra room for cushion.
N'Ice Caps mittens are reviewed by Amanda Brandt.
The N'Ice Caps Kids Toddler Waterproof Mittens are made in Minnesota, so you can be sure they've been tried and tested in the coldest conditions. A clever feature of these mittens is the velcro flap on top, which opens to allow your child to slide them on easily. Then, just fasten the flap for a nice secure fit.
Living in Wisconsin, the cold weather can start anywhere from mid-September through April, so winter gear is essential for us. Finding quality yet affordable mittens that will keep my child warm and dry and not fall off easily can be challenging. My kids play hard outside, especially in the snow.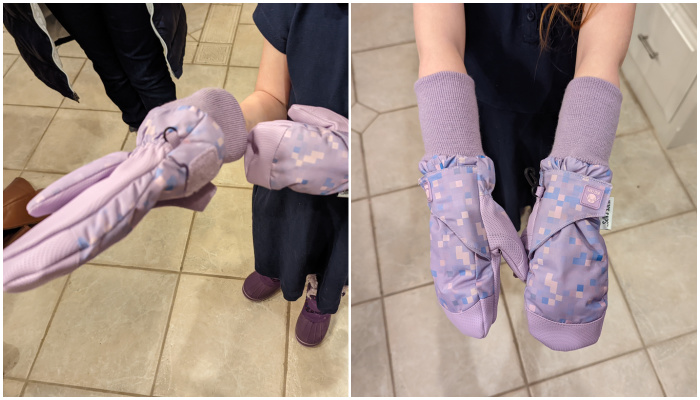 The N'Ice Caps mittens stand out because of the long mitten sleeve, velcro closure around the wrist, and waterproof insulation. The inside of the mitten is soft and warm. The palm, thumb, and fingertips are covered with grippy, waterproof material, so it's easy to pick up all the neat things outside. They have the classic little black clip, so they can be attached to each other.
They also have an elastic knitted cuff that you tuck under your kid's sleeve to keep the snow out. There's even an extended cuff option to keep little wrists extra warm, which also helps to keep these mittens from sliding off. They are waterproof, snowproof, and super warm, insulated with 3M Thinsulate.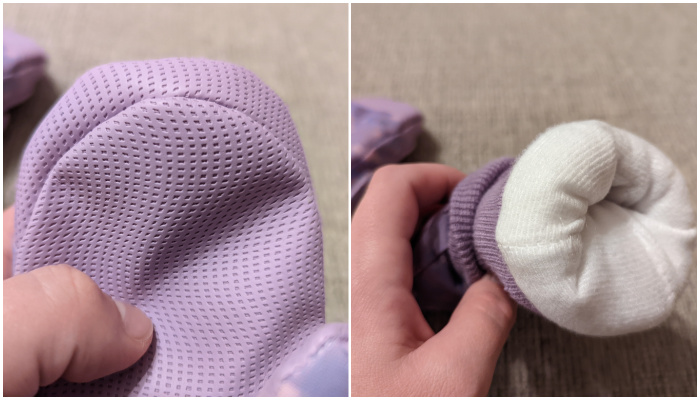 There are many colors and designs (purple is my daughter's favorite color). I tried them on my 5-year-old daughter, and they fit her perfectly, hitting just about two inches below her elbow. She struggled to put the second one on by herself, but the benefits of having the long cuff to keep the snow out outweigh the con of needing to assist her. Overall, these mittens check all the boxes for us.
Once your child outgrows mittens, N'Ice Caps also makes gloves with all the same features, starting at age three.
Age Range: 6 months to 12 years | Mitten length: 4" to 6.5" | Mitten width: 3.25" to 4.25" | Material: Polyester | Waterproof?: Yes
View on Amazon | View on Walmart.com | View on eBay.com
Best for Ease of Use with Toddlers: Jan and Jul Toasty-Dry Insulated Mittens  
Jan and Jul Toasty-Dry Insulated Mittens
【WATERPROOF】Toddler mittens designed to keep hands dry in snow and slush, featuring a water-resistant shell with a water-proof membrane inside
【WARM】Toddler winter mittens with cozy Thinsulate fleece lining for guaranteed warmth when your kids play in snow, ski or snow-board
【WIDE & LONG SLEEVE】Easy to put-on snow mittens with wide sleeve, keeps the cold & snow out with long sleeve and stays-on with one-pull closure over your kid's winter jacket
【WRIST CINCH】Ensures perfect fit on growing toddler hands, no more slipping off gloves
What makes the Jan and Jul Toasty-Dry Insulated Mittens worth the price for many toddler parents is their clever, won't-slip-off design. These warm and waterproof mittens are designed with an elasticated inner wristband and an adjustable outer wrist cinch. These can't fall off little hands!
The wide cuff fits over your child's coat sleeve rather than under, but it's long, so it keeps snow from finding its way in. These mittens come in various adorable colors, designs and patterns to suit your toddler's winter ensemble. Perhaps the best part about them, though, is that they are easy to put on and that they stay on. That's a very important feature when you're trying to get out the door in the winter.
Age range: Birth to 8 years | Hand length: 2.8" to 5.5" | Hand circumference: 3.1" to 6.5" | Material: Polyester | Waterproof?: Yes
View on Amazon | View on Walmart.com | View on Jan&Jul.com
Best Mittens Made of Natural Materials: Ecoable Toddler and Kids Mittens
Ecoable Toddler and Kids Mittens
Ideal kids snow mittens for outdoor fun, natural wool remains warm even when wet
Kids winter gloves equipped with a string, so your child won't lose mittens again
Snow mittens with gentle cuffs will protect hands and wrists from the cold
Available in baby, toddler and kid sizes – all sizes have thumbs
The Ecoable Toddler and Kids Mittens are a beautiful and eco-friendly choice for parents seeking a more natural and sustainable option. These tightly knitted toddler mittens are made of organic merino wool and keep little hands warm, even when they get wet.
The Ecoable mittens come in a variety of rainbow-dyed colors. They are also attached by a string which you slide through your child's coat. No more lost mittens!
Although these are the most expensive toddler mittens on the list, the fact that they stay attached is a plus because your child is less likely to lose them. As a result, you won't be spending a load of money on frequent replacements.
These are an eco-conscious choice made of natural, breathable, sustainable wool.
Age range: 3 months to 6 years | Palm length: 3.5" to 5.5" | Thumb Length: 2.5" to 4.5" | Cuff length: 4.5" to 5" Material: Wool | Waterproof?: No
View on Amazon | View on eBay.com | View on EcoAble.net
Best for Young Toddlers: Columbia Chippewa II Mittens
Columbia Chippewa II Mittens
OMNI-SHIELD: Go ahead, try and get dirty. Omni-Shield helps you stay clean and dry by resisting the absorption of liquids. Unlike most fabrics that absorb moisture, Omni-Shield repels moisture and dries quickly—avoiding stains and keeping you clean.
SNOW PROOF: The Chippewa II Mittens are designed for dry and comfortable all-day excursions in to deep snow. With extra long gauntlets and zip entry cuffs, these fun mittens will keep the snow out.
SUPERIOR COMFORT: Created to be super comfortable these winter mittens feature our MTR filament fleece lining that makes for warm happy hands.
INCREDIBLE WARMTH: While mittens leverage the natural warmth the hand and fingers make together, these mittens are infused with extra warm 250g insulation, and 100g Microtemp XF II insulation all over – for added cold weather protection.
What parents love the most about the Columbia Chippewa II Mittens is how easy it is to get them on. They have a clever zipper on the side, allowing your child to just slide in their hand. No more struggles with cuffs that aren't wide enough.
Columbia is a premium outdoor sports brand, which is reflected in the price of these mittens. However, in terms of quality, they don't disappoint. They have a fleece lining for extra warmth. Their Omni-Shield waterproof and snowproof fabric actually repels wetness rather than absorbing it, keeping little hands dry.
Although you won't find these in a ton of colors and designs, you will find that they're an excellent choice for kids who will be spending some serious fun time outdoors.
Age range: 2 to 4 years | Hand length: 3.25" to 4.5" | Material: Polyester, Nylon | Waterproof?: Yes
View on Amazon | View on Walmart.com | View on eBay.com
Best Budget Multiple Buy (For Stubborn Toddlers): Disney Four Pack Gloves and Mittens
Sale
Disney Four Pack Gloves and Mittens
CHARACTER DESIGN: Assorted color cold weather set includes 4 pairs of mittens for toddler boys age 2-4 or or gloves for little boys age 4-7, featuring assorted character imagery of Disney. AVAILABLE IN 2 CHARACTER COLLECTION SETS: Mickey Mouse or Cars Lightning McQueen.
PREMIUM QUALITY: Mittens or gloves are made of soft and stretchable acrylic knit for comfort and warmth. Featuring assorted color designs in gripper print pattern design for a colorful look.
AVAILABLE IN MULTIPLE SIZES: TODDLER BOYS AGE 2-4 MITTENS DIMENSIONS: 5.5″ (L) x 2.5″ (W). LITTLE BOYS AGE 4-7 GLOVES DIMENSIONS: 6.5″ (L) x 3.5″ (W).
FUN AND FASHIONABLE: Featuring colorful Cars and Mickey Mouse imagery from Disney, these cute and comfy accessory sets come in your choice of gloves or mittens. With Lightning McQueen or Mickey to keep his hands warm, he'll be ready for fun and adventure on even the snowiest of days.
So far, we've looked at fantastic gloves and mittens made of great materials with lots of features. However, the truth is, some kids just hate gloves and mittens and no matter how cute or well made, they refuse to wear them. Some toddlers just don't like the lack of dexterity and restricted movement. It might be a struggle to get anything on their hands at all.
Enter the Disney Four Pack Gloves and Mittens featuring their favorite Disney characters. You might be able to convince a resistant child to put on gloves if they feature Lightning McQueen or Mickey. (There are packs with Anna and Elsa too.) This four-pack is also fun because you can mix and match the gloves, another fun way to get your little one to wear them.
Budget multi-packs are practical because when you lose a glove, you always have another to replace it. Keeping a spare pair in your diaper bag or car is easy, so you're never caught short without them.
They may not be waterproof or as warm as some high-tech brands, but they are practical, you can get a resistant child to wear them, and if you lose one, you just grab another from the pack. You won't be dishing out yet another twenty bucks to replace a glove.
Age range: 2 to 7 years | Mitten length: 5.5" to 6.5" | Mitten width: 2.5" to 3.5" | Material: Acrylic Knit | Waterproof?: No
View on Amazon | View on Walmart.com | View on eBay.com
Best Budget Waterproof Toddler Gloves: American Trends Kids Waterproof Winter Gloves
American Trends Kids Waterproof Winter Gloves
⛷️ MATERIAL: Winter Gloves for kids, 100% Polyester shell, light and waterproof, windproof, keeps the snow and rain out of your kids' hands.
🌡️ WARM INSIDE: Kids Ski Gloves with super soft fleece lining, providing comfortable and warm feelings. Breathable fabric pull moisture away from your kids' hands.
❄️ CONVENIENT DESIGNS: Durable kids snow gloves with adjustable velcro at wrist, effectively avoid slipping, easily putting on and off. Extra long cuff with elastic straps can keep snow and rain out of kids' hands. There are also reflective stripes to ensure your kids' safety. Bucle clips keep one pair together, easy for storing.
❄️ FIT SIZE: Kids winter gloves of three sizes for kids ages 3-14. Size-S for 3-6 years old; Size-M for 7-10 years old; Size-L for 11-14 years old. Please check size chart in picture on left to get the product in the most suitable size.
Parents rave about these winter gloves from American Trends. Not only are they reasonably priced, but they're also truly waterproof.
These gloves are for older toddlers who have graduated from mittens, as size small fits ages three to six. They feature a palm and fingers covered by gripper material for outside play. In addition, they have a longer cuff for tucking under sleeves. There's also an adjustable wrist strap to help keep them on.
They come in lots of fun colors and designs for kids to choose from, and there's truly something for everyone. However, the thing parents are most impressed by is that they don't leak and are genuinely waterproof. That's a must for kids and parents alike. Well-made inexpensive quality makes these a great buy.
Age range: 3 to 14 years | Middle finger length: 2.4" to 3" | Palm width: 2.4" to 2.8" | Palm circumference: 5.7" to 7.9" | Material: Polyester | Waterproof?: Yes
View on Amazon | View on Walmart.com | View on eBay.com
Recommended Accessories
When it comes to keeping toddler gloves and mittens from getting lost, strings and clips are helpful options to try.
Hold'Em Mitten and Glove Clips
Sale
Hold'Em One Piece Clips
MITTEN CLIPS: Stop searching for lost or misplaced mittens every time you're heading outdoors in frigid temperatures. Threaded through your coat sleeves, the Hold'Em One-Piece Mitten Clip Strap is the perfect solution to never losing your gloves again.
COMFORTABLE, PLIANT ELASTIC: Stretchable to conform comfortably and ultra-tough to retain its elasticity, the strap is durably constructed of double-weaved, woven elastic polyester that won't fray or lose its shape.
STURDY PRONG CLIPS: Heavy-duty, waterproof clips keep your mittens from becoming lost or misplaced. Rounded plastic teeth on the sturdy prongs ensure maximum hold on thick fabrics without causing damage to the material or popping loose.
EASY TO USE: Simply clip a mitten to one end, thread the strap through the sleeve and around the interior back, and clip the other mitten on the other end so they're always ready for outdoor ventures. You can also adjust the strap from 24-48 inches.
One way to keep mittens and gloves together is with a string that threads through your child's coat sleeves with clips on either end. Try the Hold'Em One Piece Clips, which are elastic and fully adjustable to fit your toddler and extend from wrist to wrist.
Sale
Hold'Em Individual Clips
MITTEN CLIPS: If you're tired of constantly losing mittens or gloves, Hold'Em Children's Mitten Clips are the perfect solution to never losing them again. Each fun clip is even embossed with a snowman to add excitement for little ones.
COMFORTABLE, PLIANT ELASTIC: Constructed with comfort in mind, the straps are durably crafted with woven elastic polyester that won't fray and are equipped with attached drop clips to provide the perfect blend of comfort and durability.
STURDY CLIPS: Keep a mitten or glove attached to each coat sleeve so they're always ready for outdoor ventures. Each strap is outfitted with slip-resistant, sturdy clips to ensure maximum hold on thick fabrics without damaging them.
VERSATILE USE: In addition to keeping your mittens at the ready, you can use these clips for ski lift tickets, or as dress clips, dog belly bands, bed sheet fasteners, boot straps and more. Just use your creativity to come up with even more ideas.
If you don't find the one-piece string option practical, you can also use separate clips for each mitten or glove, like these Hold'Em Individual Clips, which attach to the cuffs of your child's winter coat.
Both options come in various colors to match your child's winter gear.
Toddler Gloves vs Mittens: What's the Difference?
Although the difference between gloves and mittens may seem obvious, you'll want to consider a few key things when shopping for toddler gloves.
Pros
Cons
Gloves

Child has more dexterity
Child is less frustrated when playing outside because they can move all their fingers

Do not keep hands as warm
Frustrating and difficult for young children to put on

Mittens

Hands stay warmer than with gloves
Easier for young children to put on and take off

Child has less dexterity and grip
Child may get frustrated not being to able feel and can easily pull them off
How to Choose the Best Gloves and Mittens for Your Toddler
When choosing gloves and mittens, there are a few things to consider before you buy, including their purpose, durability, waterproofing, washability, and cost.
Purpose
If your child is skiing or doing other winter sports, some heavy-duty, durable, insulated gloves or mittens with extended cuffs are essential. However, your child probably doesn't need those expensive ski gloves for the playground or at school and, more importantly, is sure to lose one on the way to daycare eventually.
You may end up buying different gloves or mittens for different occasions, but remember that doing so may actually save you money in the long run on winter glove replacements.
Durability
It's wise to have a few pairs of those inexpensive, one-size, stretchy gloves around each season for quick trips out to the playground or for a walk. However, if your child spends a lot of time outside sledding, skiing, or building snowmen, those won't cut it.
Look for tough materials that can withstand outdoor play if that's on your winter agenda. Mittens or gloves with reinforced panelling on the palm or grips on the fingers are good features to look for.
Waterproofing
Hand in hand with durability is waterproofing. Little hands are instantly freezing the second they get wet. Look for gloves and mittens that provide at least some water-resistant or waterproof protection to keep hands warm in the snow.
Washability
The first things to get wet and dirty with outdoor winter play are gloves and mittens. Delicate wool mittens that have to be hand washed may be very pretty, but they're probably not the most practical choice for everyday snow play. Instead, look for products that can be easily thrown in the washing machine and that dry quickly for use the next day.
Cost
As with any toddler gear, gloves and mittens can range in price from cheap and cheerful to over-the-top expensive. Keep in mind, however, that this is an accessory that is easily lost and that you're likely to replace at least once, if not more, per winter. Investing in that super cute pair of toddler gloves because they perfectly match your child's coat might not be the best way to stretch your dollar.
How to Measure Your Child's Hands for Gloves or Mittens
The most important aspect in choosing the right gloves or mittens is comfort. If your child isn't comfortable, those gloves will not stay on! And the best way to assure comfort is with a good fit.
| | |
| --- | --- |
| Age | Average Hand Length |
| 0-2 years | 2.5" to 4" |
| 2-4 years | 4" to 4.5" |
| 4-6 years | 4.5" to 5" |
| 6-8 years | 5" to 5.5" |
| 9-10 years | 5.5" to 6.5" |
Gloves and mittens should not be too snug. You'll want to have at least a half-inch extra space between your child's middle finger and the top of the glove or mitten. If the glove has an elastic wrist or adjustable wrist closure, you'll want this to sit just below the wrist for maximum range of motion.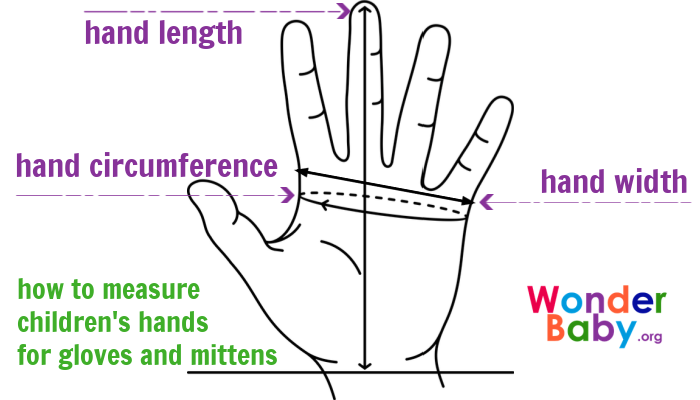 Measure your child's hand length from the base of the palm to the tip of the middle finger.
Their hand width is measured from the base of the pointer finger to the base of the pinky finger.
To measure hand circumference, wrap a measuring tape around the widest part of the hand just below the knuckles and exclude the thumb.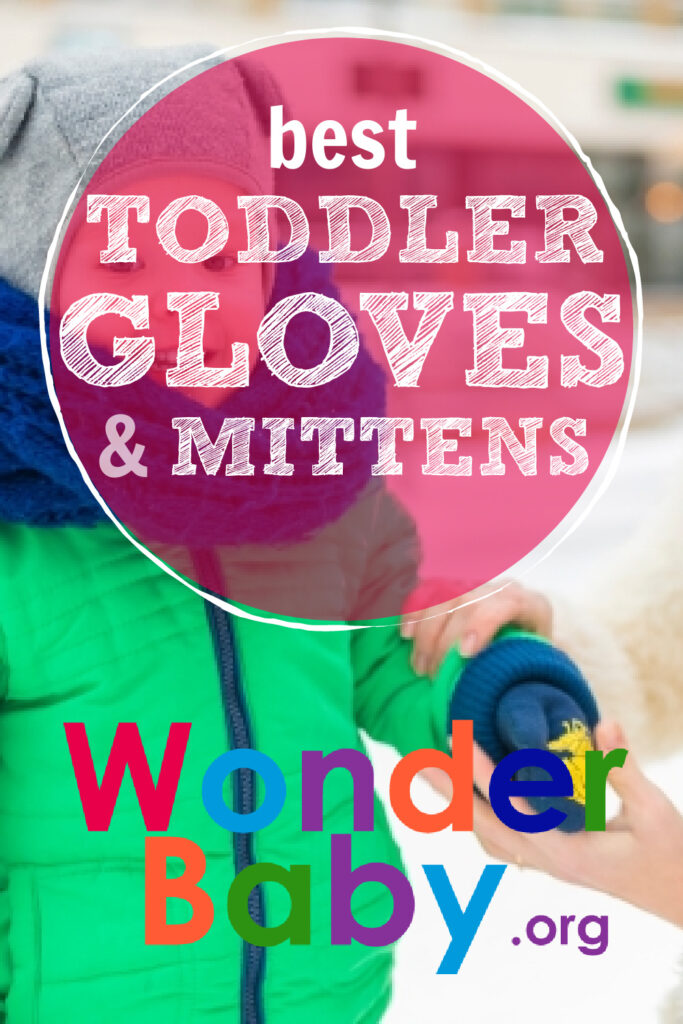 Related Posts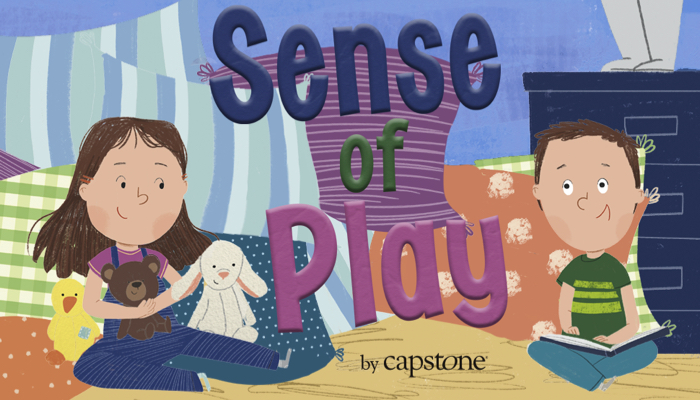 Braille and Literacy, Product Reviews, Visual Impairment
Dana Meachen Rau's book, Sense of Play, follows the adventures of Chip and Joy as they play. Chip is blind, but this doesn't get in the way of their play!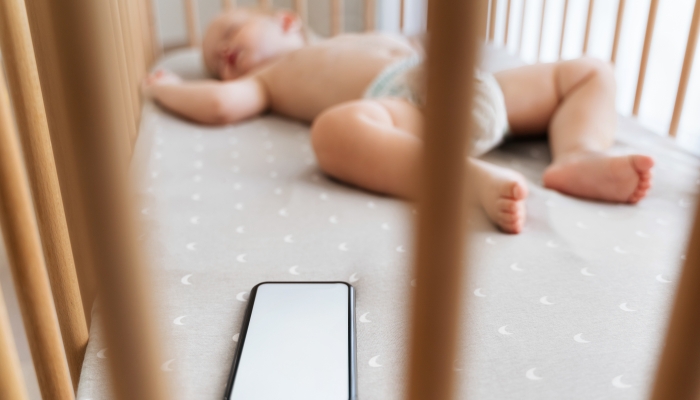 Product Reviews
Wondering whether white noise will help your little one sleep better? Here's our guide to the best baby sound machines to help your baby fall asleep soundly.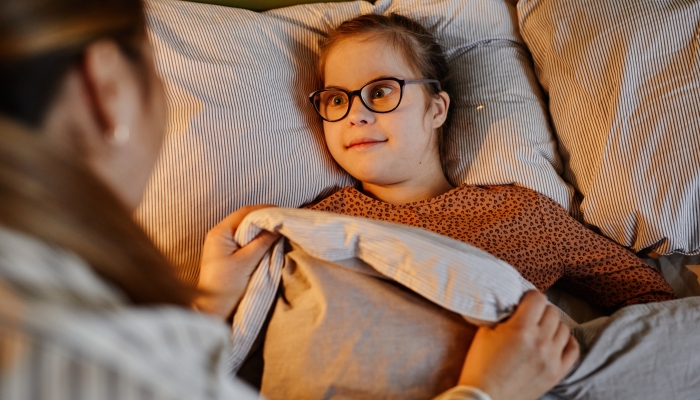 Product Reviews
Heard a lot about weighted blankets and lap pads and wondering how to choose one? Here's our guide to the ins and outs of finding the right weighted blanket.