We Won the PR Daily Social Media Award for Nonprofits!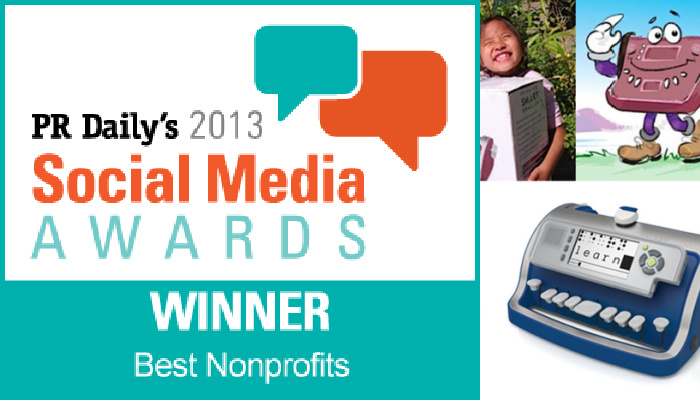 Our Backpacking SMART Brailler program won the PR Daily Social Media Award for "Best use of social media for nonprofits"!
If you remember, back in March 2013 we asked families to sign up to be a part of the Backpacking SMART Brailler program for the chance to be visited by a new SMART Brailler (named Marty) that they could trial for two weeks.
Marty visited six families over five months then came back to Perkins while WonderBaby.org readers got to vote for one family to win Marty to keep! It was an exciting program and after Abby Duffy won the brailler we were happy to help the other five families raise money so they could purchase braillers too!
And even though I'm excited about this honor and yes, WonderBaby.org and Perkins used social media to tell people about the program and the voting for the SMART Brailler, the real credit goes to the families involved in the program who used their blogs, Facebook and Twitter to reach out to their families, friends and their communities. Their reach was phenomenal and touched people they didn't even know… which is the wonder of social media when used for good.
Congratulations to all the families who worked so hard to advocate for their children!
You can read more about the award here.