Handgebruik tijdens het lopen: Help je blinde kind om haar huis en omgeving te begrijpen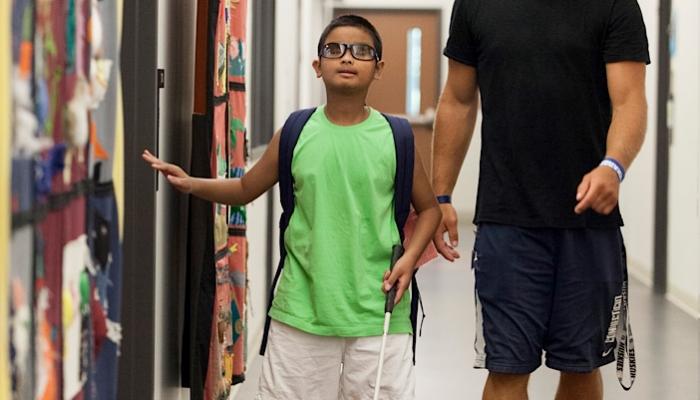 Translated by Laura K.M. Steinbusch.
Moedig je kind aan om muren, kasten en meubels aan te raken wanneer hij/zij zelfstandig of aan een hand loopt. Dit kan natuurlijk iedere keer wanneer hij zich verplaatst zoals van de gang naar de keuken. Het aanraken wat hij nu doet zal hem helpen om later makkelijker zelf specifieke doorgangen te vinden zoals de toiletdeur, de slaapkamerdeur of de ingang van zijn klaslokaal.
Herinner je kind eraan om zijn handen voor zich uit te houden zogauw hij een voorwerp of obstakel nadert. Het zou goed zijn om zijn handen vanaf een halve meter afstand tot een obstakel voor zich uit te houden. Jonge kinderen hebben vaak nog niet genoeg kracht in hun romp om hun handen lang voor zich uit te houden.
Moedig je kind aan om zelfstandig te bewegen en zijn zijn handen te gebruiken tijdens alledaagse handelingen zoals:
Het zoeken van speelgoed in zijn kamer
Het pakken van zijn schoenen om naar buiten te gaan
Het pakken van zijn beker uit de kast
Het vinden van de badkuip om in bad te gaan
Het komen naar zijn kinderstoel voor maaltijden
Help hem dit te doen door naar de bestemming te gaan (kinderstoel, bad, speelgoed) en vraag hem daarheen te komen terwijl je een geluid teweeg brengt (beweeg de kinderstoel, spetter in het water van het bad, laat het speelgoed een geluidje maken).
Betrek je kind in simpele huishoudelijke activiteiten. Hierdoor zal hij de wereld beter gaan begrijpen, zijn taal ontwikkelen, zelfstandiger worden en redenen hebben om te gaan bewegen en ontdekken. Probeer de activiteiten die hij leuk vindt te herhalen zodat hij er een goed beeld van kan vormen en probeer vaak nieuwe activiteiten uit. Help hem:
Een glas kraanwater voor jou te halen
Boodschappen in de koelkast te doen
Soep op te warmen in de magnetron
Kleren in de wasmachine te stoppen en de wasmachine aan te zetten
Kleren op te ruimen in de klerenkast
Speelgoed op te ruimen
Pudding te mengen, een boterham te smeren etcetera
Fruit te snijden en op een schaal te leggen
Afwas in de afwasmachine te stoppen
Kopjes te wassen in de wasbak
Afwas naar de keuken te brengen
Laat hem duwspeelgoed in huis gebruiken maar dwing hem niet. Wanneer hij ze graag gebruikt blijf bij hem en vertel wat hij aanraakt met de loopwagen/speelgoed buggy: de bank, de muur, speelgoed op de grond, etcetera. Vertel wat het is en laat hem zien hoe te bewegen zodat hij door kan lopen. Probeer te laten zien hoe hij favoriete voorwerpen mee kan nemen van de ene naar de andere ruimte.
Read this article in English: Hand Use While Walking
Read this article in Spanish: Lea este articulo en Español
Read this article in Arabic: قراءة هذا المقال بالعربية