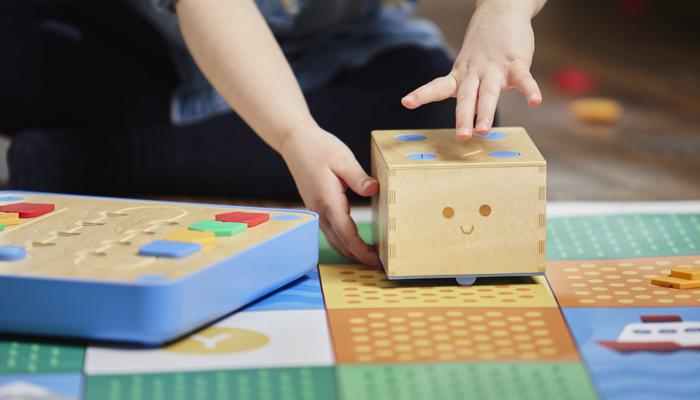 Shared by Hillary Kleck
Cubetto is a Montessori approved programming toy specifically designed for pre-literate children, ages three and older, that teaches the basics of computer programming and STEM (science, technology, engineering, and mathematics) skills without the use of a screen. It has been shown to be accessible by kids with visual impairments since the board and pieces are all tactile. Instead of writing code, kids use tactile shape pieces to "write" code by placing them in sequence on the wooden board. Once you hit the "go" button, the board sends the instructions to the little wooden cube, Cubetto, to follow through.
The Cubetto Playset consists of a friendly wooden robot, a physical programming console with a set of 16 colorful coding blocks, a beautifully designed map and activity book to get users started. It can be used by sighted and non-sighted children in the same setting – creating an equal learning environment that promotes inclusive play. By combining movemovement, touch and sound, Cubetto also helps children with disabilities strengthen their sequencing and communication skills.
The latest version of Cubetto will be successfully funded on Kickstarter in April 2016. Some perks are still available for backers to purchase the Cubetto playset at a reduced cost ahead of the date it will be released to the public.
You can watch a video to see Cubetto in action below: