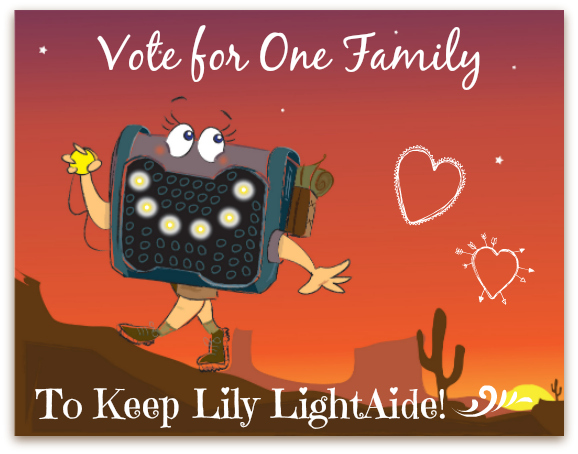 Lily LightAide™ has been traveling across the United States visiting families so they can learn all about her bright lights and fun features. She's made her way back to Perkins Products and she's ready to settle down. But where should she live?
Help Lily Find a Place to Live!
One of the six families who hosted Lily will get to keep her! Voters have been helping Lily decide where to live by choosing one family who will win their very own LightAide. Voting is now closed.
The votes have been counted and the winner of the Light Aide is Olivia Ault! Congratulations Olivia! And Perkins Products and Philips are offering a very generous 50% off the LightAide to the other five families!
Let's help all the families get LightAides! Visit their donation pages today!
Want to know more about these families? Please visit the Backpacking LightAide page to learn more about each family and see photos and videos of them with the LightAide.
Hey! Where did these votes come from? Check out our Google Map showing where visitors to this page are coming from.