The Backpacking LightAide Program!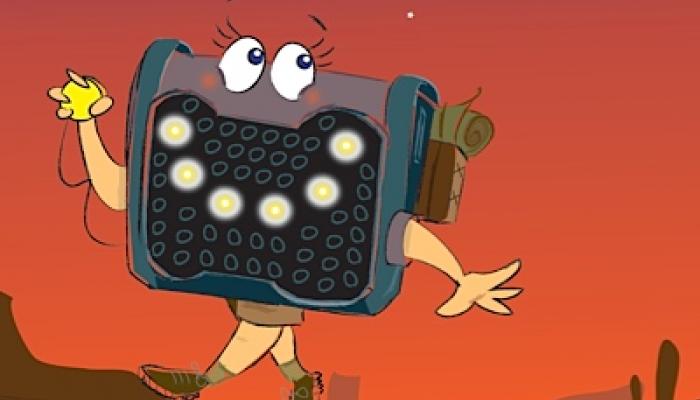 *******Voting is now closed!*******
Congratulations to Olivia for winning the LightAide! Click here to see the final vote count. And thank you to Perkins Products & Philips for offering a very generous 50% discount on the LightAide to the other five families! All of the families have now raised the money they needed to purchase their LightAides! Thank you so much for all your support!!!
Marty the SMART Brailler just finished his travels around the country. Marty visited six families who were able to see first hand what he could do and one lucky family got to keep a SMART Brailler as a gift!
And guess what? His friend, Lily LightAide, wants to go on her own adventure too!
What's a LightAide™?
Have you heard about the new LightAide from Philips and Perkins Products? Bright and engaging, the LightAide creates a variety of interactive displays of color that support core learning goals and help instill the building blocks of literacy and mathematical concepts in learners with low vision, cognitive disabilities and other special needs.
The LightAide boasts 224 bright multicolored LED lights that respond to switch interactions from up to four players at a time. It's preloaded with ten activities (with the option to download more later) that range in level from easy to more complex.
For example, your child could work on simple activities designed to encourage visual tracking, taking turns or the understanding of cause and effect… or they could learn letters and numbers or sequencing and organizational skills. You'll be amazed at all you can do with a board of 224 lights!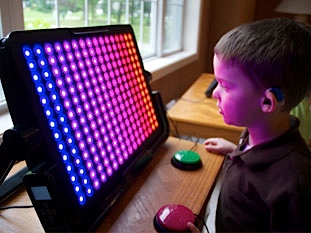 The LightAide is portable and light weight and works with any standard assistive switch. The lights don't get hot, so it's safe to touch, and it's super easy to set up. It's pretty much ready to go right out of the box!
This would be perfect for kids with Cortical Visual Impairment (CVI) or any child who loves to play with light up toys or a light box. Some teachers are even thinking about using the LightAide as part of their functional vision assessment.
It's a simple idea taken to a whole new level. Kids with visual impairments are often mesmerized by bright lights. So why not take this fascination and build on it? To learn more about the LightAide and all it can do, visit Perkins.org/LightAide. Or watch this video:
We're introducing a fun LightAide™ program!
So now you want one, don't you? That's where Lily LightAide comes in!
Lily wants to come visit YOU! She's packed and ready to travel to visit six families in the United States. Each family will get to hold on to the LightAide for two weeks to play with it and find out if it's right for them. When the two weeks are up they'll send it off to the next family (in a postage paid box).
Each family will have the chance to let the world know about the LightAide and what they think of it. They'll write about it on their blog, post videos and share their thoughts on Facebook. They'll also receive a cute backpack full of fun goodies (the backpack and goodies are theirs to keep). At the end of the event all WonderBaby.org readers will get a chance to VOTE for one of the six families to receive the LightAIde as a gift! That's right – one lucky family gets to keep the LightAide!
Do you want to be one of the families visited by Lily LightAide?
We're going to choose six families to take part in this program and we want YOU to apply to be one of them! In order to be eligible, you'll have to:
have a child who would benefit from the LightAide
have a blog or website where you can post your ideas and comments about the LightAide
be prepared to shoot videos of your family using the LightAide and post the videos to YouTube, Google+ or Vimeo
share a photo of your family and a short bio explaining who you are and why you want to try out the LightAide
sign media releases allowing us to share your photos and videos
Send an email to help@wonderbaby.org with the subject line "Backpacking LightAide" to let us know that you're interested!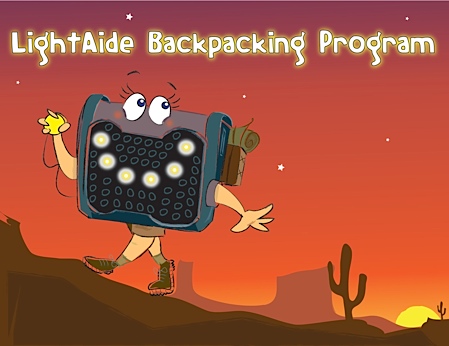 Who's Miss Lily LightAide Visiting Today?
*******Voting is now closed!*******
Congratulations to Olivia for winning the LightAide! Click here to see the final vote count. And thank you to Perkins Products & Philips for offering a very generous 50% discount on the LightAide to the other five families! All of the families have now raised the money they needed to purchase their LightAides! Thank you so much for all your support!!!
Cici & the Fischer Family: Visited by Lily LightAide on August 29th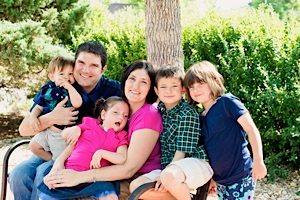 Family Bio: The Fisch Tank is the "internet home" to the Fischer family: Matt and Jenny, big brother Max (7), identical twins Penny and Cici (5) and little brother Eliot (1). Cici has an anoxic brain injury from choking on a piece of fruit at 11 months old, and now has a trach, g-tube, cortical visual impairment and a bunch of other stuff that goes along with a severe brain injury.
Cici is starting kindergarten this Fall and is in the process of getting her very own communication system with a switch and auditory prompts. We have figured out that she is cognitively intact, so we are excited and anxious for her to communicate with us and learn to use her vision in tandem with her communication system in meaningful ways. We are excited to see how the LightAide might be able to help with this goal!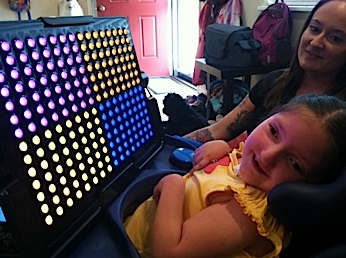 What is Cici Doing with Lily LightAide?
Cici & the LightAide: Jenny introduces Cici to the LightAide. She writes: "I think Cici approves! She definitely could see what was on the screen, and paid attention to the movement of lights and colors."
Cici & the LightAide, Part 2: Cici has been using the LightAide at school and she is really doing well with it! Jenny writes that they are working on number and letter identification at school and is excited to use the LightAide to help augment those lessons. You can watch Cici working in her numbers in the video below:
Why Should Cici Win a LightAide?
The reason we would like to win the LightAide for Cici is simple. If we won, we would donate the LightAide to her school where everyone would be able to use it in their therapy. During our trial, not only did Cici benefit from it, but so did her classmates, and her teachers and therapists saw a lot of potential in it for multiple kids. Cici goes to a school for special needs kids aged preschool through adult transition. Many of these kids have vision impairments. There is a lot of potential for varied use of the LightAide integrated into many different applications and many different therapies.
While we would love to have a personal LightAide for Cici, we feel like the best use of the LightAide for Cici would be in a school environment, where she can learn to play games and take turns with peers and use it to learn letters and numbers in an environment with her special education teacher. Since Cici is not the only special needs kid in the class, we want everyone to be able to use it in their therapy – for the long term, and for the years to come.
Vote for Cici & the Fischer Family to keep Lily!

Cole & the Keller Family: Visited by Lily LightAide on September 24th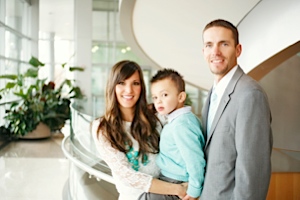 Family Bio: beatingepilepsy.blogspot.com is ALL about our son Cole (5) and snippets of us "Mom", "Dad" & "baby sister" (on the way in 3 weeks). Cole is our little super hero! He was born healthy and happy, but at 10 months old he started having 150+ seizures a day and was diagnosed with Infantile Spasms/West Syndrome, drop seizures & absents seizures.
He regressed because of the Infantile Spasms. We spent over a year in and out of hospitals to figure out what was wrong with him… no one could help us. We FINALLY found amazing doctors on the other side of the county at the Cleveland Clinic that found Cole's brain was malformed (his left temporal & occipital lobes were under developed, which happens in utero). He had brain surgery to take those lobes out to stop his seizures (even though he had "generalized epilepsy"…if you find the right brain surgeon, they can still be a surgery candidate).
Now Cole is cognitively a 10-19 month old, non-verbal and requires a lot of hand over hand prompts… but he continues to learn new things EVERY DAY. We were fortunate enough to get him into an amazing preschool that does ABA Therapy this year (which he was on the waiting list for 2 years because IT IS THAT GREAT!). Cole is very visually and sensory stimulated and we are SO excited to try the LightAide with him and the kiddos in his class.
What is Cole Doing with Lily LightAide?
Cole and the LightAide: Cole is a lights guy – he is always drawn to light. So, as his mom says, Cole is "in LightAide Heaven!" She writes, "We turned on the LightAide and he was glued to it! It has these cool 'tactile sensory screens' you can put over the top and he LOVED touching them."
LightAide Video: Cole's mom says, "He is working on 'eye tracking,' and tracking the Blue Light as we push the button. It is very user friendly so I think he will have the 'button' down in no time!"
Why Should Cole Win a LightAide?
Cole ABSOLUTELY loves lights!!! He is EXTREMELY stimulated by lights… if we turn off a light in the house (or anyone else's house) he literally FLIPS OUT… that is how much he likes lights. Since he is so stimulated by lights, winning the LightAide would be perfect for his ABATherapy that they do with him at school. It would help to motivate him and help him to "work" on his goals that his IEP team has set for him. He is also in "vision therapy" and using the LightAide during vision therapy would help so much. The LightAide is a great tool for special kids like Cole!
Vote for Cole & the Keller Family to keep Lily!

Aly & the Greer Family: Visited by Lily LightAide October 5th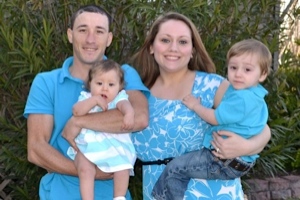 Family Bio: CVImom.wordpress.com is where I share my 16-month-old daughter Aly's journey. When Aly was born she had severe nystagmus. We were told by her pediatric ophthalmologist that she was totally blind with no light perception. He said her vision loss was neurological. She was diagnosed with Cortical Blindness/Cortical Visual Impairment (CVI) when she was five months old through an MRI.
Her vision has continued to improve and she is now focusing and tracking. Aly was also diagnosed with global developmental delays, congenital muscle disorder, microcephaly and brain malformations. She is missing white matter and portions of her frontal, occipital and temporal lobes. She also has a thinned corpus collosum (the part of the brain that connects the right and left hemisphere). It became evident that Aly had hearing loss around the time she turned one. She now wears hearing aids and receives at-home hearing therapy. We are working on getting her into the Mississippi Deaf-Blind Project to serve as an additional therapy for her dual sensory impairment. Aly started therapy (PT, OT, ST) at seven months old and has continued to make progress developmentally. Early detection and intervention has been the key to her success!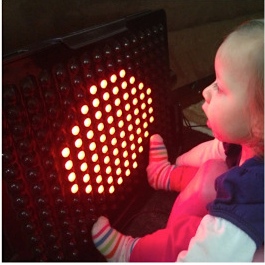 My family (Aly's brother Triston is 3) recently made the decision to move to Starkville, Mississippi, because of the resources available for Aly. She is currently attending a preschool program for children with disabilities at T. K. Martin Center for Technology and Disability and a pediatric therapy center which provides her with additional feeding therapy. Her occupational therapist at Kids Therapy Spot specializes in children with visual impairments and CVI.
We are very fortunate to have a therapist who knows about CVI and light box therapy. Most families in Mississippi who have children with CVI do not receive adequate vision services. There are very few therapists, Early Intervention coordinators, TVIs and medical professionals that know about CVI. These children lack proper assessment and the intervention strategies that will ensure they have a bright future. Aly's journey has inspired me to become an advocate for ALL children with CVI by the creation of The Alyssa Greer CVI Foundation, a non-profit organization that will provide families with the resources, support and education they so desperately need, as well as bring awareness and specialized training for professionals in our state. You can also find us at the CVI Connection on Facebook.
Participating in the Backpacking LightAide Program is very exciting for all of us. Aly responds very well to her light box and I know she will love and benefit from the LightAide. I will be sharing the LightAide with her therapists and teachers. It's innovative technology and programs such as the Backpacking LightAide Program that gives children like my Aly the chance to excell no matter their impairments. We look forward to sharing our experience with you all!
What is Aly Doing with Lily LightAide?
Why Should Aly Win a LightAide?
The time my daughter Aly spent with Lily the Backpacking LightAide was invaluable. It has been one of the most profound devices she has ever worked with to entice interest and learning. My daughter's neurological impairments (Cortical Visual Impairment, microcephaly, white matter deficiency and brain malformations) make her the ideal recipient for the LightAide because of its use of vibrant colored lights and movements to facilitate learning. She was so mesmerized by the LightAide and could sit in front of it, engaging in the different activities, for hours if I had let her.
Because she is so young (18 months) and has so much to learn, the LightAide is the perfect tool for her because it will grow as she develops cognitively and developmentally. She engaged so much with the moving elements of the tracking activities and really started to grasp the concept of cause and effect with the switch. I loved seeing her face light up and the excitement she exhibited while using the LightAide. I would love for Aly to receive a LightAide because not only would we be able to use it at home I would also be able to take it to her school and therapy so that they could share it with her other special needs classmates. Lily truly became part of the family and it would be a dream come true to have one of our very own.
Vote for Aly & the Greer Family to keep Lily!

Ava & the Jaksha Family: Visited by Lily LightAide October 20th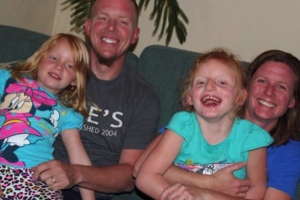 Family Bio: I capture as many of our family's musings as possible over at Life on Podtburg Circle. Much of the focus is on the big sister, Ava, who has a rare genetic disorder which she shares with roughly 700 others around the world. Her primary diagnosis of CDKL5 disorder falls under an umbrella of RTT disorders so we also refer to it as Atypical Rett Syndrome. She has several secondary diagnoses; a few of them are Cortical Vision Impairment (CVI), strabismus, ocular motor apraxia, refractory epilepsy, an intellectual disability, apraxia/dyspraxia and sensory processing disorder.
Ava was born in the fall of 2005; we went home and carried on with our life as a new family for some time before a dreadful detour in her development revealed itself. At her 6-month well child check her doctor inquired about her vision, not long after that she began having noticeable seizures and subsequently we began regular visits to neurology at our local Children's Hospital. Ava was a hard case to crack; it took over 6-years to diagnose her genetically and her CVI was something that kept her diagnostic team guessing.
In the interim we were referred to the Anchor Center for Blind Children in Denver, Colorado where we spent the next four years preparing for Ava to enter kindergarten in the public school system. She received remarkable early intervention services in multiple disciplines at the center. They were also very supportive of our family, her private therapists and her transition into the public school system. I believe our early intervention experience has been the key to many of Ava's successes. Her vision has improved substantially since infancy. Thanks to a wonderful team that believes in her we've surpassed many prognoses whispered in the past.
Ava is non-verbal and the prospect of an additional tool like the LightAide to add to her various modalities of communication is very exciting! She tends to be a sensory seeker so I'm positive she will thoroughly engage and enjoy the LightAide. Thanks for this wonderful opportunity WonderBaby!
What is Ava Doing with Lily LightAide?
Getting Ready for Lily to Visit: Ava and her family are a little under the weather, but they are still excited about Lily coming to visit!
Ava Meets Lily: Ava's still getting over feeling sick, but she was still very happy to meet Lily!
Lily LightAide Week 1: Ava surprises her mom with her LightAide skills! Amanda says, "Ava is enjoying some of the concepts I wouldn't have guessed she was ready for, we've spent a fair amount of time in the Mathematics activities. I am pleasantly surprised with the consistent accuracy she has demonstrated with activities like matching shapes and finding the different shapes."
Why Should Ava Win a LightAide?
My name is Ava and I am a very happy girl with a brilliant sense of humor. I have a Cortical Visual Impairment (CVI) due to a genetic disorder known as the CKDL5 disorder and I've been working diligently to overcome many of the obstacles CVI presents since I was a baby. With hard work and determination I've had a fantastic improvement with my functional vision; 20/400 to 20/200 has certainly changed my experience interacting with the world.
The LightAide takes advantage of the things I love most, bright contrasting lights and movement. With the help of Lily I think I can continue to improve my functional vision, paving the way for success with eye gaze technology for communication beyond the expanded literacy opportunities.
Imagine helping to give me a voice! You can do just that by giving me your daily votes.
Vote for Ava & the Jaksha Family to keep Lily!

Olivia & the Ault Family: Visited by Lily LightAide November 15th
Family Bio: "Take her home and hope she smiles." This was the recommendation from the Neonatologist in the NICU in response to our question: "What do we do now?"
As first-time parents, we didn't know what to do with the information that was handed to us the day after our sweet Olivia was born. We were in shock, disbelief, and truly in a state of turmoil. Olivia was diagnosed with a severe cardiovascular accident (CVA) around the time of birth. The perinatal stroke involved her right parietal, temporal, frontal, and thalamic areas of her brain. She experienced seizures and periods of apnea at birth and the seizure activity was controlled with Phenobarbital until age one.
Olivia currently displays gross and fine motor delays; expressive speech and language disorder; delays in cognitive functioning and socialization; cortical visual impairment, visual functional deficits including: downward gaze, esotropia, and intermittent lateral nystagmus. We feel extremely lucky to have been connected with Dr. Christine Roman-Lantzy from the Pediatric View Program at West Penn Hospital when Olivia was only a few days old. She educated us on the CVI diagnosis and strongly encouraged us to focus on Olivia's vision, because it can improve. This gave us extreme hope and determination!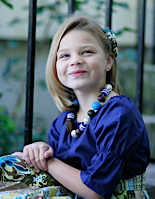 We have worked diligently to provide the appropriate CVI support to facilitate Olivia's development and we are thrilled to welcome Lily LightAide into our home for two weeks. I consider this to be the answer to my prayers. Olivia is struggling with learning letters, numbers, shapes, colors and pre-literacy skills. She is uninterested and lacks the motivation and commitment to focus her energy on these tasks. I believe that the use of light to facilitate and enhance her learning will be evident. The possibility of finally being able to engage Olivia and advance her education is thrilling. I have faith that she can do it, with the right modality. Lily LightAide uses everything we know about CVI and the approach to conquer these milestones.
It is important for us to never put a limit on what she may possibly achieve. She has truly become the inspiration for our entire family and community. It has become our mission to educate others and ourselves about interventions and treatments to meet her needs.
Did Olivia smile? YES, and she hasn't stopped!
Now we hope that she will learn to read and write. Hope is the driving force behind this adventure we are on. It drives us to find a way. Follow Olivia's adventures with Lily LightAide at Olivia Can Smile.
What is Olivia Doing with Lily LightAide?
Why Should Olivia Win a LightAide?
Lily came into our home and demonstrated the qualities that I had hoped for. Olivia's immediate connection with Lily LightAide was amazing! Her instant reactions melted my heart; it is proven in the video. She was drawn in, engaged, motivated, and challenged. What more can a parent ask for?
Unfortunately, there is no cure, no magic medication, no easy "fix" to treat Cortical Visual Impairment. It is learning everyday various ways to adapt her learning the most efficient and effective way possible. All that we can hope for is that she learns to use her basic function of sight. It can improve, with the right modality. Lily has become an integral part of Team Olivia. Like us, she is devoted to encouraging Olivia to use her vision with the use of the lights. Olivia works hard everyday, but every step of the way has proven to be a challenge. Finding a device that makes this task easier is a blessing. Please join Team Olivia and vote for Lily to be reunited with our sweet little girl. Hope drives our adventure.
I would personally like to wish the other 5 families good luck. I hope that Lily lights the path back to the home of ALL of our sweet little miracles.
Vote for Olivia & the Ault Family to keep Lily!

Leah & the Perkins Family: Visited by Lily LightAide November 20th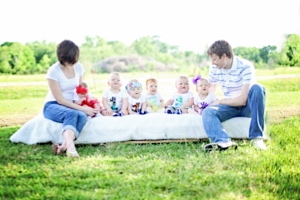 Family Bio: The Perkins Pack is where you can follow our adventures in raising sextuplets! Our little miracles were born in April 2012 at 30 weeks gestation, each weighing between 1-2 lbs. Andrew, Benjamin, Caroline, Leah, Allison, and Levi have been fighters from the get go and are now thriving 18 month old toddlers! They sure do keep us and our slew of volunteer helpers on our toes!
With preemie sextuplets, special needs- especially visual impairments- are quite common. Amongst the group, there have been a few easily resolvable issues and some lingering developmental delays, but our sweet Leah has the severe needs. She was IUGR (hard to grow with 5 other babies on top of you!) and at 2 months old was diagnosed with Periventricular Leukomalacia (PVL), meaning her brain never fully developed from lack of blood flow in utero. When she was a year old she was also diagnosed with Cerebral Palsy (CP) and a Cortical Visual Impairment (CVI) which both stem from the PVL. Leah also has severe reflux with sensory issues and is tube fed. She has an extensive therapy schedule each week to help in all areas. Leah absolutely loves therapy and we've been blessed with wonderful therapists who love Leah and care about her development as much as we do. Leah is a hard worker, a great cuddler, and loves music!
Leah receives vision therapy twice a week and is constantly showing growth and progress. She has recently been enjoying cause and effect toys and reaching for items. She loves when toys light up and/or make sounds. I can't wait to see how she responds to the LightAide! I'm positive this tool will expand her skill set and be a great asset in her development!
What is Leah Doing with Lily LightAide?
Leah & Lily Day 1: Leah's mom Lauren is surprised to see how well Leah responds to the LightAide. She says, "Leah even enjoyed just relaxing watching the changing colors and spinning pinwheels. She stayed completely relaxed and attentive for 30 min!! That never happens."
LightAide- One Week Update: "This week we've been checking out quite a few programs. Leah's current favorites are Building a Rainbow and Naming Shapes. For both of these programs, she hits the censor to cause action on the screen – either building colors to form a rainbow or changing the shapes on the screen. Whenever she sees something happen, she gets the biggest smile on her face! She LOVES it!!"
Leah LightAide Wrap Up: Lauren writes about how quickly Leah had picked up on the LightAide: "The more time Leah spent working with this device, the more she figured it out and seemed to truly enjoy it. Whether she was watching colors change on the screen or activating switches to control the screen changes, she was always content and motivated. She went from needing someone with her to work the device to being set up in her stroller with a tray and working it on her own!"
Why Should Leah Win a LightAide?
Our two weeks using the LightAide have been a tremendous blessing to Leah and our family as a whole. With Leah having multiple disabilities, including CVI, it is difficult to find tools that stimulate her growth and development, especially ones that she can use on her own and interest her. It can also be difficult for us to find activities that engage Leah and her siblings at the same time; although they are all the same age, the developmental levels vary greatly. The LightAide has met all of these needs for Leah!
Over our 2 week trial period, Leah has been engaged by the programs and motivated to work and play, all the while smiling and laughing at the images she SEES. Her vision teacher and occupational therapist have utilized the LightAide in therapy sessions to work on specific developmental skills. They have also been blown away by the progress Leah has made using this tool in such a short time. None of us have seen Leah respond to anything with such gusto and her interest has sustained over time. She is able to work on multiple developmental skills at once and improve her vision. Also, she can work the switches independently from her medical stroller – this is HUGE! With 5 other little ones running around, I love that Leah can gain some independence and learn at the same time.
Leah's siblings are equally fascinated with the LightAide. During our trial period, they were often seen "helping" her use the switches or watching the programs alongside her. It truly fills my heart with joy to see all of my kids interacting with each other and enjoying the same activity. The LightAide is really helping us build that connection between them. We would be ecstatic to win the LightAide! Not only to see Leah's individual skills develop, but to foster her sibling relationships too.
Vote for Leah & the Perkins Family to keep Lily!
Related Posts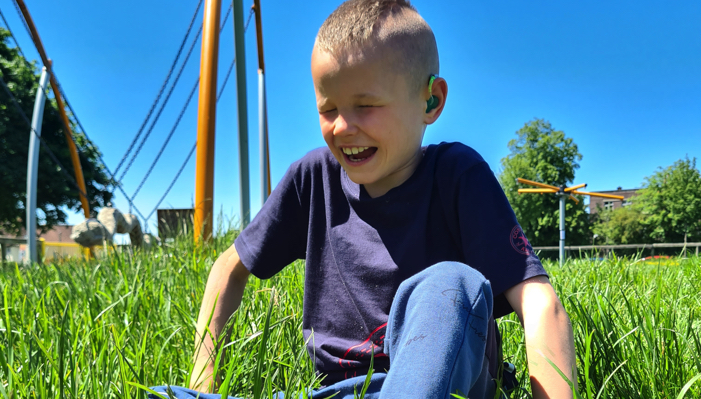 Giveaways
Find out how one mother turned her grief and search for support into a best selling book and an online community.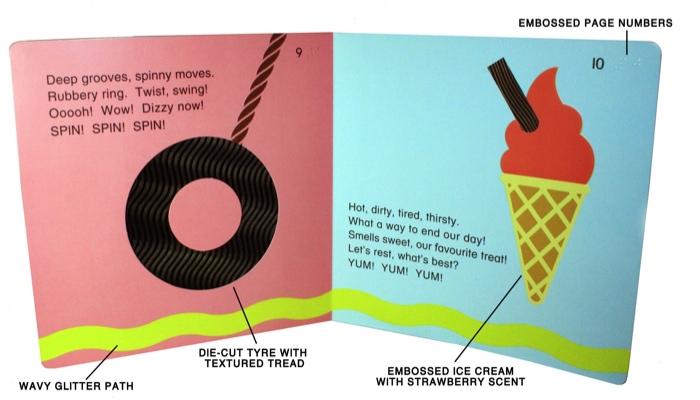 Giveaways
Enter to win the touch-and-feel book Off to the Park! This book was designed specifically for children who are blind or have low vision. Contest ends March 2nd 2016.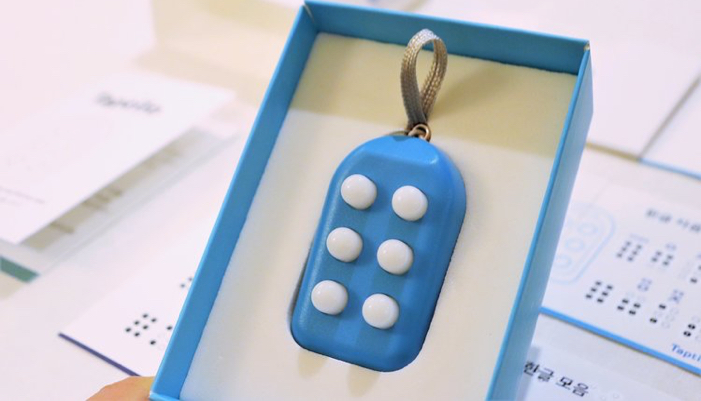 Giveaways
Enter to win a braille starter kit. Each kit comes with one braille block keychain and a set of braille learning materials in both print and braille.