ABCmouse: A Unique Learning Experience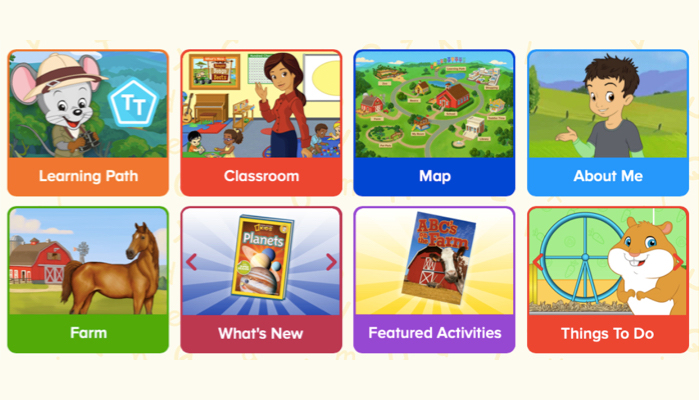 Have you heard of ABCmouse? If you've watched PBS recently you may have noticed their advertisements during some of the children's programming. ABCmouse promises an interactive and educational online curriculum for kids as young as toddlers through to the second grade, but do they really deliver? I had the chance to check out their platform and I must say I was pleasantly surprised!
First of all, being an online curriculum allows for a lot of customization. You can add up to three kids per account and totally customize each child's interaction for language, age or level of difficulty.
As with the best learning experiences, kids may not even realize they are doing academic work as everything is presented through games. Kids can play through choosing activities on the home page or moving through the "learning path" and gameplay earns kids "tickets" which they can use to "buy" items for their virtual world (more on this later). As kids move through each educational game they are learning skills designed to help them master each level and move on to the next.
ABCmouse is available on desktop or through apps on mobile devices. Got an iPad? ABCmouse is perfect on a tablet! They have nine apps available free with your membership and most of them are even available offline making them go-to apps when you don't have internet access but still want to keep your kids busy.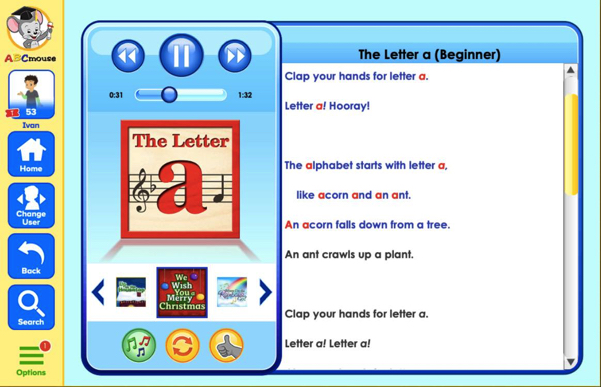 So Many Activities!
I have to admit ABCmouse can be a little overwhelming at first because they really do offer a lot of options, but once you and your child are comfortable with the website you'll really appreciate all the choices because you won't get bored any time soon!
What can you expect to find on ABCmouse? Activities include (but certainly are not limited to):
Videos
A music player with original songs and follow along words
Mix and match games
Puzzles
Books (self read or read to you)
Fun math, art, geography, science, reading and writing games
My son Ivan especially loves the read to me books and music player. As a blind child, he also enjoys the videos that play animal sounds or have descriptive audio.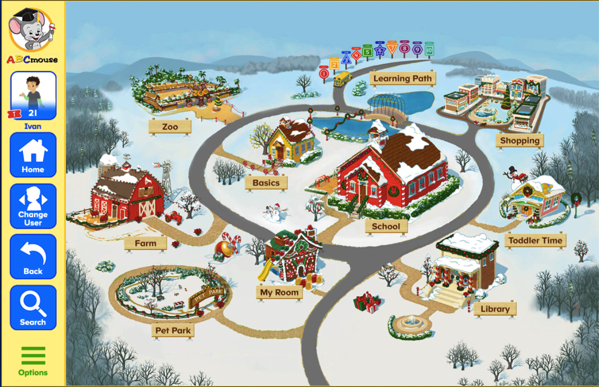 The Virtual World
Each child's account comes complete with an entire virtual world. You can visit your bedroom, the pet park where you can take care of a pet, fish in a fish tank that need to be fed, a hamster in a cage that grows as you earn items or even the shopping center where you can "buy" items for your room, pets, etc.
As your child completes (and repeats) activities they earn tickets that they can use for shopping. There are no actual monetary transactions (don't worry there are no in app purchases for your child in ABCmouse), but instead the tickets and virtual world become incentives for your child to continue completing academic activities.
Accessibility
Is ABCmouse accessible? In many ways, yes! The visuals do tend to be busy, but they are also fun and engaging and often use very bright colors.
All of the instructions and activities are provided in text with verbal instructions as well as images, so everything from activities to text to buttons can be hovered over to hear more about them. This results in a very multi-media platform that is great for children of different learning types, as well as kids with sensory impairments.
Add this to the fact that ABCmouse offers multiple levels of difficulty allowing you to tailor the content to your kids' needs and development level and you have a very customizable and accessible platform.
ABCmouse also allows for independent play, especially with the learning path which leads your child through the activities, but is also designed to allow for customized guided game play with an adult.
With all the sounds, music and audio feedback it can also be a fun way to help teach your child to use headphones for more independent play (this is actually a skill we're working on at home right now).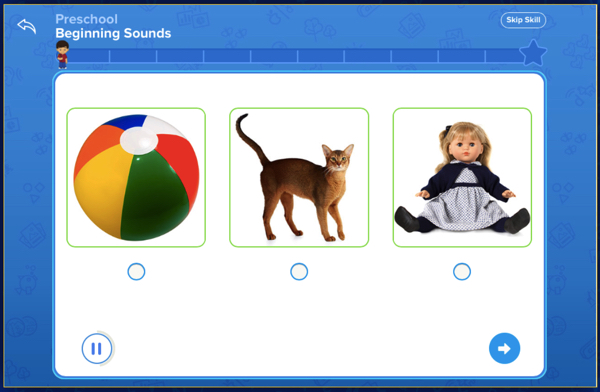 Parent Options
In the parent section you can track progress, set difficulty level and review curriculum. You can see which activities your child has been playing and in the Assessment Center you can track your child's progress by having them take assessment tests.
Each assessment shows how well your child has been doing and will recommend activities to help fill in the gaps of their learning or will advise a step up in level when a skill has been mastered. The assessments are called "games" and are still presented as fun interactive games to your child rather than scary or difficult tests.
Overall, ABCmouse provides a wide variety of activities and learning opportunities for children of multiple skill levels, including kids with disabilities. My son and I are very much enjoying learning together!
Related Posts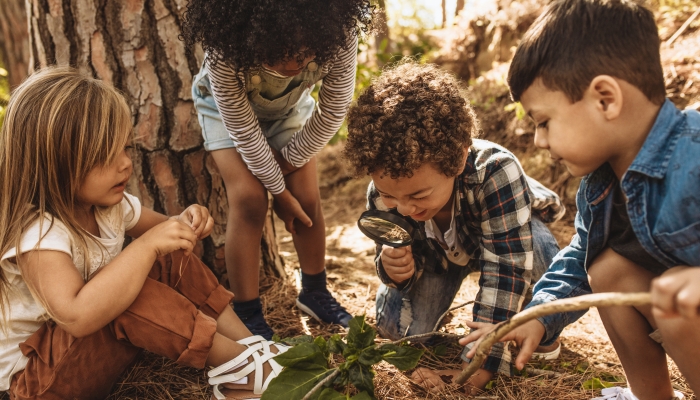 Math and Science, Sensory Activities
Looking for things to do outside with your preschooler? These ideas for outdoor learning are easy, inexpensive, informal, and best of all, fun!
Math and Science
Looking for ways to engage the young scientist in your life? Check out this guide to preschool STEM activities for some brilliant and fun ideas.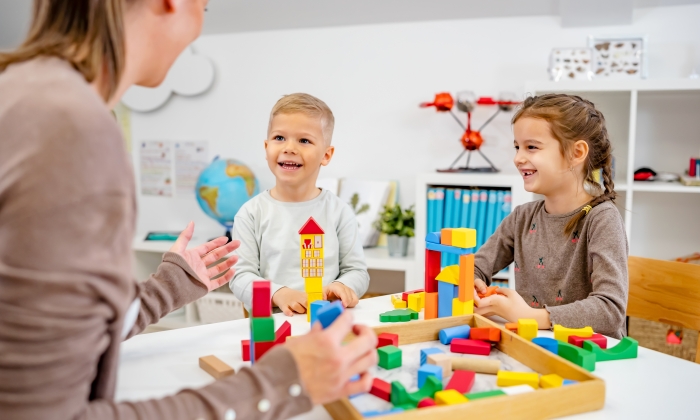 Education
Try these DIY Montessori-inspired preschool learning activities to keep your child engaged and excited to learn while being friendly on the wallet.