Bambo Nature Dream Diapers Review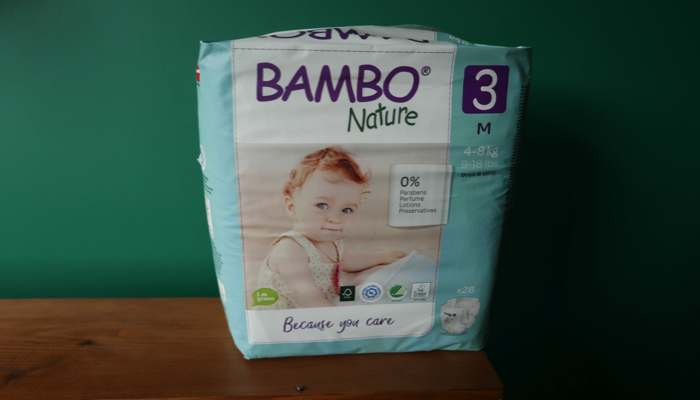 This post may contain affiliate links; please see our terms of use for details.
Bambo Nature Premium Dream Diapers offer an eco-friendly option for earth-conscious parents.
We love that they're sustainably made, have a simple design, and are kind to the skin.
Some reviewers find that these diapers leaked. They didn't pass our overnight testing.
Trusted organizations have certified these products to be eco-friendly and skin safe.
Compared to other sustainable options, Bambo Nature is one of the cheaper choices.
When choosing a diaper, environmental impact is very important to me. Our children will inherit this planet, so we want to ensure it's well looked after for them!
I've heard the scary facts: It takes around 500 years for disposable diapers to decompose. With a new baby, it took me a long time to be able to face the extra effort and laundry of a reusable diaper. There's also the upfront cost to consider with earth-friendly cloth or reusables.
Bambo Nature is committed to minimal environmental impact. Like most disposable diapers, they do still contain some plastics and are not 100% biodegradable.
Knowing which option strikes the right balance of being effective and kind to the planet can be hard.
Bambo Nature premium dream diapers promise they're an effective, safe, and sustainable product. I was keen to find out if the extra effort of being eco-friendly sacrificed their performance.
Bambo Nature Premium Dream Diapers
Bambo Nature is a sustainably manufactured brand in production for more than 35 years! A true legacy brand that you know you can trust in order to #ParentFearlessly.
Size 4 fits baby weight range 15-31 lbs. See size chart for more details.
THE BEST COMFORT FIT FOR BABY – our diapers feature a wetness indicator that changes color to indicate when a change is needed. The flexible waistband and latex-free leg cuffs help diapers stay in place while maximizing movement.
SUPERNATURALLY EFFECTIVE – a unique three-layer design and super-absorbent core that can stand up to multiple wettings—even overnight. Combined with our fully breathable backsheet, baby's sensitive skin will stay dry and comfortable.
What We Love About Bambo Nature Dream Diapers
There were many features of Bambo Nature diapers that we loved. They're comfortable and soft for your baby and are kind to both their skin and the planet.
Eco-Friendly
Bambo Nature diapers aim to be sustainable without compromising performance.
The company has received multiple certifications and awards for its eco-credentials, including the rigorous and trusted Nordic Swan Ecolabel.
Bambo Nature is mindful of their environmental impact. They bring sustainable practice into their materials, production, waste, packaging, and distribution. Impressive details include:
Raw materials are sustainably sourced and don't contain substances that harm the environment.
100% renewable energy is used to manufacture Bambo Nature diapers.
95% of production waste is recycled.
Consumers have the option to purchase these diapers in paper packaging. This packaging is responsibly sourced and fully recyclable.
Skin Friendly
Bambo Nature products are all dermatologically tested by ProDERM. They're free from harmful chemicals, dyes, parabens, and allergens.
These diapers did not cause any diaper rashes during our testing and felt super gentle on the skin. Bambo Nature guarantees that their products are skin-safe.
Moisture is quickly absorbed into the diaper to keep your baby's skin dry and comfortable.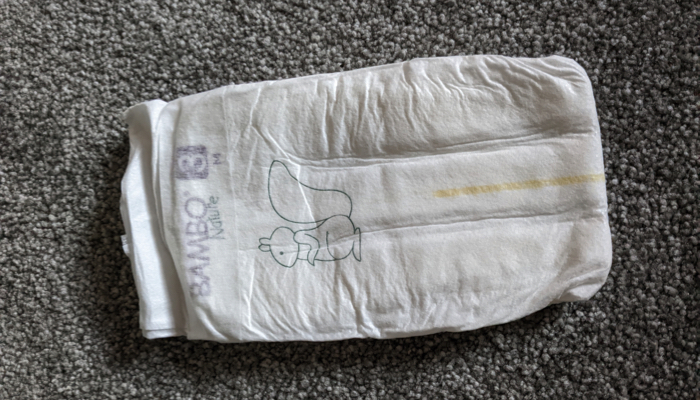 Wetness Indicator
The handy wetness indicator strip goes from yellow (when dry) to blue (when wet). This is a helpful feature to know at a glance if your baby needs a change.
Many brands (like Rascal & Friends) only include wetness indicators in their smaller sizes. This is because the higher volumes of liquid in older babies make it easier to identify when it's time for a change.
We liked that Bambo Nature Diapers also have a wetness indicator for their larger sizes. This makes it so simple to take a quick peek and know if it's time for a new diaper.
Simple Design
We loved the minimalist design of these diapers. They're plain white with a small logo and wetness strip indicator.
This simple design makes it even easier to see the wetness strip and avoids the use of unnecessary dyes.
Comfortable and Flexible
For a mobile baby, you need a diaper that stays in place. It needs to move with your baby and not rub their skin.
Bambo Nature diapers managed to stay in place through crawls and wriggles and left no marks.
Vegan and Cruelty-Free
Bambo Nature doesn't test their products on animals or use any ingredients from animals. They promise they will never test on animals.
Leak-Proof
Some reviewers found these diapers leaked for them. We had zero leaks while testing these diapers during the day. This included some big diaper blowouts!
The following features help to prevent leaks:
Strategically placed leak barriers
Absorbent core
Three-layer design
Flexible side panels for a snug fit that moves with your mobile baby
Large, fully breathable back-sheet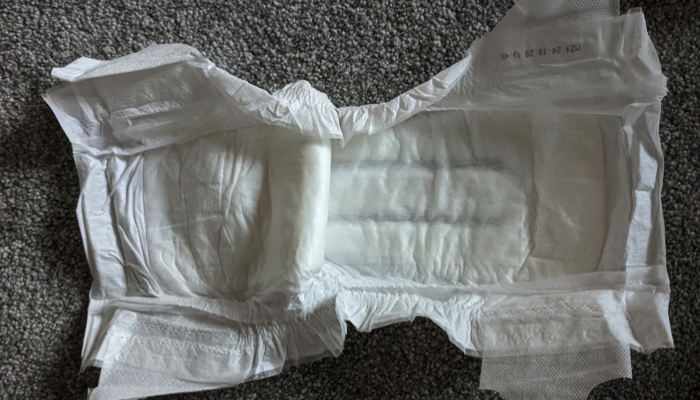 Things Bambo Nature Dream Diapers Could Do Better
While Bambo Nature diapers get lots of things right, there are some areas they could improve on.
Single-Use
Bambo Nature has got some impressive eco-credentials and certificates. They are still single-use diapers, so they do contribute to landfill waste. They contain some biodegradable materials but aren't fully biodegradable.
If you're looking for a product that has even less impact on the environment, you may want to try cloth diapers.
Price
Having a baby is expensive! Bambo Nature diapers aren't the cheapest option compared to some disposable diapers.
The extra cost ensures they can continue their responsible manufacturing process. They also use high-quality materials, which come at a higher price.
A baby may use around 2000-3000 diapers in their first year! Consider this figure to help you determine what is affordable for your family.
Didn't Last the Night
Unfortunately, our overnight tests ended in leaks and extra laundry. This could be because the thin design (which is to prevent bulkiness) can't hold a large amount of liquid.
If you're also having problems overnight, Bambo Nature does stock specific overnight diapers.
Many Reviewers Had Leaks
Maybe we got lucky because we didn't have any leaks using these diapers during the day. Looking at other reviews, it seems that quite a few parents did get leaks using Bambo Nature diapers.
To avoid leaks, make sure that you have the correct size and that you're putting them on correctly.
Remember that every baby is different and a diaper that is perfect for one baby won't work for another.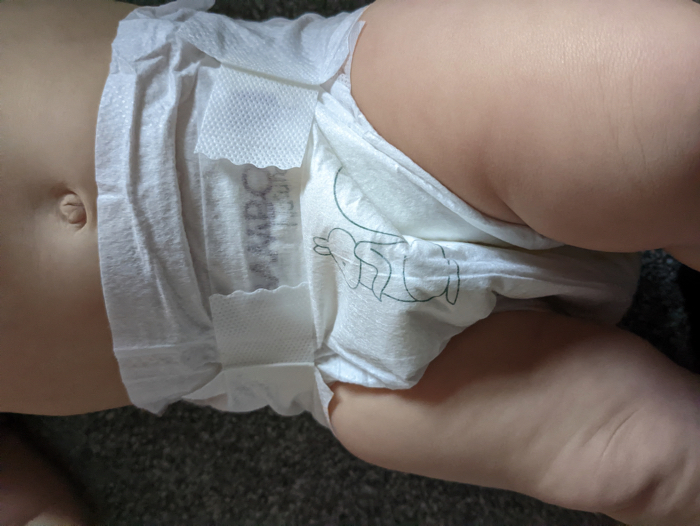 How Bambo Nature Dream Diapers Compare to Other Diapers
It can be difficult to pick a diaper when there are so many options. This is how Bambo Nature diapers compare with other sustainable choices.
Price
Generally speaking, less eco-friendly options are cheaper as the materials aren't sustainably-sourced. Popular budget options include Parent's Choice Dry and Gentle and Luvs Pro Level Leak Protection diapers.
Compared to other eco-friendly brands, Bambo nature is one of the more wallet-friendly options. They're slightly cheaper per diaper than many other popular sustainable choices, including:
The "clean conscious" sustainable diapers from Honest are slightly more affordable. These are a popular option for sustainable diapers.
Prices do change, this information is correct at the time of writing.
Sustainability
Bambo Nature is proud to have a reduced environmental impact compared to many diapers. They still contain non-biodegradable materials (including plastics). They explain that using these materials makes sure the diapers still perform well.
Other brands, such as Dyper, offer compostable disposable diapers. These tend to cost more but have a lower environmental impact.
Bambo Nature diapers perform well in sourcing sustainable materials, manufacturing, and packaging.
The most sustainable choice, of course, is to use reusable or cloth diapers if that is an option for your family.
Rating
Comparing reviews on Amazon.com, Bambo Nature isn't the highest-rated sustainable option. See the below table for a comparison of ratings.
The negative reviews mention leaking, poor absorption, and sizing issues. The positive reviews praise the lack of chemicals and the fact they're eco-friendly. Many reviewers note that these diapers don't cause diaper rash.
| | |
| --- | --- |
| Diaper Brand (Size 3s) | Rating and Number of Reviews |
| Eco by Naty | 4 with 6423 reviews |
| Bambo Nature | 4.4 with 1450 reviews |
| Dyper | 4.6 with 1347 reviews |
| Honest | 4.7 with 1340 reviews |
Bambo Nature Premium Dream Eco-Friendly Diapers: The Bottom Line
Bambo Nature promise an effective diaper with minimal impact on the environment.
Trusted organizations have confirmed the company's commitment to the environment.
In our tests, the diapers were effective, gentle on the skin, and a perfect fit. Some reviewers have had problems with leaks and sizing, so they may not work for every baby.
If you want a disposable diaper that is kinder to the planet and free from harmful substances, Bambo Nature diapers are a good choice to try.
Attractive features
Eco-friendly certifications
Free of all known allergens, harmful chemicals, and fragrances
Three-layer design pulls moisture from the skin to avoid rashes
Wetness indicators for sizes 1-6
Ultra-soft materials
Thin design and breathable back-sheet
Flexible side panels and leg cuffs
Minimal, simple design
Recommended Accessories
Overnight Diapers
Bambo Nature's overnight diaper is designed with enhanced leak protection to keep your little one dry while they snooze.
These diapers offer the same skin-safe and sustainability guarantees as their regular diapers.
Reviews on how the overnight diapers perform are mixed. Like the day diapers, some reviewers have trouble with leaks.
Baby Wipes
Bambo Nature offers two different wipes:
Both of these options are dermatologically tested and hypoallergenic. They're also both free from perfumes, chlorine, and other chemicals. They get a similar score from reviewers.
The main difference between the wipes is that the latter option are 100% biodegradable, so it is a more eco-friendly option. They are slightly more expensive.
Training Pants
When your little one is ready to start potty training, you may want to consider training pants.
Training pants are specifically designed to be easy for little hands to pull on and off.
Bambo Nature offer both Training Pants and Night Pants for older children.
Changing Mats
Changing pads can be really helpful to have on hand in your diaper bag. Put one down to turn any surface into a sanitary changing area for your baby.
Bambo Nature changing mats are made from 100% TCF fluff pulp. This means they're chlorine free and an eco-friendly option.
Like all Bambo Nature products, they're guaranteed skin-safe and are free from harmful chemicals.
Skin Care
Bambo Nature also has a skincare range, including baby body wash, shampoo, and body lotion.
All these products are designed to be ultra-gentle and nourishing for your baby's delicate skin.
FAQs
Which certifications has Bambo Nature received?
Bambo Nature diapers have been certified skin safe and eco-friendly by a range of bodies, including the Nordic Swan Ecolabel. They have been dermatologically tested and approved.
A full list of their certifications can be found here.
How long does the overnight protection last in Bambo Nature overnight diapers?
These diapers are designed to last for up to 12 hours. Every baby is different, and it does depend on how much liquid your baby produces overnight.
Does Bambo Nature offer any other products?
Yes! Bambo Nature has a skin-care collection that includes gentle hair and body washes for your baby. They also offer products for new moms, including their Premium Maternity Pads.
What is the difference between the Dream Diaper and the Overnight Diaper?
Bambo Nature says that you can use either diaper day or night. Generally, the Dream collection is designed for daytime use.
Their overnight range has enhanced leak support and absorption to keep your baby dry all night. The Dream diaper is made with mobility in mind, with a flexible waistband and cuffs that move with your baby.
Where can I buy Bamboo Nature diapers and other Bambo Nature products?
You can buy all products online direct from the Bambo Nature website or on Amazon.com.
They're also stocked in many stores across the country. Find your nearest stockist using their store locator.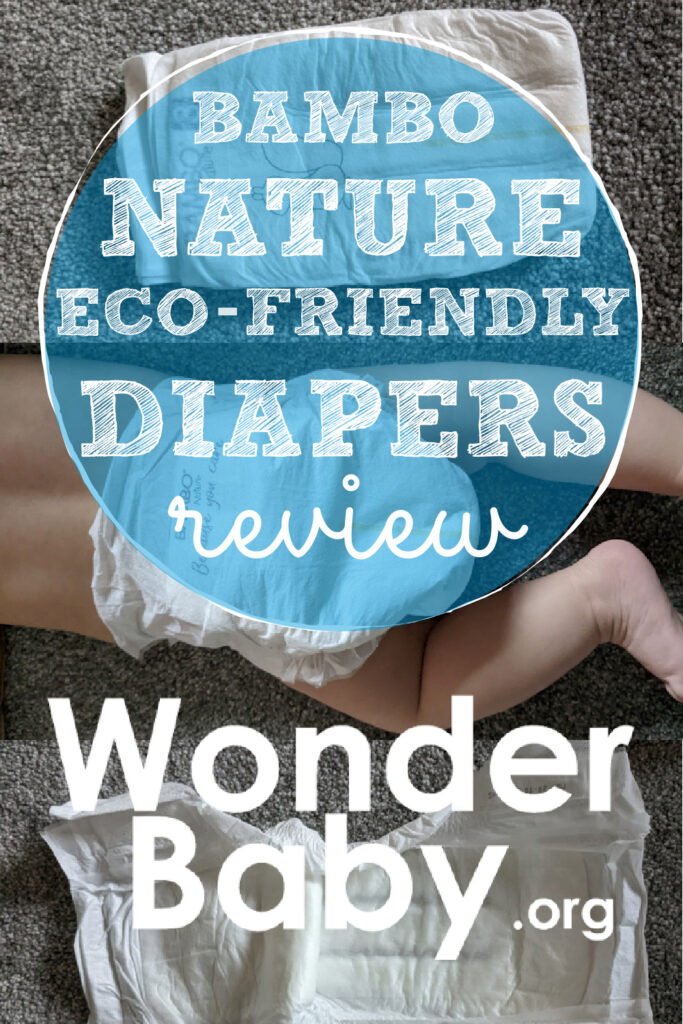 Related Posts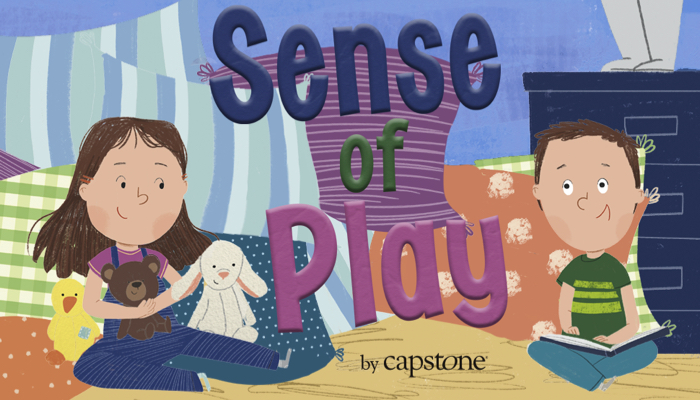 Braille and Literacy, Product Reviews, Visual Impairment
Dana Meachen Rau's book, Sense of Play, follows the adventures of Chip and Joy as they play. Chip is blind, but this doesn't get in the way of their play!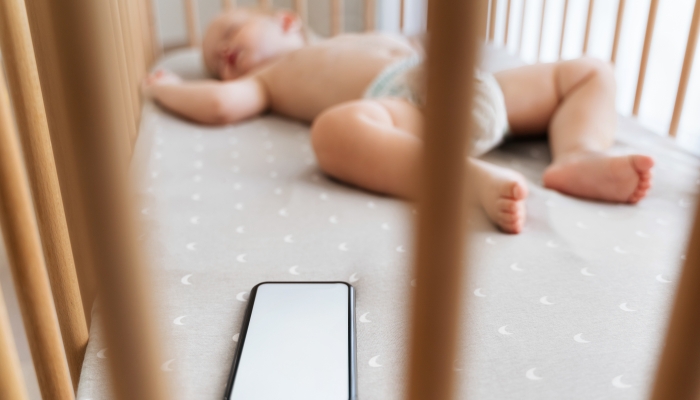 Product Reviews
Wondering whether white noise will help your little one sleep better? Here's our guide to the best baby sound machines to help your baby fall asleep soundly.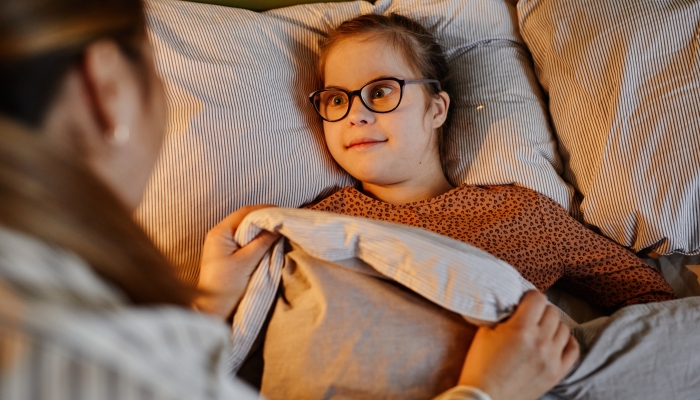 Product Reviews
Heard a lot about weighted blankets and lap pads and wondering how to choose one? Here's our guide to the ins and outs of finding the right weighted blanket.