The Ultimate Diaper Bag Essentials Checklist for 2023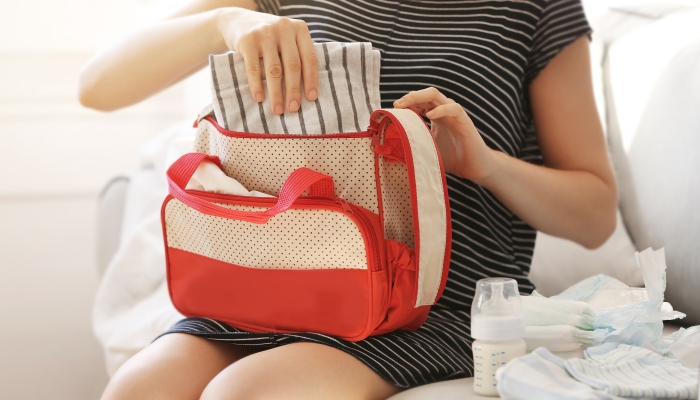 You'll want to keep your diaper bag stocked with a day's worth of diapers.
To keep your bag organized, use Ziploc bags to sort similar items such as pacifiers, toys, or snacks.
You can use any bag to carry your baby's essentials, but a diaper bag will be more comfortable and convenient for long-term use.
One of my favorite registry items that I received for my first baby was a diaper bag. This diaper bag came with all the pockets I could ever need and included a changing pad as well. When I made a newborn checklist and packed the diaper bag in preparation for her arrival, I felt ready and anxious to finally hold her in my arms.
Many parents look forward to packing a diaper bag for their new baby. Packing away all the diaper bag essentials into separate pockets makes it seem like your little one could arrive at any moment. It can be just as fun as setting up the crib and nursery.
While packing a diaper bag might seem like an easy task, you'll want to make sure you have a list so you don't overdo it or forget diaper bag essentials. A well-stocked diaper bag will have just enough items to cover your needs without becoming an overstuffed mess.
Are you ready to pack your baby's diaper bag but unsure of what to include? Our diaper bag essentials checklist is the ultimate guide every parent needs. We'll tell you exactly what to pack in your diaper bag.
Advantages of Using a Diaper Bag
Throughout my motherhood journey, I have used both regular bags and diaper bags to carry around baby gear and diapers. After testing out both, I can honestly say that the advantages of using a diaper bag are numerous. Most diaper bags are equipped with extra features that make life easier.
Here's what I love about using diaper bags:
Diaper bags have separate compartments for items like bottles, diapers, wipes, and mom's phone and car keys.
Some diaper bags also function as diaper bag backpacks which makes them easy to carry.
Many diaper bags come with additional features like changing pads, stroller clips, and insulated pockets.
Most diaper bags are made with an easy-to-clean material.
Having used regular bags as a substitute, here's what I found inconvenient about them:
Regular bags don't have separate pockets for bottles, diaper creams, wipes, and other essentials. This will leave you with a disorganized mess.
Regular bags are often difficult to carry and may cause pain in your shoulders.
Most bag materials are difficult to clean, unlike diaper bag material.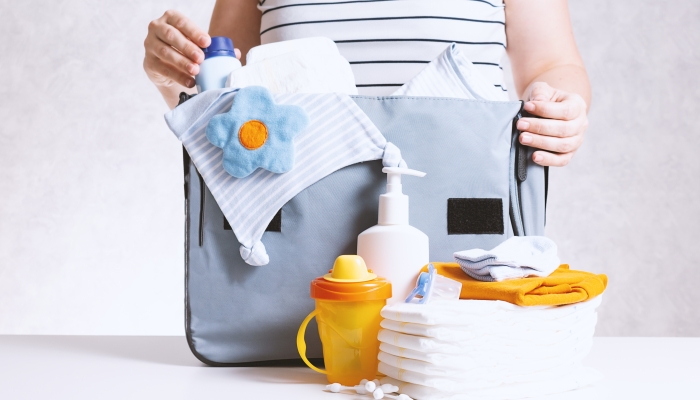 Essentials for Your Diaper Bag Checklist
Now let's talk about what exactly you'll need to pack in your diaper bag. We've found these items to be the best diaper bag essentials for parents:
Diapers
This may be the most obvious thing to pack in your diaper bag, but many parents wonder how many are needed. Should you pack 20 or just 2 diapers? The number of diapers you'll need in your bag will depend on the age of your baby.
Babies in their first month of life will use 10 to 12 diapers a day on average. Older babies, on the other hand, may only need 8 diapers per day. You'll want to keep your diaper bag stocked with a day's worth of diapers.
Wipes
Baby wipes aren't just useful for wiping baby's bottom. From wiping messy hands to cleaning off pacifiers, baby wipes are useful for a variety of things. Plan on having one fresh pack of wipes in your diaper bag for all occasions.
Diaper Sacks
No one wants to carry around soiled diapers or soiled clothes in their diaper bag. However, unexpected messes happen. Sometimes you don't have a diaper pail or washing machine nearby.
Throwing in a pack of disposable diaper sacks, a waterproof bag, or a regular plastic bag will allow you to seal off these items until you get home.
Changing Pad
Many bathrooms have changing tables, but few have disposable changing pads to use. Carrying a changing pad in your bag will keep you from having to use a dirty changing table. You can easily wipe down and sanitize the pad for your next use.
Hand Sanitizer
You won't always be near a bathroom when you change your baby's diaper. Having hand sanitizer in your bag will allow you to clean your hands without soap and water. This can also be used to wipe down your changing pad after use.
Pacifiers
If your baby takes a pacifier, we recommend having two in your diaper bag. This way you have a backup should you lose one. Many pacifiers come with plastic cases that will keep them from getting dirty in your bag.
Diaper Rash Cream
This one is just as basic as diapers and wipes. Rashes happen, so it's important to always have a tube of diaper rash cream on hand for your baby's sensitive skin. No parent wants a fussy baby who is in pain.
Lightweight Blanket
A light blanket is useful for a variety of things. You can use it to cover your baby on a stroller ride or as a nursing cover if you forget yours. A soft blanket can also be used to wipe your baby's face or as a cuddle blanket.
Keep one clean receiving blanket or swaddle blanket in your bag.
Burp Cloth
Burp cloths are essential for cleaning up spit-up. I've also used them for wiping runny noses in a pinch. Their soft materials make them useful for many tasks.
Snacks
Breastfeeding moms will want to throw a couple of protein bars or easy snacks in their bag for themselves. Having some healthy snacks for breastfeeding will quickly replenish the calories lost while nursing.
Older babies might need baby food or snacks as well. You never know when you'll be stuck somewhere longer than expected. Having a few snacks for your baby will prevent a hunger meltdown.
Sunscreen
A baby's skin is extra sensitive. You'll want to protect them from harmful UV rays and prevent sunburn. Having sunscreen in your bag will allow you to protect your baby if you end up outside for long periods.
Hat
No matter what season you're in, a hat can be useful. Pack a winter hat for cold weather or a wide-brimmed hat for the summer sun.
Change of Clothes
A diaper blowout is a real thing and happens to every parent. Trust me, a change of clothes in your diaper bag is necessary. I once had to create a baby toga out of a receiving blanket because I forgot to bring an extra onesie.
Toys
Chew toys, rattles, or light-up sensory toys are great distractions to have on hand. These can keep your baby happy while waiting in the doctor's office, sitting in church, or any other place with few entertainment options for babies.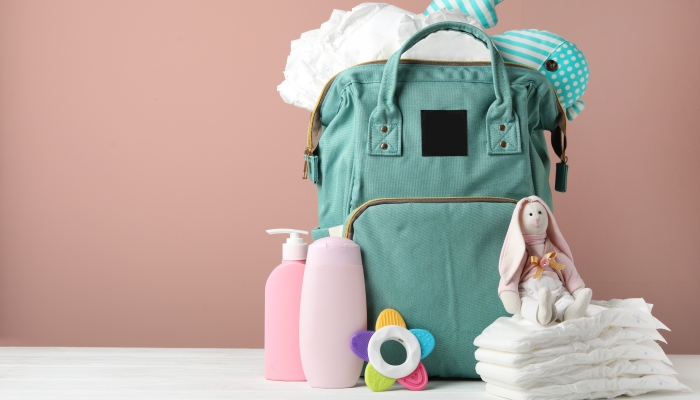 Extras to Pack in Your Baby's Diaper Bag
Now that we've covered the essentials, let's cover other items that you might want to include. Depending on your situation, these diaper bag extras might also be useful:
Nursing Cover
A nursing cover will keep a mom comfortable while breastfeeding in public. Moms will want to keep a nursing cover in their bags so they don't leave it at home. I always prefer a nursing poncho as it provides full coverage and is easy to roll up and stash in my bag.
Nursing Pads
Breastfeeding leaks are never fun. With a forceful letdown, I've had several embarrassing incidents where I soaked through a nursing pad and my bra while out and about. Packing a couple nursing pads is a good idea for backup.
You can also throw a small wet bag in that compartment to store wet, reusable nursing pads until you get home.
Travel Bottle Warmer
If you'll be bottle feeding, a travel bottle warmer will make heating bottles easy. You won't need an outlet or access to a stove to heat your baby's bottle.
Formula Container
Formula containers come in handy for formula feeding. These containers have sections that you can fill with pre-measured formula. You'll be able to easily mix a bottle on the go with this handy tool.
Extra Shirt for Mom
In the early days of nursing, it's not uncommon for moms to experience breast milk leaks through their shirts. Even with nursing pads, a heavy breast milk flow can soak through. Keep a backup T-shirt in your diaper bag just in case.
Portable Phone Charger
Many diaper bags have a special pocket for phones, keys, lip balm, and all the parent's essentials. Throwing a portable phone charger in there is wise. As your child grows, you'll probably end up using your phone for music and videos, which will run down your battery faster.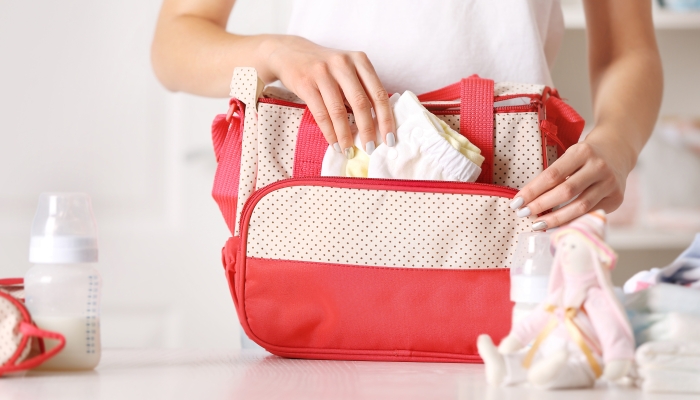 Choosing What to Include in Your Diaper Bag Checklist
It's easy to go overboard and fill your bag with unnecessary items. Parents know how quickly baby gear and accessories can add up. To keep your bag from becoming a catch-all, ask yourself these questions before adding an item to your bag:
Do I need this daily or just seasonally?
How many will I realistically need for one day?
Does this item come in a more portable size?
Is this something I can keep in my car as a backup instead of in my bag?
Tips When Packing a Diaper Bag
I have to admit, I'm not a naturally organized person. This is why I rely heavily on diaper bag packing tips from others to keep my bag from getting out of control.
Thankfully, I've learned quite a few tips along the way that have helped tremendously. To keep your diaper bag organized and clean, I recommend following these tips:
Use Ziploc bags to sort similar items such as pacifiers, toys, or snacks.
Buy the travel sizes of baby items like diaper cream, baby wipes, baby lotion, etc.
Put diapers, wipes, and diaper creams all in the same section so they are easy to access.
Don't overpack. Stick to minimal needs so you don't overfill your bag.
FAQs
Can you use any bag as a diaper bag?
Yes, you can use any bag to carry your baby's essentials. However, a diaper bag will be more comfortable and convenient for long-term use.
If you're using a regular bag, you'll want to purchase pouches to store alike items. You'll also want to make sure the bag is comfortable to wear while holding a baby. A backpack is usually the best choice because it still contains some pockets and keeps your hands free.
How long can you use a diaper bag?
A diaper bag can be used as long as you'd like and you can even turn it into a daycare bag as your child grows. However, most parents stop carrying a diaper bag when their child is toilet trained. Potty training usually happens somewhere between 18 months and 3 years old.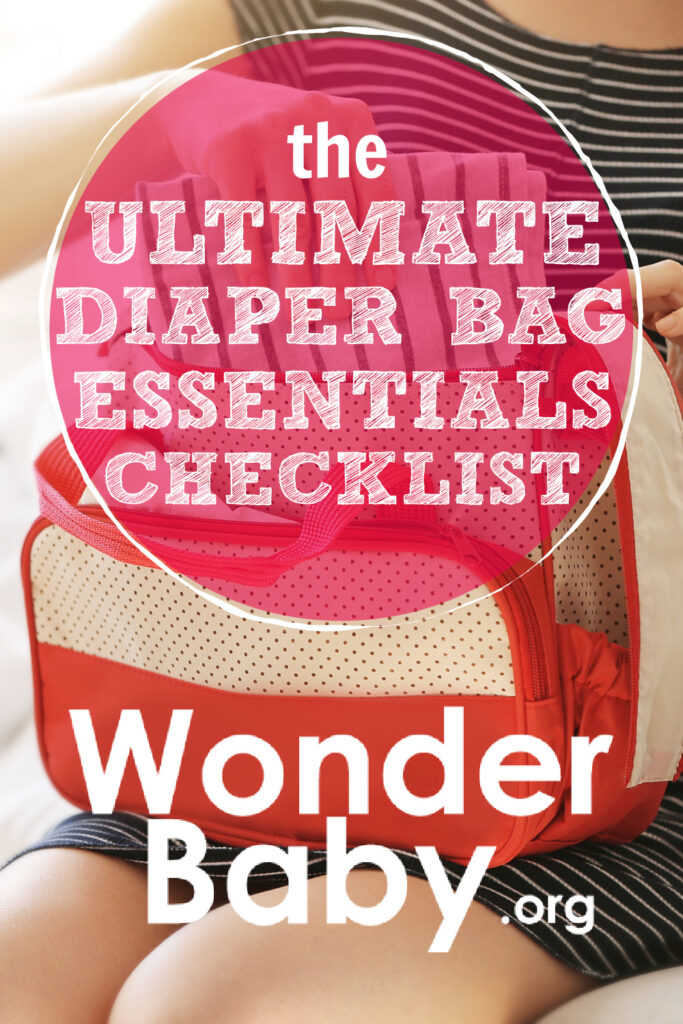 Related Posts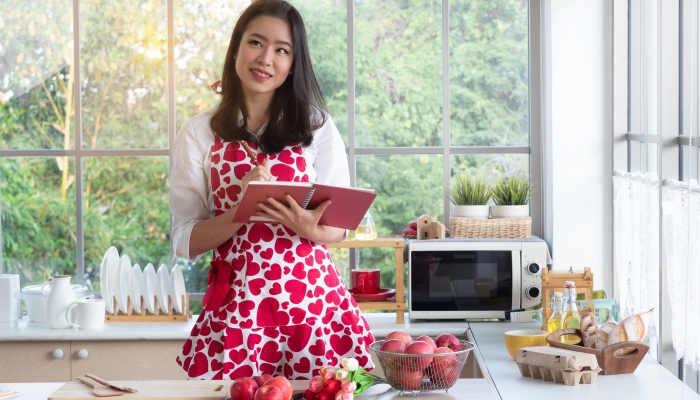 Parenting
Staying motivated as a stay-at-home mom isn't easy when you're responsible for so much. But these motivation boosters are sure to keep you going!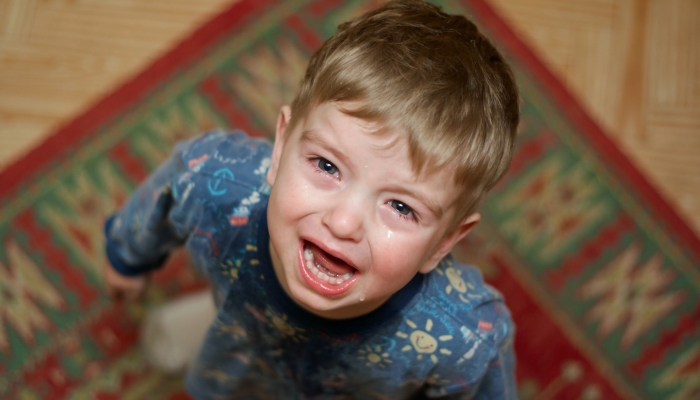 Parenting
Wondering if your child is having a tantrum or a meltdown? Read this article to know the difference between these emotional outbursts!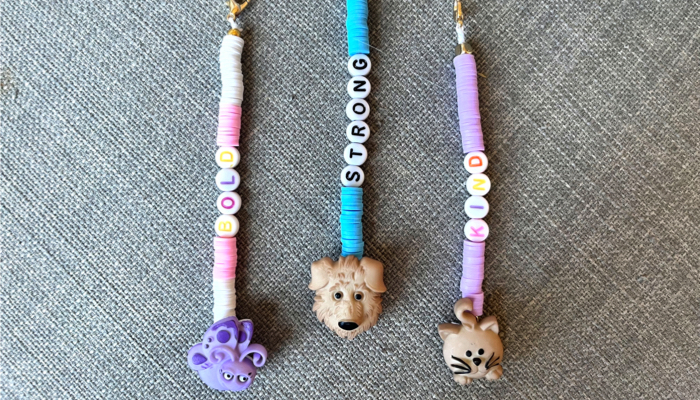 Parenting, Play, Tactile Art
These affirmation backpack buddy keychains are adorable and easy to make. Give your child a little encouragement with this simple craft as they head to school.