Daycare Pros and Cons: What Parents Should Know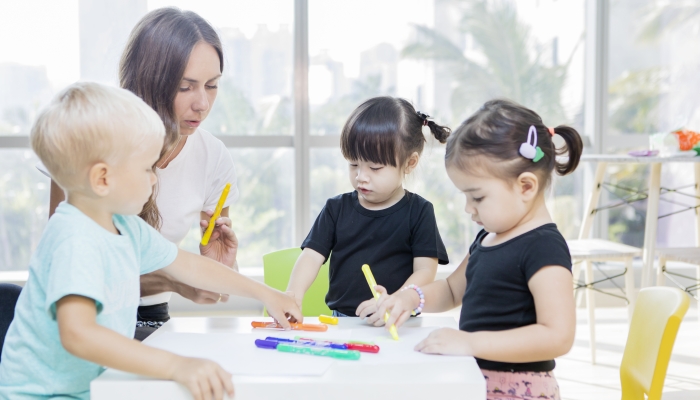 Deciding to send your child to a daycare facility can be an overwhelming decision for parents.
Since many parents work, daycare services meet an essential need within our communities.
There are advantages and disadvantages to daycare. Weighing the pros and cons of daycare can help you understand the best options for your family.
The pregnancy test is positive! Congratulations—you're going to have a baby!
The first few weeks after finding out I was going to have a child, my mind was flooded with thoughts and questions about how to navigate the upcoming journey.
Should I breastfeed or formula feed? Should I co-sleep or sleep train? Which pediatrician should we use? Should I stay home with the baby or find a daycare?
These are all important questions to consider, but the decision for childcare was the most complex for me. I just needed to know what was best for my child, but getting that question answered was so challenging! It seemed impossible to consider leaving him for eight hours a day with just anyone.
I wanted the confidence that I was doing what was best for my child's social and emotional development. I was curious about the best age to start daycare and how I could stay bonded with him after returning to work.
I wanted to know what the "right" decision was.
Turns out, I wasn't the only one asking those questions.
Whether your child is an infant or a preschooler, deciding whether or not to leave her and go back to work is an emotional and complicated issue for many families.
When considering the pros and cons of daycare, there is a lot of research to wade through. In this article, we'll examine the facts about childcare facilities. We'll also discuss the building blocks that set your child up for success and things to consider when making your childcare decisions.
After reading this article, you will have the information necessary to feel confident about wherever you send your baby.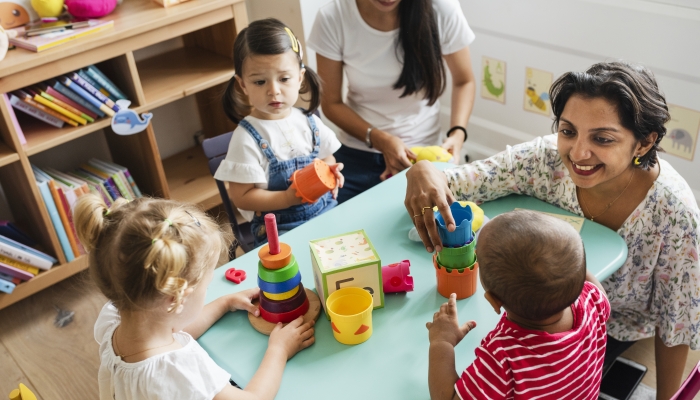 What Is a Daycare For?
A daycare provides daytime supervision and safe-keeping for individuals unable to care for themselves. Most childcare centers serve children with a minimum age of 6 weeks to a maximum age of 12 years.
There are many different types of child care centers that fit this description:
In-home daycare is supervised care in a residential home. The care provider may be a family member or friend. There are also state-licensed homes that allow for more children when appropriate supervision is provided.
Daycare facilities provide center-based child care. Governmental guidelines usually regulate these facilities, including the requirement to be CPR certified.
Preschool programs are educational programs for infants to kindergarten-aged children and are typically offered as an extension of an already-established elementary school. This would include religious and Montessori schools as well.
The term "daycare center" in this article references all of the above options.
Why Are Parents Sending Their Children To Daycare?
Parents typically choose a daycare center for their children based on two reasons: Accessibility and affordability.
Some families rely on two incomes. Others are single-parent households.
Some families are located away from their extended family and cannot rely on their help. Some communities lack reliable and safe nanny/sitter options.
Some parents struggle with being home all day and not working. Some children are social butterflies and thrive in bigger groups with more opportunities to interact with peers.
There are numerous reasons why parents choose to send their children to a daycare center.
Research shows that a child has both advantages and disadvantages when sent somewhere outside the home.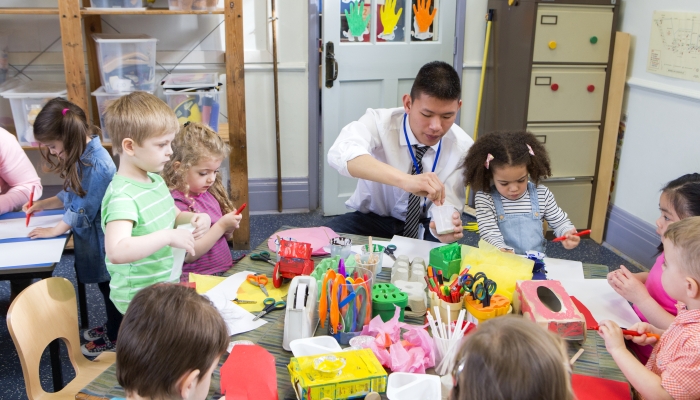 What Are the Advantages of Daycare Centers?
From an early age, children can socialize and learn from their peers, so sending a child to daycare can help them develop these essential skills. In a daycare setting, children are exposed to a variety of other kids from different backgrounds and with different personalities. This can help them learn how to interact with others, share toys and materials, and resolve conflicts.
In addition, daycare providers often plan activities and outings that provide learning opportunities. For example, trips to the park or local library can expose children to new people and ideas. As a result, daycare can play an important role in helping children learn and grow.
Time in daycare as a young child may also have long-term positive effects on a child development. A longitudinal study by the National Institute for Health found that adolescents who were in a "high-quality child care setting" in their childhood ranked measurably higher on academic and cognitive achievement scores.
The same study also found that children in high-quality to moderate-quality care were less likely to have "acting-out behaviors" when compared to their peers from lower-quality care settings.
High-quality care was measured by three criteria of the caregiver: their warmth, support, and cognitive stimulation of the children they were supervising.
Fewer "acting-out behaviors" and higher academic success are significant advantages to sending your son or daughter to a daycare center.
What Are the Disadvantages of Daycare Centers?
The same study from the National Institute of Health revealed a few disadvantages to daycare centers.
One main disadvantage was that adolescents who had been in care outside the home for the most time reported a higher likelihood of impulsivity and high risk-taking activity at age 15 than did teens who spent less time in child care.
One conclusion may be that the advantages of daycare lessen as time in care increases.
It's also important to note that the cognitive achievement found in those who attended daycare is very slight, meaning it could also be contributed to other factors not measured through the study.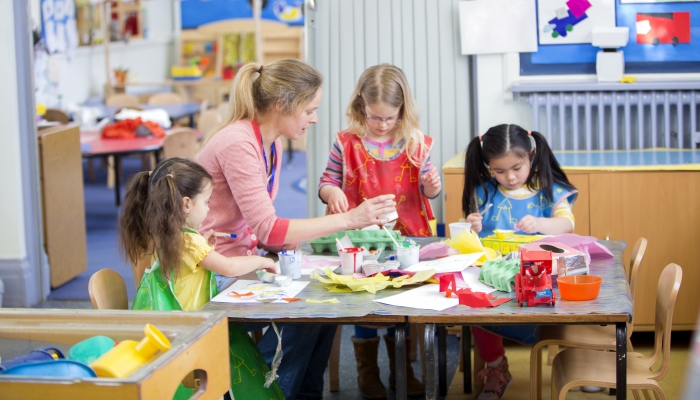 Daycare Pros and Cons
There are both pros and cons to placing your child in daycare. On the plus side, daycare can provide a safe and stimulating environment for a child to learn and grow. Toddlers in daycare have the opportunity to socialize with other children and adults, and they can learn important skills such as sharing, turn-taking, and communication. In addition, daycare can provide relief for parents struggling to manage work and child-rearing responsibilities.
On the other hand, daycare can be expensive and it may only be available in some areas. In addition, not all daycare facilities are equal in quality, so it's essential to do your research before enrolling your child. Some parents also worry that their child will miss out on important bonding and family quality time if they are in daycare.
Before you decide if daycare is appropriate for your family, it may help to consider the pros and cons side by side:
Pros of daycare
Reliable and consistent care: Probably the main advantage most parents identify when they are considering daycare options is reliable and consistent care. The bigger the facility, the more workers and supervision are required. This equals more hands to care for the children and more eyes to supervise them.
Positive Support: "It takes a village" is a common term used to describe the challenge of raising children. Children who have consistent direction and guidance tend toward higher levels of resiliency and self-confidence as they age. The positive support of other caring, nurturing adults is not only empowering for young children, but it is also helpful to stressed, overworked parents. When you trust your caregivers, you can rest assured your child has their needs met when you are unable to do so. It takes a village!
Social Skills and Language Development: Being around other children and adults increases the number of words and phrases a young child hears in their day. This increases their social skills and language development.
Educational Activities: Most daycare centers offer educational activities. This creates a school-like environment that can ease the transition to elementary school when the time comes. These activities also help children with motor skills development and potty training.
Possible Cheaper option: Thanks to government funding and multiple families paying tuition, a daycare center is typically a cheaper option than having a nanny or babysitter.
Immunity Booster: Children exposed to more illnesses earlier in life tend to experience a higher level of immunity as they age. So although your young child may have a higher illness rate initially (see the cons of daycare), there are reasons to believe this will serve as an immunity booster throughout their adolescence and adulthood!
Cons of daycare
Higher Illness Rate: A common disadvantage for those who utilize daycare services is a higher illness rate among children. With close quarters and naturally poor hygiene of young children, any contagious illness spreads rapidly. Sick children love to share their germs!
Strict Sick Policies: The ease at which illness spreads requires many daycare centers to abide by strict sick policies. These policies may require a certain amount of days kids have to stay away from the center after having symptoms or being sent home if symptoms appear at the center.
Unexpected Missed Work: When children have to stay home due to illness, this creates instability in the parent's schedule and unexpected missed work. Many workers don't have enough sick leave available, so they may have to choose a low-quality childcare option for their sick kids instead of staying home with them.
Expensive: Depending on where you live and the quality of daycare centers available to you, the right daycare for you may end up being quite expensive. Some parents express that their childcare situation costs them in tuition what they make going to work.
Daytime Schedule: Due to most childcare facilities providing a typical daytime schedule, parents and caregivers are reliant on the daycare hours offered. If they need to work overtime or a first/third shift, they are typically unable to utilize daycare services.
Learned Negative Behaviors: Although social skills development is seen as a pro to daycare services, the downside may also be learned negative behaviors. Many children in daycare settings often fight for attention, so they may pick up poor habits to gain staff's attention which will undoubtedly leak over into life at home. They also may begin to mimic others' words, both the good and the bad language! Sometimes, when verbal skills are low, aggressive behavior may be witnessed due to their urge to get their needs met.
Should You Send Your Child To Daycare?
No one will argue that a child being with their parents in their own home is the best, most secure option when it is available.
However, as the previous facts represent, children who are sent to daycare, whether in a small homelike setting or a larger school-like structure, can and do thrive!
It may seem hard to fathom being away from your child. Still, the families who choose daycare either out of necessity or for social benefit often report happy children and happy parents.
No one can say what option is best for your child. You are the expert on them!
Evaluate your circumstances, talk to trusted adults and professionals in your life, and look through your options. When you do make your final decision, trust your parenting gut! It is rarely wrong.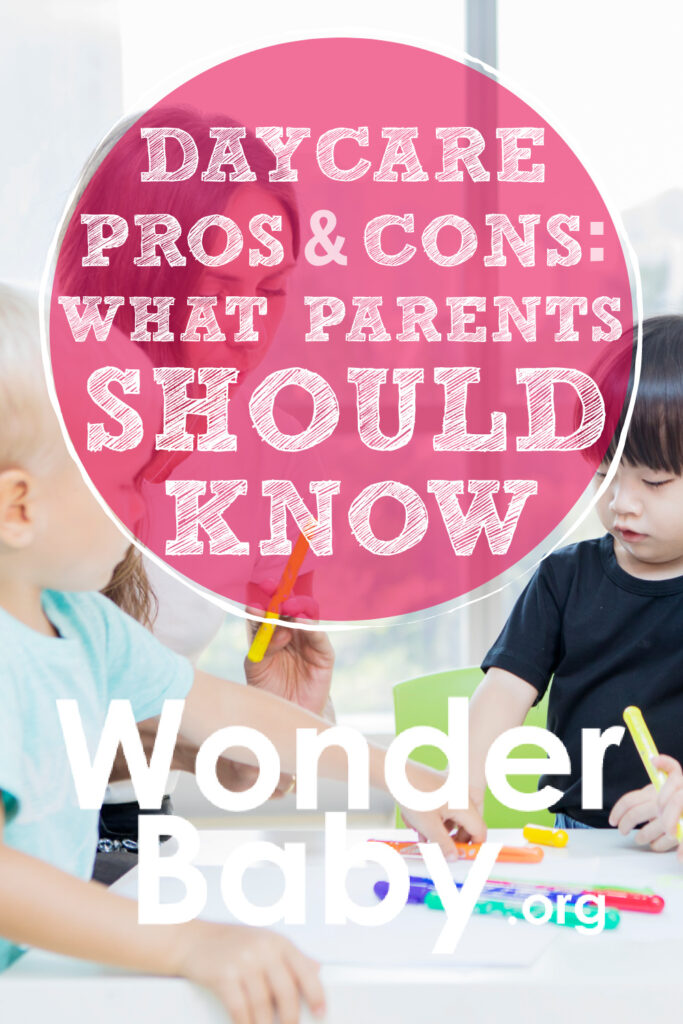 Related Posts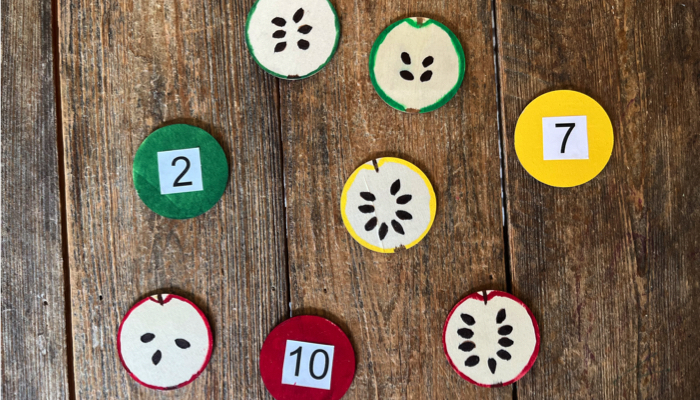 Math and Science, Play
This apple seed counting game is easy to create and fun to play! With just an oatmeal container and a few supplies, you can surprise your child with this delightful...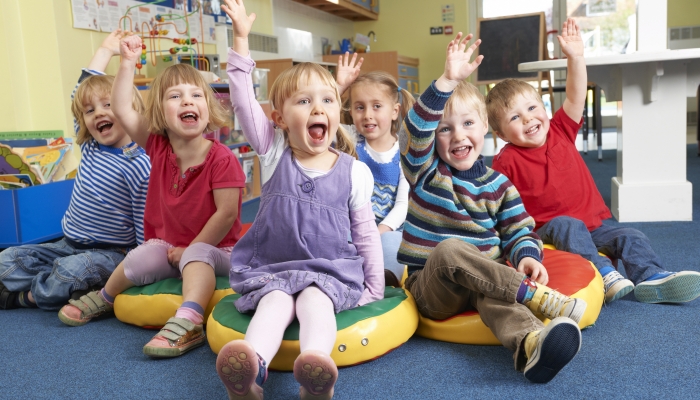 Education
Wondering if preschool is right for your child but unsure of the ins and outs? Don't miss this full breakdown examining the necessity of preschool in early education.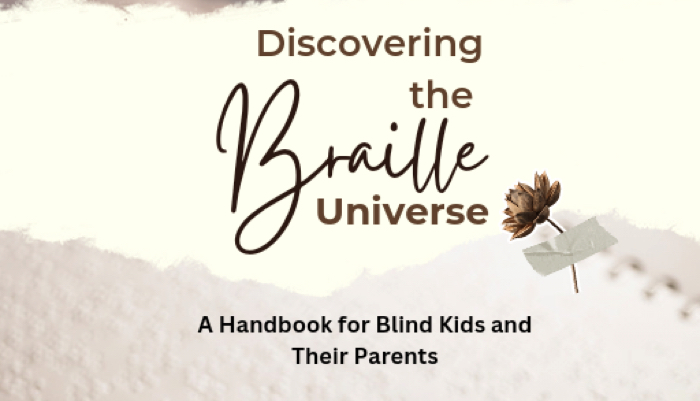 Braille and Literacy
Discovering the Braille Universe is a navigational tool providing valuable insights, advice, and guidance for individuals living with blindness.