The 10 Best Co-Sleepers and Bedside Bassinets of 2023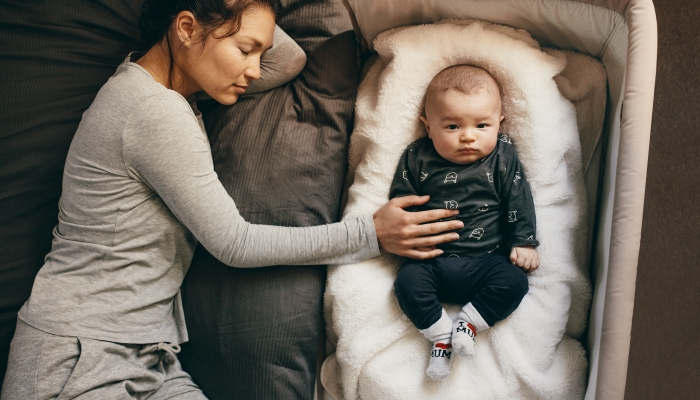 This post may contain affiliate links; please see our terms of use for details.
Co-sleepers and bedside bassinets allow parents to share their room with their baby and sleep safely.
Co-sleepers are baby beds that can attach to an adult bed or have a wall that easily maneuvers down to allow easy access to your baby at night.
Bassinets tend to be smaller and more portable baby beds that can be kept in any room of your home.
Whether you choose a co-sleeper or a bassinet, you can be assured that you are providing your young baby with a safe and secure place to sleep in their first months.
As with many other baby gear categories, the array of baby beds, cribs, co-sleepers and bassinets can be overwhelming for new parents. So many products offer so many different features, it can be hard to tell what's really important when choosing between them.
Do you need a bassinet that rocks your baby for you? Is a co-sleeper better if you've had a c-section?
Whether you choose one or the other, it's important to remember that bed sharing with your baby is not recommended. A bedside sleeper, a co-sleeper, or a bassinet will all provide your infant with a safe place to sleep that still keeps them close to you at night.
We've rounded up some of the best co-sleepers and bedside bassinets of 2023 to help make it easier for you to decide.
Best Choice
Best Smart Luxury Co-Sleeper
Best Practical Bedside Sleeper
Arm's Reach Ideal Ezee 3-in-1 Co-sleeper
Baby Delight Beside Me Doze Deluxe
Best Choice
Arm's Reach Ideal Ezee 3-in-1 Co-sleeper
Best Smart Luxury Co-Sleeper
Best Practical Bedside Sleeper
Baby Delight Beside Me Doze Deluxe
Top Choice: Arm's Reach Ideal Ezee 3-in-1 Co-sleeper
Arm's Reach Ideal Ezee 3-in-1 Co-sleeper
3 MODES: Bassinet bedside sleeper, freestanding baby bassinet, and baby playpen
BREATHABLE MESH SIDES all around to allow maximum visibility so you can see your baby at all times
DETACHABLE SIDE PANEL folds down for easy access when feeding or snuggling baby at night
4-INCH SLEEPING NEST HEIGHT and an attachment strap and plate to provide the safest sleep solution for you and your newborn
The Arm's Reach Ideal Ezee 3-in-1 Co-sleeper isn't just a co-sleeper and isn't just a bassinet. It's a portable play yard, bedside sleeper, and bassinet in one, and we love the versatility of this product. We also love that its three-in-one design means your baby won't outgrow in it the first six months. 
The Arm's Reach co-sleeper is a bedside sleeper with mesh walls. One of the walls lowers so your baby can be on the same level as your mattress and within easy reach for nighttime feedings. The mesh allows for maximum visibility and airflow. In co-sleep mode, it attaches safely to your bed for extra security.
The wall can be readjusted when you're not using it as a co-sleeper, and the Arm's Reach co-sleeper can then be used as a standalone baby bassinet. Finally, as your baby gets bigger and more mobile, the Arm's Reach 3-in-1 transforms into a play yard for those times when you'll need to put your little one in a safe, confined space to play.
In addition to all of that, this co-sleeper is foldable and packable for travel. Although it may be at a higher end cost-wise, it may save you some money in the long run because you'll be able to use it long after your baby has outgrown the infant co-sleeping modes.
Dimensions: 39.5″L x 25.25″W x 32″H | Material: Mesh | Weight Limit: 45 lbs
View on Amazon | View on Walmart.com | View on Sears.com
Best Adjustable Bassinet: Delta BabyGap Whisper Bedside Bassinet
Delta BabyGap Whisper Bedside Bassinet
2-IN-1 DESIGN: Use as standalone bassinet or as bedside sleeper | Easily convert to bedside sleeper by unzipping and unrolling side wall | Securely attach the bassinet to your adult size bed using the included safety straps
SUSTAINABLE MATERIALS: All the fabric (except the fitted sheet) is made from recycled water bottles | Plastic drinking bottles are sorted, cleaned and shredded into flakes that become the yarn the seat fabric is made from
UNIQUELY GAP BABY: Baby Gap logo creates an elevated look | Large storage pocket keeps essentials like diapers, wipes and more within reach | Breathable mesh allows for airflow and clear view of baby | Bassinet is JPMA certified
LIGHTWEIGHT + PORTABLE: Wheels for easy mobility | Weighs 22.5 lbs. | Size: 26.5"W x 30"D x 36"H; Bedside opening: 27"W | Includes waterproof mattress pad, fitted sheet and beside strap | Fitted sheet and bassinet cover are machine washable
Of all the bedside bassinets I've tried, this is my favorite. The BabyGap by Delta Children Whisper Bedside Bassinet Sleeper is everything I want in a co-sleeper bassinet. 
When I first received my BabyGap bassinet, I was thrilled about the color and design. This bassinet offers four different colors: navy blue, black, grey, and light pink. The grey and white stripes actually complement my house decor, allowing it to blend in.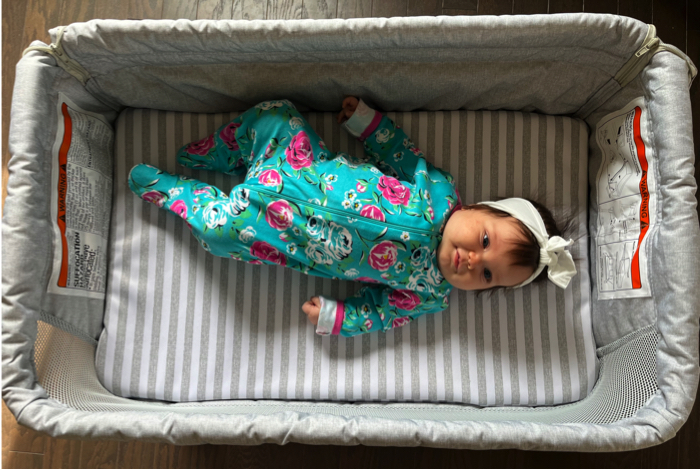 My favorite feature about this bassinet is that the side drops down and lines up perfectly with our bed. This allows me to reach over and soothe the baby in the middle of the night. The included straps wrap tight around our mattress to ensure the bassinet doesn't move away from the bed.
The height adjustment feature is what makes this bassinet unique. We have a low bed, and I wasn't sure that it would drop down enough for our bed. Not only did it lower down to our mattress, but it still had several levels below that.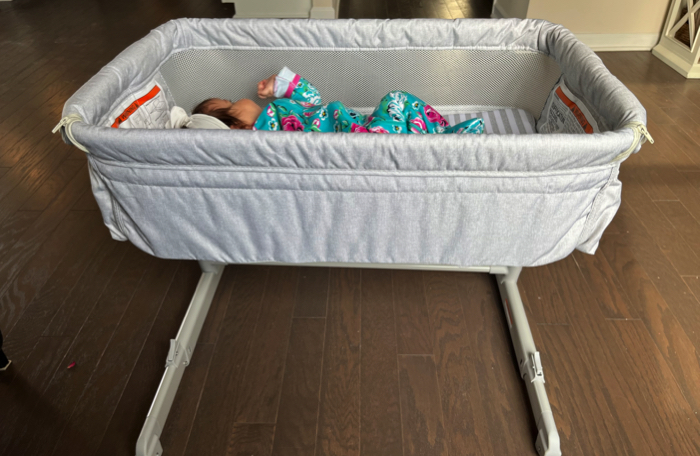 The only downside is that there is no vibrating feature. However, the mattress seems comfortable and soft. My baby sleeps peacefully through the night in it.
Dimensions: 26.5″L x 30″W x 36″H | Material: Mesh and Plastic | Maximum Weight Recommendation: 30 lbs
View on Amazon | View on Walmart.com | Sears.com
Best Bedside Bassinet: Halo Bassinest Swivel Sleeper
Halo Bassinest Swivel Sleeper
🥇 #1 BASSINET – Rated "Best Bassinet" by Forbes
💤 EXTRA CLOSE SAFE SLEEP – The only bassinet that swivels over your bed for the closest, safe sleep. Mesh walls for air flow and visibility
😴 BUILT-IN SOOTHING – 2 levels of vibration and 4 calming sounds to help your baby fall asleep (and stay asleep)
✨ EASY LOWERING WALL – Scoop your baby up for cuddles and feeds in bed
The Halo Bassinest Swivel Sleeper combines the convenience of a co-sleeper with the small size and maneuverability of a bassinet. 
The Halo Bassinest has a sturdy adjustable base that allows you to change the height to suit your bed. In addition, it has four mesh sides so that your baby has airflow and so that you can see them.
The Bassinest stands out from the others because it has a 360-degree swivel. You can move and position it as close as you would like to your baby. Its patented lowering wall pushes down to allow easy access for picking up your baby.
The Bassinest also has settings that provide four sounds, including white noise and heartbeat, two gentle levels of vibration, and night lights. These all create a calm atmosphere for bedtime and help soothe your restless baby.
Dimensions: 37.6″L x 18.12″ W x 10.83″H | Material: Polyester | Maximum Weight Recommendation: 20 lbs
View on Amazon | View on Walmart.com | buybuyBABY.com
Best Movable Co-Sleeper: Cloud Baby Premium Baby Bassinet
Cloud Baby Premium Baby Bassinet
Bassinet with Wheels: Our bassinet is equipped with smooth and durable wheels, allowing you to effortlessly move it from room to room. Whether you want to keep your baby close at night or have them nap in different areas of your home, our bassinet on wheels offers unmatched mobility.
Adjustable Height: We understand the importance of a perfect fit, which is why our bedside bassinet sleeper features 9 different height settings. You can easily customize the baby crib to align with your bed, ensuring a seamless sleeping surface for both you and your baby. The aluminum frame adds stability while remaining lightweight, making it easy to adjust and maintain.
Detachable Side Panel: Safety and ventilation are our top priorities. Our Cosleeper and bedside sleeper are equipped with a double mesh detachable side panel, providing excellent breathability and ensuring your little one stays comfortable throughout the night. The generous clearance accommodates various bed shapes and sizes, giving you flexibility and peace of mind.
Includes Hanging Figurine, Music: Our bedside bassinet for babies goes above and beyond with additional features to delight your little one. The included halo music box and crib mobile create a soothing environment, lulling your baby to sleep with gentle melodies.
The Cloud Baby Premium Baby Bassinet is an ingenious little co-sleeper that is easy to move from your bedroom to other rooms in your home thanks to its smooth swivel wheels.
One of its mesh sides is detachable, allowing you to take it off and make the co-sleeper level with your bed, so it's easy to reach your baby at night. Adjusting the height is simple on the lightweight aluminum frame with nine different height options.
It also has an optional mobile and music box to make a calm and soothing baby bed atmosphere for your little one.
Dimensions: 35.04″L x 28.35″W x 39.5″H | Material: Mesh | Maximum Weight Recommendation: 20 lbs
View on Amazon | View on Walmart.com | View on Sears.com
Best Bassinet with Changing Table: Chicco Close to You 3-in-1 Bedside Bassinet
Chicco Close to You 3-in-1 Bedside Bassinet
3 modes of use: Bedside sleeper, portable bassinet and a height adjustable changing table for extended use up to 35 lbs.
Electronic module includes 6 melodies, 2 vibration settings and a nightlight
Features machine washable, zip-off fabrics for easy cleaning and a reversible mattress that's quilted for comfortable sleep and waterproof for changing
Height adjusts between 24" – 33.5" tall to fit over beds and allow for standing when used as a changing station
The folks who created the Chicco Close to You 3-in-1 Bedside Bassinet really understand how important ease and convenience are for new parents. The Chicco Close to You Bassinet is a lifesaver when you feel like you need to be in three places at once with your baby.
This bassinet has three modes: bedside sleeper, portable bassinet, and changing table. Yes, changing table! The height of the base can be adjusted to raise your baby so that you can change them quickly and easily without having to take them into another room.
The Close to You bassinet has wheels, so you can wheel it from room to room, allowing your baby to take their daytime naps wherever you are in your home. Finally, you can pull the bassinet close to your bed at night. It has several adjustable height options to fit over your bed.
Overall, this bassinet is a great multi-tasker!
Dimensions: 33.5″L x 28″W x 46″H | Material: Mesh | Maximum Weight Recommendation: 20 lbs
View on Amazon | View on Walmart.com | View buybuyBABY.com
Best Affordable Bedside Bassinet: Graco My View 4-in-1 Bassinet
Graco My View 4-in-1 Bassinet
4 different ways to use to grow with baby from newborn to toddler
Stage 1: Raised bassinet for newborn positions baby at your eye level for check-ins throughout the night without having to get out of bed
Stage 2: Crib-level bassinet for infant offers a cozy, elevated spot for baby to sleep, making it easy to get baby in and out
Stage 3: Infant travel bassinet is removable so you can keep baby by your side at home or away
You can always rely on Graco to make a sturdy, affordable product. The Graco My View 4-in-1 Bassinet is no exception.
This brilliant bassinet has four modes that grow with your baby, so you'll use it well after the tiny baby stage and into toddlerhood.
Stage one is raised infant bedside bassinet with mesh sides. You can be at eye level with your baby and still keep the bassinet close to your bed. For stage two, lower the mattress to crib level for your older baby. In stage three, the entire bassinet is removable so that it can be a travel bed or so that you can move the bassinet to other spaces in your home. Finally, the bassinet turns into a toddler crib or a play yard at stage four.
This multi-use, multi-age product will outlast the newborn stage, unlike so many other co-sleeper bassinets. Both a money and a space saver!
Dimensions: 33.5″L x 23.19″W x 32.25″H | Material: Polyester | Maximum Weight Recommendation: 39 lbs
View on Amazon | View on Walmart.com | View on buybuyBABY.com
Best Smart Luxury Sleeper: Snoo Smart Sleeper
Snoo Smart Sleeper
Added Sleep: SNOO Sleeper boosts sleep 1-2+ hours per night, so parents get more sleep than with other baby cribs or smart furniture. Our moving sleeper bassinet soothes babies with the constant rumbly sound and gentle rocking motion they loved in the womb.
Automatically Responds To Cries: SNOO detects fussing and the self-rocking bassinet responds with gradually stronger white noise + motion to calm crying. Your own essential personal helper, 24/7!
Prevents Risky Rolling: The only bassinet, sleeper, or bed that keeps your baby safely on the back, the #1 safe sleep guideline recommended by the American Academy of Pediatrics (AAP). Comes with 3 hip-safe sleep sack swaddles.
Easy To Customize: Our smart app logs sleep and naps, and lets you adjust bassinet's motion, sound, and cry sensitivity. Includes preemie mode and weaning option for the best transition to the crib.
While this is far and away the most expensive co-sleeper on this list, sleep-deprived parents absolutely swear by it, so we had to have a look.
The Snoo Smart Sleeper is a bedside, standalone sleeper. However, the difference is that it calms and soothes your baby all night, as well as keeping them in a safe position lying on their back.
The Snoo claims to boost your family's sleep by one to two hours because it senses your baby's cries and fussiness and responds with a rocking motion and white noise to calm them. You control the settings for motion and sound and level of fussiness via an app on your phone.
It comes with sleep sacks that clip into the bed to keep your baby in a safe position. If your baby starts rolling at night, it keeps them on their back, a particular concern in the very early months of infancy for preventing SIDS.
Parents of babies who struggle with sleep have found this to be a safe sleep solution to help everyone get more rest. In addition, the Snoo claims to help sleep train your baby by acting as a virtual babysitter when they're fussing.
Although it comes with impressive technology, you may want to consider that the Snoo will only accommodate your baby up until six months of age or 25 pounds. It also weighs 38 pounds, so moving it around may be challenging, particularly for moms recovering from c-sections. However, if you're unhappy with it, it comes with a 30-day money-back guarantee and if the price tag is too high, you can also look into their rental option.
You will probably end up having to buy other bassinets for travel for use in other rooms in your home. However, many parents would happily invest in getting good sleep for everyone.
Dimensions: 35.83″L x 18.9″W x 32.28″H | Material: Cotton | Maximum Weight Recommendation: 25 lbs
View on Amazon | View on Target.com | View on HappiestBaby.com
Best Practical Bedside Sleeper: Baby Delight Beside Me Doze Deluxe
Baby Delight Beside Me Doze Deluxe
RIGHT BESIDE YOU: The Beside Me Doze Deluxe Bedside Bassinet's tall design makes it convenient to use right next to your bed. We know how important it is for parents to know their child is sleeping soundly.
MAXIMUM SAFETY AND STYLE: JPMA certified and was designed with maximum safety for the whole family. The Doze's pebble grey color and clean lines make it sleek and modern, fitting into any home's décor. At Baby Delight, we believe that parents shouldn't have to sacrifice style for safety. Recommended age range is up to 5 months or 20 lbs.
EXTRA CONVENIENT: When you want to store your bassinet, simply push two buttons on the side and fold it flat. The bassinet also comes with a canopy for added shade and an extra-large storage basket underneath. The cover and sheet are also removable and machine washable.
COMFORTABLE AND COZY: The Doze was designed with mesh walls to allow increased airflow and breathability. We also included an adjustable nightlight, sound, and vibration unit with auto-shutoff to soothe your baby while they sleep.
The Baby Delight Beside Me Doze Deluxe is a great standalone bassinet you can keep beside your bed. Like many other baby co-sleepers and bedside sleepers, it has mesh sides so you can see your baby. These also mean maximum airflow and breathability for comfortable sleep.
However, the Baby Delight has other functional features that make it really practical compared to other bassinets. It has a removable canopy to block light for your little one during daytime naps. Its cover is removable and washable. It has a large, under-bassinet storage basket.
Perhaps its best feature, though, is that it is foldable and collapsible for easy storage. This feature is key if you're dealing with a small space that's overrun with baby stuff. It also means that if you're holding onto it for your second baby in the future, you can easily store it without taking up too much closet or under-bed space.
The Baby Delight comes at a reasonable and affordable price too. What's not to love?
Dimensions: 33.5″L x 20″W x 33″H | Material: Mesh | Maximum Weight Recommendation: 20 lbs
View on Amazon | View on Walmart.com | View on buybuyBABY.com
Best Basic Bedside Co-Sleeper: Papablic 2-in-1 Bonni Baby Bassinet
Papablic 2-in-1 Bonni Baby Bassinet
STABLE AND SAFE: This premium bedside bassinet is crafted with the highest quality materials, including a sturdy iron and aluminum frame. We put your baby's safety first.
ADJUSTABLE HEIGHT: This two-in-one Anio bedside sleeper and bassinet has easy-glide height adjustment with safety auto-locks. 5 positions adjust to fit most adult beds.
BREATHABLE: Lift open the side wall to position the sleeper at your bed and soothe your baby at night. The bassinet also has soft mesh panels for breathability and visibility.
PORTABLE DESIGN: Easily move the bassinet from room to room and keep your baby cozy and close. 4 wheels roll smoothly and are equipped with safety-rated brake locks.
Sometimes, simplest is best. New parents can't be blamed for finding the world of baby sleepers overwhelming.
If you're looking for a basic bassinet that you can move from room to room in the daytime and then keep close to you as a co-sleeper at night, the Papablic 2-in-1 Bonni Baby Bassinet is the answer.
This mesh-sided bassinet sits on a metal frame with wheels so it can be easily moved from room to room to keep your baby close during the daytime naps. A brake lock on the wheels keeps it stable.
At bedtime, move the bassinet into your room. Fold down one of the mesh sides and adjust the height on one of five settings to get it level with your bed.
Nylon straps can be secured under your adult mattress and then clicked into the clips on the base of the bassinet when it's in co-sleeper mode, keeping it stable.
The Papablic comes with a mattress, fitted sheet, and travel carry bag for a very reasonable price. So if you don't want all the bells and whistles of some other models and are looking for a nice and safe co-sleeper, this is your go-to.
Dimensions: 36.3″L x 27.36″W x 33.9″H | Material: Mesh
View on Amazon | View on Sears.com | View on Papablic.com
Best Travel Bedside Bassinet: Maxi-Cosi Iora Bedside Bassinet
Maxi-Cosi Iora Bedside Bassinet
Easy slide function to get the right position
Comfortable mattress so baby can sleep soundly
Breathable mesh sides so you can easily keep an eye on baby
Large storage basket to hold everything needed to care for baby
Parents trust Maxi-Cosi car seats and travel systems because they're sturdy and well-made. This Maxi-Cosi Iora Bedside Bassinet definitely checks all the usual Maxi-Cosi boxes.
This mesh-sided bassinet has a large storage basket underneath for your baby's essentials. In addition, it comes with a comfortable and firm baby mattress. However, its best feature is its easy slide function which allows you to adjust the bassinet to get as close to your bed as you would like at nighttime.
Maxi-Cosi is also the baby travel expert, so they've designed this bassinet to be collapsible and foldable into a travel bag. A great feature for vacation or visiting with friends and relatives that will put your mind at ease about your baby's sleeping arrangements.
In addition to all of that, the Iora also has a clean, modern, minimalist design that will suit any decor—a really nice-looking option!
Dimensions: 40.55″L x 22.44″W x 7.28″H | Material: Mesh | Maximum Weight Recommendation: 20 lbs
View on Amazon | View on Walmart.com | View on eBay.com
Recommended Accessories
Fitted Sheets
Safe baby sleep means room sharing with parents, a firm, flat mattress, and a bed free of loose blankets or toys. A fitted sheet is best for your baby's mattress, and some adorable fitted sheet packs are on the market. Make sure your fitted sheets are appropriate for your bassinet mattress size and shape.
Poppi & Max Organic Bassinet Sheets
100% ORGANIC COTTON – RELAX KNOWING your precious baby will sleep easy on natural + breathable organic cotton bassinet sheets. No Polyester. No Synthetics. No Sweat. Your newborn's extremely sensitive + porous skin will thank you for it!
LUXURIOUSLY SOFT JERSEY KNIT – DON'T WAKE BABY going from snuggled in your arms to being snuggled on these baby sheets. Using premium quality + silkiest cotton threads weaved into Jersey Knit this bassinet sheet feels warmer to touch and will retain its color, softness + shape wash after wash.
SNUG FIT FOR BASSINET PADS 16 x 32" – So many bassinets in the market it's hard to know what size baby mattress sheets you need (see cribs below). BABY SAFE: Crafted with superior fully encased elastic trim (not just corners!) our bassinet fitted sheets won't unravel, lose shape or slip off.
UNIQUE + QUALITY BABY BEDDING – Exclusive to Poppi & Max our baby bedding is carefully considered using quality materials + handcrafted designs. We choose organic cotton as it's farmed without the use of pesticides + harmful chemicals (so no yukky smells + polyester fibres).
Check out these beautiful soft Poppi & Max Organic Bassinet Sheets if you're looking for organic sheets with adorable gender-neutral designs.
Sale
Bae Bae Goods Bassinet Bed Sheets
SOFT COMFORTABLE BASSINET BED SHEETS – our bassinet fitted sheets are perfect for covering your little one's bassinet pad, supplying a comfortable surface for a great nights' sleep. Designed in unisex, grey and white prints, this bassinet bedding perfectly complements most nursery décor themes
PREMIUM QUALITY CRADLE SHEETS – made from soft, 150 GSM pure jersey knit cotton, these bassinet sheets are ideal to use in the crib against your baby's sensitive skin. Babies will love the soft plush feel of the fabric which is breathable to help regulate their temperature too
MACHINE WASHABLE BASSINET BEDDING – these pure cotton bassinet bed sheets come in a pack of 4 and are easy to care for as they can be washed with your usual detergent in the washing machine. Simply wash as usual and tumble dry on low or leave to airdry, ready for their next use in no time!
SIZING INFORMATION – each of our bassinet fitted sheets measure 15 x 33 x 4 inches with an elasticated hem to fit over standard size bassinet pads. These bassinet sheets are suitable for use on either oval or rectangular bassinet pads, although we do recommend measuring your pad prior to purchasing to ensure a correct fit
A good value for 100% cotton sheets are these Bae Bae Goods Bassinet Bed Sheets that come in packs of four at a reasonable price with super cute designs!
For 100% cotton sheets that are also hypo-allergenic and come in modern motifs, look no further than Bear's Little Fish 3 Pack Bassinet Sheets.
Travel Bassinets and Loungers
When you're on the go with a small baby, finding a comfortable, convenient place for them to lay down or nap isn't always easy. They may end up in your arms or in a baby carrier most of the time. However, the clever mom who invented Lulyboo Bassinet To Go has solved that problem for you.
The genius behind this soft and comfortable baby lounge is that it folds up easily within seconds into its own backpack. You have to see Lulyboo Bassinet To Go to believe it!
Snuggle Me Organic also has a range of sustainably and ethically made baby loungers that give your baby a soft, comfortable, and modern-looking place for supervised lounging and tummy time when you have your hands full with other things. Snuggle Me Organic loungers as an alternative to a day bassinet.
Look for the Snuggle Me Organic lounger covers in a variety of colors for their comfy infant floor seats.
Co-Sleeper Bassinets vs Regular Bassinets
A co-sleeper and a regular bassinet provide your baby with a safe and secure place to sleep until about six months.
The main differences between the two include the following:
Co-Sleeper Bassinet

Regular Bassinet

Generally larger than a regular bassinet
Some models attach to the parents' bed or bed frame
One side of the bassinet comes off or slides down
Provides easy access to your baby from your bedside
May be easier for nighttime feeding for moms recovering from birth, especially c-section
Allows baby to safely remain close to parents at night

Generally smaller than a co-sleeper bassinet
Most models are portable so that they can be moved from room to room or can be packed for travel
Some models are detachable components from a bassinet stroller
Some models offer vibration and sound to soothe restless babies
Provides baby with a space for sleep that is completely separate from the parent
For breastfeeding moms or mothers recovering from difficult births or surgeries, bedside sleepers are ideal. They allow you to easily reach for your baby without having to move too much. Yet, they still give your baby their own space to sleep in safely.
For other parents, a more portable bassinet may be preferable. If either parent or your infant are a light sleeper or move a lot, having a co-sleeper attached to the bed might actually be distracting and may keep everybody up. That's not what you want in those early months when sleep is so precious for parents and babies.
However, if you're wondering whether you really need either one of these items in your growing pile of baby gear, remember that medical experts advise against bed sharing with infants to reduce the risk of SIDS (sudden infant death syndrome) and accidents. Co-sleepers and bassinets provide you with a safe way to share your bedroom with your baby in the first months.
Co-sleepers, bassinets, and safety
Whether you decide on a co-sleeper or a regular bassinet, the American Academy of Pediatrics has advised parents to follow these guidelines to reduce the chance of SIDS:
Place infants on their backs to sleep.
Keep your baby's sleep surface flat and firm.
Do not leave any loose pillows, blankets, or plush toys in your baby's sleeping space.
Do not sleep in the same bed with your baby.
Allow your baby to share your bedroom for at least the first six months.
Bedside sleepers and bassinets allow you to keep your baby in the same room with you in the early months. However, they provide your baby with a safe, separate sleep space where they can stay close to you at night without bed-sharing an adult bed.
Things to Keep in Mind When Buying a Co-sleeper Bassinet
There are a few things to consider when choosing between a co-sleeper and a bassinet:
| | | |
| --- | --- | --- |
| Feature | Co-sleepers | Bassinets |
| Size | Tend to be larger and take up more space | Tend to be smaller and take up less room |
| Price | Prices can vary widely depending on size and features | Prices can vary widely, especially on models that feature vibration or sound features |
| Portability | Some models have a wall that can be put up to make it into a bassinet so you can move it, but you are likely to keep a co-sleeper in your bedroom if it's attached to your bed | Tend to be smaller and easier to collapse and pack for travel or for moving around your home |
| Length of use | Designed to be used generally up to six months of age or maximum weight | Designed to be used generally up to six months of age or maximum weight |
| Convenience for nighttime feeding | At the same height as your bed, so allows you to feed at night without having to move too much or to get up to bend over, especially if it has a removable side | Will require you to get up and out of bed to pick up your baby for feeding |
Whether you go for a standalone bassinet that you keep in your bedroom or a baby co-sleeper that's attached to your bed, your decision is really based on what's more convenient for you as parents.
If you're tight on space and need something small, there are some great bassinets for small spaces. If your baby could benefit from a rocking bassinet to help them get to sleep, or if being close to you in a co-sleeper is what soothes them most, there are lots of options to choose from.
The bottom line is that both types of baby beds let you keep your baby in the same room with you at night which makes nighttime feeding less of a hassle. Most importantly, they also reduce the risk of SIDS and accidents.
FAQs
Until what age can my baby sleep in a co-sleeper or bassinet?
Co-sleepers and bassinets are generally used for babies from birth to about six months. However, each product will also have its own weight limits, so check the manufacturer's instructions.
Keep in mind that babies move, grow and develop at different rates. Some babies may be rolling as young as four months. Observe the mobility of your baby and once they are pushing up on their hands or rolling it is time to move them to a crib with a lower mattress to prevent accidents.
Co-sleepers that link to your bed may also not be feasible for a rolling baby if you think they might be able to roll toward your mattress.
However, the APA's advice is to share your room with your baby at least until the age of six months. Many parents keep their baby in their room up to a year. That means you might need to switch your baby to a crib in your room once they outgrow, or out maneuver, the bassinet.
What type of bedding should be used with a co-sleeper bassinet?
It's important that there are no loose blankets, sheets, pillows or plush toys inside your child's co-sleeper or bassinet.
Use fitted sheets that are the right size and shape for your specific brand of mattress. If you are concerned about how to keep your baby warm at night, look into baby sleep sacks as a good alternative.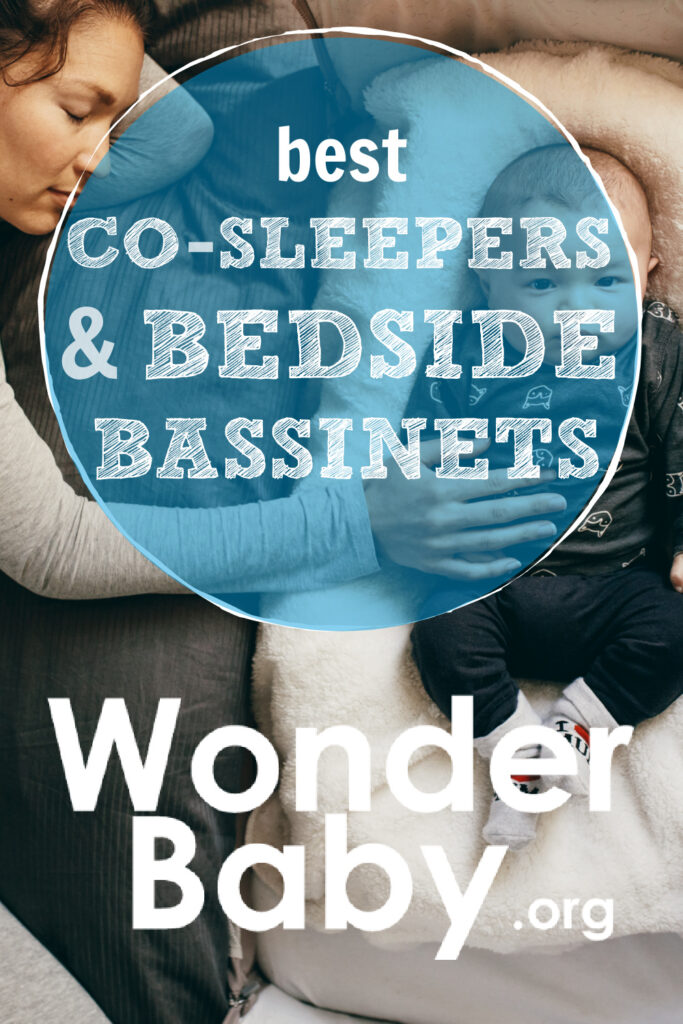 Related Posts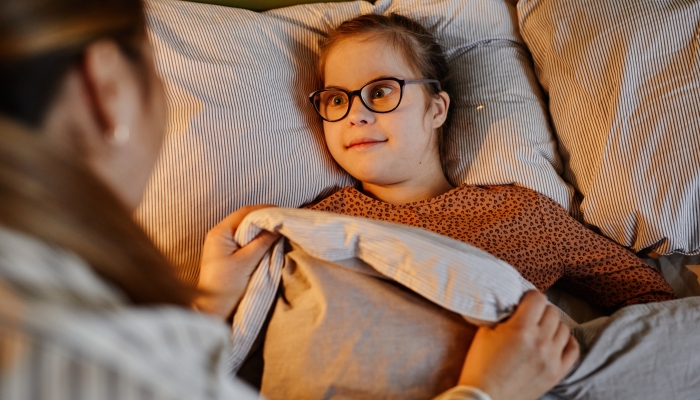 Product Reviews
Heard a lot about weighted blankets and lap pads and wondering how to choose one? Here's our guide to the ins and outs of finding the right weighted blanket.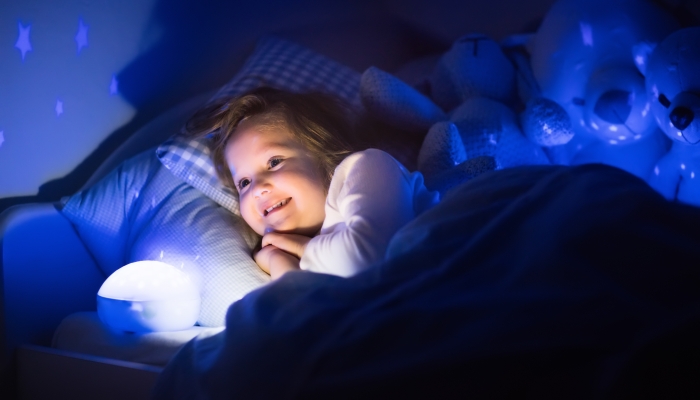 Product Reviews
Looking for the right night light to help your little one ease into bedtime? Check out our guide for everything you need to know about toddler night lights.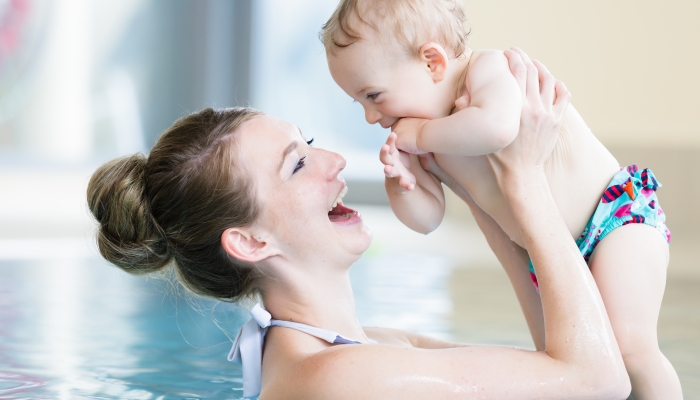 Potty Training, Product Reviews
The best swim diapers are comfortable and help prevent your baby from having an accident in the pool or ocean. Find our favorites in this round-up!