The 7 Best Bassinets for Small Spaces of 2022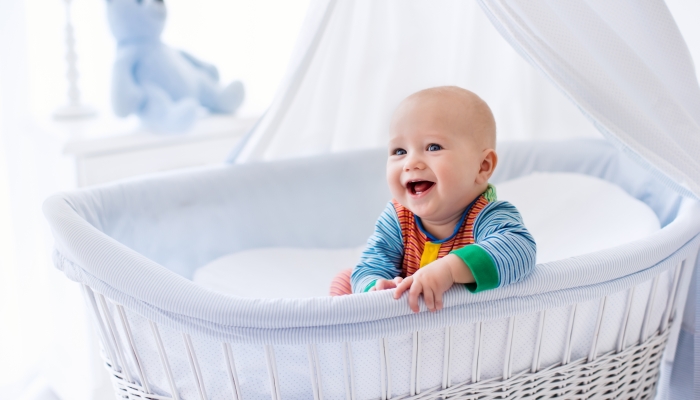 This post may contain affiliate links; please see our terms of use for details.
Choosing where your baby will sleep is one of the most important decisions a new parent will make.
If you are tight on space, a bassinet is a great baby sleep option.
Our favorite all-around bedside bassinet is the Halo BassiNest Swivel Sleeper.
The best bassinet is safe, functional, portable, and saves space.
Talk to any parent, and they will tell you their biggest struggle with a young infant is sleep. There are many sleep solution choices, recommendations for products, and guidelines for safe sleep.
How does a parent know what the right decision is? What is the best bassinet for small rooms that's also safe, affordable, and accessorized?
For you, space may be a significant determinant of your baby's sleep solution. If you live in a tight space, you may wonder where your baby should sleep. A bassinet may be your best bet as it saves space but can give you most of the benefits of a crib and is safer than bed-sharing.
Here we've rounded up our top 7 favorite bassinets for small spaces. We also offer a guide to choosing the best bassinet for your baby.
Our Choice
Our top choice for a bedside bassinet for small spaces is the HALO BassiNest Swivel Sleeper. This bassinet gives you all the benefits of a larger crib but won't sacrifice space.
Your newborn baby can safely sleep close to you and you can take care of their immediate needs when needed. The HALO Premier and Luxe series have pockets or a caddy to store diapers, wipes, bottles, creams, and burp clothes, so nothing is out of reach.
We rated the HALO as the best bassinet for small spaces due to its compact size, 360° swivel capability so that it can fit under an existing bed, and lowering mesh walls.
Want to take your baby to the living room or outside for a nap? No problem! You can detach the bassinet from the legs or easily roll the bassinet anywhere.
In addition to its space-saving capabilities, the HALO has a few bells and whistles that make your newborn sleep like a baby. The HALO has a soothing center with white noise, lullabies, and a floor light so parents can safely maneuver around the bassinet in the dark. No bumping into the bassinet and risking waking your baby!
Best Budget-Friendly
We think the KOOLA BABY Bassinet and Bedside sleeper is a no-brainer for the best budget-friendly option. This bedside sleeper is sturdy, durable, and can stand the test of time without paying the high prices of some baby bassinets. It's made from aluminum for max durability and is flexible enough to disassemble for easy travel.
The Koola Baby Bassinet doesn't require any tools to assemble and comes with a travel case to take it anywhere.
This bassinet fits babies from birth to 8 months. The Koola baby bassinet is simple, sleek, and easy to use. We love the storage container at the bottom, and its design has no fuss or frills. The best part? It's affordable, safe, and durable.
Best Grow-With-Me
Baby growth is an important consideration when purchasing a bassinet. If you don't want to buy multiple sleeping spaces for your infant, the Ingenuity Dream & Grow Bedside Baby Bassinet is a great option. Perfect for babies from birth to 12 months old, the bassinet fits in cozy spaces and adjusts to fit your baby as they grow.
Your newborn baby will be close to your bedside until they are ready to graduate to a lower setting in the bassinet.
One of our favorite safety features of this baby bassinet is the breathable mesh sides. When your baby begins to move more in their sleep, you will want the comfort of knowing they can easily breathe if they snuggle up to a corner of the bassinet.
The Ingenuity Dream and Grow baby bassinet is an affordable option. Still, it is a little bulkier than other space-saving baby bassinets.
Best Luxury
The SNOO Smart Sleeper Baby Bassinet is the creme-de-la-creme of baby bassinets and carries a hefty price tag. The SNOO has set a standard against which all bassinets are measured.
This small bassinet has everything you could need for your month infant up to 6 months old. Your baby will sleep comfortably in the Snoo's built-in swaddles that promise to boost your baby's sleep by 1-2 hours per night.
More features of the Snoo that make it one of the best bassinets include cry sensors that mobilize soothing elements such as motion and sound. You can customize your Snoo by linking it to your smartphone and adjusting the rocking motion, white noise, and cry sensitivity.
The Snoo is narrow and compact to squeeze into a small space beside your bed. The mesh fabric keeps this cozy bassinet cool and breathable for your baby.
The only negative aspect of the Snoo is that it doesn't break down for travel, and the price is well over most budgets.
Best Rocking Bassinet
Graco Sense2Snooze Bassinet comes equipped with cry detection technology and is perfect for a small space.
If you are looking for a more affordable bassinet for small spaces with *almost* all the features of the Snoo, this is it! The Graco Sense2Snooze can sense your baby's cries and responds with rocking mode and other pre-set measures to soothe your baby back to sleep.
The best bassinet can create a peaceful sleeping environment with three motion modes and several white noise choices. There is also a two-speed vibration setting for further comfort.
The Graco comes with a removable canopy to block out light so your baby can sleep to the soothing sounds of the white noise feature. It also has a large storage basket to hold baby items like diapers and wipes.
This Graco Sense2Snooze doesn't have a built-in sleep sack but look at our recommended accessory list below for our favorite sleep sack option.
Best Bassinets for Small Spaces
The Simmons Kids City Sleeper Bassinet is the best bassinet for a small living space and is a great alternative to bedsharing. It has an adjustable height so your baby can be right next to you, no matter the size of your adult bed. Its slim design is perfect for gliding the base and wheels under your bed.
The portable bedside bassinet has locking wheels to bring your baby from room to room quickly. For breathing safety, the mesh walls allow for airflow.
Bathroom or spit-up accidents in the bassinet? No problem! All the fabric on the Simmons kids bed city sleeper bassinet can be detached from the base and washed in the washing machine.
If you are tight on storage space, the compact bassinet is the perfect slim and simple bassinet option.
Best for Travel
Do you plan on taking your baby on trips or overnight adventures? If so, you will need a portable bassinet. Our top pick for traveling families with infants is The First Years Dreams Portable Bedside Bassinet. It disassembles in seconds, and you only need one hand!
Sometimes, portable sleeping items are uncomfortable. Thin mattresses, rough fabric, or bulky setups lead to travel problems. The First Years Dreams Portable Bassinet is an exception! The cozy bedding keeps your baby warm, while the soft mattress pad keeps your baby relaxed for their best sleep.
The compact nature of The First Years Dreams Portable Bassinet makes it one of the best bassinets for small spaces. Even though it doesn't have many accessories, it still makes for a comfortable sleep for your baby no matter where you are.
Recommended Accessories
Depending on your bassinet, you may need to add some accouterments to make it the best sleeping environment for your baby to sleep soundly.
Mounts and Caddies
Some of the best bassinets leave something to be desired for storage space. A hanging diaper caddy can be your best friend if you need more pockets. Without too much space, a hanging diaper caddy can hold diapers, wipes, creams, bottles, pacifiers, and burp cloths in their cubbies.
You can stay organized with the multiple storage pockets, which helps when trying to find what you need in the middle of the night.
A hanging diaper caddy is safe and stable. It comes with two hooks and two eyelets, so it can hang anywhere your baby is.
Safe sleep for your infant is most important, but so is minimizing sound not to wake your baby. Check on your infant anytime with a camera baby monitor. This baby monitor mount safely attaches to the side of the best bassinets available. You can easily adjust its position to target the camera at the perfect angle to focus on your baby.
Vibrating Mattress Pad
Does your baby like motion and movement to sleep? While a vibrating bassinet is a great option, if traveling with a portable bassinet, you can bring this compact vibrating mattress pad to lull your baby to sleep.
It's common for babies to get fussy in unfamiliar places. Bring this vibrating mattress pad with you anywhere you go for your baby's comfort and familiarity.
The vibrating mattress pad has two speeds and a gradual shut-off option. It's also cordless and battery-operated, so it's safe for baby sleep.
Portable white noise machine
Help your baby settle to sleep with a portable white noise machine.
A perfect addition to the simmons kids bassinet, we recommend MyBaby SoundSpa because it's small and lightweight, making it portable and easy to use. It has four sounds to choose from. Your baby will love the heartbeat, white noise, ocean, or lullaby options to drift off to sleep.
The MyBaby SpoundSpa also comes with time interval shut-off options if your baby only needs white noise for a short time.
Mosquito Net
Taking your baby outside for a nap but worried about bugs? Putting a mesh mosquito net over your baby's bassinet will keep insects and flying bugs off your child so that they can sleep peacefully outdoors.
Suppose your family likes to camp or you have older children who play outdoors during nap time. In that case, a mosquito net will protect your baby, so you can enjoy yourself outside.
Sleep Sacks
Sleeping swaddles are a great way to keep your baby snuggled in a womb-like environment. Young babies especially feel safe sleeping when wrapped in a swaddle. Most small bassinets don't have built-in swaddles, so adding a few to your baby's wardrobe is essential for healthy sleep habits.
Most babies graduate from a swaddle between 8 to 12 weeks of age. A safe rule of thumb is to stop swaddling when your baby starts to roll over. Once your baby graduates from a swaddle, you can transition to a sleep sack, which helps your baby stay warm and cozy in its bassinet.
We love the Nested Bean Zen Sack. It's gently weighted, so it helps your baby transition from the confines of a swaddle to a mellow sleep sack that simulates when you hold your baby close.
Bassinets: Safe for Babies and Ideal for Small Spaces
Most parents will tell you the most challenging part of the first year of their baby's life is sleep and all the tough decisions that come along with it. Where should the baby sleep? What do we have room for? What's the safest option?
Luckily, a small bassinet is a safe co-sleeper and space-saving option for your family. Babies generally do well in a closed environment. The American Academy of Pediatrics recommends that infants sleep close to their parent(s) for the first six months to reduce the risk of SIDS.
Their top recommended sleep guidelines include:
Place infants on their backs to sleep.
Co-sleeping or bed-sharing isn't recommended.
Use a crib, bassinet, or portable play yard with a firm, flat bassinet mattress, and a fitted sheet.
Keep loose blankets, pillows, stuffed toys, bumpers, and other soft items out of the sleep space.
Purchase a bassinet with breathable mesh fabric sides for maximum airflow.
Room sharing with your baby on a separate sleep surface is recommended. Keep infants near their parents.
Use a soft nightlight to help you see around your baby's narrow bassinet
A small bassinet is an excellent option if you have a small sleeping space. You can scoot most bassinet bases under your bed to save space and still have enough safe distance between you and your baby for safe sleep.
Guide to Choosing a Bassinet for Your Baby
Since most infants will outgrow their bassinet by six months, ensure the features you look for serve your infant and you best during that time.
Safety
Safety is of utmost importance when considering sleep solutions for your infant, especially if you are in a small space.
Look for a JPMA seal or certification, so you know the small bassinet your choose has passed the highest safety standards. The Simmons Kids and Halo bassinets recommended above have the JPMA seal of approval.
You will also want to follow all AAP safety guidelines for safe sleep that apply to any sleep environment.
Function
Make sure your bassinet serves the functions you want it to. For some, a space-saving option is the most important, since rooms may be small spaces. It may be accessories such as white noise and motion capabilities for others.
Any bassinet you choose should have a sturdy frame, be durable, and easy to clean. A metal base is often the strongest option. If you find a wood bassinet, it's also stable and won't compromise your baby's safety. Breathable mesh walls keep your baby safe and cool and easy to clean.
Portability
One of the best parts of a bassinet is its ability to travel. A portable bassinet will be essential if you plan to go on adventures with your infant, especially in small spaces. Make sure the bassinet is easy to break down and set up.
You don't want anything heavy. A good bassinet is lightweight and compact enough to carry with one hand.
Your baby can sleep safely and comfortably anywhere you are while you enjoy the experience of new or nostalgic places.
Space
If you choose to room share with your infant in a bedroom with limited space, measure the space of the room and how much distance there is between your bed, the bassinet, and the wall. You will want to leave at least 12 inches of space between the bassinet and the wall and six inches between the adult bed and the bassinet.
If you have a bassinet with a Z-shape base or wheels that go under another surface, you will want to ensure enough space under your bed for the wheels and bottom of the bassinet to fit.
Choosing a place for your infant to sleep is an important decision. You deserve to rest, and your infant will also appreciate a calm, cozy, and comfortable environment to sleep in.
Now you have the information you need to make the best decision to purchase a bassinet for small spaces.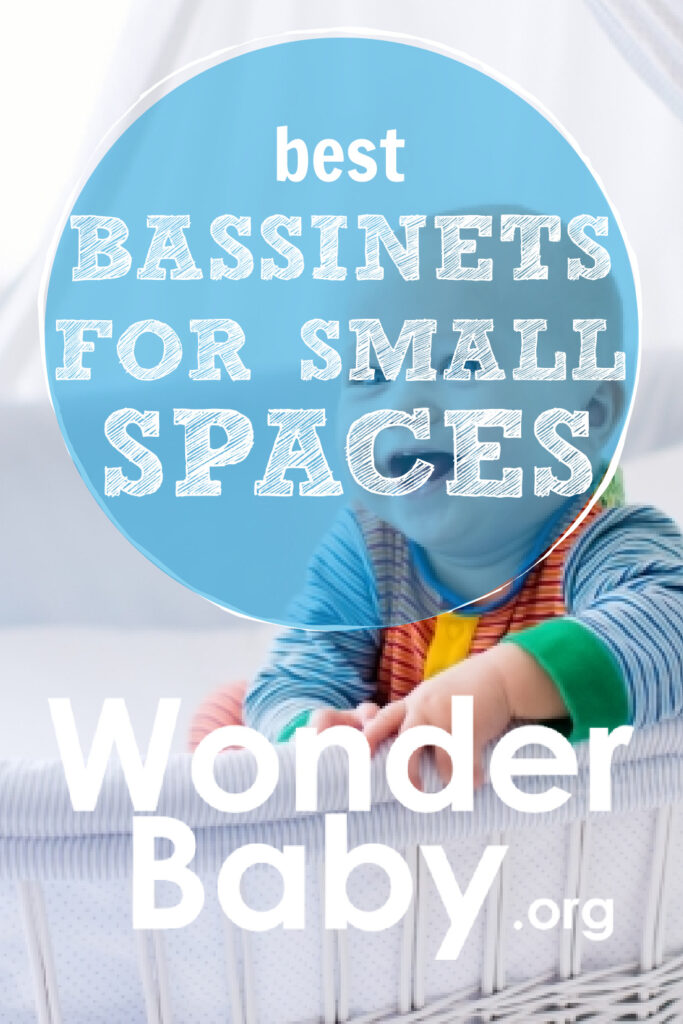 Related Posts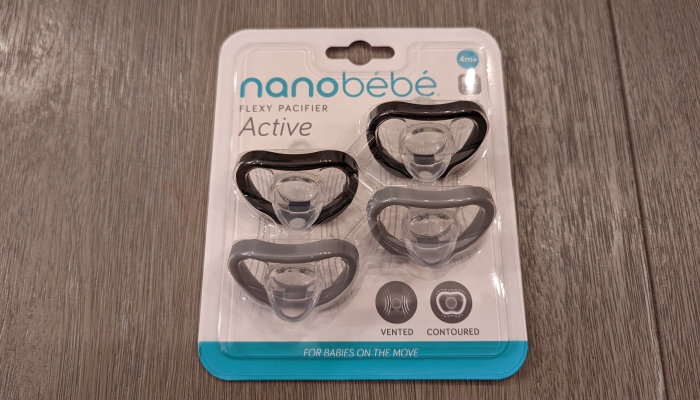 Product Reviews
The Nanobébé Active Flexy is great for babies because it's flexible, breathable, and made of quality materials.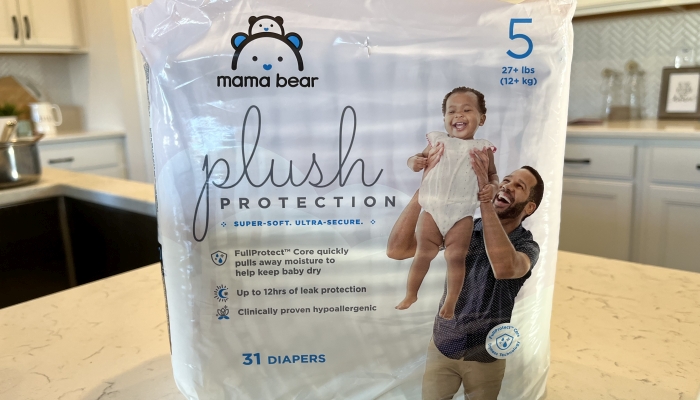 Product Reviews
We gave Mama Bear diapers a thorough test! Our Mama Bears Diapers Review will let you know if they're worth purchasing.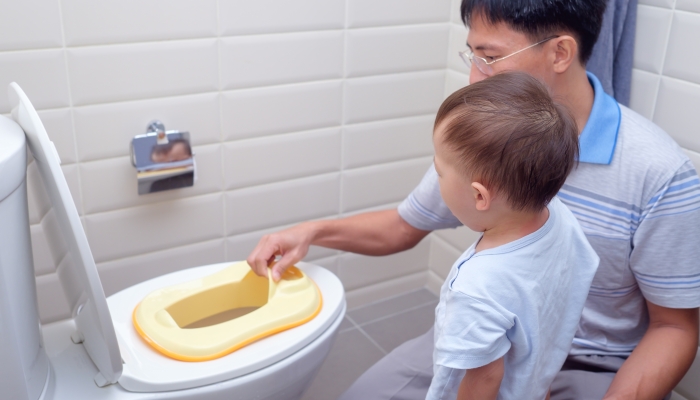 Product Reviews
With tons of potty training seats to choose from, we did the research for you! Check out this list to find the best potty training seat for your little one.