The 9 Best Portable Bassinets of 2022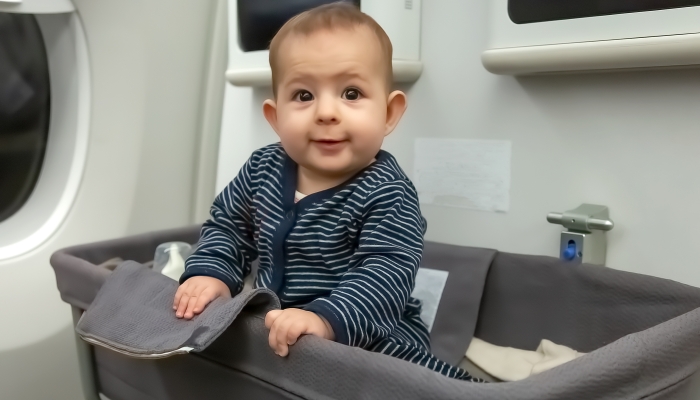 This post may contain affiliate links; please see our terms of use for details.
There is nothing sweeter than bringing home your new baby for the first time. For months you spend time planning for their arrival, decorating the nursery, and putting together the crib. Then you bring them home and realize you don't want them sleeping across the house.
What's the solution?
A portable baby bassinet!
When your infant is in those first few months of life, you'll likely want them near you. Many parents like to check on their infants while they sleep. You might also like the convenience of having them in your room for middle-of-the-night feedings.
Portable bassinets give you the comfort of having your infant nearby. Yet they don't have the bulkiness of a crib. Their portability also allows you to move baby around for naps during the day.
If you're looking for a small, safe sleeping option for home or traveling, a portable bassinet is a must-have for new parents.
But before you go searching for the best portable bassinet, let us make the search easy for you. We've compiled a list of the best portable bassinets for your baby.
Top Choice
Most Luxurious
Most Budget Friendly
Fisher-Price On-The-Go Baby Dome
Baby Delight Go With Me Slumber Deluxe Bassinet
Munchkin Brica Fold N' Go Travel Bassinet
Top Choice
Fisher-Price On-The-Go Baby Dome
Most Luxurious
Baby Delight Go With Me Slumber Deluxe Bassinet
Most Budget Friendly
Munchkin Brica Fold N' Go Travel Bassinet
Top 9 Picks
Most Sleek: Chicco LullaGo Anywhere Portable Bassinet
Sale
Chicco LullaGo Anywhere Portable Bassinet
Weighing only 12 pounds, LullaGo Anywhere features an ultra-lightweight design, space-saving footprint and convenient carry bag for restful sleep at home and away
Includes a waterproof mattress with a firm, flat sleep surface, a fitted sheet and zip-off, machine washable bassinet fabrics
Sturdy, snap-on metal legs allow for fast and easy assembly and mesh side panels provide reassuring visibility and airflow
Mesh storage pocket keeps little essentials, such as a pacifier or burp cloth, conveniently close
If you like sleek designs that blend in with your home, this portable bassinet might be your top pick. The Chicco LullaGo Anywhere Portable Bassinet is a standing bassinet with simple lines and a neutral color. There are no frills here but the simplicity and quality are attractive features.
If you plan on moving this bassinet around the house often, you'll be pleased to know that it only weighs 12 pounds. Tear down for this portable bassinet only requires removing the legs. Once the legs are removed, the bassinet folds flat and all of the pieces fit inside the convenient carry bag.
The removable mattress comes with a machine washable fitted sheet. This bassinet also features breathable mesh sides. You'll feel secure being able to see your baby through the mesh as they sleep.
We really like how compact this bassinet is. Yet some infants outgrow smaller portable bassinets like this quickly. The smaller-sized mattress also makes it difficult to find extra fitted sheets. Despite this, the simple design still makes this portable bassinet an attractive choice.
Easiest Tear Down: MiClassic All Mesh 2 in 1 Stationary & Rock Bassinet
MiClassic All Mesh 2 in 1 Stationary & Rock Bassinet
MiClassic 2in1 bassinet is designed with quick folding system, which makes it is easy for storage.
Surrounded by breathable mesh walls all around for maximum breathability and visibility.
A lightweight construction makes the bassinet easy to move and it is convenient for travelling.
This bassinet can be quickly converts between stationary mode and rocking mode.
If you'll be moving your traveler portable bassinet often, you'll want one that tears down easily. Having to remove pieces isn't ideal when you're constantly moving your bassinet.
The MiClassic All Mesh 2 in 1 Stationary & Rock Bassinet makes travel easy. To tear down the portable bassinet, just pull up on the strap in the middle of the padded mattress. It can then be stored away or transported in the carry bag.
This foldable bassinet is larger than most, giving your baby extra room to grow. The mesh panels will give you peace of mind that your baby has a safe space to sleep.
One other unique feature about this portable bassinet is that it converts from a rocking bassinet to a standing one. Small clips at the bottom of the legs allow you to convert it back and forth from a rocking motion to a secure stand.
You might want to make a note that fitted sheets are not included. Because of the larger mattress, fitted sheets must be purchased from the manufacturer to ensure a correct fit. The extra room and comfortable mattress, however, still make this a great option.
Best Luxury: Baby Delight Go With Me Slumber Deluxe Portable Rocking Bassinet
Sale
Baby Delight Go With Me Slumber Deluxe Bassinet
SLUMBER TIME – Life takes you many different places, so we designed this rocking bassinet fold up and fit into a portable carry bag. We wanted this bassinet to be the perfect option wherever your life takes you. Compactable, portable, and convenient
MAXIMUM SAFETY AND STYLE – JPMA certified and designed with maximum safety. The Slumber's charcoal tweed fabric makes it sleek and modern, fitting into any home. You shouldn't have to sacrifice style for safety. Recommended age is up to 5 months or 20lbs
ROCK IT OR LOCK IT – Our Bassinet can be manually rocked or locked into a stationary position. Along with the baby rocker, it also comes with an optional canopy and netting to protect your baby. The cover and sheet are also removable and machine washable
COMFORTABLE AND COZY – The Slumber was designed with mesh walls to allow increased airflow and breathability
If you have a little extra room in your budget and want a portable bassinet with quality and class, this is it. The Baby Delight Go With Me Slumber Deluxe Portable Rocking Bassinet is both stylish and functional.
This travel bassinet comes in a beautiful tweed fabric with mesh sides. A fitted sheet is also included for the padded mattress. Both the cover and sheet are machine washable. The Baby Delight portable bassinet also comes with a canopy you can attach. The mesh canopy is perfect for keeping out unwanted pests outdoors.
The base of the bassinet converts from standing to rocking with a simple switch. The rocking motion is perfect for soothing your little one to sleep. You also have the ability to adjust the height to 6 different options.
When you're done using the bassinet, push the two side buttons to collapse. The bassinet folds in half and fits into the travel bag.
Something to keep in mind is that the mattress doesn't come out when folding, so you may notice a small bump in the middle of the mattress when laid flat. However, most parents don't see this as a huge issue.
Best Bedside: Baby Joy Baby Bedside Crib
Sale
Baby Joy Baby Bedside Crib
Detachable Sidebar & Retractable Feet: Our bedside sleeper has a detachable sidebar, two fixed ropes and retractable feet that can easily attach to the parent's bed. It's very convenient to take care of kids and have parent-child interaction at night. And it can effectively increase the kid's sense of security and improve sleep quality.
Height & Angle Adjustable: There are 4 adjustable heights to meet the different needs of parents. What's more, the height of the two sides can be different. This design makes it easier for you to feed your baby, because the tilt angle will effectively prevent the baby from refluxing and spitting milk.
Breathable Mesh & Easy to Clean: Two-side mesh allows parents to observe the baby's status anytime. And the linen material is very wearable which can extending its service life. The zipper design makes the mattress cover and all crib fabrics easy to remove and clean, creating a clean environment for baby.
Stable Bracket & Solid Structure: Iron frame around the crib is completely wrapped in cloth to prevent the baby from hitting the teeth or forehead. Stable bottom supported and comfortable mattress with sleeping board ensure your baby's safety.
When your baby wakes in the night, it's helpful to have them nearby. This is especially true for moms recovering from C-sections. What better place to have them than by your bedside?
The Baby Joy Baby Bedside Crib is the perfect option for keeping your little one close. The bassinet is designed to sit up against your bed and has a side that detaches. When you're not using this portable bassinet by your bed, it functions as a standalone bassinet as well.
In bassinet mode, the two included bassinet straps fit underneath your mattress. This keeps the bassinet secure. The removable side lowers without much effort as you remove the bar and lower the mesh side. This gets your baby as close to you as possible while keeping them safe.
We love that the Baby Joy bedside bassinet included a safety feature for babies who may vomit when eating. The adjustable height feature allows you to raise one side at a time, setting the bed at a slight slant if desired. As an added bonus, both the cover and the included sheet are washable.
The removable side and sure bedside fit make this bedside bassinet top our list for the best portable bassinet for bedside use.
Best Outdoor: Beberoad Love Travel Bassinet
Beberoad Love Travel Bassinet
High Security: The travel bassinet is designed with a steel frame to ensure stability.
Healthy Airflow: The breathable viewing windows makes the baby feel comfortable and this bed bassinet is suitable for baby 0-5 months(10kg).
Removable Mosquito Net and Canopy: Upgraded function, baby bed with safe mosquito net and canopy can protect babies from mosquito bites and sunlights.
Foldable and Portable Design: Foldable baby bassinet can be used at bedroom, living room, kitchen, outing, picnic and other scenes. 4-layer composite sleeping pad serves different purposes in keeping your baby safe.
Having a portable bassinet that's outdoor-friendly is ideal for active families. With its lightweight frame, the Beberoad, Love Travel Bassinet is a perfect match for babies on the go.
The first feature that makes this a great outdoor choice is the canopy. The removable canopy is made with a mosquito net and extends over the whole bassinet. Another thing we love is the easy fold and portability. When you release the side clips, the bed collapses. The included travel bag stores the foldable bassinet for easy transport.
Weighing only 3 pounds, it's the perfect lightweight option for outdoor excursions. And if this portable bassinet gets dirty at the beach, the cover and mattress are washable. All you have to do is wipe clean with a damp, soapy cloth.
The lightweight frame and airy canopy make this choice the best portable bassinet for outdoor adventures with your baby.
Best Budget: Munchkin Brica Fold N' Go Travel Bassinet
Munchkin Brica Fold N' Go Travel Bassinet
Safe, durable, lightweight travel pod for infants                             
Breathable mesh panels, removable and locking steel frame provide comfort and security     
Folds flat for storage and weighs less than 3 lbs. for easy transport                                          
Assembled dimensions: 30" x 21.25" x 11.75"                                 
Many babies outgrow portable bassinets quickly, so parents often want affordable options. The Munchkin Brica Fold N' Go Travel Bassinet is a budget-friendly portable bassinet that doesn't sacrifice quality.
This portable bassinet comes with a 4-point safety lock system. When you unfold the bassinet, the safety bars lock into place. This safety feature allows you to rest knowing your baby will sleep safely.
This portable bassinet has breathable mesh panels on either side. The mattress and cover are comfortable and water-resistant. To clean, remove the mattress cover and wash with regular laundry.
When it's time to pack up and leave, push the release buttons, and the metal frame collapses. The velcro strap keeps the folded bassinet in place so you can carry it with the included handle—no travel bag is needed.
While this bed doesn't have many special features, the quality and price point make this the best portable bassinet for families on a budget.
Most Comfortable: Mamibaby Baby Lounger
Sale
Mamibaby Baby Lounger
🌟【Comfortable Double-Sided & Being Adjustable】The baby lounger cover has two sides pattern (One side is leaves pattern and the other side is solid gray) and you can switch between the two patterns inside and outside, giving you and your baby a good mood every day. Being adjustable – Simply loosen the cord at the end of the bumpers to make the size larger. The ends of the bumpers can be fully opened.
🌟【Portable Travel Needs & Multipurpose】The size of the baby lounger is about 31.5 x 19.6 inches and weighs only 3.5lbs(1.6kg). The lightweight design and convenient handles make our newborn lounger portable baby must-have. Package bag for easy transportation. It is an ideal travel need and a baby gift for moms and babies.
🌟【Bionic Design & Newborn Must Haves】Bionic full bumper design to make your little one feels like being snuggled at any time, anywhere. This is an ideal spot for babies to lay, play, sit up & tummy time under their parent's supervision. It can be used not only on the floor, carpet, living room, and all around the house but also great for outdoor uses with the convenient double handle design.
🌟【Machine Washable & Full Detachable】There is a hidden zipper on the bottom of the infant lounger, which can be used to disassemble the cushion and the lounger bumper in the fence for easy washing.
Nothing says comfort like being surrounded by a pillow. With the Mamibaby Baby Lounger, your baby will sleep in ultimate comfort. Also, this baby bed functions as a co-sleeper!
Your little one will sleep secure and snug, fully surrounded by padded bumpers. This security mimics the feeling they had in the womb. Many parents report their newborns to sleep longer and more soundly in this bassinet.
Made from 100% cotton, the bassinet cover is machine washable. You can remove the padding by unzipping the sides of the bassinet lounger. And when your child grows out of the bassinet lounger, you can untie the bottom bumpers to create more space. This allows the bassinet to fit babies from 0 to 12 months.
When you're traveling with the lounger, use the included carry bag to store your rolled-up bassinet. The lightweight design makes it perfect for toting around.
Though some other brands of baby bassinet loungers have a higher price tag, we've found that this model is equally effective but for a better price. This makes the Mamibaby lounger the best portable bassinet on our list for comfort.
Most Fun: Sunveno Baby Bed & Baby Lounger
Sunveno Baby Bed & Baby Lounger
SAFE, PORTABLE AND LIGHTWEIGHT: Safe, comfortable transportation with soft recline for your infant from 0-12 months of age. Comfortable and sturdy base supports weight of baby. Contoured and cushioned sides keep baby secure
EASY TO CARRY, GO TO TRAVEL WITHOUT DELAY: SUNVENO Baby Nest is a portable basket for babies outdoor, aims at carrying baby from A to B easily, lying in the mose basket for better relaxation, easy to calm down emotions at anywhere and any time when tired during outdoor play, provide baby with the most comfortable and portable "safe little room", give your baby a walk-and-go journey
ENHANCE BABY'S SENSE OF SECURITY: SUNVENO Portable Baby Carrycot was inspired by the state of a mother's pregnancy, to provide a familiar environment and place for babies which is comfort and relaxing. Safety First, we care about your baby's safety, Don't take this lounger as a sleeping device and leave your baby alone. THIS IS NOT A SLEEP DEVICE!
PREFERRED MATERIAL, FEEL MORE SECURE: The surface fabric is treated with splashing water, which is resistant to dirt and stains, and also easy to clean; the lining is white and soft, has been certified by SGS, no odor, no fluorescent agent, soft and smooth to the touch, skin-friendly Breathable
Ready for a bassinet that screams fun? The Sunveno Baby Bed and Baby Lounger is an adorable and high-quality traveler bassinet that comes in a fun dinosaur design. But it also includes many other attractive features.
The fabric used for this portable bassinet is water resistant, making it an excellent choice for outdoor use. If you need to wash the bassinet, the entire inner liner is removable and machine washable. The mattress cover is also machine washable.
We love that the mattress is made with soft fibers for your baby's comfort. You'll also find that that breathable mesh covers the underside of the mattress. This will help keep your little one from getting too hot.
If you'll be using this travel bassinet to tote around your infant, a velcro strap will secure your baby in place. The handles are positioned to create a secure balance so the bassinet doesn't tip when carried. The included cover has a pocket for storage, but you can remove this pocket and expose the mesh screen instead for breathability.
Space isn't an issue with this bassinet. Its small compact design will fit babies up to 12 months but doesn't take up much room. When you're finished using this bassinet, it folds up compactly and stores away in the included bag.
This bassinet does come with a more extravagant price tag. However, the 90-day warranty and fun design still make it an attractive option for the best portable bassinet.
Best Alternative: Fisher-Price On-The-Go Baby Dome
Sale
Fisher-Price On-The-Go Baby Dome
2-in-1, play space & napping spot for baby.
Can be used indoors or out
Adjustable canopy protects against bugs & sun (UPF 20)
2 removable toys for playtime
Is it a bassinet or is it a playpen? Well, yes and yes. Let us introduce you to a bassinet that breaks the mold. Our pick for the best portable bassinet alternative is the Fisher-Price On-The-Go Baby Dome.
Made from a durable fabric that wipes clean, this portable bassinet is tough enough for the outdoors. Instead of setting your baby in the sand, dirt, or grass, this dome serves as a safe, contained play place.
To assemble, unfold the canopy, unlock the legs, and lay the mattress flat. This easy assembly only takes around 15 seconds to complete. When you're finished, tear down only requires the push of a button and the bassinet easily folds flat again.
This portable crib comes with a washable mattress and a comfortable sleeping space. If your baby is awake, they'll enjoy the hanging baby toys that fold up with the dome. If you'd like, you can also add your own baby toys to the bar.
We love that the canopy closes completely over the baby and has a UPF 20 sun protection rating. Even fully closed, this won't cause your baby to overheat because the bottom of the bassinet is made with a breathable mesh material.
Final Verdict
Sale
Fisher-Price On-The-Go Baby Dome
2-in-1, play space & napping spot for baby.
Can be used indoors or out
Adjustable canopy protects against bugs & sun (UPF 20)
2 removable toys for playtime
Our pick for the best portable bassinet overall is the Fisher-Price On-The-Go Baby Dome. We just couldn't resist these features:
Versatility. This bassinet functions as a portable crib and playpen. While most portable bassinets aren't as useful for awake babies, this one will keep them contained and happy.
Price. This traveler portable bassinet comes in at a much lower price point than most travel bassinets. And for all that it does, we think it's a great deal!
Portability. All it takes to travel with this portable bassinet is to fold and go. The handle is right on the bassinet.
Fun. The cute toys and roomy dome make this a great place for play after a long nap.
The Fisher-Price On-The-Go Baby Dome has the parent reviews to back up our excitement. It's truly the best portable bassinet for a safe, fun, and comfortable sleep and play environment on the go.
Recommended Accessories
We have found these accessories helpful when using portable bassinets:
Swaddles (This gives newborns a more snug sleep, similar to being in the womb.)
Extra fitted sheets
Battery operated sound machine (To help your little one sleep soundly on the go.)
FAQ's
What are some safety considerations for portable baby bassinets?
Safe sleep for infants is important. When using travel bassinets, be sure the sleeping area is free of all extra materials. This includes blankets, pillows, or extra bedding that could cause suffocation. Your baby should lay flat on its back. Also, make sure that the fitted sheet is tight and the mattress is firm.
Never set travel bassinets on raised surfaces with baby in them. This includes countertops, tables, chairs, etc. Always lock the wheels on standing bassinets to prevent rolling.
At what age can my baby use portable baby bassinets?
Portable baby bassinets are usually designed for babies starting at 0 months up to 6 months. At this point, babies usually become more mobile at night and are ready for a crib. If your child is starting to sit up, roll around, or is trying to climb out of the bassinet, it's time to move them into a crib.
How are portable baby bassinets different from pack 'n plays?
Portable baby bassinets are typically smaller in size than mini pack 'n plays. Also, the sides of a mini pack 'n play are higher. For this reason, mini pack 'n plays make a great option for a playpen. Families wanting a smaller alternative mainly for sleep might be happier with a traveler bassinet.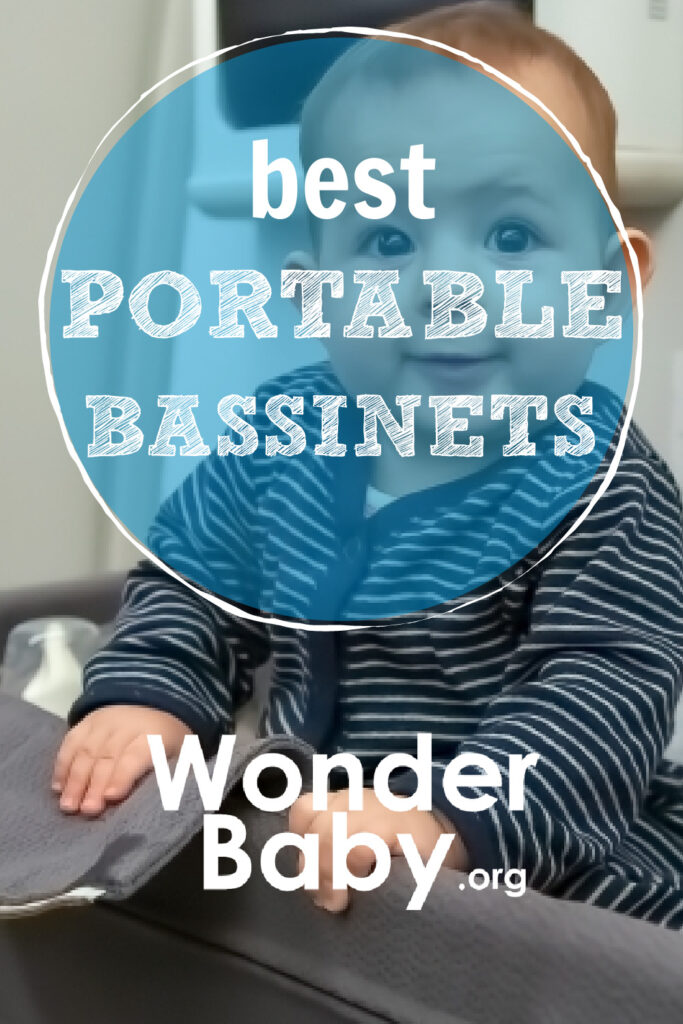 Related Posts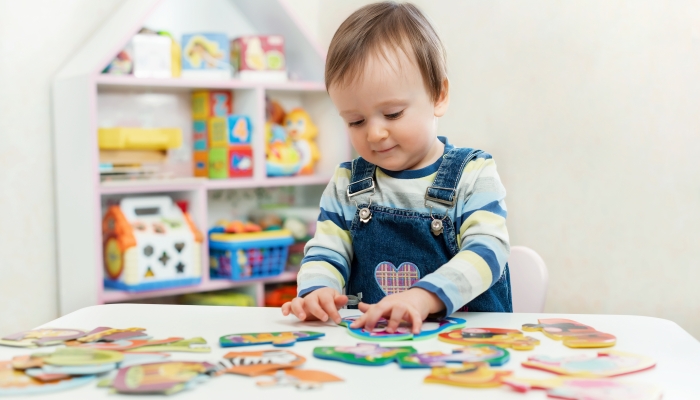 Product Reviews
Puzzles are one of the best ways to help them with language, color and shape recognition, basic numbers, and fine and gross motor skills.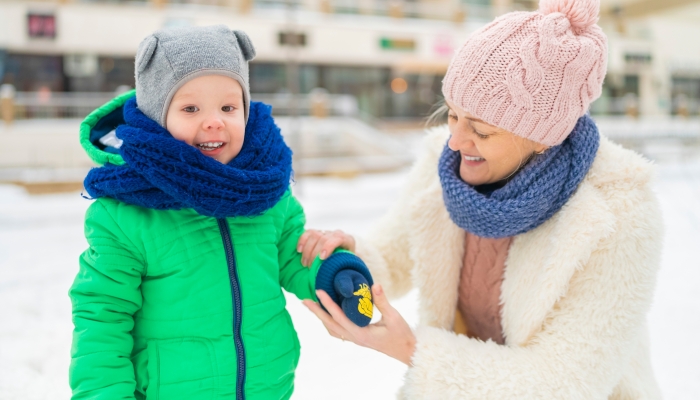 Product Reviews
As winter approaches it's time to shop for mittens and gloves for your toddlers and you'll probably need more than one pair!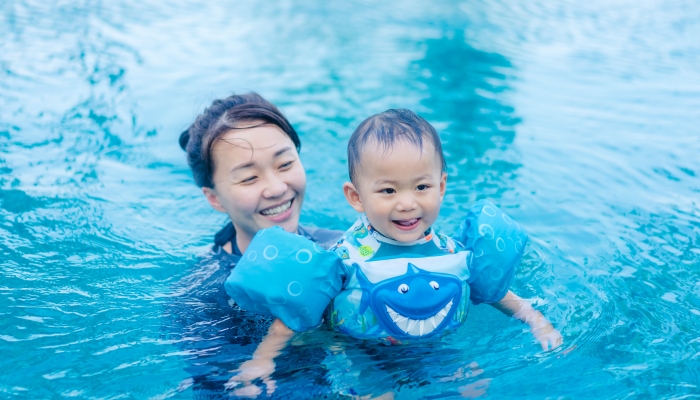 Product Reviews
Shopping for an infant life jacket? Our list of the best infant life jackets will steer you in the right direction.