The 5 Best Rocking Bassinets of 2022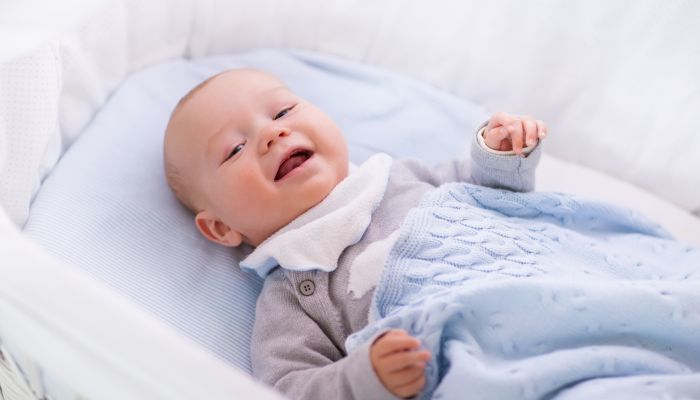 This post may contain affiliate links; please see our terms of use for details.
Every baby has their own preferences when it comes to being rocked. Choose a good rocking bassinet with a range of movements to cover all your bases.
An auto rocking bassinet will save your arms and give you much-needed rest.
A cheap, portable bassinet is an excellent buy if you're often out and about.
Glorious baby sleep! Tiny snores, a peaceful face, and a rare chance for a shower. A sleeping baby is the best! Especially when it's in a bed rather than on your chest, which makes showering trickier. However, going from mom's rising and falling chest to a still bassinet can be a bit of a shock for little ones. If this is true for yours, try one of the 5 Best Rocking Bassinets of 2022. You might even get a long bath!
Best Features
Most Accessible
Best Automatic
Brand
Fisher-Price Soothing Motions Bassinet
Graco DreamMore Bedside Bassinet Deluxe
4moms mamaRoo Sleep Bassinet
Best Features
Brand
Fisher-Price Soothing Motions Bassinet
Most Accessible
Brand
Graco DreamMore Bedside Bassinet Deluxe
Best Automatic
Brand
4moms mamaRoo Sleep Bassinet
What Are Rocking Bassinets?
Bassinets are small baby beds, suitable from birth to around 3 months. When your baby becomes more mobile and starts to roll over, they should sleep in a larger crib instead.
A rocking bassinet uses motion to help soothe your baby and lull them to sleep. There are lots of different options available.
Rocking side to side
Rocking head to toe
Gliding
Vibrating
Motorised
Automatic
We've already covered the best bassinets overall, but if you're looking for something a little more effective at helping your little one fall asleep, a rocking bassinet may be for you!
Why Choose A Rocking Bassinet?
People have rocked babies to sleep for thousands of years. First in their arms and then, in the 1600s, in hollowed-out half logs that would sway side to side.
Why it helps is a mystery of sleep that's still not fully understood. However, it even works on adults by helping to synchronize brain waves with sleep rhythms, aiding the transition from waking to sleep.
Having this secret weapon in the battle with newborn sleep is fantastic, but, as many parents have found, the constant rocking can be hard work. Your tiny baby might feel light at 6 pm, but after 20 minutes of rocking at 2 am, they seem to gain 10lbs. And, ideally, you want your baby to be able to fall asleep without being held.
That's where a rocking bassinet comes in. Taking the heavy load and still helping your little one fall asleep in their favorite way.
Are Rocking Bassinets Safe?
The most important consideration when choosing where your baby will sleep is safety. Fortunately, due to parent education, improved understanding of infant sleep safety, and strict regulations, Sudden Infant Death Syndrome (SIDS) cases are falling.
Providing you choose a bassinet that's been safety tested, rocking bassinets should be no less safe than regular ones. Plus, if it prevents you from becoming dangerously overtired or resorting to unplanned co-sleeping, everyone will be safer and happier.
However, new baby products seem to end up on the market, which are then declared unsafe or recalled every year.
How To Choose A Safe Rocking Bassinet
These are the key factors to consider when choosing a safe bassinet.
| | |
| --- | --- |
| New | The most essential safety feature of your baby's bed is that it's new. A hand-me-down bassinet or family heirloom may not meet the rigorous safety standards required today. There's also the possibility of damage, DIY repairs, harmful paint, mold, and soft mattresses. All of which pose risks to your baby's health. |
| Independently Tested | Having said your baby's bassinet should be new, don't buy one that's come to market so recently that no one has had the chance to test it independently. Products are frequently recalled after independent testers have identified safety faults overlooked by manufacturers. |
| Sleep Unattended | Check the manufacturers have not hidden the phrase "Never leave infants to sleep in this product unattended." in their fine print. This means there's a chance of your baby slipping into the wrong position, which poses an injury risk. |
| Breathable Sides | Babies should always be put on their backs to sleep at the foot and center of their bassinet. Unfortunately, this doesn't mean they won't wiggle themselves to the edge or turn onto their side. For this reason, the sides of any baby bed should be breathable. |
| Firm Mattress | If your baby rolls over, a soft mattress will pose a suffocation risk. You can check for the correct firmness by laying your baby down. If the mattress depresses, it's too soft. If it stays flat with your baby lying on top, it's safe. |
| Small Gaps | The gaps between the slats at the side of the bassinet should be small and always less than 60mm. This'll prevent your baby from suffocating by pushing their head through the gap. |
| Incline | Your baby's bassinet should never incline by more than 10 degrees. If the tilt is too high, it increases the risk of SIDS. |
| Locking Mechanisms | Make sure the bassinet has either a locking mechanism or is controlled by a motor. If it doesn't lock and your baby wriggles to the top, bottom, or side of the bassinet, their weight will cause it to tilt and remain in that position. Having their head below their feet can worsen reflux, and having their face pushed into the side could lead to suffocation. |
| Weight and Age Specifications | Make sure to check out the weight restrictions and age considerations for any bassinet you choose. Most can only be used for the first 3 months and should never be used after your baby can sit or pull up. |
What to Look for When Choosing a Rocking Bassinet
After your baby's safety, there are many more factors to consider when choosing a rocking bassinet. Budget, type of motion, portability, access, style, clever features, and most importantly, will your baby sleep in it?!
Unfortunately, the last factor is almost impossible to predict. Ideally, it would be great if you could test out a friend's or relatives for a quick nap, but this isn't always possible. However, there are a few clues you can look for in your baby to help figure out what they'd like.
"My baby always falls asleep in the car." – Choose a bassinet with a vibrating function to simulate a car ride.
"My baby loves being rocked in my arms." – Choose a bassinet with a side-to-side or head-to-toe rocking motion.
"My baby falls asleep when I hold him and sway." – Choose a gliding bassinet.
"White noise always helps my baby get to sleep." – Choose a bassinet that has a white noise feature.
"My baby frequently wakes in the night, but I can get her back to sleep quickly by shushing and patting." Choose a Bluetooth bassinet that can be turned on without getting out of bed.
"I have mobility issues that make lifting my baby difficult." – Choose a bassinet that's height-adjustable or opens at the side.
"My baby wants to sleep near me, but I don't want to co-sleep." – Choose a bassinet designed for the bedside.
The 5 Best Rocking Bassinets Of 2022
Now you know what you're looking for, here are the best rocking bassinets on the market this year.
The Rocking Bassinet with the Best Features: Fisher-Price Soothing Motions Bassinet
Sale
Fisher-Price Soothing Motions Bassinet
Item arrives in frustration-free, easy-to-open packaging that's 100% recyclable. For a gift-ready box, select "Ship in Amazon packaging" at checkout.
Calming sway motion generated by you or baby!
Dual-mode lighting! Choose from soothing projection and night light (Light projection unit is removable & can be used as a tabletop soother.)
Flat sleeping surface with deluxe overhead mobile
If bassinet, rocker, mobile, star projector, night light, and music box are all on your list to buy, this soothing motions bassinet from Fisher-Price is about to save you a heap of time and money. It's hard to think of a feature not included. It even has a handy storage shelf underneath.
The rocking motion of this bassinet is head to toe, great if your baby loves it when you rock them to sleep. You power the movement with a gentle push, like with most bassinets. However, this one is slightly different as your baby can also make it sway by wriggling. This means if they wake in the night, they can start the bassinet rocking on their own, which could soothe them back to sleep.
If it turns out that your baby isn't as much a fan of rocking as you thought, this bassinet has you covered. You can prevent movement with velcro straps, and it has a backup motion for you. Vibration. A tried and tested sleep solution responsible for millions of car naps every day.
Another fantastic feature of this bassinet is the light and soundbox with a 30-minute timer. You can choose between soothing music or nature sounds and a gentle night light or mesmerizing star projection. If it turns out your baby loves them after they've grown out of the bassinet, the box is detachable and can be used at their bedside.
Safety is, of course, excellent, as you'd expect from such a well-established brand. The mesh sides are fully breathable, and the mattress is firm.
Of course, no product is completely perfect, and there are a few things to consider before you buy. Firstly the height isn't adjustable and comes up fairly short. This means a bit of extra bending, which might be tricky if you have mobility issues or have had a c-section.
Secondly, the velcro locking straps aren't as secure as other locking mechanisms. This isn't a safety issue, but if your baby is an enthusiastic wriggler, they will generate a slight movement, even when locked. This will only be a problem if you've found out post-purchase that your little one prefers a stationary bassinet.
Score
Budget – 4/5
Motion – 5/5
Portability – 3/5
Access – 3/5
Style – 4/5
Features – 5/5
Best Accessible Rocking Bassinet: Graco DreamMore Bedside Bassinet Deluxe
Graco DreamMore Bedside Bassinet Deluxe
Bassinet for newborn positions baby at your eye level so you can check in throughout the night without having to get out of bed
Bassinet features manual swaying motion to help soothe baby to sleep
The bassinet easily removes from the base for increased portability, providing a safe sleep space in any room of your home
Bassinet's height adjusts from 23.5″-32.5″ to fit over most beds for easy check-ins through the night
If accessibility is one of your main concerns, you're probably here because finding an accessible rocking bassinet is tricky. Most features that aid access don't pair well with rocking, so many manufacturers focus on one or the other.
The Graco DreamMore Bedside Bassinet Deluxe provides the best of both worlds. The most useful feature is that it's incredibly height adjustable.
Standing height – It can be raised to standing height, allowing you to scoop up your little one without bending.
Bedside height – Not only can it be lowered to bedside height, but it's also designed so that the base can slide under your bed. This means that you can pull the entire bassinet over your mattress towards you.
Stand free – You can also use the bassinet without the stand and place it on the floor. This is particularly great if you're often sat on the floor playing with older siblings.
The motion of this bassinet is a head-to-toe glide. Perfect for little ones who tend to drift off in a stroller. You generate the movement by pulling the handle back and forth. You can even do this over your mattress as you lie in bed.
Most importantly, it's an incredibly safe bassinet. The mesh sides allow full breathability and visibility. You won't have to stand for a view of your baby when you check on them at night. You'll be able to watch their adorable sleepy breathing from the comfort of your own bed.
There are, however, a few potential drawbacks you might want to consider, depending on your personal preferences. Firstly, you have to power the movement. If you think this won't be comfortable, you may prefer a self rocking bassinet.
Secondly, the crib sides don't lower to allow easy bedside access. If this is very important to you, you may need to consider a crib that doesn't rock. Lowered sides and movement don't really mix, especially as you have to strap most bedside sleepers to your bed. There are a few on the market, like the Angel Bliss 3 in 1 bassinet, but switching between the rocking and stationary modes can't be done while your baby is in the bassinet, which defeats the purpose.
Score
Budget – 3/5
Motion – 3/5
Portability – 4/5
Access – 4/5
Style – 4/5
Features – 3/5
Best Automatic Rocking Bassinet: 4moms mamaRoo Sleep Bassinet
4moms mamaRoo Sleep Bassinet
5 parent-inspired motions, 5 speeds and 4 white noise options
Bluetooth Functionality – easily adjust motion, speed, sound, or set a timer with the 4moms app
Safe Sleep Environment – firm, flat sleep surface with mesh sides for visibility and breathability
Find Your Roo, exclusively on the 4moms app, helps you find the MamaRoo motion and speed combination that are inspired by your own natural soothing moves
Rather be resting than rocking a bassinet? You're not alone, and thanks to the miracles of modern technology, you can be! The mamaRoo Sleep Bassinet is a self rocking bassinet that can do the job for you. You won't even have to stand up as you can control it using your phone via Bluetooth.
Not entirely sure what kind of motion will suit your baby? This auto rocking bassinet has got you covered. The handy app allows you to choose between car ride, wave, kangaroo, tree swing, and rock-a-bye. There are even 5 different speed options for each, so you're sure to find a gentle motion that'll bring your baby delight.
In addition to the incredible range of motions, this baby bassinet will also play sounds to help get your baby to sleep. Again there are options, rain, ocean, fan, and shh. You can put all of these soothing features on a timer, so you won't have to worry about drifting off and leaving your little one at sea all night.
Importantly for an auto rocking bassinet, the mamaRoo features breathable mesh sides that allow full visibility. This means you'll be able to look at your baby, from your bed, before using the app to start the gentle rocking motion and soothing sounds.
Are there any drawbacks to this self rocking bassinet? Not many. Perhaps it's missing a few features that could've been useful. A storage space, soft nightlight, or overhead toy bar would've been nice for the price.
Another minor issue is the internal fan, which creates noise as it cools the motor. However, most consider this a bonus white noise feature. Finally, the timer maxes out at 4 hours. Not all babies will need sounds and motions all night, but if they do and it suddenly turns off, it might wake your baby.
Score
Budget – 3/5
Motion – 5/5
Portability – 2/5
Access -3/5
Style – 4/5
Features – 4/5
Best Budget Rocking Bassinet: Fisher-Price Rock With Me Bassinet
Fisher-Price Rock With Me Bassinet
Item arrives in frustration-free, easy-to-open packaging that's 100% recyclable. For a gift-ready box, select "Ship in Amazon packaging" at checkout.
Portable bassinet that gently rocks with a light push for sweet dreams at home or for travel!
Bassinet has lightweight frame and super-slim fold (under 4 inches), so it's easy to take along or stow away
Twist and lock feet let you switch from rocking to stationary mode, and full mesh sides let you keep an eye on baby
Is the thought of spending hundreds of dollars on something that a baby outgrows in a few months making your toes curl? No problem, we've found the best rocking bassinet for tighter budgets. The Fisher Price Rock With Me Bassinet has a smooth side-to-side rocking feature, a secure stationary mode, and will provide a cozy, and safe sleeping space for your baby.
The gentle rocking motion is controlled by adjustable feet that can switch between stationary and rocking modes. This means that no amount of wriggling from your baby will get the crib rocking if you don't want it to. The downside is that you have to turn each foot individually, which could be frustrating if you often switch between modes.
This Fisher-Price bassinet also features breathable mesh walls, providing breathability and a good view of your baby. While it lacks fancy features like soft music or calming vibrations, it will do everything needed to keep your baby safe.
The firm mattress pad is wipe-clean for easy cleaning, and the mattress cover is machine washable. Of course, you can use your own fitted sheet if you need additional changes or have some with cute designs.
Stylewise, it's similar to lots of baby gear. A neutral mixture of white and grey, perfect to blend into any room.
A bonus feature of these brilliant budget bassinets is how portable and easy to store they are. You can fold them down to 4" flat, ideal for sliding under the couch or bed. This makes it a good bassinet for keeping at a grandparents' or friend's house. Having a safe space to put your baby to sleep at places you visit frequently is invaluable and will build good sleep habits for your little one.
One thing to bear in mind about this one is that it isn't height adjustable. It won't be the best bedside sleeper as you'll be unable to adjust for the best view and easy reaching.
Score
Budget – 5/5
Motion – 3/5
Portability – 5/5
Access – 2/5
Style – 3/5
Features – 2/5
Best Portable Rocking Bassinet: Baby Delight Go With Me Slumber Deluxe
Sale
Baby Delight Go With Me Slumber Deluxe
SLUMBER TIME – Life takes you many different places, so we designed this rocking bassinet fold up and fit into a portable carry bag. We wanted this bassinet to be the perfect option wherever your life takes you. Compactable, portable, and convenient
MAXIMUM SAFETY AND STYLE – JPMA certified and designed with maximum safety. The Slumber's charcoal tweed fabric makes it sleek and modern, fitting into any home. You shouldn't have to sacrifice style for safety. Recommended age is up to 5 months or 20lbs
ROCK IT OR LOCK IT – Our Bassinet can be manually rocked or locked into a stationary position. Along with the baby rocker, it also comes with an optional canopy and netting to protect your baby. The cover and sheet are also removable and machine washable
COMFORTABLE AND COZY – The Slumber was designed with mesh walls to allow increased airflow and breathability
Perhaps you've found the best rocking bassinet for your home, and you know that the fastest way to get your baby to sleep is to rock them. However, you also like to get out and about. You need a good rocking bassinet that's also incredibly portable. That's where the Baby Delight Go With Me Slumber Deluxe Portable Rocking Bassinet shines.
These rocking bassinets are great for travel as they can be folded down flat in seconds and come with their own carry bag. They also feature a removable canopy and bug netting. Perfect for snoozes in the garden.
The rocking motion is side to side, but you can also use the bassinet in stationary mode. A brilliant buy if you're not sure whether or not your baby will like the movement. If only it were easier to predict your baby's sleep habits!
While it is suitable as your baby's only bed, it's not the best choice as a bedside bassinet. It's very low to the ground and won't provide a good view of your little one. It's better to keep your baby close with a bassinet that's closer in height to your bed.
Score
Budget – 5/5
Motion – 3/5
Portability – 5/5
Access – 2/5
Style – 2/5
Features – 2/5
The Final Verdict – Best Overall Rocking Bassinet
Our choice of the best rocking bassinet is… The Fisher-Price Soothing Motions Bassinet!
All the rocking bassinets on our list will provide safe and happy baby sleep. However, the incredible range of soothing features, mobile toys, moderate cost, tabletop soother, and baby-powered rocking function of the Fisher-Price Soothing Motions Bassinet makes it the best rocking bassinet on the market.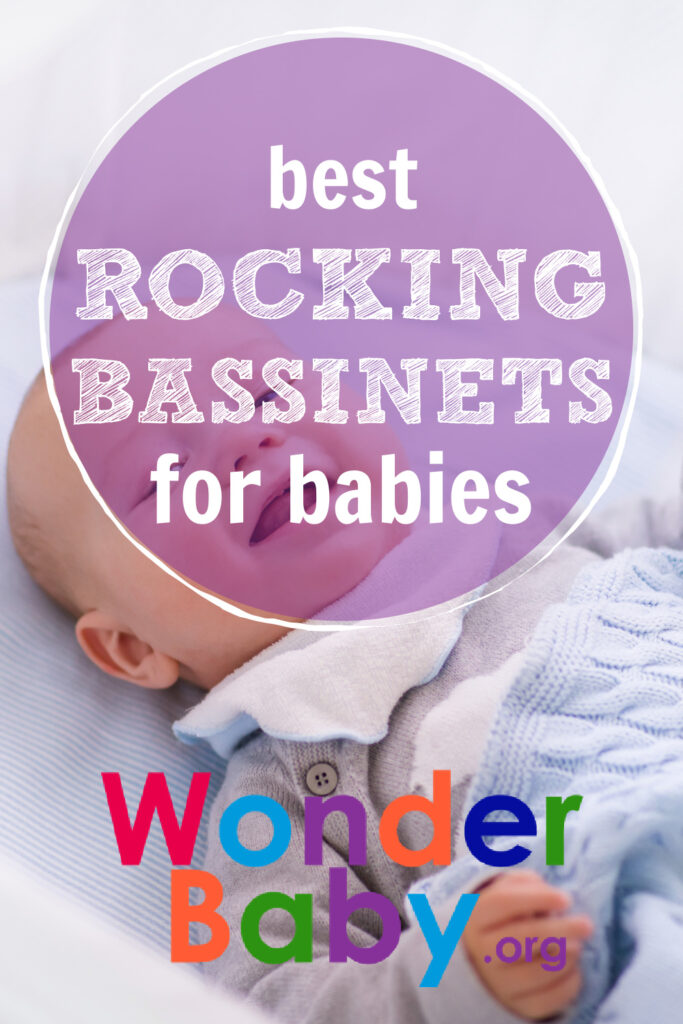 Related Posts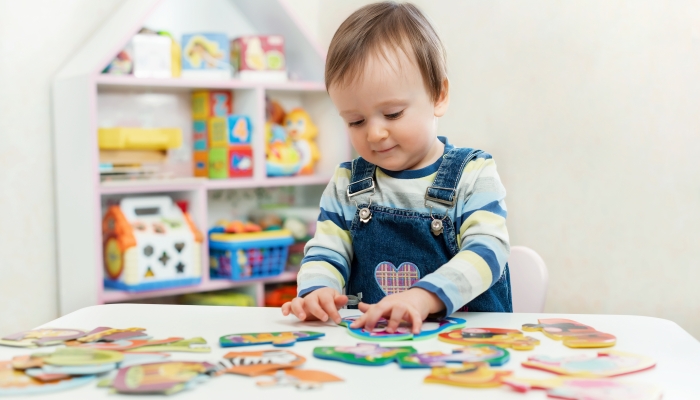 Product Reviews
Puzzles are one of the best ways to help them with language, color and shape recognition, basic numbers, and fine and gross motor skills.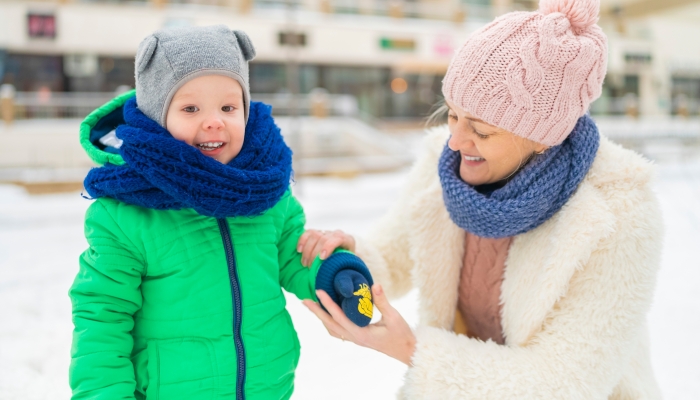 Product Reviews
As winter approaches it's time to shop for mittens and gloves for your toddlers and you'll probably need more than one pair!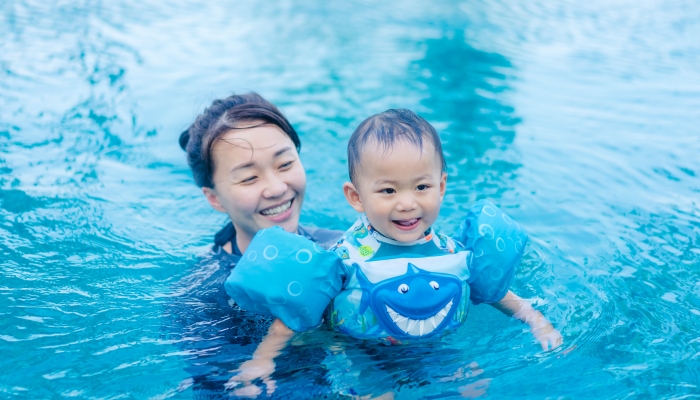 Product Reviews
Shopping for an infant life jacket? Our list of the best infant life jackets will steer you in the right direction.