Best Baby Crawling Knee Pads of 2022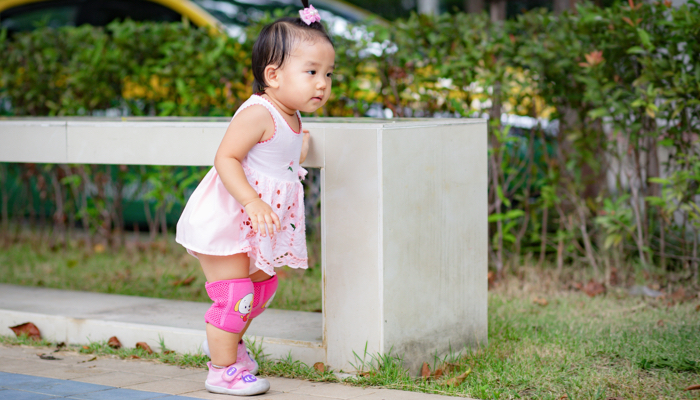 This post may contain affiliate links; please see our terms of use for details.
Your baby is on the MOVE! Unfortunately, crawling is a lot of work for them! The best way to protect baby's knees while keeping babies safe in their quest to learn how to crawl is with knee pads.
It's a little-known fact that babies don't have fully developed kneecaps. Babies are born with cartilage and bones that gradually form into the hard kneecaps we all have. These soft baby's knees are vulnerable to damage when crawling around on floors, especially on slippery hardwood floors.
Crawling mats can certainly help keep your baby safe and comfortable while they start to move around on their own, but what do you do when they venture off the mat? If you want your baby to protect themselves against carpet burns, scrapes, and bruises while they learn how to crawl then it might be the right time to consider purchasing some knee pads!
Top Choice
Most Lightweight
Most Fun
Brand
Simply Kids Baby Knee Pads
Toptim Non Slip Knee Pads
Top Choice
Brand
Simply Kids Baby Knee Pads
Most Lightweight
Brand
Toptim Non Slip Knee Pads
Most Fun
Toptim Non-Slip Knee Pads and Socks Set
Toddler Non Slip Knee Pads and Socks Set
♡GUARANTEED SAFETY DURABILITY: This non-slip baby socks and Knee Pads set are made of 80% Cotton, 15% polyester, and 5% spandex.
♡PACKAGE INCLUDES: 5 Pairs Knee Pads and 5 Pairs Floor Socks
♡EASY TO CLEAN AND WASH: these bay socks are washable using machine and they don¡¯t wear out. Come in dull and bright colors. baby socks it easy to wash.
♡Elastic to perfectly fit despite the size and shape of the feet. The outrageous way to keep your baby's feet warm.suitable for all year round seasons socks.
This is a simple, gender-neutral knee pad set from Toptim with socks included! If you're looking for a basic non-slip knee pad, this is for you. The matching socks are great to protect little baby feet from slips and falls, as they also have silicone pads on the bottom. The material is made with an elastic band for an easy, slip-on option.
This set includes five pairs of knee pads with matching socks. The color options are trendy earth tones and neutrals, the minimalist style is perfect for coordinating outfits!
These pads are ideal for any weather because they may be worn throughout the warm summer months without being too hot, yet are thin enough to be worn underneath or over winter clothing.
Simply Kids Crawling Knee Pads
Sale
Baby Knee Pads for Crawling
👶🏻 𝗣𝗥𝗢𝗧𝗘𝗖𝗧 𝗕𝗔𝗕𝗬'𝗦 𝗞𝗡𝗘𝗘𝗦 — Let your baby roam wherever their crawls may take them… without bruises, scrapes, or carpet burns. (2 Pairs)
👶🏻 𝗔𝗗𝗝𝗨𝗦𝗧𝗔𝗕𝗟𝗘 𝗙𝗜𝗧 — Our unique velcro straps allow you to adjust the fit as your baby grows from 6-24 months, avoiding the strangle or slip-offs of other knee pads.
👶🏻 𝗕𝗥𝗘𝗔𝗧𝗛𝗔𝗕𝗟𝗘 & 𝗪𝗔𝗦𝗛𝗔𝗕𝗟𝗘 — Kids love wearing our skin-friendly, allergy-free, and CPSIA-tested crawling pads.
👶🏻 𝗩𝗔𝗥𝗜𝗘𝗧𝗬 𝗢𝗙 𝗗𝗘𝗦𝗜𝗚𝗡𝗦 — Choose from multiple colors and cute patterns to find the perfect one for your baby… or send as a gift to that lucky someone.
If you're looking for something with more protection and cushion, these baby knee pads protect little knees from crawling or during playtime and protect your hardwood floors and other surfaces. Your child can crawl, walk and run with the non-skid bottom that allows for a smooth glide while protecting their knees from falling on rough surfaces.
Not only do these protect your children but the elastic strap provides the perfect fit, and can be trimmed to the desired size. They're not too bulky, allow for natural movement, and feature open, adjustable sides. Simply Kids' Knee Pads come in a variety of styles and colors and offer a one-year warranty.
You can choose from a variety of colors and animal-shaped pads. The soft yet durable surface also ensures that little ones stay safe while they're on all fours.
Made with high-quality materials and can be used for multiple purposes, and ages, perfect fit provided by the adjustable elastic straps, comfortable to wear, and provides great protection for little one's soft knees.
Some parents complain that the strap isn't flexible enough and the pads don't offer enough traction or grip.
Syhood Crawling Anti Slip Knee Pads and Socks
Another set if you love your little one in matching sets! These simple, stylish knee pads from Syhood come in many more color assortments, neutral, colorful, and modern. The product also has a higher rating on average, with customers frequently complimenting the softness of the materials.
Like most babies, these protectors are gender-neutral and provide a great non-slip grip for crawling.
Pros: Affordable, can be used as protection against falls when the child starts to crawl by placing them around their ankles.
Cons: Provides no padding, may not be stretchy enough for some babies.
Hidetex Baby Knee Pads for Crawling
Sale
Hidetex Baby Knee Pads for Crawling
Protective and Anti-slip – Hidetex baby knee pads can protect baby knees from bruises and scrapes when your babies are crawling or learning to walk.The silicone pattern helps babies to move steadily.
Elastic and Extensible – The material of Hidetex baby knee pads has high elastic so they can fit the baby leg perfectly. They are breathable, absorb sweat, durable and soft to wear.
Fits Most Babies – Hidetex Baby knee pads are unisex and fits most babies, Usual for 6-24 Month Baby, Kneepads circumference approx 15 cm/5.9 inches (unstretched); overall size 13.5 cm/5.3 inches 7 cm/2.8 inches (L x W); round pad (in the middle) diameter 7.5 cm/3 inches.
5 PACK Multi-Color – 5 different colors for baby to choose(Black, Light Grey, Dark Grey, Blue, Pink). Your children will like the lovely color.
These great gender neutral knee pads from Hidetex will do the trick if you're simply looking for something to protect your baby's knees from carpet or rug burn, especially when they are learning to crawl. They are machine washable if you need to rewash them after an accident or spill.
Keep in mind though that these pads don't provide any cushion or padding and therefore may not be very comfortable for some crawling babies that need more support on harder surfaces.
Ashtonbee Adjustable Baby Knee Pads
Anti-Slip Knee Pads for Babies
Protect Your Kids During Playtime – Keep your little ones safe from wounds, scrapes, bruises, and irritations with our baby crawling knee pads. These flooring knee pads are specially designed to shield their knees as they learn how to walk.
Premium, Anti-Slip Crawling Knee Pads – Made of high-quality cotton, our toddler knee pads are durable, so your child can use them for a long time. This knee protector has non-skid pads for baby safety on hardwood or tiled floors.
Designed for Comfort – Unlike other knee walker pads, ours allow ventilation around the knees to avoid discomfort. It fits your little one's knees snugly.
Fun and Functional – Our knee pads for crawling come in 3 pairs; each measures 15cm x 10cm. These baby care products versatile, stylish accessories for babies come in 3 bright and fun colors: green, orange, and blue.
Lightweight, simple design, and lightly padded, these Ashtonbee baby knee pads will make a great option for those who want something that is really light and low profile.
Minimal padding makes for easy movement while still protecting the baby's knees on hard surfaces. This option might be considered pricey in terms of how many pairs you get for the price. Also, there is no gripping material on the knee pads whatsoever.
1 One Enjoy Baby Knee Pads
Another budget option on our list, the 1 One Enjoy knee pads are made with breathable material that also absorbs sweat and moisture and can be secured by velcro straps on the back. These are still designed to protect your child's knees while allowing them free movement during early development.
Reviewers found these provided great knee protection while their babies crawled around on hardwood floors. There is little traction or grip on the pads themselves, so they may slip on slicker surfaces.
Fun-Plus Baby Knee Pads with Funny Quotes
If you're the kind of parent that loves to be quirky, and has a great sense of humor, check out these fun pads by Fun-Plus! These simple pads come in a pack of five different colors, with funny sayings printed on them.
The printed quotes also double as traction, as they are made from a grippy material. Unlike most simple knee pads, Fun-Plus pads are designed in a curved shape, with breathable material under the knee.
Your child may prefer their knees to be free of extra padding and totally exposed, and in that case you will want to look into these.
These protect both knees without restricting movement. They are made from a polyester/cotton blend material that is machine washable and very easy to clean. Parents love these!
Final Verdict
Every baby is different, and no two crawling styles are the same. Because babies will be crawling with knees down, knees up, and many other crazy crawling types, it's important that their knee pads protect in all directions.
You don't want your baby to experience unnecessary accidents! Simply Kids baby knee pads are perfect for when you want to protect their knees while they crawl around on the many different surfaces (indoor and outdoor!).
The machine washable and adjustable knee pads protect both knees in one pair of knee pads. They can also be worn on the elbows!
They come in many color and design options depending on your preference. Kids grow out of things so fast, sometimes the best choice is something that can grow with your little one through multiple stages!
FAQs
How do I know when my baby is ready to start crawling?
You may notice that your baby is becoming more vocal, and attempting to pull themselves up on furniture. They may also be more active than usual, and will actively turn towards the floor while playing on their backs. Babies who are ready to crawl will also often start to reach and pull themselves toward crawling toys that are just out of reach.
What age can I start using baby knee pads?
You can protect your baby's knees from the moment they start showing an interest in crawling. In some cases, it might be best to use them once your little one has become more adventurous and mobile.
What are some important safety tips for baby knee pads?
The most important thing to remember is that knee protectors are not a substitute for parental supervision. Make sure you take the time to watch your little one as they practice their new skills, especially when climbing stairs or learning how to walk up and down inclines.
Do I really need to purchase crawling knee pads?
There is always a risk of your baby hurting themselves out on the floor (or anywhere for that matter). During crawling, your baby could easily scrape, cut, or bruise their soft and underdeveloped kneecaps.
If your home is mostly carpeted, then you may not feel the need to purchase knee pads. However, if your home has hardwood or tile floors – or if you take your baby out for walks often – then it is definitely a good idea to have some protective knee gear on hand.
In the end, you know what's best for your child. and weighing out every variable can help you to make the appropriate choice for your little one.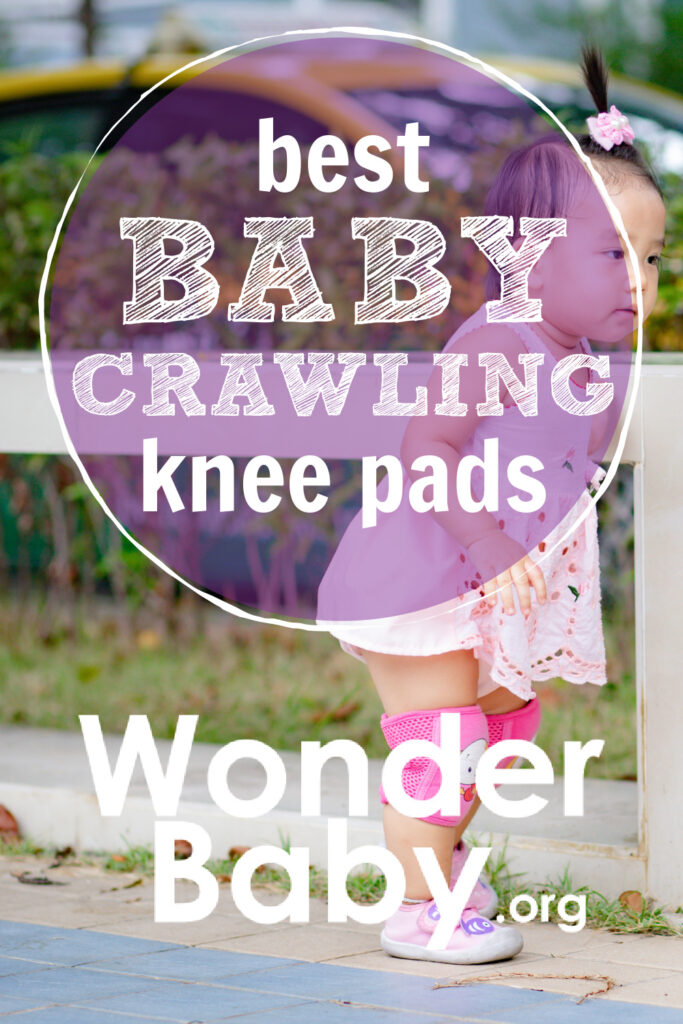 Related Posts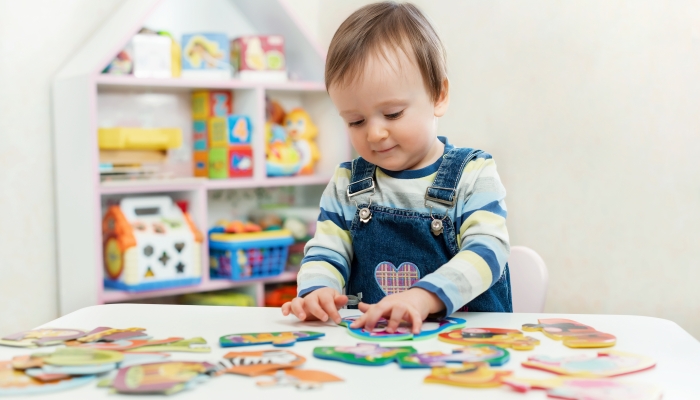 Product Reviews
Puzzles are one of the best ways to help them with language, color and shape recognition, basic numbers, and fine and gross motor skills.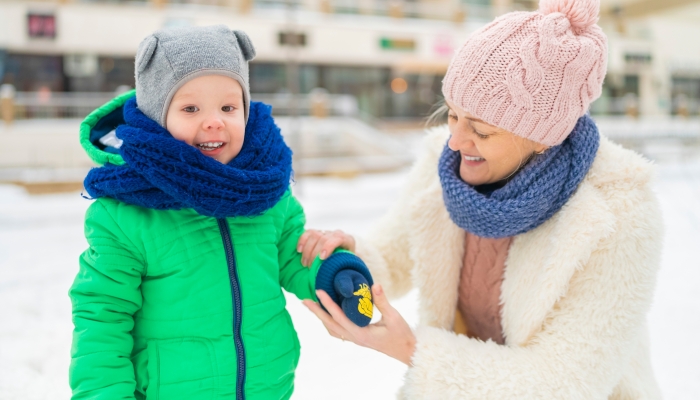 Product Reviews
As winter approaches it's time to shop for mittens and gloves for your toddlers and you'll probably need more than one pair!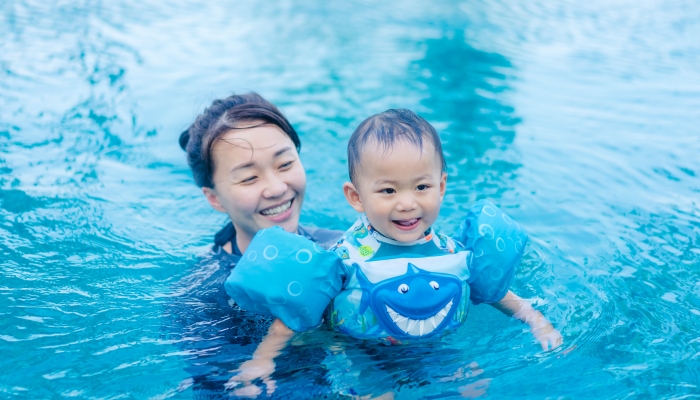 Product Reviews
Shopping for an infant life jacket? Our list of the best infant life jackets will steer you in the right direction.