The 8 Best Baby Crawling Mats in 2022
This post may contain affiliate links; please see our terms of use for details.
When your baby starts doing tummy time and is in the early stages of sitting up and crawling, it's time to find a baby crawling mat. The best baby floor mats give your baby a safe space to explore and play and a soft place to land as they become more mobile. They also protect your wood floors or carpet from inevitable spit-ups, spills, and accidents.
But if you're dreading buying yet another piece of loud baby gear in primary colors that clashes with your home decor and takes up loads of space, you're about to be pleasantly surprised. There are some great options for baby play mats on the market that look great, save space, and provide your baby with a safe place to play. Here are some of the best.
1. Best Foam Mat for a Stylish Home
Skip Hop Playspot Geo Foam Tiles
Our décor-driven baby-safe flooring lets you create countless trend-setting patterns for a customized look
It's designed to complement your home's décor, while keeping your child comfortable and happy. With a triangle shape, our foam floor tiles easily connect like a puzzle for the ultimate customization of your little one's play space
Create multiple designs and custom sizes
Oversize tiles mean extra-large play space
These geometric foam tiles from Skip Hop create a large, cushioned, non-slip surface that your baby will love to play on and that you will be happy to add to your home. These interlocking tiles come in a variety of shapes and colors and can be arranged into several different patterns to create a trendy floor covering. Made of non-toxic foam, this floor mat is easy to vacuum or wipe clean and it's sturdy. Foam tiles are great because they're so versatile. They'll last as a fun addition to your baby's room as they move into toddlerhood.
This Skip Hop play mat is a great option if you're covering a large area and intend to keep the mat in one place, like a nursery or toy room. Keep in mind that if you want to move or put this floor mat away when company arrives, you'll need to take all the tiles apart, so it might not be the best option for a communal living space if you think you'll want to move it a lot. But for daily use when you're baby is learning to roll or play with crawling toys, this is a great-looking baby play mat.
2. Best Low-Cost Foam Mat
Tadpoles Playmat Set
This set of thick, soft playmats provides a perfect learning spot for your kiddos on the floor. The 36 interlocking mats teach the ABCs and digits 0 through 9
Cover the playroom floor: This set includes 36 square mats, measuring 12" x 12" each. Also includes 24 border pieces. Total area covered = 74" x 74" (36 square feet)
Comfy and non-slip: The colorful imagery on this multi-piece mat set encourages cognitive and sensory development. Interlocking tiles grip your floor and stay put, for safety and comfort
Made from safe materials: Tadpoles playmats are constructed of 100% EVA foam. They are non-toxic and odorless. No lead, no phthalates. Mats clean up easily with soap and water. They're stackable for quick storage
A less expensive foam floor mat option is the ABC floor mat set from Tadpoles. The ABC pattern is a more traditional look for a children's play space, but they come in a variety of color themes, from neutral beige and white, to funky blue and brown, to super bright colors. There is even a wood grain floor option if you want to go for a camouflage effect on your play area floor.
What makes this type of foam mat a great option is its versatility. Their good cushioning is helpful when babies are small, rolling, crawling, learning to stand, and often falling. As your child grows, the uses of this mat are endless. As toddlers they'll start experimenting with the tiles, fitting the interlocking pieces into 3-D blocks and triangles and they are a great padding to place beneath crawling tunnels which promote movement and exploration. They promote imagination in older kids who will love to use these tiles to build forts and hideouts.
3. Best Mat for Special Needs Babies
Sale
Manhattan Toy Wimmer-Ferguson Play and Discover and Pat Activity Play Mat
BLACK AND WHITE DEVELOPMENTAL TOYS: From Manhattan Toy's award winning Wimmer-Ferguson infant collection – the original innovator of black and white developmental toys. The patterns of all Wimmer-Ferguson products adapt to baby's changes in visual development by featuring a range of design complexity and color, inspired by laboratory research.
CRAWL AND DISCOVER ACTIVITY MAT DETAILS: Multisensory play and pat mat features flaps with reverse print graphics, hidden crinkle paper, and BPA-free teethers; tummy time mat for infants features a removable, baby-safe self-discovery mirror and pleasing rings that clack together for additional auditory stimulation.
REMOVABLE MIRROR AND MACHINE WASHABLE: The Wimmer-Ferguson Crawl and Play's easy care feature is just one less thing to be concerned about. Machine wash after removing mirror; clean mirror with baby-safe sanitizing wipes (not included). Play mat measures 32″ x 32."
VISUALLY APPEALING HIGH CONTRAST TOY FOR INFANTS: Professional research has shown that newborns are more attracted to high-contrast patterns than to color or brightness alone. The Wimmer-Ferguson Crawl and Discover Mat was designed for this purpose, encouraging baby to learn pattern recognition.
This floor mat from Manhattan Toy is great for all young babies, but also has features that make it an excellent choice for babies with visual impairment or other special needs. The large, black and white, high contrast images are visually stimulating, which is perfect for babies with CVI.
It also has several multisensory toys and features. There is hidden crinkle paper under one of the squares and plastic teething rings that clack, giving your baby auditory stimulation. There are flaps to touch and feel, as well as teethers and tabs, and a hidden, detachable mirror to explore, great for developing fine motor skills. It's recommended by parents of visually impaired babies who are trying to encourage their blind baby to crawl and explore as well as special needs organizations.
This multisensory baby floor mat is not only perfect for tummy time, but it's also soft and machine washable.
4. Best Eco-friendly, Organic Play Mat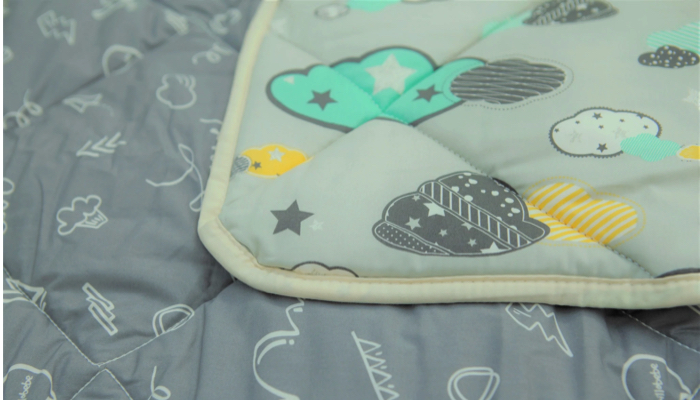 If you're looking for an eco-friendly, non-toxic, 100% organic play mat, look no further than the lovely quilted play mats by Pillobebe. These floor mats are made of organic cotton and are entirely chemical and plastic-free. They come in a variety of reversible patterns and colors which are baby-friendly but also easy on the adult eye.
You can purchase an additional anti-slip mat to keep the play mat from sliding on hard floors. You can also order extra padding to double the cushioning. You can put these mats in the washing machine when they need a clean, but as they are a natural product, you can expect some shrinkage. Read the manufacturer's instructions for the best way to look after this mat.
5. Best Reversible Rug Mat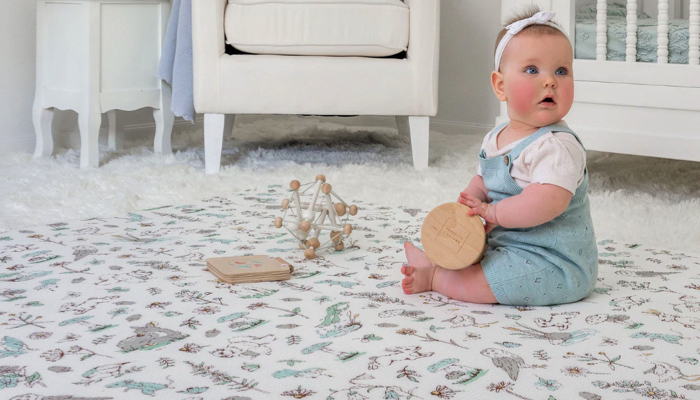 Munchkin & Bear make baby crawl mats that look like beautiful area rugs – genius! These cushioned play mats cover your hard floor to make a safe and stylish space for your baby play area. The mats are one piece and come in a variety of sizes. Made of waterproof, non-toxic foam, these super soft play mats are easy to spot clean. The mats are reversible, letting you change up the design in your space easily in seconds.
Because it looks like an area rug, there's no need to have to put it away at the end of the day or when entertaining. Both you and your baby will love the colors and patterns. And, because these are so well cushioned, they double as adult yoga and exercise mats.
6. Best Activity Mat
Tiny Love Meadow Days Super Play Mat
EXTRA ROOM FOR FUN: The extra large play mat features a developmental playground of fun activities and discovery for baby, all built onto comfy plush padding to keep baby and parent comfortable
Fun at home or on the go: folds easily into a compact size that makes it perfect for taking along to the beach, the park or anywhere
Playful textures: features fun and engaging textures for tactile and motor skill development. Shiny satin ribbons
Promote facial recognition: soft padded mirror on play mat promotes facial recognition and continuous engagement
The people at Tiny Love really thought of everything when they came up with the Meadow Days Super Play Mat. This extra-large, fabric play mat is nice and soft. Cute, friendly animals greet your child, either in tasteful color or the sleeker black and grey option. The mat includes a teether, padded mirror, and lots of textures for your little one to explore during tummy time to promote hand eye coordination and encourage crawling.
Not only is this a great activity mat that your baby will love playing with, but it's also convenient and easy for parents to use. It can be folded up easily and then fastened with a button, making it simple to put away at the end of the day. The attached handle makes it easy to transport to the park, to grandma's house, or just about anywhere. Just throw it in the washing machine when you need to. In terms of fun and stimulation for your baby and ease and convenience for you, this mat from Tiny Love is a nice-looking and well-priced option.
7. Best Portable Play Mat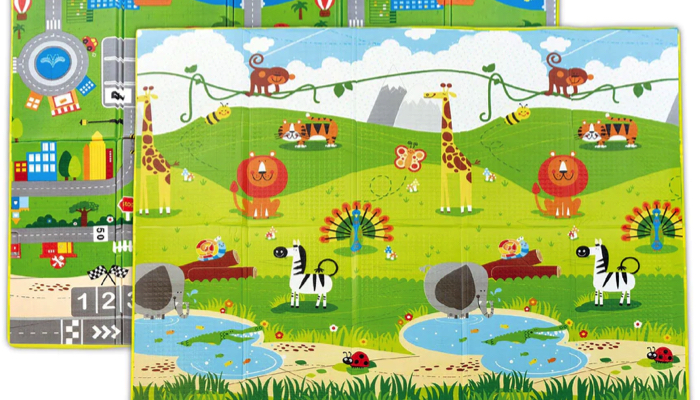 The Hape Foldable Play Mat may be full of bright colors, but it's so easy to use, store and carry that adults really won't mind. Its wipe clean, water resistant surface is easy to maintain. This is a one piece mat that can easily be folded into its convenient carry case. When your baby is done playing on the floor, simply wipe down and put away or take it with you if you're on the go. This is a great option if you're looking to save space.
The soft cushioning makes it a great baby play mat for young babies, but toddlers will love it too. The mat is reversible, with a safari scene on one side and a town map on the other. Older kids will love running toy cars on the little road. If you're looking for a mat that will last beyond the crawling stage or that can be used by your baby and toddler together, this is a good option.
8. Best Mat to Give (or Get) as a Gift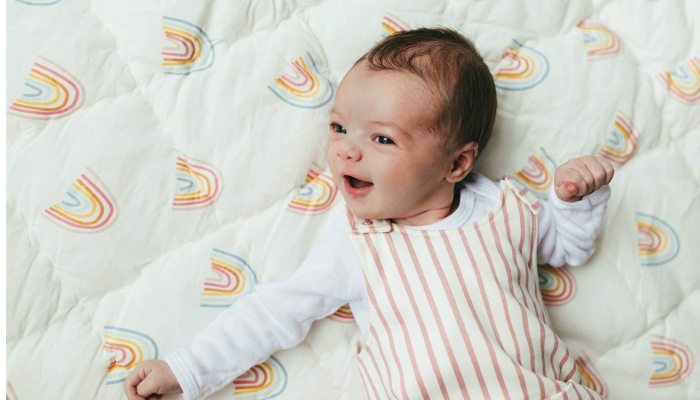 If you're looking for a tasteful and beautiful gift to give new parents that's also useful, this Pehr Baby Play Mat checks a lot of boxes. It's made of 100% cotton and comes in a variety of sweet patterns that will match any home's decor. These baby crawling mats are ethically made and printed with AZO-free dye. And they're machine washable.
Not only are they natural, but they provide a lovely soft spot for playtime, especially for young babies. Parents appreciate the thick cushioning and high quality. While this is on the more expensive side for baby floor mats, it's a durable, lasting product that would make a lovely and thoughtful gift.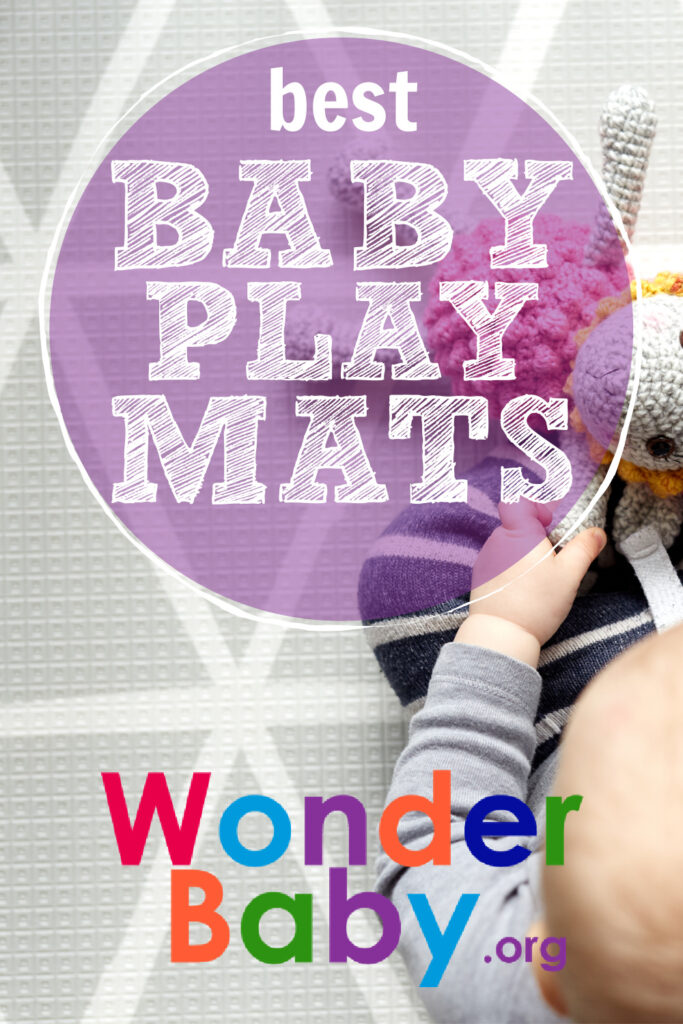 Related Posts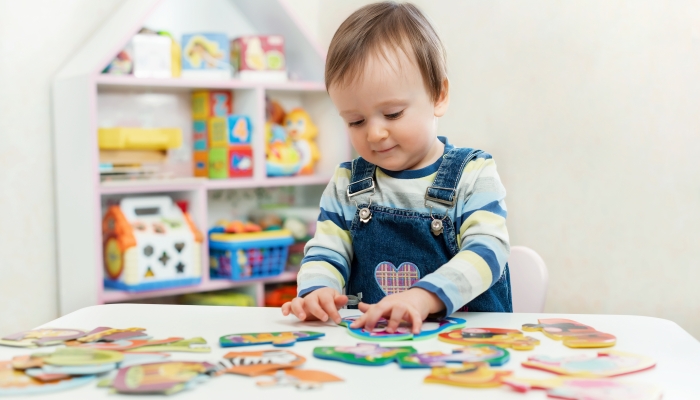 Product Reviews
Puzzles are one of the best ways to help them with language, color and shape recognition, basic numbers, and fine and gross motor skills.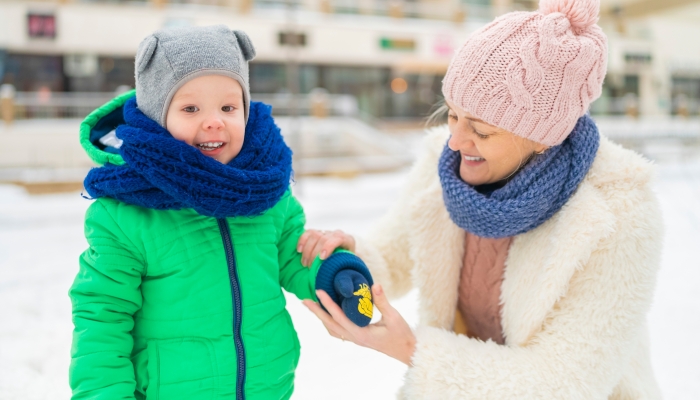 Product Reviews
As winter approaches it's time to shop for mittens and gloves for your toddlers and you'll probably need more than one pair!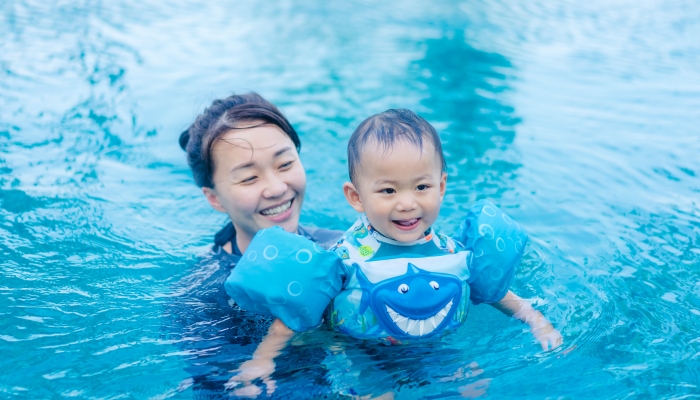 Product Reviews
Shopping for an infant life jacket? Our list of the best infant life jackets will steer you in the right direction.