The Bassinet Mattress Guide for Confused Parents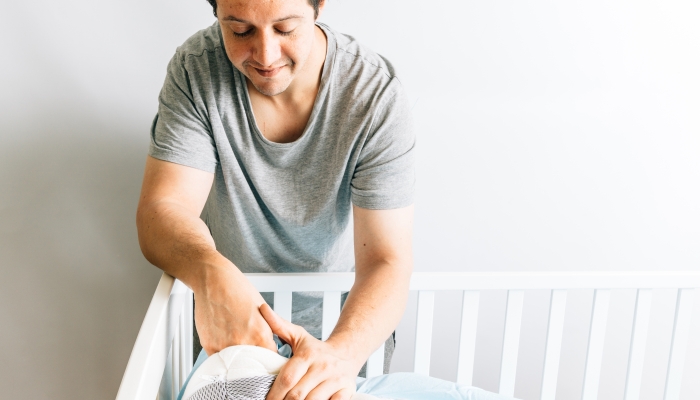 This post may contain affiliate links; please see our terms of use for details.
Bassinets typically already come with a safe mattress for your newborn to sleep on. If your bassinet is brand new, you likely won't need to buy one.
A firm, flat surface is the safest place for your newborn to sleep. Never add additional padding or pillows to your baby's bed.
There are some cases when replacing your mattress might be the best option for your family—especially if your bassinet was used with a previous child.
When choosing a replacement mattress, make sure it's safe for your baby by looking at the shape, size, and materials used.
If you're a first-time parent, you may be wondering what a bassinet is and if you even need one. And if you've come across bassinet mattresses shopping for your baby's nursery, you're probably even more confused. Do you really need to buy a bassinet mattress?
Let's start with the bassinet.
While it may seem like an unnecessary piece of furniture for your baby, this is often the first place your baby will sleep when you come home from the hospital. It's much smaller than a traditional crib, and infants tend to feel more comfortable and safe at night sleeping in one.
When you're desperate to get your baby to fall asleep without being held, a cozy bassinet might do the trick. They often include additional features like soothing sounds and motions that help your newborn sleep better.
Moving on to mattresses, many models of bassinets already come with one. But if you're unhappy with the one included with yours for any reason, you might want to purchase one separately. And older bassinets may be in need of a replacement. Read on to find out if this is something you really need for your baby.
Do You Even Need to Buy a Bassinet Mattress?
Typically, you won't need to purchase a bassinet mattress because your little one's bassinet should already include one. You might find theirs to be thin and very firm and wonder if you need a more comfortable mattress. But these mattresses are designed to ensure that your baby has a safe sleeping surface.
The US Consumer Product Safety Commission's safe sleep guidelines recommend following the manufacturer's directions closely when using a bassinet. This usually includes using the mattress provided with your bassinet.
However, there may be some situations when you might find it necessary to buy a separate one.
When Should I Buy a Bassinet Mattress?
While you should generally use the bassinet mattress that came with your bassinet, there are some situations where you might want to replace yours. However, don't buy additional padding to stack for extra comfort—your baby should only have a single firm mattress in their bassinet.
Maybe you already picked out the best bassinet for a previous baby and it's still in good condition—but the mattress isn't. In that case, rather than investing in a brand new bassinet, it might make more sense for your family to swap it out for a new one.
You may consider buying a bassinet mattress if the one you already have is:
Damaged or warped.
Old and worn out.
Dirty from frequent spit-up or diaper blow-outs.
Used by a previous child.
Any of these situations can compromise the safety of your little one's bassinet mattress. Consider the following risks associated with using a damaged, worn, or dirty bassinet mattress.
| | |
| --- | --- |
| Condition | Risks |
| Damaged or warped | The mattress may not fit properly in the bassinet. Babies need a flat surface with no large gaps between the mattress and bassinet for safe sleep. |
| Worn out | A worn out mattress may no longer provide the firm surface your baby needs. This can be a suffocation risk. |
| Dirty or used with a previous child | Previously used or dirty bassinet mattresses can expose your baby to harmful bacteria like S. aureus or E. coli. |
Choosing the Right Bassinet Mattress
When choosing a bassinet mattress, remember that your baby's safety should always come first. Newborns need a firm, supportive sleep surface that fits properly. This rule applies while they're in a bassinet and after you move your baby to a crib. Remember to use a properly fitted sheet and avoid using any loose bedding or pillows in your bassinet.
Here are some things to consider if you decide to purchase a bassinet mattress.
Fit
It's important for bassinet mattresses to fit a baby's bassinet properly. The US Consumer Product Safety Commission states that there should be no gaps larger than two fingers between the sides of your bassinet and the mattress.
Measure the inside dimension of your bassinet to be sure yours will have a perfect fit. This also means you'll need to consider the shape of your bassinet. Some are rounded, while others are rectangular.
Support
Like any other sleep surface your baby uses, their bassinet mattress should be firm. While most parents are concerned about keeping their baby comfortable, soft bedding can cover their mouth and nose while they sleep, increasing their risk of suffocation. According to the American Academy of Pediatrics (AAP) guide to safe sleep, a firm sleeping surface can help protect your baby from sudden infant death syndrome, or SIDS.
Materials
Choosing the right material for a bassinet or crib mattress can help to keep your baby healthy and safe. A Greenguard Gold Certified option will be low in chemical emissions. Some bassinet mattresses have a breathable design, and some include a waterproof cover for easy cleaning. And while a high density foam mattress can be safe, you should avoid soft memory foam mattresses.
Top 6 Bassinet Mattresses
Colgate Mattress Bassinet Cradle Mattress
Colgate Mattress Bassinet Cradle Mattress
OVAL SHAPED cradle mattress fits many models and brands of bassinets
2" THICKNESS provides extra comfort and support
QUILTED WATERPROOF COVER is easy-to-clean for mom and dad
REVERSIBLE BABY MATTRESS can be used on either side
The Colgate Mattress Bassinet Cradle Mattress is one of the most highly rated bassinet mattresses you can find. This rounded corner crib mattress is waterproof and non-toxic, and was designed with your newborn baby's safety in mind.
Once you're sure this one will fit your bassinet, you'll be able to rest easily knowing your baby is on a durable, firm sleeping surface. Many reviewers say that this one fits perfectly in their Fisher-Price rocking bassinet and Delta Children's bassinets.
This mattress is Greenguard Gold Certified, so you can feel good knowing your little one won't be in contact with any toxic materials as they sleep. Since it comes with a waterproof cover, it's also super easy to clean with just a damp cloth and mild soap.
As with any mattress that didn't come with your bassinet, you'll need to measure your bassinet to be sure it fits well. Some reviewers have said this one does not fit their Graco or Dream on Me bassinets.
HALO DreamWeave BassiNest Replacement Pad
HALO DreamWeave BassiNest Replacement Pad
100% BREATHABLE – DreamWeave core and quilted cover are fully breathable. Maximum airflow helps keeps newborns safer and at comfortable temperature.
FITS HALO BASSINEST – Use with the HALO BassiNest Swivel, Glide or Flex Sleeper.
100% WASHABLE – Cover is machine washable. Core can be rinsed in the shower.
HYPOALLERGENIC – No foam, glue, latex or springs. GREENGUARD GOLD certified.
If you have a previously used HALO BassiNest and don't want to invest in a brand new bassinet, replacing the mattress might be a good option. Fortunately, you can get a HALO Bassinest Replacement Pad that will fit perfectly.
The DreamWeave mattress pad is breathable, hypoallergenic, and made with non-toxic materials. It's not made with any foam or latex, and is Greenguard Certified, so your baby will have a sleeping space free from unhealthy chemicals.
Cleaning this pad is super easy as well. The outer layer is removable and machine washable, while the inner layer can be rinsed in the shower. And while this is safe for infants to sleep on, it's still soft and cozy without being too thick.
Unfortunately, this one is only guaranteed to fit in a HALO BassiNest, so if you have another bassinet it may not fit. Keep in mind that this is intended to be used as a replacement mattress and not additional padding.
Co Storage Bassinet and Cradle Mattress
Co Storage Bassinet and Cradle Mattress
Product including a organic cotton cover mattress pad and extra water resistance bamboo sheet , you don't need to buy them separately
Oval shape mattress pad compatiable with most oval bassient , cradle , moses basket , changing basket
Breathable organic cotton against baby delicate skin ,waterproof backing of bamboo sheet project liner from any water spills or bed-wetting
Product size approx : 29.5X15.5 Inches
Designed to be used with the Moses Basket, the Co Storage Bassinet and Cradle Mattress is highly recommended by many parents. And while it's designed specifically for the Moses Basket, if you already have a Graco DuoGlider that's in need of a replacement pad, this option should fit perfectly.
This organic cotton foam mattress has rounded edges and comes with two waterproof sheets. The waterproof sheets will help make it easy to keep it clean, which will help your baby stay healthy.
While this foam mattress is on the softer side, it's still thin and firm to help keep your baby safe. The waterproof sheets are soft and cozy for your baby, too. It can even fold easily, making this a nice option for travel if you have a portable bassinet.
As always, check the dimensions of your bassinet to be sure this is a safe option for your little one. If there are any gaps larger than two fingers, you shouldn't use it.
Dream On Me 2-Inch Foam Cradle Mattress
Dream On Me 2-Inch Foam Cradle Mattress
2 Inch Waterproof Foam Mattress
Comes with a waterproof cover, Dimensions – 36L X 18W x 2H
This mattress is proudly constructed of quality materials and workmanship in the USA.  it passes the Federal Standard Flammability Standard 16 CFR 1633
All Dream On Me mattresses are Greenguard gold certified for a healthy indoor environment for your baby
Designed for the Dream On Me Cradle, the Dream On Me 2-inch Foam Cradle Mattress is a well-made, firm cradle mattress that will allow your baby to sleep safely during their first few months. Check the dimensions of your mini crib, cradle, or bassinet to see if this one fits—many parents have said this one fits well in their family heirloom cradles.
Like all other Dream On Me baby crib mattresses, this one is Greenguard certified and even comes with a thirty day warranty, so you know you're getting a quality product. It's easy to wipe clean and extra firm so you won't need to worry about your little one and their safety.
While it's advertised as two inches thick, some parents say this one is actually thinner. Fortunately, a thin mattress is safer for your newborn anyway. And don't forget to measure your mini crib or cradle to make sure it fits.
LA Baby Rectangular Bassinet Mattress Pad
LA Baby Rectangular Bassinet Mattress Pad
Waterproof cover with 100% Organic Cotton top layer cradles your baby's delicate skin. Non-toxic, non-allergenic and luxurious to the touch.
2″ Thickness provides extra comfort and support.
Proudly made in the U.S.A from domestic and imported sources. 1 year warranty.
Size: 15″ x 30″ x 2"
The LA Baby Rectangular Bassinet Mattress Pad is made with organic cotton and non-toxic, hypoallergenic materials to keep your baby comfortable and healthy. If you have a rectangular bassinet, you'll definitely want to consider this option.
The waterproof, organic cotton cover on this one will help your baby sleep soundly at night, since there's no noisy plastic that will wake them as they move around. It provides a nice cushion for your baby while still being firm.
Some parents say this one doesn't seem to be two inches thick as advertised, but it's still a well-made product. Keep in mind that while the outer layer is organic cotton, the inner layer is made from polyurethane foam. While many mattresses are made from this material, some parents are understandably concerned about harmful VOCs polyurethane can emit.
Naturepedic Breathable Organic Crib Mattress
Naturepedic Breathable Organic Crib Mattress
TWO STAGE BABY CRIB MATTRESS- Firmer side for infants & medium-firm side for growing toddlers.
SAFE FOR BABIES- "Breathe Thru" organic cotton mattress pad has a 3D mesh surface, allowing baby to breathe while face down, reducing overheating. Breathable surface can be removed and washed.
FIRM WATERPROOF MATTRESS CORE- WaveSupport core can be used as a standalone crib mattress when cover is in the wash.
ORGANIC- uninflammable with no flame retardant chemicals.
If you're willing to look past the high price tag, the Naturepedic Breathable Organic Crib Mattress is probably the best organic option you can find. It's made with 100% organic cotton, so there are no hidden chemicals or materials you need to worry about. This one's Greenguard certified, too.
The waterproof cover on this one can be easily wiped clean, and the material is actually food contact safe. And while you might worry about your little one sleeping well on this firm baby bassinet mattress, this is perfect for newborn sleep safety.
Overall, this is a high quality, safe choice for your baby—it's just on the pricier side. As a two-stage mattress, with a firmer side for infants and a softer side for toddlers, this is an option that can grow with your child.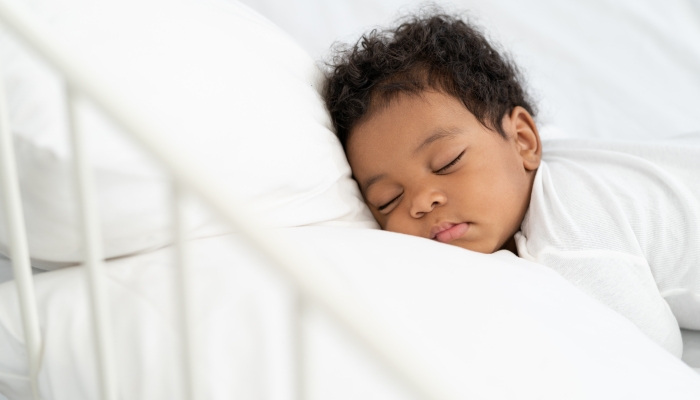 How to Clean a Bassinet Mattress
Regularly cleaning your bassinet mattress will help to keep your newborn healthy. Each baby bassinet mattress will have different care instructions, so be sure to check your manufacturer's guidelines before cleaning yours.
However, the following cleaning guidelines should be safe for many mattresses:
Gather your cleaning supplies. You typically don't need any special cleaning supplies to clean your bassinet mattress. All you should need are:
Gentle detergent and/or soap
Warm water
Cleaning cloth
Remove and launder washable bedding and cover. Check your manufacturer's instructions to see if any part of your mattress (like a waterproof cover) is machine washable. Some bassinet mattresses can actually be put in the washer, too.
Wipe clean with soap and water. If your mattress pad isn't machine washable, wipe it clean with warm soapy water and a washcloth. Try not to completely soak it or you could risk ruining the mattress.
Allow time to dry. Most bassinet mattresses will need to air dry—a warm, sunny spot is best. Make sure it's completely dry before putting it back in the bassinet to prevent mold and mildew.
How to Elevate a Bassinet Mattress
If you have a newborn baby who suffers from reflux, your pediatrician may recommend elevating their bassinet mattress slightly to reduce their symptoms. Some may even recommend this for colds or other illnesses to help your overtired baby finally get some sleep.
The AAP's stance when it comes to using crib wedges or anything else to elevate your baby's bassinet or crib is to use caution or avoid it altogether. Though some accessories may be advertised as reducing reflux, there are no studies to back this up. A firm, flat surface is the safest place for your baby to sleep.
However, there are some pediatricians who will still make this recommendation if you're struggling with a baby that won't sleep. If your child's doctor has recommended this, there are two options for elevating your baby's bassinet mattress:
Placing a store bought wedge or positioner under the mattress. These are placed underneath the head of your baby's crib or bassinet mattress, providing a slight incline.
Rolling up a towel or small blanket to place underneath the head of your baby's mattress. Make sure not to exceed a 15 degree incline to reduce the risk of rolling.
In either case, it's essential to never place any loose blankets, pillows, or positioners inside your baby's crib or bassinet. Only try this if your pediatrician has advised you to do so and if you have a firm sleeping surface for your baby. Anything that makes their bed softer can put them at risk for SIDS.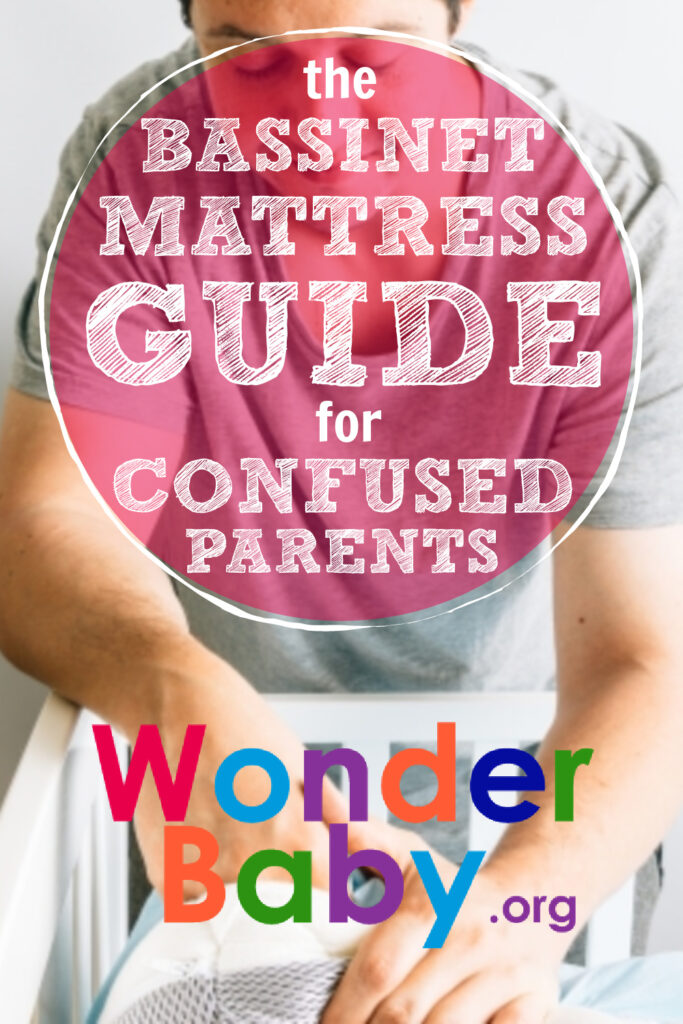 Related Posts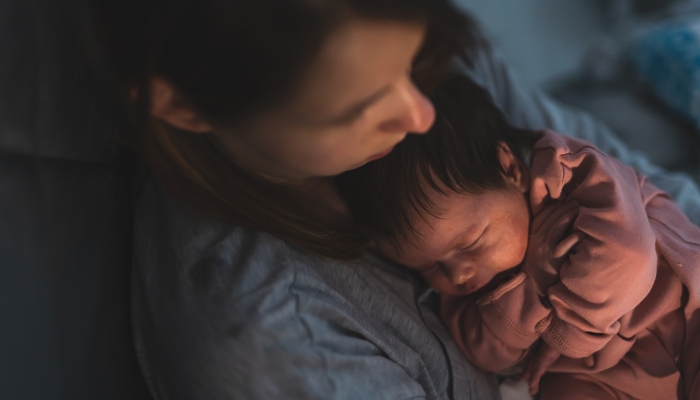 Sleep
From around six weeks, a newborn bedtime routine can help your baby learn the difference between day and night and prepare for a restful night's sleep.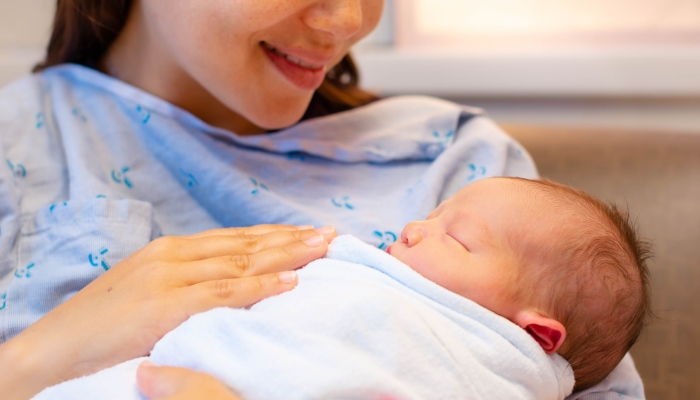 Sleep
Is your newborn fussy at night? From gentle bedtime routines to soothing sounds, creating a tranquil environment helps newborn babies sleep peacefully.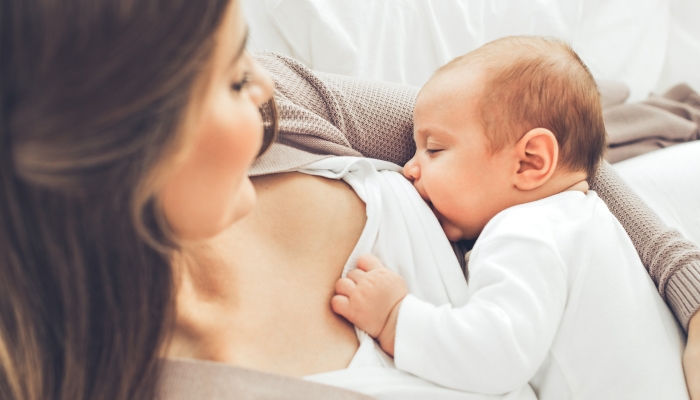 Breastfeeding, Sleep
Many people assume breastfeeding and sleep training don't go together, but it is possible to help your baby sleep better while continuing your breastfeeding journey.