The Ultimate Daycare Bag Checklist for 2023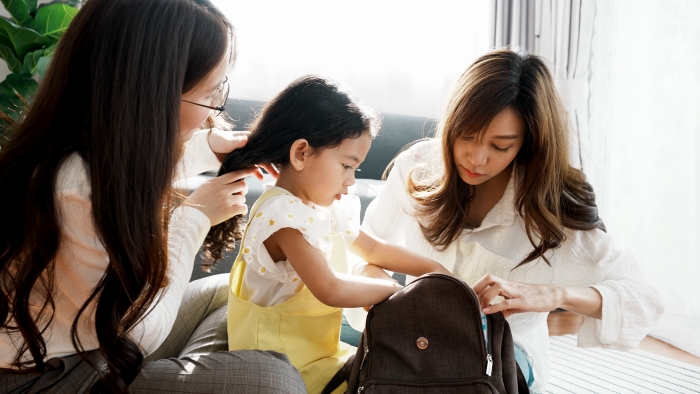 A daycare bag should include any supplies that the daycare provider requests. It should also include any other items that will make life easier or more comfortable for you, the caregivers, or your little one.
A smart way to pack diapers is to send in a separate, labeled bag with 8-10 diapers for each day they will be in daycare that week.
You should empty your child's backpack or bag each night and repack it for the next day.
Sending your little one to daycare can be an emotional and difficult transition. You may worry that your child won't receive the same care they receive at home. You might grow anxious about dropping them off, wondering if you've packed enough.
We know you're already overwhelmed thinking about the daycare pros and cons and questioning the right daycare age. Have no fear. If you've found a daycare you feel confident in, the rest is easy. 
With the right guidance, you can be prepared and confident at drop-off. Packing a diaper bag with all the essentials will ensure your child will have everything they need. But how can you be sure you have a perfectly packed daycare bag, you ask?
The ultimate daycare bag checklist is what you need! We've thought of it all, from baby food and snacks to diaper cream and extra clothes. Don't stress trying to think of it all on your own.
Simply follow our packing guide so you can sleep easy and spend your time cuddling that sweetheart instead.
Kids' Must-Haves in a Daycare Bag
A daycare bag is a daily bag you'll send with your child to daycare. This bag should include any daycare supplies that are requested by the daycare provider. It should also include any other items that will make life easier or more comfortable for you, the caregivers, or your little one.
Remember, you know your child best. If there's something we haven't listed that you know will bring your child comfort, like a special stuffed animal, pack it. You can always remove it if you see it isn't being used.
Let's get into the details of packing the perfect backpack or diaper bag for your baby at daycare.
How many diapers should you put in a daycare bag?
We'll start with the basics of the daycare diaper bag—diapers. If your child is still wearing diapers, you'll want to supply the daycare center with enough to get through the week, plus extras.
A smart way to pack diapers is to send in a separate, labeled bag with 8-10 diapers for each day they will be in daycare that week. This bag will stay at the daycare center. Then pack 3-4 extra diapers in your daycare bag as backups.
Wipes
You'll want to also include a fresh pack of wipes each week in case your old pack is running low. Be sure to label the wipes as well so they don't get sent home in the wrong bag.
Diaper Cream
Pack a bottle of your diaper cream of choice for rashes and sensitive skin. Send new cream when your bottle starts running low. Don't wait until it's empty to send a backup bottle.
Cloth Diapers
If you use cloth diapers, pack extra plastic pants in your bag. You'll also want to include empty plastic bags for the caregivers to place soiled diapers in. Be sure to empty these bags daily so your diaper bag doesn't start to smell bad.
Pull-Ups
If your child is potty training and starting daycare, you'll pack pull-ups instead of diapers. Plan on packing the same amount of training pants as you would diapers.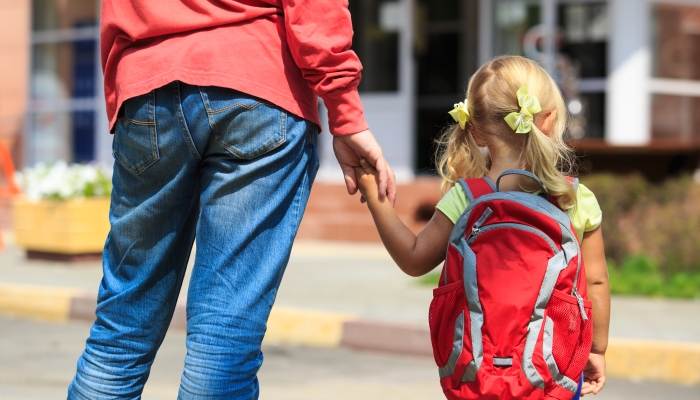 How many milk bottles should you pack for daycare?
Now let's cover this essential supply for babies in daycare—milk bottles. Moms and dads of babies will want to send enough milk and bottles to cover normal feedings for the day, plus an extra bottle for emergencies.
Formula
If your baby drinks formula, pre-fill the correct amount of formula into each of the bottles. Then, using masking tape, label the bottle with your child's name and the amount of water to add to each bottle. This will make preparing the bottles easy for caregivers.
Breastmilk
Babies who drink breastmilk should also have enough bottles in their bag for a day's worth of feedings plus one extra. Unless otherwise directed, pack a cooler bag with ice packs to keep the breast milk fresh. If available, you can also place the labeled milk in the daycare's mini fridge for breast milk.
Always follow the safety guidelines for handling breast milk. Be sure your child's caregiver knows how to tell if breast milk is bad to ensure your child doesn't accidentally get spoiled milk.
Bottle Warmer
For bottle warming, travel bottle warmers make warming the bottles easy for caregivers. Plan on keeping one in your bag.
What type of food/snacks should you put in a daycare bag?
It's no secret that children eat a lot of snacks during the day. Parents of toddlers know that toddlers are always hungry. Having a good selection of snacks and food in their toddler backpack will help prevent meltdowns.
Sippy Cup
Don't forget to pack a regular or slow-flow sippy cup for older babies or toddlers. You can use masking tape and a permanent marker to label the sippy cup with your child's name. Be sure to wash and add fresh water to the sippy cup every day.
Lunch
If you need to provide lunch, a bento box is a good option. Some bento boxes include two trays in one box, which is ideal for long days of daycare. Avoid sending peanut items in case of allergies in your child's class.
Snacks
When you pack your child's bag, include two or three extra snacks for the day. Sometimes snacks are a good way to distract a crying child. If they have a favorite snack to look forward to, it might be just enough distraction to keep them from melting down when you leave in the morning or when they are tired at the end of the day.
Your child's daycare might provide snacks for you. If they don't, a great way to portion out snacks for the day is to include toddler snack cups with their favorite dry snacks. Items like goldfish, cheerios, pretzels, or puffs are great options.
You can also pack refrigerated snacks. Just be sure to keep them in a small cooler bag. Healthy refrigerated options include yogurt tubes, cheese squares, apple slices, baby carrots, or blueberries.
Baby Food
If your little one eats baby food, the squeeze pouch varieties will be the least amount of mess. If you include baby food jars, be sure to pack spoons.
Extra Things That You Can Include
Outside of the basics, there might be other items your daycare or child requests. Here are some other items that might be ultimately helpful during a day at daycare:
Pacifiers
Bibs and burp cloths
Crib sheets, pillows, blankets, or other sleep necessities
Sunscreen, hat, or other outdoor clothes or supplies
Labels with your child's name so they can be easily replaced on your child's items
Extra set of clothes (We recommend you keep 2 sets of extra clothing in your bag for accidents or messes.)
When Is the Best Time to Pack a Daycare Bag?
The best time to pack a daycare bag is after you've contacted the daycare and received their list of recommendations and requirements for their children. Daycares often differ in naptime procedures and food restrictions. These are important details to know before your pack.
After starting daycare, you should empty your child's backpack or bag each night and repack it for the next day. This is the best time to check for low supplies or missing items. You might have blankets, clothing, bibs, sheets, or other items that will need to be washed.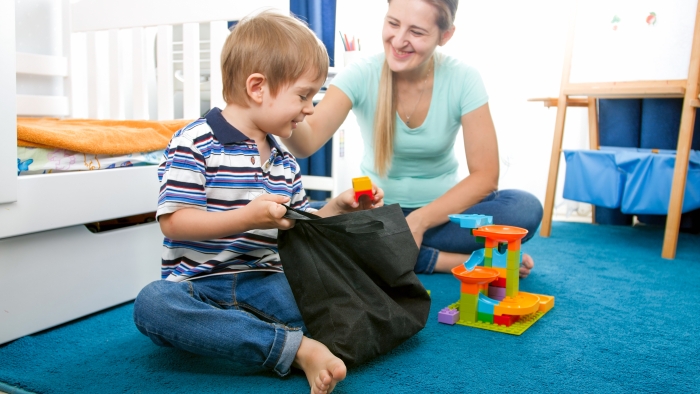 How to Organize Your Kid's Daycare Bag
If you keep your bag organized, it will likely be lighter and easier to carry. If you don't sort and empty your bag each night, you'll end up with a bag overflowing with unnecessary items.
To keep all the essentials in your child's bag organized, we recommend using these tips:
Utilize the pockets in the bag.
Pack pacifiers in a baby food container.
Use labeled Ziploc bags or pencil pouches to keep similar items together.
Label everything in your child's bag. (This will keep your child's belongings from accidentally going home with other children.)
FAQs
Can you bring two daycare bags?
Yes. Unless your child's daycare notes otherwise, it should be fine to pack two daycare bags. Some parents find this very helpful.
One bag can stay at the daycare for the week and the other can travel back and forth each day. The bag that stays for the week might include a week's worth of diapers, wipes, cream, clothes, bedding, and sunscreen.
The daily bag might include bottles, snacks, lunch, spare diapers, bibs, and a stuffed animal. This bag will get emptied and refilled each night, while the other bag will only get emptied at the end of the week.
At what age can a child carry a backpack for daycare?
A toddler should never carry a bag with all the supplies for daycare, as that would be too heavy for their back. However, toddlers can carry a light backpack with items like snacks, a stuffed animal, or an extra change of clothes. If your child is a sturdy walker, they can carry a toddler-sized backpack to daycare.
Some children get excited about carrying their own bags. It makes them feel independent and often excites them about packing for the next day.
What type of bag is best to use?
Parents have different preferences when it comes to the type of bag they choose for daycare. Ultimately the best bag for daycare will be one that's able to keep the daycare supplies organized and easily accessible. Bags with plenty of pockets will help keep your bag organized and easy to sort through.
A bag with shoulder straps might be easiest if you'll be carrying your little one on your hip. Some parents have two bags that serve different purposes. They might pack a toddler backpack with snacks and lunch and put all supplies in the other bag.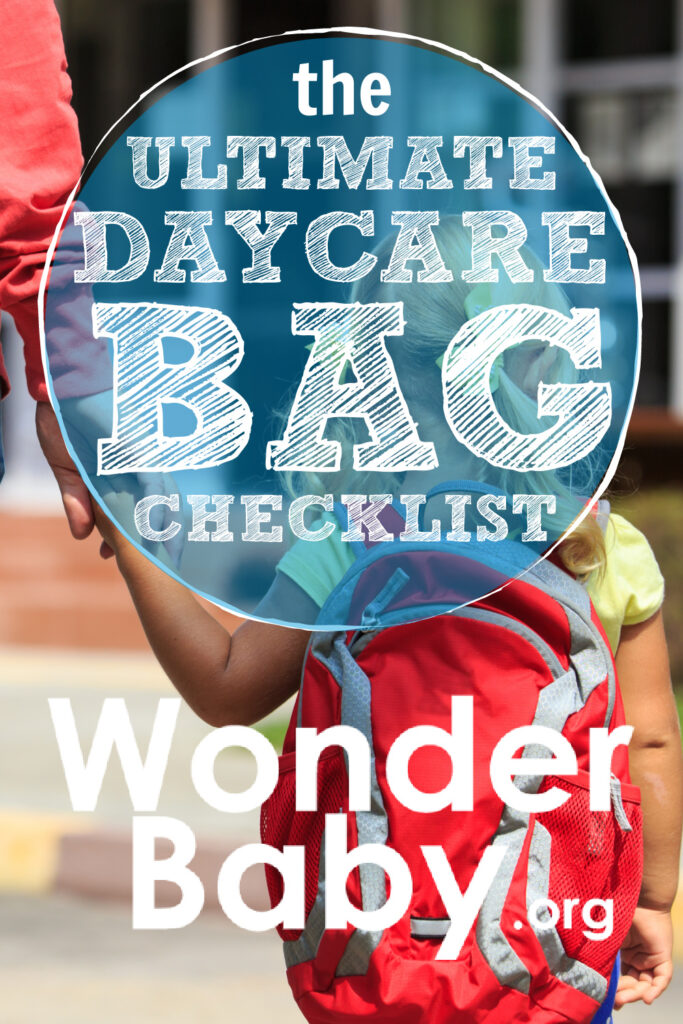 Related Posts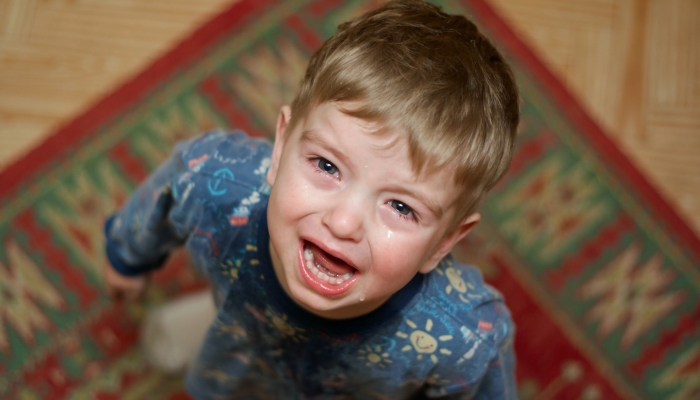 Parenting
Wondering if your child is having a tantrum or a meltdown? Read this article to know the difference between these emotional outbursts!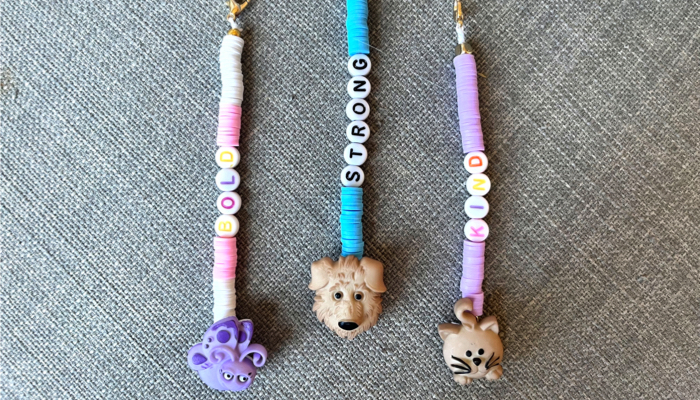 Parenting, Play, Tactile Art
These affirmation backpack buddy keychains are adorable and easy to make. Give your child a little encouragement with this simple craft as they head to school.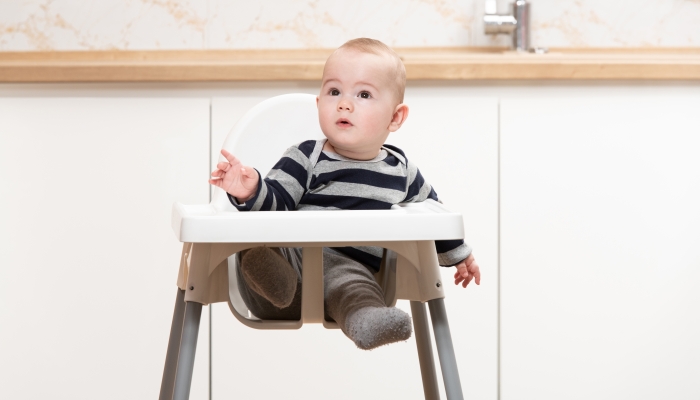 Parenting
Many children are ready to stop using a high chair between 2–3 years old and can begin transitioning to a normal chair or booster seat at that time.