5 Best Baby Carriers of 2023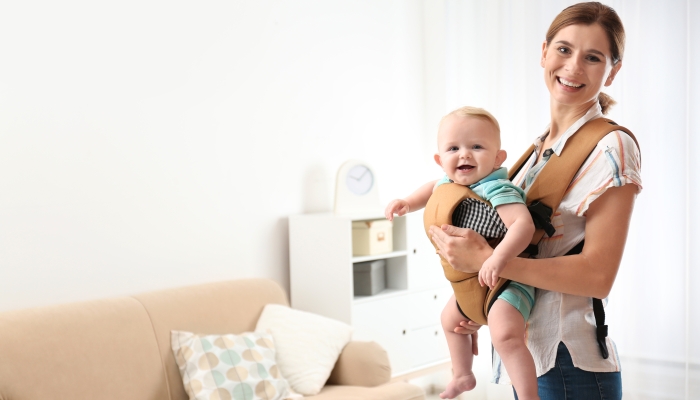 This post may contain affiliate links; please see our terms of use for details.
Many parents love the freedom that baby carriers give them to keep going about their day while still keeping their baby close.
Baby carriers come in a huge array of designs and styles, including baby wraps, slings, structured carriers, backpacks, and hybrid carriers.
When choosing a baby carrier, consider your baby's age and weight, your comfort, its practical features, and the purpose you want to use it for.
Baby slings, wraps, and carriers of all sorts seem to be everywhere these days. While they may seem like a new trend in baby gear, baby carriers have actually been around for thousands of years.
What distinguishes today's baby carriers is the huge variety of designs and styles available to parents to suit the needs of both parents and their babies. New parents can feel intimidated by what may seem like complicated wraps or the many buckles and straps of a structured carrier.
You can find carriers with lumbar support, padded shoulder straps, adjustable rings, and breathable fabrics. There are carriers you can toss in the washing machine, ones you can use from infancy to toddlerhood, and so many others with many features.
How can a new parent possibly know what kind of carrier is right for them? Once you learn about the different styles of carriers and decide on your priorities, it's easier to narrow down your options to find the best baby carrier for you. Don't worry, there's one out there for you, we promise!
Best Baby Carrier Sling
Best Baby Wrap
Best Budget Backpack Carrier
Chicco SmartSupport Backpack Carrier
Best Baby Carrier Sling
Best Baby Wrap
Best Budget Backpack Carrier
Chicco SmartSupport Backpack Carrier
Best Soft Structured Carrier: Baby Bjorn Baby Carrier Mini
Sale
Babybjorn Mini Carrier
Perfect first carrier for newborns
Adjustable seat and head support for continual ergonomic support as your baby grows
Cozy and flexible fabrics designed to comfort your baby
Ultra soft, lightweight, and machine-washable fabrics
Baby Bjorn has long been synonymous with baby carriers and this Babybjorn Mini Carrier is its latest generation of soft structured carriers.
This baby carrier is suitable for babies weighing seven pounds or more, so it can be used with newborns who have reached this weight. Its buckles and straps are straightforward and easy for parents to use – no fumbling with fabric.
Parents also don't need to worry whether their baby is in a safe position. The flexible fabric and soft structure support your baby's back. When your baby is asleep, it can be unfastened easily so you can put them down without waking them.
This carrier can be worn inward-facing, and when your baby has developed enough neck control and stability, it can be worn outward for children up to about 12 months old or 24 pounds.
Adjustable padded straps and waist belt mean that it can be worn by multiple caregivers.
It's machine washable which is a plus. However, as it can only be used for about a year, parents may want to consider whether it is worth the investment at this price point.
Material: Jersey | Weight Capacity: 24 pounds | Dual Positions: Yes
View on Amazon | View on Walmart.com | View on buybuyBABY.com
Best Baby Carrier Sling: Nalakai Ring Sling
Nalakai Ring Sling
Creates a nourishing heartfelt bond: carrying your baby close to your chest will feel like being wrapped in a loving embrace, which helps your little love gain a sense of trust & belonging. It is the most natural, womb-like position & creates an intimate bond between you both. Even a colicky baby will be soothed quickly to sleep as you carry them in their soft baby sling.
Eco-friendly, super soft bamboo & linen that's kind to baby's skin: this high-end fabric is a soft light neutral grey. Inspired by the first rains of spring that bring nature back to life, we've paired a light grey bamboo blend fabric with beautiful matte dark charcoal grey aluminum rings. Our custom blend of bamboo and linen fabric provides an ultra-strong, lush woven fabric that is lightweight & silky smooth to gently shelter your baby as he or she drifts to sleep.
Safest carry position for correct hip development: many baby wrap carriers interfere with healthy hip positioning as the baby is held incorrectly or facing outward & this can increase the risk of hip dysplasia. Nalakai ring slings harness your baby naturally in the m position so that hips can develop properly while keeping you and your baby comfortable. The front carry position massages your baby's belly, improving digestion & preventing reflux & colic
Regulates temperature better than a wrap: not all young babies can control their temperature well & can easily overheat in a wrap. Our ring sling baby carrier will keep you & your precious baby comfortable yet cool & won't wrinkle your clothes as much either! The tail fabric can double as a nursing cover, so you can breastfeed your baby privately while on the go.
Ring slings may look like they're just pieces of fabric, but what that fabric is made of is an important consideration for some parents.
The Nalakai Ring Sling is a lovely eco-friendly sling made of super-soft, luxurious bamboo and linen. The woven fabric is ultra-soft against your baby's skin, but it is also ultra-strong. Made with natural dyes, this ring sling also comes in a huge array of beautiful colors. It's also machine washable on the gentle cycle.
As with all baby slings, it's important for you to read the instructions on how to use it properly. It should not be used with babies weighing less than eight pounds.
The maximum weight it can bear, however, is 34 pounds, which means that this sling can be used with your child well into toddlerhood.
Material: Bamboo | Weight Capacity: 35 pounds | Dual Positions: No
View on Amazon | View on Walmart.com | View on eBay.com
Best Baby Wrap: Solly Wrap Baby Carrier
Solly Baby Wrap
From Womb to Wrap: Our baby wearing wrap offers a soft, secure environment that's reminiscent of the womb. The sling baby carrier can accommodate even the smallest of babies and is designed for the first year of baby's life or up to 25 pounds
Distributes Weight Evenly: Our baby wraps carrier distributes weight evenly all over your upper body with no pressure points on shoulders or back. This baby holder carrier also supports baby without putting extra pressure on the joints or spine
Sustainable Cloth Baby Carrier: Our lightweight and breathable baby wearing carrier wraps are made from 100% certified TENCEL (TM) Modal. These infant essentials can be machine-washed (delicate cycle) and tumbled dry (low heat) without wearing down
Happy Baby, Free Hands, Full Heart: Approx 5.5 yards in length, our baby carrier newborn is an adjustable one size, universal fit (perfect petite + plus size baby carrier for men and women)!
What makes the Solly Baby Wrap a favorite with parents is that it is made of soft, stretchy, sustainable Tencel fabric that evenly distributes a baby's weight across the back, shoulders, and hips.
Post-partum moms might find this kind of wrap more comfortable because the fabric can be adjusted and positioned to your body. There's more choice in how to wear a baby wrap than there is with a soft structured carrier that just gives you shoulder straps and a waist belt.
The Solly Baby Wrap is suitable for babies from 8 to 25 pounds, so it can be used for roughly the first year of your baby's life.
The fabric means that it can be worn and adjusted to any caregiver's shape without having to fiddle with straps and buckles.
Once they get the hang of it, many parents find that a baby wrap is a more convenient alternative to strollers that often don't fit in tight spaces. It's also practical in that the soft, breathable material is machine washable, and you can even put it in the dryer.
Material: TENCEL (TM) Modal | Weight Capacity: 25 pounds | Dual Positions: No
View on Amazon | View on Walmart.com | View on eBay.com
Best Hybrid Baby Carrier: Moby Fit Baby Carrier Wrap
Moby Fit Baby Carrier Wrap
PARENTS COULD USE SOME SUPPORT – Moby Fit Baby Carrier Wrap offers hands-free support to parents and comfy security to babies. It combines the closeness of a baby wrap and the ease of a baby carrier. It promotes bonding and helps reduce stress.
FEEL & LOOK GREAT – Moby Fit is easy to slip on and comfortable enough to wear for extended periods. The material is stylish, stretchable, durable, and evenly distributes baby's weight across back, shoulders, and hips. Wear it with any outfit!
FOR YOU & YOUR BABY – Hold your baby close and keep your hands free. Our carrier wrap is safe and cozy for newborns and functional for parents. Have the nurturing intimacy you desire while still experiencing the freedom you need with its support.
DESIRED DESIGN – Created for efficiency and comfort. It is a parent-favorite due to its design and adaptability. It easily adjusts as baby grows and allows you to keep your baby close, calm, and safe. The fabric is high quality and machine washable.
For parents who like the idea of a baby sling or wrap but also want the convenience of a soft structured carrier, there's the Moby Fit Baby Carrier Wrap – a baby carrier that does it all.
The brilliance of the Moby Fit Baby Carrier is that it slips on easily over the caregiver's head, just like a t-shirt. For people who find they can't maneuver the fabric of a wrap when they have a fussing baby on their hands, this product is as easy to put on as a Baby Bjorn.
Wide shoulder "straps" and a full back offer post-partum moms back support and the adjustable comfort of other baby wraps.
The Moby Fit Baby Carrier allows the baby to be front or rear-facing. It's suitable for babies from 8 to 33 pounds, which means you will get a lot of use out of this product for a long time.
Made of light, breathable, 100% cotton, it's also machine washable, a must for any baby wearing product.
If you find baby wraps and slings a little confusing or complicated but you like the idea of having that closeness with your baby, this hybrid carrier could be a great option.
Material: Cotton | Weight Capacity: 33 pounds | Dual Positions: Yes
View on Amazon | View on Walmart.com | View on eBay.com
Best Budget Backpack Carrier: Chicco SmartSupport Backpack Carrier
Chicco SmartSupport Backpack Carrier
Padded, height-adjustable seat with 5-point harness
Lightweight aluminum frame. Product Assembled Dimensions: 16.8″ W x 18.0″ D x 30.7″ H Product Folded Dimensions: 16.8″ W x 7.8″ D x 34.5″ H Product Weight: 6.7 lbs. Carton Dimensions: 16.5″ x 6.9″ x 22.8″ Carton Ship Weight: 7.2 lbs.
Padded, vented lumbar support
Adjustable, padded shoulder and waist straps
When your baby starts to become mobile but isn't steady enough yet to walk distances with you, or when your toddler doesn't want to miss out on a thing, but still can't quite keep up, it might be time to invest in a backpack.
Don't be put off by the high prices of some baby backpacks. The Chicco SmartSupport Backpack Carrier is a favorite of parents for use when traveling or on vacation and it's affordable too.
It has a lightweight, aluminum frame, padded shoulder straps, and padded lumbar support. It's fully adjustable to fit larger adults comfortably. Its adjustability for adults is one of the things that parents love most about it.
It has a sun shade and padding for the child seat. It's easy to take on and off, and safe as well. It has a built-in kickstand, so you don't have to be worried about it tipping over when it's upright on the ground.
The SmartSupport Backpack has a maximum weight limit of 40 pounds, so you'll be able to use it for quite a long time.
Baby backpacks like this are perfect for family hikes, trips to theme parks, or trips or vacations where you'll be walking a lot. It allows your child to have a bird's eye view of everything around them and you to keep your hands free for your activities, without worrying about pushing a cumbersome stroller.
Material: Metal | Weight Capacity: 40 pounds | Dual Positions: No
View on Amazon | View on Walmart.com | View on buybuyBABY.com
What Is a Baby Carrier?
Baby carriers are very popular alternatives to strollers that allow parents to transport their babies by basically "wearing" them in a sling, pouch, or more structured device with straps.
Baby carrying is having a moment now, but it has actually been in use by humans since prehistoric times and has been a part of many cultures around the world for centuries.
Baby carrying keeps your baby close to you, where they feel most comfortable in their earliest days. However, it also allows you to care for your baby hands-free, while mobile, and able to go about your chores or caring for your other children.
Proponents of baby carrying claim that it has great benefits for parent-child bonding, including creating a strong bond between babies and their fathers. They also believe that baby wearing helps babies regulate their sleep and deal with conditions like colic and reflux.
There are many different styles and types of baby carriers – from wraps to slings to backpacks – that suit a variety of body types and caring needs.
It's important to do your research, however, to find the right kind of carrier for your baby and for yourself. As with any kind of baby gear, particularly objects used with young babies, it is important to heed safety warnings and follow manufacturer instructions precisely.
Risks of baby carrying include suffocation. Improper use can also lead to accidents including head injuries, for example, when parents fall and babies are not strapped in properly.
However, when used correctly, a baby carrier can be a helpful tool for parents and a comforting and cozy way for babies to stay close to the people they love the most.
Types of Baby Carriers
There are five main types of baby carriers:
Type of Baby Carrier
Elements
Soft Structured Baby Carriers (SSCs) A fabric carrier with adjustable buckles and padded straps and waist belt with a wide panel that creates a seat for the baby, keeping its legs at the correct angle to avoid hip dysplasia.

Generally suitable for babies age 4 months and up
Can position baby in three carry positions, inward-facing, outward- facing, or on the hip
Some brands are adjustable enough to grow with your baby and come with toddler settings
Some brands can be used with newborns with a special infant insert to keep them in the right position

Baby Slings
A single piece of woven fabric designed to be worn over one shoulder and across the torso, creating a pouch for your baby, especially comforting and comfortable for young babies.


Practical, easy to use, and easy to clean
Can be worn for more hours than an SSC as there are no buckles or straps that rub or dig into the parent
Often come with rings which make them easy to adjust and to achieve the pouch effect


Baby Wraps
A baby wrap is a single piece of fabric, usually made of stretchy material, which can be wrapped around the parent in a variety of ways to carry their baby. They are designed to grow with the baby into toddlerhood, which is why they are made of fabric that gives.

Practical and easy to use, easy to clean
There are many different ways to wear baby wraps – in front, on the back, on the hip – and many ways to adjust it
Once you have learned the different ways of wearing it, it can be very comfortable, especially for new mothers and mothers recovering from c-section
Designed to grow with your child, from infancy into toddlerhood

Backpack Carriers
Great for older babies and toddlers in active families who like to spend time outdoors. They provide a safe way of carrying small children over difficult terrain and kids often love them.

Allow your family to stay active in the outdoors by providing a safe way to carry your baby
Can carry kids up to 40 pounds so that even little kids who are almost big kids can be carried easily
Helpful for families with special needs children because they come in bigger sizes for older children who may still need to be carried

Hybrid Baby Carriers
A hybrid baby carrier combines the flexibility of a wrap carrier with the design of a soft structured baby carrier, providing extra support for babies and extra comfort for parents.

Easy to use, especially for parents who find wraps and slings too complicated
Keep babies in a safe position
Keep babies close to parents and caregivers the way a wrap carrier does, but provides the wearer the reassurance of a structured carrier for their baby's positioning
How to Choose a Baby Carrier
It's important to think about the comfort of your baby when choosing a baby carrier. However, it is also just as important to think about the comfort of the caregivers who will be wearing it.
Some important things to consider when choosing your baby carrier include:
Adult fit:
Does the carrier adjust to fit every adult who will need to wear it? Will it be comfortable for Mom and her recovering body, but also adjust to fit Dad?
Comfort:
Does the carrier keep your baby upright with their legs in an "M" position? Does it have padded shoulder straps and lumbar support for the adult who might be wearing it for hours?
Practicality:
Is it machine-washable? Does the fabric suit the climate you live in and the season? Will your baby be hot if it is heavily padded? Does it have mesh and is it made of breathable fabric?
If you're considering a baby carrier for a second child, how will you manage to get around with two kids? If you invest in a carrier now, will you also need to consider a double stroller later?
Purpose:
Is the carrier for everyday use to stay hands-free as an alternative to using a stroller? Or is it for occasional use for outdoor activity, like hiking with the family?
Do you already have baby gear for similar uses, for example, a rocking bassinet or a portable bassinet and will you use the carrier in conjunction with these?
Longevity:
Is the carrier suitable for newborns? What are the age and weight limits?
Does the carrier adjust and grow with your child into toddlerhood? Will you need to invest in a stroller for your toddler as they get older?
Special needs for baby:
The American Academy of Pediatrics (AAP) warns that babies born prematurely or with respiratory problems should not be worn in backpacks or upright positioning devices because it may be hard for them to breathe.
Your baby may have other special needs which may not make baby wearing practical or comfortable for your child. A stroller that provides enough support, especially as your child grows, may be the better option.
On the other hand, if your special needs child is growing older, but still needs to be carried, you might want to look into carriers designed to hold children up to 80 lbs, like the My Freeloader.
Mom's needs:
If you are recovering from a c-section finding the right carrier can be a challenge. First, check with your doctor to make sure that you are physically ready to use a baby carrier. Moms who have had c-sections may need more time after birth to recover their strength before they start to carry their babies in a wrap, sling, or structured baby carrier.
When you are ready, take some time to shop around to find a carrier that does not chafe or put pressure on your c-section scar or your abdomen.
If it doesn't work for you, that's okay too:
Remember that while proponents of baby wearing talk a lot about its benefits for building a bond between parent and child, it's okay if your baby's needs or your needs rule it out as a comfortable or safe option.
There are many ways to build a loving relationship with your baby. Baby carrying is just one of them.
Using a Baby Carrier Safely
Once you have found a baby carrier that suits you and your baby, make sure that you understand how to use it safely and that you are using it correctly. Always make sure to do the following:
Follow manufacturer instructions, especially for the baby's weight minimum and maximum
Always make sure your baby's face is uncovered and visible to you at all times
Bend at the knees instead of the waist if you are wearing your baby to make sure they do not fall out of the carrier
Check for wear and tear on fabric, straps, belts, and buckles
The AAP also warns that when wearing a sling or a wrap, in particular, make sure that the baby is not curling into a "C" shape, which can inhibit breathing, and that their head and neck are straight and above the fabric.
Any carrier should support your baby's back and your baby should not be able to slip through any leg holes. Always check that your baby's weight and size are appropriate for the carrier you choose.
Frequently Asked Questions (FAQs)
What is hip dysplasia and why is it always mentioned with baby carriers?
According to the International Hip Dysplasia Institute, hip dysplasia is instability, dislocation, or shallowness of the hip socket. You see it in infancy because this is the time of life when the hip sockets are the most shallow and prone to instability.
It is often mentioned with reference to baby carriers because it is very important that, no matter what kind of carrier you use, your baby is in the correct position. This is particularly critical for young infants who may be spending a lot of time in their carriers.
A healthy position for your baby's developing hips is in an "M" position. The Hip Dysplasia Institute recommends that the best position is with the baby's "Thighs spread around the mother's torso and the hips bent so the knees are slightly higher than the buttocks with the thighs supported."
Any carrier you purchase, when used correctly, should help you to promote a healthy hip position for your baby. Carriers that allow your baby's legs to dangle, or any position that keeps their legs together for a prolonged period increases the risk of hip dysplasia.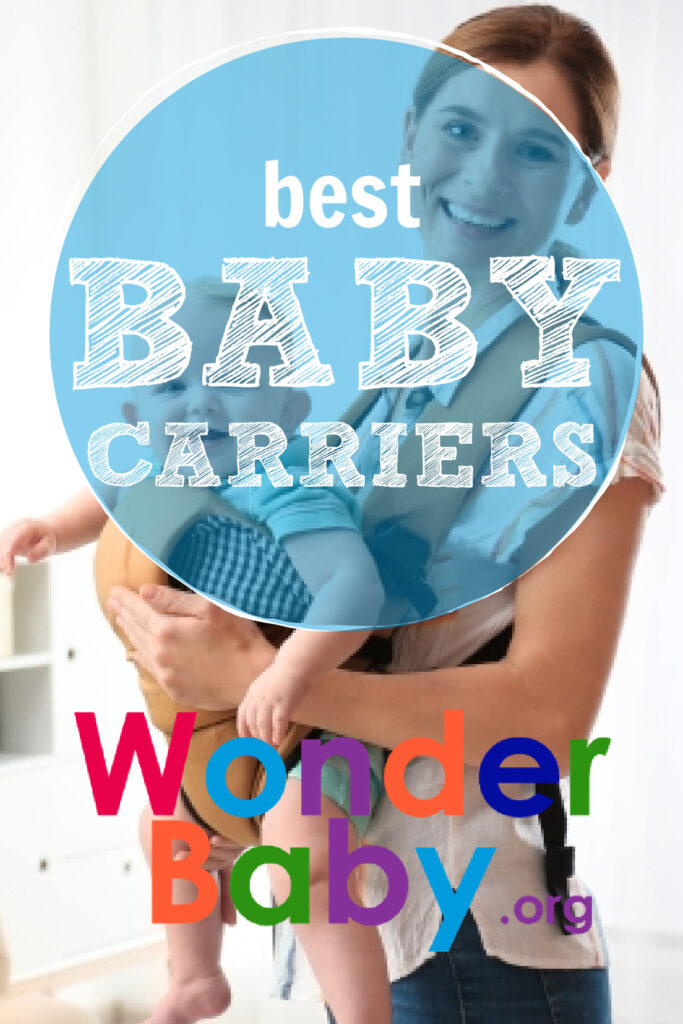 Related Posts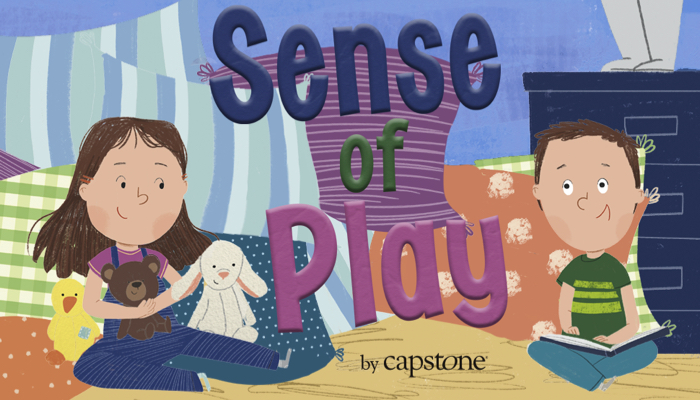 Braille and Literacy, Product Reviews, Visual Impairment
Dana Meachen Rau's book, Sense of Play, follows the adventures of Chip and Joy as they play. Chip is blind, but this doesn't get in the way of their play!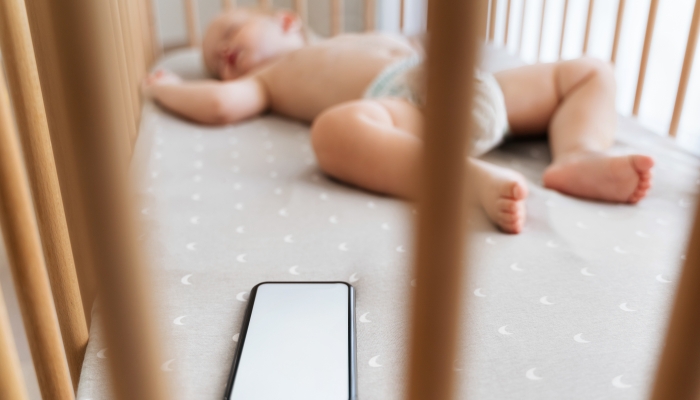 Product Reviews
Wondering whether white noise will help your little one sleep better? Here's our guide to the best baby sound machines to help your baby fall asleep soundly.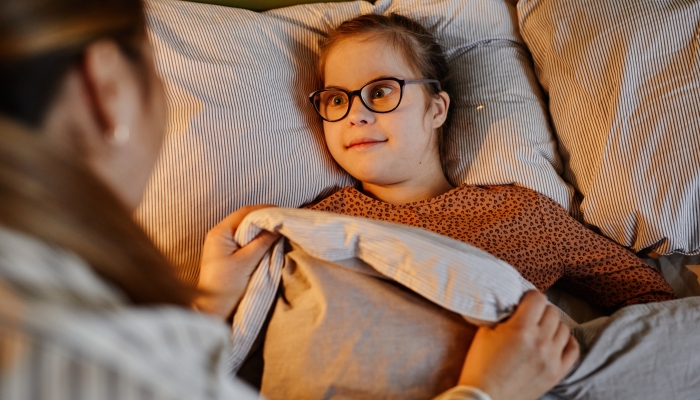 Product Reviews
Heard a lot about weighted blankets and lap pads and wondering how to choose one? Here's our guide to the ins and outs of finding the right weighted blanket.