Best Double Strollers of 2022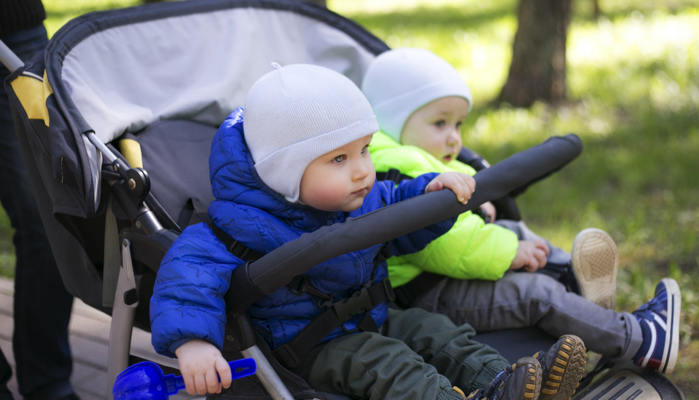 This post may contain affiliate links; please see our terms of use for details.
If you are expecting twins or your second child, it's time to upgrade to a double stroller. Even if you have an older child that is relatively independent, having a stroller that fits two kids will make outings much easier when they inevitably get tired of walking. And if you have twins, you will need something that will grow with both children throughout the years.
Luckily, there are a variety of different styles of double strollers to choose from, including side-by-side, tandem and convertible strollers. Side-by-side strollers are great for twins or children who are close in age, while tandem and convertible strollers might be a better option if there is a bit of an age gap between your children.
Whatever you are looking for, we've rounded up the best double strollers of 2022 and have included options for every family and every budget. Keep reading to find the best double stroller for your growing family.
Top 10 Picks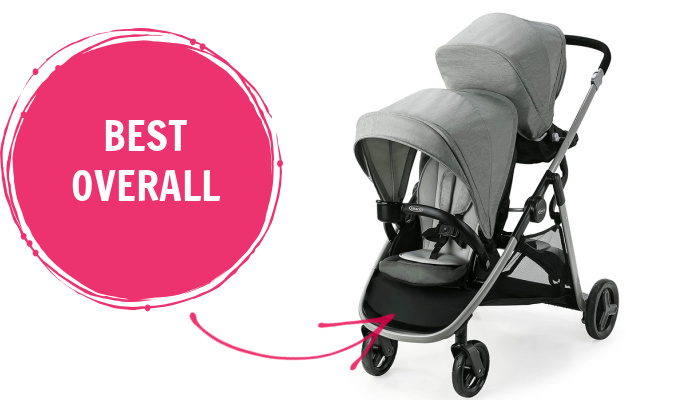 The Graco Ready2Grow double stroller was designed to grow with your children and hopefully last you through several ages and stages. This stroller includes different seating options to suit your growing family's needs — the back stroller seat can be converted into either a bench seat or a standing platform for an older child while your younger child rides in the front seat. It can even accept two infant car seats as well, making it a great option for newborn twins.
As a tandem stroller, the Graco Ready2Grow is narrow and easily fits through doorways compared to side-by-side strollers. Other convenient features include cup holders for parents and children, a nice storage basket and adjustable canopies. It's easy to put together and convert the seating options as well.
Keep in mind that since this one is a tandem stroller, it is a bit long when folded, but it is still pretty compact. It's best used on smooth surfaces, too, since it doesn't have all-terrain wheels like a jogger. Overall, the Ready2Grow is a nice quality convertible stroller that should save you from having to buy several different strollers throughout the years.
---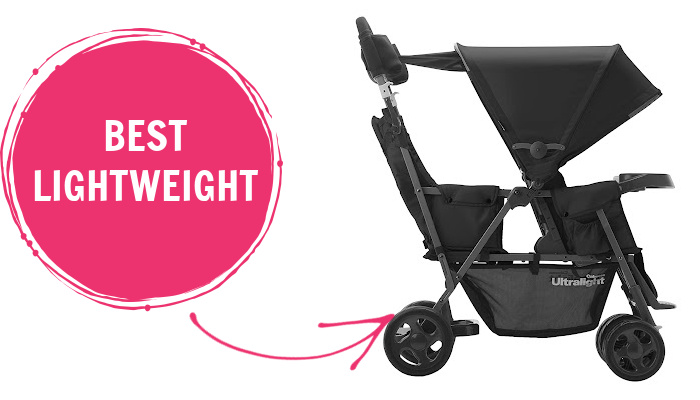 If you are looking for something lightweight that doesn't skimp on the features, the Joovy Caboose Too Ultralight is a great option at 23.5 pounds. This one can be used with infant car seats if you have a newborn (or two), and the back seat can convert from a standard seat to a bench or standing platform. Both seats can recline and include their own canopies, so your little ones will stay comfortable as you stroll.
Parents will appreciate the maneuverability and how easy the Joovy Caboose Too Ultralight is to open and close. The parent organizer and basket offer plenty of storage, and this stroller doesn't take up a lot of room while still being spacious for your children.
Like a lot of standard strollers, this one has pretty basic wheels that work best on smooth surfaces. Another thing to keep in mind is that when the full back seat is attached, the storage basket can be a little harder to access, though certainly not impossible. But for such a lightweight stroller, this one really packs in a lot of features.
---
Whether you love to run or are looking for a double stroller with all-terrain wheels, the Baby Trend Expedition Double Jogger is a great affordable jogging stroller. Even if the thought of jogging with your little ones makes you laugh, sometimes standard stroller wheels don't hold up to the different types of terrain you might be strolling on, especially if you like to hike or spend a lot of time at parks. But the tires on this stroller make for a smooth ride on rocks, grass or other types of uneven terrain.
The Baby Trend Expedition Double Jogger is spacious and has plenty of storage as well, but it still fits through most standard doorways. It's also easy to fold, the seats recline and it includes an adjustable canopy with a peek-a-boo window.
Unfortunately, if you are looking for something you can use with a newborn, keep in mind that this stroller is not compatible with infant car seats. It is a little heavy as well, so it might not be the best option for everyone.
---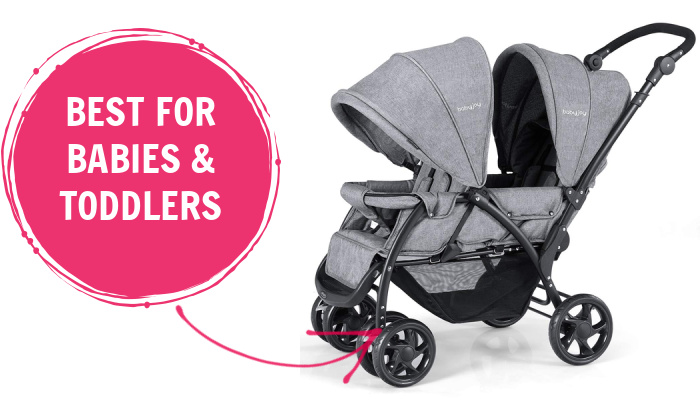 If you have twins or two little ones close in age, the Baby Joy double stroller is an overall well-made tandem stroller to consider. The seats have comfortable padding and can recline enough for younger babies and even lay flat for nap time. The individual, adjustable canopies are a nice feature that will keep your children comfortable as well.
Additionally, this affordable stroller is sturdy and has great maneuverability. The adjustable handlebar makes it a nice option for taller parents, too.
The Baby Joy double stroller has a weight limit of 33 pounds per seat, so it's best for young babies and toddlers. Depending on your children, it could last you into preschool, but if you have a bigger than average baby, this one might not last you as long. It is a little
---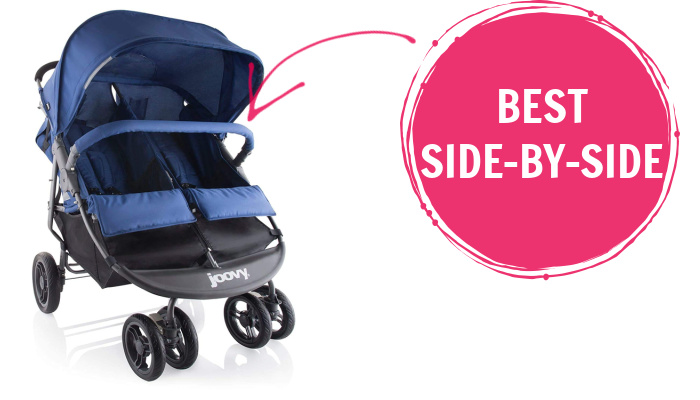 The Joovy Scooter X2 is stylish, affordable and an overall great side-by-side stroller that works well with twins or children close in age. It's easy to use, easy to fold and compact for a double stroller. The large basket, parent storage and bottle holders make it so you have everything you need within reach, but this roomy stroller still can fit through most doorways easily. Plus, each seat can hold up to 45 pounds, so it should last through preschool for many kids.
This stroller is relatively simple, without any kind of tray or cup holders for the kids, as well as having only a single canopy for both seats. If you are looking for something you can use with an infant car seat, this option won't work for you either, and is best used for children 3 months and up. If you are looking for something streamlined and compact, this is a great side-by-side option.
---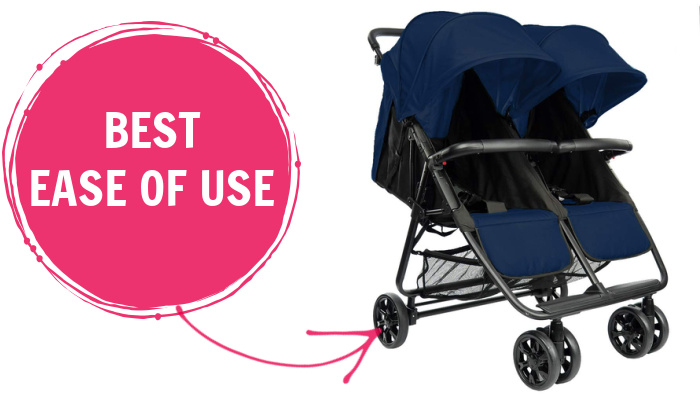 If you are looking for something easy to use, the Zoe Twin+ is a super lightweight (only 19 pounds) and compact option that should make your life a little easier. It has a huge, adjustable canopy and individual reclining seats that can lay flat for naps, so your children will stay comfortable in this one. The back of the seat can even flip open for airflow on hot days.
A unique feature of this stroller is that it can be expanded even more to hold 3 or 4 children with an add-on tandem seat that's sold separately. So if you are expecting your family to grow throughout the years, this might be a nice option to consider.
While this is a great stroller overall, it's best if you plan on using it on smooth surfaces, since it doesn't have all-terrain wheels. Taller children may begin to feel a bit cramped in this one eventually as well, so some families will only want to use this one through the toddler years, depending on the size of your children.
---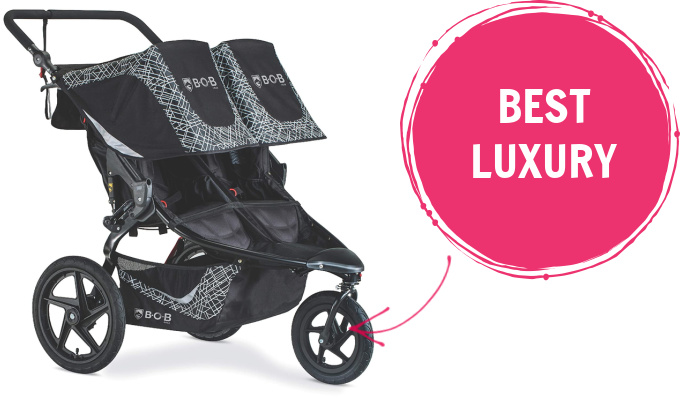 If you have the money to spend on a high-end stroller, the BOB Gear Revolution Flex 3.0 Duallie is a high-quality double jogger that checks a lot of boxes. Since it is a jogging stroller, the all-terrain wheels will give you a smooth ride on a variety of surfaces, and this one is overall sturdy and well-made. You can use this one from birth (with compatible car seats) up to 50 pounds per seat, so you should get years out of this stroller.
Some nice additional features include adjustable handles, a large storage basket, lots of pockets, reflective accents for safety and a magnetic peek-a-boo window. The reclining seats can also sit fully upright, giving your little ones a better view if they like to see what's going on around them.
This well-made stroller is a bit on the bulkier side, so if you want something lightweight, this isn't it. And if you want snack trays and cup holders, those are sold separately, so you will have to consider that as well. But, if you have the money, you can't really go wrong with this double stroller.
---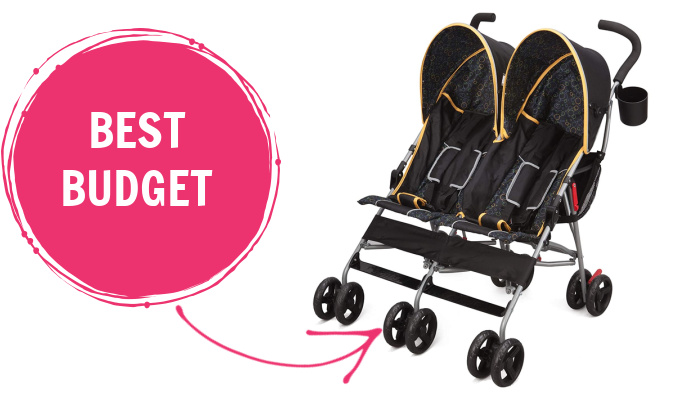 Sometimes you need a lightweight umbrella stroller when you are traveling or for short outings, and the Delta Children LX double stroller is an award-winning option to consider. Even though it's lightweight and compact, this umbrella stroller is sturdy and includes plenty of features that parents and children will both appreciate. And while it's a little pricier than some of the best umbrella strollers, it still makes a great budget option.
With its compact size, the Delta Children LX meets theme park size requirements, fits through standard doorways and is easy to travel with. For the parents, it includes a cup holder and hanging storage bags. It also has soft shoulder pads on the safety harnesses and has individually reclining seats, so your little ones will be comfortable.
Since it is an umbrella stroller, there are a few drawbacks you can expect, including standard wheels (not all-terrain) and lower handles — not the best for tall parents. Of course, it's fairly simple compared to some of the higher-end full-sized strollers as well.
---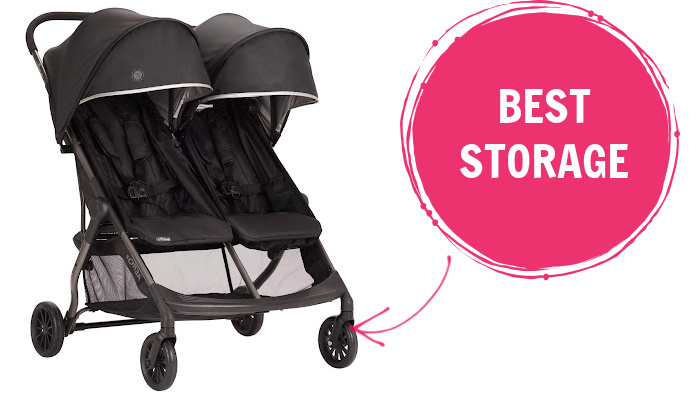 The Evenflo Aero 2 is a great double stroller all-around, but it also has some unique storage options that really stand out as well. It has a nice large storage basket, mesh in-seat pockets for baby toys and if you ever plan on using it with just one child at a time, there is an additional storage basket that can be snapped onto the other seat.
Additional features that make this a great option include the large canopies, higher weight limit (up to 50 pounds per seat) and maneuverability. It works well on different types of terrain, it's compact and self-standing when folded, too. This versatile stroller should last you through the years.
Keep in mind that the seats are always slightly reclined and don't sit fully upright, which some children might not like. And while there is a 50-pound weight limit per seat, the seats are a little on the smaller side, so if you have older or taller children, this might not be the best option.
---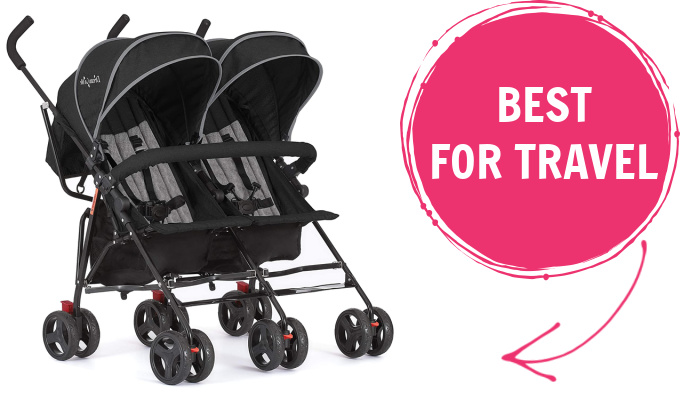 If you are looking for something lightweight and compact but sturdy, the Dream On Me Twin umbrella stroller is another great budget-friendly option. Families that spend a lot of time traveling will appreciate the compact fold and storage basket, and that this stroller can easily fit through most doorways. These features help make it one of the best travel strollers we've reviewed. It also has 3 handles and 6 wheels that make it super easy to maneuver.
For a lightweight stroller, the Dream On Me has a lot of nice features. The seats recline and there are mesh windows on the sides of each seat for airflow. Parents have a cup holder and peek-a-boo windows so they can keep an eye on the little ones as well.
As with most umbrella strollers, this one is best used as a secondary stroller rather than an everyday stroller since it is relatively simple. Tall parents should also keep in mind that the Dream On Me has lower handles than many traditional strollers.
---
Final Verdict
The Graco Ready2Grow LX 2.0 is one of the best double strollers you can find, whether you have twins or two children at different ages. It has versatile convertible options that will work with your growing family from infancy through preschool, including options to hold two infant car seats at once if you have twins, two standard stroller seats or a bench and standing platform if you have an older child. Plus, it includes other practical features like cup holders, a tray, a good-sized canopy and storage basket, making it a great stroller all around.
Recommended Accessories
Here are some of our top recommended stroller accessories that will make your double stroller even more useful:
FAQ
What are some of the different types of double strollers?
There are generally three different kinds of double strollers: side-by-side, tandem and convertible. Side-by-side strollers have two seats next to each other, and work well if you have twins or two children close in age. They often have individually reclining seats and separate canopies, though not always. Tandem strollers and convertible strollers have one child in front of the other instead of side-by-side. Convertible strollers will often have options to attach car seats or have a bench or standing platform in the back for an older child.
At what age can my children use a double stroller?
Some double strollers can be used with newborns if they have reclining seats or infant car seat compatibility. Depending on your stroller, your child might be able to use a double stroller through preschool, as many will hold up to 40 or 50 pounds per seat. If your double stroller has a bench or standing platform, your child may be able to continue using the stroller beyond preschool. Strollers vary and you will need to check the age and weight requirements to know if it is suitable for your child.
What are the safety considerations with a double stroller?
It's important to read the directions to be sure your stroller is put together properly and any car seats are properly attached before using. If your stroller has a bench or standing platform, check to see what the age requirements are for using it and be sure your child is securely in their seat before moving the stroller.
Keep in mind that some strollers are not meant to be used with newborns because they lack the head and neck control to support themselves, so make sure to check your stroller's age requirements. And if your child has a disability you may want to take look at our list of the best special needs strollers instead.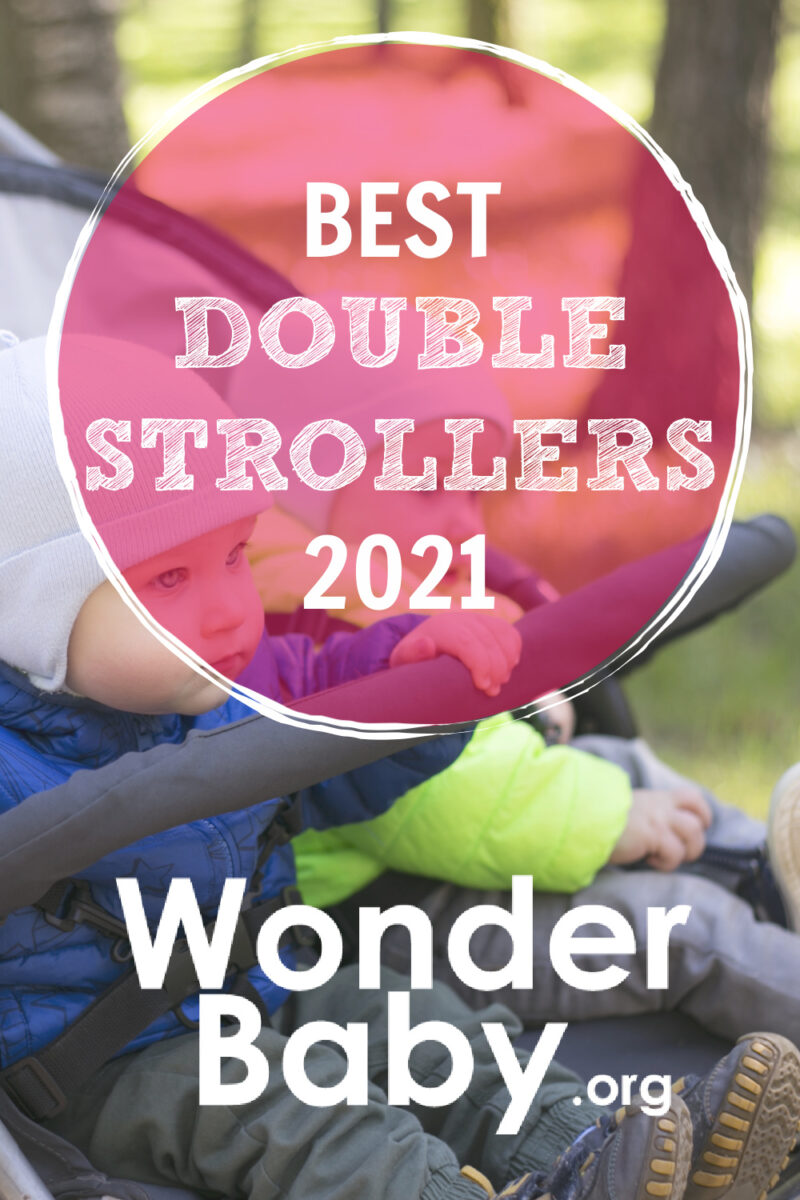 Related Posts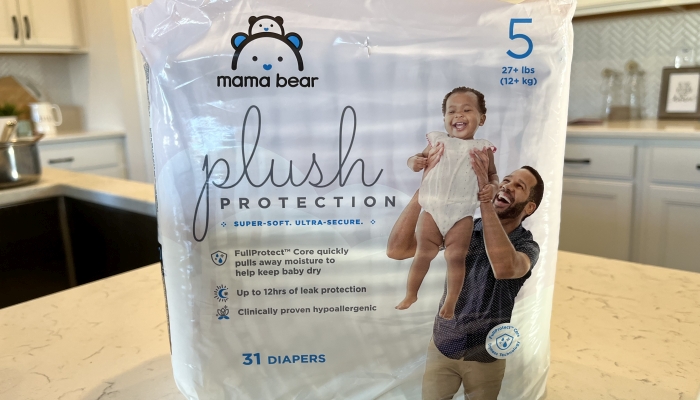 Product Reviews
We gave Mama Bear diapers a thorough test! Our Mama Bears Diapers Review will let you know if they're worth purchasing.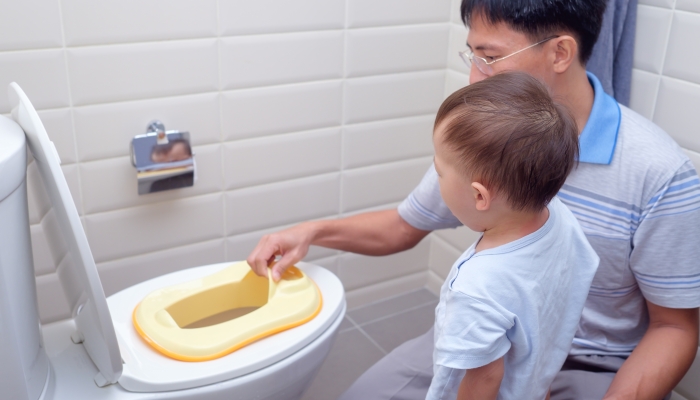 Product Reviews
With tons of potty training seats to choose from, we did the research for you! Check out this list to find the best potty training seat for your little one.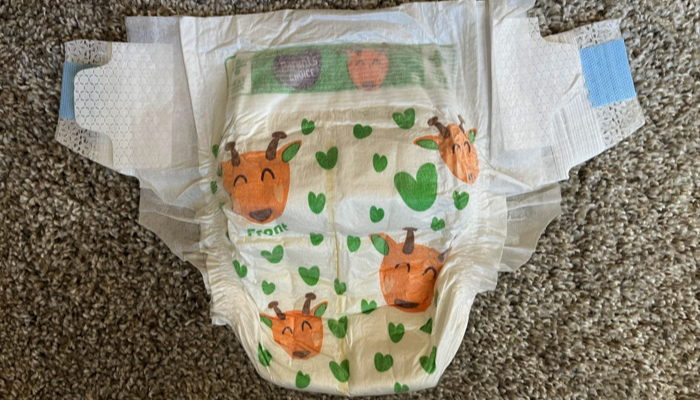 Product Reviews
Parent's Choice diapers are inexpensive, but do they work well? This honest Parent's Choice diapers review will give you the scoop!