9 Best Travel Strollers of 2022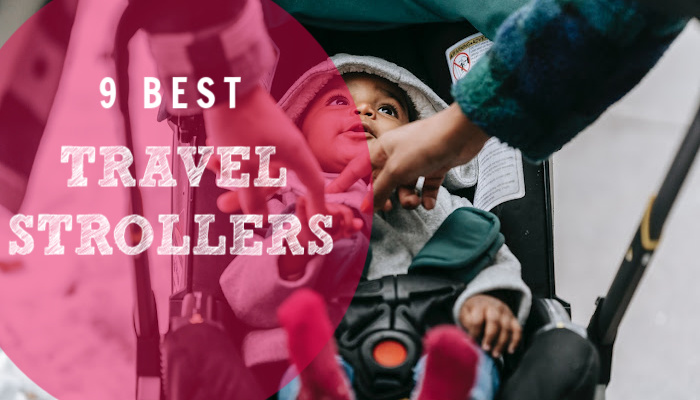 This post may contain affiliate links; please see our terms of use for details.
Traveling with kids isn't always easy, but that shouldn't stop you from doing what you love. That's what travel strollers are for! These lightweight, compact strollers are designed with car and air travel in mind, and often meet theme park size requirements that traditional strollers don't. Whether you're a frequent flyer, you're planning a road trip or you just need something that you can fit in the trunk of your car, a travel stroller might fit your needs and make traveling with little ones a little more manageable.
The best travel strollers are lightweight and compact, but still offer some nice additional features, like a reclining seat, extra storage or even a carrying bag. You can find really simplified budget options as well as some more luxurious options loaded with features. There's something out there for everyone.
Whatever you're looking for, we've rounded up the best travel strollers of 2022 right here. Keep reading to find the best travel stroller for your family.
Top 9 Picks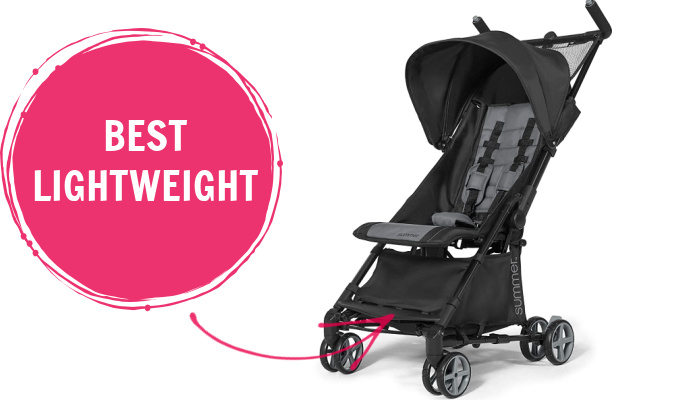 If you are looking for something lightweight, this is it. At about 9 pounds, the Summer 3Dmicro is one of the lightest weight travel strollers out there, but it still packs in some great features. The seat can recline into a lying down position for your baby or toddler to nap on the go, and it includes a canopy and storage basket as well, which you will be thankful for.
This stroller meets airline carry-on requirements and is theme park approved as well. It's super easy to open and close, and fits nicely into the included carrying bag, which will really come in handy if you will be traveling by plane or taking public transportation during your trip.
On the downside, taller children might start to feel a little cramped in the Summer 3Dmicro, so it's probably more suitable for infants and toddlers than preschool-aged children. And if you are counting on using the cupholder, it's worth noting that it can be a little flimsy and only holds standard sized water bottles. Overall, if you are looking for something super lightweight and compact, this is a sturdy and well-made option.
---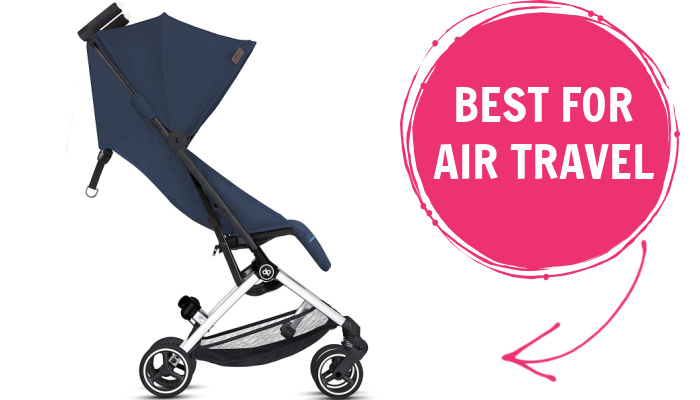 Air travel can be intimidating for new parents, but having a nice stroller that meets your airline's carry-on requirements will make things a lot easier. With the gb Pockit+ you can stroll through the airport before folding your stroller into a compact "handbag" shape that you can bring on the plane. Other features include a large canopy and reclining seat to keep your little one comfortable as well as a storage basket. It also has a really simple, stylish design.
For the price, this stroller doesn't pack in a ton of extra features, but the compact fold alone might be worth it for parents who need something they can bring on an airplane. Be aware that the seat doesn't lay completely flat, and it is a little short for taller parents. The gb Pockit+ isn't exactly all-terrain either, so it works best on smooth, paved surfaces. But if you're just planning on exploring the city or having a fun day at the theme park, that shouldn't be a problem.
---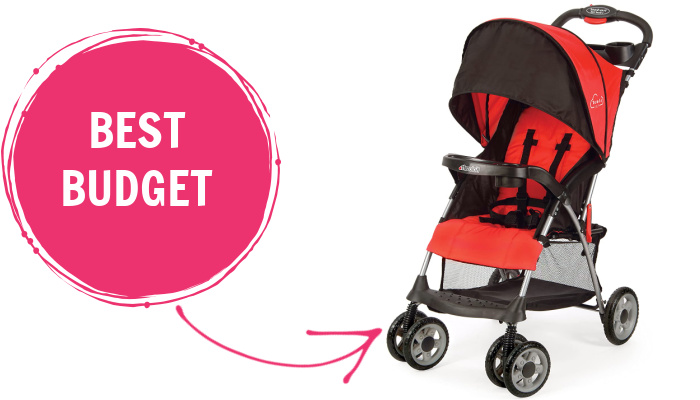 If you're on a budget, the Kolcraft Cloud Plus is a nice lightweight, theme park approved travel stroller with some great features. Something a lot of travel strollers are missing is cupholders, but this one includes 2 cupholders plus a tray with an additional cup holder for your baby — something you will definitely want if you plan on spending a lot of time outdoors at a theme park or zoo. This one also has a reclining seat, storage basket and all-terrain wheels for a smooth ride.
While the Kolcraft Cloud Plus is under 12 pounds, it isn't compact enough to be a carry-on if you plan on doing some air travel. Of course, you can always check it at the boarding gate, if need be. Keep in mind that the seat doesn't recline to a completely flat position, which might make it harder for your little one to take naps while you are out and about. For a budget option, though, this one really does pack in a lot of nice features, and it's sturdy, too.
---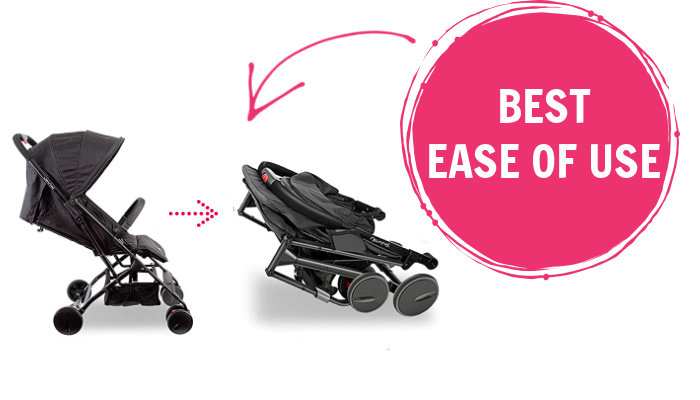 The Jovial Portable Baby Stroller is one of the most practical, easy to use travel strollers out there. It includes a travel bag and pull handle which make it easier to lug around when it's not in use, and it's super easy to open, close and maneuver — making it great for busy airports and theme parks. The reclining seat is also easy to adjust and lays almost flat, so your little one can nap in it on the go. It also includes a roomy storage basket where you can keep your diaper bag, purse or any other essentials.
While the Jovial Portable stroller is compact, it is a little bulkier than some travel strollers. It doesn't feel quite as sturdy as some either, so it's probably best for occasional use rather than using it as your primary stroller. But if you already have a larger stroller and just need something convenient for vacation, this is a great option.
---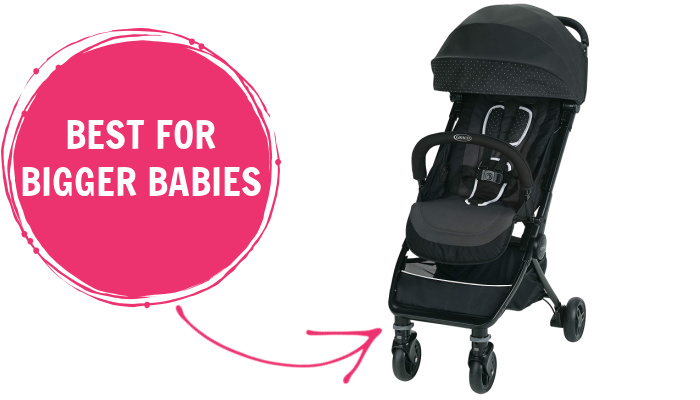 The Graco Jetsetter is a great travel stroller that will grow with your child. If you have a newborn, you can connect your Graco infant car seat until they are big enough for the regular stroller seat, which includes a convertible 5-point or 3-point harness. And although the stroller itself is lightweight (under 14 pounds), it can hold older babies and toddlers weighing up to 50 pounds, making it a great option for bigger babies, toddlers and even preschoolers. A few other perks worth noting: This stroller folds really compact and includes a reclining seat and carrying bag.
As with a lot of travel strollers, the Graco Jetsetter doesn't work well on all terrains — plan on using it mostly on smooth surfaces. And while it folds compact, it isn't an easy, one-handed fold that you'll find with some travel strollers. But it should last you through the baby and toddler years, making this a good investment in the long-run if you can get past these minor flaws.
---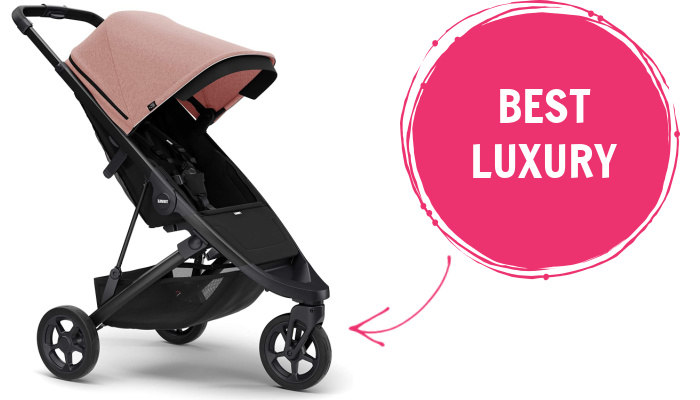 If you are looking for a luxury travel stroller that holds up to daily use but is still practical and compact for traveling, the Thule Spring Compact Stroller has you covered. This stylish travel stroller comes in several different aesthetically pleasing color options and includes a storage basket, a large canopy to keep your baby comfortable and an easy, one-hand fold. It also meets theme park size requirements and is easy to maneuver across different types of terrains.
With its higher price tag, the Thule Spring Compact Stroller is a bit of an investment. For a compact stroller, it isn't super light weight, but its small size works well for travel, and it is nice and sturdy. Additionally, with its streamlined design, the storage basket is a little small and there are no cup holders either. If you can afford the up-front cost, though, this travel stroller should easily last you through the baby and toddler years.
---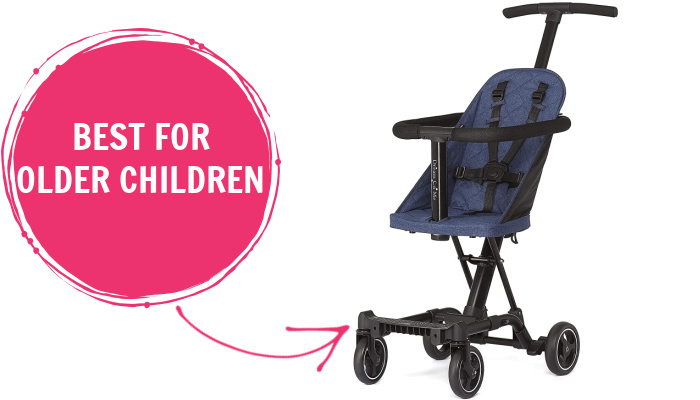 The unique, convertible design of the Dream on Me Coast Rider has earned several awards from the National Parenting Product Awards, National Parenting Center and JPMA Innovation Awards. With options to use the Coast Rider as stroller, scooter or rider, it can be used from infancy up until your child is about 5 or 6 years old.
The Dream on Me Coast Rider is lightweight and folds compact, meeting theme park size requirements as well. For the parents, it has an adjustable handle and it maneuvers well, too. Plus, if you purchase a connector piece (sold separately), it can even be attached to other strollers, shopping carts or even wheelchairs.
Keep in mind that this isn't a traditional stroller — your child will be in a mostly upright position, and likely won't be comfortable napping in it, and you have to purchase a canopy separately if desired. It also doesn't come with any kind of additional storage or cup holders. But if you have a toddler or an older child who gets tired of walking during outings, it can be really convenient.
---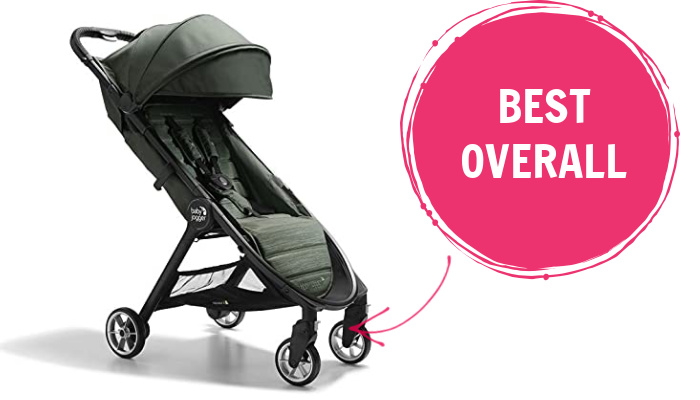 The Baby Jogger City Tour 2 is an overall great travel stroller that's sturdy and packs in a lot of nice features. It's lightweight (14 pounds), folds compact and even includes a carrying bag. Depending on your airline's specific requirements, you may even be able to bring it with you on board as a carry-on if you plan on doing any air travel.
This travel stroller works with a Baby Jogger infant car seat if desired, so you can use it with a newborn or an older infant or toddler. It has a comfortable, reclining seat that lays almost flat for nap time, it's quiet and it has an easy one-hand fold. Additionally, the Baby Jogger City Tour 2 has a storage basket and canopy with a peek-a-boo window.
All that this travel stroller is really missing are a tray and cup holder. It's also on the smaller side, so you shouldn't count on it lasting into the preschool years. It also works best on smooth surfaces, like most travel strollers. Overall, it's a stylish, streamlined stroller that works great for travel.
---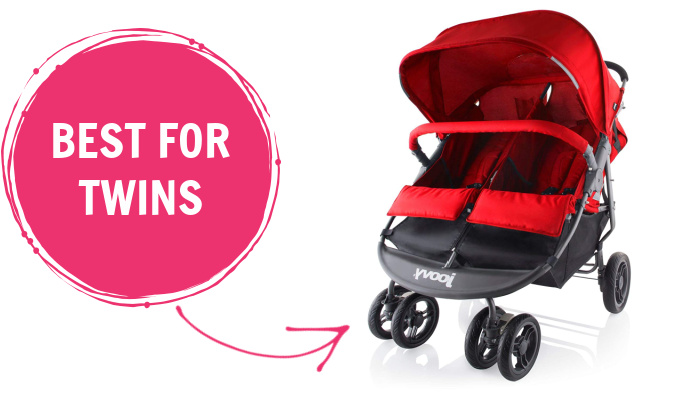 If you have twins (or two under 2) finding a double stroller that works as a travel stroller can be a challenge, but the Joovy Scooter X2 is a great option. At 30 inches wide, it fits through standard doorways and is theme park approved. It folds compact enough to fit in most cars and it maneuvers really well, making it one of the best double strollers we've reviewed.
This double stroller comes with plenty of storage space, a large canopy and cup holders. As a bonus, it's also stylish and comes in a few different colors.
Since it is a double stroller, it is a bit heavy and bulky compared to the other strollers on this list, but if you need a double stroller there's no way around that. Some parents might not like that it has a single canopy going across both seats and that it has a fairly simple, streamlined design, but that's why it works well as a travel stroller. If you are looking for something you can maneuver two little ones around a crowded theme park in, you can't go wrong with the Joovy Scooter X2.
---
Final Verdict
The Baby Jogger City Tour 2 is an overall great travel stroller that checks a lot of boxes. Whether you are traveling by air, train, bus or car, it's compact and lightweight and even includes a carrying bag to make things a little easier. It also folds easily and includes some nice features such as storage, a reclining seat and canopy, so all of your needs are covered. While you can't really go wrong with any of the travel strollers on this list, the Baby Jogger City Tour 2 is one of the best all-around travel strollers you can find.
Recommended Accessories
A stroller just isn't complete without a few mom-approved accessories, especially ones that help you keep your phone and much-needed coffee within reach.
Here are some of the top recommended stroller accessories:
FAQ
What should you look for in a travel stroller?
Travel strollers are generally lightweight and compact strollers that are easy to take along in the car or even on public transportation and planes. What you look for will depend on how frequently you plan to use the stroller and for what purpose. Possible features to look for include a reclining seat, canopy, storage, convertible options, all-terrain wheels, a carrying bag and size specifications if you will be traveling by plane or visiting a theme park.
What's the difference between a travel stroller and an umbrella stroller?
Just like many of the best umbrella strollers, travel strollers are compact, lightweight strollers, but they generally include additional features for travel and don't always close up into the classic umbrella shape umbrella strollers are named for. Many are made to meet size requirements of theme parks and airplanes, but they can be a bit bigger than umbrella strollers. They have a variety of different features that can make travel easier and more comfortable for your baby, like reclining seats and storage as well.
What age can my child use a travel stroller?
There are a variety of different styles of travel strollers that are made for different ages, although they are generally for infants from 3 months and up through the toddler and preschool years. Some travel strollers are compatible with infant car seats that make them appropriate for newborns, and some include additional convertible features that allow older children up to 5 or 6 to continue using them — it really depends on the stroller.
What are important safety considerations with a travel stroller?
It's important that your travel stroller meets current safety requirements, which it should if it is purchased new and properly assembled. Make sure to read the stroller's directions in full and complete assembly entirely before putting your child in it. Strollers often come with either a 3-point or 5-point harness, or can be converted to a 3-point harness as your child gets older — make sure to read the directions regarding the age requirements for this.
It's also important to be sure your child has proper head and neck control for the type of stroller they are using to avoid possible injury. If your child has a disability, you may want to look for the additional support that the best special needs strollers offer.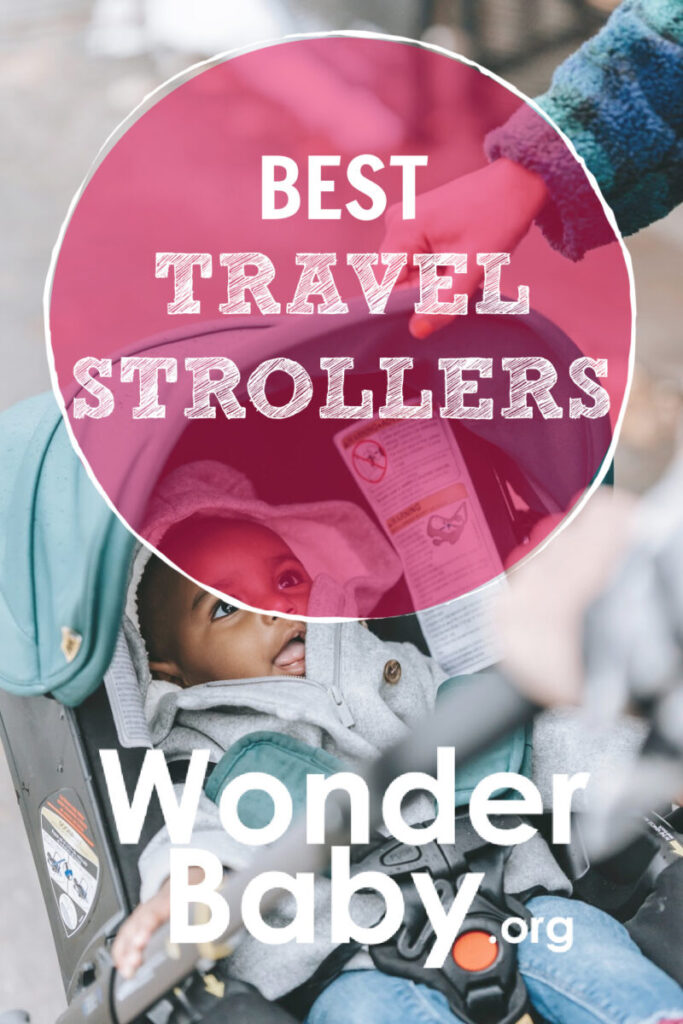 Related Posts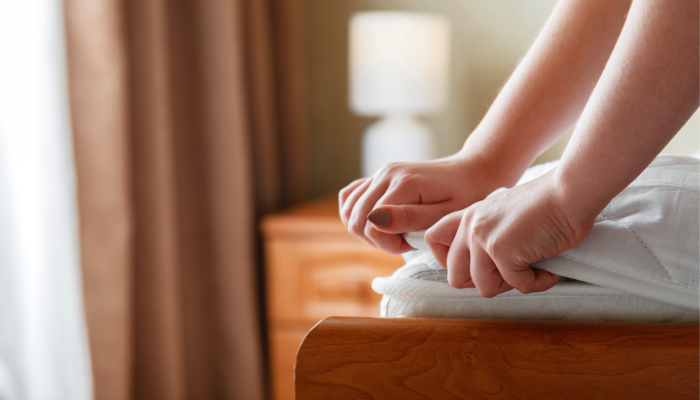 Potty Training, Product Reviews, Special Needs
Changing sheets and cleaning up after bedwetting can be a challenge. Peelaway disposable bed sheets are waterproof and make changing sheets easy!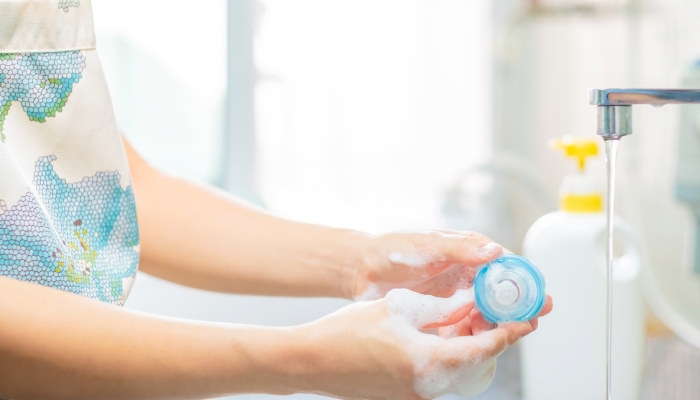 Parenting
Cleaning and sterilizing your baby's pacifiers is key to protecting them from avoidable illness. Learn all the methods, tips, and tricks you need to know here!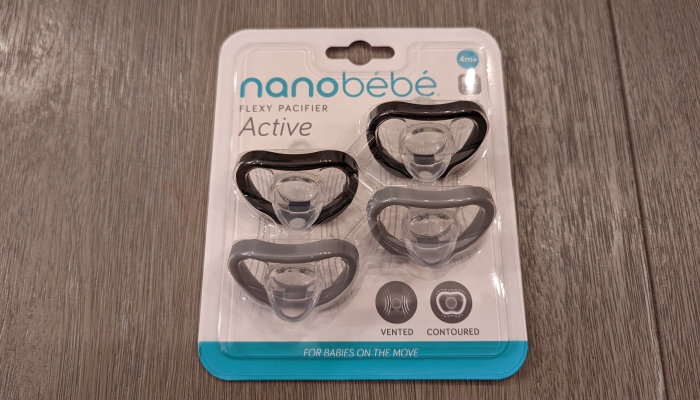 Product Reviews
The Nanobébé Active Flexy is great for babies because it's flexible, breathable, and made of quality materials.