Buying a stroller can be a daunting task. There are so many models on the market and they just keep getting more and more expensive!
It can be so easy to take the easy road and just head over to Wal-mart or Target and pick up a cheap Graco stroller. You're reasoning might be, "He'll outgrow it soon anyway and I'll save a few bucks."
Well, speaking from experience, Don't do it!
I've been there. I got a cheap Fisher Price stroller for my son when he was born. It lasted about six months before it needed to be replaced and I got another similar model. By the time he was a year old he refused to sit in it because it was just too uncomfortable, which of course resulted in me pushing my cheap stroller down the road while I carried my son in my arms. Not a fun time!
Finally I broke down and got one of the nicer strollers (we went for the Mia Moda Veloce) and when all was said and done I ended up spending more than if I had just gone for the top-of-the line stroller to begin with!
Plus, the newer models will last you quite a few years as they can fit children up to three or even four years old. And they're great to use with the next child on the way because they are built so well and they really do last. That's what you're paying for: Quality and durability!
Now that we've done all the stroller shopping and hunting, all you have to do is check out our Top Three Picks and see which stroller looks best for your family…

Top Pick #1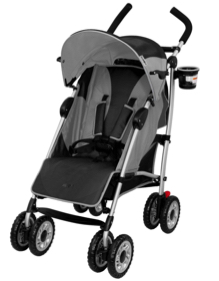 Why we love it: This is the stroller we chose for our son. I love the open design of this chair and how easy it is for my son to be a part of the action while still sitting in his stroller.
But what we really liked about the Mia Moda Veloce is its size. We have a very small car and this stroller folds into an extremely compact size. Plus its simple design makes it easy to maneuver in small areas, like stores with narrow aisles or between tables in a restaurant.
It's the perfect stroller for city life!
Features:
Strong lightweight aluminum frame
Shoulder and Neck Support
Front-wheel suspension
Adjustable footrest
Easy to carry when folded
5-point harness
Adjustable seat recline
Weight: 16.8 lbs.
Size: 41″ x 15.75″ x 27″
Weight Capacity: 40 lbs.

Top Pick #2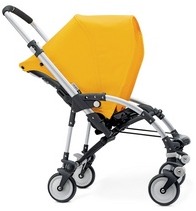 Why we love it: Our son loved this stroller. We actually had a hard time getting him out of it when we were at the store, he was so happy and comfortable! The Bugaboo Bee sits upright and is the most supportive stroller of all the strollers we tried out. It is also so very soft and comforting and has a great system that grows with your child from infancy to toddlerhood.
The Bugaboo Bee seat is also reversible, which I love, especially for babies, and it's compact design fits easily into your car. It's sleek design makes it easy to maneuver and it folds down very flat (though it's not nearly as compact as the Mia Moda). The sun shade is also quite big and will actually keep the sun out of your child's face (unlike almost every other shade on the market).
Features:
One-piece foldable and compact
Reversible seat
Supportive hard-shell back rest with ventilation holes for comfort
4-position seat recline
Height-adjustable handle bar
Swivel wheels and suspension system for a steady, bump-free ride
Adjusts to various car seats
4.2 gallon under-seat basket
All fabrics removable and machine washable
Suitable up to 37.5 lbs
Stroller weighs 16.5 lbs
Rain shield and other accessories sold separately

Top Pick #3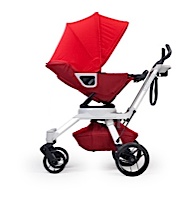 Why we love it: The Orbit G3 takes reversible to a whole new level! The base of this stroller moves in just about any direction, very smoothly, and with almost no effort. It's like creating a stroller on a lazy susan! And, like the Bugaboo Bee, the G3 grows with your child, so it's a great investment.
The G3 folds down very flat and even though it is pricey, it's still well worth it. Unlike the Mia Moda, the G3 offers more protection for younger children who have a harder time sitting up on their own. The G3 is very sturdy and supportive, though not as supportive as the Bugaboo Bee. The G3 does have the added feature of an infant car seat which can also swivel in your car, which is very nice indeed.
Features:
Compact when closed.
Rotating seat.
Folds with one-handed, twist-and-lift motion.
The snack tray is food-safe (BPA-free and PVC-free) and shaped to hold sippy-cups with handles.
Removable Cargo Pod diaper bag has shoulder strap and bottle pockets.
State-of-the-art ventilation system uses perforated seat shell, airflow channels, and wicking fabric.
UV sunshade.
Innovative QuadShock suspension gives your baby a smooth ride & hassle-free no-pump tires.
Includes 5-point safety harness and removable support bar
For use from birth to 40 lbs.