Our son never liked strollers. I'd even say that he hated them. Of course, this means that we've bought every type of (affordable) stroller on the market, to no avail. We'd just end up carrying our son while pushing an empty stroller down the street.
Then one day we went to the Museum of Science and decided to try a rental stroller for the day. To our surprise our son loved the stroller and sat in it the entire day!
Now, I'll be honest with you… I did consider stealing the darn thing. But it was huge and cumbersome and didn't fold up at all (not to mention that stealing is wrong, of course). In fact, the rental stroller was really nothing more than a small plastic chair attached to a platform with wheels (it's what a stroller would look like if it were designed by Ikea). There were straps for safety and a basket in back for mom's bag, but that's about it.
So we made a list of the rental stroller's qualities and began our search of the best strollers on the market, looking for the perfect stroller:
a strong, supportive seat
sits upright
no bars or trays to get in the way of grabbing things
a nice spot to put your feet
a firm seat that isn't made of pillows or droopy fabric
The Mia Moda Veloce: The Best Stroller We've Found
After about a month of searching, we finally found what we were looking for: The Mia Moda Veloce Stroller. This stroller meets all of the above requirements, plus it's also small enough to fit snugly into our little two-door hatch back Toyota (with enough room left over for a week's worth of groceries)!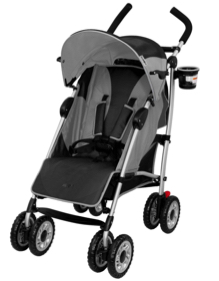 But, best of all, our son actually sits in this stroller! It's designed for older babies and toddlers who are able to sit up on their own and it doesn't accommodate an infant car seat. It has very few bells and whistles, but it does come with a very roomy bag in back and a nice step for your child's feet. What else do you really need in a stroller?
It's small and convenient for shopping in crowded stores with narrow aisles. You can maneuver this stroller through just about any obstacle course. Plus it folds down so small that when you're ready to put it away, it's only about one-third its original size! This stroller can fit into any small space or small compact car.
I did have to ask the clerk at the baby store to show me how to break it down a couple of times, but once you've mastered the technique you really can open and close this stroller with one hand (which is nice if your other arm is busy carrying your kid).
And for a stroller that is at its essence so very simple, you'll be surprised how many people stop you to ask what it is and where you got it!
The Features
Strong lightweight aluminum frame
Shoulder and Neck Support
Front-wheel suspension
Adjustable footrest
Easy to carry when folded
5-point harness
Adjustable seat recline
Weight: 16.8 lbs.
Size: 41″ x 15.75″ x 27″
Weight Capacity: 40 lbs.