The 10 Best Baby Jumpers of 2022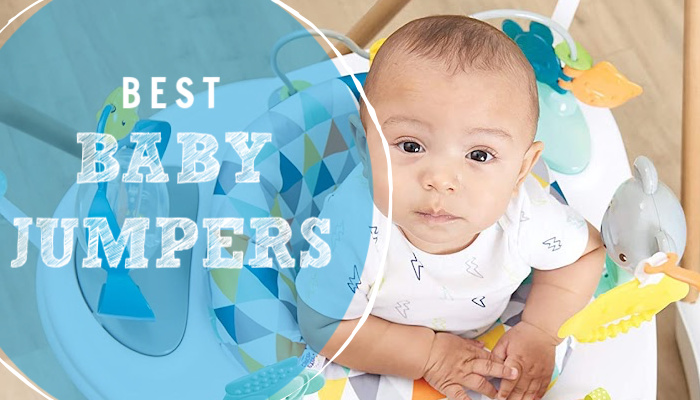 This post may contain affiliate links; please see our terms of use for details.
Many parents of babies will tell you that having a baby jumper is essential. Baby jumpers give your baby a safe place to play — in one place — while you get a much-needed break to do other things. All of that bouncing around can also get some of your baby's excess energy out so they are ready for nap time, too.
Once your baby has good control of their head and neck, it opens up a whole new world to them. But they might not always be happy sitting on the floor, and a baby jumper can bring them up closer to you and keep them entertained when you have other things to take care of. Some jumpers are simply for jumping, while others work as complete activity centers with all kinds of toys and buttons to keep your baby busy.
Baby jumpers come in so many shapes, sizes and styles it can be hard to decide which one will work best for you and your baby. To make things a little easier, we've rounded up the 10 best baby jumpers of 2022.
Top 10 Picks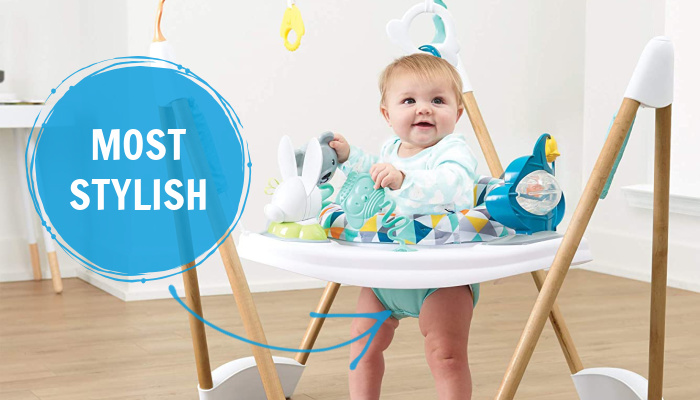 Some parents don't like the look of most baby jumpers because they tend to have a lot of plastic and bright colors, which may not exactly blend in with their home's decor. If that's you, the Evenflo Woodland Wonder may win you over thanks to its aesthetically pleasing design. The natural wood legs and subdued colors make this a really stylish, less garish option. While the design is pretty simple, this baby jumper still includes a good variety of toys, 360-degree swivel seat, and adjustable height options.
Because of the wooden legs, assembly can be a little trickier than some of the plastic and metal options that snap together easily, but it still shouldn't take too much effort. Since it is a lighter weight option, it can feel a little wobbly at times, but it really is a sturdy and well-made jumper so this shouldn't be a safety concern. Not exactly compact but not super bulky either, the Evenflo Woodland Wonder should fit in most spaces and blend in nicely with the decor — as much as a baby jumper can.
---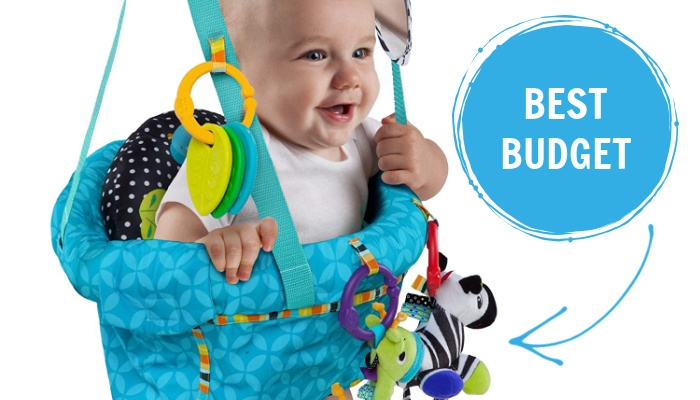 If you don't have a big budget to invest in a high-end baby jumper, the Bright Stars Bounce 'N Spring Deluxe door jumper is a great option. They didn't skimp on quality or features with this one either — it's sturdy, easy to set up and includes plenty of detachable toys and even a little back cushion to keep your baby comfortable as they bounce. Since it's a door jumper, it's really compact and travels well too.
This jumper fits onto the molding of your door frame, so you will want to make sure that it will work with your house — this might be a negative for some parents. With door jumpers, older babies sometimes try to swing or bounce around too much and bump into things, and unfortunately this jumper doesn't include a bumper. Just keep an eye on your baby, and they will have a blast bouncing away while you get some work done.
---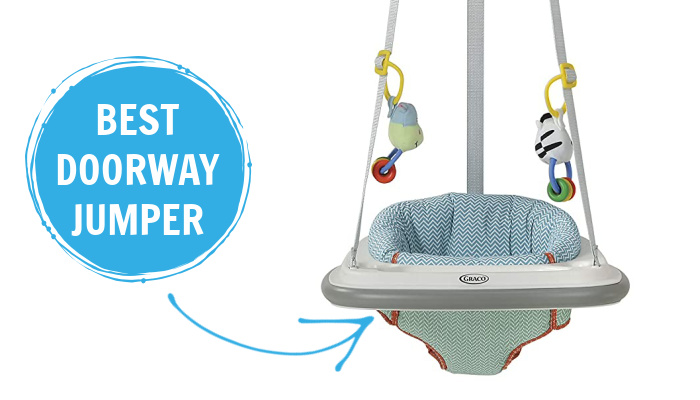 The best doorway jumper overall is the Graco Doorway Bumper Jumper. This one includes bumpers to help keep your baby from getting hurt if they bump into the door frame, and the tray can hold additional toys if your baby needs a little extra entertainment along with the 2 detachable toys it already includes. Like other door jumpers, this one doesn't take up a lot of space, is easy to assemble and travels well. The price really isn't too bad either, especially compared to stand-alone jumpers.
If your baby needs a ton of toys to stay entertained, this one might not be the best option for you. It includes a couple of small toys, but is overall pretty simple. Like other door jumpers, it doesn't swivel around either, so the seat will just face one direction. But overall, if your baby will mostly be jumping and doesn't need a ton of extra features, this is a really nice quality option.
---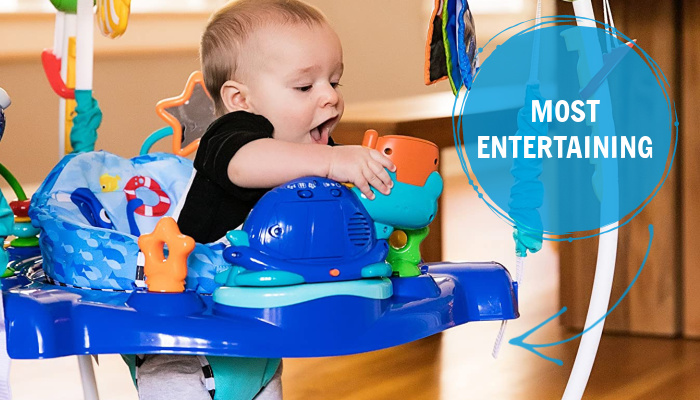 With its fun ocean theme, this baby jumper is all about the toys. If your baby needs a lot of entertainment so you can get some work done, the Baby Einstein Neptune's Ocean Discovery Jumper will keep them occupied with buttons, music and plenty of other toys to reach for and move around. Some of the toys will even introduce your baby to numbers and colors in English, Spanish and French, and the interactive turtle toy is detachable so they can keep playing when they are done jumping.
Some other features you might appreciate are the 360-degree swivel seat, easy assembly and adjustable height options. This one has 4 different options for the height, so it has the potential to grow with your baby a little more than some other options.
With all of the toys, lights and music, babies love this jumper, but not all parents will. Of course, that's a matter of personal preference. Additionally, it isn't quite as springy as some other jumpers, and it is definitely a little bulky too. If you are looking for a lot of features to keep your little one entertained, though, this is a great option.
---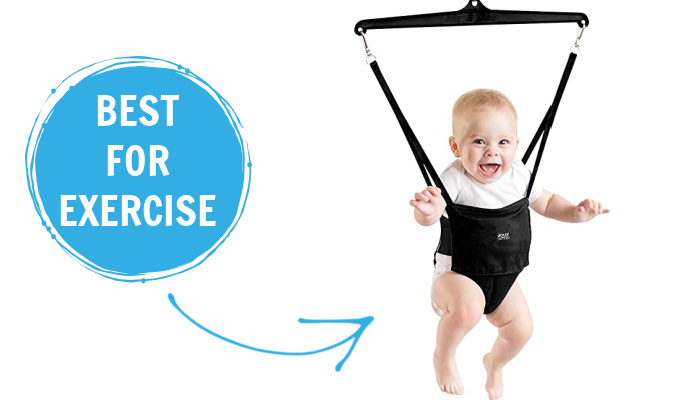 The Jolly Jumper is a doorway jumper with a good amount of bounce and no distracting accessories. If you want your baby to jump around and get some exercise, this one's for you. This one has some nice safety features as well, including a seat that goes up to your baby's chest to help keep them upright and both a buckle and velcro strap to keep your baby secure. Babies as young as 3 months old can even use the Jolly Jumper as long as they can fully support their head and neck.
Since this is a door jumper, it is pretty compact and portable so you can store it out of sight when needed. It's simple black design is nice for parents who don't like to have too much brightly colored baby gear around the house, too.
The Jolly Jumper doesn't include any toys or other features, so if your baby needs more entertainment this might not be for them. It also doesn't have a bumper, so there is always the possibility that they could bump into the door frame if they are really bouncing around. Otherwise, this jumper is really sturdy, well-made and great for babies who love to jump.
If you like the Jolly Jumper but don't want a doorway jumper, they also have a jumper that comes with a stand. As with the original Jolly Jumper, this one is really bouncy and includes the same high seat, velcro strap and buckle to keep your baby safe as the jump. It's easy to set up and still comes in the same simple, all black design as the door jumper.
Since this jumper comes with a stand it's a little bulky, which some parents might not like. But if you have the space, the easy assembly makes it possible to take it down and store it out of the way at times when your baby isn't using it. Like the original Jolly Jumper, it also doesn't include any toys, so it's a great option if your baby will be using it just for jumping and you want them to get a little exercise.
---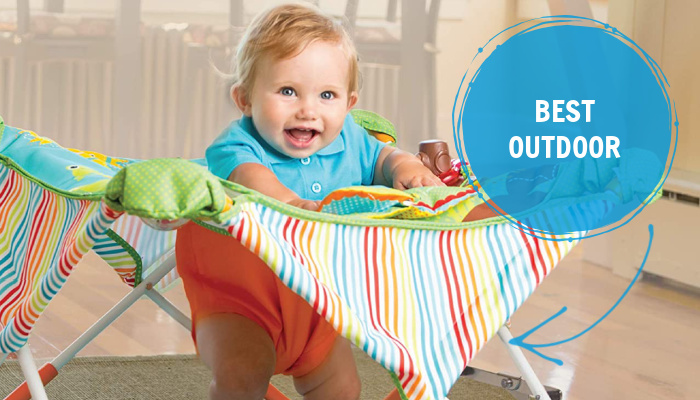 Who knew they even make baby jumpers that can be used outside? If you spend a lot of time outdoors and sometimes need something to keep your baby occupied, the Summer Pop 'N Jump Activity Center has you covered. This jumper folds really easily and compactly, includes a carrying bag and even has a canopy to protect your baby from the sun. It has plenty of toys and a good amount of bounce to it as well, so it should keep your little one busy.
This sturdy yet lightweight jumper doesn't take up too much space, so it works well indoors too. Additionally, the height is adjustable (with 3 different options) and it has a nice little foot mat as well so your baby will be comfortable whether they are on carpet, grass or a patio.
One downside is that the foot mat can be a little slippery for younger babies, but as they get bigger and their legs get stronger this shouldn't be a problem. It's also relatively simple and doesn't have a spinning seat or a ton of toys compared to some other options. If you are using it outdoors, though, your baby might not need a lot of toys for entertainment anyway.
---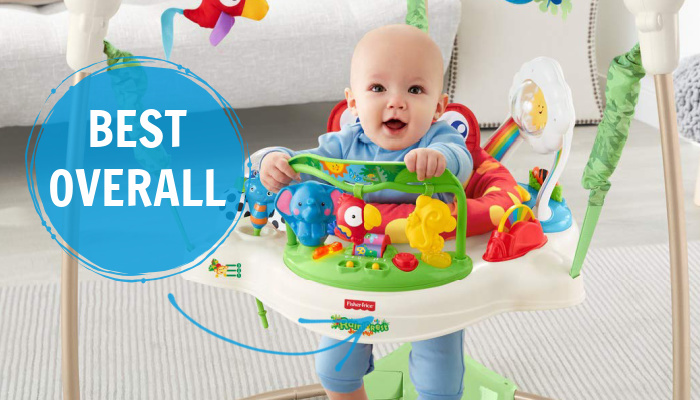 The Fisher-Price Rainforest Jumperoo has a lot going for it — it's not overly busy but it still has plenty of toys and other features to keep babies and parents happy. This jumper has a 360-degree spinning seat so your baby can reach all of the toys. It includes music, lights and hanging toys that will keep your baby occupied so you can get other things done.
Parents will also appreciate that this one is easy to set up and the legs can be folded in when it's not in use so it can be stored out of the way. The height is adjustable and since it's Fisher-Price you know it is a sturdy, well-built product that should last a long time if you plan on having more children in the future.
While this is a great overall baby jumper, some parents might not like the bright colors and music. Still, it's not over-the-top like some jumpers can be. If you don't have a lot of space, keep in mind that this jumper is a bit bulky, too.
---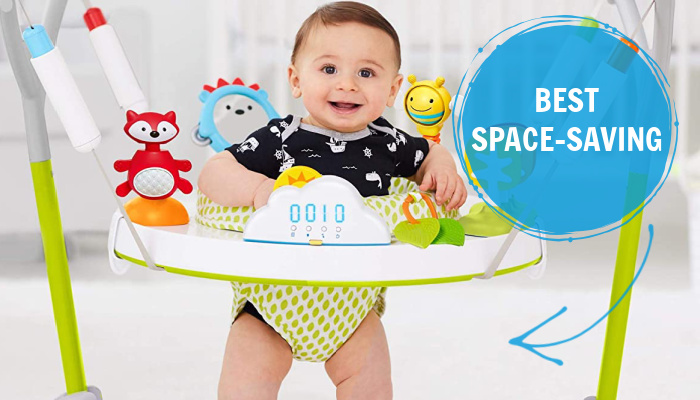 If you are looking for something that doesn't take up a lot of floor space, the Skip Hop Fold-Away Jumper might be just what you are looking for. When this jumper isn't in use it folds flat so it can be stored out of sight — it should fold flat enough to even fit under your couch. The simple design makes it more aesthetically pleasing than some baby jumpers as well.
This jumper has a couple of other unique features, like clip-on toys that can be moved around so your baby doesn't get bored and a jump counter that cheers your little one on as they reach different jumping milestones. And if you are concerned about your baby spending too much time in a seat, this jumper actually gives you reminders to take your baby out after 10 and 20 minutes of play.
This jumper is pretty simple, which some parents might like, but that also means it doesn't have a lot of toys. Some parents might not like the loud music either. While this jumper is a little pricey compared to some baby jumpers, it's a really unique option that offers a lot without taking up too much space.
---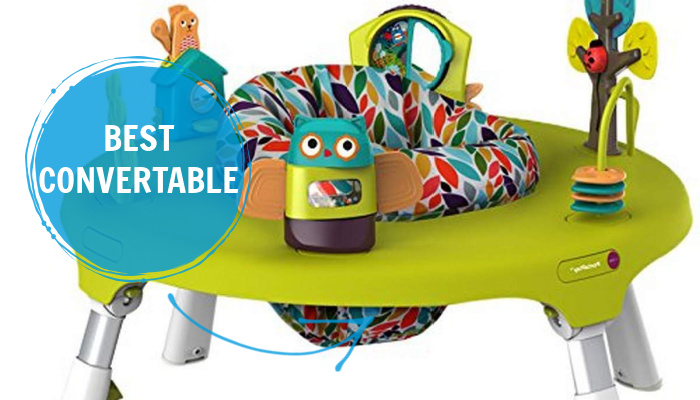 Initially, the nice colors and cute nature-themed design on the Oribel PortaPlay might catch your eye, but this jumper has another great feature: It converts into a toddler table when your child outgrows the baby jumper, so you will get years out of it. When used as a jumper, the simple toys on this one encourage fine motor development, and it has a spinning seat so they can reach all of the toys easily. The legs also fold for compact storage, which parents will appreciate.
The toys on this baby jumper are simple and don't include music or sounds, which can be a positive or negative depending on your personal preference. And while the seat does bounce, it's not quite as springy as some. If you want chairs for the toddler table, those are sold separately, but this convertible baby jumper should last you through the baby and toddler years.
---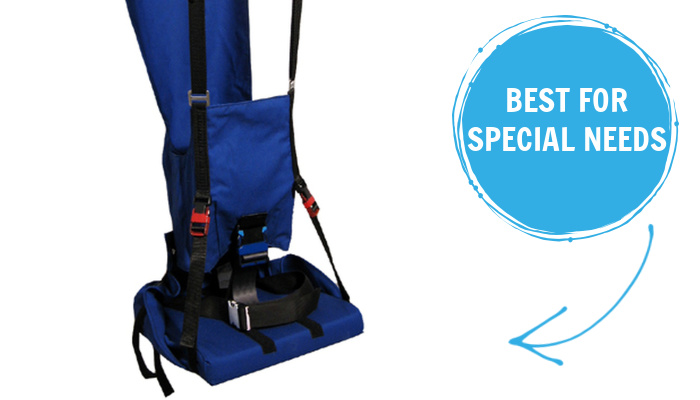 If your child has special needs, you may be looking for a jumper that outlasts the baby years. Often kids with special needs will continue to use equipment like carseats, strollers or even jumpers for long past the usual timeframe, making it harder to find the appropriate sized products.
Merry Muscles has developed a line of jumpers designed by an occupational therapist to meet the needs of bigger kids — and even adults — who can still benefit from assisted jumping. Their Baby Exerciser can fit in a doorway like a typical door jumper, but the youth size and adult size would require strong safety hooks or a track/suspension system installed in the ceiling. The bigger sizes are also not cheap! You will probably want to see if you can find a charitable organization who can purchase the jumper for you or reimburse you after you've bought it yourself. You can find a list of charities to contact here.
---
Final Verdict
Overall, the Fisher-Price Rainforest Jumperoo is one of the best baby jumpers that you can get. It offers plenty of features to keep your baby entertained but isn't too bulky or over-the-top either, which is usually a bonus for parents. For a stationary jumper, it has a good amount of bounce to it as well, and you don't have to worry about whether or not it will work with your doorways.
FAQ
What should you look for in a baby jumper?
There are so many different types of baby jumpers, you will need to ask yourself what purpose you want a jumper for. If you need a safe place for your baby to play for a few minutes, something simple might work. If you want your baby to be distracted for a little longer, lots of toys might be better. Or, if you want something primarily for exercise, look for something with a lot of bounce to it, like the door jumpers on this list. Besides that, you want to make sure it's safe and sturdy and will work with your space.
What age can my child use a baby jumper?
Your baby can use a jumper once they can support their head and neck, which is usually between 4 to 6 months of age. Some jumpers may recommend an earlier age, but you should use your own discretion to determine if your child has the strength to begin using a baby jumper. The weight limit for baby jumpers varies, but is usually around 25 pounds. Most babies will outgrow their baby jumper by their first birthday.
What are important safety considerations with a baby jumper?
Of course, you will want to check the weight and age limit for your baby jumper. Your child isn't ready to use a baby jumper until they have good control of their head and neck, otherwise they could be seriously injured. With door jumpers, you need to be sure the jumper is properly attached to the door frame, and keep an eye on your baby to make sure they don't bump into the sides of the doorway and get hurt. If your child is big enough to try climbing out of the jumper on their own, they should stop using their jumper.
Should I get a stationary or doorway jumper?
If you want something your child can really jump in for exercise, a doorway jumper is probably your best bet. These usually have more bounce to them. Unfortunately, they might not work for every house, so check your doorway to see if it is the right size and has the right kind of molding to support a jumper. Stationary jumpers are often less bouncy but include extra toys to keep your baby entertained. These are great if you want more of an activity center to keep your baby busy while you do other things.
How long should my child play in their baby jumper?
It's best to limit your baby's time in a jumper to between 10 and 20 minutes at a time twice a day. While baby jumpers are great for giving busy parents a break, it's best for your baby's development to have plenty of free play on the floor. This helps them to strengthen the muscles that will help them to crawl and walk. Too much time in a baby jumper can also put stress on their hip joints, which could cause hip dysplasia.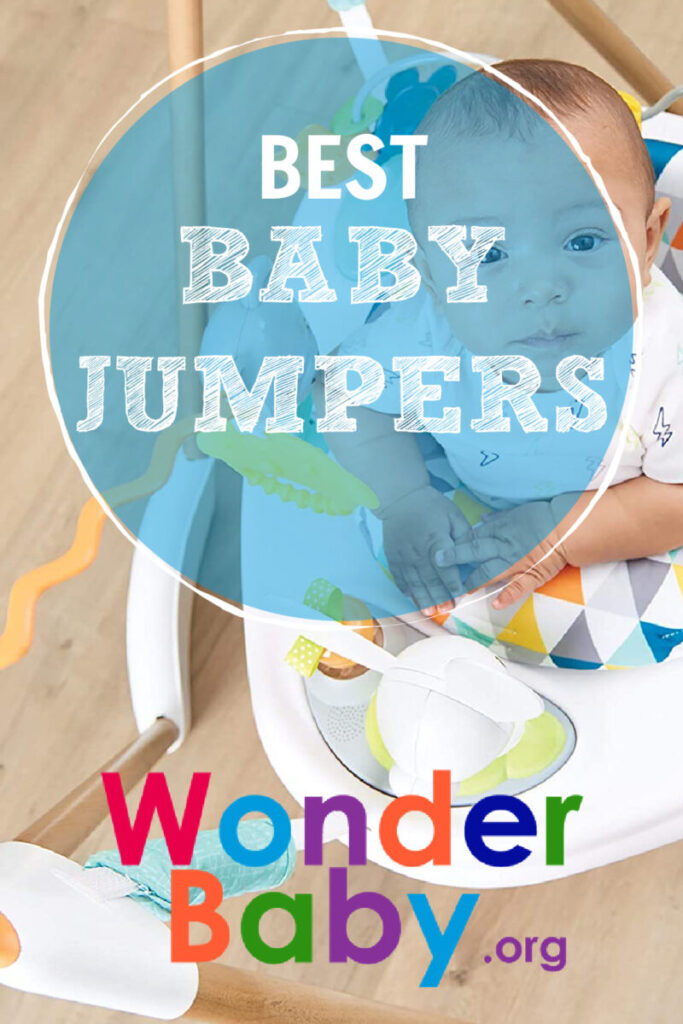 Related Posts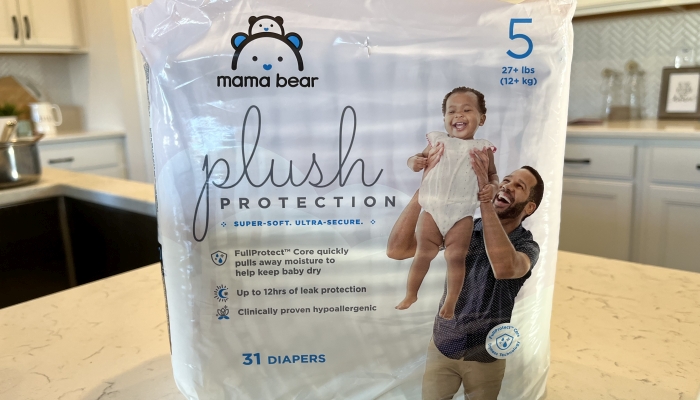 Product Reviews
We gave Mama Bear diapers a thorough test! Our Mama Bears Diapers Review will let you know if they're worth purchasing.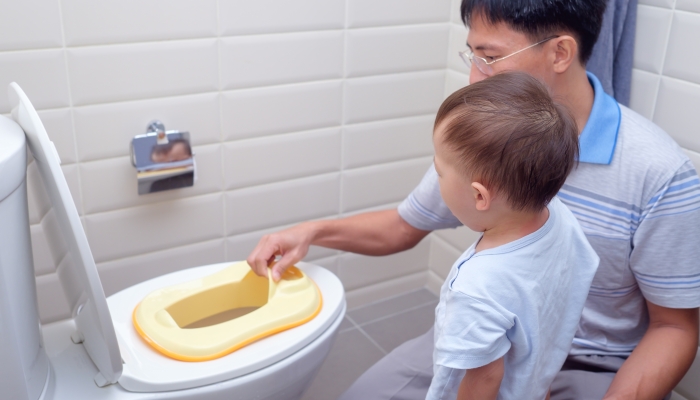 Product Reviews
With tons of potty training seats to choose from, we did the research for you! Check out this list to find the best potty training seat for your little one.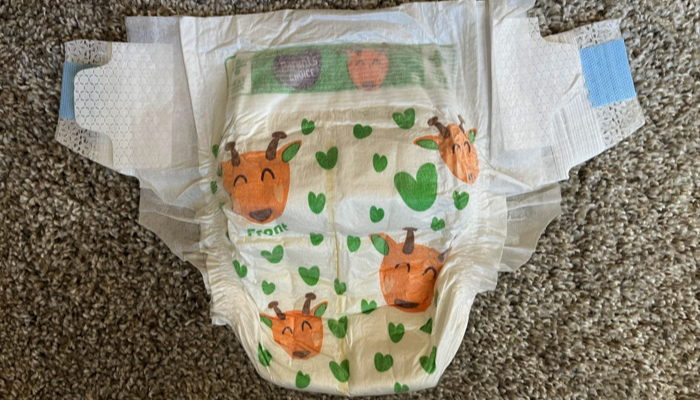 Product Reviews
Parent's Choice diapers are inexpensive, but do they work well? This honest Parent's Choice diapers review will give you the scoop!