Daycare vs Montessori: The Difference for Your Child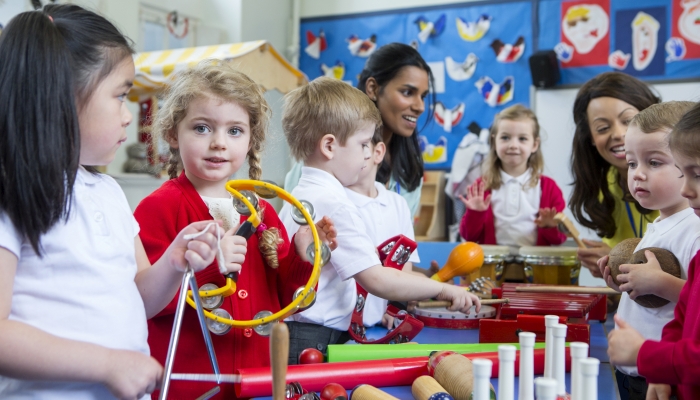 A traditional daycare center and a Montessori preschool both provide children with fun, safe educational activities to fill their day while they spend time away from you.
Some parents seek out Montessori programs because they focus on the whole child and on providing simple, natural, purposeful, and skills-based activities for self-directed play and self-discovery.
Traditional daycare works better for some parents because it provides more hours of childcare for a wider age range of children.
When choosing between Montessori vs daycare, the most important thing is to visit the environments and watch how the staff interact with the children.
Whether you're going back to work after maternity leave or just looking for a few hours of childcare a week, finding the right place to take your child is a big and stressful decision for many parents.
Your friends and relatives will all have opinions about the best place for your child to spend their time while you're at work. Some parents are fans of Montessori programs and won't send their kids anywhere else. However, some families might need different things from their childcare provider that not every Montessori school can offer.
When it comes to Montessori schools vs traditional daycare, the difference for your child really comes down to how you feel about the environment when you visit and the setting that meets your family's childcare needs.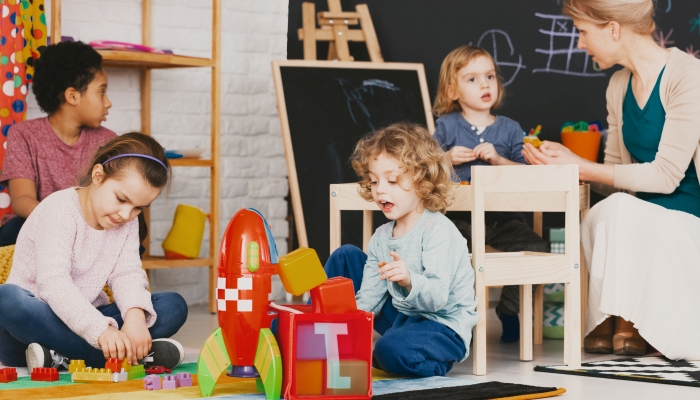 What Is a Daycare?
A daycare center provides childcare at a facility outside the home for very young children. While daycare age ranges can vary, some daycares accept babies from the age of six weeks. Many daycares look after children until age five, just before they're ready to start school. 
Daycare is often a less expensive alternative to private childcare within the home, for example, from a nanny. Daycare teachers also provide your child ample opportunity to socialize, build relationships with other children and adults, and practice many skills they will need once they enter kindergarten.
Daycare settings will provide your child with lots of educational activities and time for free play within a safe and structured environment.
What Is Montessori?
Montessori refers to early childhood education programs and preschools that follow the Montessori teaching method and philosophy. Maria Montessori developed this method about 100 years ago. Montessori parenting extends this method beyond the educational setting and into the home. 
In a Montessori preschool, the emphasis is on self-directed play with thoughtful, simple, natural, and purposeful materials. A Montessori classroom will have curated and carefully chosen toys, like Pikler triangles and wooden blocks, available for the children to choose to play with at their own pace.
A Montessori program is run more like a preschool than daycare, and most accept children from ages 2 ½ to 3 years old up to age 5 or 6. A Montessori school will generally not provide the same kind of all-day childcare as traditional daycare centers.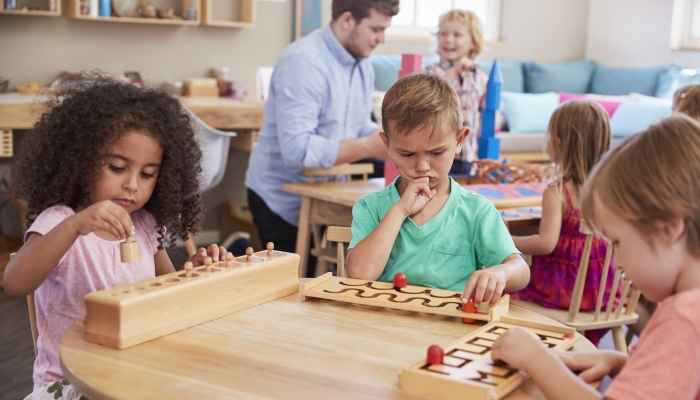 Daycare vs Montessori: What Are Their Similarities?
Both traditional daycare centers and Montessori programs cater to the needs of young children. You will find age-appropriate toys, games, puzzles, and books in either setting. Good daycare programs and Montessori preschools will be staffed by caring adults who prioritize your child's safety every day.
One of the benefits of both types of preschool programs is the opportunity it gives your child to socialize, collaborate, cooperate, and build early relationships with other children and adults. The chance to work on social skills at an early age gives your child a foundation for forming friendships. It also helps them learn to build trust in adults other than their parents.
Finally, both settings will also give your child an early idea about the school structure, helping them build confidence long before they get there.
Daycare vs Montessori: What Are Their Differences?
There are, however, some important differences between traditional daycare centers and Montessori schools that you should consider when looking at your childcare options.
Key Differences
Daycare Center
Montessori School
Structure of the day
The day is structured according to time and different activities take place on adult set schedules.

Children are expected to move from activity to activity as instructed by an adult, regardless of whether they are personally finished working with or playing with something.

Time for free play is put into the schedule.
Children's activities are self-directed and they move through the classroom freely.

Children choose what they would like to do. They play and learn at their own pace. Montessori teachers guide children in their learning.

Children acquire self-discipline and perseverance in the completion of activities.
Classroom environment
The classroom will be filled with colorful and age appropriate toys, games, puzzles, and activities.

The room may be divided into stations or by age group.

The room may be brightly lit, have cartoon character decorations, and be very colorful.
The classroom will be calm and organized.

Color will be provided by children's artwork.

There will be no cartoon characters or overstimulating colors or furniture.

Toy shelves will be curated with educational, natural, and purposeful materials that teach realistic skills.

Classroom environments tend to be less noisy.
Grouping of children
Children are grouped by age or by developmental stage. For example, crawlers will be in one group, walkers in another.

These groups will be formed even though there may be differences in age between the children and in their other developmental milestones.

Children may not be developmentally ready for the group that they are placed in.
Children are grouped by developmental range and the groupings stay flexible.

Children may be in mixed age classrooms.

Flexibility in grouping children takes account of their differing abilities and varying development.
Staff
There may be high turnover of staff because poorly paid childcare providers often have to move on.

Teachers may have minimal training in early childhood education although they may be very good at taking care of children's physical well being.
A Montessori teacher is trained in Montessori philosophy and how to maintain a Montessori environment.

Trained teachers remain with the same children throughout their time at preschool, rather than changing year to year.

Discipline
Childcare centers emphasize sharing, cooperation, and "good" behavior.

There are expectations for children's behavior that they may not be developmentally ready to understand.
Montessori education also emphasizes courtesy and cooperation.

Montessori teachers spend time talking with children about their behaviors rather than disciplining them.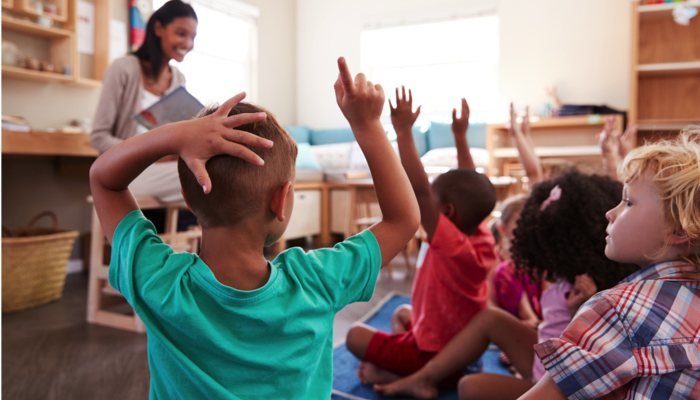 Where Should You Enroll Your Child?
Where you enroll your child will depend on a lot of different factors such as:
Number of hours of childcare you need each day
Length of your maternity or paternity leave and parental leave options
Cost
Your child's age
Your child's personality and temperament
What you are looking for in an educational program
While Montessori schools may seem like attractive alternatives to daycare centers because of their emphasis on the whole child, there are a few practical reasons why you might not choose one.
For example, there may not be a Montessori school that's local to you. If there is, the preschool program it offers may not provide enough hours of childcare to fit your work schedule. Or you may need a daycare center that takes much younger children and babies than the average Montessori school, which starts between ages 2 and 3.
FAQ
Will my child lose out if I don't or can't choose a Montessori program?
Absolutely not. Keep in mind that Montessori principles are not exclusive to Montessori schools. Many daycare centers will use some Montessori-based activities, toys, and methods of doing things in addition to their more traditional methods. There are many good daycare centers with highly experienced staff who care about the education and development of young children.
What should I look for on a daycare or preschool tour?
The best way to decide where to enroll your child is to visit the daycare centers and Montessori preschools near you. Ask the following questions as you investigate your options:
How do the children and the staff interact?
Are the classrooms organized and clean?
What are the staff qualifications?
What type of food is available?
Is the environment overstimulating or calming?
How are children grouped?
What are the outdoor facilities like?
Is creativity encouraged? Do you see children's art on the walls?
More important than the educational philosophy that a childcare center offers is your gut instinct about whether it's the right place for your child to spend their time. You want to feel that competent, caring adults surround them, and they'll be learning and having fun for the hours they're away from you.
Remember, too, that a Montessori-style education may not suit every child. Although there's a lot that parents love about the Montessori way of doing things, and there's a lot to learn from the method, it's not the only way.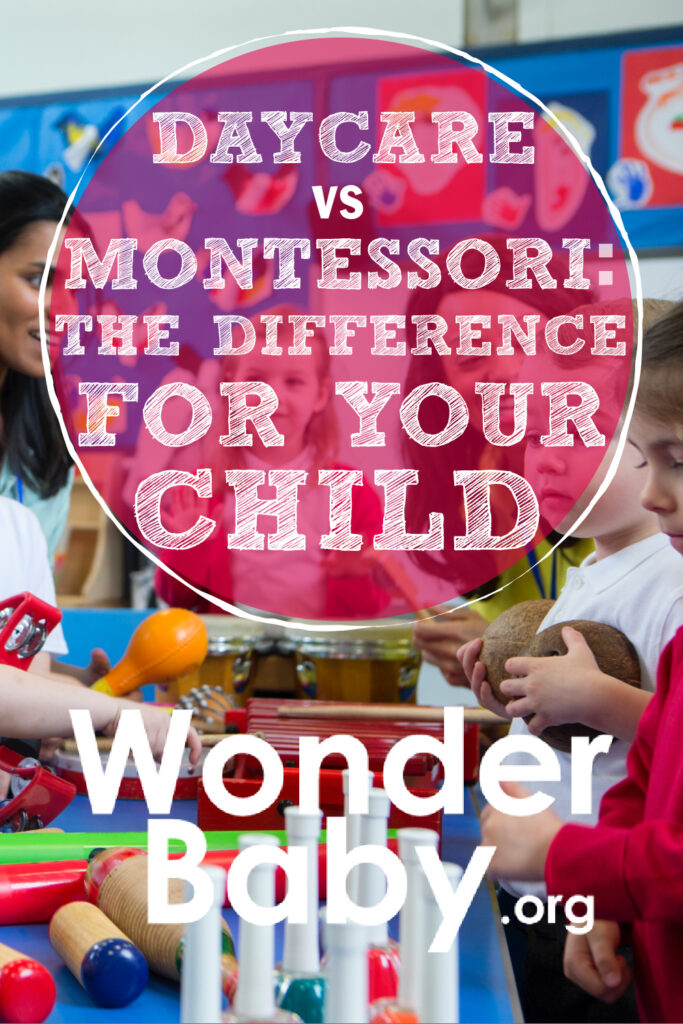 Related Posts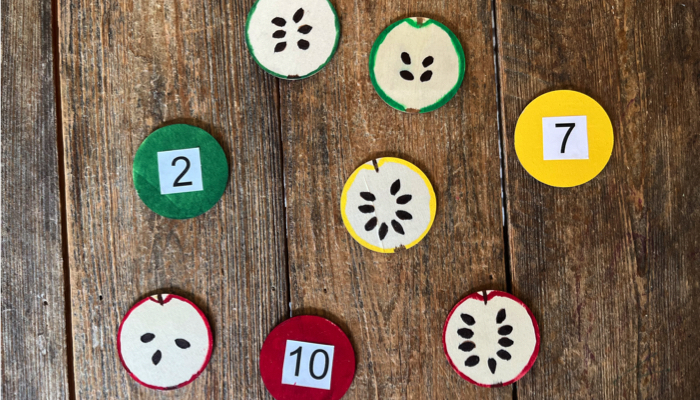 Math and Science, Play
This apple seed counting game is easy to create and fun to play! With just an oatmeal container and a few supplies, you can surprise your child with this delightful...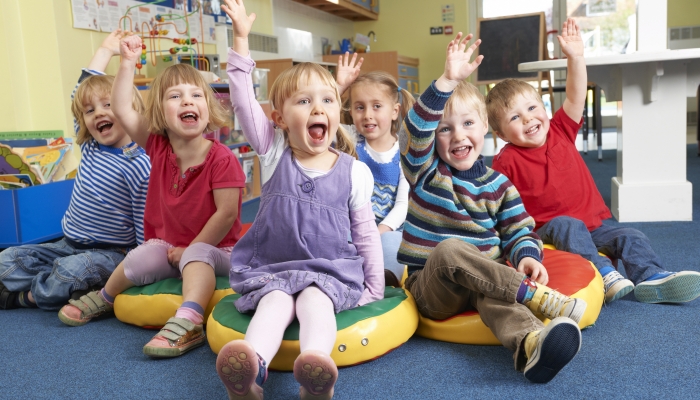 Education
Wondering if preschool is right for your child but unsure of the ins and outs? Don't miss this full breakdown examining the necessity of preschool in early education.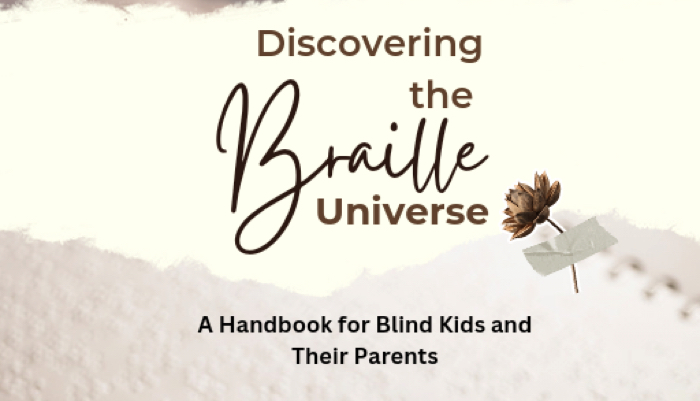 Braille and Literacy
Discovering the Braille Universe is a navigational tool providing valuable insights, advice, and guidance for individuals living with blindness.