6 Best Pikler Triangles of 2023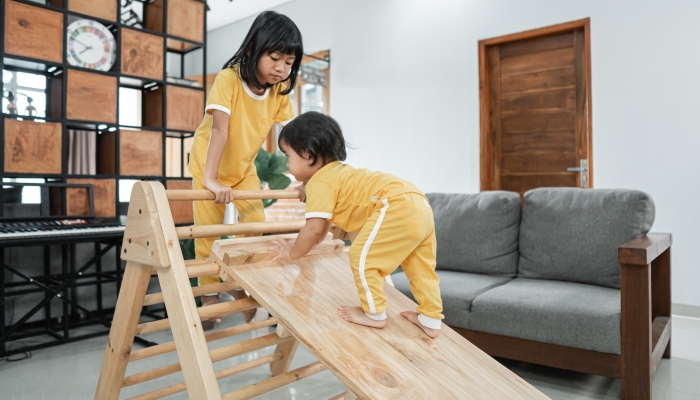 This post may contain affiliate links; please see our terms of use for details.
The Pikler triangle aims to allow children to develop their motor skills while gaining self-confidence.
The Pikler triangle is named after its inventor, Hungarian pediatrician Dr. Emmi Pikler.
The Pikler triangle can transform into a bear cave, a crawl tunnel, a step ladder, and much more.
Do you remember the classic jungle gyms of your childhood? Parks were full of large climbing structures that we loved to hang from like monkeys. It turns out that these climbing structures were doing more than just keeping us entertained.
Climbing structures are excellent tools to use for a child's development. The skills they develop while playing are plentiful. However, most jungle gyms are too large for toddlers to play on.
This is where the Pikler triangle comes in handy. Pikler triangles have become a popular choice among schools, parents, and physical therapists. These small, safe structures are perfect for letting little ones climb on.
If you're looking for the perfect Pikler triangle for your little one's room, you're in the right place. Take a peek at our list of the 6 best Pikler triangles of 2023.
Most Versatile
Most Natural
Most Fun
Dripex Pikler Triangle Climber
Smartwoodstore Set of Three Items
Costzon 3 in 1 Triangle Climber with Ramp
Most Versatile
Dripex Pikler Triangle Climber
Most Natural
Smartwoodstore Set of Three Items
Most Fun
Costzon 3 in 1 Triangle Climber with Ramp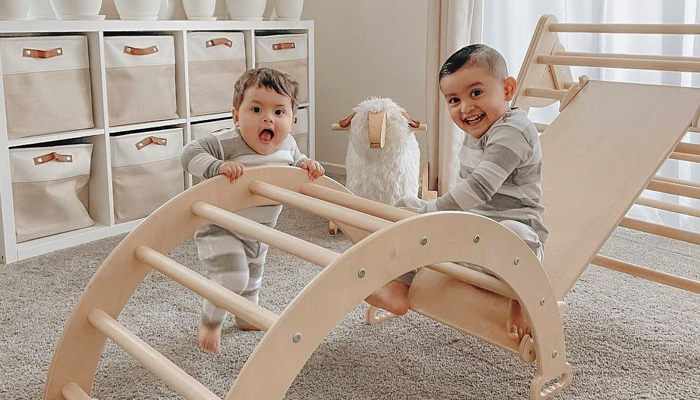 Our top pick for the best Pikler triangle is The Montessori Climber. Here's why we love it:
Versatility. Not many Pikler triangles come with so many options for play. This one blew us away with all the ways you can use it.
Durability. The Montessori Climber is made with solid wood and parents rave about how sturdy it feels. It even comes with two locks to secure it in place, a must-have when you know your child will be climbing all over it.
Easy Storage. Having the ability to fold up the structure and put it away is ideal. Especially if you have limited space.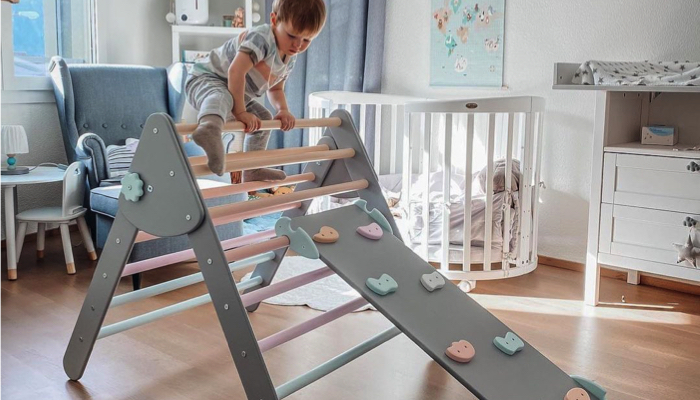 Design. We also love that the Montessori Climber comes in multiple colors (the pastel rainbow set is beautiful) to match your home decor or your child's favorite colors. Each climber is hand-made and finished with a water-based varnish that is safe for use with kids.
Multiple Ages. No one wants to spend a fortune on a Pikler triangle that their child will quickly outgrow. We love that this triangle has multiple ages in mind and also comes with a lifetime warranty, so you can have any part replaced, no questions asked.
For these reasons, we think The Montessori Climber Pikler triangle is the top choice for 2022.
Dimensions: Triangle: 31.8″Hx34.6″Wx32″L Ramp: 40″Hx15″W Arch: 18″Hx38″Wx20.5″L | Weight: 46.2 lbs | Maximum Weight Recommendation: 132 lbs
View on Walmart.com | View on Montessoriclimber.com
Most Versatile: Dripex Pikler Triangle Climber with Ramp and More Than 10 Changing Play Method
Dripex Pikler Triangle Climber with Ramp and More Than 10 Changing Play Method
🥇𝐌𝐨𝐫𝐞 𝐓𝐡𝐚𝐧 𝟐𝟎 𝐅𝐮𝐧𝐧𝐲 𝐏𝐥𝐚𝐲𝐢𝐧𝐠 𝐌𝐨𝐝𝐞𝐬 𝐓𝐫𝐢𝐚𝐧𝐠𝐥𝐞 𝐂𝐥𝐢𝐦𝐛𝐞𝐫. Dripex modifible Triangle Climber with more than 20 changing modes, can be freely adjusted to any shape and height you want, suitable for 2-3 children play together, ages from 36 months to 8 years old. Premium wood and smooth ramp, heavy-duty frame, keep safe for kids playing.
🎀𝐂𝐥𝐢𝐦𝐛𝐢𝐧𝐠 & 𝐒𝐥𝐢𝐝𝐢𝐧𝐠 𝟐 𝐢𝐧 𝟏 𝐓𝐡𝐢𝐜𝐤𝐞𝐧𝐞𝐝 𝐒𝐥𝐢𝐝𝐞. With 47″ long, 19.68″ wide and 3.93″ thick, the ramp is spacious, sturdy and durable for kids playing. One surface with polished board can be used as a smooth slide, the other one is equipped with 8 colorful stones just like a climbing wall. Offer endless possibilities to combine them in different ways.
😊𝐅𝐨𝐥𝐝𝐚𝐛𝐥𝐞 𝐚𝐧𝐝 𝐂𝐨𝐧𝐯𝐞𝐧𝐢𝐞𝐧𝐭. Easy to fold up to a more compact size, without taking up too much space, also foldable design makes it easy for parents to move outdoor or indoor. In addition, coming with detailed instructions and necessary accessories, it is easy to assemble the whole climbing triangle ladder, easily finished within 30 minutes while parents do it together.
🐻𝐄𝐜𝐨𝐥𝐨𝐠𝐢𝐜𝐚𝐥 𝐌𝐚𝐭𝐞𝐫𝐢𝐚𝐥 & 𝐄𝐱𝐪𝐮𝐢𝐬𝐢𝐭𝐞 𝐖𝐨𝐫𝐤𝐦𝐚𝐧𝐬𝐡𝐢𝐩. Made of 100% natural harmless wood, non-toxic and ecological materials, maximum enable kids play and grow up safely. Also thanks to the exquisite craftsmanship, the corner and edges of the ladder are smooth and free of burrs to prevent kids from being injured. In addition, it has passed CPC certification to ensure the safety of kids.
This versatile climbing triangle transforms into multiple play options. The Dripex Pikler Triangle Climber with Ramp and More Than 10 Changing Play Method is a pretty impressive Pikler triangle set.
This set can easily switch into more than 10 options for play. Options include a climbing square, climbing triangle, and over 4 different height options for different ages. There's also a climbing ramp that you can flip over and turn into a slide.
Little ones will love the climbing arch feature and small slide that can be created from the frame and ramp. You can even turn the triangle into an "M' shape for a greater challenge.
You'll be able to use this wooden climbing triangle with multiple children from ages 1 – 8 years old. While they play, they'll be strengthening their gross motor skills by using the dowels and grips to climb. This climbing structure folds flat when not in use for easy storage.
Dimensions: 47″H x19.68″W x 3.93″L | Weight: 59 lbs | Maximum Weight Recommendation: 260 lbs
View on Amazon | View on Ekaity.com
Best Outdoor: GLACER Wooden Climbing Triangle Ladder
GLACER Wooden Climbing Triangle Ladder
【3 Climbing Difficulties】Combining with 3 different climbing parts which are 3 bars, 5 bars and 6 bars as one, this climbing triangle ladder is suitable for kid from different ages that should be over 3 years old while growing with your little one and enhancing climbing ability and strength.
【Safe Material】Made of solid pine wood with odorless painting and BPA-free, this premium triangle climber stands the test of time and harmless for your kid's health. And the ASTM certification ensures your little one's safety. Besides, the smooth surface is safe for climbing.
【Strong Stability】Designed with triangular design, this playful climber comes with strong loading capacity up to 135 lbs, growing with your little one. And the round edge prevents your kid from accidental injury. The woods are connected tightly with recessed screws for extra stability.
【Perfect Gift for Kid】Featuring with simple yet practical design, this high quality climbing triangle ladder will be the best present for Christmas, birthday and other events. It increases your little one's courage while building up his or her balance ability.
First of all, we should preface this choice by saying that Pikler triangles are typically not intended for outdoor use. If you do plan to use it outside, it's best not to leave it in the rain, and to expect that it's going to wear out faster than if you kept it indoors.
When choosing an outdoor Pikler triangle, the best you can often hope for is one that's reasonably waterproof, sturdy, and not too expensive, since you'll probably need to replace it sooner.
If you're looking for the traditional Pikler climber that's suited to the yard, this is for you. The budget-friendly GLACER Wooden Climbing Triangle Ladder is a great choice for those looking for a simple backyard climbing triangle.
Made with natural pine wood, this sturdy climber is built to last. Using this as an outdoor Pikler triangle will cause the wood and screws to wear over time, although the wood is waterproof. We think the low price and simple design make this the best outdoor Pikler triangle.
There aren't a lot of extra features on this Pikler triangle; just something that's simple, sturdy, attractive, and reasonably-priced.

Best 3 Piece Set: Costzon 3 in 1 Triangle Climber with Ramp
Sale
Costzon 3 in 1 Triangle Climber with Ramp
❤️【Play Safer with 100% Natural Materials!】Our triangle climber playing set uses 100% premium natural wood as materials as the slide boards are made of birch wood while the round rods are made of beech wood, both of which are characterized by great durability. They are also non-toxic and odorless, more environmentally friendly, safe and durable than plastic materials, thus creating a safe environment for your kids when playing.
💡【3-Piece Set Ultimate Triangle Ladder】Costzon toddler climbing play set includes two climbing triangles and one slide boards (climb & slide), offering endless possibilities to combine them in different ways. Each part is a climber on its own and when you assemble them together, they will come up with new combinations with wider playing area. Moreover, the triangle ladder has multiple locking positions for you adjust the tilt level when climbing or sliding.
🧸【Colorful Enlightenment Triangle Climbing Toys】 It is the best climbing toy for cultivating children's independence and autonomous exploration ability! The montessori triangle ladder can be tilted as needed to climb and slide. It allows for natural gross motor development and freedom of movement. Toddlers can practice climbing and find their way over the top and slide down, while 5 or 6 year olds can construct different combined shapes or build forts through their imagination. Max load 132Lbs.
🎀【Perfect Development Play Gift Set for Toddlers】This climbing play set come with one piece 43.5″ long and 18.5″ wide reversible ramp, your kids can practice walking, climbing and sliding so as to develop their motor skills and improve their physical quality. Your little ones will be ready to play with the wooden activity gym while they crawl and when they start to walk. It is suitable for kids over 1 year old to enjoy a really funny and meaningful time.
Our next pick is a Pikler triangle set that includes 3 connecting pieces for play. Kids will find multiple ways to play with the Costzon 3-in-1 Triangle Climber with Ramp.
This Montessori climber is made with solid birch wood and beech wood. The dowels and ramp are painted with non-toxic paint in fun colors kids are sure to love. The set includes two climbing triangles and one ramp they can either climb up or slide down.
One drawback is that these climbing toys won't fold flat when your kids are done using them. You'll need to find a space for them in a playroom or bedroom. However, you might find that they are used so often, that you don't mind them staying out in a designated space.
This birch wood climber can be used with multiple children ages 1 and up. It will support up to 132 pounds.
Dimensions: 43.5″ L x 18.5″ W | Weight: 33 lbs | Maximum Weight Recommendation: 132 lbs
View on Amazon
Tallest Climber: Honey Joy Triangle Climber with Ramp
Sale
Honey Joy Triangle Climber with Ramp
🥰【3-In-1 Climbing Ladder for Toddler】The triangle climbing ladder imitates the form of a steep hill to encourage the baby to climb bravely. Additional small ladder can just be stuck on the railing to increase the fun and variety of playing. Its two different sides provide sliding and climbing. The device will increase the baby's hand-foot coordination, physical fitness, balance ability.
🥰【Sturdy Material & Safe Paint】The frame of our toddler climbing triangle set is made of natural poplar and birch for excellent sturdiness and durability, while the round sticks use high-strength beech to ensure strong support. The surface is sprayed with BPA free safe paint, which is nontoxic and odorless to protect children's health. Plus, smooth surface is easy to wipe clean.
🥰【Stable & Safe Triangle Structure】Our kids climbing toys features reinforced triangular structure combined with H-shaped base forms a double stable structure, which is firmly fixed by screws to prevent collapse to the greatest extent and can support 132 lbs. The reasonable climbing interval is designed for children aged 6 months to 6 years.
🥰【Kid-friendly Detail】This climber ladder is designed with rounded corners to prevent accidental hurt. Exquisite workmanship and smooth polished edges make entire ladder free of any burrs. The non-slip wooden rod allows the child to firmly grip to ensure the safety of the entire climbing process.
If you're looking for a ramp that will accommodate big kids, the Honey Joy Triangle Climber with Ramp is a great choice.
The height is impressive for a Pikler triangle, going all the way up to 47 inches. You can also lower this by a few inches. This Montessori climbing triangle is made with birch wood to ensure it has a sturdy base for your little climbers.
The ladder slide can also be attached to any dowel to adjust the height. You'll also have the option to flip it over and let your children use it for climbing.
Babies, toddlers, and big kids alike will be able to enjoy this structure. Just be sure to monitor little ones as the height is taller than most Pikler triangles. Some parents invested in padded mats to surround the structure during play.
Dimensions: Triangle: 43.5″Hx48″Wx28″L Ramp: 47″Hx14″W | Weight: 36 lbs | Maximum Weight Recommendation: 132 lbs
View on Amazon | View on Walmart.com
Most Natural: Smartwoodstore Set of Three Items
Smartwoodstore Set of Three Items
Manufactured using premium birch plywood. Birch is long-lasting. You can use it for many years.
The woods used for Climbing triangle and Climbing Ramp are made of beech wood with containing the highest rigidity
Materials that will not harm children's health are used.
One side of the climbing ramp can be used as a slides. The other side is suitable for climbing.
Some parents prefer natural tones and simple designs. That's exactly what you'll get with the Smartwoodstore Foldable Triangle + Climbing Ramp + Arch Trianglestore.
There are no bright colors or paint on this structure. This means it will blend with any design. The water-based varnish is also safe for children.
This 3 piece set includes a climbing arch, ramp, and triangle. The entire set is made with premium birch plywood and beech wood. Parents will also appreciate the folding feature of the triangle.
The height of the triangle is only 24 inches, making it suitable for babies and toddlers to use. You can even use just the climbing arch and ramp together for small babies.
Dimensions: 40″H x 16″W x 5.25″L | Weight: 32 lbs
View on Amazon | View on Etsy.com
Recommended Accessories
We've compiled a list of other toys that help develop gross motor skills as well. These are a great addition to a playroom with a Pikler triangle:
What Exactly is a Pikler Triangle, Anyway?
Pikler triangles are quickly gaining attention. These popular climbing triangles are finding their way into playrooms all over. But what exactly are they?
Think of a Pikler triangle as a triangle-shaped ladder. Each step is made from a sturdy wooden rod. A child can climb up one side and then climb down the other.
In what ways are Pikler triangles good for child development?
The Pikler triangle aims to allow children to develop their motor skills while gaining self-confidence. As your child plays, they will gain independence. The Pikler triangle allows them to engage in free movement at their own pace.
Your child will also benefit from gross motor skill development. The strength it takes to pull and climb will strengthen the muscles needed for running, jumping, and climbing. For this reason, the Pikler triangle can be a great tool to use to help address gross motor delay.
The triangle will naturally encourage babies to reach and pull. Parents wondering how to encourage crawling will find it a helpful tool.
Kids love to climb and engage in imaginative play. The Pikler triangle can transform into a bear cave, a crawl tunnel, a step ladder, and so much more. This structure provides multiple open-ended play opportunities.
Where did the Pikler triangle get its name?
The Pikler triangle is named after its inventor, Hungarian pediatrician Dr. Emmi Pikler. While Dr. Pikler was caring for orphans after World War II, she noticed their need for free movement and free play. This sparked the idea of the Pikler triangle.
Choosing the Best Pikler Triangle for Your Child
When looking for a climbing triangle for your child, there are a few questions to ask before purchasing. These questions will ensure you get a climbing triangle that you'll love for years to come.
What features are important in a Pikler triangle?
One important feature to look at is the portability of the climbing frame. If you want to be able to put the Pikler triangle away, make sure it will fold flat. For rooms with limited space, this will be especially important.
Also, take a look at what the Pikler triangle includes. Some include wooden arches that attach to the climbing ramps, making them more suitable for two kids. You'll also see some that include a mini climber similar to a rock wall.
How tall should a Pikler triangle be?
Pikler triangles start around 30 inches tall and go all the way up to 60 inches. If you want a Pikler triangle you can keep as your child grows, go with one with height options of 40 inches and above.
What should a Pikler triangle be made of?
Oak, maple, or birch plywood are the ideal material options for a sturdy Pikler triangle. You will find Pikler triangles made of other types of wood as well. Just be sure to read the parent reviews to get an idea of their sturdiness.
Are Pikler triangles safe for children?
Yes, Pikler triangles are safe so long as they meet certain requirements. First, the wood should be sturdy and able to hold a child's weight. Any paint used on the climber should be non-toxic.
Another thing that makes a Pikler triangle safe for little ones is the spacing of the dowels. Don't purchase a Pikler triangle with dowels spaced too far apart. A large gap will allow your child to fall through and get hurt.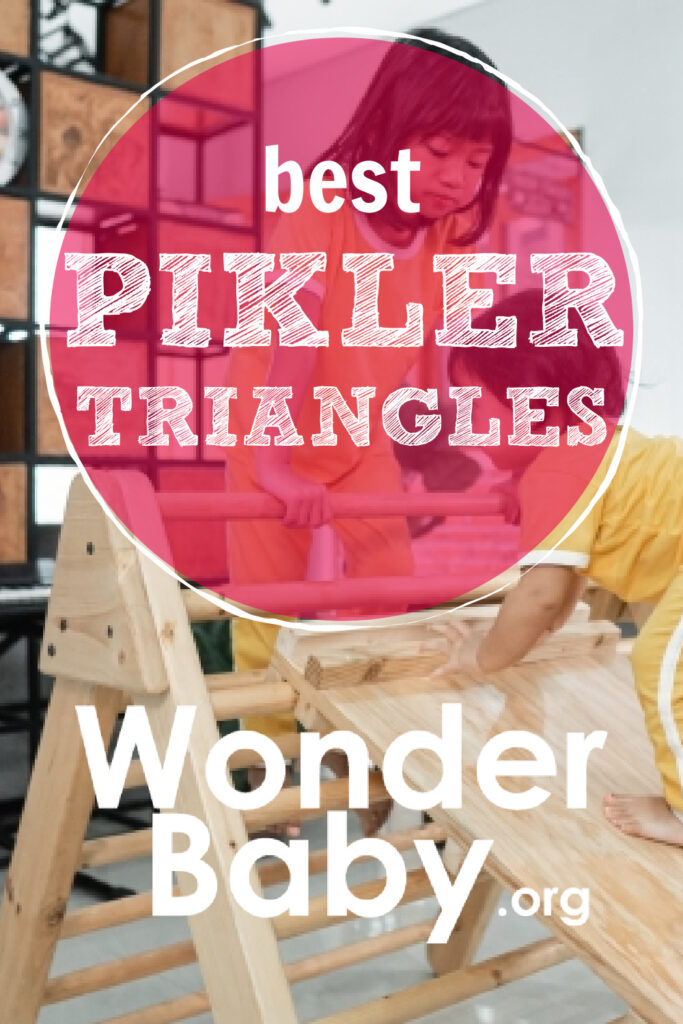 Related Posts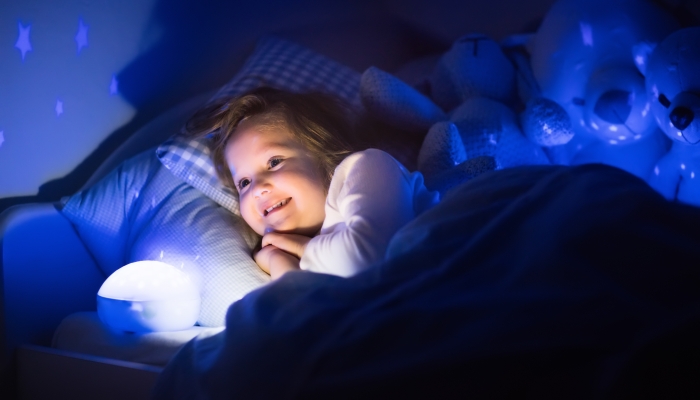 Product Reviews
Looking for the right night light to help your little one ease into bedtime? Check out our guide for everything you need to know about toddler night lights.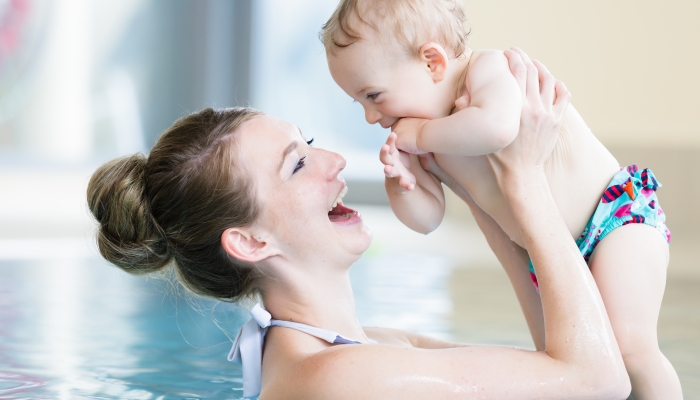 Potty Training, Product Reviews
The best swim diapers are comfortable and help prevent your baby from having an accident in the pool or ocean. Find our favorites in this round-up!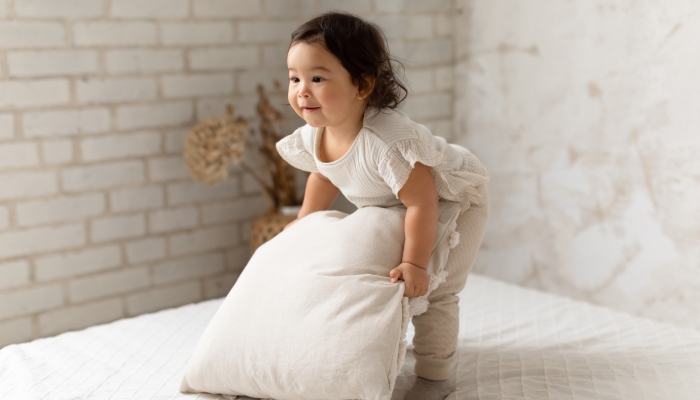 Product Reviews
If your toddler is ready to sleep safely with a pillow, you'll want to find the best baby pillow available to ensure a comfortable night's sleep.