5 Protein-Rich Lactation Snacks for Breastfeeding Moms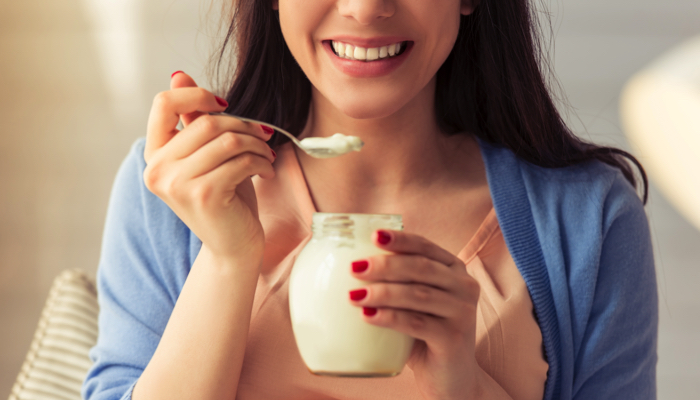 This post may contain affiliate links; please see our terms of use for details.
Protein is important for both keeping your body healthy and helping your baby grow.
Breastfeeding women need about 25g of extra protein per day to produce enough milk.
You need either complete sources of protein or a variety of incomplete sources to get all 9 essential amino acids in your diet.
Portable, protein-rich snacks are great for breastfeeding moms to meet their nutrition needs.
Breastfeeding moms need optimal nutrition to keep themselves healthy and keep their milk production up. Protein, carbohydrates, and fats are all essential nutrients for a nursing mom and healthy baby.
It can be hard for breastfeeding women to meet their nutritional needs. With a new baby, cooking a steak dinner or grilling salmon can feel like an impossible task. Some protein bars have as much sugar as a candy bar, and it's hard to find a great tasting protein shake.
Our 5 protein-rich snacks for breastfeeding moms are great options for getting enough nutrition to support a healthy mom and baby.
When I was a breastfeeding mom, returning to work changed my diet and my milk supply dropped to almost nothing. It was hard to find the time or energy to cook nutritious foods. With the help of a lactation consultant, I added protein supplements in an attempt to increase milk supply. I was surprised by how much things changed.
Even as a health professional, I had not realized the importance of protein. Increasing my calorie intake, taking a prenatal vitamin, and making sure I got enough grams of protein each day made a huge difference in my milk production. Besides the increase in my milk supply, my energy levels and mood improved when I fed myself a healthy diet.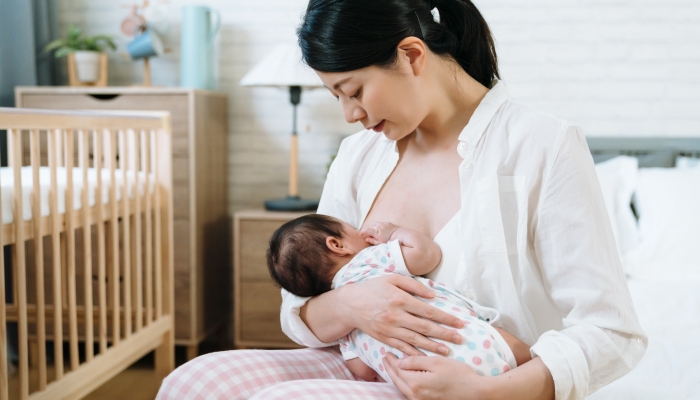 Why Protein Is Important for Breastfeeding Mothers
After pregnancy and giving birth, your body has a lot of healing to do. You need protein to build and repair tissue, regulate hormones, and form antibodies to protect you from infection. A diet high in protein will also help you produce enough breast milk for your baby. This is especially important during cluster feeding when you feel like you are constantly breastfeeding.
Babies grow at an astonishing rate. Most babies have doubled their birth weight by about 5 months old. All of this growth requires a lot of protein. If you are exclusively breastfeeding, all of those nutrients will come from you.
Getting the right nutrients is especially important if you choose to start breastfeeding later or want to increase your milk supply. Healthy moms are able to produce more for their breastfed babies.
As a new mom, you are likely not sleeping much. This lack of sleep increases your hunger hormones and can make you have cravings for sugar. Eating enough protein can help curb sugar cravings and make it easier to make healthy food choices for yourself and your growing baby.
Your Optimal Daily Protein Intake While Lactating
The average person needs about 0.8 grams of protein per kilogram of body weight. To figure this out, divide your weight in pounds by 2.2, then multiply the result by 0.8.
For example, to calculate the protein needs of a 150lb woman:
150/2.2 = 68
68 x 0.8 = 54
A 150lb woman needs about 55g of protein each day.
| | | | |
| --- | --- | --- | --- |
| | 100lbs | 150lbs | 200lbs |
| Not Breastfeeding | 36g | 55g | 73g |
| Breastfeeding | 59g | 88g | 118g |
The World Health Organization states that lactating women need at least an extra 17g of protein per day. The USDA nutrition calculator is a great guide for determining exactly how much of each nutrient you need.
Your body will absorb and use the protein you eat more effectively if you spread out your intake throughout the day. The typical American diet is carbohydrate-heavy at breakfast and protein-heavy at dinner. Having 15-20g of protein with each meal will stabilize your blood sugars and keep you feeling full.
In addition to measuring grams of protein per day, you should pay attention to whether you are getting all 9 essential amino acids in your diet. Amino acids are the building blocks of protein. The 9 essential amino acids cannot be created by your body. This means that you must get them through your diet.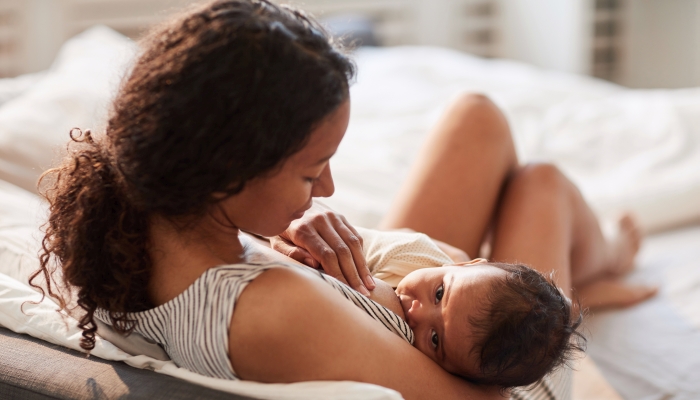 Good Sources of Protein
Meats, dairy products, legumes, nuts, and some vegetables are great sources of protein. The important thing is to find the type of foods that work for your diet preferences.
Highest Sources of Protein
Most animal products are complete proteins, containing all 9 essential amino acids. Chicken breast is one of the most protein-rich foods per serving. Pork chops are a close second. Lean beef and milk products are other foods that pack in a lot of protein.
Chicken breast 27g
Pork Chops 25g
Lean Beef 22g
Milk 8g
Meat and dairy are excellent sources of complete protein but are also the most expensive. Combining animal and plant-based protein helps you meet your nutrition goals on a budget.
Plant-Based Protein
If you are a breastfeeding mom who prefers a plant-based diet, you may worry that you won't meet your daily protein needs. However, there are many vegan and vegetarian foods that provide plenty of protein.
Some of the best plant-based, high-protein foods include;
Tofu 10g
legumes 8g
Almonds 7g
Pumpkin Seeds 9g
Generally, even the plant foods with the most protein are not complete sources. This means that eating a varied diet of protein-rich plants is important to get all essential amino acids.
Protein Shakes
A quick search of protein powder recipes online brings up thousands of different ways to use protein powders. Everything from breakfast smoothies to desserts can be made with protein powder added. There are several different types of protein powders to choose from.
Whey protein is the most common type of protein added to bars, shakes, and other protein snacks. It is a complete protein and easily mixes into smoothies. Whey is made from milk, and may bother people with lactose intolerance.
Rice protein powders are a good option if you are sensitive to lactose. Rice protein is an incomplete protein but is a good option for those who are vegan, vegetarian, or lactose intolerant.
Pea protein powder, another plant-based protein supplement, has the additional benefit of high iron content. Many pregnant and breastfeeding women struggle with low iron levels. Pea protein shakes can help correct anemia while boosting protein intake.
5 Grab-And-Go Protein-Rich Snacks
Moms are busy and don't always have time to cook a full protein-rich meal. These snacks are safe to eat while lactating, easy to grab when you need a quick bite, and offer a good amount of protein.
Naked Protein Cookies
Naked Protein Cookies
CLEAN INGREDIENTS: 12 oatmeal protein cookies per box and only 190 calories each. Naked Cookie is made with premium, clean ingredients that are deliciously indulgent and full of quality nutrition.
HIGH PROTEIN SNACKS: Gluten-free, soy-free, and GMO-free with no artificial flavors, colors, or hidden extras. Our healthy cookies are made with grass-fed whey protein and are freshly baked in the USA, making them the ultimate high protein snacks.
QUALITY NUTRITION: Unlike any other cookie you've tried, our gluten-free oatmeal raisin cookies combine a crave-worthy taste with premium nutrition. Each Oatmeal Raisin Naked Cookie offers 10g of Protein and 6g of Dietary Fiber at only 190 calories.
BOOSTS ENERGY: Added grass-fed whey protein helps to prolong energy and increase satiation while also supporting your fitness goals. With 75% less sugar than other protein snacks, our cookies have been formulated to support your health rather than damage it.
Naked Protein Cookies are a delicious snack that you can feel good about indulging on. These cookies are made with grass-fed whey protein, giving you a complete and high-quality protein source. They contain no artificial sweeteners or flavors. Plus, Naked Protein Cookies are gluten-free, non-GMO, and soy free.
Freshly baked in the USA, these cookies greatly boost your protein intake. Unlike other protein bars, these really feel like you are giving yourself a treat. Flavors include oatmeal raisin, sugar, and chocolate chip cookies.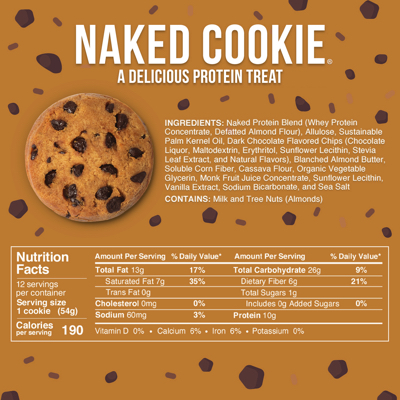 Each Naked Protein Cookie contains:
10 g of protein
5g of sugar or less
No trans fat
10-13g Net Carbs
190-210 calories
The Only Bean Crunchy Dry Roasted Edamame Snacks
The Only Bean Edamame Snacks
HIGH PROTEIN SUPER-SNACK: Packed with 11 grams of complete plant based protein in a convenient individual wrapped 100 calorie snack pack perfect for the gym, as office snacks, or even a school lunch snack for kids!
LOW-CARB & KETO FRIENDLY: Enjoy a small handful or the whole snack bag at once! With only 2 grams of net carbs per serving, our edamame are dry roasted, are a guilt-free keto food, and a great protien packed chip-alternative!
BETTER FOR YOU: A healthy, low carb snack for every lifestyle and diet. Crunchy Roasted Edamame Beans are keto friendly, gluten-free, grain-free, kosher, high protein snack product that's also a perfect vegetarian / vegan snack with low sugar, no cholesterol, high fiber and low-GI (for a great diabetic snack), and dairy free. It's the ideal healthy keto snack for weight loss! A perfect diet snack food to keep in the pantry.
CRUNCHY, DELICIOUS, and FUN: Our beans are dry roasted, never-fried, and seasoned to perfection for a satisfying, savory, CRUNCH on every bite! Enjoy it straight from the bag, as a salad topper for extra crunch, or on top of your meal for added fuel!
The Only Bean Dry Roasted Edamame Snacks are a nondairy, plant-based snack made from just edamame, seasoning, and soybean oil. Flavors available are sea salt, buffalo, and sriracha. Since they are gluten-free, non-dairy, vegan, and non-GMO, these are a great source of protein for all breastfeeding moms.
One serving of The Only Bean Edamame Snacks has:
14g of protein
2g net carbs
0g of sugar
No trans fat
5g of fiber
140 calories
Designer Wellness Protein Smoothie
Designer Wellness Protein Smoothie
2X PROTEIN VS SUGAR: Low carb, 12g whey protein isolate and naturally sweetened with real fruit blends; yogurt like consistency
HEALTHY ON-THE-GO OPTION: You can leave your protein powder at home with this healthy fruit & protein smoothie pouch for adults, kids, and all occasions; no refrigeration is needed
BALANCED NUTRIENTS: Includes MCT oil (healthy fats) for balanced nutrition and quick-burning sustained energy
HIGH-QUALITY INGREDIENTS & PACKAGING: Gluten-free, soy-free, and non-GMO ingredients; BPA-free packaging
Nursing moms often depend on protein powder to make shakes. Protein shakes are great for increasing milk production, but they are not portable and don't stay good long after they are mixed.
Designer Wellness Protein Smoothies are a whey protein shake that you can store at room temperature and don't require a blender. They come in tropical fruit, mixed berry, and strawberry banana flavors.
One Designer Wellness Protein Smoothie has
12g of protein
120 calories
6g of sugar
No saturated fat
Magic Spoon Cereal
Magic Spoon Cereal is a high protein, low carb version of popular breakfast cereals. Nursing moms can enjoy a bowl of Magic Spoon Cereal as part of a well-rounded diet. This cereal is grain-free, gluten-free, and contains whey protein.
Flavors include fruity, peanut butter, cinnamon roll, and frosted. A bowl of Magic Spoon Cereal provides a complete protein source for breastfeeding moms.
One serving of Magic Spoon Cereal contains:
12-14g protein
0g of sugar
0g of trans fat
4-5g of net carbs
140 calories
Quest Nutrition Protein Chips
Quest Nutrition Protein Chips
ENJOY MORE. CARB LESS: The Quest Nacho Cheese Tortilla Style Protein Chips provide all the crunch and satisfying taste of a regular tortilla chip. Only ours have 18g of protein and 4g net carbs per bag
CRUNCH INTO COMPLETE PROTEINS: The Quest Nacho Cheese Tortilla Style Protein Chips are made with complete, dairy-based proteins to provide your body with 9 essential amino acids
SALTY, SAVORY, CRUNCHY: Quest Nacho Cheese Tortilla Style Protein Chips are seasoned to perfection and contain no added soy ingredients
BAKED, NEVER FRIED: Quest Nacho Cheese Tortilla Style Protein Chips are baked to provide you with the satisfying crunch you crave without adding oils to your chips
Quest Nutrition Protein Chips are made from whey protein. They are gluten and soy free and are baked rather than fried, making them a great replacement for regular chips. Chili lime, ranch, and nacho cheese are some of their most popular flavors.
Quest chips have about 8 times more protein than regular potato chips. However, sodium content is similar to other brands. If you are on a restricted salt diet, you will have to be mindful of that when eating these or any other type of chips.
One single serving bag of Quest Nutrition Protein Chips ccontains:
18g of protein
0g of sugar
No trans fat
140 calories
The high protein and low sugar content of each of these snacks make them perfect choices for breastfeeding mothers. Pregnant women also need extra calories and nutrients and could benefit from these snacks.
FAQs
What are other nutritional requirements for breastfeeding mothers?
Breastfeeding mothers need more than just additional protein for breastfeeding. The best way to stay healthy is to eat a varied diet with plenty of nutritious foods.
Nursing moms need about 300-400 additional calories for milk production each day. Most women experience more weight loss while breastfeeding because they use so many calories to produce enough milk volume. The World Health Organization recommends that breastfeeding women continue to take a daily multivitamin.
Iron, calcium, vitamin C, folic acid, and iodine are especially important while breastfeeding. Iron gets used up during pregnancy and needs to be replaced through the diet. Your body will pull calcium from your bones if you do not eat enough. Vitamin C helps boost immunity. Iodine and folic acid are passed to your baby through breast milk and help your baby's brain development.
Dehydration is one of the main causes of low milk supply in breastfeeding mothers. Breast milk is over 80% water. If you do not have enough water in your system, your body will not want to let go of it through your breast milk. Nursing mothers should drink at least 16 cups of water per day.
How much protein is in breast milk?
8oz of breast milk contains 2.5g of protein. Nursing babies need up to 35oz of breast milk per day.
Is it possible to have too much protein?
Eating too much protein over a long period of time can cause problems. The most common problem caused by a high protein diet is constipation. Make sure you are choosing whole grains and consider adding a fiber supplement if you are eating a high-protein diet. High-protein diets also increase your risk of kidney stones.
Is it safe to eat fish while breastfeeding?
Fish is a great source of protein and omega-3 fatty acids, both important nutrients for breastfeeding mothers. However, heavy metals like mercury in fish can be passed to babies through breast milk.
Salmon, tuna, and shrimp are all low in mercury and are safe for pregnant and breastfeeding mothers. Swordfish, king mackerel, and marlin are high in mercury and should be avoided.
Pregnant and breastfeeding women can benefit from eating fish when they have one serving of low mercury fish per week.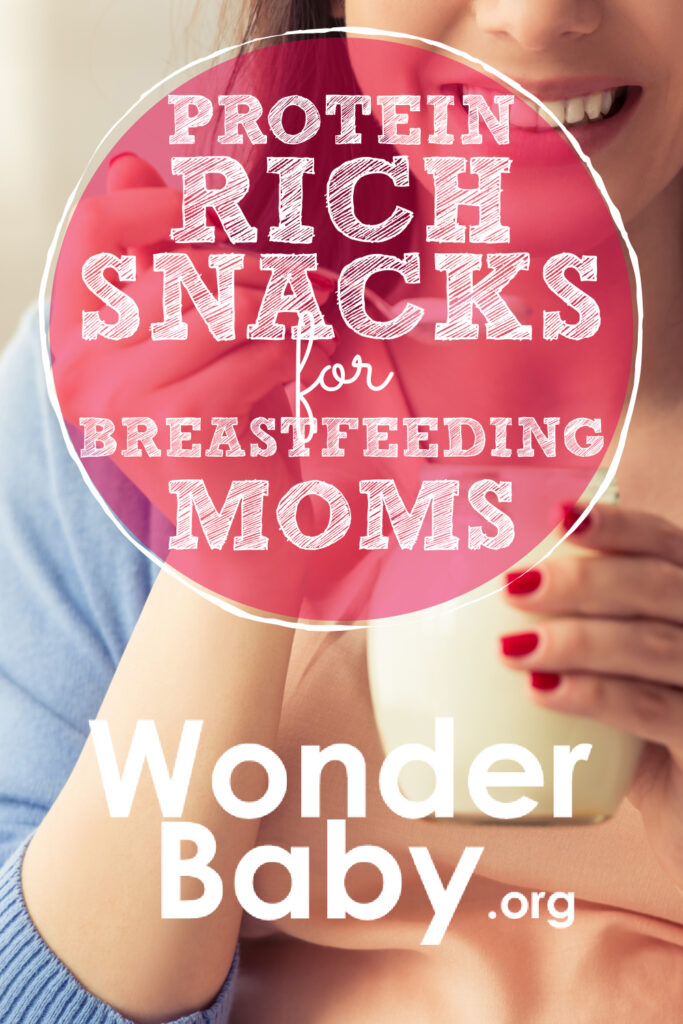 The information WonderBaby provides is not intended to be, and does not constitute, medical or other health advice or diagnosis and should not be used as such. Always consult with a qualified medical professional about your specific circumstances.
Related Posts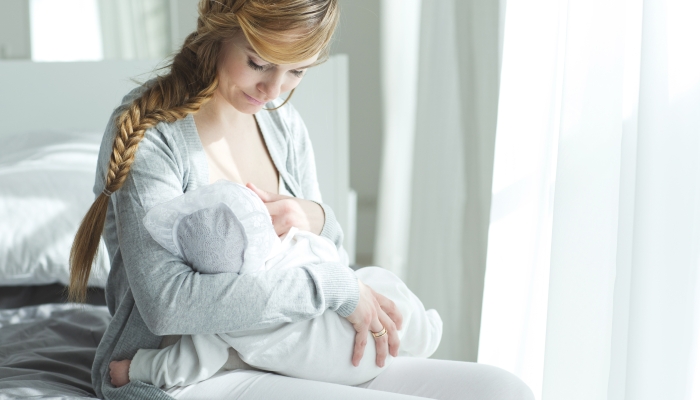 Breastfeeding
Find out what comfort nursing is, when should you worry about it, and how to stop or limit your baby's comfort nursing (especially at night!).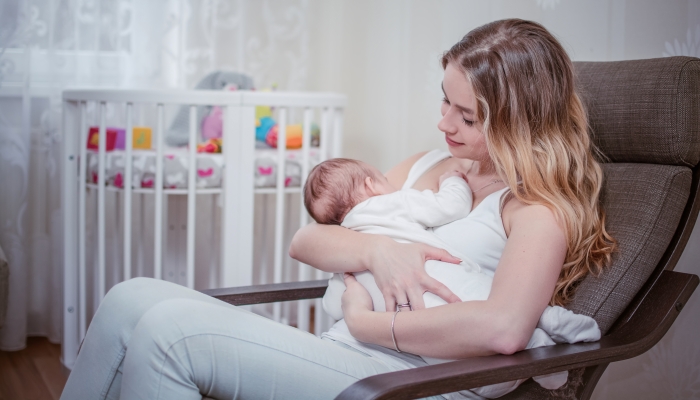 Breastfeeding, Product Reviews
Whether you want a gentle rock, a smooth glide, or a cozy cuddle to soothe your baby to sleep, you'll have your pick of the best breastfeeding chairs on the...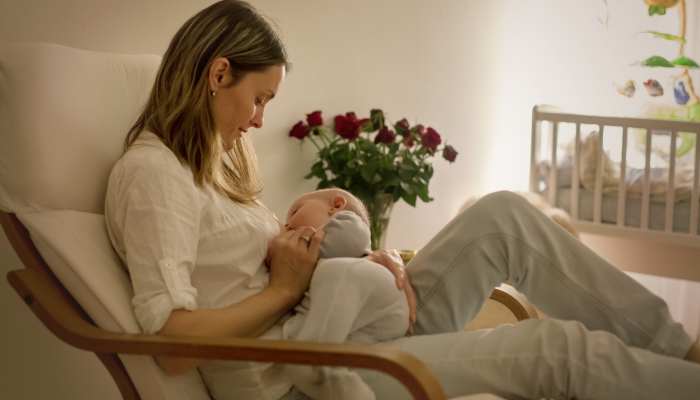 Breastfeeding, Sleep
If you're breastfeeding, you may wonder if you can try sleep training a breastfed baby. Will you need to wean or can breastfed babies learn to self soothe?