The Ultimate Newborn Checklist: What You Need & How Much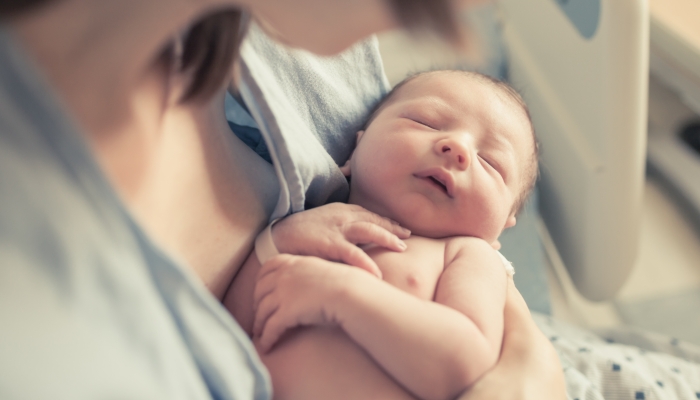 We've made planning for your baby's arrival easier with this newborn checklist.
If you're putting together a baby registry, you'll need to know which baby items are essential during your baby's first three months—and how much of each you really need.
Make sure you have all of the baby gear you need for the bedtime, changing, feeding, and more.
Diving into all the baby essentials before your baby's arrival can be incredibly overwhelming for first-time expectant parents. Even the most prepared parent will typically focus their efforts on the big items which can make building a baby registry a bit intimidating. And what about all of those other little things you'll need, like blankies, burp cloths, and binkies?
That's why we've put together the ultimate newborn baby checklist. Here you can find all of the baby items (and how many of each) you'll need for bedtime, feeding, changing, and just about everything else.
From the baby must-haves to the nice-to-haves, we've tried to think of everything new parents will use during those precious first few months of their baby's life. If you're putting together your baby registry, make sure to check (and double-check) this newborn baby checklist so you're all set for your bundle of joy.
Nursery
Crib
Crib mattress
Fitted crib sheets (2 to 4)
Waterproof mattress cover (2)
Fitted bassinet sheets (2 to 4)
Swaddles (2)
Sleep sacks or wearable blankets (2)
Receiving blankets (2 to 4)
Baby blankets (3 to 6)
Rocking chair
How Many Crib Sheets Do I Really Need?
If you're wondering how many crib sheets you really need, the answer to this depends on how often you do laundry. Most parents change the crib sheets once or twice a week. There will also be middle-of-the-night, unexpected messes on occasion, so a sheet or two for emergency use will be helpful.
So, in a household where laundry only happens once a week, having 3 or 4 crib sheets may be necessary. If you do laundry multiple times a week you could get by with 2 extra crib sheets and be just fine.
If you struggle to do laundry on a regular basis, you might want to keep 5 crib sheets at your disposal (or hire a laundry service).
Overall, you'll be more grateful for the extra storage space than to find a place for a dozen extra crib sheets. So do a little math and determine how many sheets your household may need and then return the extras.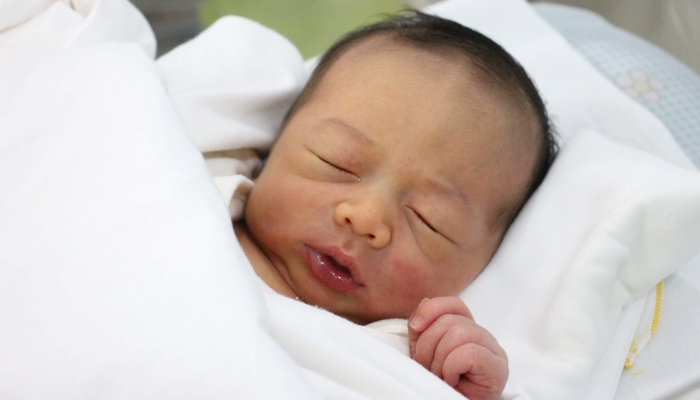 How Many Swaddles Do I Need?
While there are some variables to take into account, generally you'll need two swaddles for your newborn. This helps ensure you can have one swaddle on your baby while the other is in the laundry.
However, more is often better—and since we mentioned variables, it will come down to how often you do laundry. If you don't want to do laundry daily, having up to four swaddles can help ease the laundry obligations by a small amount.
Types of Swaddles
The best swaddle will be comfortably snug around the newborn's torso to provide physical comfort and feelings of security, but loose around the hips as this allows natural movement and growth of the hips and pelvis. Swaddles that restrict leg and hip movement can lead to hip deformities and hip dysplasia.
Since swaddles for newborns will be an item with your baby from birth until around two months of age, it's important that you focus on safety first and foremost. There have been some concerns about using weighted swaddles with newborns as they can obstruct the mouth as well as overheat your baby. Many parents choose to avoid weighted swaddles altogether due to these safety concerns.
How Many Receiving Blankets Do I need?
It can be confusing, and overwhelming, to figure out just how many receiving blankets you will need as an expectant parent. There are many different types, materials, and price-ranges to choose from.
Not all receiving blankets are equal, or necessary. You need to take into consideration the climate you live in and the needs for your lifestyle and your budget. It's advisable to have between 2 and 4 of each type of blanket so that as you cycle them through the wash you will always have one handy when you need it.
Types of Receiving Blankets
Traditional receiving blanket. This is the good old, hospital-gifted, square yard of cotton fabric. You can never have too many of this type of receiving blanket. In fact, many days you will go through more than one. It is the multipurpose blankie. You can use it for swaddling an infant and on heavy-duty jobs, like wiping spit-up or acting as an impromptu changing station.
Muslin blanket. Muslin is a super light, soft, breathable fabric, perfect for hot climates and sunny days. It allows you to cover while breastfeeding without having your little one in a hot and stuffy cocoon. It can also double as a car seat cover, and provides the perfect amount of shade when draped over a stroller.
Swaddling blanket or sleep sack. Traditional receiving blankets swaddle infants but as babies grow and get stronger, they need a swaddling blanket or sleep sack to keep them safe and warm. They fit like wearable sleeping bags and are made from a variety of materials, fastened with Velcro, snaps, or zippers. If you're having a winter baby, thermal, fleece, and even crocheted or knitted swaddles are an excellent option.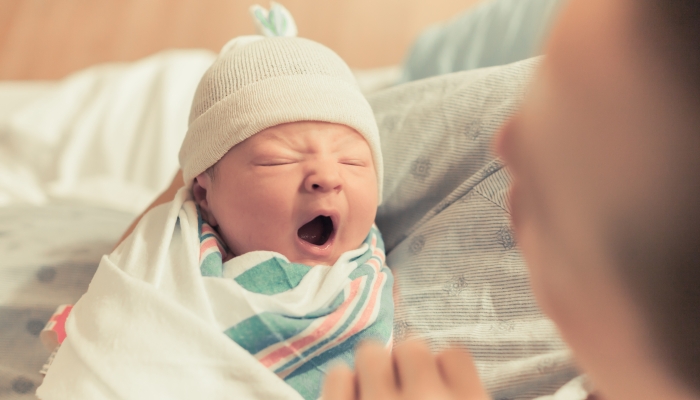 How Many Baby Blankets Do I Need?
Baby blankets are a traditional present and gorgeous addition to any newborn kit list. Baby blankets have multiple purposes and are often used and treasured long after the newborn days.
Between 3 and 6 blankets should be plenty for your newborn. However, more blankets can offer more flexibility. Leave a couple in the car or stroller and one for playtime. As an added bonus, you might not need to wash them quite so often.
A few things you might use baby blankets for:
To swaddle and keep baby warm and snuggly.
As a changing mat or playmat.
To use in the car or stroller.
As a cover-up during feeding or naptime.
For burp cloths and mopping up messes.
It's worth taking some time to weigh up the options available.
What To Consider When Choosing Baby Blankets
Fabric. Your newborn has soft, sensitive skin and their comfort and safety must come first. Avoid materials or embellishments that may irritate the skin and check labels for washing instructions.
Thickness. Consider the climate where you live and what purpose your blankets will serve. Unless you live in an especially cold climate, lightweight blankets are a great option, making it easy to add or remove layers when needed.
Size. Larger blankets can be folded for additional layers of warmth, but might be bulky and take longer to launder. Smaller blankets are great for changing bags.
Style. If you're planning to swaddle your little one in a crib or bassinet, you may want to consider blankets designed specifically for this purpose.
Feeding
Burp cloths (14)
Bibs (5 or more)
Bottles (5 to 10)
Bottle brush
Bottle warmer
Insulated bottle carrier
Bottle drying rack
Dishwasher basket
If you're breastfeeding:
Nursing bras (2 or 3)
Nursing pads (also called breast pads; 2 boxes of disposable or 30 reusable)
Nursing pillow
Breast pump
Breast milk storage bags and containers
Nursing cover
If you're formula feeding:
Formula
Formula mixer (not essential, but extremely helpful!)
Formula dispenser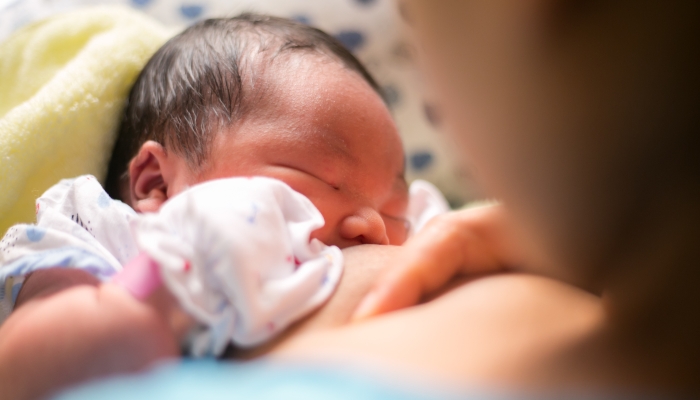 How Many Breast Pads Do I Need?
Whether or not you plan to breastfeed your newborn baby, you'll want to invest in breast pads, also known as nursing pads. Breast pads go inside the bra to cover the nipples and absorb any leaking breast milk. 
Even if you're not breastfeeding, breast pads are often needed until you stop producing milk. You'll also still need to use breast pads if you choose to bottle feed using breast milk.
Types of Breast Pads
There are two basic types of breast pads you can choose from—disposable and reusable.
Disposable breast pads. Made from synthetic materials and plastic lining, disposable breast pads are for one-time use, then you toss them out.
Reusable breast pads. These are a great option to cut down costs. Since they're machine washable and can be used multiple times, they're also eco-friendly.
How Often Should You Change Breast Pads?
Whatever option you go with, make sure to change out your nursing pads whenever they're wet. Not only will this help reduce the chance of irritation or infection from bacteria, but it will also reduce the risk of leaking through your bra and shirt.
On average, most women find they need to change their breast pads out every 3-4 hours, totalling 12-16 pads a day, or 6-8 sets. But, of course, this is just an average. Every person is different in how much milk they produce. 
How Many Breast Pads Do I Need?
After a few weeks, you'll have a better idea of how many breast pads you need. If you use disposable breast pads, you should buy at least two boxes to start, about 60 breast pads per box, and it should last a week or more.
If you decide to use reusable nursing pads, how many you need will also depend on how often you do the laundry. But chances are you'll want enough to last a couple of days. Start with about 30 pads—if you need more, you can purchase more later.
How Many Burp Cloths Do I Need?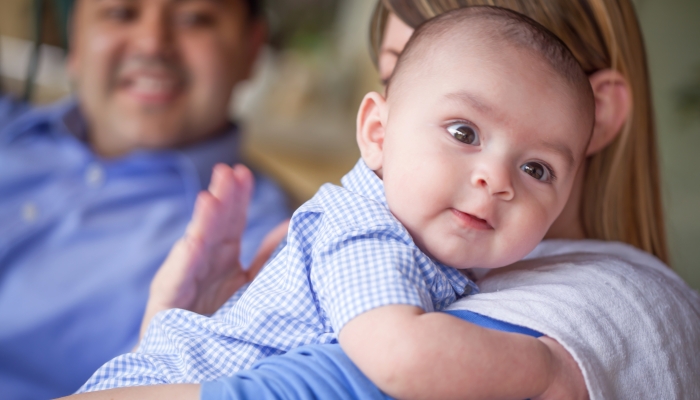 Burp cloths are essential for the newborn stage when spit-up, runny noses, and diaper accidents run rampant. These handy cloths will save you from outfit changes and make clean-ups easier throughout your day.
With that in mind, you'll likely use up to 14 burp cloths a week, which is two to three packs based on the 3- to 6-pack standard.
This amount is ideal because it keeps your laundry washes down to once a week, which means more quality time with your baby. It's just enough to keep them all around the house for easy access. Keep some in a baby bag or at the changing table, so you're not scrambling when an accident strikes!
The best part about burp cloths is that they are versatile and can be used in many other ways as your child grows. Use clothes as a teether to relieve gum pressure or as a buffer when changing diapers. You can even use them as a general cleaning cloth once your child no longer needs them.
A few things to consider when choosing burp cloths:
Quality. Make sure they can hold up through multiple washes.
Fabric. Babies have ultra-sensitive skin, so be sure that the fabric is gentle enough not to cause any irritation.
Absorbency. If it can't retain liquid, it won't be saving your clothes or sheets
How Many Bibs Do I Need?
When putting together your newborn checklist, you might be surprised to know that your new tiny human will need bibs right away! Your newborn will grow quickly and so will their appetite. Whether your baby is nursing or formula feeding, babies who eat more, will sometimes begin to spit up more. Having a bib on hand will save you that extra change of clothes during a time when laundry already seems never ending.
Additionally, some babies begin teething by three months old and, well, when that happens, you'll want a drool bib. These are a bit smaller and can be worn on top of a shirt all day long. They come in all sorts of colors and prints and look almost like a little mini baby bandana.
Babies are all unique, and this includes their eating and spitting up habits. Because of this, some families will get by with 5 bibs per week, and some will find themselves needing 5 per day.
What About Bib Material?
From cotton to muslin, or rubber and silicone, there is a bib that's right for every family depending on what problem you are trying to solve. For newborns, you'll want something soft, easy to fasten, and absorbent. You'll also want something that can be used to gently clean your baby's mouth after feeding.
Check out our meal time product reviews to see what kind of bib might be the best fit to include in your planning for the arrival of your little bundle.
Changing
Diaper rash cream or ointment
Changing table
Changing pad
Changing pad cover
Diaper bag
If you're using disposable diapers:
Newborn size diapers (2 boxes)
Baby wipes
If you're using cloth diapers:
Cloth diapers (24)
Diaper covers (8)
Diaper fasteners
Wet bag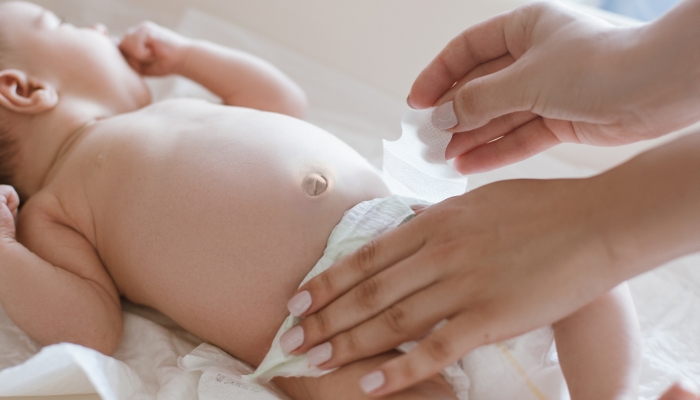 How Many Newborn Diapers Do I Need?
Wondering how many newborn diapers to buy? Chances are, it's not as many as you think. Most newborn diapers fit babies up to 9 pounds. Given that the average newborn weighs between six to nine pounds at birth, most babies outgrow newborn diapers within the first few weeks of life.
Even if your newborn is on the smaller side, they will likely outgrow the newborn diaper stage after a few weeks. After all, most babies gain more than two pounds within their first month of life! Some babies skip newborn diapers altogether and go right into size 1 diapers.
After the first few days of life, most newborns need around ten diaper changes a day. This means that the average newborn will only need one or two packs of newborn-sized diapers (or up to around 250 newborn diapers in total).
You can confirm that your baby's newborn diaper fits correctly if you can comfortably fit two fingers between the diaper and the baby's belly, and one finger between the diaper elastic and your baby's thigh. If your baby is between sizes, or if you're experiencing a lot of diaper leaks, that usually means it's time to size up.
The bottom line? Buy diapers based on weight, not age. And if you want to add diapers to your registry, consider registering for larger sizes that your baby can grow into.
Clothes
Onesies (9 to 10)
Shirts (4 to 6)
Pants (2 to 4)
Sleepers (4 to 6)
Baby socks (4 to 6 pairs)
Sweaters (1 to 2)
Hats (1 to 2)
Mittens
Booties
Jacket
How Many Onesies Do I Need?
When it comes to newborn baby essentials, there's no clothing item more versatile and timeless than the onesie. Onesies lend themselves to be dressed up for more formal affairs or dressed down for playtime and lazy-day lounging. Whether you're expecting a boy or a girl, they are a must-have item on your newborn checklist!
However, you might find yourself wondering just how many onesies you will need. Here are some basic questions to ask when calculating how many of those adorable onesies to add to your little one's wardrobe:
How often will I (realistically) wash the laundry?
Postpartum is a busy season of life. And let's face it, laundry is going to slide down on your list of priorities. Be sure to gather enough onesies to cover the amount of days between laundry loads plus one or two extras for messy days. If you wash laundry once a week, 9 onsies is a smart amount to start with.
Will I need to keep extra onesies on hand for caregivers?
If your newborn will be in the care of someone else, having a couple of extra onesies stashed away will come in handy. With many messes and mishaps to be expected, it's a wise idea to keep an extra onesie in your car or diaper bag and one at your caregiver's house. As a general rule, add in an additional 2 onesies to your checklist if your baby will be cared for outside of the house.
Bathing
Hooded towels (3 or 4)
Wash cloths (5 to 10)
Baby tub or bath seat
Baby shampoo
Baby lotion
Other Must-Haves
How Many Pacifiers Do I Need?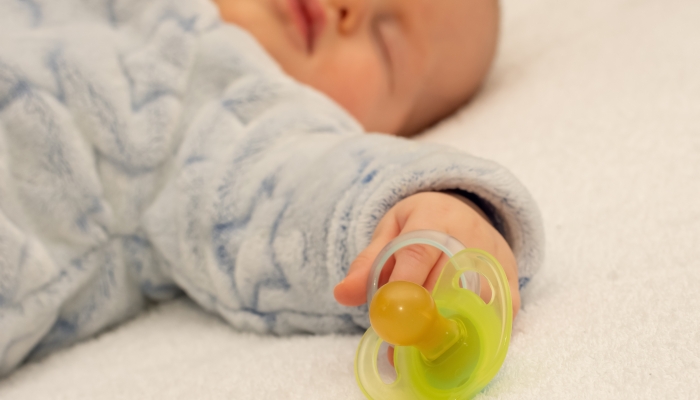 Pacifiers have been the topic of some heated debates in mommy communities. When your baby uses one at naptime and bedtime, their risk for sudden infant death syndrome (SIDS) decreases. In-case your newborn is prone to ear infections, the American Academy of Pediatrics (AAP) recommends that babies sleep with one until 12 months.
So, how many pacifiers do you need? Luckily, the short answer is not many!
Most pacifier brands come in sizes 0 to 6 months, 6 to 12 months, and 12 to 18 months. If you're lucky, your baby will take the first brand you choose. But, some little ones are picky, and you'll have to try a few to get the shape they like.
Unless you're breastfeeding, you can start pacifier use from day one. Introducing a pacifier early will increase the chances of your baby taking to it.
Once you've found the pacifier brand your baby likes, you'll need to buy a minimum of two pacifiers per size group. If you're a strategist, you can buy about four: one to use, one that you're cleaning, a spare, and one to keep in your diaper bag.
Having your spare in the car is a good idea if you travel a lot. These numbers exclude replacements for hygienic or other reasons.
Following the AAP guidelines, you'll only buy pacifiers for two size groups. But, if you notice any of these signs, you'll have to size up earlier:
Your baby spits the pacifier out.
The pacifier shape imprints on your baby's cheeks.
Your baby sucks hard on the pacifier in an attempt to keep it in their mouth.
You only need to replace the pacifiers your baby frequently uses every 4 to 6 weeks if you're following proper cleaning techniques.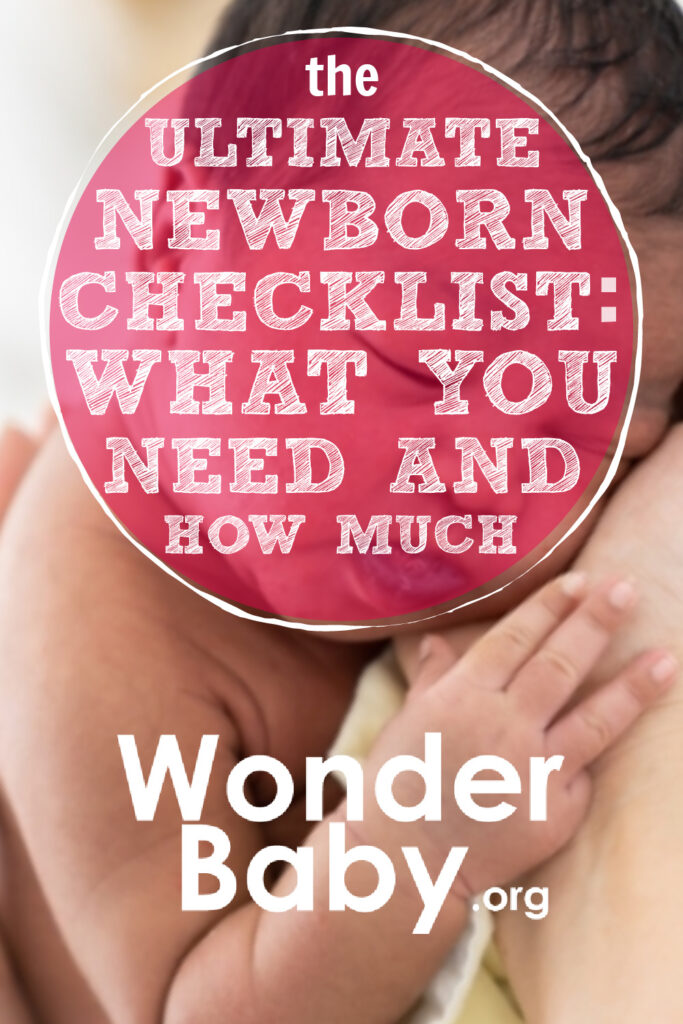 Related Posts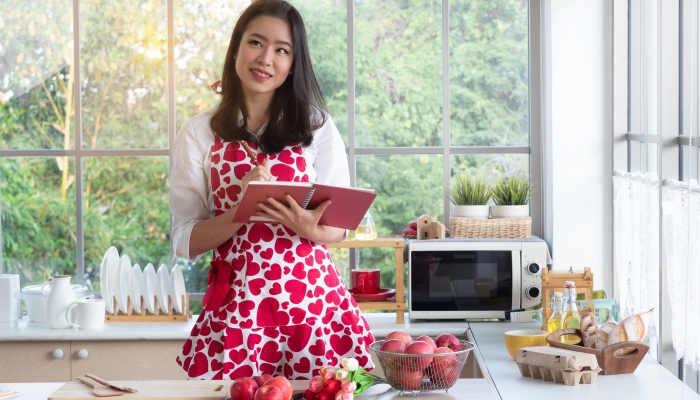 Parenting
Staying motivated as a stay-at-home mom isn't easy when you're responsible for so much. But these motivation boosters are sure to keep you going!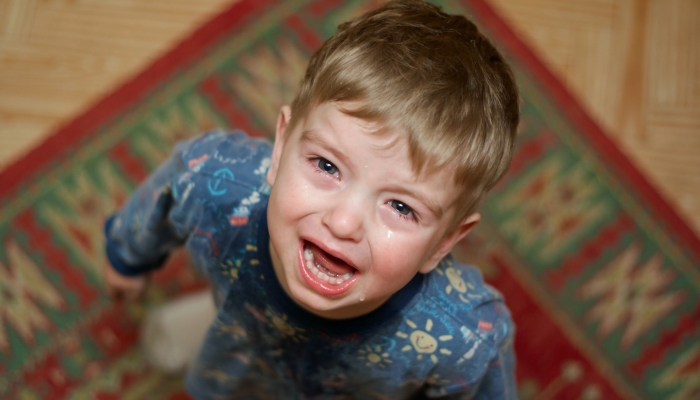 Parenting
Wondering if your child is having a tantrum or a meltdown? Read this article to know the difference between these emotional outbursts!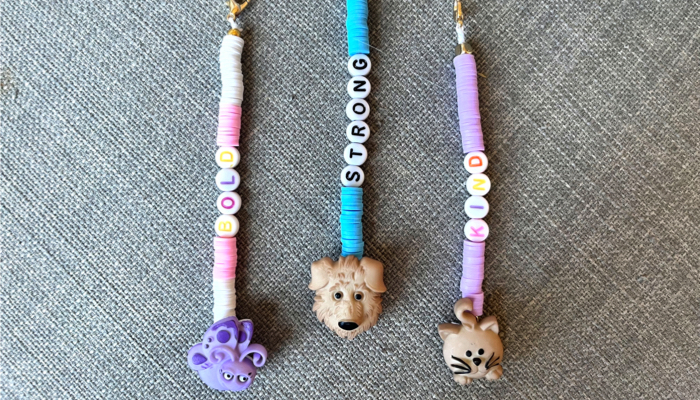 Parenting, Play, Tactile Art
These affirmation backpack buddy keychains are adorable and easy to make. Give your child a little encouragement with this simple craft as they head to school.