8 Best Pack N' Plays of 2022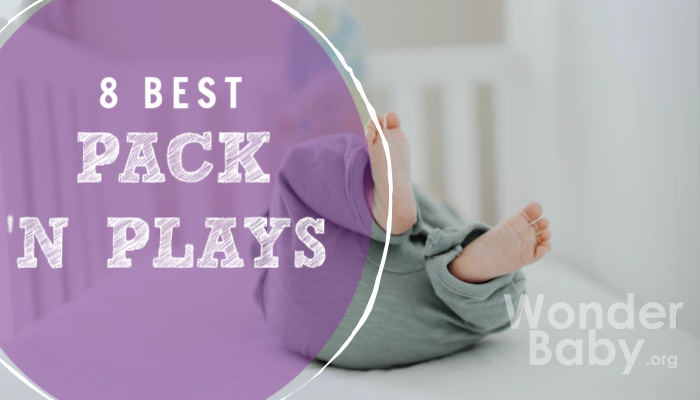 This post may contain affiliate links; please see our terms of use for details.
When you're a new parent, it can feel like the list of must-have baby gear never ends. Sometimes it's hard to determine what is truly essential and what you can skip over. While you might not initially think of a pack 'n play as essential, many would argue otherwise. Pack 'n plays — sometimes called portable playards or playpens — are versatile, easy to transport and can make busy parents' lives a whole lot easier.
A pack 'n play will give your child a safe place to play or nap so you can get other things done, like cook dinner, take a shower or anything else that requires two free hands. Plus, if you plan on visiting with friends and family during nap time or overnight occasionally, a pack 'n play will work as a portable crib. Some parents even use their pack 'n play as a bassinet that they keep in their bedroom for their newborn to sleep in overnight.
There are so many different types of pack 'n plays out there, it can be overwhelming to choose the right one for you. That's why we rounded up the 8 best pack 'n plays of 2022 along with each one's pros and cons and any special features that make it stand out.
Top 8 Picks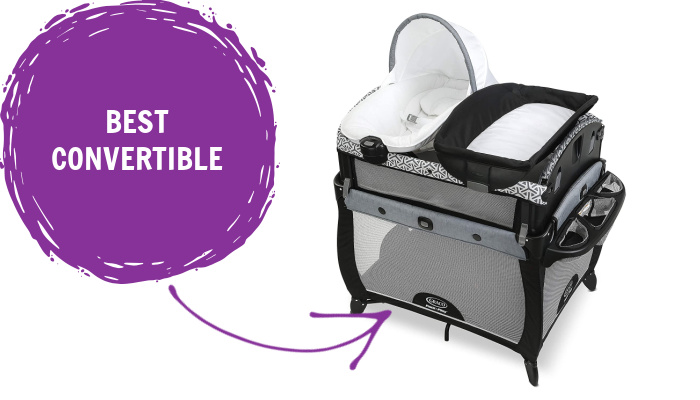 If you are looking for an all-in-one pack 'n play that will grow with your child, you can't go wrong with the Graco Pack 'n Play Dome Playard. This multi-use playard includes a newborn seat, changing pad and a bassinet that converts into a toddler cot. There are storage compartments built in for diapers, wipes or any other baby essentials and the changing pad is easy to clean as well.
This pack 'n play has a couple of unique features that set it apart from the others. One is the raised bassinet position for newborns, which puts baby at eye level if they sleep near your bed. Another is the toddler cot — families with two children can even use this along with the newborn seat at the same time. Graco is a trusted baby gear brand, too, so you know you are getting a well-made product with this one.
While the price tag is a bit high, this pack 'n play really packs in a lot of features so you don't need much more in terms of baby gear. Of course, that means it requires a little more setup and can take up more space, so depending on your needs you might want to opt for a more streamlined option.
---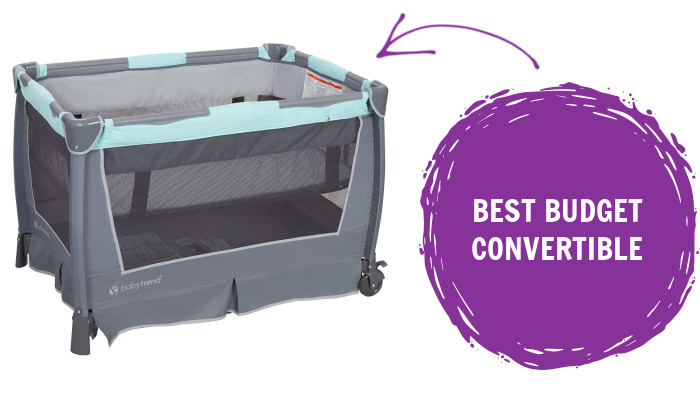 If you are looking for a convertible pack 'n play on a budget, the Baby Trend Retreat Nursery Center has all of the great features of higher-end options (and more) at a lower price. Like the Graco Newborn2Toddler Pack 'n Play, this one includes a newborn bassinet, full-sized bassinet, changing pad and plenty of storage, although it doesn't include a toddler cot.
The Baby Trend newborn bassinet offers a little more than some other pack 'n plays though, with a canopy and soft overhead toys as well as options to play music or nature sounds and even a night light. It can be detached and used on its own and has a handle for carrying, which can be convenient if you need to move your napping newborn to another room without waking them.
Like some other convertible pack 'n plays, this one is a bit bulky if you don't have a lot of space or plan on traveling with it frequently. If you will only be traveling occasionally and mostly plan to keep it set up at home, this pack 'n play is a great option that will grow with your child.
---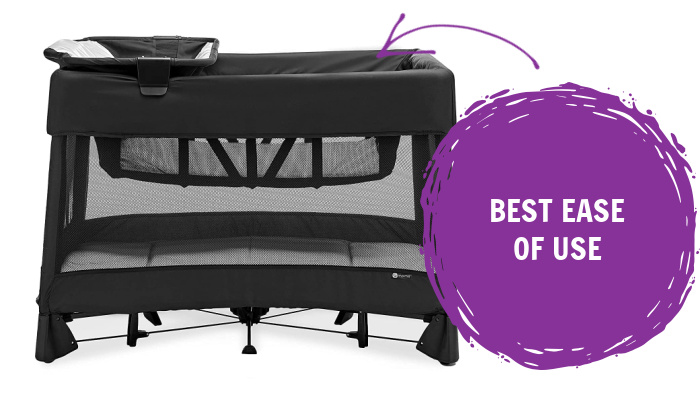 Another great all-in-one option is the 4moms Breeze Plus Portable Playard, which includes a full-sized bassinet and changing pad. While this one doesn't include some desired features — like additional storage for diapers or wipes — it's made to grow with your child. You can use the raised bassinet with your newborn and larger crib on the bottom as a travel bed or playard as your child gets older.
The 4moms Breeze Plus is a great option if ease of use is an important factor for you. This pack 'n play is a lighter weight option and folds up easily for those who plan on using it for travel, and the detachable changer can be easily flipped over the side for storage. For the price, this one doesn't have a ton of bells and whistles, but the quick, one-handed set-up and take-down makes it great for families on the go.
---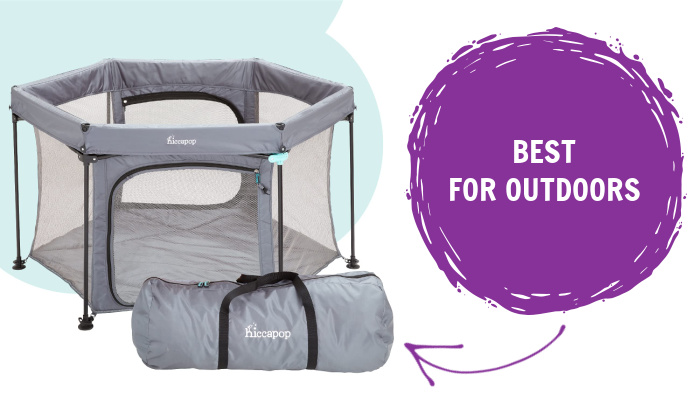 There are times when you might need a safe space for your little one to play outdoors — whether you're camping or just trying to get a little yard work done. If you are in the market for something that can be used both indoors and outdoors, check out the hiccapop PlayPod Deluxe. This pack 'n play is large enough to hold more than one baby or toddler but still folds into a compact size for traveling. And not only is the fabric machine-washable, but it's also waterproof, making it perfect for outdoors. Keep in mind that the pictured canopy is sold separately.
Some nice additional features the hiccapop PlayPod Deluxe includes are the childproof side zippers — which will save you from having to bend over to lift your child — and the soft padding. Other outdoor pack 'n plays sometimes just have a thin piece of fabric on the bottom, but your little one can play and even nap comfortably in this one thanks to the extra padding.
The hiccapop PlayPod Deluxe is larger, which can be good or bad depending on your needs, and it doesn't include a bassinet or changer. Overall, if you are looking for something to use primarily as a playard for an infant or toddler and don't need a ton of extra features, this is a great option at a really reasonable price.
---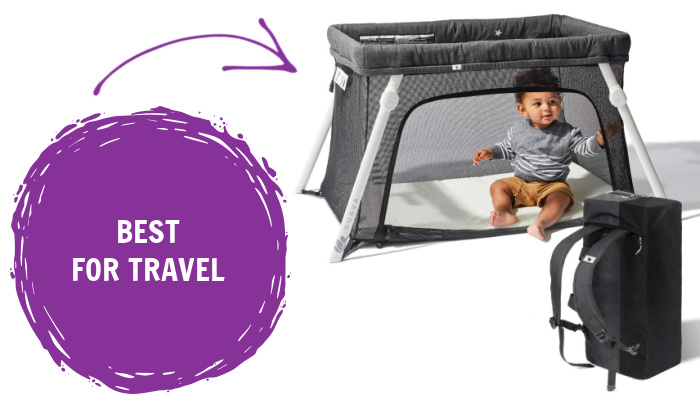 Do you plan on traveling with your infant or toddler? The Lotus Travel Crib was designed specifically with air travel in mind. Folded up, this pack 'n play weighs only 13 pounds and even features a backpack carrying case, which will really come in handy when you're already hauling luggage (and sometimes other members of your family) through an airport. The mattress is a little softer and more comfortable than some other pack 'n plays and has been approved for overnight sleep, which might help your little one sleep a little better in an unfamiliar place.
This pack 'n play is easy to set up and includes a side zipper which can be a little easier on your back — features you'll be thankful for after a long plane ride or drive. It also gets bonus points for being GreenGuard Gold certified, which means it was made without the use of harsh chemicals, reducing indoor air pollution and your child's risk of chemical exposure. Since the Lotus Travel Crib was made with travel in mind, it doesn't have any extra features like a bassinet or changer.
---
For a great price, you can get a simplified model of Graco's Pack 'n Play that includes a detachable full-sized bassinet, storage pockets plus some soft hanging toys to keep your little one entertained — and that's about it. If you already have a baby seat and changing table and are looking for something simple that will give your child a safe place to nap or play throughout the newborn and toddler years, this is a great option.
Since this model really doesn't have much to it, it's relatively easy to assemble and can be transported easily. The wheels are helpful if you need to move the whole thing to another room, too. While you don't get a ton of extra features with this one, and the storage pockets are a lot smaller than some higher-end models, you are getting a sturdy, well-made Graco Pack 'n Play that will last years.
---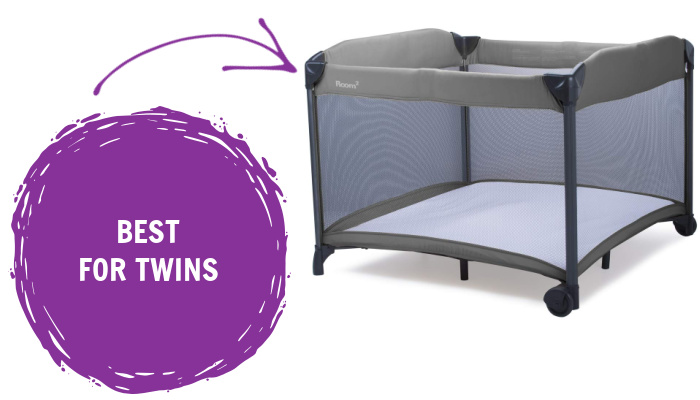 Parents of twins might sometimes feel like they have to buy two of everything, but thanks to the Joovy Room² Portable Playard you won't need two pack 'n plays. Whether you have twins or even if you just want to give your little one some extra space to play, this playard gets the job done with nearly ten square feet of space. On its own, the Joovy Room² is a pretty basic playard, but there is also a twin nursery center sold separately that includes a twin bassinet and changing table that can be attached to the top.
A couple of other nice features worth noting: this pack 'n play actually comes with a waterproof sheet (usually these are sold separately) and the 360 view makes it really easy to keep an eye on what's going on inside — and your little ones can see you too. Since this is a larger playard, keep in mind that it will be a little heavier if you need to transport it. But, if you are just moving it around the house, it has wheels which will come in handy as long as you aren't going through any small doorways.
---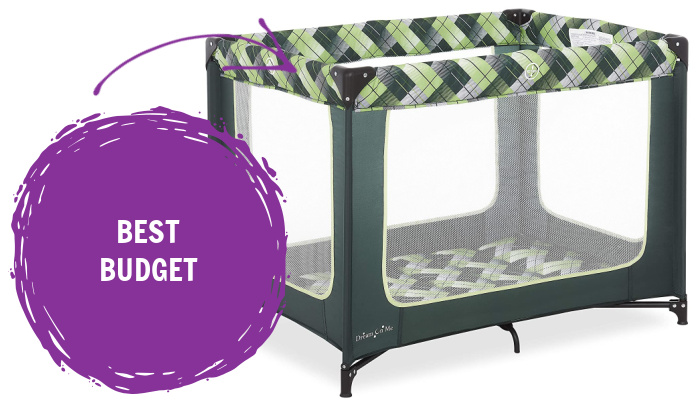 This National Parenting Product Awards winner is simple and stylish and won't break the bank. If you want a quality product at one of the lowest prices, this pack 'n play really delivers. It's lightweight, easy to fold and compact when folded, making it easy for busy parents to transport. This one also gives your baby a 360 view so they know you are nearby and you can keep an eye on them from anywhere without anything blocking your view.
The Dream On Me Nest is a no-frills pack 'n play — it doesn't come with a bassinet, changing pad or storage. It doesn't have wheels, either, which might be a deal-breaker for someone who plans to move it around the house frequently. But if you are on a budget and need a basic place for your little one to sleep and nap on the go, this award-winning product is a really nice, easy to use and simply designed option.
---
Final Verdict
Overall, in terms of price, functionality and quality, the Graco Pack 'N Play On the Go Playard is probably one of the best pack 'n plays out there. It's simple yet sturdy, it will grow with your child, it travels well and it doesn't take up a ton of space with extra attachments. Families will get years of use out of this pack 'n play, and for all that it offers it's a budget-friendly option as well.
Recommended Accessories
Whether you decide on a simple pack 'n play or a souped up model, there are a few practical accessories worth checking out as well. Some of these are essentials while others may just make your life a little easier.
Here are some of the top recommended pack 'n play accessories:
FAQ
What should you look for in a Pack 'N Play?
What you look for in a pack 'n play will really depend on what you are using it for. Will you be travelling with it frequently or keeping it set up at home mostly? Will it be primarily for play, sleep or both? In general, you will want something that is easy to fold and that your little one is safe and comfortable in. But there are plenty of extra features to look for depending on your needs, like storage, side zippers, bassinets and changing pads.
How do you set up a Pack 'N Play?
Pack 'n plays should be easy to set up and take down, although the specifics will depend on what brand and model you choose. Typically, when your pack 'n play is folded, you will need to push down in the middle to open it up and snap the side bars in place. From there, you will need to attach the pad or mattress to the bottom and attach anything else it comes with, like a bassinet, infant seat or changer. It should only take a few minutes.
What are important safety considerations with a Pack 'N Play?
Just as with any other baby gear, you need to make sure your pack 'n play is in good shape and properly set up to keep your child safe. If you are buying a new pack 'n play, it should meet current safety requirements, but you still need to read the directions and product warnings before use.
Check the pack 'n plays age and height requirements and be sure that locking mechanisms on the sides and wheels are working properly (and set up correctly). Some parents might be tempted to add soft blankets or padding to the pack 'n play to make it more comfortable, but this isn't recommended and can pose a suffocation hazard to your child.
At what age can my child use a Pack 'N Play?
Newborns, infants and toddlers can use pack 'n plays. Some come with a newborn bassinet, which is more for convenience and comfort than safety. As long as your child is under the recommended height and weight limit of your pack 'n play — which is usually around 30 pounds and 35 inches — they can continue to use it. So, your child might continue to use a pack 'n play until they are 2 or 3 years old.
Is a Pack 'N Play the same as a playard?
Although pack 'n plays and playards are similar (and at times the terms are used interchangeably), there are a couple of differences to keep in mind. Some playards may be used as a contained play space only and may not be portable. Pack 'n plays, on the other hand, are a combination play and nap space that can be easily transported. They usually include soft padding so your little one can be comfortable sleeping or playing, fold easily and include a carrying bag.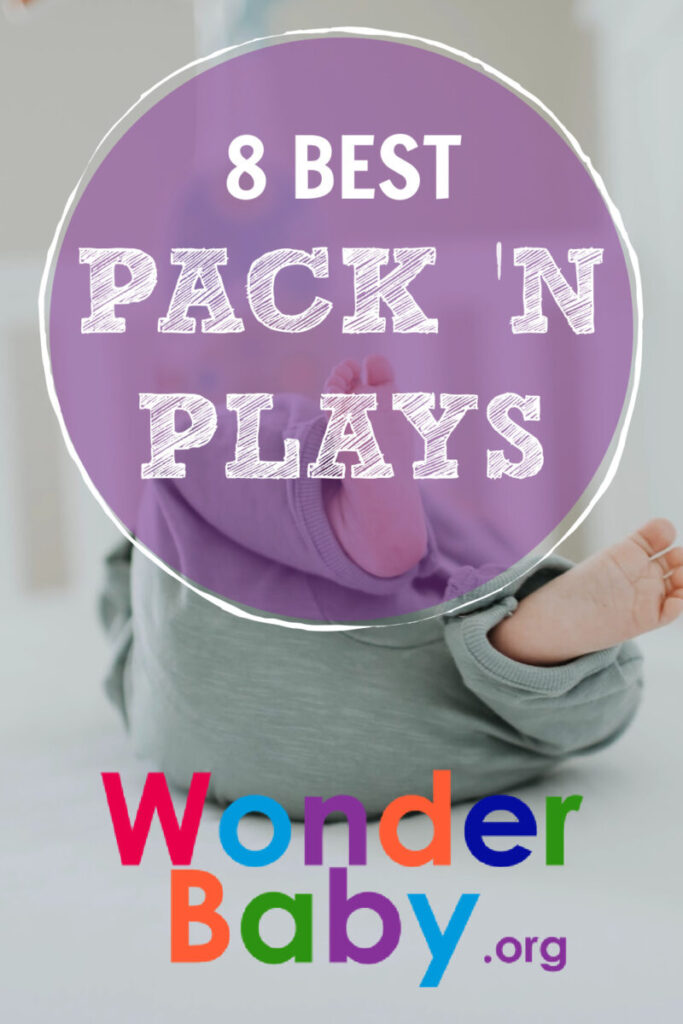 Related Posts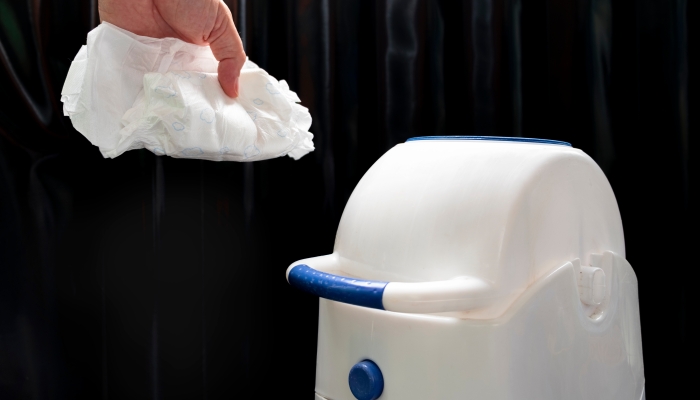 Product Reviews
Are diaper genies worth the expense? Discover the best alternatives to diaper genies to eliminate odors and save you time and money.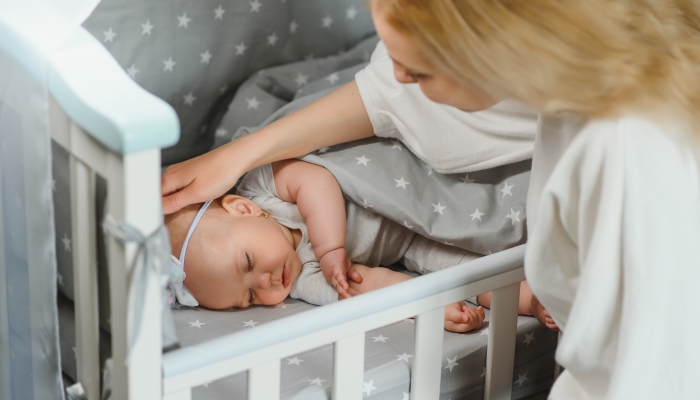 Parenting
Which is the better choice in the bassinet vs crib decision? We've got all the facts so you can decide on the right sleeping space for your newborn.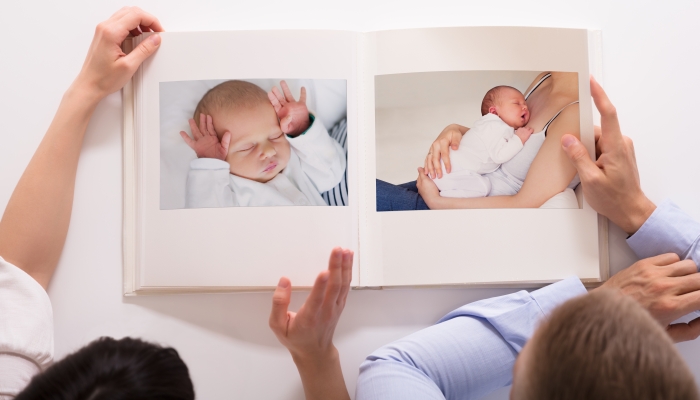 Product Reviews
Looking for the best way to document all your baby's milestones? Take a look at our list of the best baby memory books!