5 Best Baby Bath Toys of 2023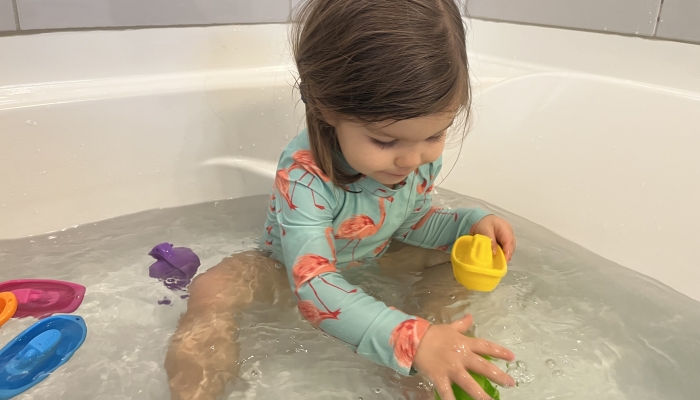 This post may contain affiliate links; please see our terms of use for details.
When you choose a bath toy for your baby, you'll want to be sure it's safe and will last.
Many bath toys aren't dishwasher safe, but you can fill a sink with soapy water and wash the toys by hand.
To prevent mold, you should completely dry bath toys before storing them.
As a mom of four, I have become the queen of multitasking. This is why I love finding independent activities for the kids that give me a few minutes where my hands are free to get things done.
Bath time is one of my go-to picks for a busy activity. I have found that a tub full of bubbles and bath toys will keep little ones busy for quite a while. I often bring in a load of laundry, a pile of mail, or my makeup and cross some items off my list while supervising their bath time fun.
Choosing fun bath toys for your little one will make a world of difference in how long they'll play in the tub. It also helps distract babies who don't like getting their hair washed.
If you're wondering which baby bath toys are worth your money, you've come to the right place. We've reviewed the 5 best baby bath toys and will give you all the details you need!
Best Choice
Best Wind Up
Best Educational
Boon Tubes Building Toddler Bath Tub Toy
Munchkin Wind Up Swimming Penguin
Munchkin 36 Bath Letters and Numbers
Best Choice
Boon Tubes Building Toddler Bath Tub Toy
Best Wind Up
Munchkin Wind Up Swimming Penguin
Best Educational
Munchkin 36 Bath Letters and Numbers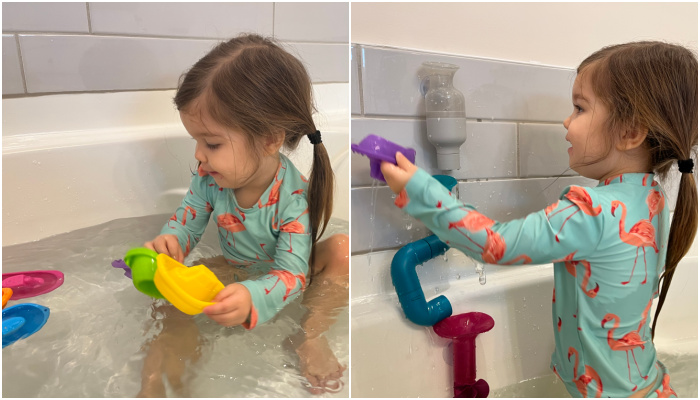 Our Choice
Sale
Boon Tubes Building Toddler Bath Tub Toy (Pack of 3)
Baby Bath Toy Set: 3 bath tubes for babies make bath time fun
Unique Shapes: These bath toy tubes can be used individually or can be put together in a chain
Fun Baby Bath Toys: Tubes suction to the bath wall to help keep water in the tub
Recommended age: 12M+
After reviewing the best bath toys for babies, we found the Boon Tubes Building Toddler Bath Tub Toy (Pack of 3) to be our favorite. Here's why we love it:
Versatility: All of the Boon Tubes can be used together or separately, and you can purchase more to add to your collection.
Entertainment: This simple toy provided hours of entertainment within the first week of purchasing.
Quality: Boon uses high-quality plastic that doesn't feel cheap or flimsy. These are toys that will hold up to rough play.
Easy to Dry: Each tube breaks down and dries out quickly and efficiently.
It was also a bonus that we could find a 3-pack of the tubes. This made it more affordable to purchase than the bigger sets.
Best Wind Up: Munchkin Wind Up Swimming Penguin
Munchkin Wind Up Swimming Penguin
Penguin really swims through water
Wind up arms and release to make penguin swim
Lightweight and easy for little hands to operate
Encourages imaginative play; Play Patterns: Audio-Visual Stimulation; Hand-Eye Coordination
Pros:
Entertaining
Bright colors
Sturdy
Cons:
Only swims for 15-20 seconds at a time
Isn't the best for independent play
If your little one loves toys that swim around the water, wind-up bathtub toys are a great choice. The Munchkin Wind-Up Swimming Penguin is a high-quality option for a swimming bath toy.
This penguin features a cute face with goggles and a body with moving arms. We chose the pink version but I loved that it also comes in blue. The body is made from resin and polyethylene and feels sturdy enough to last for many baths to come.
To make the penguin swim, you wind up the arms and then let them go. The penguin then flips his arms around and moves through the water. This only lasts for about 15-20 seconds.
The wind-up is pretty easy to spin, but some babies and toddlers won't have the fine motor skills needed. This means older kids or parents will likely be doing the winding.
I also wish the penguin would swim for a longer period than it does. However, my child loves this bath toy and thinks the swimming motion is fun. I highly recommend it as one of the best bath toys that wind up.
Best for Pouring: Boon Tubes Building Toddler Bath Tub Toy
Boon Tubes Building Toddler Bath Tub Toy
Toddler and Baby Bath Toys: This collection of five baby and toddler toys come in five shapes that your baby can combine in a chain or use individually
Unique Shapes: The colorful and unique shapes included in the PIPES toy set make bathtime fun for babies and toddlers
Endless Possibilities: Each of the water toys in this collection has a unique design with its own special function to surprise and delight your toddler
Recommended Age: PIPES is the perfect set of bathtime kids toys for toddlers ages 12 months and up
Pros:
Great for STEM learning
Multiple ways to play
You can add other pieces to the set
Cons:
Baby might need help moving pieces around
A small hole where mold might appear
Never did I imagine plastic tubes bringing so much joy to bath time. All of my girls enjoyed the Boon Tubes Building Toddler Bath Tub Toy.
We chose the 3-piece set since it was more affordable than the larger sets. My toddler and older children played with and rearranged these pipes over and over again.
This STEM learning toy encourages children to explore cause and effect and use their creative thinking skills. Each piece can be used separately or placed alongside another pipe so the water flows into the next part.
The set includes a small tube with one hole at the bottom that can be opened to let water flow or shut to hold water in. It also has a long adjustable tube and a short tube with a water mill attachment. Your child will practice hand-eye coordination as they pour water into each piece.
If your baby isn't old enough to pour water into the tubes, you can do it for them so they can watch the water flow and the water mill spin. Each section attaches to the wall with a suction cup that's easy to attach and remove from the walls.
I appreciated that I could disassemble each tube and leave it out to dry when bathtime was over. Just be sure to dry the small hole where the suction cup attaches, as some parents found this to mold over time.
Best Basic: Munchkin Little Boat Train
Munchkin Little Boat Train
6 boats float and link together to create a "little boat train"
Boats have funny faces and are numbered 1-2-3 for counting, ordering and number identification games
Boats can scoop up water and strain when turned upside down
Lightweight and easy for baby to grasp
Pros:
Inexpensive
Multiple ways to play
Great for imagination
Cons:
Sinks easily when attaching
Sometimes you just need bath toys that provide good, inexpensive fun. The Munchkin Little Boat Train is a clear winner here.
These colorful toys come in a set of 6, and each boat features a number 1-3. The boats all have a small hole and small peg that can attach to another boat.
My toddler spent the majority of the time playing with each boat individually. I found this to be the perfect toy to entertain 2 children at once since the set can be split into two groups of 3.
I did notice that these floating toys hold little weight. They sank several times when my toddler pushed while trying to attach them.
There aren't any places for water to hide within the boats, so drying is easy. I just flipped them upside down on a towel and left them to dry.
This inexpensive bath toy would be fun for both girls and boys. It's simple, sturdy, and a clear winner for one of the best bath toys with basic features.
Most Popular: Nuby Floating Purple Octopus with 3 Hoopla Rings
Sale
Nuby Floating Purple Octopus with 3 Hoopla Rings
Let bath time ten-tickle your little one's imagination! With Nuby's Octopus Hoopla, getting clean has never been more fun
The Octopus Hoopla is a floating bath toy with 3 rings that encourages interactive play; Your child will be wrapped up in fun for hours, or at least until bath time is over
Helping your little one grow and learn is rewarding as a parent; Give your child the tools to learn and play with a toy designed to help develop hand-eye coordination and stimulate their senses
The Octopus Hoopla bath toy's vibrant colors and different textures are designed to engage your child's senses; Vivid colors draw your child's attention while friendly characters help them learn to recognize shapes
Pros:
Mold-free design
Your child can play with rings and octopus separately
Cons:
Octopus topples over easily
This classic ring toss bath toy is so much fun. The Nuby Floating Purple Octopus with 3 Hoopla Rings is one of the most popular bath toys for babies.
With over 50,000 raving reviews, it's easy to see why this bath toy is so popular. This soft bath toy is excellent for teething little ones or older toddlers who like a challenge. The octopus floats on top of the water, and the included rings can be tossed onto the tentacles.
Many parents noted that it's difficult for a baby to actually toss the rings onto the octopus. The octopus also tilts sometimes in the water. However, since many kids play with this toy outside of the tub as well, it's still worth the purchase.
My favorite feature about this bathtime toy is that it's designed to be mold-free. There are no holes for water to enter through. So you won't have to worry about it becoming moldy.
Best Educational: Munchkin 36 Bath Letters and Numbers
Munchkin 36 Bath Letters and Numbers
Alphabet bath toys include 26 floating letters (A-Z) and 10 floating numbers (0-9)
Educational letters and numbers stick to tub walls when wet
Made of soft, durable, non-toxic foam
Great for teaching letters, learn to count, spell simple words or identify or group by color
Pros:
Sturdy foam
Teaches reading and spelling skills
Cons:
One of my favorite bath toys as a child was a set of foam letters and numbers. The Munchkin 36 Bath Letters and Numbers set is that exact bath toy that has entertained babies and toddlers for generations.
What I love most about this set is that it provides a fun way to practice reading and spelling skills. Each time my kids use these, they name the letters or spell out simple words. My littlest one likes to just stick the pieces to the wall, so I name the letters and numbers for her as she does.
I appreciate that the foam is thick and sturdy on each piece. With the soft texture, babies are bound to try and taste or bite the pieces. Parents should still supervise their babies, but I've never had a child bite through a piece.
The only downside to these foam toys is drying them. You'll have to lay them out separately on a towel so they don't stick together and get moldy. However, despite the extra effort, it remains a favorite.
Recommended Accessories
Here are some other accessories we recommend to make bathtime more fun: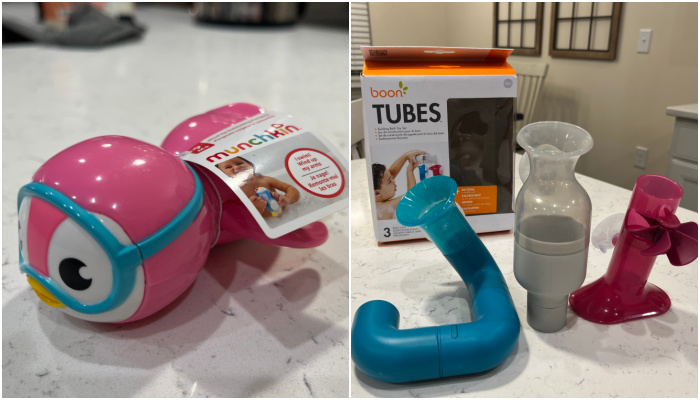 How to Choose Bath Toys for Your Child
There are a lot of options on the market for bath toys. Some parents prefer classic rubber ducks, while others like more modern and green toys. It might be helpful to have a few hints on what to look for in bath toys.
What Should You Look for in Bath Toys?
When you choose a bath toy for your baby, you'll want to be sure it's safe and will last. Look for these features:
Made by a trusted brand with great reviews
Has an easy way to empty water so it doesn't rust or mold
No small parts that can come off in your baby's mouth
Big enough to avoid being a choking hazard
An interactive bath toy that can be played with in multiple ways
FAQs
How should bath toys be stored?
In order to prevent mold, bath toys should be completely dried before being stored. For easy storage, you can invest in a hanging mesh storage bag that attaches to the tub walls and allows water to drain into the tub.
If you're wondering how to clean bath toys, there are simple ways. Many bath toys aren't dishwasher safe, but you can fill a sink with soapy water and wash the toys by hand. You can also spray them down with a non-toxic cleaner.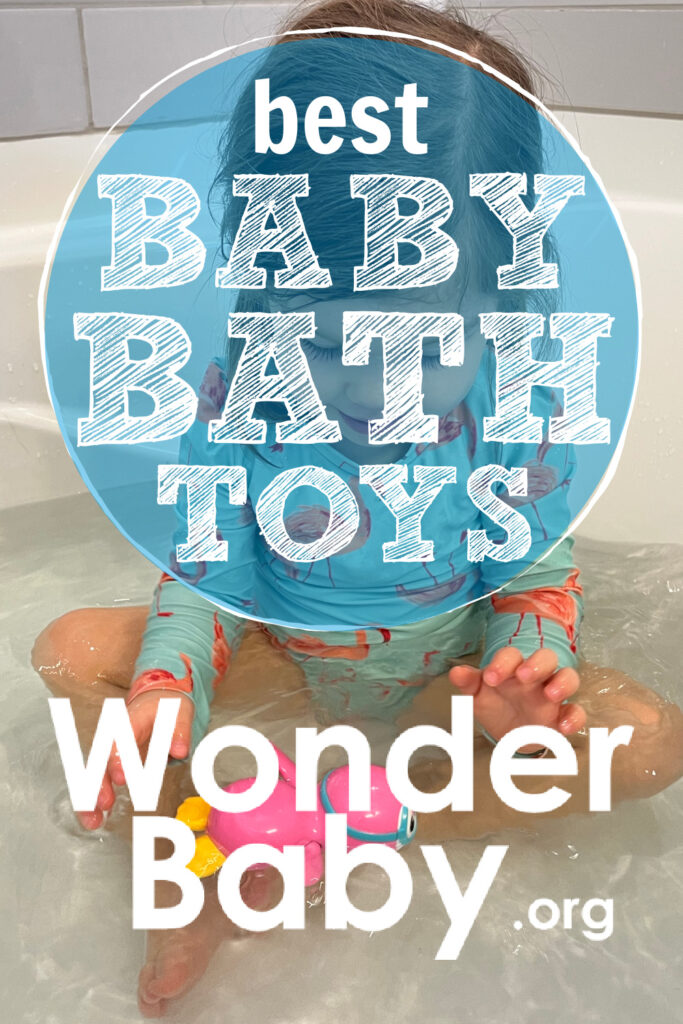 Related Posts
Product Reviews
Traveling with kids can be tricky, but it doesn't have to be! Make your travels with multiple little ones a breeze with the best double strollers for travel.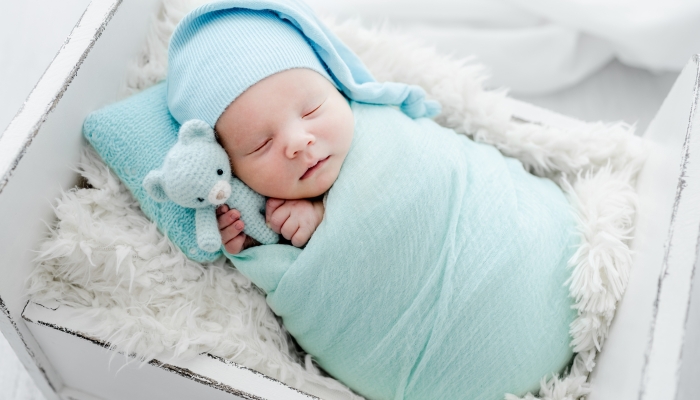 Product Reviews
Shopping for the best baby swaddles to help your little one sleep through the night? These swaddles are parent favorites that are sure to perform!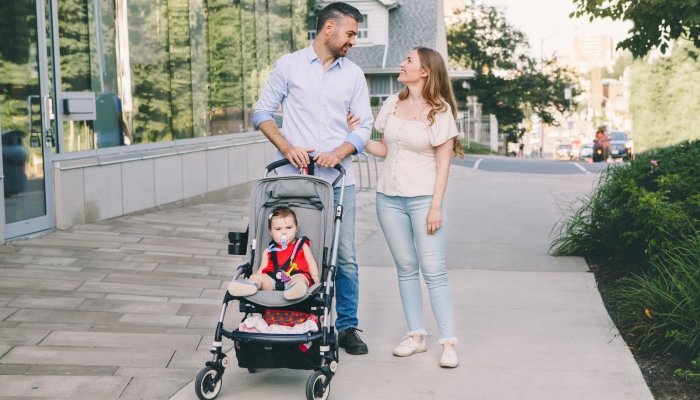 Product Reviews
Looking for the best strollers to save you from hunching and to give your back a break? If you're a tall parent, keep reading to find the best stroller for...