13 Budget-Friendly Small Sensory Space Ideas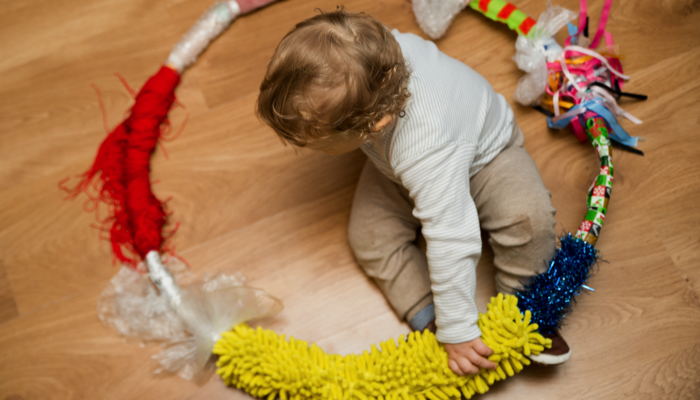 This post may contain affiliate links; please see our terms of use for details.
Multi-sensory play refers to activities that engage multiple senses, such as sight, hearing, touch, taste, and smell.
A sensory space can provide a safe and controlled environment for children to explore multi-sensory activities. This can be particularly helpful for children who are easily overwhelmed by loud noises, bright lights, or other stimuli.
Sensory spaces can be designed to stimulate the senses in a way that can help children with special needs improve their sensory processing skills and their ability to process and respond to sensory input.
A sensory space can also provide a calming and relaxing environment that can help children reduce stress and anxiety.
Sensory rooms offer kids with special needs access to sensory-rich activities that promote emotional well-being and stimulate learning. These spaces can provide specialized equipment like sensory swings, lights, and vibration mats, as well as adapted materials that help kids explore language, movement, fine motor skills, and more.
However, sensory rooms are large and expensive. Most families don't have the space in their homes for a full sensory room, let alone the money to cover the renovation cost or to purchase and install equipment.
Does that mean that your sensory room dreams will never come true? Not if you are creative and willing to think small! Small sensory spaces can be just as effective as large sensory rooms, but they can fit into both your home and your budget!
Benefits of a Sensory Space
Creating a multisensory environment for a special needs child can be hugely beneficial. For children with learning disabilities or sensory impairments, creating an environment that stimulates their senses can provide broader access to learning and developmental opportunities.
A multisensory space can enhance your child's cognitive, physical, and emotional development. By incorporating visuals, sound, tactile, and scent-based components, this setting enables children to use their senses to become more aware of their bodies and build new skills. It is designed with a range of stimuli in both passive and active systems. Sensory spaces allow kids to learn at their own pace without feeling overwhelmed by sensory demands.
Who is a sensory space for?
A sensory space can be an invaluable resource for children with sensory processing difficulties, such as those on the autistic spectrum or those with anxiety, ADHD, or developmental delays. Kids who have difficulty managing their emotions can also benefit from sensory spaces.
A sensory environment encourages imaginative play, exploration, and communication. It's a powerful tool used by many caregivers to support those who need relief from overstimulation or who otherwise have difficulty regulating their emotions.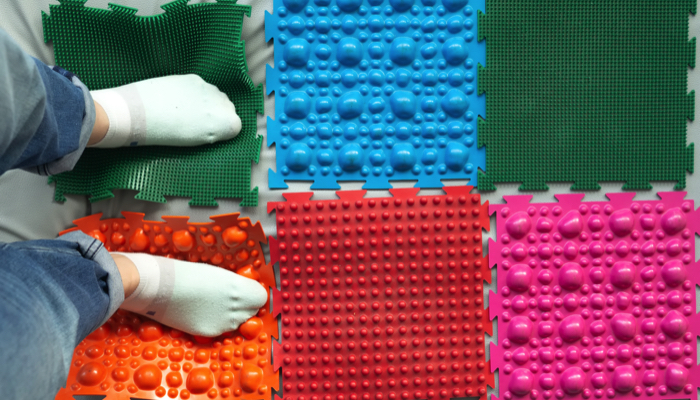 7 Sensory Spaces From Small to Large
When creating a small sensory play area, first choose a dedicated space for the sensory experience. This could be anything from a calming corner to a bin or table with sensory tools. Try to keep the space consistent with the same toys in the same location. This gives your child the opportunity to become familiar with the toys and to learn to interact with the space in more meaningful ways.
Since we are thinking small here, we will probably not be installing a sensory swing or other large or expensive sensory tools. Instead, look for sensory toys in different textures or other items that you can use to create a calming or stimulating experience.
Don't worry about going big. Start small and see how your child responds!
1. Sensory Apron
A sensory apron or vest is something that your child can wear and have close to their body. This is great for kids who are still learning to explore their environment and don't feel comfortable reaching out too far beyond their own personal space.
Look for soothing toys in multiple textures and sew them to an apron or vest. Plush pull toys that vibrate can be really fun on a sensory apron. So are crinkly toys.
You can make a sensory apron yourself or purchase one from Amazon or Etsy.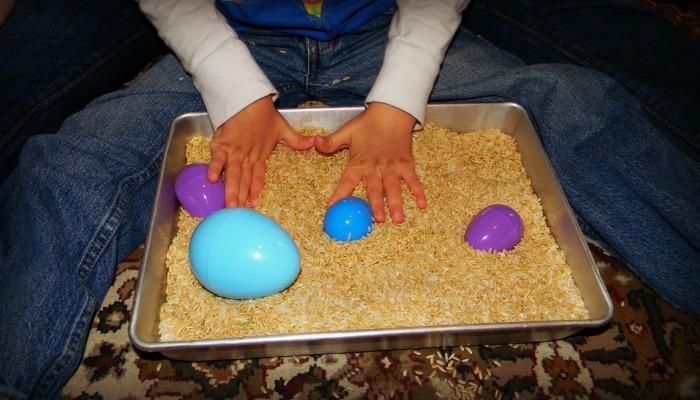 2. Sensory Bin or Tray
Sensory bins are easy to create. All you need is a plastic container with a lid and you can fill it with fun sensory toys. Bins are great for dry rice, pasta, or beans. Hide toys in the filler and give your children scooping and digging toys to find them! Sensory bins are also easy to find pre-made on Amazon.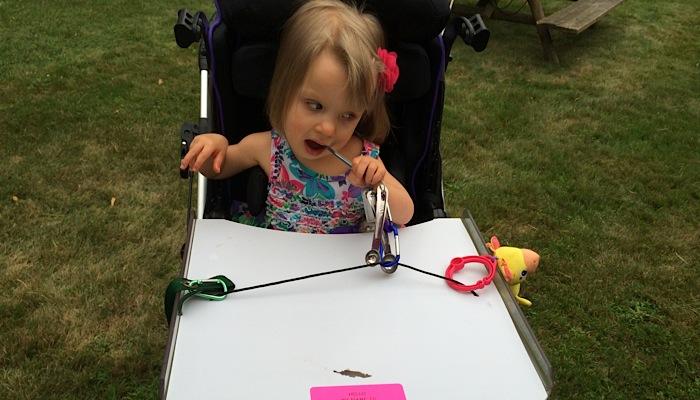 Sensory trays can be attached to your child's wheelchair or activity chair and can have toys that are kept in place with elastic, velcro, or even magnets. We love repurposing cookie sheets into sensory trays and adding magnets to toys so they stick to the sheet.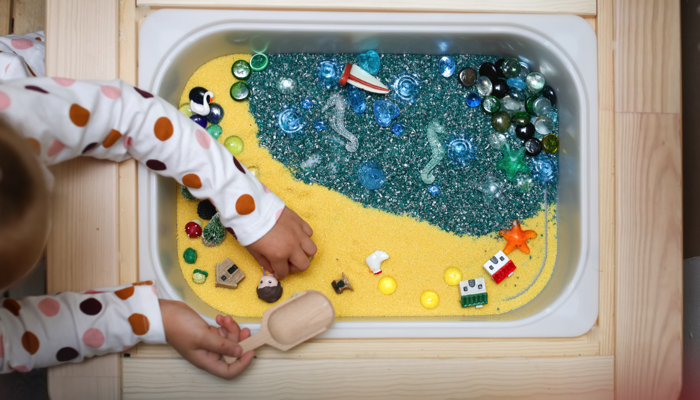 3. Sensory Table
Sensory tables are bigger than bins and take up more space, but can be great motivators to get your child standing and reaching out. Outdoor sensory tables can provide opportunities for tactile sensory input through messy play and can include water toys, water beads, shaving cream, or slime.
Indoor sensory tables can include similar items that you would put in a sensory bin, but with more space and providing more sensory stimulation. Tables are also fun ways to encourage group play and social interactions.
4. Sensory Corner
A corner can be an effective sensory space, too. You could place an exercise ball or other dynamic seating for sensory seekers and install towel bars or peg boards to the wall where you can hang sensory items. Think about what types of toys your child likes and add them to the space. A sensory corner can be a fun spot for musical toys or instruments that can hang and encourage reaching and interaction.
5. Sensory Tent
A sensory tent can be a calming and safe hiding spot for your child, providing a place where they can self-regulate. You can find small and fairly inexpensive teepees or bed tents online. Fill the space with weighted blankets and hang plush sensory toys from the ceiling. Your child can lay in the tent and reach for the toys hanging above them. It's a great space to retreat when experiencing sensory overload.
6. Sensory Closet
Maybe you don't have the space for your own sensory room, but do you have a closet that could be turned into a small sensory room space? A small closet is the perfect place for light toys, fiber optic lighting, and other sensory lighting. It could be a calming space with a bean bag chair, weighted blanket, and light mobiles displayed on the wall.
7. Sensory Wall
If you have a full wall that you can spare for sensory activities, consider creating a sensory wall. A sensory wall is not as big an expense as a dedicated sensory room, but it can still be a big project. Sensory walls can be great for interactive bead mazes, abacus beads, and spinning gears. Try to find large toys that move that can be attached directly to the wall.
You can also find pre-made sensory walls, but they can be expensive. Cheaper alternatives may be felt boards or touch-sensitive light panels.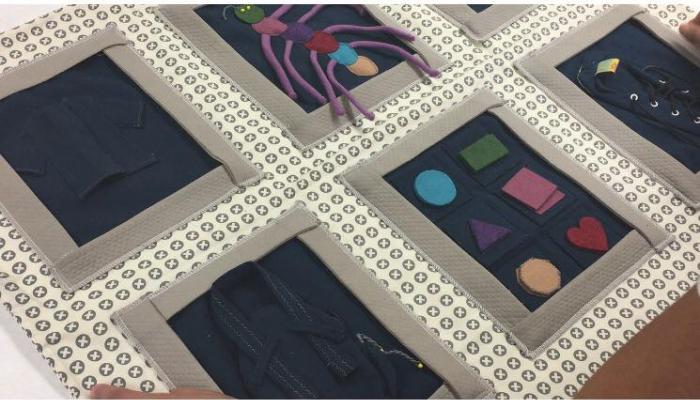 6 Other Small Sensory Ideas
Sensory Hula Hoop: Wrap sensory toys around a hula hoop and have your child sit in the center. Alternatively, hang the hoop above your child as they lay on the ground. Hang toys that make sounds to encourage reaching!
Sensory Bottles: For kids with vision, sensory bottles can be a lot of fun! Just add water and oil, food coloring, glitter, and any small items to a bottle and shake!
Sensory Mats: You can make sensory mats by placing water beads in large ziplock bags, or you can purchase sensory mats with different textures. Place the mats by your child's feet and encourage them to explore with their toes!
Sensory Blankets: Similar to a sensory apron, a sensory blanket can have toys sewn directly to the blanket. Your child can lie on the blanket and reach out for the toys. You could also skip the toys and simply sew a quilt using different textured fabrics.
Sensory Boards: A friend of ours made us a sensory board by attaching different textured toys to a small cork bulletin board. We would bring the board out and set it on the table when we needed a sensory break.
Sensory Gardens: As with sensory rooms, sensory gardens can be big or small. Even just planting an herb garden on your window sill can work as a tactile and sense-oriented small garden!
Tips To Stay on Budget
Even when you are thinking small and avoiding purchasing large sensory equipment, it can still be easy to go over budget! When creating your child's sensory space, try to find items in unconventional places:
Repurpose things you already have: Looking for fun sensory lights? Bring out the Christmas lights you have stored in a box! Need toys with bells to make sounds? Go raid your cat's toys and hang them with strings! You probably have more sensory-appropriate toys around your home than you realize.
Visit dollar stores: Dollar stores or the dollar section in the front of other retail stores like Target can be great places to find small, inexpensive sensory toys.
Buy fabric remnants: My favorite place to find interesting textures is the discount remnants box at our local fabric store.
Hit craft stores after the holidays: Craft stores like Michael's steeply discount products after a holiday. You can pick up cheap eggs after easter or discounted jingle bells after Christmas!
Look for grants to cover sensory equipment: It's possible to find funding support when you're trying to purchase toys or equipment for a small space, especially if the price tag isn't too overwhelming. Places like Easter Seals, Kiwanis, Lion's Club, or Knights of Columbus can help fund things like a sensory table or a sensory wall, equipment that you might need help paying for but that costs less than $1000.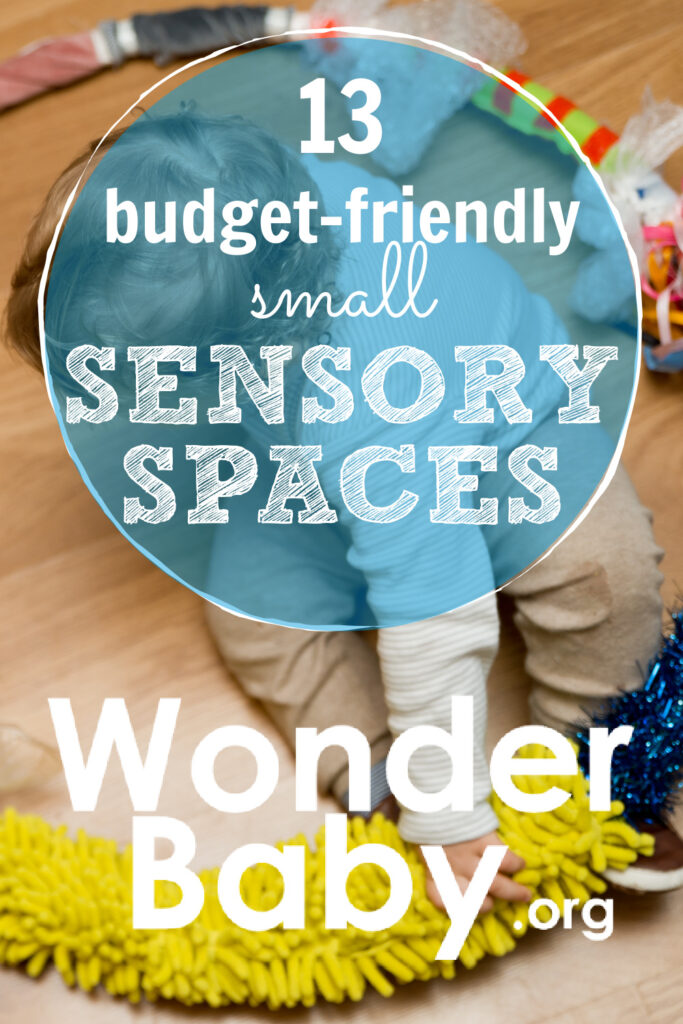 Related Posts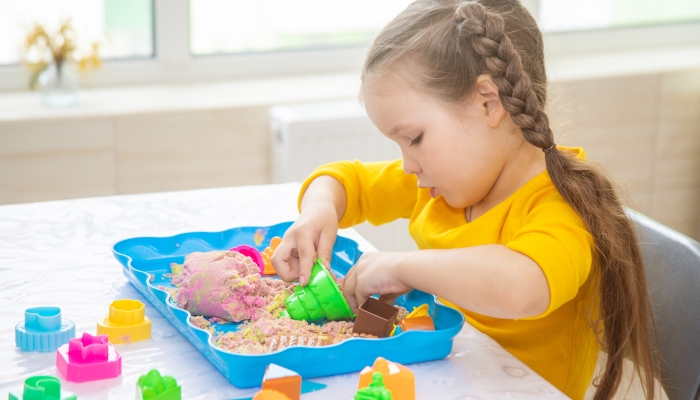 Sensory Activities
Sensory play is easy, fun, and doesn't have to be expensive. Check out our ideas for simple, hands-on - and messy! - sensory learning play with your preschooler.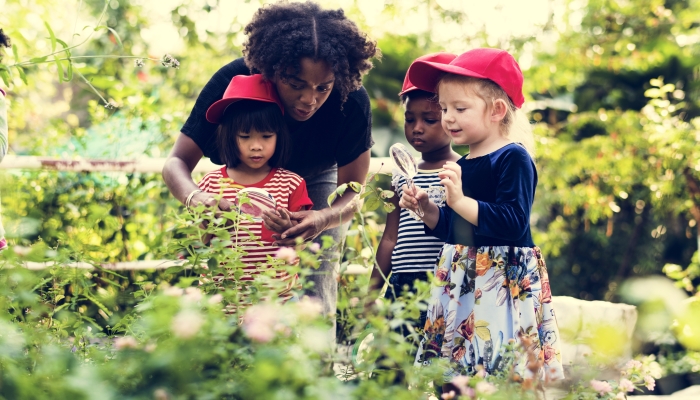 Math and Science, Sensory Activities
Ready to discover the joy of gardening with your kids? Our expert tips and fun, hands-on gardening activities will cultivate a love for nature.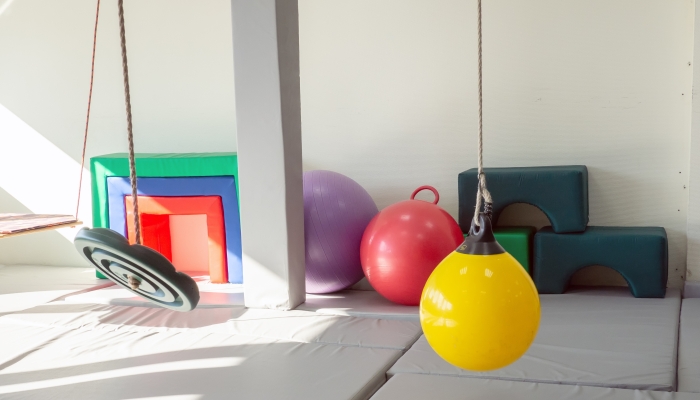 Sensory Activities
Have you considered creating a sensory room or sensory space in your home? It doesn't have to be difficult or expensive. Take a look at these simple ideas.