7 DIY Sensory Bottle Ideas for Calm Down Time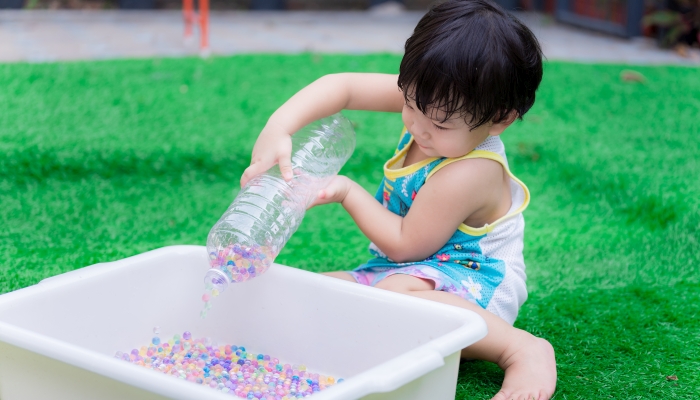 This post may contain affiliate links; please see our terms of use for details.
Sensory bottles are wonderful for calming children and giving them sensory input.
DIY sensory bottles can often be made quickly with things you already have at home.
There are endless ways you can fill your bottles to create different effects.
They're portable and mess-free, a great alternative to messy sensory play.
Babies and toddlers love exploring sensory bottles, and older children can help make their own.
Watching the multicolored glitter slowly settle to the bottom of my son's sensory bottle, I feel the calming effects wash over me. This bottle that I made for my 7-month-old has successfully cast its mesmerizing spell over me, an adult! I can only imagine the sense of calm, wonder, and awe it invokes in a baby.
As a parent and a teacher of children with additional needs, I LOVE sensory bottles.
Making DIY sensory bottles is easier than you might think. In fact, they're so easy to make that I got a bit addicted to making them and experimenting with putting different things in.
Over time I've found which ingredients are the most successful for making sensory bottles that children will love.
What Are Sensory Bottles?
A sensory bottle is a usually clear container filled with various objects and materials. They're designed for mess-free sensory play and as a calming down tool.
You can make a homemade sensory bottle with materials you already have around the house or materials picked up from the dollar store.
Glitter bottles (with or without colored water) are a cheap and easy craft to make. Once you've mastered a basic glitter bottle, you can let your imagination run free and create lots more bottles for your little one to enjoy.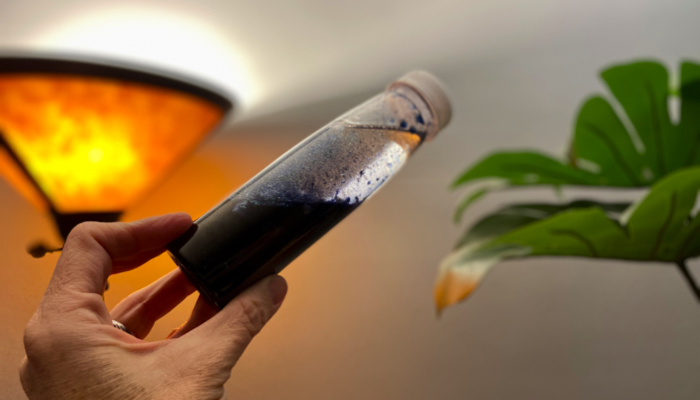 Benefits of DIY Sensory Bottles
A sensory bottle is a great addition to any house or sensory room. They're particularly effective for babies, toddlers, and children with additional sensory needs.
Some of the benefits of a sensory bottle include:
Calming
Sensory bottles are a fantastic calming tool and can help to prevent or de-escalate a sensory meltdown. Kids can even learn to use them as a tool to self-regulate and relax.
Sensory bottles are a regular addition to our calm-down time. I find they're the perfect transition tool for winding down the day before bedtime.
Mess-free
Something on every parent's wish list—sensory play that isn't messy! A sensory bottle keeps everything inside so you can have all of the fun with none of the mess.
Portable
Sensory bottles are usually the size of a water bottle so they can easily be taken on the go. I've found them to be an excellent distraction tool for long car journeys!
Educational
Sensory bottles can develop visual, motor, and language skills through play.
You could make a "discovery bottle" to teach new vocabulary or themes.
They can also be used to teach properties of materials for older children—get older kids involved in making them for a bonus science lesson.
Sensory stimulation
Sensory bottles provide visual stimulation and are often used as a tool to support children with sensory processing needs.
In a 2010 review of interventions for children with autism, Dr. Jeremy Parr found that sensory integration training, which "aims to treat the sensory behaviors of children with autism by exposing them to various sensory stimuli," has few clinical studies so it's unclear if it's beneficial.
There are studies, including a 2019 review by Sarah A. Schoen, PhD, OTR/L and others, noting the benefits of Ayres Sensory Integration (ASI) for children with autism. This is a specific trademarked approach delivered by Occupational Therapists.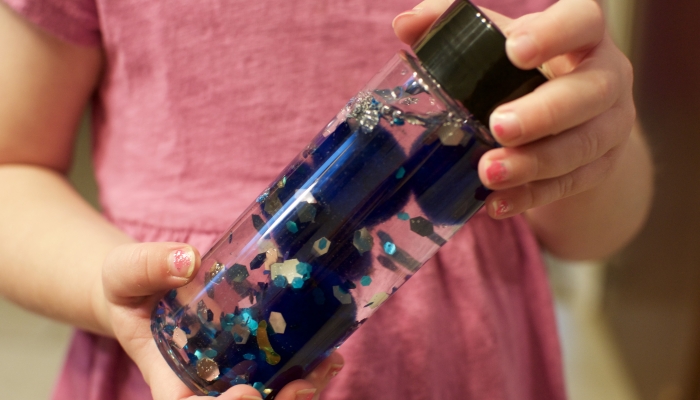 Can You Make Your Own Sensory Bottle at Home?
Yes! It's super simple to create DIY sensory bottles at home.
If you're new to DIY projects and nervous, you might choose to make a simple glitter sensory bottle using an old plastic bottle, glitter, water, and glue.
As soon as your child has the motor skills to do so, we recommend getting them involved in making the sensory bottles with you.
What Materials Do You Need to Prepare?
You can create a huge variety of sensory bottles using different materials.
The basic materials you'll need to make a glitter bottle are:
A clean and empty water bottle or other clear container
Glitter or glitter glue
Clear glue
Super glue or a hot glue gun
Warm water
Optional extras:
A funnel (so you don't cover your kitchen in glitter!)
Food coloring to color the liquid
Other liquid ingredients such as mineral oil, dish soap, corn syrup, baby oil, or cooking oil
Other dry ingredients such as feathers, sequins, or loom bands
Something to remove the sticky residue of the bottle's label (such as rubbing alcohol)
Remember that the liquid you choose will change how fast or slow the glitter falls. Experiment to find what you like!
How to Make a DIY Sensory Bottle
One of the best ways to make a sensory bottle is to experiment! The materials you use and how much of each ingredient you add will affect the overall look and feel of your bottle.
Here are the basic steps to make a DIY sensory bottle:
1. Clean and dry your bottle or container well. Remove any labels from the outside of the bottle.
2. Fill your bottle halfway with warm water. Add a few drops of food coloring or liquid watercolor if using and shake to combine.
3. Fill half of the space remaining in your bottle with your other liquid ingredient (clear corn syrup, glue, hand soap, hair gel, or oil).
4. Add glitter and any other materials you want! Pour slowly and shake to avoid your glitter from clumping.
5. Close the lid and shake well to combine. If your glitter is falling too quickly, fill the rest of your bottle with more glue. If it's falling too slowly, fill it with water.
6. Superglue the lid shut. You can also add tape to the lid for extra security.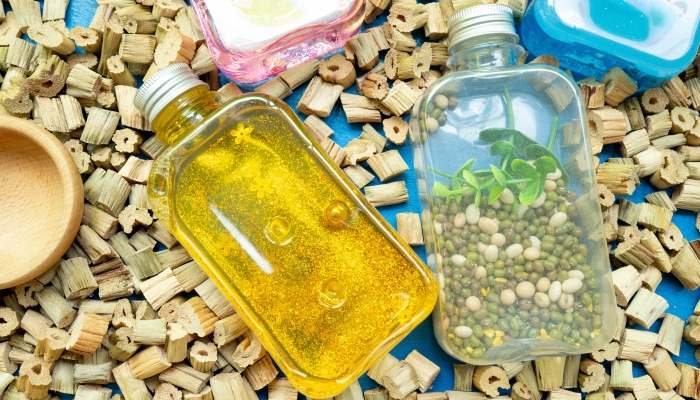 7 DIY Sensory Bottle Ideas
There are so many fun options to explore when you're making your DIY sensory bottles. Tailor it to your child's interests to really excite them. For example, if your child loves the beach, try making a bottle with sand, shells, and blue food coloring.
Some other fun ideas:
Water Beads
Water beads look so good in a sensory bottle! They're too small for babies to play with (as they pose a choking hazard), so are the perfect choice to contain in a bottle and watch float around.
Nature Bottles
Bring the outside world into your bottle by using shells, leaves, sand, pebbles, or any other natural materials. Try a nature walk with your little one where they can select materials for your sensory bottle.
Glow in the Dark
Who doesn't love things that glow in the dark? Try adding glow-in-the-dark stars or glow sticks to your bottle. These were a huge hit with my son!
Visual Objects
The options of what to add to your bottle are limitless. Some popular choices include feathers, lego, sequins, pom poms, buttons, small toys, beads, marbles, dry food, and confetti.
Combine the objects in any way you wish!
Sound Bottle
An auditory bottle is a great idea, especially for a child who is visually impaired. Try making a "rainstick" sensory bottle with dried beans or beads.
"Find It" Discovery Bottle
Use sand to hide objects for your child to find. You also can use magnetic items to create a game of finding objects with a magnet. Remember metallic items will rust if combined with water.
Rainbow Rice Bottle
Dye dried rice using vinegar and food coloring using as many colors as you wish. I loved using the colors of the rainbow and layering them in the bottle ready for my baby to shake and discover the magic of the colors mixing.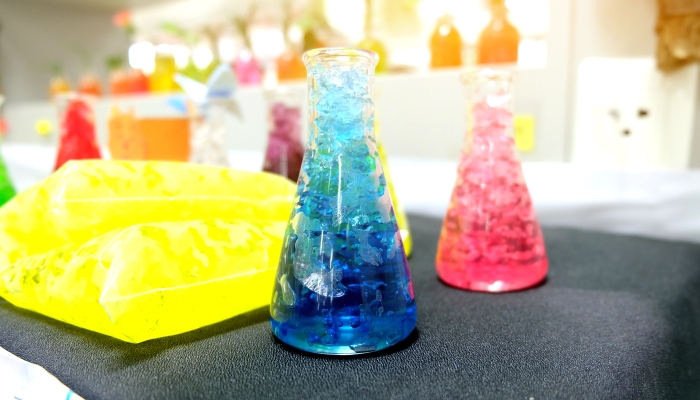 FAQs
What type of container can you use for a sensory bottle?
You can use any clear container which can be secured shut.
A popular choice is to use an empty plastic water bottle. Voss water bottles are often chosen because of their size and design. Voss bottles have a wide opening so are a good choice if you're using larger objects.
When choosing your container, think about the size and shape you want, how heavy the material is, and your budget. You can even use an empty spice container or jam jar to reuse and recycle!
At what age can babies play with sensory bottles?
Sensory bottles can be used right from birth!
Your baby won't have the motor control to hold the bottle until they're a little older, but even tiny babies will benefit from watching a sensory bottle. Equally, it's never too late to introduce a sensory bottle.
Why is sensory play so important for children?
In her sensory play handbook, Sue Gascoyne notes that "the importance of sensorial experiences and environments can be seen in the work of several theorists." This includes well-known and celebrated models of learning from Maria Montessori and Jean Piaget.
The general theory is that sensory experiences help children to learn from the world around them.
Are sensory bottles Montessori?
Montessori is a popular approach to learning used around the world.
You may well find a sensory bottle in a Montessori classroom because they value hands-on, sensory learning. Sensory bottles did not originate from the Montessori method and may not be used in all Montessori settings.
What liquid should I choose for a glitter sensory bottle?
This really depends on the effect you're aiming for. The liquid chosen will affect the speed of motion in your bottle.
Some liquids, such as hair gel, will slow the objects right down. Others, such as baby oil, will allow your glitter to move more freely. Corn syrup and clear glue are often popular choices for a glitter sensory bottle.
Are there any safety measures I need to be aware of with sensory bottles?
It's important to make sure your sensory bottles are safe before giving them to your child. Some important things to remember:
Glue your lid on tightly and remember to reglue if it becomes loose. Use tape over the lid once it's glued down for extra security.
Make sure your child knows that the bottle might break if they throw it, especially if using a glass bottle.
Can I buy a pre-made sensory bottle?
If DIY isn't your style, you can buy sensory bottles that have been made for you.
Some popular options are the hand2mind fidget tubes or these calming liquid motion bubblers. You might also enjoy other sensory toys for toddlers.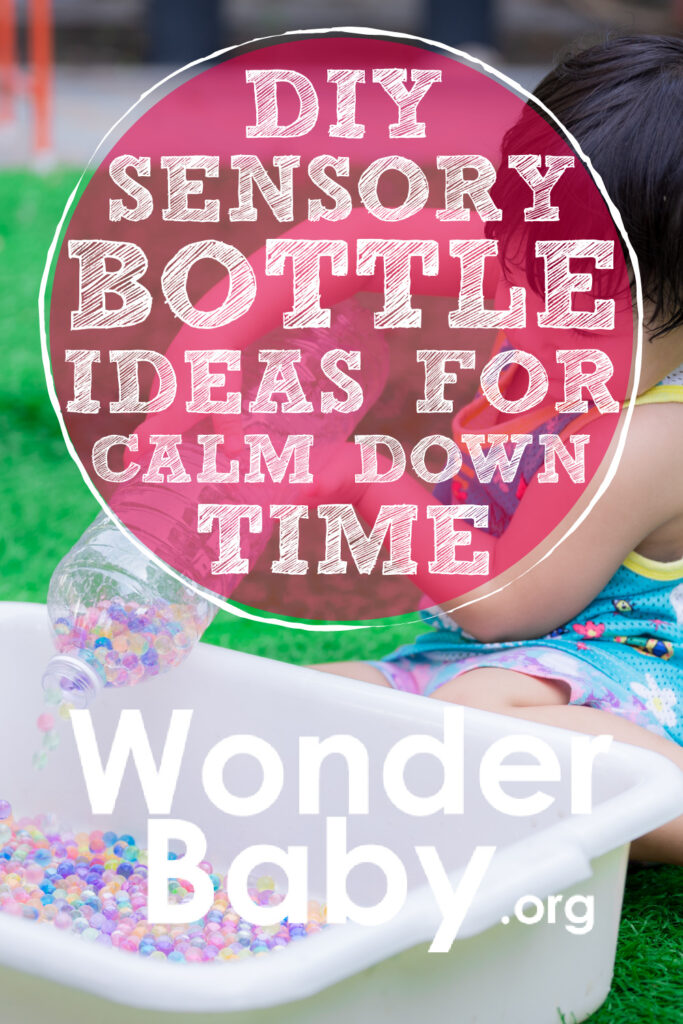 Related Posts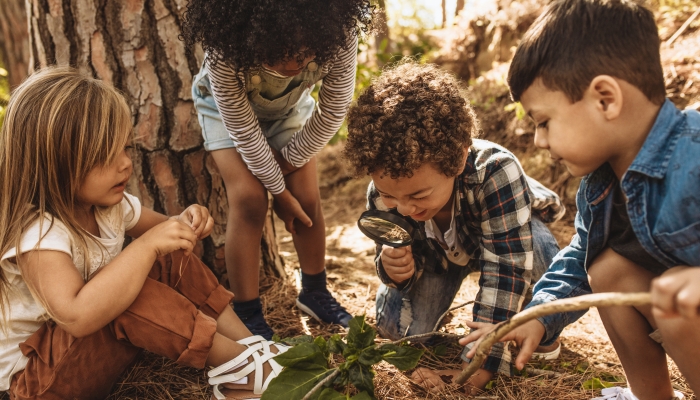 Math and Science, Sensory Activities
Looking for things to do outside with your preschooler? These ideas for outdoor learning are easy, inexpensive, informal, and best of all, fun!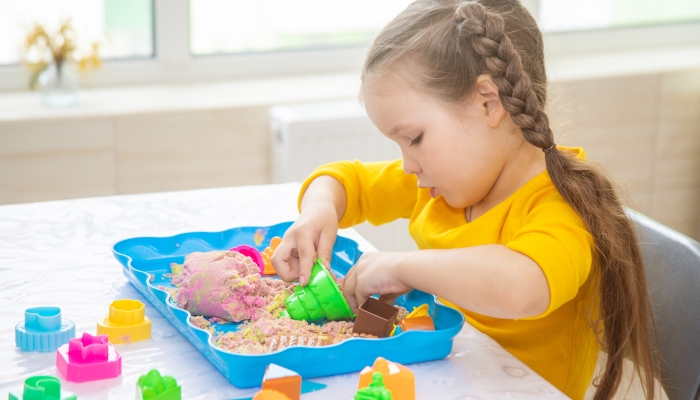 Sensory Activities
Sensory play is easy, fun, and doesn't have to be expensive. Check out our ideas for simple, hands-on - and messy! - sensory learning play with your preschooler.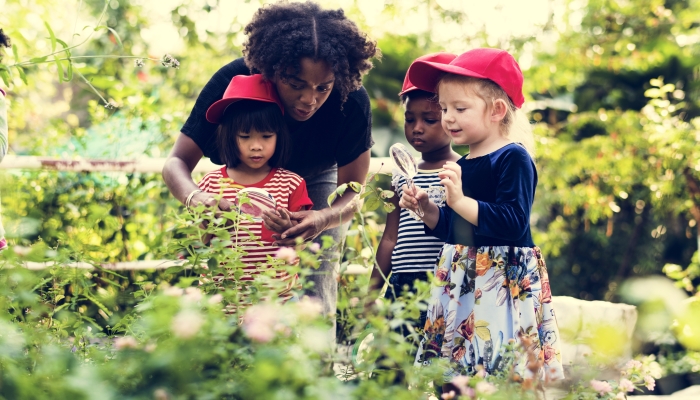 Math and Science, Sensory Activities
Ready to discover the joy of gardening with your kids? Our expert tips and fun, hands-on gardening activities will cultivate a love for nature.